Asylum Back Issue Information
The Asylum is the official publication of the Numismatic Bibliomania Society. Over the years many interesting original articles have appeared in its pages. The Asylum is published quarterly and is mailed free to all NBS Members. There are currently a limited number of back issues available!
Back Issues of The Asylum are available at $5.00 each or 13 for the price of 12 at $60.00. Note: Complete indexes (through 2002) by Author and by Subject are available for viewing online at: Author Index and Subject Index.


Ordering Information
You may download a complete list of back issues available
Back Issue Order Form (PDF)
or
Back Issue order Form (DOC)
Mail entire list with your check or money order. Make check or money order payable to Numismatic Bibliomania Society to:
Numismatic Bibliomania Society
c/o Terry White
P.O. Box 39
Hilliard, OH 43026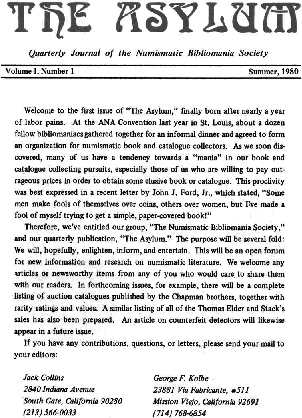 Sponsors