Numismatic Bibliomania Society

The Asylum is the official publication of the Numismatic Bibliomania Society. Over the years many interesting original articles have appeared in its pages. The Asylum is published quarterly and is mailed free to all NBS Members. There are currently a limited number of back issues available!
Index
You can access The Asylum Index directly on the NNP (Newman Numismatic Portal)
25-Year Index (2007)
5-Year Supplement (2012)
or you can download the files as PDF documents
25 Year Index
5 Year Supplement
You can also visit the Index Page
Submission Guidlines
Articles submitted for publication should be of general interest to readers of The Asylum and pertain to numismatic literature, numismatic personalities, or general numismatic research. Publication and editing are at the sole discretion of the editor.
All submissions should be sent to:
Maria Fanning, Editor
The Asylum
141 W. Johnstown Rd
Gahanna, OH 43230
(614) 414-0855
nbsasylum@gmail.com
Submission Deadlines
The deadlines for submission are as follows, but may be changed as needed at the editor's discretion.
| | | |
| --- | --- | --- |
| Spring Issue | (No. 1) | February 1st |
| Summer Issue | (No. 2) | May 1st |
| Fall Issue | (No. 3) | August 1st |
| Winter Issue | (No. 4) | Novenber 1st |
Advertising Rates and Details
| | | |
| --- | --- | --- |
| Inside Front Cover | $125 | 5.5 inches wide x 8 inches tall |
| Back Cover | $125 | 5.5 inches wide x 8 inches tall |
| Full Page | $120 | 4.5 inches wide x 7.5 inches tall |
| Half Page | $75 | 4.5 inches wide x 3.75 inches tall |
| Quarter Page | $40 | 2.25 inches wide x 3.75 inches tall |
* A 10% discount may be applied for a full-year committment.
** A 10% discount is available to NBS members and community organizations.
Camera-ready copy should be sent to nbsasylum@gmail.com or
Maria Fanning, Editor
The Asylum
141 W. Johnstown Rd
Gahanna, OH 43230
(614) 414-0855
The Asylum Awards Voting
To vote for the yearly The Asylum awards: the Jack Collins and Joel J. Orosz Awards. Follow this link to the online version: The Asylum Award Ballot
Back Issue Ordering Information
Back Issues of The Asylum are available at $5.00 each or 13 for the price of 12 at $60.00. Note: Complete Indexes (through 2002) by Author and by Subject are available for viewing online at: Author Index and Subject Index.
You may download a complete list of back issues available Back Issue Order Form (PDF) or Back Issue order Form (DOC) Mail entire list with your check or money order. Make check or money order payable to:
Numismatic Bibliomania Society c/o Terry White
P.O. Box 39
Hilliard, OH 43026
Latest Issue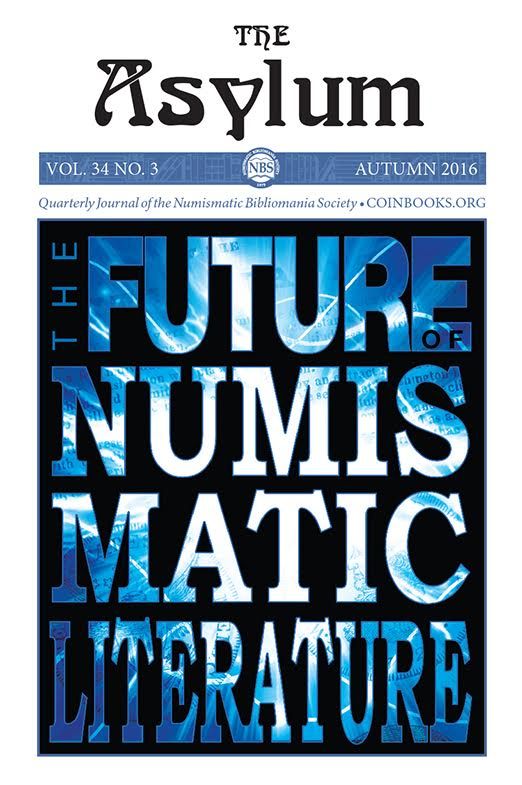 Summer 2016 Vol. 34, No. 2
An Early New Jersey Bank History by David D. Glatfelter
The John K. Curtis Gamble by Thomas D. Harrison
The Harlan J. Berk Ltd. Numismatic Library by Shanna Berk Schmidt
Reminiscences of a Numismatic Bookseller 5: Unlikely Coincidences Connected to a Buying Trip That Never Was by George F. Kolbe
Off the Shelf: The Earliest Auction Catalogues Photographically Illustrating Ancient Coins by David F. Fanning
To read the Online Archive of The Asylum visit this link to the Newman Numismatic Portal/Asylum. It will take you directly to The Asylum or click on the NNP image below to go directly to the NNP Main page.
Sponsors