---
This week's Featured Web Page is a newspaper story about Sikh numismatics, refered to us by an E-Sylum reader.



World Sikh News is pleased to present a peep into the vast coin collection of Jatinder Singh Hundal and it would be interesting to see know if his collection of Sikh coins is matched by anyone else as he has a sample collection of virtually most of the coins minted during all the years of the Sikh Misl period and that of the Sikh Raj.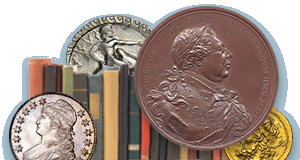 Back to top
Wayne Homren, Editor
The Numismatic Bibliomania Society is a non-profit organization promoting numismatic literature. See our web site at
coinbooks.org
.
To submit items for publication in The E-Sylum, write to the Editor at this address:
whomren@gmail.com
To subscribe go to:
https://my.binhost.com/lists/listinfo/esylum
Copyright © 1998 - 2020 The Numismatic Bibliomania Society (NBS)
All Rights Reserved.

NBS Home Page
Contact the NBS webmaster