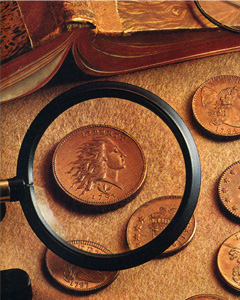 Photo from the cover of Louis Helfenstein Collection of Large Cents (August 14, 1964). Catalog courtesy of Dan Hamelberg.
Welcome to NBS!
The Numismatic Bibliomania Society (NBS) is a non-profit educational organization founded in 1979 to support and promote the use and collecting of numismatic literature. Numismatic literature includes books, periodicals, catalogs and other written or printed material relating to coins, medals, tokens, or paper money, ancient or modern, U.S. or worldwide. Membership is open to any individual or organization interested in the study of numismatics and the study and collecting of numismatic literature.
Our newly redesigned web site's features include a more intuitive navigation, new archive search function for The E-Sylum (our electronic newsletter)), the addition of a Community Resources wiki which will allow our members to easily contribute content to the site, and a new photo gallery hosted by Flickr. Please let us know about any feedback or new ideas which you may have – we'd love to hear it!
Announcements
Martin Gengerke's has made his book on ANA Auctions Open Source and available for download by NBS Memeber at no charge. The book will also be placed on the NBS Wiki so that NBS members can add information to the book. To download the book in pdf format -> Auctions.pdf
Back Issues of "The Asylum" are available! Ordering Info
To contribute to the PAN John Burns Memorial Fund click on the image below.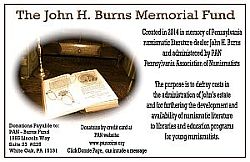 Sponsors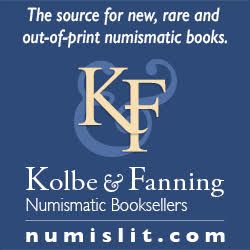 Quality coin supplies: folders, holders, slabs, 2x2s and more!
To become a sponsor of the NBS web site and/or The E-Sylum, contact Wayne Homren at whomren @ gmail.com