---
Larry Dzuibek pointed me to several more interesting Hobo Nickels on eBay. Here are a few that caught my eye. -Editor
Waiting on the 503

This one sold for $202.50 on 10 bids. -Editor
To read the complete eBay description, see:
Hobo Nickel, Waiting on the 503 (www.ebay.com/itm/Hobo-Nickel-Waiting-on-the-503-/191357328136)
Fly in My Soup

This one sold for $483.33 on 11 bids. -Editor
To read the complete eBay description, see:
Hobo Nickel "There's A Fly In My Soup" Chef Cat Kitten by Howard Thomas (www.ebay.com/itm/Hobo-Nickel-Theres-A-Fly-In-My-Soup-Chef-Cat-Kitten-by-Howard-Thomas-/201186315836)
Sailor Jerry Pinup Show Girl

Hobo cheesecake, anyone? This one is still up for grabs, with the current bid $129.83 last time I looked earlier this evening. -Editor
To read the complete eBay description, see:
Sailor Jerry Pinup Show Girl Tattoo Design Hobo Nickel Carving by Shaun Hughes (www.ebay.com/itm/-/121451163523)
The Professor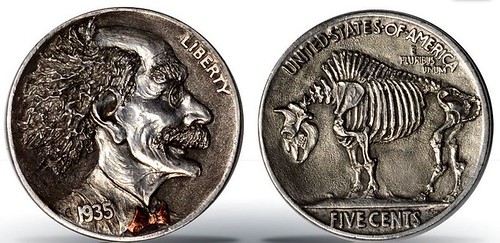 This is another one by Aleksey Saburov (see the next article for more information). It's got a "Buy it Now" price of (yikes!) $2,795. -Editor
To read the complete eBay description, see:
1935 "The Professor" Hobo Nickel carving by Aleksey Saburov (www.ebay.com/itm/-/111475670450)
To read the earlier E-Sylum article, see:
SOME MODERN HOBO NICKELS (AND DOLLARS) (www.coinbooks.org/esylum_v17n41a08.html)
Fred Michaleson's 3-Legged Buffalo
Fred Michaelson writes:
I recently bought a 3-legged Buffalo Nickel, and I've been studying it to see whether it's genuine. One of the diagnostics, as you probably know, is that due to the damaged and poorly repaired die, the buffalo appears to be urinating. Do you think this piece passes muster in that regard?


Wayne Homren, Editor


The Numismatic Bibliomania Society is a non-profit organization promoting numismatic literature. See our web site at coinbooks.org.

To submit items for publication in The E-Sylum, write to the Editor at this address: whomren@gmail.com

To subscribe go to: https://my.binhost.com/lists/listinfo/esylum

Copyright © 1998 - 2020 The Numismatic Bibliomania Society (NBS)
All Rights Reserved.

NBS Home Page
Contact the NBS webmaster