---
Last week I published a list of web sites in the category of "coin makers" - the creators of numismatic items including bullion coins, fantasy coins, circulation coins, medals, tokens and (because I didn't know where else to put them), banknote makers. Perhaps "numismatic item manufacturers" is a more accurate term, if long-winded. Perhaps just "Manufacturers" or "Makers". Anyway, readers responded with some great suggestions to add to the list. -Editor
CHALLENGE COINS
Bob Fritsch writes:
You forgot the makers of "Challenge Coins" in your list. Many coin clubs have gone to these manufacturers to save their medal program. Here are a few, there are lots more.
All About Challenge Coins
Challenge Coin Company LLC
Challenge Coins +
Challenge Coins 4 Less
Coinforce
Coins For Anything
Custom Challenge Coins
Limited Challenge Coins

How could I forget Challenge Coins? I think I repressed the memory because I get spam nearly every other day from Chinese manufacturers wanting to sell me challenge coins. From viewing these sites I think they're all U.S. based. But it's hard to tell which if any are actual manufacturers or just resellers. But these look like a fine selection for our list. Additions welcome, particularly if you've had a positive experience.

Gotta love this graphic from the Coins For Anything contact us page. Coin Nerds Unite! -Editor
Bob adds:
Coins For Anything is the one I use with great results. While many of these companies are U.S. based, the medals are made overseas, mostly in the Far East. For example, Coins For Anything does everything here in the U.S., including graphics, ordering, billing, etc, then sends the designs to South Korea where they are manufactured then shipped directly to the customer. It sure holds down costs.
SCOTLAND AND AUSTRIA
David Powell writes:
Alexander Kirkwood of Edinburgh has been making tokens and medals since the early 19th century and is still going today. In particular, the company was responsible for a large proportion of Scotland's 19th century church communion tokens.
Schwertner are one of the major manufacturers of Austrian New Year tokens; click on "NEUJAHRSMÜNZEN 2018" for the forthcoming 2018 designs.
Thanks. The Kirkwood site is a work in progress. I'd love to see examples of their work, but the site is just a shell right now. Guess that Internet-thingy is just a passing fad anyway... -Editor
Kirkwood
Alex Kirkwood & Son Limited

Schwertner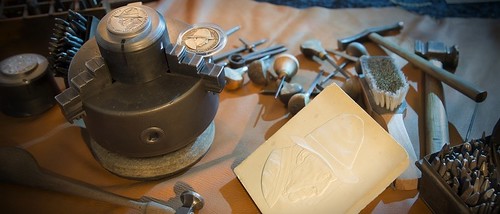 GERMANY

Björn Schöpe of CoinsWeekly writes:

The State Mints of Baden-Wuerttemberg have launched their new website featuring a wealth of interesting information on technical aspects related to the minting of coins and medals.

The State Mints of Baden-Wuerttemberg


Thanks. Björn included a press release which I've published as an article elsewhere in this issue. -Editor

INDIA

Greg Meyer writes:

The Republic of India has four coin mints and two different additional locations for printing currency/notes.

India Govenrment Mint
India Government Mint (Hyderabad)
India Government Mint (Kolkata)
India Government Mint (Mumbai)
India Government Mint (Noida)


Currency Note Press (Nashik)
Bank Note Press (Dewas)


Thanks, everyone! I've added all of these web sites, plus one I realized on my own had been left out: Mexico. Please let me know if you discover or think of other sites appropriate for our list. -Editor

MEXICO

Below is one I had to leave off the list. But perhaps someday we'll have a category for non-numismatic sites that are nonetheless useful for certain areas of numismatic research. -Editor

Anne E. Bentley of the Massachusetts Historical Society adds:

This may or may not be handy for numismatic research, but good to know about.

Colonial North America at Harvard Library

To read the earlier E-Sylum article, see:
A LIST OF COIN MAKER WEB SITES (http://www.coinbooks.org/v20/esylum_v20n48a23.html)



Wayne Homren, Editor


The Numismatic Bibliomania Society is a non-profit organization promoting numismatic literature. See our web site at coinbooks.org.

To submit items for publication in The E-Sylum, write to the Editor at this address: whomren@gmail.com

To subscribe go to: https://my.binhost.com/lists/listinfo/esylum

Copyright © 1998 - 2020 The Numismatic Bibliomania Society (NBS)
All Rights Reserved.

NBS Home Page
Contact the NBS webmaster