About Us
The Numismatic Bibliomania Society is a non-profit organization devoted to the study and enjoyment of numismatic literature. For more information please see our web site at coinbooks.org
Subscriptions
Those wishing to become new E-Sylum subscribers (or wishing to Unsubscribe) can go to the following web page link
Membership
There is a membership application available on the web site Membership Application
To join, print the application and return it with your check to the address printed on the application. Print/Digital membership is $40 to addresses in the U.S., and $60 elsewhere. A digital-only membership is available for $25. For those without web access, write to:
Terry White, Treasurer
Numismatic Bibliomania Society
P. O. Box 634,
Canal Winchester, Ohio
43110
Asylum
For Asylum mailing address changes and other membership questions, contact Terry at this email address: terrywhite5475@yahoo.com
Submissions
To submit items for publication in The E-Sylum, write to the Editor at this address: whomren@gmail.com
BUY THE BOOK BEFORE THE COIN
Content presented in The E-Sylum is not necessarily researched or independently fact-checked, and views expressed do not necessarily represent those of the Numismatic Bibliomania Society.
New subscribers this week include: Dawn from CK Shows. Welcome aboard! We now have 5,781 subscribers.
Thank you for reading The E-Sylum. If you enjoy it, please send me the email addresses of friends you think may enjoy it as well and I'll send them a subscription (but let me know if they are located in the European Union). Contact me at whomren@gmail.com anytime regarding your subscription, or questions, comments or suggestions about our content.
Readers have no doubt already seen many notifications in their inbox due to the new General Data Protection Regulation (GDPR). As noted last week, The E-Sylum holds no data beyond a subscriber's email address and the name they've (optionally) given us. A new link atop each issue enables readers to unsubscribe at any time if they do not wish to remain on the list: Click here to unsubscribe (scroll down to the bottom)
This week we open with selections from two literature sales, three new books and one review, an obituary and updates from the Newman Numismatic Portal.
Other topics this week include Chapman catalogs, St. Patrick coinage, shooting thalers, Sentimental Magazine medals, political slogans on banknotes, the Continental Dollar, Korea Summit challenge coins, the banknote printers strike, vertical banknotes, and Big Ben's pennyweight.
To learn more about architecture on Greek and Roman coins, French Colonial necessity notes, irradiated dimes, lacquer, slave charms, the Emancipation Proclamation medal, and the Perseverando Dollar, read on. Have a great week, everyone!
Wayne Homren
Editor, The E-Sylum


The 2018 General Meeting of the Numismatic Bibliomania Society (NBS) will be held on Friday, August 17 from 11:30 a.m. to 1:00 p.m. at the American Numismatic Association's World's Fair of Money in Philadelphia, Pennsylvania. The meeting will conclude as usual with a benefit auction of numismatic books and related items donated to be sold for the benefit of the organization.
Donations have already been received from several NBS supporters, but more are needed to make the auction a success. NBS Board member David Fanning has volunteered to catalogue and conduct this year's sale. Donated items may be sent to him at:
Kolbe & Fanning Numismatic Booksellers
141 W Johnstown Road
Gahanna OH 43230
He can be reached at df@numislit.com if you have any questions. All proceeds from the auction go to the Numismatic Bibliomania Society, with any expenses incurred in conducting the sale being donated to the NBS. Thank you for your consideration. Donations must be received by July 15.
A number of rare, useful, interesting and fun donations are already in hand. Another one is listed below. What can you add to the mix? -Editor
The hardcover edition of Fifty Years of Numismatic Bookselling: A Tribute to George Frederick Kolbe, one of only 20 bound in cloth (donated by David & Maria Fanning).
To read the earlier E-Sylum article, see:
NBS BENEFIT AUCTION AT 2018 ANA CONVENTION (http://www.coinbooks.org/v21/esylum_v21n09a04.html)
Alan Workman (Workman's Books, Orlando, FL) is holding his first bid sale of numismatic, paper money, treasure, and pirate books, which closes on Saturday, June 9, 2018. The bid sale includes 1500 lots of rare and hard-to-find references on Numismatics, Exonumia & Tokens, Banking Histories, Treasure, Pirates, Metal Detecting, Archaeology, History, and many other topics. Here are some selected lots. -Editor

Lots 54 and 55
Lot 54
de Callataÿ, François. THE COIN OF COINS: A WORLD PREMIER. The Israel Museum. 2004. 12mo, 46 pages; Softcover; . Subject: Coinage - Ancient
To view the complete lot desciption, see: 54 de Callataÿ: The Coin of Coins: A World Premier (http://www.icollector.com/de-Callata-The-Coin-of-Coins-A-World-Premier_i30112026)
Lot 55
Donaldson, T. L. ANCIENT ARCHITECTURE ON GREEK AND ROMAN COINS AND MEDALS. Argonaut Publishers. 1966. 8vo, 361 pages; Hardcover w/ DJ; . Subject: Coinage - Ancient
To view the complete lot desciption, see: 55 Donaldson: Ancient Architecture on Greek and Roman Coins and Medals (http://www.icollector.com/Donaldson-Ancient-Architecture-on-Greek-and-Roman-Coins-and-Medals_i30112027)

Lots 59 and 66
Lot 59
Whitting, P. D. BYZANTINE COINS. G. P. Putnam's Sons. 1973. 4to, 311 pages; Hardcover w/ DJ; . Subject: Coinage - Ancient Byzantine
To view the complete lot desciption, see: 59 Whitting: Byzantine Coins (http://www.icollector.com/Whitting-Byzantine-Coins_i30112031)
Lot 66
Arnold-Biucchi, Carmen. ALEXANDER'S COINS AND ALEXANDER'S IMAGE. Harvard University Art Museums. 2006. 4to, 84 pages; Softcover; . Subject: Coinage - Ancient Greece
To view the complete lot desciption, see: 66 Arnold-Biucchi: Alexander's Coins and Alexander's Image (http://www.icollector.com/Arnold-Biucchi-Alexander-s-Coins-and-Alexander-s-Image_i30112038)
For more information, or to bid, see:
http://www.icollector.com/Treasure-Pirate-History-Coin-Paper-Money-Rare-Book-Sale-June-9-2018_a35018
To visit the Workman's Books web site, see:
http://www.workmansbooks.com/
To read the earlier E-Sylum article, see:
WORKMAN BOOKS ANNOUNCES JUNE 9, 2018 SALE (http://www.coinbooks.org/v21/esylum_v21n20a03.html)
An amazing set including the rarest-of-the-rare Chapman Brothers catalogues is offered in the upcoming Kolbe & Fanning sale of highlights of the John W. Adams numismatic library. Here's a preview. -Editor
EXTRAORDINARY ADAMS SET OF CHAPMAN BROTHERS CATALOGUES TO BE OFFERED BY KOLBE & FANNING July 14, 2018 Sale Includes Complete Chapman Set with All Published Plated Sales
Kolbe & Fanning Numismatic Booksellers are celebrating our 150th Auction by offering highlights of the John W. Adams numismatic library on July 14, 2018.
The Adams Library includes one of the finest collections of American numismatic auction catalogues ever assembled. Among the most impressive highlights are the Chapman catalogues.
Henry and Samuel Hudson Chapman published close to 200 auction catalogues, as a partnership and separately, between 1879 and 1932. Sale 150 will include every one of their catalogues--every unplated catalogue will be offered, as will every published plated sale. This is the first time such an offering has been made.
A few particularly noteworthy Chapman catalogues include:

Lot 28
Lot 28: David Proskey's priced, named and plated auction room copy of the Charles I. Bushnell sale.

Lot 62
Lot 62: the very rare plated Ralph Barker catalogue, with two additional plates depicting a coin cabinet.

Lot 70
Lot 70: the 1909 Charles Gordon Zug sale with four photographic plates.

Lot 86
Lot 86: the exceptionally rare 1919 William Sleicher catalogue with six plates.

Lots 88 and 90
Lot 88: the plated catalogue of Dr. J.M. Henderson's collection of half and large cents.

Lot 90
Lot 90: the rare plated version of the F.G. Simpson sale.
Lot 91: the 1924 catalogue of the F.R. Alvord Sale with five plates.
In addition to the fabulous plated catalogues listed above, Sale 150 also provides bidders with the opportunity to acquire some of the rarest unplated Chapman catalogues, including: the 1893 book sale (lot 53) and stamp sale (lot 54) of the John W. Kline estate; the 1898 H.M. Smith stamp sale (lot 58); the 1913 Bruce Cartwright sale (lot 76); the rare "Unlisted in Adams" Emil Caufman sale (lot 102); and Henry Chapman's bidbook of the rare offprint of the Enrico Caruso coin sale (lot 112).
An extensive, full-color catalogue will be issued, and the sale will feature live online bidding using Kolbe & Fanning's custom third-party online bidding platform. The online catalogue will be available shortly at bid.numislit.com; the printed catalogue will mail in a couple of weeks. Bidders wishing to make an appointment to view auction lots are invited to contact David Fanning at df@numislit.com. We are excited to be offering the Adams Library of classic American numismatic auction catalogues and look forward to sharing more previews in the near future.
Kolbe & Fanning Numismatic Booksellers LLC is a licensed and bonded auction firm in the State of Ohio. For more information, please see the Kolbe & Fanning website at numislit.com or email David Fanning at df@numislit.com.
A long-awaited new book by Syd Martin has been published! -Editor
The Colonial Coin Collectors Club Announces The Release of the
Definitive Book on the St. Patrick Coinage by Sydney F. Martin
MAY 27, 2018 – today, The Colonial Coin Collectors Club, (C4), released Sydney F. Martin's latest book, Saint Patrick Coinage For Ireland and New Jersey. This is the fourth book published by C4 that has been written by Syd Martin, the former editor of the C4 Newsletter and current President of The American Numismatic Society. His other works are The Rosa Americana Coinage of William Wood, The Hibernia Coinage of William Wood, and French Coinage Specifically for Colonial America. These books are all considered the standard references for these series today.
Syd's latest work covers a series that has long vexed researchers on both sides of the Atlantic – the St. Patrick coinage. In researching this book Syd traveled to Ireland and spent many hours in the archives in New Jersey in search of clues, discovering some fascinating answers and developing several new theories regarding the coinage. This coinage has long been shrouded in mystery as to when and where it was made, and for what purpose. Syd discusses the theories that have been proposed so far, and the pros and cons of each plus some exciting new theories of his own.
According to Lou Jordan, the Curator of Numismatic Collections for the University of Notre Dame, this book is "groundbreaking!" Phil Mossman, former editor of The Colonial Newsletter (CNL), writes that "Syd has described in detail the visual imagery and icons symbolized on these coins by hand-engraved dies. A total of 197 varieties of small St. Patrick coins have been meticulously cataloged by him and presented in an easy to follow format." Mossman went on to state that "the nine varieties of large St. Patrick coppers, identified as a separate entity, are equally well presented." Christopher McDowell, editor of CNL, states that "this is the most important book on colonial numismatics to be published in many years. It is doubtful that this book will ever be surpassed in its coverage of the series. If you collect St. Patrick coinage or are interested in colonial numismatics, this book is a must-have."
In many ways this work is a collaborative effort, helped by many collectors who shared access to their St. Patrick collections for Syd to examine and photograph. The result is the first complete and illustrated catalogue of all known varieties in the series; unlike Syd's earlier three books, this one features color photographs. Other topics covered include the manufacturing history of the coins, literary discussion of the series, a history of their circulation in America, and a fascinating Appendix that includes what Syd calls "Miscellany." According to Phil Mossman, what Syd calls "Miscellany" is actually "well-researched inquiries into the lineage of an elusive series." C4 is very proud to publish this book and its long association with Syd Martin.
The 528 page book is hardbound, with color illustrations throughout of the different coin varieties examined, with dust jacket. Saint Patrick Coinage: For Ireland and New Jersey, by Sydney F. Martin, is available for $95 for C4 members or $125 for nonmembers of C4, plus $7.25 shipping from bookseller Charles Davis, (numisbook.com), Box 1, Wenham, MA 01984, or telephone 978.468-2933
For more information, or to order, see:
http://www.numisbook.com/
2nd edition 2018
564 pages, 23.5 x 28 cm, full color illustrations, hardcover
ISBN: 978-3-86646-162-8
Price: 85,00 EUR
This book, which has also been translated into English, deals with the history as well as the historical background of the shooting thalers and medals of Switzerland. More than 2,500 talers and medals from their beginnings in the early seventeenth century to the year 1960 were listed in detail and mostly reproduced.
From engraved single productions to medals with a circulation of several thousand copies, all pieces were supplemented with a rarity indication as well as two evaluations for the preservations "vz-unz / AU53" as well as "FDC / MS64". As a novelty for the first time in the more frequent pieces also a market availability was determined, which should enable the collector to estimate how often or how rare a corresponding medal really is today.
Three different index categories, chronologically by age, alphabetically by location, and also alphabetically by inscriptions, allow the collector to efficiently identify virtually any medal and look up it in the catalog. The current second edition has been substantially expanded, especially as regards information on individual medals. Several hundred newly discovered specimens were recorded, described and evaluated.
As far as the valuations are concerned, they have been revised from scratch and adapted to current market conditions. Thus, this book becomes an indispensable reference work when it comes to the determination and evaluation of shooting thalers and medals in Switzerland.
To read the complete article, see:
Die Schützentaler und Schützenmedaillen der Schweiz (http://www.gietl-verlag.de/die-schuetzentaler-und-schuetzenmedaillen-der-schweiz/buchdetail/794/0/0/2.html)
To read the CoinsWeekly article, see:
Swiss shooting thalers and medals (http://www.coinsweekly.com/en/News/Swiss-shooting-thalers-and-medals/4?&id=5383)
For those wondering just what a "shooting thaler" is, there's a good article by BJ Searls on the PCGS web site; here's an excerpt. -Editor

1842 Swiss 4 Francs issued by Chur
The federal state of Switzerland is divided into Swiss cantons, or member states. In the 1800s and early 1900s, these cantons held Shooting Festivals, or "free shoots" tournaments. Originally, these festivals were fundraisers to aid the widows and orphans of the soldiers who had fallen in defense of their country. Shooting halls were erected and prizes were awarded to the sharp shooters.
Although the purpose has changed, the shooting contests continue to this day, now regulated by the federal government. The Swiss are avid supporters of the right to carry arms. Because they do not have an army, they depend on the citizenry for national defense. Recreational shooting is popular, in fact so much so, that the annual Feldschiessen weekend, the largest rifle shooting competition in the world, sees 200,000 in attendance every year. While a large percentage of households contain guns, the murder rate in Switzerland is one of the lowest in the world.
With each shooting festival, a commemorative medal was minted. For the collector, there are two distinct periods to consider when collecting Shooting Festival commemoratives. The first run is from 1842 to 1939. These coins are commonly called Shooting Thalers, and for the most part, are the equivalent in size and metal content to their legal tender counterpart. As such, these coins were circulated outside the festivals, although technically, they are medals. The second period, the modern commemoratives, runs from 1984 to date. These coins are not considered legal tender and were meant to be exchanged only during the festival.

1934 B Swiss 100 Francs issued by Fribourg
To read the complete article, see:
Swiss Shooting Thalers (https://www.pcgs.com/news/Swiss-Shooting-Thalers)
For more information, or to purchase, see:
lb70 - Billets et tickets d'outre-mer, émissions officielles dites "de nécessité" dans l'Empire colonial français (cgb.fr/billets-et-tickets-doutre-mer-emissions-officielles-dites-de-necessite-dans-lempire-colonial-francais-bayle-georges,lb70,a.html)
For more information on The Banknote Book, see:
http://www.banknotenews.com/banknote_book/banknote_book.php
This Whitman press release provides more background on the token and medal information in the new edition of MEGA RED, the deluxe Red Book. -Editor
U.S. Medals and Tokens Featured in New MEGA RED, 4th Edition
Collectors of exonumia (tokens, medals, and similar coin-like objects) will enjoy more than 50 pages devoted to their interests in the fourth edition of MEGA RED (the Deluxe Edition of the Guide Book of United States Coins). Eight of the book's twenty-five appendices feature American exonumia ranging from dime-sized tokens to dollar-sized and larger medals. The 1,504-page MEGA RED is available from booksellers and hobby shops nationwide, as well as online (including at the publisher's Web site, Whitman.com). It retails for $49.95.
Many of these specialized appendices are by Whitman Publishing numismatic director Q. David Bowers, who serves as senior editor of MEGA RED. Readers will find the following:
• So-Called Dollars: Appendix G, written by Jeff Shevlin with additional research by Bill Hyder, is an illustrated 16-page feature on the So-Called Dollars of the 1915 Panama-Pacific International Exposition, with historical notes, specifications, rarity ratings, and valuations in nine grades.
• Dimes in American Popular Culture: Appendix H, by Joel J. Orosz, is a nostalgic stroll down Memory Lane with dime-related materials ranging from song lyrics to pulp magazines, plus political and satirical encased dimes, shell cards, tokens, related numismatic ephemera, and more. 9 pages.
• Advertising on a Dime: Appendix K, by Bowers, focuses on advertisements and political messages counterstamped on U.S. dimes; plus Civil War–era encased postage stamps of the ten-cent denomination. 6 pages.
• Civil War Sutlers' "Dime" Tokens: Appendix O, by Bowers, is a showcase of ten-cent tokens issued by licensed retailers known as sutlers, who typically traveled with Army troops during the Civil War and supplied the soldiers with goods. 3 pages.
• Civil War "Dime" Store Cards: Appendix P, by Bowers, illustrates Civil War tokens issued to be redeemable for 10¢, standing in for the nation's silver dimes, which were hoarded out of circulation by the summer of 1862. 2 pages.
• Dimes as Planchets for Civil War Tokens: Appendix Q, by Bowers, explores rare silver tokens, struck over federal silver dimes, issued as numismatic collectibles during the Civil War. 2 pages.
• Irradiated Dimes: Appendix U, by Bowers, is an illustrated study of Barber, Mercury, and Roosevelt dimes irradiated in isotope cabinets and encased in souvenir holders in the 1940s, '50s, and '60s as educational examples of atomic energy. 3 pages.
• Modern U.S. Mint Medals: Appendix W, by Dennis Tucker, is an 11-page overview of bronze, silver, gold, and other medals struck by the United States Mint since the Bicentennial celebrations of the 1970s, including Congressional Gold Medals, World War I and World War II commemoratives, silver Presidential medals, and others.
The fourth edition of MEGA RED has a special focus on U.S. dimes with a 294-page feature section covering ten-cent pieces from 1796 to 2018, with more than 1,600 dime photographs and a study of 845 varieties. Images are from the Whitman Publishing historical archives plus coins photographed by Heritage Auctions, Stack's Bowers Galleries, NGC and PCGS, the Smithsonian, and individual hobbyists who answered Whitman's call for dime photographs.
MEGA RED is billed as the "biggest, most useful Red Book ever." It measures 7 x 10 inches and has 1,040 more pages than the regular edition. The larger size and increased page count combined make MEGA RED five times bigger than the regular-edition Red Book. It prices more than 8,000 items in up to 13 grades each, with 48,000 individual values and more than 15,000 auction records covering circulated, Mint State, and Proof coinage. The book is illustrated with thousands of full-color images, including thousands that are new to this edition.
MEGA RED is available from booksellers and hobby shops nationwide, and online.
For more information, or to order, see:
MEGA RED: A Guide Book of United States Coins, Deluxe 4th Edition (https://www.whitman.com/store/Inventory/Detail/MEGA-RED-A-Guide-Book-of-United-States-Coins-Deluxe-4th-Edition+0794845800)
To read the earlier E-Sylum article, see:
NEW BOOK: MEGA RED 4TH EDITION (http://www.coinbooks.org/v21/esylum_v21n13a04.html)
Jeff Rock of San Diego, CA submitted this review of a new book on some very interesting little medals. Thanks! -Editor
We've all seen them – ESPECIALLY if you collect copper coins from the 18th century. A series of small, 25mm, medals featuring a bust on the obverse, the name of the individual on the reverse and (usually) the signature KIRK. It's been fairly common knowledge that these were issued in England in the 1770s and were put out by The Sentimental Magazine as a promotional item, one medal given away with the early issues of that magazine.
Many collectors, especially American, have considered these to be tokens because of their diminutive size, but the magazine that issued them referred to them as medals and, in the UK at least, tradition dies hard; the fact that "medals" sounds far more grand would have certainly suited a new publication trying to make its mark in the competitive London market. For comparison purposes, these medals are a few millimeters larger than the US nickel.
There were 13 different people (including three women) depicted on the medals, mostly royalty and the aristocracy, though two outliers are also depicted – Oliver Cromwell more famous for his role in the killing of a royal (King Charles I), and David Garrick, the famous actor and playwright.
At the time of their issue, in 1773 and 1774, 9 of the 13 people depicted on these medals were still alive (besides Cromwell, the posthumous issues were George II, the Marquis of Granby and the Right Honourable William Beckford), and they can be seen as both honoring the people they depict as well as a bit of sucking up in the hope of patronage or some sort of recognition that would help increase circulation of the magazine.
American collectors are usually acquainted with the medal depicting Lord Chatham – better known on this side of the Atlantic as William Pitt (the Elder).
The medals often show a bit of light circulation, and it is likely that those saw use as a farthing, which is interesting because they actually predate the 18th Century Provincial Tokens (i.e. "Conder Tokens") by over a dozen years. That said, the entire series is available without much searching, with the Chatham/Pitt piece being a bit pricier than the others because of the American connection, but a set of all 13 types in EF grade can be put together for under $500, and an AU/UNC set would likely run less than double that amount.
While a few smaller articles about the Sentimental Medals have appeared over the years, not much serious study was given to them. That has now changed with the publication of Sentimental Magazine Medals, by Martin Warburton, a British collector who previously co-authored a book on the Imitation Spade Guinea counters and advertising tokens. This 36-page booklet brings together all of the (admittedly limited) information that is known on the Sentimental Magazine medals.
The author looks at each type, as well as die varieties in the instances where more than one die pair was used (for those who like collecting by die variety, don't worry, there are just four additional die varieties, so the entire set in copper is still a reasonable 17 items – though of course a few more can be added for die rotation and die state as well).
For the first time their order of issue is soundly laid out, with the month and year given – much of this information gleaned from an extremely rare surviving volume of the magazine in the author's library (and for the book lover in all of us, the author goes into some detail about the finding and preservation of that volume). Warburton has found that the first medal was issued in March, 1773 for the very first issue of the magazine, and continued until March of the following year when they ceased (the magazine itself was published until 1777.
Warburton also discusses the off-metal examples known – there are pieces that have long since been called silver which prove to be something slightly different (and likely some false advertising on the part of the magazine publisher!), as well as gilt, white metal and brass specimens. The engraver, John Kirk, is also discussed. Full color photographs are included for all types and die varieties, and the booklet is printed on good-quality, glossy paper.
For collectors who have even a passing interest in these historic (yet still inexpensive) medals, the book itself can be ordered from the author. The cost is a very reasonable £10 for UK residents and £12 for those in the US. Payment can be made via PayPal (in British Pounds) to: martin@richardmills.net – and obviously include your name and mailing address. At the current exchange rate that comes to about $16, including postage – probably one of the least expensive additions to your library this year!
Frank Trask was born on June 16, 1932 in Anneta, KY and raised in Gary, IN. The family moved to Ontario, CA. in 1948 where Frank graduated from Chaffey High School, then went on to Caffey College. He graduated from San Jose State University with degrees in sociology and psychology.
In 1952 he joined the Marine Corps where he served in the Korean Conflict in an air squadron helicopter unit. Honorably discharged in 1955 with rank of Sargent, he went into sales for the Auto Club of Southern California then on to management as a District Manager in Palm Springs where he met and married Susan, his wife of 47 years.
Frank spent 15 years in real estate sales until he discovered his passion for numismatics and became a coin dealer attending an average of 35 shows a year from Denver, Salt Lake City, Long Beach, and the San Francisco Bay area. Frank was a well-liked dealer in the western states. Dave Bowers liked to call him "Frank of the West".
His love of the profession lead him to involve Susan in the business by encouraging to explore her own niche, Civil War Tokens.
Frank passed away in Bend, OR. on May 16, 2018 just one month shy of his 86th birthday.
CARTNEWS, published by the Carolina Token Society, has been digitized by Newman Numismatic Portal and is now online for the period 2004-2016. A recent issue (August 2014) describes a "good for" token of Profile Cotton in Jacksonville, AL, c. 1920, and relates how its proprietor William Ivan Greenleaf was hung in effigy, by a mob incensed with Greenleaf's labor practices:
Newman Portal acknowledges Tony Chibbaro, Don Bailey and Eric Schena of the Carolina Token Society for their assistance with this project.
Image: "Good for" token from the Profile Store, Jacksonville, AL, c. 1920.
Link to CARTNEWS on Newman Portal:
https://nnp.wustl.edu/library/publisherdetail/526524
Project Coordinator Len Augsburger offers observations related to content being searched for on the Newman Numismatic Portal. This week's search term is "Maris 66-v". -Editor
A Newman Portal user this week searched on "Maris 66-v," using the NNP advanced search page and restricting content type to auctions. The Maris 66-v is a rare New Jersey copper variety, and Newman Portal locates only 48 listings in its database of over 5,000 auction catalogs. The recent ANS publication on New Jersey coppers (2013, by Roger Siboni, Jack Howes, and A. Buell Ish) describes the popularity of the variety:
Siboni, Howes, and Ish report no uncirculated examples. An EF coin appeared in the Stack's Bowers Americana sale of January 2013 (lot 11401) and realized $8,225.
Image: Maris 66-v New Jersey copper, from Stack's Bowers Americana sale, 1/2013, lot 11041, realized $8,225.
Link to NNP advanced search:
https://nnp.wustl.edu/Library/AdvancedSearchForm
On Saturday June 16, 2018, the American Numismatic Society's ace coin photographer will present a Money Talks lecture at the ANS New York headquarters. This is a great opportunity to learn the basics from a seasoned pro. -Editor
Alan Roche, the Society's photographer, will present "The Art of Photographing Coins'. Roche will consider the various aspects involved in the production of high-resolution images of coins and banknotes. A hands-on photographic demonstration will show how you can photograph your own coins like a pro. The event will begin with a lunch at 1:00 and the lecture will start at 2:00. Space is limited. Please RSVP to membership@numismatics.org, or 212-571-4470 ext. 112.
For more information on the American Numismatic Society, see:
http://numismatics.org/
Regarding Abby Cooper's request for information on holed coins as slave charms, Carol Bastable of the Love Token Society submitted these postcard images gathered from eBay. -Editor
Carol writes:
To view the complete eBay lot descriptions, see:
Emblem Of Good Fortune~One Thin Dime on Blue Ribbon~Silver Back Embossed~605/12 (https://www.ebay.com/itm/Emblem-Of-Good-Fortune-One-Thin-Dime-on-Blue-Ribbon-Silver-Back-Embossed-605-12/292551795329)
emblem good luck fortune postcard six pence coin silver back forget me nots (https://www.ebay.com/itm/emblem-good-luck-fortune-postcard-six-pence-coin-silver-back-forget-me-nots-/263692209627)
Dave Lange writes:
Arthur Shippee writes:
To read the complete article, see: Rituals Captured in Context and Time: Charm Use in North Dallas Freedman's Town (1869–1907), Dallas, Texas (http://users.clas.ufl.edu/davidson/Historical%20archaeology
%20fall%202015/Week%206%20material%20culture/Davidson%202004%20coin%20
cham%20article%20master%20version.pdf)
On a related note, see the "Buried Child's Mummified Hand Clutches Coin" article elsewhere in this issue. -Editor
To read the earlier E-Sylum article, see:
HOLED COINS AS SLAVE CHARMS (http://www.coinbooks.org/v21/esylum_v21n20a15.html)
Ken Hallenbeck of Colorado Springs, CO writes:
People do need to be vigilant against counterfeits, but sometimes their suspicions are misplaced, especially with older, genuine notes that circulate less frequently. It's not a new problem, as shown in the next item. -Editor
Charles Farthing writes:
Thanks, everyone. -Editor
To read the earlier E-Sylum article, see:
MAN WRONGLY ACCUSED OF PASSING FAKE $10 BILL (http://www.coinbooks.org/v21/esylum_v21n20a36.html)
Last week we discussed circulating banknotes with political slogans on them, such as the following. -Editor
Jeff Kelley of Duxbury, MA writes:
Ken Hallenbeck writes:
Phil Iversen submitted four photos from his collection of graffiti on U.S. currency with political implications of various kinds. Thanks! -Editor
Susie Nulty of Colorado Springs, Colorado submitted this note with a "TAX CHEAT" stamp above the signature of Treasury Secretary Timothy Geithner. -Editor
Dr. Kavan Ratnatunga writes:
Thanks. Despite the dire warnings which caused an uproar in social media, "CBSL has decided to continue the service of exchange of willfully mutilated, altered and defaced currency notes from CBSL until further notice" See the articles online for more information. -Editor
To read the complete articles, see:
Truth about defaced currency notes (http://www.sundaytimes.lk/180513/business-times/truth-about-defaced-currency-notes-293369.html)
RTI reply on Defaced Currency Notes (http://notes.lakdiva.org/rti/DefacedCurrencyNotes.html)
To read the complete article, see:
Short snorters aid in exploration (http://www.numismaticnews.net/article/short-snorters-aid-in-exploration)
To read the earlier E-Sylum article, see:
TRUMP SLOGAN ON $20 BILLS (http://www.coinbooks.org/v21/esylum_v21n20a35.html)
Paris Coin Cabinet Curator Jean-Baptiste Giard
Hadrien Rambach writes:
British Museum Exhibit Continues Throughout September
Regarding the British Museum exhibit highlighting six interesting lesser-known numismatic collections around the U.K., Henry Flynn adds:
To read the earlier E-Sylum article, see:
READY REPLICAS AND MONEY MAGIC (http://www.coinbooks.org/v21/esylum_v21n18a26.html)
More on Chicago Coin Club Medals and Tokens
Addressing Dick Johnson, who reviewed his Medals and Tokens of the Chicago Coin Club book, author Bill Burd writes:
To read the earlier E-Sylum article, see:
BOOK REVIEW: CHICAGO COIN CLUB MEDALS AND TOKENS (http://www.coinbooks.org/v21/esylum_v21n20a07.html)
1964 Coin World Guide to Coins
Chris Bower of Indianapolis, IN writes:
Interesting bit of numismatic ephemera - thanks! Covers are advertisements, especially for magazines sold from a rack. Maybe it's a "bait and switch" tactic or just a newsworthy item at the time that the publisher thought would help sell the publication. -Editor
To read the earlier E-Sylum article, see:
VIDEO: 1964 MORGAN DOLLAR AD (http://www.coinbooks.org/v21/esylum_v21n19a21.html)
On the British Lusitania Medal

Paul Bosco writes:
Interesting background. Popular medal for an unfortunate event. -Editor
To read the earlier E-Sylum article, see:
WAYNE'S NUMISMATIC DIARY: MAY 20, 2018 : British Copy of Goetz Lusitania Medal (http://www.coinbooks.org/v21/esylum_v21n20a24.html)
Cricket Coin Toss Question
Regarding the Cricket coin toss discussed last week, Pabitra Saha writes:
Kavan Ratnatunga writes:
To read the earlier E-Sylum article, see:
NOTES FROM E-SYLUM READERS: MAY 20, 2018 : Cricket Coin Toss In Jeopardy (http://www.coinbooks.org/v21/esylum_v21n20a14.html)
World Coin Games

Last week Gary Beals introduced his idea for World Coin Games. I forwarded the article to a number of people in organizations running events for young collectors, with good reception. -Editor
Gary Beals writes:

World Coin Games in action
To read the earlier E-Sylum article, see:
INTRODUCING: WORLD COIN GAMES (http://www.coinbooks.org/v21/esylum_v21n20a27.html)
How to Improve and Strengthen the ANA

Those in numismatics who emphasize the art, history, and romance of numismatics will stay for a long period of time, even lifetimes. These elements are essential.
Specialization is the key to longevity. If you look at the officers and contributors of articles to Early American Coppers, Colonial Coin Collectors Club, Liberty Seated Coin Club, Numismatic Bibliomania Society, Civil War Token Society, Token and Medal Society, John Reich Collectors Society, and other specialized groups you will see that most have been active for years!
One of the greatest potentials for ANA is people past the age of 65, especially those who are educated and have been successful in life.
To read the complete article, see:
Bowers on collecting: Changes for the American Numismatic Association (http://news.coinupdate.com/bowers-on-collecting-changes-for-the-american-numismatic-association/)
Making Amends for a Stolen Book
Dave Bowers writes:
Great story. Not all naughty boys repent. -Editor
Checking In On Bernard von NotHaus

Not from a reader, but something interesting I stumbled across this week... So what has "Liberty Dollar" creator Bernard von NotHaus been up to lately? Check out his LinkedIn profile and web site. -Editor
From LinkedIn:
From the web site:
For more information, see:
Bernard von NotHaus (https://www.linkedin.com/in/bernard-von-nothaus-09a9271/)
https://www.cannabisspiritualcenter.org/
To read the earlier E-Sylum articles, see:
LIBERTY DOLLAR CREATOR CONVICTED IN FEDERAL COURT (http://www.coinbooks.org/esylum_v14n12a20.html)
LIBERTY DOLLAR CREATOR BERNARD VON NOTHAUS SENTENCED (http://www.coinbooks.org/esylum_v17n50a16.html)
LIBERTY DOLLAR CREATOR VON NOTHAUS ISSUES "TRUMP DOLLARS" (http://www.coinbooks.org/esylum_v19n48a33.html)
VON NOTHAUS TRUMP DOLLAR PRODUCTION SUSPENDED (http://www.coinbooks.org/esylum_v19n14a20.html)
Several readers wrote in with additional comments and observations on our discussion of the J. Schulman firm. Thanks! -Editor
Last week David Hill wrote:
John Lupia writes:
Martin Purdy writes:
Paul Bosco writes:
Thanks, everyone. -Editor
To read the earlier E-Sylum article, see:
MORE ON HANS SCHULMAN (http://www.coinbooks.org/v21/esylum_v21n20a13.html)
Spraying medals with lacquer in a spray booth along with baking under heat lamps to dry the lacquer are last steps in manufacturing art medals.
Lacquer. A spirit varnish or shellac, clear or colored, which when applied to a medallic surface: (1) gives protection, (2) adds reflective or matte finish, (3) adds any metallic color, and (4) prevents tarnish. A thin application – even a few thousandths of an inch – forms a tough, durable, coating. Lacquer is fast drying and when thoroughly dried it is impervious to a wide range of environments and chemicals, making it ideal for the protection of medallic items or even a coin.
Two types exist: natural lacquer (Japanese, Chinese varnishes) made from tree sap diluted and colored with pigments; and synthetic or artificial lacquer which have a variety of chemical bases (most popular are pyroxylin, resins, ester gum, cellulose acetate); these lacquers dry rapidly forming a hard, durable surface. Two other types also exists: air dry force dry lacquer and baked acrilic. All are forms of ORGANIC COATING.
Art medal lacquering is required for protection of the surface. This is a function of the finishing department where it is performed with a spray gun in a spray booth (the booth prevents the spray mist from entering adjacent atmosphere). This is in contrast to the sculptural technique of surface metal protection of waxing, where a light coating of clear wax is applied to the surface. Artists creating art medals in their own studio can accomplish a lacquer coating with a spray can of lacquer where a spray gun, and spray booth, are not available.
What needs to be lacquered. Metal items that have been formed and finished need to be lacquered to preserve the finish or patina that had been applied to their surface. Copper and bronze objects are the greatest candidates for lacquering because their surface is so unstable (look how fast a red copper coin turns brown). Gold, at the opposite extreme, needs little lacquer at all because it is so inherently stable.
Bronze and silver art medals are lacquered for the reason to protect the surface that has been OXIDIZED and RELIEVED. The lacquer protects the color, the metal surface, and prevents undesirable TARNISH and TONING. Lacquering can also provide a GLOSS or SATIN FINISH.
How lacquer is applied. Formerly any item to be coated with lacquer was brushed on or dipped. Generally too much lacquer adheres to the object when either of these methods were used, thus the application by modern spray gun is far more desirable. A coating so thin it is imperceptible to the naked eye but thick enough for protection can be sprayed.
Even so, the amount of lacquer applied is a matter of personal taste, but too thick a coat becomes unsightly as it tends to build up in crevices and detail on numismatic items. A rule of thumb is thinner is better; two passes of the spray gun (one horizontal, one vertical) is sufficient.
Medallic items are laid out on wire racks large enough for a dozen or so medals to be placed. This is carried to a spray booth, laid flat inside on a turntable. After one pass of the spray gun is directed over the medals the turntable is rotated one-quarter turn. The second pass is made over the medals (this provides both vertical and horizontal spraying). A second wire rack is placed on top of the medals and with both hands holding the two racks tightly together, the operator brings these out of the spray booth, and flips them over (without, of course, spilling any of the medals).
Replaced in the spray booth, the top rack is removed and the second side is capable of being sprayed without humans ever having to touch the items. The wire rack containing the medals lacquered on both sides is then set aside to allow a thorough drying. To speed up the drying the tray of medals can be placed under heat lamps. Since this is usually a last step of production (unless the items must be suspended or fabricated in some other way), the wire rack is carried to the inspection table, after which the items are packaged.
Mechanical spray lacquering. Some medal makers have attempted to mechanize the step of lacquering since it is labor intensive. Equipment developed for the continuous flow spray processing of license plates has been adapted for medal production but this has not met with full success. The application of lacquer by a spray gun manned by a human operator is as much an artistic factor as the choice of patina color.
Lacquer as a coating. Once dried, lacquered objects become resistant to acids, alkalis, alcohol, and even heat up to 160° Centigrade (above this temperature, lacquer turns purple, then will strongly tarnish the item – FIREDAMAGED). Lacquered items are still protected with normal handling as the surface is impervious to perspiration and other contaminates found on the hands. Only when lacquered items are subjected to the strongest of solvents – as with benzene – will the lacquer be dissolved.
After medallic items have been lacquered they can be handled with human hands for all time, an important advantage of lacquering. The protected surface of art medals, for example, do not need to be embedded, encapusalted, housed in plastic, slabbed, or otherwise entombed. Lacquering provides this condition for touching and open display.
Lacquer as a reflective and coloring agent. Lacquer can change the reflectiveness or color of a finish, ranging from highly lustrous to a matte, from glossy to SATIN FINISH or less polished appearance. Pigments can be added to a clear lacquer to give a color tint to any item coated with that lacquer, as a GOLD TINT lacquer can be sprayed on any item.
To achieve a MATTE surface the medallic item can be heated slightly and sprayed with a light coat of lacquer. Since the previous step is a complete drying of the metal surface, this is done under heat lamps. Thus it is ideal to spray immediately after removing from under the heat lamps. A minimum number of passes with the spray gun is necessary.
For a more glossy, more reflective appearance the number of spray passes is increased, a thicker coating of lacquer is applied. This will give gloss to the surface, heated or room temperature, as the lacquer becomes more visible.
Also, by adding BRONZE POWDERS to lacquers a metallic finish can be applied. Despite the name, bronze powders can be added to lacquer to imitate any metallic color, as bronze powders can be made of any metal – even aluminum or brass – which, when sprayed on an item give it a gray or gold color.
Lacquer anomalies. Most problems with lacquer are derived from moisture. If moisture contaminates the lacquer and then sprayed on a medallic item, it may appear cloudy, called bloom in the art field. On the other hand if moisture is left on an object which is lacquered, a dark WATER STAIN will appear after about two year's time.
Undesirable lacquering occurs when too much lacquer has been applied. It tends to pool, or build up in the crevices and at the edges where relief meets the field in both the device and lettering. This is not pleasing to the human eye.
Lacquer refurbishing. If any lacquered medal is dirty, dusty or has some grime, it may be cleaned with dilute soap solution, rinsed with lukewarm water and patted dry with a soft cloth. Dried adhesive and other surface contaminates may be removed from lacquered medals with toulene (which does not disturb the lacquer coating, as stronger solvents would do).
If the lacquer has worn spots, or if the item has a WATER STAIN, or if patina anomalies are present (as WIPE MARKS), or if the lacquer is cloudy, or it has been applied to thickly, to resolve any of these problems the lacquer may be removed – DELACQUERED – with a solvent as benzene. Then any patina work can be done; the object is completely dried (even baked to remove all unwanted moisture), then the object relacquered, sprayed with a new lacquer coating. This is done in most every case of REFINISHING.
Original lacquer. There is absolutely no way of knowing if an existing lacquer is original – the first lacquer applied by the item's maker. There is no reason to retain any lacquer on a medallic item if it has any of the adverse conditions listed above. If a lacquer needs to be replaced, the item should be refinished. There is no special collector value to an original lacquer.
CLASS 09.1
Book lovers should be word lovers as well.
Looking for the meaning of a numismatic word, or the description of a term? Try the Newman Numismatic Portal's Numismatic Dictionary at: https://nnp.wustl.edu/library/dictionary
Printed copies of the complete Encyclopedia are available. There are 1,854 terms, on 678 pages, in The Encyclopedia of Coin and Medal Technology. Even running two a week would require more than 19 years to publish them all. Advance drafts are available for $50 postpaid with checks in U.S. funds only to Dick Johnson, 139 Thompson Drive, Torrington, CT 06790.
John Lupia submitted the following information from the online draft of his book of numismatic biographies for this week's installment of his series. Thanks! As always, this is an excerpt with the full article and bibliography available online. This week's subject is coin dealer G. L. Fancher. -Editor
George Lewis Fancher (1852-1922), was born on October 8, 1852, in Camillus, Onondaga County, New York, son of Harry (1809-1896-), and Harriet Phillips Fancher (1812-1873), both native New Yorkers.
In 1870, he served a three year apprenticeship at a druggist on the corner of 8th Avenue and 43rd Street, New York City. The 1870 New York City Directory listed him as George S. Fancher working as a clerk in a drug store at 680 8th Avenue. He remained there until 1873.
In 1873 he moved to Plantsville, Connecticut, managing a drug store there for two years.
On December 3, 1874, he married his childhood sweetheart, Emma J. Fergus (1854-) of Camillus, New York.
In June 1881, Fancher was a correspondent of Ebenezer Locke Mason, Jr.
Fancher began advertising he is a dealer in Coins, Medals, Colonial, Continental and Confederate Money, Old Newspapers, Almanacs, Old and Rare Coins, &c., Bought, Sold and Exchanged.
On June 11-12, 1884, George Massamore, Sale 24, 1250 lots, sold part of the George L. Fancher collection together with A. M. Wortman, et alia.
Fancher was a coin dealer who published a Fixed Price List. He applied for ANA Membership in November 1903.
The 1920 U. S. Census lists him still living at 59 Meadow Street, Winchester, Litchfield County, Connecticut.
He died on November 15, 1922, at the family home at Camillus, New York.
To read the complete article, see:
FANCHER, GEORGE LEWIS (https://sites.google.com/a/numismaticmall.com/www/numismaticmall-com/fancher-george-l)
* * * * *
The entire inventory of the Lupia Numismatic Library is for sale. Individual items will be available before the remaining archives are broken up into parcels sold at philatelic auctions in the U. S. and Hong Kong. Check NumismaticMall.com frequently as dozens of new items with estimates will be posted daily until everything is sold.
All inquiries will be given prompt and courteous attention. Write to: john@numismaticmall.com .
We all know that a frequently repeated theory tends to gain traction over time, often morphing into generally accepted fact. This seems to be the case with the Continental Dollar. But maybe it's time for a fresh look at the plain facts, which is the intended goal of this article. Stripped bare, the truths behind the creation of these pieces are sure to raise some eyebrows.
Let's start this exploration by leaving the stand­ard numismatic references on the shelf and heading right for the "primary sources." These are the original words written, or not written, about the Continental Dollar during the time of its creation and initial availability, taken strictly from those familiar with the coins and the official entity that is supposed to have issued them. As such, these contemporaneous testimonies represent the most credible form of historical information on this subject.
The next several paragraphs describe the life of Pierre Eugene du Simitière, an early student and collector of American numismatics. -Editor
du Simitière died in October 1784 before he could complete his historiographical work. To settle his estate, his vast collection of coins, books and papers, as well as the contents of his private museum of natural history, were sold at auction in Philadelphia. Today, there are significant repositories of his papers at the Library Company of Philadelphia and the National Archives in Washington D.C.
Among the holdings of the latter are two texts of utmost importance to this subject. The first is du Simitière's chronological list of the coins, medals and paper notes he acquired between August 1775 and December 1783, detailing 137 separate entries. Clearly a voracious and astute collector, du Simitière noted in his memorandum nine pieces of Massachusetts silver, seven Higley coppers and a Lion & Wolf medal, along with other material we'd all kill for.
Most important to our examination, no Continental Dollar was listed. Thus, du Simitière hadn't acquired one by the end of 1783, more than seven years after their supposed date of striking. Curious, eh?
But wait, there's more. Du Simitière also had a plan in the works to publish a history of the American colonial period and the Revolution entitled Common Place Book, 1775-1784, illustrated by "Medals, Seals, Coins, Devices, Statues, Monuments, Badges, &c…" Appearing at the end is a list of intended plates, including many familiar treasures like Comitia Americana medals and a Virginia "Happy While United" medal of 1780.
Entry No. 18, though, is of great interest to us:
Are we to believe that a historian and collector of du Simitière's stature and awareness, with so many ties to the Continental Congress, was unable to collect an example of the pewter (that is, "Type-Metal") money purportedly issued by that very governmental body? Could he have been so grossly mistaken about the piece's true origin? How would you like to buy a bridge in Brooklyn?
Directing our attention across the ocean to London, we next delve into the ledgers left by Sarah Sophia Banks. Completed by 1815 and augmented until her death in 1818, these eight volumes detail the 9,000 numismatic items she collected, now fundamental cores of the collections at the British Museum and the Royal Mint Museum. First listed in Banks' pre-1790 catalogue of acquisitions, the Continental Dollar in her collection was described as
Toward the end of her life, Banks was tidying up the documentation of her legacy and had occasion to mention this enigmatic piece once again in a new ledger, this time adding further fuel to our collective fire. Added to her restatement of what she believed about these pieces, in her own hand, is a tipped-in flyer, measuring 61/8" x 43/8," carrying these typeset words:
These American MEDALS at
Six-Pence Each
N.B. Representing the Paper Currency of a
Dollar, which goes for
Four Shillings and Six-pence in that Country.

E X P L A N A T I O N

The Thirteen Colonies united like a Chain, with
the Names of each on the Ringlets, the Words,
"AMERICAN CONGRESS" within, in the Cen-
ter, "WE ARE ONE" and with Rays of the Sun
shooting to each Ringlet, as a Glory.

The Reverse is the Sun going round its Orbit,
with a Motto "FUGIO" signifying, I fly:
under the Dial is "MIND YOUR BUSINESS."
The Date, 1776, is the time they
declared Independency.

The Letters E.G, FECIT, its maker's Name.
As was customary during the 18th century, certain medals—especially those with allegorical representations that might not have been easily understood on their own—were sold with descriptive flyers. Such was the case with a number of medals struck in Europe that commemorated the end of the Revolutionary War, and the Treaty of Paris. This ephemeral leaflet, carefully preserved by Banks, is perhaps the only surviving explanatory flyer that originally accompanied the sale of one of these "Congress Dollars."
In light of the above evidence, can we accept these "Continental Dollars" as American-made Revolutionary coins of 1776? What if they are just cheap European commemoratives, privately produced as little more than "for sale" pieces of merchandise? In the near future, we plan to present a follow-up to this article, in which we will look at some of the questionable "facts" that have made it into print regarding this numismatic enigma.
To read earlier E-Sylum articles, see:
NOTES ON THE ORIGINS OF THE CONTINENTAL DOLLAR (http://www.coinbooks.org/v20/esylum_v20n41a16.html)
ONGOING THOUGHTS ON THE CONTINENTAL DOLLAR (http://www.coinbooks.org/v20/esylum_v20n43a12.html)
CONTINENTAL DOLLARS REVISITED (http://www.coinbooks.org/v21/esylum_v21n14a13.html)
A press release from Rago Auctions describes a 1793 letter from Alexander Hamilton to the Bank of the United States regarding copper for coinage. -Editor
Seldom does one get to handle a piece of American history as important as a document written by one of our Founding Fathers. But to have both a document written by Alexander Hamilton requesting $10,000 for copper to be struck as the first coinage in the United States, as well as several of the coins minted under this request in the same auction series is simply serendipitous.
Both the letter and the coins will be offered for sale at Rago Auctions on June 9. The letter, penned and signed by Alexander Hamilton, reads as follows:
Treasury Department
December 18. 1793.
Gentlemen
For the purpose of obtaining a final settlement at the Treasury of the bills drawn on Amsterdam, I have this day issued a warrant on you in favor of the Treasurer of the United States for ten thousand dollars, being the amount of the bills furnished by you to the Director of the Mint. I have therefore to request that until an appropriation be made for the purpose (a circumstance which will shortly take place) you will be pleased to consider the said 10,000 dollars as an advance on account of the Mint. I have [illegible] a warrant to cover all your advances heretofore to that establishment [illegible] of two June for the purchase of copper which must also want an appropriation.
I have the honor to be,
With great respect, Gentlemen
Your Obed' Servant.
Alex Hamilton
The President and Director
Of the Bank of the US.
The Bank of the United States was created to assume the Revolutionary War debts of several states; pay off the war debts accumulated through the Revolution by the United States Government; raise money to operate the new government; and create a common currency. This correspondence from Alexander Hamilton to the President of the Bank of the United States was an effort to fulfill the last of these aims, the creation of a common currency. The deposit requested in this letter was provided to the Treasury Department of the United States for the purchase of copper on behalf of the United States Mint. The mint struck the first official coinage in March 3, 1793.
Printed catalogues will be available for $20 each by calling 609.397.9374 or e-mailing a request to info@ragoarts.com.
What a great piece of numismatic ephemera! The sale includes some lower grade 1793 cents as well. -Editor
Bill Eckberg writes:
View a complete online catalogue with color images at www.ragoarts.com and www.bidsquare.com, online on May 21.
Weeks before President Trump and Kim Jong Un are scheduled to meet for a daylong summit, there is growing uncertainty over how the meeting will go — or whether it will even take place.
The administration is still moving forward with plans for the meeting, Trump says. And the White House Communications Agency has already ordered souvenir travel coins, like it does for many presidential trips.
The coins celebrate "peace talks" in 2018 — with no specific date.
Meanwhile, people on the Internet are amused — or in some cases, alarmed — by the coins the Trump administration has minted to commemorate the planned summit.
It's not unusual for the White House to mark a trip with a commemorative coin — known as a challenge coin and inspired by a military tradition.
But this coin is raising eyebrows.
Some people are just taking potshots — at Kim's double chin or the "romantic" pose.
Other critics say it was premature to mint a coin for a summit surrounded by so much uncertainty or are expressing concern that the coin paints Kim in too flattering a light for an autocrat.
The coin refers to Kim as "supreme leader." That is one of his titles in North Korea, but it's not one the U.S. typically acknowledges.
To read the complete article, see:
After Minting Coin For North Korea Summit, White House Accused Of Early Celebration (https://www.npr.org/sections/thetwo-way/2018/05/22/613300929/after-minting-coin-for-north-korea-summit-white-house-accused-of-early-celebrati)
To read the complete article, see:
Media Makes Big Deal out of North Korea Summit Challenge Coin (https://coinweek.com/coins/medals-and-tokens/media-makes-big-deal-out-of-north-korea-summit-challenge-coin/)
The Trump-Kim summit isn't happening - but has that only added to the allure of special coins made to commemorate the event?
Confusingly, there are in fact two commemorative coins doing the rounds.
The focus of most of the attention is the coin created by the White House Communications Agency (WHCA) - it hails the talks between Mr Trump and "Supreme Leader" Kim Jong-un.
Such coins are often presented to foreign guests and diplomats.
The other features silhouettes of Mr Trump, Mr Kim and South Korean President Moon Jae-in and is available from the White House Gift Shop website. Its popularity appears to be soaring, with demand crashing the site.
BBC North America Correspondent Anthony Zurcher says the WHCA coin could be the "1804 Dollar" of numismatics - referring to a series of coins created for diplomatic gifts in the 1800s that now command ultra-high prices.
To read the complete article, see:
Rush to buy Trump-Kim coin after summit cancellation (http://www.bbc.com/news/world-us-canada-44247174)
A commemorative coin featuring the faces of Donald Trump and Kim Jong-un has gone on sale at the White House gift shop for a discount after the US canceled its planned summit with North Korea.
The coins were listed on the gift shop's website for $19.95 as the 'Deal of the Day' on Thursday, down from its usual price of $24.95.
Peaked interest in the commemorative coins ended up crashing the gift shop's website in the hours after President Trump announced he had canceled his planned meeting with the North Korean leader.
The gift shop noted on the sale page that the coins would be made 'whether or not the summit occurs as scheduled' and also said that customers could get a refund due to the cancellation.
A separate coin which was released by the White House Communications Agency, shows Trump and Kim, described as North Korea's 'Supreme Leader,' in profile facing each other in front of a background of US and North Korean flags.
At the top of the front, the words 'Peace Talks' are emblazoned, with the date '2018' beneath.
The back of the coin features a picture of the White House, Air Force One and the presidential seal.
Trump blamed 'tremendous anger' and 'hostility' from the North Korean regime in calling off the June summit on Thursday.
Dick adds:
To read the complete article, see:
Commemorative Trump-Kim summit coins go on sale for a discount as 'deal of the day' in White House gift shop after the US canceled its planned summit with North Korea (http://www.dailymail.co.uk/news/article-5768735/Commemorative-Trump-Kim-summit-coins-sale-discount.html)
Ultramodern numismatist Pabitra Saha forwarded this 2018 North Korea 5 Won "Destroy the United States, The Only Answer" coin. Thanks. -Editor
It's a proof aluminum coin and available on eBay. There is also a brass version. -Editor
To read the complete eBay lot descriptions, see:
L3268, Korea "Destroy the United Stated" Large Proof Coin, 2018 Alu, Rare (https://www.ebay.com/itm/L3268-Korea-Destroy-the-United-Stated-Large-Proof-Coin-2018-Alu-Rare/352360264328)
L3270, Korea "Destroy the United Stated" Large Proof Coin, 2018 Brass, Rare! (https://www.ebay.com/itm/L3270-Korea-Destroy-the-United-Stated-Large-Proof-Coin-2018-Brass-Rare/273158292869)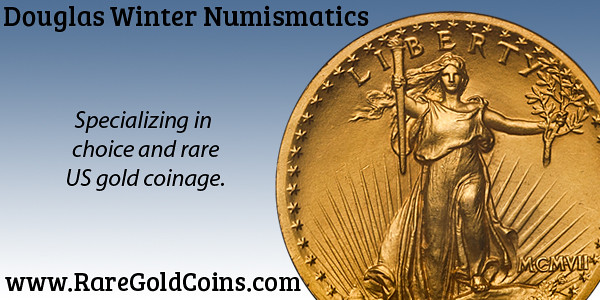 Frank Robinson submitted this announcement of his upcoming sale of ancients. -Editor
Dealer Frank S. Robinson will conduct his 105th mail and internet auction of Ancient and Early Coins with a closing date of July 10. The sale will include 533 lots, with minimum bids set extremely low, and with bids to be reduced as competition permits. Robinson notes that reductions have averaged 15-25% in his recent sales.
Noteworthy among Greek coins in the sale are a classic Athenian Owl Tetradrachm in EF; An EF Bactrian Tetradrachm of Eukratides; an Elymais Tetradrachm of Kamnaskires III and Queen Anzaze; a rare 6th Century BC Lesbos Stater; an AEF Persis Tetradrachm of Autophradates I; a choice Stater of Kelenderis; and good run of Parthian coins.
Roman highlights include a VF Aes Grave Sextans; a Denarius of Mark Antony and Octavian graded EF; an EF Sestertius of Agrippina Senior; an Otho Denarius in VF; an EF Paulina Denarius; and a VF Eugenius Siliqua. The auction also includes Byzantine and other early coinages, group lots, literature, and a section of items offered at fixed prices
Robinson holds about three such sales annually, and tries to offer a broad range of material for advanced collectors as well as bargain hunters. Catalogs are free; contact Robinson at Box 8600A, Albany, NY 12208; phone/fax 518-482-2639; e-mail frank@fsrcoin.com. The full catalog, including enlarged color photos, will be found at http://emax.bid/en/auction228 .
Note that the auction is not yet online, so the link doesn't work quite yet. -Editor
Steve Davis of Numismatic Auctions submitted this announcement of his latest sale. Thanks. -Editor
Among the many highlights in the 120 page, 2500 lot Numismatic Auctions LLC Sale #62 auction catalog are a terrific run of US Coins, type and series coins, partial sets and more from Half Cents to Dollars including countless early Gen 1 PCGS rattler and NGC thick tombstone holder examples with conservative grades. The group contains a number of neat collector minor coins throughout - a total of over 500 unattributed Large Cents, an old time collection of Indian and Lincoln Cents, Buffalo Nickels & beyond. Complementing the minors are many Flowing Hair to Capped Bust and Seated coins, headlined by such rarities as a 1795 Half Dime in NGC MS65 and an 1815/2 Half Dollar in NGC AU55 as well as a terrific array of Seated Dimes to Dollars from a host of mints.
The US Coin listing is finalized by a strong mix of high grade raw, GSA Carson City and Gen 1 certified Silver Dollars; raw and slabbed Gold including a Mint State High Relief Flat Rim Saint Gaudens Double Eagle example plus Modern Gold & Silver Commemorative Coinage, Patterns & Paper. The Exonumia offering flaunts a few Key So-Called Dollar Rarities from the Don Ensley Collection and an amazing run of Abraham Lincoln related tokens, medals, bronzes and sculpture. The Canadian segment provides an outstanding grouping of rare early George VI Specimen and Prooflike Silver Dollars by date including the Rare 1945 and 1948 issues, Gold plus certified and raw collector grade minors, tokens and more.
The intriguing and historic Ancient ensemble encompasses an old collection of Greek, Roman and Byzantine coinage with a 12 Caesars Set in Silver, a Greek Silver Type Set, single and multi-coin collector lots and more. Among the World Gold presentation is a highly diverse group of coins from 12 Ounces in size down to tiny India Fannams. Closing the circle of World Crowns and Minors is an impressive enumeration of British, British Commonwealth, Chinese & German; a huge group of Hundreds of Mexican and Latin American Silver 8 Reales and Minors, Russian Roubles & fractional Silver, Scandinavian and European material along with other World coinage in singles, sets, date/type runs and small group lots.
The catalog contains page after page, in our largest lot offering to date, detailing a vast plethora of international coinage along with intriguing study lots. In the midst of this amazing legion of coins are such jewels as a handsome 1486 Taler in VF, a Choice Mint State Birds Over Junk Chinese Dollar, a Choice Proof Waitangi Crown from New Zealand, a Rare Inverted Final Date Digit Variety 1705 Russian Rouble, Baptismal and Multiple Talers, Medieval & Hammered Coinage and much, much more.
As usual we bring a smattering of miscellaneous lots under the auction gavel to round out the sale alongside tokens, medals & paper money. Stay tuned for our next auction, Sale 63 which will have multitudes of large and miscellaneous lots!
To read the online catalog, see:
http://numismaticauctionsllc.com/uploads/Sale_62_Web_Sessions_1__2_and_3.pdf
To visit the Numismatic Auctions web site, see:
http://www.numismaticauctionsllc.com/
Here are some lots that caught my eye in Steve Davis' 62nd Numismatic Auctions sale. Steve kindly forwarded the photos for publication here. Thanks. -Editor
Lot 298: 1795 Flowing Hair Half Dollar

1795 Flowing Hair. O-105, Rarity-4. Pleasing Fine and nice example of this scarce variety and the type in general.
I agree - this looks like a nice pleasing example of a great type coin. -Editor
Lot 483: Chopmarked Trade Dollar

1876-S. EF-AU, Chinese merchant chop marks obv/rev, faint hairlines under pleasing toning
Chopmarked Trade Dollars aren't rare, but they're all different, like snowflakes. This is a pleasant-looking one with a nice group of readable chops. -Editor
Lot 860: Off-Center Steel Cent

Lincoln Steel Cent, 1943. Struck 10% off-center. NGC Unc details improperly cleaned, cpl small spots still very attractive and lustrous.
Error coins are fascinating to collect, and one can learn a lot about the minting process from them. Steel cents aren't rare, but off-center ones are. Nice. -Editor
Lot 937: Boggs Unfinished Masterpieces Souvenir Card

BOGGS, James Stephen George (American Artist, 1955-2017). Unfinished Masterpieces – It's not about money, 1996. Color print of Bureau of Engraving & Printing Souvenir Card for 1994 Intl. Paper Money Show, Memphis, TN artistically embellished with his drawing of a $20 Legal Tender Banknote with Serial Nos. 06221996/06229613 in green, Boggs thumbprint in bright orange and then signed in full and autograph formats as well as dated "6-22-96" & "13" all in ink. The back is blank. 10 x 7 7/8" on currency-like paper with red and blue fibers throughout.
Virtually as issued with a couple of very light diagonal bends at right. An excellent opportunity for the currency collector to own an entry-level Boggs creation. ($300-400)
I have many Boggs items in my collection, but not this one. I was at the Memphis show with him. He couldn't resist the thought of taking one of the BEP's "Unfinished Masterpieces" and finishing it off himself. -Editor
Lot 977: Emancipation Proclamation Medal

Emancipation Proclamation, 1871. AR, 34.7g, 45mm, by William Barber, U.S. Mint. Julian CM-16b. Bust right/9-line inscription. NGC MS63, deep golden-brown with areas of blue-green iridescent toning obverse; silver-gray with traces of iridescent blue toning reverse. Rarely offered. ($2500-3000)
A classic U.S. Mint medal. -Editor
Lot 1003: Perseverando Dollar

Perseverando Dollar, 1775 (c. 1860-1876). HK-863. Tin, Rarity-7. MMNS as AU58 PL, some typical lt contact. Popular and infrequently available. From the Don Ensley Collection. ($200- 300)
Can anyone tell us the story behind these? -Editor
Lot 1007: Thomas Elder World War I Medal

Thomas Elder World War I Issues, 1917. HK-879. AL, Rarity-7. MMNS as AU50 PL, trace oxidation in stars and small area at center, otherwise reflective AU-Unc and presents well. From the Don Ensley Collection. ($200+)
Elder medals are a great and challenging series to collect. -Editor
Lot 1017: James Earle Fraser's Oak Tree Cent Model

Commemorative One Cent Incuse Reverse Model, (1951). White alabaster plaster with bronze powder coating, 10.5 inches, unsigned but design executed by James Earle Fraser. Oak tree dividing legend UNITED STATES OF AMERICA; below ONE CENT/E PLURIBUS UNUM. Embedded notes on back "July-27- 1951/from July-23-1951 CAST/FINAL." Penciled note "Circle enlarged for top of tree." Virtually as made with original yellow dot sticker with "489" on back and additional label "Leidman/2300" on back. There is also a small area of staining on the back only.
From a letter by U.S. Mint Director Nellie Tayloe Ross noted "The Oak tree as a symbol because Lincoln was a woodsman…It stands too for strength, ever renewing growth, and unity. Like a nation, it has roots, a trunk, branches, flowers and finally fruit."
Originally sold in Joseph L. Lepczyk's Sale No. 36, October 23-24, 1980, Lot 489. A unique opportunity for the collector. ($1000-2000)
Amazing item. -Editor
Lot 1018: Laura Gardin Fraser's Plasters for 1947 Philippines Peso

[Philippines] General Douglas MacArthur Peso Obverse Positive & Negative Plaster Pair, 1947. White alabaster plaster, 14" & 15" respectively. Designed by Laura Gardin Fraser, signed. Design features ¾ facing bust of MacArthur, as a Five Star General, facing right with inscription DEFENDER AND LIBERATOR above; OF THE PHILIPPINES below; bust divides the inscription GEN DOUGLAS MACARTHUR; below the bust are Fraser's initials "L.G.F." and "OCT 20 1944".
Both plasters accompanied by the 50 Centavo and Peso, 1947-S in lustrous Unc. The negative plaster grades EF with fine cracks noted around the circumference and into the raised edge with a couple of edge repairs; "L.G.F. FINAL MOLD" is penciled into the top edge. Nicely framed in matte black with black background, 21 x 21 x3 inches. The positive plaster grades EF with slight discoloration at cheek and ear and is framed in decorative brown wood with black background, 19.5 x 19.5 x 3 inches. Both ready for wall display.
Another unique opportunity. 2 plasters + 2 coins. ($1000-2000)
Indeed - a great opportunity! Unique items with a direct connection to one of America's greatest sculptors. -Editor
To visit the Numismatic Auctions web site, see:
http://www.numismaticauctionsllc.com/
Here's a selection of other interesting or unusual items I came across in the marketplace this week. Tell us what you think of some of these. -Editor
1641 Aire Siege Klippe

Lot number 792
Aire. Siege 1641.
Uniface klippe worth 2 livres 1641.
Very rare. Very fine.
A great siege coin - emergency money made from silver plate to pay troops. -Editor
To read the complete lot description, see:
City. One-sided cliff to 1 Livre 1641, Brause-Mansfeld -; Vanhoudt 68 (https://www.kuenker.de/en/auktionen/stueck/193374)
1848 Lewis Cass Campaign Token

Lewis Cass: Key 1848 Campaign Token. Few items of any type are to be found for Zachary Taylor's 1848 opponent. Listed by Dewitt/ Sullivan as LC-1848-5, this 29 mm brass token is a collector favorite, in part because a Taylor mate was also issued. A clean, pleasing VF example.
I came across this obscure item on the Heritage web site. -Editor
To read the complete lot description, see:
Lewis Cass: Key 1848 Campaign Token.... (https://historical.ha.com/itm/political/tokens-and-medals/lewis-cass-key-1848-campaign-token/a/6189-43151.s)
Harpist Medal

Harp music LA MUSIQUE By Adolphe Rivet silvered-bronze 57mm
To read the complete lot description, see:
Harp music LA MUSIQUE By Adolphe Rivet silvered-bronze 57mm (https://www.ebay.com/itm/153031301131)
Pierre Jean Beranger Medal

France-Literature-lyre-PIERRE-JEAN-BERANGER-Poet-By-Magniadas-bronzed-lead-58mm
Here's another Hedley Betts offering, also with a musical theme. -Editor
To read the complete lot description, see:
France-Literature-lyre-PIERRE-JEAN-BERANGER-Poet-By-Magniadas-bronzed-lead-58mm (https://www.ebay.com/itm/163058406675)
Recovery Token

I've never seen of heard of these tokens before. Would anyone know where and when they were made, and for what purpose? A second lot has a number of assorted recovery token designs. -Editor
To read the complete lot descriptions, see:
Lot 52: Recovery Token Coin (https://www.invaluable.com/auction-lot/-1-c-2604D1D8A9)
Lot 53: 12x Various Recovery Token Coins (https://www.invaluable.com/auction-lot/-1-c-A30489A9F2)
A gold coin of King Ptolemy III has been found at an archaeological dig in Egypt. -Editor
Egyptian archeologists say they have discovered parts of a huge red brick building dating back to the Greco-Roman period north of Cairo.
It says archeologists found a gold coin depicting King Ptolemy III, who ruled Egypt in the 3rd century B.C. and was an ancestor of the famed Cleopatra. It says the coin was made during the reign of King Ptolemy IV in memory of his father.
The ministry says archeologists have unearthed other artifacts in the area, including pottery vessels, terracotta statues, bronze tools and a small statue of a ram.
To read the complete article, see:
Archeologists discover Greco-Roman era building in Egypt (https://www.ctvnews.ca/world/archeologists-discover-greco-roman-era-building-in-egypt-1.3941375)
The Theme & Programme
The overall theme is England and the Wider World. The provisional programme includes:
Chris Scull & Andy Woods: Current work on the Rendlesham Hoard,
Stewart Lyon & Hugh Pagan: Some issues in Northumbrian chronology,
Kelly Marie Clarke & Katie Howarth: 'Pierced, looped and framed: the (re)use of coins in jewellery in seventh-century Anglo-Saxon England',
Adrian Marsden & Arent Pol: the Norfolk hoard of Merovingian tremisses,
Rory Naismith: 'A Mantle of Silver: England and Western Europe c. 900-1100'.
For more information, see:
http://www.anglo-saxon-coinage.co.uk/symposia/
The Royal Dutch Mint has today launched new gold trade ducats, which, for the first time in 32 years, will include a re-designed obverse depicting the historic knight which has been a featured motif and unique identity of these gold trade coins since they were first minted in 1586.
The coin, which had its origins in Hungary, was produced in 1583. Although only a few pieces were minted at the mint in Dordrecht, this would be the start of a standardisation of a coin which has carried on for more than four centuries. The 1583-dated Hungarian ducats, as they were referred to, depicted a standing figure on the obverse with a crown and battle axe, and included a legend around the design which read: VIGILATE DEO CONFIDENTES (God vigilantly watches over). The reverse depicted a shield, which included the coat of arms of the issuing province, along with the legend: MO NO AVR COMIT HOLl ZEEL or, MOneta NOva AVRea COMITate HOLlandiæ and ZEELandiæ (New Gold Coin of the County of Holland and Zeeland).
To read the complete article, see:
Netherlands: 2018 gold ducats introduce new knight's design on obverse (http://world.mintnewsblog.com/2018/05/netherlands-2018-gold-ducats-introduce-new-knights-design-on-obverse/)
The Royal Australian Mint are on the road again with a travelling roadshow. Visiting Melbourne and sites in Tasmania in May the roadshow will then continue through New South Wales in June. The first leg of the journey visits Melbourne CBD, the Port Arthur historical site, Hobart, Launceston and Devonport. The second leg visits Wagga Wagga, Dubbo, Parramatta, Sydney CBD and Wollongong.
Visitors to these locations will have the opportunity to strike the "Australia" counterstamp onto the 2018 Ratbags and Rascals dollar coin -the coin that acknowledges the contributions of convicts to Australia's history, heritage and folklore. The Mint will be setting up pop-up shops in each location with the mobile coin press especially for striking the counterstamp onto this coin design by Tony Dean. The theme of ratbags and rascals tells special stories of Australia's convicts, some that were rascals and some that were ratbags but each contributing to our history. This roadshow is the only way to obtain the commemorative coin with this "Australia" counterstamp.
To read the complete article, see:
Rascals & Ratbags Roadshow -The Mint Tours the Country (https://www.australian-coins.com/coin-news/rascals-ratbags-roadshow-mint-tours-country/)
Last week we discussed a new exhibit by members of the American Medallic Sculpture Association (AMSA) at Medialia Gallery in New York. Here are images of some of the new medals on display. Thanks to Tara Donahue and Mashiko for passing these along for publication here. -Editor
Eugene Daub
COMEDY AND TRAGEDY (2017-second edition)
open edition
cast white bronze
54 x 56 x10 mm
Jeanne Stevens-Sollman
AMELIA EARHART (2017)
edition 4/8
cast bronze
100 x 120 x 12 mm
Mashiko
DR. GINKO OGINO (2017)
edition 4/10
3 parts medal
cast bronze, wood with urushi
ø80 x 45 mm/closed
For more information on Medialia Gallery, see:
http://www.medialiagallery.com/
To read the earlier E-Sylum article, see:
AMERICAN MEDALLIC SCULPTURE ASSOCIATION EXHIBIT (http://www.coinbooks.org/v21/esylum_v21n20a17.html)
This summer Sotheby's and Morton & Eden will offer Royal Orders and Medals from the collection of George, Duke of Cambridge (1819-1904), King George III's Grandson. -Editor
This July, Sotheby's will offer at auction Royal Orders and medals from the collection of George, Duke of Cambridge (1819-1904), King George III's grandson. This exceptional group of objects has been passed down by direct descent, and their appearance on the market represents a unique opportunity to acquire treasures which until now have been held privately.
The Orders and medals are primarily from the 2nd Duke's collection, spanning the 19th century and the opening years of the 20th century, complemented by several pieces which were originally owned by the 1st Duke of Cambridge, the 2nd Duke's father. Comprising approximately 80 lots with a combined pre-sale estimate in the region of £800,000, the auction will take place on 3 July 2018 at Sotheby's London, in association with Morton & Eden, specialist auctioneers of war medals, Orders and decorations.
James Morton, Morton & Eden commented: "Sotheby's and Morton & Eden are delighted to be combining our resources and expertise to present this outstanding Royal Collection for sale. It has remained in the hands of the Duke of Cambridge's family since his death in 1904 and has for many years been displayed publicly at the Guards Museum, Birdcage Walk.
Throughout his long life, which spanned that of his cousin and close confidante Queen Victoria, George Duke of Cambridge played significant, active roles in the military, diplomatic and social evolution of the Nation. The Orders and medals offered in this auction present a unique record of service and honour, ranging from an exquisite Garter badge given personally to a young Prince in 1835 by his uncle, William IV, to the parure of insignia of the Royal House of Chakri bestowed upon the Duke by the King of Siam in 1897. The collection is further enhanced by the inclusion of a number of magnificent favourite pieces which originally belonged to the Duke's father Adolphus, the youngest son of George III."
To read the complete press release, see:
Sotheby's and Morton & Eden to Offer Royal Orders and Medals from the Collection of George, Duke of Cambridge (1819-1904) King George III's Grandson (http://files.shareholder.com/downloads/BID/6284034340x0x979524/FC35969B-432F-4F16-A226-61C62674075A/Royal_Orders_Medals_Press_Release.pdf)
Australia has stopped printing bank notes for the first time in a century after workers employed by the Reserve Bank of Australia (RBA) took a lead from the bank's governor and went on strike for a bigger wage rise.
With wage growth in Australia crawling around the slowest pace on record, RBA governor Philip Lowe recently called on workers to demand fatter pay hikes.
Workers at Note Printing Australia (NPA), a wholly owned subsidiary of the RBA, stopped work on Friday, demanding a 3.5 per cent pay rise, rather than the industry average rate of 2 per cent the central bank is offering.
"If it is so important to lift wages across the economy then here is a rolled-gold opportunity for the Reserve Bank to show some leadership," said Tony Piccolo, regional secretary of print division at the Australian Manufacturing Workers' Union. "Governor Lowe needs to practice what he preaches."
NPA has its only printing facility in Melbourne. Apart from Australian bank notes, it also prints currencies for other central banks using its polymer substrate technology, according to its website.
Customers include the Reserve Bank of New Zealand, Bank of Thailand, Bank Indonesia and Central Bank of Kuwait.
To read the complete article, see:
Strike interrupts bank note printing for first time in a century (https://www.smh.com.au/business/workplace/strike-interrupts-bank-note-printing-for-first-time-in-a-century-20180525-p4zhhk.html)
A vertical orientation is a real attention-getter for banknotes, and upcoming issues from Ulster Bank use that format. -Editor
The unusual £5 and £10 notes designed by Ulster Bank can be spent across the UK and will also contain new security features.
New £5 and £10 banknotes with a "vertical" design have been shown off, in a first for a UK bank.
Ulster Bank said the more durable polymer notes, due to replace existing paper notes issued in Northern Ireland, were the result of a consultation with experts and members of the public.
While only the Bank of England can issue new cash in England and Wales, seven banks can do so across Scotland and Northern Ireland.
Each note will have security features to prevent fraud but separate designs under the theme Living in Nature.
The bank said the £5 note highlights "the importance of the sea and migration" in Northern Ireland and features Strangford lough and Brent Geese.
The £10 version focuses on agriculture and heritage. It contains images of Lough Erne, the Irish hare, Guelder-rose shrubs and an Ulster Glade potato.
To read the complete article, see:
First for UK as 'vertical' banknotes shown off ahead of 2019 release (http://en.brinkwire.com/352633/first-for-uk-as-vertical-banknotes-shown-off-ahead-of-2019-release/)
The unusual remains of a baby buried 150 years ago have shed new light on the bizarre effects of copper on a decomposing body.
While the remains were almost entirely skeletonized, the body contained a single mummified hand.
Further analysis revealed the child was buried clutching a copper coin, which protected some body parts from decay. Flesh and discoloration could be seen in the areas closest to the copper; the dried up, flesh-covered forearm was stained green down to the bone, as were some of the vertebrae, a hip bone, and the leg bones.
The copper levels seen in the remains were several hundred times higher than average, according to the researchers.
'While copper is essential for the functioning of some human enzymes, it is also known to have antimicrobial character and its compounds have been used as fungicides and bactericides for many years,' the researchers explain.
Still, the process of 'copper-driven quasi-natural mummification' has not been documented, and this may be the first reported case.
With no coin present, though, the strange mummification remained a mystery for roughly a decade – until one day, the researcher discovered more storage boxes from the site, contained at a nearby museum, according to NY Times.
Inside these boxes, Dr. Balázs found a corroded copper coin and a small ceramic pot, in which the tiny body was likely buried.
The analysis suggests the body was 'surrounded by a moist microenvironment in the pot,' the authors write, 'where gradual diffusion of soluble copper originating from the coin was facilitated for a longer period of time, and this relatively isolated setting did not allow complete decay of the little dead body.'
The coin dates back to a period from 1858 to 1862, indicating that the child was buried long after the Medieval remains found at the same site.
While it wasn't customary for Christians of that era to bury the dead with coins, the child likely died before baptism, according to NY Times, and was given the token to assist the journey to the afterlife.
To read the complete article, see:
(http://www.dailymail.co.uk/sciencetech/article-5759063/Archaeologists-solve-mystery-150-year-old-remains-baby-one-mummified-hand.html)
Here are some additional items I came across in the media this week that may be of interest. -Editor
Back Up Your Life

The experience led Adamska to turn a background as a professional organizer into Back Up Your Life, a company focused on preparing people, particularly in their digital lives, for the day they can no longer speak for themselves.
Her services include conversations designed to identify everything that someone wants documented, stored, and shared. "If they are a writer, where do they store their writing? What if you have subscriptions or automatic withdrawals?" Adamska told MIT Technology Review. "If you get groceries delivered through Blue Apron, you could still keep getting an automatic delivery of groceries every week even after you pass."
She creates plans for dealing with social-media accounts, online memberships, password storage, recurring financial payments, creative work, and more. And, just as important, she ensures that other people in your life know how to access them and how you want them to be handled.
To read the complete article, see:
Job of the future: Embalming your online persona (https://www.technologyreview.com/s/611162/job-of-the-future-embalming-your-online-persona/)
The Inverted Jenny

During his lunch break on May 14, 1918, William T. Robey, a bank teller at Hibbs and Company in Washington D.C., traveled, as he often did, to the post office on New York Avenue. There, he hoped to purchase a new stamp celebrating the launch of the U.S. airmail service, set to make its first official flight the following day.
The stamp was an impressive sight. It featured a Curtiss JN-4 or "Jenny", the same plane set to deliver the mail the following day, and was printed in carmine rose and deep blue. The striking color scheme no doubt wooed buyers, but like many of the avid collectors who gathered at post offices in Philadelphia, New York and the nation's capital, Robey also knew that it enabled an even more spectacular possibility—a printing error. It was just the second time the Postal Service had attempted a two-color stamp and with the fervor of World War I, sloppy mistakes were a more likely occurrence.
Among the many philatelists, Robey was the lucky one. Instead of flying high through the skies, the Jenny on his stamp appeared upside down, as if it were doing an elaborate aerial flip for some grand barnstorming performance. Even luckier for Robey, the person selling him the stamps on that fateful day had never seen an airplane and couldn't tell the difference. When he saw the error, Robey saw opportunity, and he coolly asked to purchase a 100-count sheet for $24.
Soon after, he sent word of the mistake to fellow friends and collectors, and it didn't take long for the news to spread to postal inspectors, who were eager to reclaim the errant stamps. Of course, Robey rebuffed their offers, and for a few days, he hid the sheet of stamps under the mattress in a one-room apartment he shared with his wife. Under mounting scrutiny, he was eager to make a deal, and in a panic, he sold the stamps to Eugene Klein, a Philadelphia businessman an avid philatelist for $15,000.
To read the complete article, see:
How the Inverted Jenny, a 24-Cent Stamp, Came to Be Worth a Fortune (https://www.smithsonianmag.com/smithsonian-institution/how-inverted-jenny-24-cent-stamp-came-be-worth-fortune-180969090/)
Scratch and Sniff Stamps Debut

In the is-it-an-error-if-it-smells-like-Play-Doh department is this announcement from the U.S. Postal Service. -Editor
Ah, the sweet smells of summer: freshly cut grass, barbeque on a grill, the beach and suntan lotion. Now add stamps to that list.
The U.S. Postal Service said Monday that it will issue its first-ever scratch-and-sniff stamps that will aim to evoke the sweet scent of summer. The 10 different stamp designs each feature a watercolor illustration of two different ice pops on a stick.
There will be one scent for all of the stamps and the secret smell will be unveiled when the Postal Service issues the stamps on June 20, according to U.S. Postal Service public relations representative Mark Saunders.
To read the complete article, see:
U.S. Postal Service announces first-ever scratch and sniff stamp with popsicle scent (https://www.usatoday.com/story/money/nation-now/2018/05/21/post-office-scratch-and-sniff-stamp-summer/629469002/)
High School Finds Coins in 1921 Time Capsule

A time capsule hidden in the cornerstone of Sarnia's Great Lakes Secondary School (GLSS) in August 1921 was unveiled late last month.
Among the contents of the 97-year-old time capsule, which was opened on April 28, were five coins, including 1920 50- and 25-cent pieces as well as 1921 10-, five- and one-cent pieces.
To read the complete article, see:
Sarnia high school discovers 1920, 1921 coins in 97-year-old time capsule (http://canadiancoinnews.com/sarnia-high-school-discovers-coins/)
Harry Waterson passed along this video confirming that 'pennyweight' is still a viable term. It's an excellent explainer on how London's Big Ben chimes on time. -Editor
To watch the complete video, see:
How Does Big Ben Keep Accurate Time? (https://www.youtube.com/embed/Qad6Q_RbQQ0?rel=0)