---
Correction: Walter Breen Video Link

Last week's article about the David Lisot video interview with author Walter Breen included an incorrect link. Thanks to reader Bob Bair for the heads' up. We've corrected our archive. To watch the video, click here:
https://youtu.be/UMqJDo2WazY -Editor
To read the earlier E-Sylum article, see:
VIDEO: WALTER BREEN INTERVIEWED (https://www.coinbooks.org/v23/esylum_v23n23a10.html)
Numismatic Literature Buyers in the 1864 John Allan Sale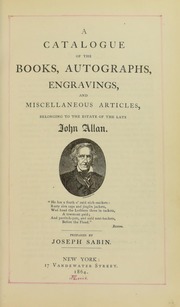 Dave Hirt writes:
"I would like to thank the Newman Portal for the post on my catalog of the John Allan Sale. Of the 3315 lots of books, I counted 80+ with references to numismatics. W.S. Appleton was the number 1 buyer of these books. Edward Cogan was number 2. Many of the non-numismatic books were so amazing, with hand colored plates, special editions and bindings that no book lover could go through that list quickly. "
To read the earlier E-Sylum article, see:
THE 1864 JOHN ALLAN SALE (https://www.coinbooks.org/v23/esylum_v23n23a09.html)
Query: United States Mint Silver Dollar Collection
D Bruce writes:
"I purchased some coins and a set of 1922 thru 1926 peace dollars were among them. But they're in a case marked "United States Mint". I can't find any information about where they were sold from. I asked some dealers and no one remembers ever seeing this set. I don't know if the mint souvenir shop sold them. Maybe one of the readers knows or has some ideas."
Without a U.S. Mint logo or other such text, this seems to me like an independent seller's product, perhaps from one of those mass-market publication ads offering 5 silver dollars for the price of 10. But I could be wrong. Is anyone aware of a U.S. Mint marketed product like this? -Editor
A Counterstamped Mexico 2 Real

Howard A. Daniel III writes:
"I am going through my collections and finding pieces which I can donate or sell to assist me in downsizing. I found this 2 Reales 1786 FM KM-88.2a coin in my chopmarked coin album that likely circulated in the USA as a quarter. It has "Jan 1st 1878" date on the obverse and a small "JA" on the reverse. I have never determined what event is being recorded, but I am thinking there is someone out there who knows JA and his or her date. It is free to any museum collection, but if you want it for your personal collection, make me an offer at HADANIEL3@MSN.COM. First come museum gets it for free or highest offer gets it."
Can anyone help with the attribution? -Editor
Natural and Artificially-Induced Toning
Frederick A. Liberatore writes:
"The new book "Dancing on Rainbows" does show some very beautifully toned coins. However, I have watched an exposer of coin doctors air tone coins with the vapors from chemical solutions in minutes. They were beautiful, really lovely. In fact, I was reminded of the images I had seen of toned coins sold in auctions for considerable premiums. The demonstrater performed this magic at the American Numismatic Summer Sessions in June-July 2018 in Colorado Springs.
My advice to collectors is to NEVER pay a premium for toning. If anyone has seen a way to distinguish natural from artificially induced toning, I hope they will share it with readers of The E-Sylum."
To read the earlier E-Sylum articles, see:
NEW BOOK: DANCING ON RAINBOWS (https://www.coinbooks.org/v23/esylum_v23n22a04.html)
NOTES FROM E-SYLUM READERS: JUNE 7, 2020 : More on Dancing on Rainbows (https://www.coinbooks.org/v23/esylum_v23n23a18.html)
On Custom Slab Labels

Regarding custom slab labels, Erik Goldstein writes:
"When I graduated High School in 1984, my parents gave me a 1926 $2.50 Indian. I sent this cherished present – my first gold coin ever - to NGC to be slabbed a few years back. They gladly included the line "From Mom & Dad June 1984" on the line below the date/denomination."
So it is possible to ask the grading companies to customize annotations on slabs. They may not be able to accommodate everyone, but it can't hurt to ask. -Editor
To read the earlier E-Sylum article, see:
NOTES FROM E-SYLUM READERS: JUNE 7, 2020 : Custom Slab Labels (https://www.coinbooks.org/v23/esylum_v23n23a18.html)
Upcoming Book: Whitman Folders and Albums
In his Summer 2020 Coin Board News author David Lange writes:
"BOOK UPDATE The third volume in my series of books relating the histories and product lines of coin album publishers is in the layout process, and that work is nearly completed. Expected for a late summer release, its title is Coin Collecting Albums: A Complete History and Catalog Volume Three, Whitman Publishing Company Folders and Albums 1940-1978. The book is about 350 pages and in full color throughout. I anticipate having it bound with a soft cover to keep down both weight and binding costs, but it will be a deluxe softcover with sewn signatures to prevent the falling out of pages so common to cheap, "perfect bound" books.
I'm delighted with the completed chapters from my book designer, and this entry should really fill an important gap in hobby history. In addition, Lange Numbers will now exist for each and every variety of Whitman folder and album, and this will make the collecting and cataloging of these items far more satisfying. The inventory of duplicate folders I amassed while preparing this book will soon be offered for sale, and the next list I send out may be for folders rather than boards. I'll hold off on doing that, however, until persons desiring to do so have been able to acquire the book."
I'm looking forward to this book, having grown up like so many of us pushing coins into Whitman folders. See last week's article (linked below) for a short excerpt on the related Whitman checklists. -Editor
To read the earlier E-Sylum article, see:
WAYNE'S NUMISMATIC DIARY: JUNE 7, 2020 : Whitman Coin Checklist (https://www.coinbooks.org/v23/esylum_v23n23a28.html)
Canadian Coins Roll Hunting Playmat

David Pickup passed along this numismatic product. Thanks. It appears to be a soft placemat for sorting coins. -Editor
Standard Playmat is approximately 24" x 14".
Oversize Playmat is approximately 28" x 14".
Thickness: 1/16 an inch
Smooth cloth top with rubber bottom for traction
Vibrant Colors
Machine Washable
To read the complete product description, see:
CANADIAN COIN ROLL HUNTING PLAYMAT (https://www.inkedgaming.com/collections/playmats/products/canadian-coin-roll-hunting-playmat)
The Open Directory Project
NBS webmaster Bruce Perdue writes:
"Reading the article on the Weird Things People Collect, took me back to the Open Directory Project where we met. I edited the category where all of the things people collected but were not indexed anywhere else were listed. The "Airline Barf Bag" collection category is one of the ones that I remember well. It's too bad the ODP went away."
I remember ODP, but had forgotten that's how Bruce and I first met. I had been updating the numismatic web site portion of the ODP, an early crowdsourced tool for organizing content on the internet. Specifically, I think I was updating lists of numismatic literature sites.
The Open Directory never disappeared, it just faded from view as search engines made it obsolete for most purposes. The site has a spiffier interface now, but the content is stale and full of broken links, like a sad abandoned amusement park.
It's a shame though. Directories are useful despite the scalability and general utility of search engines. In numismatics today the Newman Numismatic Portal search bar is where many people start their research, but the content directory menus are also useful for navigating directly to something you already know you want, or for browsing topic areas. That can't be done with a search engine. One thing Google can never answer is a question like, "Do you have all the issues of Mehl's Numismatic Monthly?" -Editor
To visit the Open Directory Project, see:
Web Directory of High-quality Resources (http://odp.org/)
Directory of Numismatics Resources (http://odp.org/Shopping/Publications/Books/Antiques_and_Collecting/Numismatics)
To read the earlier E-Sylum article, see:
WEIRD THINGS PEOPLE COLLECT (https://www.coinbooks.org/v23/esylum_v23n23a40.html)
Gender in Book Collecting

Len Augsburger passed along this announcement for the bibliophiles among us. Thanks. -Editor
Bound in Tight Leather:
Sex and Gender in Book Collecting
Thursday, June 18, 2020
3-4 p.m. CDT
Registration required
In the late nineteenth and early twentieth centuries, men dominated book collecting and women were often painted as enemies of books. University Libraries' Curator of Rare Books Cassie Brand will discuss gender roles and sex as it related to book collecting in this time period, including how men sexualized books and the use of human skin binding.
To register, see:
Bound in Tight Leather: Sex and Gender in Book Collecting (https://wustl.zoom.us/webinar/register/WN_L9TKqjx0QI65L4cVNQy1QQ/)
Query: Brightening an Annealed Bronze or Brass Planchet
Dick Hanscom writes:
"When annealing a bronze or brass blank or planchet, it darkens or turns black. How does one brighten the surfaces before striking?"
Hollinbeck Auction Flips
Michael Merrill writes:
"It's clean-up time these days, and I found a box of old, old business cards, 1970's/1990's. Amongst them were these five Hollinbeck auction flips from yesteryear. I must have bought these coins in the 70's/80's, sold them, and totally forgotten about the flips. Interesting grade range from $10. Indian in Fine to $20. Lib. described as Unc. or Proof. Wonder what the price difference in May 1951 would have been."
Thanks! Very interesting. That Time Machine sure would come in handy. -Editor
Michael adds:
"In 1951 I was 10, and that was the year my best friend was given a small box of US coins by a real estate agent who was a family friend, who found them in an abandoned house he was selling. This box contained perhaps 100+ US coins culled from circulation, nothing special or rare, as I remember. They included a 100+ year diverse cross-section of circulated type coins dating back to early coppers pre-1800 thru early 20th century. My friend graciously gave me a handful from the box, and Voila!, little did I know then that this was part of the inspiration behind my starting a long-time coin business many years later. Interesting how a simple gesture like this can steer one's life's work! My love of coins is far greater now than then, but as we all know, often passions get into your blood and never leave!
"Baltimore coin dealer Alfred Hutter, at 321 N. Charles St, in a small, corner, basement step-down location, was my go-to dealer. He later moved to Cumberland, MD. At a small Baltimore coin show, perhaps 10-15 years ago, I was rather surprised to see a sign above a dealer table with the surname "Hutter". He was related."
To read an article on Art Kagin and the Hollinbeck Coin Company, see:
A.M. ''Art'' Kagin - In Memoriam (https://www.pcgs.com/news/am-art-kagin-in-memoriam)


Wayne Homren, Editor


The Numismatic Bibliomania Society is a non-profit organization promoting numismatic literature. See our web site at coinbooks.org.

To submit items for publication in The E-Sylum, write to the Editor at this address: whomren@gmail.com

To subscribe go to: https://my.binhost.com/lists/listinfo/esylum

Copyright © 1998 - 2012 The Numismatic Bibliomania Society (NBS)
All Rights Reserved.

NBS Home Page
Contact the NBS webmaster