Welcome to NBS
The Numismatic Bibliomania Society (NBS) is an educational association founded in 1979 to support and promote the use and collecting of numismatic literature. Numismatic literature includes books, periodicals, catalogs and other written or printed material relating to coins, medals, tokens, or paper money, ancient or modern, U.S. or worldwide.
This Week's E-Sylum
April 5, 2020
This week's Complete E-Sylum »
E-Sylum Archive | E-Sylum Subscription Page
NBS PodCast
NBS commissioned Lianna Spurrier to produce a quarterly podcast for NBS. Below are NBS Bibliotalk Podcast:
Episode 1 - Lousiville vs. Lawrenceville.
Episode 2 - 300 Linear feet of Books.
NBS Podcasts are also on Apple Podcasts, Google Podcasts, and Spotify.
Announcements
The Aaron Feldman Exhibit Awards for 2019 were First Place to Michael Shutterly and Second to Marc Charles Ricard. Michael Shutterly's exhibit can be seen Buy the Books for the Coin
Back Issues - Kolbe & Fanning Numismatic Booksellers are now managing the distribution of back issues of the award-winning journal The Asylum. Back issues are available in limited numbers. An inventory of what's available can be downloaded at numislit.com/pdfs/AsylumBackIssues.pdf. Contact Kolbe & Fanning at orders@numislit.com or (614) 414-0855 to order.
The Asylum Author Index has been updated. It is available on the NNP or on The Asylum page.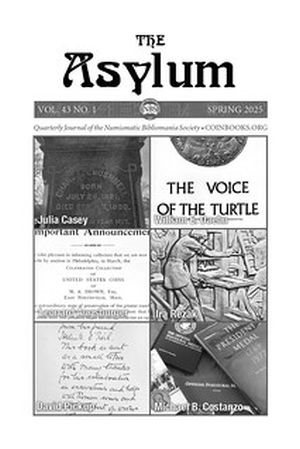 V37N4 Table of Contents
Winter 2019
"ASSOCIATIONS: Autographs • Annotations • Inscriptions: Samuel Breck on… Massachusetts Coinage?" By Joel J. Orosz
"A Chance Encounter" By Pete Smith
"The Coins of the Fisherman: Two Books on Papal and Vatican Numismatics Including a Review of Vatican City Coins 1929–1978 by Peter Jencius" By William Van Ornum
"That Other Book Club" By Pete Smith
"Throwing Light on the Past: Roman History from Coins by Michael Grant" By David Pickup
Sponsors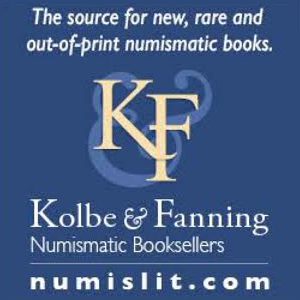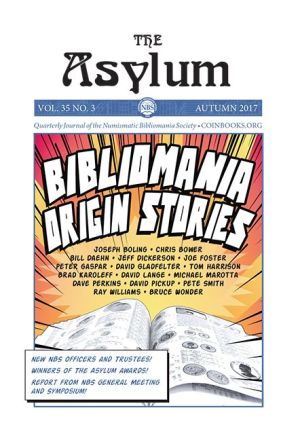 Download a FREE
Sample Issue
To become a sponsor of the NBS web site and/or The E-Sylum, contact Wayne Homren
whomren@gmail.com