Welcome to NBS
The Numismatic Bibliomania Society (NBS) is an educational association founded in 1979 to support and promote the use and collecting of numismatic literature. Numismatic literature includes books, periodicals, catalogs and other written or printed material relating to coins, medals, tokens, or paper money, ancient or modern, U.S. or worldwide.
The Asylum Awards
NBS members can vote on The Asylum author awards: the Joel J. Orosz Award for best article of the year in The Asylum and the Jack Collins Award for the best article by a first-time author in The Asylum. Voting closes June 30, 2022.

Vote here: https://www.surveymonkey.com/r/5VMRZV5
This Week's E-Sylum
May 22, 2022
This week's Complete E-Sylum »
E-Sylum Archive | E-Sylum Subscription Page
Want to Print an article from The E-Sylum? Learn How >> Click HERE<<
Announcements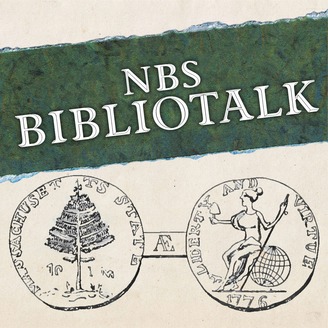 NBS Podcasts
NBS commissioned Lianna Spurrier to produce a bimonthly podcast for NBS. Below are the current 4 NBS Bibliotalk Podcasts to date:
Episode 12 - Civil War Tokens, with Cole Hendrickson
Episode 11 - A Top 100 Library, LIVE with Leonard Augsburger and Joel Orosz
Episode 10 - Napoleonic Medals, with Marc Charles Ricard
Episode 9 - Numismatic Bibliographies, with David Fanning
ALL Podcasts can be heard here.
NBS Podcasts are also available on Apple Podcasts, Google Podcasts, and Spotify.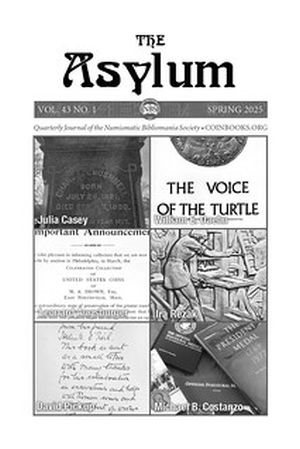 V40N2 Table of Contents
The Asylum Summer 2022
In this issue:
"David R. Drury Edmunds: An Appreciation" By Douglas Saville
"Remembering D.R.D. Edmunds" By George Kolbe
"BiblioFiles": Anthony R. Gonzales, Sr.
"Numismatic Literary Guild and Numismatic Bibliomania Society": Sister Organizations Devoted to Numismatic Literature By Wayne Homren
"Archbishop Sharpe's Observations on the Coins of England" By Dr. John Rainey, MBE
"Walter Breen's Birthdate" By David F. Fanning
"ASSOCIATIONS: Autographs • Annotations • Inscriptions Charles Ira Bushnell's Flandin's Catalogue of Coins and Medals: Part II, The Pierre Flandin Sale, June 6, 1855 Second Part of Part II" By Joel J. Orosz
"The Coin Atlas Handbook: Somewhat Outdated but Still Useful and Fun" By David Pickup
"The Lunatics Are Running the Asylum" By Darryl A. Atchison
Martin Gengerke has made his book on ANA Auctions Open Source and available for download by NBS Member at no charge. The book can be found on the >>Resources Page.<<
To become a sponsor of the NBS web site and/or The E-Sylum, contact Wayne Homren The E-Sylum Editor