Welcome to NBS
The Numismatic Bibliomania Society (NBS) is an educational association founded in 1979 to support and promote the use and collecting of numismatic literature. Numismatic literature includes books, periodicals, catalogs and other written or printed material relating to coins, medals, tokens, or paper money, ancient or modern, U.S. or worldwide.
This Week's E-Sylum
January 10, 2021
This week's Complete E-Sylum »
E-Sylum Archive | E-Sylum Subscription Page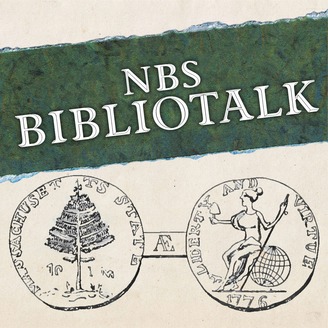 NBS PodCast
NBS commissioned Lianna Spurrier to produce a quarterly podcast for NBS. Below are NBS Bibliotalk Podcasts to date:
Episode 1 - Louisville vs. Lawrenceville, with Joel Orosz
Episode 2 - 300 Linear feet of Books, with George Kolbe
Episode 3 - The ANS Library, with David Hill
Episode 4 - A Gengerke Set, with Dan Hamelberg
Episode 5 – The World of Bookbinding , with Scott Keller
Episode 6 - Special Collections and Art Books, with Cassie Brand
Podcasts can be heard here.
NBS Podcasts are also available on Apple Podcasts, Google Podcasts, and Spotify.
Martin Gengerke has made his book on ANA Auctions Open Source and available for download by NBS Member at no charge. The book can be found on the Resources Page. The book will also be placed on the NBS Wiki so that NBS members can add information to the book.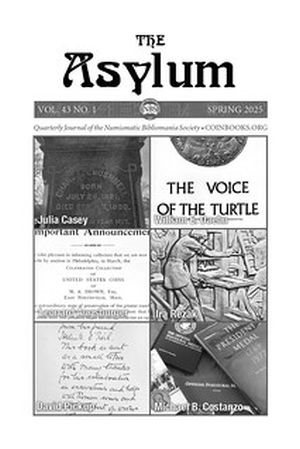 V38N4 Table of Contents
Winter 2020
In this issue:
The Rare First Printing of The Fantastic 1804 Dollar: An Explanatory and Comprehensive Census of Surviving Copies, By Leonard Augsburger and Joel J. Orosz
Good Manners for Today's Polite Coin Collector: A Cradle-to-Grave Handbook of Numismatic Etiquette, By Christopher R. McDowell
Remembering Frank Katen, By Charles Sullivan
21 Years After Frost's Encheiridion: The Second American Book on Ancients, By David D. Gladfelter
My Personal Numismatic Library, By Charles Davis
James Ferrier, Jr.: Hardware Merchant, Numismatist and Microscopist, By Ted Banning
A Collection of Trifles, By David Pickup
Click on the link below for free PDF Copy of the Summer Issue V38N2:

Free PDF of Asylum V38N2 Summer 2020
Announcements
The Aaron Feldman Exhibit Awards for 2019 were First Place to Michael Shutterly and Second to Marc Charles Ricard. Michael Shutterly's exhibit can be seen Buy the Books for the Coin
Back Issues - Kolbe & Fanning Numismatic Booksellers are now managing the distribution of back issues of the award-winning journal The Asylum. Back issues are available in limited numbers. An inventory of what's available can be downloaded at numislit.com/pdfs/AsylumBackIssues.pdf. Contact Kolbe & Fanning at orders@numislit.com or (614) 414-0855 to order.
The Asylum Author Index has been updated. It is available on the NNP or on The Asylum page.
Sponsors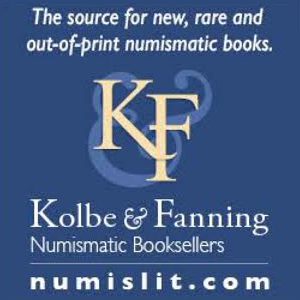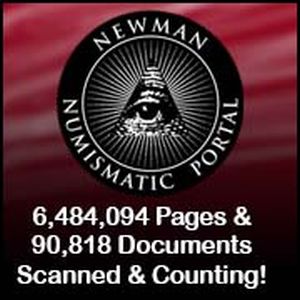 To become a sponsor of the NBS web site and/or The E-Sylum, contact Wayne Homren
The E-Sylum Editor