About Us
The Numismatic Bibliomania Society is a non-profit organization promoting numismatic literature. For more information please see our web site at coinbooks.org
Subscriptions
Those wishing to become new E-Sylum subscribers (or wishing to Unsubscribe) can go to the following web page link
Membership
There is a membership application available on the web site Membership Application
To join, print the application and return it with your check to the address printed on the application. Membership is only $20 to addresses in the U.S., $25 for First Class mail, and $30 elsewhere. For those without web access, write to:
David M. Sundman, Treasurer
Numismatic Bibliomania Society
P. O. Box 82 Littleton, NH 03561
Asylum
For Asylum mailing address changes and other membership questions, contact David at this email address: dsundman@LittletonCoin.com
Submissions
To submit items for publication in The E-Sylum, just Reply to this message, or write to the Editor at this address: whomren@gmail.com
BUY THE BOOK BEFORE THE COIN
New subscribers this week include: Mike Diamond and Robert Gabriel, courtesy of John and Nancy Wilson, John Feigenbaum of David Lawrence Rare Coins, and TMG Investments. Welcome aboard! We now have 1,758 subscribers.
This week we open with the NBS 2014 Literary awards, an old-but-new-to-me book, and two announcements from the ANS. Other topics include 1792 half dismes, The Invasion of Pittsburgh, the French Narrative medal, movie money, and reports from last week's ANA convention.
To learn more about the Fields medal, German Renaissance medals, the "Carolina Gold" counterfeits, the first Atlantic cable, "Skinny" Miles, Nanotribology, evaporating calories, and the Cult of the Biblio-Tie, read on. Have a great week, everyone!
Wayne Homren
Editor, The E-Sylum


NBS Treasurer David Sundman submitted the following announcement of the winners of the 2014 Numismatic Bibliomania Society literary awards.
For more information, see: NBS Awards (www.coinbooks.org/about/awards.html)
OK, so 1997 isn't exactly "new". But it's "new to me", and I thought it would be of interest to readers given the recent resurgence of interest in German medals. While editing the article on the Victoria & Albert Museum elsewhere in this issue, I saw a link to this book which catalogues the German Renaissance Medals in the museum's collection. -Editor
TITLE: German Renaissance Medals -
A Catalogue of the Collection in the V&A Museum
AUTHOR: Marjorie Trusted
FORMAT: Hardback
ISBN NUMBER: 9781851770137
DATE PUBLISHED: 1997
PAGES: 128
DIMENSIONS: 29.8 x 21.4 x 1.8 cm
As the first book in English on German medals, the catalogue includes a full introduction to the subject, as well as thoroughly researched study of the collection in the Victoria and Albert Museum.
For more information, or to order, see: German Renaissance Medals - A Catalogue of the Collection in the V&A Museum (www.vandashop.com/German_Renaissance_Medals
_Catalogue_Collection/dp/B00GUJDGYC)
Joanne Isaac of the American Numismatic Society forwarded this press release about the next Coinage of the Americas Conference (COAC). Thanks! -Editor
Coinage of the Americas Conference (COAC) to be held at the Annual C4 Convention at the Whitman Expo in Baltimore in October The American Numismatic Society and the Colonial Coin Collectors Club will jointly present on Thursday, October 30, 2014 "Circulating Coinage in Pre-­‐Federal America," a Stack Family Coinage of the Americas Conference.
This program, for ANS and C4 Members only, is generously funded by C4 and the Stack Family Fund at the American Numismatic Society.
The speakers and topics are:
Oliver Hoover -­‐ "Coins of our Forefathers: The Circulating Money of North America before 1780"
Chris Salmon -­‐ "The Silver Coins of Massachusetts: Evolution of Minting Techniques"
Jack Howes -­‐ "Thomas Machin: The Man and his Coinage"
John Kraljevich -­‐ "World Coins that Circulated in Colonial America: Sources and Methods"
A reception will be held from 5:00 pm to 6:45 pm with the conference beginning promptly at 7:00 pm at the Sheraton Inner Harbor Hotel, Harborview Room, 300 S. Charles ST, Baltimore, MD 21201.
There is no fee for this program, but in order to help with the planning of this event, ANS and C4 members are asked to register by October 24th with the Membership Department of the ANS at: membership@numismatics.org or212-­‐571-­‐4470 ext. 117
For more information, please visit numismatics.org/Events/COAC or www.colonialcoins.org
To read the complete press release, see: Coinage of the Americas Conference (COAC) to be held at the Annual C4 Convention at the Whitman Expo in Baltimore in October (numismatics.org/wikiuploads/NewsEvents/2014_0815_PR_COAC.pdf)
For more information, see: http://numismatics.org/Events/COAC
Joanne Isaac of the American Numismatic Society also forwarded this press release about a new online exhibit of WWI Medallic Art. -Editor
As part of its commemoration of the centennial of the First World War, the American Numismatic Society announces the launch of Art of Devastation (http://numismatics.org/aod/) an important new web-based research catalogue of the thousands of art medals, commemorative medals and tokens produced in response to this major conflict.
Directed by Dr. Peter van Alfen, with assistance from Sylvia Karges, Art of Devastation aims to be the first comprehensive catalogue of this abundant and varied material, one that takes full advantage of the web environment and linked open data. Intended to help identify medals and tokens in users' hands, Art of Devastation offers unique catalogue numbers for types and variants for future referencing, and illustrates, where possible, multiple examples for comparison.
Mapping tools allow users to locate where the item was created, and where the events associated with it took place. Links to other websites, such as Wikipedia, take users to entries discussing the artist who created the item, as well as the people, events, and things, like the weapons or symbols depicted on it. In addition to serving as an identification and learning resource, Art of Devastation provides easy access for non-numismatists to an important, yet often overlooked body of primary evidence from the Great War.
Before the War began, medals and tokens had served for centuries as a significant means of communication where easy and durable forms of mass communication did not exist. Whether issued by states, organizations, or individuals, their commemorative and propagandistic function was already well known and understood. Increasingly, by the turn of the century, the medal had also become an important medium of more reflective and private artistic expression. Art medals could be distinguished from traditional types of medals by their frequent lack of words, non-elite representation, greater emotional intimacy, experimental shapes, and cast production rather than striking.
During the War, these various public and private functions continued, converged, and were greatly intensified by the enormity of the conflict. Thousands of different types of medals and tokens were produced on both sides, consuming scarce metallic resources. This outlay underscores the fundamental role that these items played in feting heroes, marshaling support, directing public opinion, and, more poignantly, expressing grief and disgust.
Art of Devastation enables users to explore the range of artistic responses to the War and particular events within it. The sinking of the Cunard passenger liner RMS Lusitania by the German submarine SM U-20 on May 7th 1915, for example, attracted considerable artistic output on both sides of the conflict. René Baudichon, a French artist, responded with a medal with themes paralleling those of Allied atrocity propaganda, depicting a drowning child avenged by Ultrix America, the Statue of Liberty with a sword.
On the German side, the emotions were more complicated. The artists Karl Goetz and Walther Eberbach derided Allied hypocrisy on purported bans on armament shipments on passenger liners with their satirical takes on the sinking, while Ludwig Gies cast enmities aside to focus solely on the human tragedy of the event.
The creation of this new web tool is the work of ANS database developer Ethan Gruber. At launch, Art of Devastation incorporates the roughly 1,400 relevant items in the ANS's collection. In collaboration with other institutions, such as the Staatliche Museen zu Berlin, the Royal Library of Belgium, and the Kunsthistorisches Museum in Vienna, the catalogue will continue to expand.
Here are a few of the exhibit medals that caught my eye. Be sure to browse the exhibit. -Editor

GOETZ: FRIEDE . MIT . GROSSRVSSLAND
http://numismatics.org/aod/id/7513.7155.206

GOETZ: . IM . DIENSTE . DES . WELTKRIEGES . 1914
http://numismatics.org/aod/id/7513.7155.147

GOETZ: BARALONG MOERDER
http://numismatics.org/aod/id/7513.7155.162
To read the complete press release, see: Art of Devastation: A Web-based Catalogue of First World War Medallic Art (/numismatics.org/wikiuploads/NewsEvents/2014_0812PR_theArtofDevastation.pdf)
To visit the exhibit, see: http://numismatics.org/aod/
Pete Smith submitted this request for assistance with a research project to catalog all surviving 1792 half dismes. Please help! Many hands make light work... -Editor
Authors Len Augsburger, Joel Orosz and Pete Smith continue to work on their book on the coinage of 1792. They are compiling a census of all surviving 1792 half dismes and are seeking reports from current owners. If you own a 1792 half disme, please report this to petesmith1793@gmail.com.
If you see one at a dealer's table, please report it. If you know of a local collector who has one, please report it. If you see one in a museum, please report it. Even if you know the coin is already in the census, please report it.
There have been many coins in the grading service population reports that are not linked to a coin in our census. Reports including certification numbers are appreciated.
There may be some statistical value in comparing repeat notifications with notifications of unreported coins. If there are any significant results, these will be reported in a future issue of The E-Sylum.
Tom writes:
I prepared these albums as a souvenir of our visit that day, and sent Armand Copy #1 as a thank you for hosting "The Invasion of Louisville", when he'd hosted a busload of bibliophiles and numismatists to visit his home and view his marvelous numismatic library. That was the day I got schooled in numismatic literature and met many of the bibliophiles who became lifelong friends and mentors to me. Thanks again, Armand! -Editor
The Numismatist
Ken Lowe, John Bergman, Myron Xenos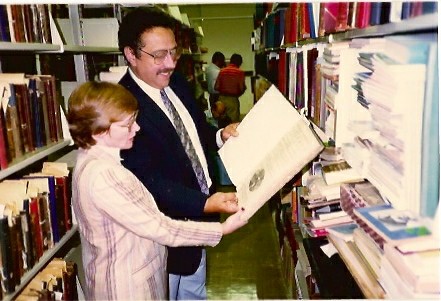 Nancy Green, Myron Xenos
Group photo: Kolbe, Persichilli, Champa, Xenos, Green, Lowe, Auerbach, Bergman, Homren, Katen
Tom adds:
My own copy is likely buried in a box in my garage along with the negatives (remember those)? Someday I'll unearth them and help Tom complete his copy. It's great to see these again after all these years. Thanks! -Editor
More on Non-Circulating Legal Tender Coinage Dave Lange writes:
To read the earlier E-Sylum article, see: THE GROWTH OF NON-CIRCULATING LEGAL TENDER COINAGE (www.coinbooks.org/esylum_v17n33a16.html)
The United Daughters of the Confederacy World War II Cross Dave Alexander writes:
To read the earlier E-Sylum article, see: OMSA MEDAL QUIZ ANSWERS (www.coinbooks.org/esylum_v17n33a22.html)
More on the Silver-Plated 1977 Two Pence
Regarding Philip Mernick's silver-plated 1977 Two Pence coin, Rodrigo de Oliveira Leite writes:

Flickr user Ian Sutton writes:

To read the earlier E-Sylum article, see: NOTES FROM E-SYLUM READERS: AUGUST 10, 2014 (www.coinbooks.org/esylum_v17n33a08.html)






Counterfeit "Carolina Gold" Coins
In a recent online inventory of rare coin dealer Dave Wnuck was the following counterfeit piece; dealer's description was as follows:
I remember coming across a newspaper passage from 1840 that described in detail a similar piece, only it was stamped "Carolina Gold" instead of "Georgia Gold". The coin was struck by a gang of counterfeiters named Wm. Myers, John Richards, Wm. McMillan, and Samuel Griffith.
They were rounded up in a St. Louis police raid with all of the implements needed for the production of counterfeit coin together with 68 pieces of coin. A considerable amount of raw material for making the coin was on hand, and it was believed that several persons were constantly employed in the coining scheme.
Myers occupied the house that was raided and his principal business had been that of a gunsmith or locksmith.
Source: New York Sun
To read the earlier E-Sylum article, see: DAVE WNUCK'S COIN IMAGE LOGO (www.coinbooks.org/esylum_v17n31a14.html)
Harvey Stack's latest blog article begins a new series on the collection of R. L. Miles. It mentions the long-lost tradition of displaying coin collections in banks. Those were the days! -Editor
In a tradition started in the mid 1950s by Louis E. Eliasberg, collectors started to lend their collections to various banking institutions for special displays.
It was readily accepted that by hosting these special displays, banks could attract more depositors and clients. In the case of R.L. Miles, Jr., (and shortly later with the John L. Roper Collection), two different banks in the Norfolk, Virginia area established special showrooms in their lobbies for displays. This happened after the banks built new buildings in the refurbished and rebuilt port area of Norfolk, The opening displays were at the Virginia National Bank, a new 21-story bank building, dedicated in 1968. It was erected near the site of the early colony of Norfolk, close to the harbor where some 300 years ago, ships would come to effect commerce in the area.
Two exhibits commemorated the new building's opening. The first was a great historical item, the Mace of Norfolk, given in 1753 to the governor of Norfolk and the English colony, but not accepted by the City Council until 1754. The Mace was made in of silver, highly ornate and inscribed, and was carried to official functions by the mayor to assert the authority he possessed. The Mace is on display in a special glass case in the lobby of the bank, and is stored in a special underground vault when not on display. The Mace is portrayed on the reverse of the Norfolk commemorative half dollar, struck in honor of the colony, by the U.S. Mint in 1936. It is very large, and surely heavy, and one wonders how it was carried in official functions, when it was used.
The other display, which the bank received on loan from one of its directors R. Lawson Miles, Jr., was an outstanding collection of United States gold, silver and copper coins, rather comprehensive and in outstanding condition. The Stack family was privileged to help build this collection over 40 plus years, and I was fortunate to have been the family member who dealt directly with R.L. Miles, Jr. (known to his friends since early high school days as "Skinny" a nickname I was allowed to use). He had loved collecting coins since his youth when he worked for his father in the oyster business.
How Skinny got started collecting is a very interesting story. The Miles Oyster Company was one of the largest "farmers of Oysters in Chesapeake Bay." The area they were allowed to harvest was granted to the family in early colonial times and the family maintained the beds through the decades. Skinny's early job was in the paymaster's office of the factory. When I visited the company for the first time, it had about 1,000 sinks where the shuckers opened oysters, sorted them and prepared them for shipment all over the East Coast and as far west as Chicago. The oysters had to be refrigerated to keep them fresh and were packed in drums filled with ice, meaning that they could not be shipped by rail past the Mississippi.
To pay the shuckers coins were part of the payroll. Skinny became interested in seeing how many different dates and mints he could assemble, and he filled many collector boards with the coins he found. Though he found many -- possibly all -- the coins from the Philadelphia Mint, examples from the western mints were much scarcer. He learned that Philadelphia Mint half dollars dated 1914 and 1915 were also hard to find and he started to accumulate those in particular.
To read the complete article, see: The R.L. Miles Jr. Coin Collection, Part 1 (www.stacksbowers.com/NewsMedia/Blogs/TabId/780/ArtMID
/2678/ArticleID/64685/The-RL-Miles-Jr-Coin-Collection
-Part-1.aspx)
Dick Hanscom submitted these thoughts on self-publishing. Thanks! -Editor
To visit the 48hour Book web site, see: www.48hrbooks.com
To read the earlier E-Sylum article, see: WAYNE'S NUMISMATIC DIARY: AUGUST 10, 2014 (www.coinbooks.org/esylum_v17n33a17.html)
A unique example of the George Washington of Virginia medal restruck in gold in 1883 highlights Ira & Larry Goldberg Coins & Collectibles Inc.'s Pre-Long Beach Auction Aug. 31 and Sept. 1.
The restrike medal was produced under commission from Baltimore numismatist T. Harrison Garrett.
The gold restrike medal, recently graded and encapsulated by NGC, is based on the Baker 64 variety as cataloged in Medallic Portraits of Washington by W.S. Baker. The restrike medal is reported to have been struck in January 1883, according to the Baker reference.
Measuring 34.3 millimeters in diameter with a plain edge, the high relief gold medal weighs 2.3 ounces and is 4.5 millimeters thick.
According to the auction lot description, the dies from which the Washington medal was restruck in gold were originally prepared by German-born engraver Selig Baumgarten circa 1860.
One of Baumgarten's sons, Herman Baumgarten, later engraved the 1877 version of the Great Seal of the United States.
To read the complete article, see: Unique George Washington of Virginia medal in gold highlights Goldberg Long Beach sale (www.coinworld.com/insights/unique-george-washington-of-virginia-medal-restruck-in-gold.html)
From the beginning of the 15th century, artists had worked to perfect the rendering of three dimensional space on a two dimensional picture plane through the creation of what's known as the single vanishing point perspective. By the later 19th century, more than 400 years later, this technique had been absolutely refined and polished. Space was also created with overlapping forms, and "atmospheric perspective" used shapes growing softer and less distinct to suggest distance. In medalic art movement and depth might be also be indicated by figures or objects partially covering the elegantly lettered text or even falling out of the frame.
The academic artists of this time were not interested in challenging the well-known visual modes, but rather used them to create and extend the whole idea of "the story, "that is narrative and visual drama. Frequently this meant making manifest and visual the invisible ideas and concepts which underlay what was visible to the rest of us.

YOUNG MAN FILING
Alexandre Charpentier, Ca. 1900
The piece you see before you is a simple image of a young man filing something, created by Alexandre Charpentier about 1900. It demonstrates some of the important qualities of the narrative medal which I hope to make clearer today.

"PARIS RECEIVING AN AERIAL COMMUNICATION," CA. 1880
Charles Jean Marie Degeorge (French, 1837-1888)
The female allegory of Paris, marked by the crown she wears, receives a pigeon from the outside, while a balloon floats over the Prussian lines with more pigeons. The city itself is identified by the Arc de Triomphe and the dome of the pantheon. Here is the story, visually fixed at a time and place, in a way not found in earlier medals, a little story told in the palm of your hand.
And with the departure of the monarchy and the expansion of the middle class, the narrative medal really comes into its own. Science and medicine, business and commerce, agriculture and sports were all subjects of the narrative medalists art. Additionally, there is a new drama found in medalic art which drew strongly on the other arts, painting, sculpture, architecture and music of this romantic era.

ETIENNE JULES MAREY (1830-1904)
Paul Richer (French, 1849-1933)
Etienne Jules Marey was a true polymath. he died in 1904, having developed the first blood pressure machine, performed early pre-motion picture stop-motion photo studies of human and animal articulation and created ways of documenting other evanescent events, previously thought of as "unrecordable."
Richer has created a remarkable portrait of the man, his equipment and his achievements of documentation, all in one image. The epigram here says it precisely: the traces of graphically recorded motion live by your art.
If the H.L. Hunley has any secrets left, they are about to be exposed.
Tuesday, scientists at the Warren Lasch Conservation Center will begin scraping away the sand and shell that has covered and encased the Civil War submarine's hull for more than a century.
Beneath that crust, which conservators call concretion, archaeologists will finally get to see the real Hunley. For the first time, modern scientists will be able to examine the sub's actual skin.
"Nobody has seen the hull since it left on its mission," said Stephanie Crette, conservation center director.
And the hull, scientists hope, may contain clues that will help solve the mystery of why the Hunley never returned.
The Hunley sank in 1864, shortly after it sank the USS Housatonic. In the 136 years it spent at the bottom of the Atlantic, sand and sediment and shell accumulated on the hull, eventually hardening like a shell around the iron.
In places, the concretion is a quarter-inch thick; in others perhaps as much as a couple of inches. It has masked many features of the first submarine to sink a ship in battle.
"Even now, we don't know how some of the hull plates are connected," said Nestor Gonzalez, associate director of the conservation center. "We have been waiting for this a long time. We will know if there was any damage to the submarine pre-sinking or post-sinking."
Although the concretion has to be removed so the iron hull can be preserved, the bigger draw to scientists is the mysteries this process could uncover.
While the concretion was left on the submarine to help preserve it in the 14 years since it was raised, it has also made it nearly impossible to determine why the Hunley sank.
To read the complete article, see: Scientists to begin exposing the "real" Hunley (www.postandcourier.com/article/20140812/PC16/140819871/1177)
To read an earlier E-Sylum article, see: 150TH ANNIVERSARY OF THE SINKING OF THE HUNLEY (www.coinbooks.org/esylum_v17n08a14.html)
Jon Schmeyer forwarded this great article on stage notes or, "Movie Money." Be sure to read the full version online. Thanks! -Editor
In late 2000, the producers and crew for action flick Rush Hour 2 gathered at the now-defunct Desert Inn in Las Vegas and prepared to blow up a casino. The scene, which pitted policemen and Secret Service agents against a counterfeiter attempting to launder $100 million in superdollars, was to culminate with hundreds of thousands of fake bills floating through the air.
After several days of filming, the sequence was a success. Then, something incredibly odd happened. The bills, which had been supplied by a major Hollywood prop house, were picked up by movie extras and passersby and were attempted to be passed off as legal tender in various stores along the strip. The authorities weren't too thrilled. Secret Service agents glided in, swiftly detained somewhere north of $100 million worth of prop money, then accused the prop maker -- Independent Studio Services (ISS) -- of counterfeiting, and ordered a cease and desist on all of their faux cash.
For ISS (the company who produced the money), the premise of Rush Hour 2 had become a reality -- and they were penned as the bad guy. Sadly, their story is indicative of a constant dilemma faced by prop suppliers in Hollywood: the necessity to skirt the line between strict counterfeiting laws and producers' demands for incredibly realistic money.
Today, "movie money" is ubiquitous and plays a multitude of roles in TV shows and films. It can be seen clutched in the hands of heisters and gangsters, tucked covertly into steel suitcases, and splayed across poker tables in smoky rooms. But as far back as the inception of film (anywhere from 1878 to 1895, depending on one's definition of the medium), money has been represented on the big screen.
Fred Reed, author of Show Me the Money, a book compiling the history of currency in the movies (both real and fake), chronicles how the use of real money gradually transitioned into the use of fake money. Legal tender made its big-screen debut in Thomas Edison's 1895 kinetoscope film of a cock fight, in which two men wager ferociously; a few years later, in 1903's The Great Train Robbery, real money was prominently featured during a stick-up scene.
But just as film began to flourish in the early 1900s, counterfeiting crimes rose; as a precaution, Federal laws were enacted that barred the use of real currency in full-scale photography. Studios found a replacement in 1920: when the Mexican Revolution ended, vast quantities of Mexican currency, rendered worthless by the war, were acquired by Hollywood producers and used in lieu of U.S. tender. When the supply of these notes diminished a decade later, studios began replicating other Mexican currencies. By the 1960s, this crude prop money was in widespread use.
Gradually, prop houses in Hollywood began sensing producers' demands for more believable U.S. currency, and a new era of movie money was born. Between 1970 to 2000, nearly 270 types and 2,000 sub-varieties of movie money were produced for Hollywood's use. To win market share, prop masters increasingly competed in creating the most realistic fake cash available -- but it came at a very real cost.
Gregg Bilson Jr. is the CEO of Independent Studio Services, a Sunland, California-based prop company his father started out of an abandoned Lockheed hangar nearly 40 years ago. Today, his company houses over one million props in seven locations around the United States and Europe. They've provided props for nearly every blockbuster movie and hit TV show in the last few decades, from 90210 to Indiana Jones. They also fatefully supplied the prop money for Rush Hour 2, a job that still haunts them 13 years later.
When Priceonomics called Bilson to discuss his business, he painstakingly recalled the repercussions of the 2000 incident. The Secret Service came knocking on his door -- first with a cease and desist ordering production of the fake currency be cut off, then again to confiscate all of his digital files and currency inventory as it returned from movie sets around the world. In all, they eradicated nearly $200 million in fake studio bills. At roughly an $8 real money cost per $10,000 stack of fake bills, the loss was steep for the company.
To read the complete article, see: The Business of Fake Hollywood Money (priceonomics.com/the-business-of-fake-hollywood-money/)
Sometimes problems aren't visible to the naked eye … or even your standard microscope. In 2006, Dr. Tony Ying, a material engineer at the U.S. Mint in Washington D.C., and a team of nano-mechanical scientists at the National Institute of Standards and Technology set out to find a solution to a very tiny problem.
Now, that solution saves the U.S. Mint roughly $2 million per year.
"If you want to make a beautiful coin, first you have to make a beautiful blank," Ying said.
A blank is a faceless coin. It becomes the coin we recognize after it is struck by a pair of die. An average die for a dime used to last about 100,000 to 150,000 strikes. That was a short life in Ying's mind. The dies seemed to wear out and crack, or break rather quickly. He wanted to know why.
In 2006, Ying started looking at the lifespan of coin dies and began to generate a research database.
Ying took his research to NIST. There, he met up with a former colleague, Dr. Richard Gates, who heads the Nanomechanical Properties Group at NIST. Ying worked at NIST when he was studying for his PhD, and he knew Gates, a nanotribologist, had the resources he needed.
"Tribology is just the study of rubbing and, in more practical terms, it's the study of processes like friction, wear and lubrication," Gates said. "If you think of what nano might mean, the width of a human hair is about fifty microns and that's about 50,000 nanometers. So, nano is just really, really small. So nanotribology is the study of friction, wear and lubrication on a very small scale, and it's basically what happens on the surface of a coin during minting. And it's one of the processes that we studied to try to understand what was going on."
The Mint had the coins and the problem to solve, but NIST had the right equipment and the environment.
"In some ways, it's like a three bears problem — Goldilocks and the Three Bears. If you have too little lubricant, you have problems; you get too much lubricant, you get problems. If you have just the right amount, then you can get successful lubrication. That's what we ended up developing, basically a monomolecular — a very thin controlled amount of lubricant — that was just enough to strike a coin and allow the die life to increase," Gates said.
And increase it did. The tedious work paid off. Die life has more than doubled since they changed the lubrication process. The Mint is saving roughly $2 million per year in the cost of equipment, and time and labor spent replacing the dies. The Mint is still tracking die life in the database, so it knows right away when something goes amiss.
Just last year, the Mint saw a drop in the die life at the Philadelphia Mint. Ying said they were able to pinpoint the problem immediately as a defective pump. Without the ongoing database, the problem could have easily gone undetected.
To read the complete article, see: Saving money by making money: One engineer's quest saves millions at the US Mint (www.federalnewsradio.com/1318/3681374/Saving-money-by-making-money-Engineers-quest-saves-millions-at-US-Mint)
A Stanford University professor has become the latest winner of the Fields medal for mathematics, the first woman to be awarded the rare honor. -Editor
As an 8-year-old, Maryam Mirzakhani used to tell herself stories about the exploits of a remarkable girl. Every night at bedtime, her heroine would become mayor, travel the world or fulfill some other grand destiny.
Today, Mirzakhani — a 37-year-old mathematics professor at Stanford University — still writes elaborate stories in her mind. The high ambitions haven't changed, but the protagonists have: They are hyperbolic surfaces, moduli spaces and dynamical systems. In a way, she said, mathematics research feels like writing a novel. "There are different characters, and you are getting to know them better," she said. "Things evolve, and then you look back at a character, and it's completely different from your first impression."
With her low voice and steady, gray-blue eyes, Mirzakhani projects an unwavering self-confidence. She has an equal tendency, however, toward humility. Asked to describe her contribution to a particular research problem, she laughed, hesitated and finally said: "To be honest, I don't think I've had a very huge contribution." And when an email arrived in February saying that she would receive what is widely regarded as the highest honor in mathematics — the Fields Medal, which was awarded August 13 at the International Congress of Mathematicians in Seoul, South Korea — she assumed that the account from which the email was sent had been hacked.
Other mathematicians, however, describe Mirzakhani's work in glowing terms. Her doctoral dissertation — about counting loops on surfaces that have "hyperbolic" geometry — was "truly spectacular," said Alex Eskin, a mathematician at the University of Chicago who has collaborated with Mirzakhani. "It's the kind of mathematics you immediately recognize belongs in a textbook."
To read the complete article, see: Meet the First Woman to Win Math's Most Prestigious Prize (www.wired.com/2014/08/maryam-mirzakhani-fields-medal/)
Below is a little more information the medal and its namesake. QUICK QUIZ: Who can name the Canadian sculptor of the medal? This must be one of his rarest pieces. Does anyone know if one has ever come to the market? -Editor
The Fields Medal is often referred to as the mathematical equivalent of the Nobel Prize, but it is granted only every four years and is given, by tradition, to mathematicians under the age of 40, rather than to more senior scholars.
The Fields Medal originated from surplus funds raised by John Charles Fields (1863–1932), a professor of mathematics at the University of Toronto, as organizer and president of the 1924 International Congress of Mathematicians in Toronto. The Committee of the International Congress had $2,700 left after printing the conference proceedings and voted to set aside $2,500 for the establishment of two medals to be awarded at later congresses.
Following an endowment from Fields's estate, the proposed awards—contrary to his explicit request—became known as the Fields Medals. The first two Fields Medals were awarded in 1936. An anonymous donation allowed the number of prize medals to increase starting in 1966. Medalists also receive a small (currently $1,500) cash award. A related award, the Rolf Nevanlinna Prize, has also been presented at each International Congress of Mathematicians since 1982. It is awarded to one young mathematician for work dealing with the mathematical aspects of information science.
To read the complete article, see: Fields Medal (www.britannica.com/EBchecked/topic/206375/Fields-Medal)
One item that caught my eye in Joe Levine's e-mail token and medal mini sale list #86 (published August 14, 2014) is this interesting made-from token. To an aficionado of the history of science, technology and business like myself, this is a really neat item. -Editor
GRANVILLE STOKES ATLANTIC CABLE RELIC TOKEN. 21.6mm. White Metal. U n i f a c e . Extremely Fine. G. STOKES. FINE/ CLOTHING/ 607/ CHESTNUT ST. PHILA. Struck on a 7mm thick cross section of the Atlantic Cable.
According to Rulau, "Granville Stokes purchased a portion of the first Atlantic cable, cut off quarter inches in thickness and had a suitable die made for striking one side, the other side showing the arrangement of the wires. The first cable was laid, unsuccessfully, in 1858." Rulau states that only 4 to 6 are known. We suspect that estimate is a bit low. $395.00
Here's another type of relic: an advertising piece "made from" obsolete paper money. Here's an excerpt from a blog article by Frank Van Valen at Stack's Bowers about research he did on a ratty old (but interesting!) banknote. -Editor
Welcome to the first-ever installment of The Exonumia Corner, a bi-weekly look at another side of numismatics. Exonumia means "outside numismatics," and is a catch-all term for items related to coin collecting, though sometimes in an off-beat way. Medals, tokens, trench art, paper ephemera, and other unusual numismatic items will be featured. This week we bring you an early coin and antiquities dealer named J.H. Childrey, an elusive figure from the numismatic past.
I first became aware of Childrey after a purchase on an internet auction site. I bought an old leather billfold marked CSA with "three Confederate notes included." The first two notes were uneventful, both "blue back" 1864 CSA $5 notes in ratty condition, but the third note intrigued me. On the back of a tattered uniface obsolete $10 note on the Bank of Howardsville, Virginia, was an advertisement on five lines: "RELICS OF THE WAR / CHILDREY, THE DRUGGIST / DEALER IN / Old Coins Stamps and Relics / 1722 Main St, Richmond, Va."
Was Childrey a well-known coin dealer in his time? If the distribution of his advertising notes is any indication, he probably enjoyed some success in his numismatic sideline. His overprints occur on numerous CSA notes of varying denominations and types, as well as on obsolete notes from across the south. Childrey's overprints are also found with varying style and address changes in the advertising.
Was Childrey old enough to be a Civil War veteran? If so, did he wear the Federal blue or the Confederate gray? In Richmond, Her Past and Present by William Asbury Christian (L.H. Jenkins, 1912) a J.H. Childrey is listed as a rifleman in Company B, First Regiment of Riflemen under the appendix titled Official Rosters of the Richmond Companies Mustered in the Service of the Confederacy 1861-1865. If this is our J.H. Childrey, his sympathies were plainly with the South. As a resident of Richmond he may have witnessed the destruction of the city by Union troops in 1865, and as a businessman in the city during Reconstruction, he probably took much pride in the city's renaissance in the years that followed the war. v Other than the note I own and the numerous notes I have seen illustrated on the Internet, I have not been able to find any other numismatic footprint left behind by J.H. Childrey.
Is anyone aware of another reference to Childrey in numismatic circles? -Editor
To read the complete article, see: "Childrey the Druggist, Dealer in Old Coins Stamps and Relics" (www.stacksbowers.com/NewsMedia/Blogs/TabId/780/ArtMID
/2678/ArticleID/64684/%E2%80%9CChildrey-the-Druggist-Dealer
-in-Old-Coins-Stamps-and-Relics%E2%80%9D.aspx)
Pat McBride is the administrator of the estate of the late numismatic literature dealer John H. Burns. He submitted this report and a thank-you for all of John's friends who contributed funds to help with his final arrangements. -Editor
The fund has grown to just shy of $10,000. For those that were not aware, John Burns passed away unexpectedly in January at the FUN coin show in Orlando. He did not have a will, any close heirs, or life insurance. I requested and was appointed his administrator by Westmoreland County court in February with no funds to begin the process of bringing his remains back to his home in Pennsylvania.
The memorial fund allowed me to have John cremated, fly to Orlando and retrieve John's ashes, cargo van, book inventory, and personal belongings. I was able to continue to pay his townhouse and storage rental fees until some of his assets could be sold. I purchased a plot at Union Cemetery in Greensburg, PA. The ashes of John, his father Henry, and his mother Vivian are peacefully at rest among the old trees and the beautiful green. His townhouse and storage units have been cleared. A wonderful remembrance dinner was held with his many friends and business associates attending. The fund allowed the start of the estate process and was an immense help; thanks to all of you.
Today, all of his books have been sold, the cargo van that he affectionately referred to as "Shamu" has been sold to a very happy plumber and now has a new life as a Roto-Rooter truck. A number of his foreign and ancient coins have been sold along with a very nice collection of porcelain coins. John did not have a lot of accumulated wealth but had a lot of accumulated debt. His claimants will at least receive 25% of their claims and there is a good chance that I can get that number up to 33% with the proceeds from his remaining assets.
The memorial fund still has about $5,000 remaining that will be used as seed money to create a traveling coin show numismatic reference library in John's memory. A beginning version was set up at the spring PAN show. The books and seating area are for anyone to use during a show. It is a quiet space to relax, browse, and talk coins. That is what John loved to do at the shows he frequented. His forte was knowledge and friendship. Enthusiasm for the traveling library has been strong.
More planning and logistics will need to take place. It appears that with continued financial support, his memory and impact will live on at future coin shows. Donations can still be made through PAN at www.pancoins.org. I will keep you informed as progress continues. Heartfelt thanks and gratitude to all of you!
To read the earlier E-Sylum articles, see:
JOHN H. BURNS 1958-2014 (www.coinbooks.org/esylum_v17n02a02.html)
JOHN H. BURNS LAID TO REST (www.coinbooks.org/esylum_v17n24a06.html)
London's Victoria & Albert Museum has acquired a very fine medal cabinet. Not a cabinet as in a "collection", but a cabinet as in a piece of furniture build to HOUSE a medal collection. Thanks to Alan Luedeking for forwarding this. -Editor
Medal cabinet in the Egyptian taste
About 1810
Paris
After a design attributed to Charles Percier (1764-1813)
Veneered with amboyna and mahogany and inlaid with engraved silver mounts by the firm of Martin Guillaume Biennais (1764-1843)
Made for someone in the circle of the Emperor Napoleon
We are delighted to have raised £534,000 in time to save this rare and remarkable medal cabinet from export.
The government placed a temporary export bar on the cabinet and we only had until July 2014 to acquire it and ensure its place in the national collections.
This medal cabinet is perhaps the finest piece of French Empire furniture in Britain today. It is also a superlative example of the Egyptian taste that was fashionable throughout Europe in the period 1800-1815. Newly minted medals, of the sort this cabinet would have stored, were a significant element of Napoleon's propaganda and used to commemorate his major achievements.
The silver mounts were made by the firm Martin Guillaume Biennais, whose signature is engraved on the lockplate. Biennais, who may have made the cabinet in its entirety, was goldsmith to the Imperial family. There are few works by Biennais in Britain; these are limited to smaller travelling cases or metalwork and certainly include nothing of this size, design-historical importance or quality.
The cabinet's architectural form and craftsmanship are striking. Its rich amboyna wood is adorned with intricate figured veneers as a background to silver mounts of the highest quality. The design of inlaid bees on each individual drawer front, with hinged wings that flip forward to function as handles, are particularly sophisticated.
The cabinet is currently on display in room 69, Whiteley Silver Galleries.
Alan writes:
To read the complete article, see: The Medal Cabinet Appeal (www.vam.ac.uk/content/articles/t/the-medal-cabinet-appeal/)
CoinWeek's David Lisot basks in the glow of victory. NLG Awards Banquet victory. Lisot won two individual awards for video production.
NLG Executive Director Ed Reiter reads prepared remarks after being honored with the Burnett Anderson Memorial Award.
David Lisot shot this photograph of me (Charles Morgan) accepting an NLG award for Hubert Walker and my piece "Spotlight on So-Called Dollars".
To read the complete article, see: World's Fair of Money Photo Diary (www.coinweek.com/coin-clubs/american-numismatic-association/worlds-fair-of-money-photo-diary/)
This week I continue my diary from last week with the help of some readers.
The Cult of the Biblio Tie

Speaking of ties, Bob Van Ryzin writes:
The Past, Present and Future of Online Numismatics
I dressed less formally for my presentation at the NBS General Meeting last Friday. John Mutch writes:
OK, QUICK QUIZ: who is it?
Nummis Nova Dinner
Tuesday, August 12, 2014 was the monthly meeting of Nummis Nova, my Northern Virginia numismatic social group. This month's host was Julian Leidman, who hails from Maryland and chose one of his favorite restaurants, Jerry's Seafood in Lanham, MD.
We had been there a year ago, and I was eager to return - the food was marvelous. I managed to arrive about an hour early, half hoping to see some other early birds, but for a while it was just me. I relaxed with a glass of wine and munched on some warm, fresh bread.
Jon Radel and Eric Schena were the first to arrive, and we were shortly joined by the rest of our smaller-than-usual group: Julian, Ron Abler, Gene Brandenburg, Steve Bishop, Mike Packard, Dave Schenkman and Dave's guest, retired coin dealer Michael Merrill, who had a coin shop in Towson, MD for decades. Mike introduced himself as an E-Sylum reader. It was nice to meet in person another of the great folks I ordinarily interact with only online.
I ordered the restaurant's trademark dish, the Crab Bomb. I got it "Firecracker" style, along with the Maryland Crab Tomato soup. Excellent all around. I even splurged on dessert, ordering the chocolate cake, It was both huge and chocolately rich. I would NOT be able to finish more than half of it (which says a lot from a guy who doesn't know what leftovers are).
I even had to pace myself by waiting a bit before digging my fork into it. To explain myself, I told the group that I was just waiting to the extra calories to evaporate. It's true! (That's what I prefer to believe, anyway). I laid it on thicker, explaining that the calories, having risen up toward the ceiling and passed near the light fixture over Mike Packard's seat, had warmed up enough to now be raining invisible calories down on Mike's cheesecake. Blame the wine for my overactive imagination.
Naglee's Brigade Battle of Fair Oaks Medal

I had no exhibits at all to display, but Eric Schena was prepared. He writes:
TAMS Mishler Exonumia Cataloging Award
Eric Schena also came prepared with a surprise. Eric writes:
Congratulations to Ron! As always, it was a great evening of numismatic fellowship. Can't wait 'til next month!
To read the earlier E-Sylum article, see: WAYNE'S NUMISMATIC DIARY: AUGUST 10, 2014 (www.coinbooks.org/esylum_v17n33a17.html)
The Internet Ignites the Hobby
As in many industries, the Internet was a true game changer for the rare coin hobby. While the first web sites (including ours) began popping up around 1995, the true modern era of coin collecting was a direct result of the great efficiencies the Internet can provide. There are many reasons for this, and all play a role, but it is clear that certified rare coins are ideally suited to web site and Internet trading. I have sold multiple million dollar coins via email, based solely on an image and third-party grade.
With the new trading channel of the Internet emerged a new type of collector. This collector had previously not participated in rare coins for a number of reasons. Many collectors are unwilling to come to coin shows because of geographical/time constraints; others are uncomfortable in a show setting. The new collector is more technologically advanced than the collectors of the 1990's and earlier. He or she is comfortable doing price research on the Internet and making purchase decisions without a single phone call. For this reason, dealers who have eschewed the Internet are missing out on an entire generation of current collectors.
In a repeat of the 1986 third-party-grading stubbornness, many "coin show" dealers refused to modernize their operations and go online with their wares. If collectors want to buy their coins, they have to come to a show, wait for their weekly copy of Coin World, or call in. Since most collectors of the established collectors of the early 1990s were also slow to adapt to the changing times, this refusal to modernize on the dealers' part was benign for the better part of a decade.
Of course, there were a small number of dealers who did adapt to technology quickly, and their willingness to change and invest in technology paid large dividends. There is no greater example than live auction. As recently as 2005, Heritage Auctions found themselves in a very competitive live auction business with numerous powerful competitors, like Stacks (founded 1935), Bowers and Merena, American Numismatic Rarities, Superior Galleries and others.
Heritage was early and easily the most aggressive with technology investment and today they are the live auction leader with annual revenues reported over $800 million. A merged Stacks-Bowers is in distant second place and most of the other mentioned companies cease to exist today because they failed to adapt. In less than 10 years the landscape has been completely upended, and the companies with the best technology are winning.
The text of the full article can be found here (temporarily): http://devuc.davidlawrence.com/blog/an-examination-of-the-rare-coin-marketplace/
The above link is to a development site; ordering and bidding do not work. Once John's new web site is launched in a couple weeks, the article should be found here: http://www.davidlawrence.com/blog/an-examination-of-the-rare-coin-marketplace/
Kerry Wetterstrom of Classical Numismatic Group, Inc. forwarded this press release on the results of their recent sale of the Richard L. Lissner Collection. Thanks. Some great coins here! -Editor
Record prices were achieved by the sale of The Richard L. Lissner Collection–The Collection of an American Connoisseur on 1-2 August 2014, held at the Chicago Marriott O'Hare, just prior to the annual summer convention of the American Numismatic Association in Rosemont, Illinois. The total of prices realized was $6,993, 661 (including the 21% buyer's fee) against the presale estimate/starting prices of $2,399,380, with 100% of the 2183 lots sold.
The auction of the Lissner collection, conducted jointly by St. James's Auctions, LLC (Knightsbridge Coins), of London, England, and Classical Numismatic Group, Inc., of Lancaster, Pennsylvania and London, England, with cataloging by M. Louis Teller Numismatic Company of Encino, California, was deemed a "huge success" by the principals of all three firms. The prices for coins from several countries, including Bulgaria, Norway, and Romania from the first day's auction of the "Old World," and Costa Rica and Venezuela from the second day's auction of the "New World" were nothing short of astounding.
"This was without a doubt the most exciting sale that we have ever had. With most coins fetching world record prices, this shows what happens when fresh coins hit the market, it shows the market is very strong," commented Stephen Fenton, Director of St. James's Auctions. Mark Teller, principal cataloguer of the sale, and a life-long friend of Richard Lissner, stated: "The auction went beyond any of our expectations. Although one or two coins fell short of what we had anticipated, the vast majority left us awestruck by their results. Literally, many hundreds of coins brought world-record prices."
Victor England, U.S. Director at Classical Numismatic Group added: "When an important collection is brought to market and it is presented with great photographs and conservative estimates, the results are usually outstanding. The sale of the Lissner collection helped illustrate this important point."
The quality of the Lissner collection was evident throughout the sale of 2183 lots, which included the large lots of multiple coins. Some of the individual highlights are:
Lot 58 – BULGARIA, Principality. Ferdinand I. 1887-1908. 1894-KB Proof AR 5 Leva. Körmöcbánya (Kremnitz) mint. KM 18; Y 159. In NGC encapsulation graded PF 67 WINGS APPROVED. Gem mottled toned proof with beautiful iridescence. Realized $33,275 against an estimate of $5,000. http://cngcoins.com/Coin.aspx?CoinID=261711
Lot 97 – CEYLON (SRI LANKA), Colonial. British. George III. 1760-1820. 1812 Proof Pattern AR Rixdollar. London mint. Dies by Thomas Wyon Jr. KM Pn3; Pr. 254. In NGC encapsulation graded Proof 66 WINGS APPROVED. Gem toned proof over iridescent violet and blue surfaces. Struck without a collar. Finest known specimen. This absolute wonder coin is by far the rarest pattern of Ceylon with only four or five known. Realized $33,275 against an estimate of $7,500. http://cngcoins.com/Coin.aspx?CoinID=261750
Lot 367 – FRANCE, Premier Empire. Napoléon I. 1804-1814. 1815-A Proof AV 20 Francs Cent Jours (Hundred Days) issue. Paris mint. VG 1025a; KM 705.1; cf. Friedberg 522 (for business strike). In NGC encapsulation graded PF 65 Cameo WINGS APPROVED. Realized $66,550 against an estimate of $10,000. http://cngcoins.com/Coin.aspx?CoinID=262020
Lot 828 – ROMANIA, Principality. Carol I. As Domnitor, 1866-1881. 1870-C AV 20 Lei. Bucharest mint. KM 7; Friedberg 2. In NGC encapsulation graded MS 67 WINGS APPROVED. Superb gem BU. Highest graded by five grades. Unimprovable. Incredibly rare so choice. Mintage of 5,000 pieces. Realized $51,425 against an estimate of $6,000. http://cngcoins.com/Coin.aspx?CoinID=262481
Lot 1134 – VIETNAM (ANNAM), French Cochinchina. 1879-A Proof AR Essai de Piastre. Guilloteau 3938; VG, Coloniales 8; KM E12. In NGC encapsulation graded PF 66 WINGS APPROVED. Superb gem proof with magnificent deep iridescent rainbow toning. Realized $108,900 against an estimate of $15,000. http://cngcoins.com/Coin.aspx?CoinID=262787
Wow. There were a lot of great prices in this sale. Amazing. -Editor
Lot 1218 – BOLIVIA, Republic. 1852-PTS FP AV 8 Escudos. Potosí mint. Fortunato Equivar, assayer. KM 115; Friedberg 33; Y A14. In NGC encapsulation graded MS 62 WINGS APPROVED. Superb fully lustrous, well struck coin over fully prooflike fields. Realized $72,600 against an estimate of $10,000. http://cngcoins.com/Coin.aspx?CoinID=262871
Lot 1334 – CHILE, Republic. 1828-TH AR 'Fine Type' Peso. Coquimbo mint. Gregorio Cordovez, mintmaster. Theodor Hagen, assayer. KM 88. In NGC encapsulation graded MS 63 WINGS APPROVED. Deep mottled toning over incredibly lustrous fields. Razor sharp strike. This is the finest known Mint State example in existence, next closest graded specimen is AU 58. Realized $108,900 against an estimate of $100,000. http://cngcoins.com/Coin.aspx?CoinID=262987
Lot 1423 – COLOMBIA, Colonial. Fernando VI. King of Spain, 1746-1759. 1759-No Ro JV AR 8 Reales. Nuevo Reino (Santa Fé de Bogotá) mint. Juan de Chávez and Victoriano del Valle y Mendoza, assayers. KM 33; Gilboy SF-8-1. In NGC encapsulation graded MS 62 WINGS APPROVED. Very lustrous toned uncirculated. One of the rarest coins of colonial Spain, and one of the most sought after coins of the Colombian royal series. It is the highest and only specimen graded Mint State. Realized $114,950 against an estimate of $60,000. http://cngcoins.com/Coin.aspx?CoinID=263076
Lot 1540 – COSTA RICA, Central American Republic. 1828-CR F AV 8 Escudos. San José mint. KM 17; Cr 10; Friedberg 1. In NGC encapsulation graded AU 58. Very choice AU, with very lustrous surfaces and just a hint of orange peel toning. Good strike and nice surfaces grace this specimen. Although a few have been graded higher, Richard (Lissner) realized that this coin had great eye appeal. Quite rare in any grade. Realized $51,425 against an estimate of $10,000. http://cngcoins.com/Coin.aspx?CoinID=263193
Lot 1710 – GUATEMALA, Central American Republic. 1824-NG M AV 8 Escudos. Nueva Guatemala mint. Manuel Eusebio Sanchez, assayer. Friedberg 26; KM 8. In NGC encapsulation graded MS 62 WINGS APPROVED. Lustrous BU with very prooflike devices. Incredibly nice strike with full ceiba tree. Extremely rare. Two year only type. Only one graded higher. Realized $78,650 against an estimate of $75,000. http://cngcoins.com/Coin.aspx?CoinID=263363
Subtle difference between the two (other than the date) - did you catch it? -Editor
Lot 2178 – VENEZUELA, Republic. 1879 AR 1/5 Bolivar. Brussels mint. Crude letters. KM (Y) 19.1. In NGC encapsulation graded MS 63. Choice lightly toned uncirculated. Very unusual for a coin struck at the Brussels mint to have such crude lettering. Only two of these have been graded and this is the higher. Very rare. Realized $60,500 against an estimate of $4,000. http://cngcoins.com/Coin.aspx?CoinID=263831
Printed catalogs for the Lissner Collection are still available with prices realized for this historic sale. To order a catalog, please visit cngcoins.com and visit the Lissner Collection page under The Coin Shop category. Catalogs are $75 to North American addresses, and $100 to the rest of the world. Payment may be made by U.S. $ check or Visa/MasterCard.
For further details and any additional information, please contact CNG, Inc. at:
Classical Numismatic Group, Inc. P.O. Box 479 Lancaster, PA 17608-0479 Telephone: (717) 390-9194 Fax: (717) 390-9978 Email: cng@cngcoins.com
Since we've have earlier discussions about coin reproductions, I thought I'd pass along this web site I got in a spam email this week. It's unclear to me if these folks make the reproductions, or are just reselling them. -Editor
To visit the web site, see: www.2rookscoins.com
Howard Berlin forwarded this story about a Harvard professor who is recommending the elimination of the U.S. $100 bill. I heard about this paper on National Public Radio this week, too. Thanks. -Editor
Is the $100 bill more trouble than it's worth?
Influential Harvard professor Ken Rogoff thinks so.
Rogoff ought to know. He was also once the chief economist at the international Monetary Fund.
Nearly 80% of the $1.3 trillion currency in circulation is in the form of $100 bills, Rogoff wrote in a paper earlier this year. The sheer number is far more than anything that can be traced to legal use in the U.S. economy. In other words, the U.S. "Benjamin" is a favorite of criminals.
Law enforcement agents agree. Criminals tend to prefer $100 bills because its easier to carry more money in less space, said Stuart Tryon, deputy special agent in charge of the criminal investigative division of the U.S. Secret Service.
"Internationally, the $100 is the most commonly counterfeited note there is," said Tryon.
To read the complete article, see: Does the $100 bill need to go? (money.cnn.com/2014/08/15/news/economy/100-bill/index.html)
Makers of a very high quality counterfeit $100 bill have finally been apprehended after a decades-long hunt by law enforcement officials. -Editor
It was the most popular counterfeit $100 bill in circulation, and for more than a decade its makers were a mystery to the U.S. Secret Service.
Agents collected and analyzed the fake greenbacks, which first popped up in Israel in the late 1990s. They were so good that they were often discovered only after they reached a bank or the Federal Reserve.
So when Secret Service agent Adam Gaab came across four of the fake $100s on May 17, 2012, shortly after they had been detected at a Loan Max in Northern Virginia, he knew he had the rare chance to link a bill back to the person who passed it.
"It was the No. 1 note," said Ed Lowery, special agent in charge of the Secret Service's criminal investigation division. "You aggressively run out leads on the No. 1 note."
The investigation evolved into a two-year international odyssey that culminated in the indictment last week of 13 Israelis and Americans of running one of the most successful counterfeiting operations in U.S. history. Hundreds of agents were involved by the time they executed raids and arrest warrants in five states in May and June that resulted in the capture of the 13 suspects and the seizure of $2.5 million in fake bills and a printing plant in a Cherry Hill, New Jersey, warehouse, according to federal authorities.
The counterfeiting ring was responsible for producing at least $77 million in fake bills, mostly $100s, said U.S. Secret Service Director Julia Pierson.
Over the years, the Secret Service's forensic analysis linked 17 different versions of the fake $100 to the same source, according to court records and interviews with Pierson, Lowery and other agents.
Agents identified the ringleaders as two Russian-speaking Israelis: Itzhak Loz, 46, and Ronin Fakiro, 45. Loz and Fakiro, who have been in custody since their arrests in May in New York, made hefty profits on the sale of their bills for 20 percent to 50 percent of their face value, according to the agents and court papers.
To read the complete article, see: Fake $100 Bills Eluded Detection With Rare Quality (www.bloomberg.com/news/2014-08-11/fake-100-bills-eluded-detection-with-rare-quality.html)
Here's a story about a recent change to North Korean banknotes. -Editor
North Korea has issued new paper bills that no longer depict the country's revered founder, Kim Il-Sung. The 5,000-won banknote instead shows an illustration of the late leader's childhood home.
North Korea has dropped an image of Kim Il-Sung, the country's founder and "Great Leader," from a new banknote, South Korean news media reported Monday.
The new 5,000-won bills instead depict Kim's idyllic birthplace in the town of Mangyongdae, located 15 minutes southwest of Pyongyang, media quoted an unnamed North Korean source as saying.
The backside of the bills features a Pyongyang museum that showcases gifts given to the Kim family by foreign heads of state.
The official announcement came on July 25, sparking fears of another currency adjustment in the country, according to South Korea's Chosun Ilbo daily.
Another news source, the Yonhap News Agency, however, wrote that the move is not expected to come with any reforms but rather have an impact on the impoverished nation's black market.
Some North Korean analysts believe the reason for the change may simply be consistency, as other North Korean banknotes feature birthplaces of Kim Jong-Il and his mother Kim Jong-Suk.
Others believe the new bill signals a gradual erosion of the Kim Il-Sung personality cult, paving the way for the current supreme leader Kim Jong-Un to implement new reforms on the planned economy.
To read the complete article, see: North Korean banknotes no longer feature Kim Il-Sung (www.dw.de/north-korean-banknotes-no-longer-feature-kim-il-sung/a-17845310)
North Korea's founder could very well be turning in his grave at the news his ruling grandson has removed his revered image from the secretive country's new banknotes.
Current leader, Kim Jong-un, would have had to give his approval for the image of his grandfather, Kim Il-sung, to be dropped from the country's batch of new 5,000 won banknotes.
The face value of each note is about £70, although the market value is said to be less than £1.
To read the complete article, see: Off with his head: Kim Jong-un has grandfather's face removed from North Korea's top banknotes sparking fears of panic-buying (www.dailymail.co.uk/news/article-2721839/Off-head-Kim-Jong-grandfathers-face-removed-North-Koreas-banknotes-sparking-fears-panic-buying.html)
Len Augsburger forwarded this item about an insurance broker who paid a big claim in coins. Weird. -Editor
The guy is a senior citizen and recently had a hernia operation and is unable to lift the buckets. Apparently eight Adriana's Insurance Service employees arrived at Carrasco's lawyers office and just started dropping off buckets of loose change that amounted to around $21,000.

Unsurprisingly, when contacted by the press, Adriana's Insurance Service was unavailable for comment.

Not really sure that they could say anything to defend such a cruel and childish action anyway.

To read the complete article, see: Insurance broker pays out $21K settlement to 73-year-old in buckets of small change (www.dailykos.com/story/2014/08/05/1319368/-Insurance-company-pays-out-21K-settlement-to-73-year-old-in-buckets-of-small-change#)

This week's Featured Web Site is the Medal Collectors of America (MCA)