---
Saul Teichman and Alan Weinberg forwarded this upcoming Heritage auction lot. Thanks. -Editor
1792 Silver Center Cent, Judd-1, SP35
First Coin Struck Inside the U.S. Mint
Classic American Rarity
1792 P1C One Cent, Judd-1, Pollock-1, High R.6 SP35 PCGS Secure. The Silver Center cent is one of the most famous and iconic issues of American coinage. Most numismatists believe it was the first coin actually produced inside the walls of the first U.S. Mint, although a few other patterns were struck earlier, before the Mint was actually ready for coinage operations. Its historic importance can scarcely be overstated and examples have been prized by collectors since the earliest days of the hobby.
Origin of the Silver Center Cent
The Silver Center cent was long thought to be the brainchild of Chief Coiner Henry Voigt, based on Thomas Jefferson's famous message to President George Washington on December 18, 1792:
"Th. Jefferson has the honor to send the President two cents made on Voigt's plan by putting a silver plug worth ¾ of a cent into a copper worth ¼ of a cent."
However, recent research by Len Augsburger, Joel Orosz, and Pete Smith for their coming book, 1792 Birth of a Nation's Coinage, indicates the concept for the unique dual metallic composition of this piece may have originated with famous patriot and essayist Thomas Paine. Paine was living in London when he sent Jefferson a September 28, 1790-dated letter outlining his ideas for a national mint and coinage. Despite the obvious advantages of copper as a metal for coinage (inexpensive and easy to work with), Paine believed that "to give the cents the intrinsic value they ought to have by weight, they will be too heavy and bulky for the use they are intended for." He suggested three possible solutions to this problem:
"1st. Making silver and copper in fusion; 2d. Plating the copper with silver; 3d. Plugging the copper with silver. But against all of these, there are very capital objections."
The Mint would actually try two of Paine's three suggestions in 1792, in the form of the Silver Center cent (Judd-1) and the Fusible Alloy cent (Judd-2). As Paine predicted, both of these solutions proved impractical for actual coinage. The Fusible Alloy cents were indistinguishable from pure copper cents and thus highly vulnerable to counterfeiting, and the mechanical problems encountered when preparing and striking the copper cents with a silver plug were too great to overcome in high-volume coinage operations. The Mint recognized these difficulties almost immediately.
It seems the few specimens actually struck were primarily intended as essay pieces, to demonstrate the design to President Washington and members of Congress. Modern testing reveals that most (if not all) of the Fusible Alloy cents were actually struck in pure copper and measurements of the silver plug on the Silver Center cent indicate it was too small to contain ¾ cent worth of silver. No Silver Center cents were ever produced for circulation and no official mintage figures have ever surfaced. Today, we know of 14 surviving examples, most of them in relatively high grade, and a single copper setup piece struck without the silver plug.
The Present Coin
The coin offered here is a fairly recent discovery, found in a pub in the 1960s. The first owner of record was named Nigel Willmott and it has one previous auction appearance in a Glendining's sale in 1997, where it brought 28,750 British pounds. It passed through a number of well-known American numismatists and coin dealers, including Kenneth Goldman, Stuart Levine, and Anthony Terranova, before finding a home with prominent collector Martin Oghigian. This piece has been in Oghigian's estate since his death in 1998.
To read the complete lot description, see:
1792 P1C One Cent, Judd-1, Pollock-1 (http://coins.ha.com/itm/patterns/coming-soon-/p/1238-181004.s)
Alan Weinberg sent this alternate image of the coin, from the CoinFacts site. Thanks. -Editor
Better-looking color in this image. We're looking forward to the new 1792 book! -Editor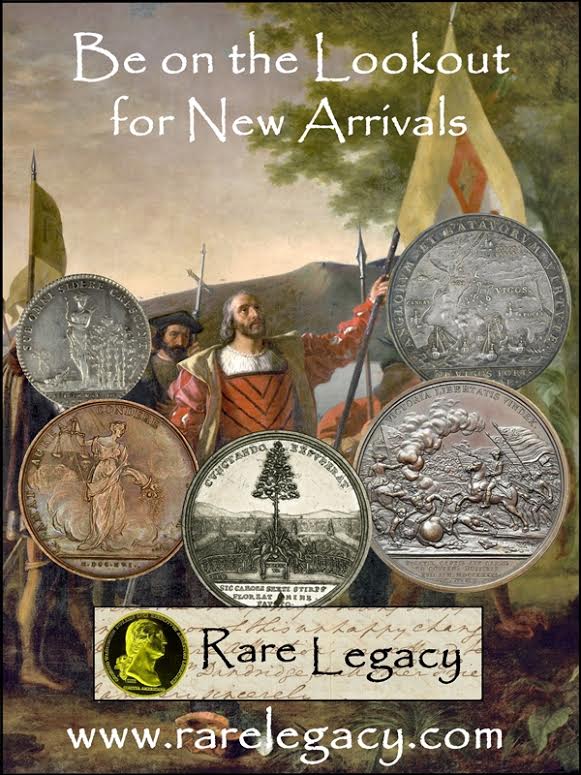 Wayne Homren, Editor


The Numismatic Bibliomania Society is a non-profit organization promoting numismatic literature. See our web site at coinbooks.org.

To submit items for publication in The E-Sylum, write to the Editor at this address: whomren@gmail.com

To subscribe go to: https://my.binhost.com/lists/listinfo/esylum

Copyright © 1998 - 2020 The Numismatic Bibliomania Society (NBS)
All Rights Reserved.

NBS Home Page
Contact the NBS webmaster