---
Mel Wacks submitted this press release about his latest commemorative counterstamped coin. -Editor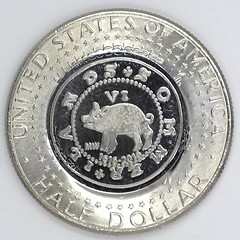 400th Anniversary of the first coins listed in "The Red Book" are Commemorated on Counterstamped Half Dollars
No more than 200 BU 2016 Kennedy Half Dollars will be counterstamped to commemorate the 400th Anniversary of the first coins listed in "The Red Book," the earliest coinage for any English-speaking region in the New World--the so-called Hogge Money made in London on behalf of Gov. Daniel Tucker "for the Plantation of the Somer Ilands (Bermuda)." According to Capt. John Smith (1624), the hog coin designs commemorate "the abundance of Hogges [which] were found at their first landing." The territory was often called Hogge Islands because of the numerous black hogs and sows that ran wild after escaping the shipwreck of Juan de Bermudez in 1532.
The 24th counterstamped design created by Mel Wacks features an undated 1616 Sixpence that Heritage Auctions sold for more than $125,000 in 2015. These Hogge Money Quadricentennial commemoratives are available for $39.50 each plus $5 shipping from Mel Wacks, 5189 Jeffdale Ave., Woodland Hills, CA 91364 or by calling 818-225-1348. Mention that you read about it in E-Sylum and take a 20% discount. Each coin is accompanied by a certificate of authenticity.
Mel Wacks' first counterstamped design commemorated the landing of Viking I on Mars on July 20, 1976 overstruck on silver Bicentennial Ike Dollars. Other themes include the Camp David Peace Summit on September 5, 1978 overstruck on BU Peace Dollars, and Pope John Paul II's visit to Mexico from January 26-31, 1979 overstruck on BU Silver Pesos. The complete catalog of Mel's counterstamped coins can be seen at www.amuseum.org/jahf/wacks-counterstamps.html.
THE BOOK BAZARRE
OVER 500 NUMISMATIC TITLES

: Wizard Coin Supply has over 500 numismatic titles in stock, competitively discounted, and available for immediate shipment. See our selection at

www.WizardCoinSupply.com

.



Wayne Homren, Editor


The Numismatic Bibliomania Society is a non-profit organization promoting numismatic literature. See our web site at coinbooks.org.

To submit items for publication in The E-Sylum, write to the Editor at this address: whomren@gmail.com

To subscribe go to: https://my.binhost.com/lists/listinfo/esylum

Copyright © 1998 - 2020 The Numismatic Bibliomania Society (NBS)
All Rights Reserved.

NBS Home Page
Contact the NBS webmaster