---
Reader Comments on The E-Sylum
Duane Feisel of Shingletown, CA writes:
Thanks for everything you have done and are doing – very professional and so informative, interesting, and educational. Quite a publication!
Bill Blystone writes:
I enjoy your publication. As an old time collector it amazes me the amount of new info which has come to light in the last 20-odd years. What did we do before computers?
Thanks! The E-Sylum is a delight to work on each week. there is always something new and interesting to learn in our hobby. -Editor
The Auction '79 Brasher Doubloon Sale

Dennis Forgue writes:

Reading David Alexander's story about the Apostrophe Sales brought back many memories. As the Vice President of Rarcoa I had an active relationship with the sales from the beginning. I also catalogued our section in the beginning and was the auctioneer for the major portion of the sales working not only Rarcoa's section but also for David Akers and Stack's until the end.

While there are many stories about the sales, one stands out as the best. In Auction '79 Rarcoa sold Jack Freidberg's Brasher Doubloon, the first to be sold in over 50 years. The Doubloon's sale drew wide attention including live national TV coverage. This is the first I have talked about what happened during the actual sale. While many were interested in buying the coin, it came down to just two bidders, neither of which anyone in the room could know were bidding.

Prior to the sale one bidder had told me he would be bidding as long as he had his pen in his shirt pocket. He sat at the end of the front row to my left with John J. Ford next to him. As the bidding progressed several bidders dropped out and two were left. The ultimate buyer, Walter Pershke, was seated in the second row directly in front of me and was bidding by only holding up a pen in his lap.

No one could see either bidder, including Ed Milas sitting at my left on the podium working the book. He got very excited and kept asking who was bidding, even Don Kagin stood up on a chair in the back of the room trying to see the bidders. Margo Russell was standing behind the podium with a camera and was the only other person that saw that Walter was bidding. The underbidder finally removed his pen from his pocket and it was over with a new World Record price having been attained. It was the most exciting auction moment I can recall prior to the selling Leon Hendrickson's 1804 Dollar.

Great story - thanks! -Editor

To read the earlier E-Sylum article, see:
THE APOSTROPHE SALES: 1978-1990 (http://www.coinbooks.org/v20/esylum_v20n36a06.html)

The Third Degree Knicker Pie Eaters Club Token
Tom Casper of Muskego, WI writes:

I enjoyed the article in the last E-Sylum issue about the Third Degree Knicker Pie Eaters Club token. I'm sorry I missed the ANA show in Denver to see this exhibit. I have had that token in my "What's Its" box for many years without knowing the story behind it. The piece is copper and 35mm. I am sending scans of the piece for a close-up view of it. It's in rough shape but it is the only one I have ever seen.
Thanks. It's hard to see tokens through an exhbit case; hooray for online images. -Editor
To read the earlier E-Sylum article, see:
THE THIRD DEGREE KNICKER PIE EATER's CLUB (http://www.coinbooks.org/v20/esylum_v20n36a29.html)
Charles J. Ricard TAMS President Medal
Former U.S. Mint Sculptor/Engraver Tom Rogers of Beatty, OR writes:
I was sorry to hear in your last issue, of Charles J. Ricard's passing. A very nice, and knowledgeable man....I did this portrait for him many years ago to commemorate his Token and Medal Society Presidency.
Thanks, Tom. Great likeness! -Editor
For more information on Tom and his work, see:
http://www.tdrogers.com/
To read the earlier E-Sylum articles, see:
REMEMBERING CHARLES J. RICARD (http://www.coinbooks.org/v20/esylum_v20n36a12.html)
More On Deceptive Colonial Counterfeits
Alan Weinberg writes:
Relative to Jack Young's discovery of the 1787 4c Mass half cent being counterfeit, I note telltale spark erosion raised pimples to the left of the arrow feathers left of O in Common and on the reverse to the left of the eagle spread wing. These same telltale pimples appeared on a choice EF Noe 16 Pine Tree 1652 Massachusetts shilling featured in color on the cover of a Dix Noonan Webb Auction catalogue of a few months ago featured in The E-Sylum. The coin was pulled from the auction once I and John Kraljevich notified DNW of the coin's spurious nature. Subsequently a prominent US coin dealer called me and told me he had paid $4K for the Pine Tree shilling and he was no stranger to colonial coins.
These deceptive colonials remind me very much of the spark erosion-produced rare US colonials which were the subject of Eric Newman's April 1979 Numismatist feature article Superb Numismatic Forgeries , several of which made it into a Bowers and Ruddy ANA auction and were withdrawn. These forgeries appeared to be the same process used to forge 8 or 9 George Washington inaugural buttons recently sold by a prominent antique button firm in good faith, the group purchased for almost $10K by me and subsequently returned and refunded.
It seems to me that a simple 5x glass search for these telltale pimples and examination of the questionable coin's rim or edge and how it SHOULD look on a genuine piece are the keys to avoid being taken. Forgers have not yet perfected duplicating what a genuine edge should look like ( i.e. beveled or rounded, etc ) and have not conquered the tiny raised pimples.
Thanks, Alan. -Editor
To read the earlier E-Sylum article, see:
COUNTERFEIT 1787 MASSACHUSETTS "4C" HALF CENT (http://www.coinbooks.org/v20/esylum_v20n36a20.html)
Teaching Young Rascals to Become Amateur Counterfeiters
Dick Johnson writes:
To teach children how to make facsimile and replica coins – to educate them how coins are made – is an unwise activity. It results in their handiwork turning up in the future causing confusion as long as these items exist, as mentioned in last week's E-Sylum. This will continue until the last of these items are destroyed.
I experienced this when, as curator of the Belskie Museum, I was notified such a class would be conducted at the Museum to about a dozen youngsters. My comment that such instruction is teaching young rascals to become amateur counterfeiters, fell on deaf ears of the Museum directors. They insisted in offering the class to receive an youth educational grant!
To read the earlier E-Sylum article, see:
'ANCIENT SHEKEL' FIND IS ONLY A FACSIMILE (http://www.coinbooks.org/v20/esylum_v20n36a15.html)
Silver-clad Carnegie Hero Fund 100th anniversary medal
Ron Thompson of Decatur, GA writes:
Regarding the 2004 Carnegie Hero Fund 100th anniversary medal, last week's E-Sylum reported the medal as silver, but the literature says "It is 2.5 inches in diameter and struck in silver-clad bronze. The silver plating is of .999 grade, and the bronze used in both medals is an alloy of 85% copper and 5% each of zinc, tin, and lead." Apparently there was planned a bronze medal as well as a silver-clad medal. I have only seen the silver-clad.
My mistake - that error was in my comments. I do own one of these, but it's buried somewhere. I'd like to pull it out and put it with the original medals I've since acquired. -Editor
To read the earlier E-Sylum article, see:
PAN AUCTION CLOSES OCTOBER 27, 2017 : 2004 Carnegie Hero Fund 100th anniversary medal (http://www.coinbooks.org/v20/esylum_v20n36a23.html)
Baseball's Elysian Fields
Scott Miller writes:
To read the earlier E-Sylum article, see:
NOTES FROM E-SYLUM READERS: SEPTEMBER 3, 2017 : Elysium (http://www.coinbooks.org/v20/esylum_v20n36a13.html)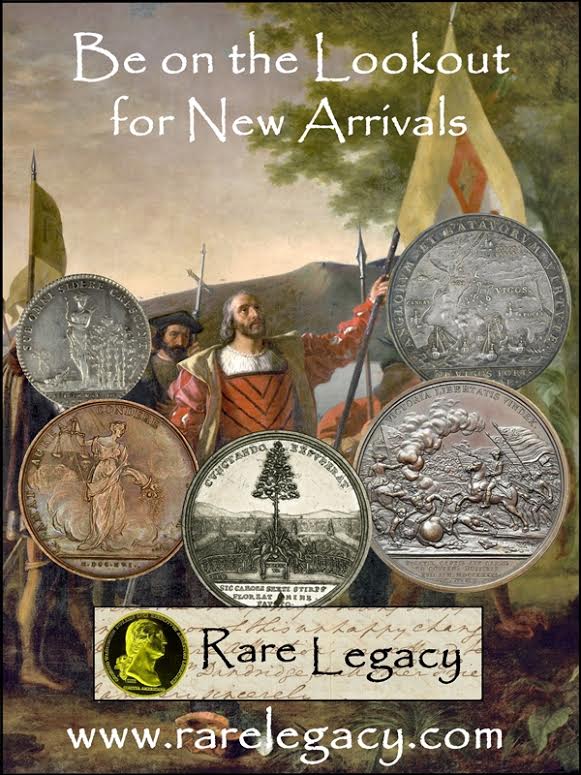 Wayne Homren, Editor


The Numismatic Bibliomania Society is a non-profit organization promoting numismatic literature. See our web site at coinbooks.org.

To submit items for publication in The E-Sylum, write to the Editor at this address: whomren@gmail.com

To subscribe go to: https://my.binhost.com/lists/listinfo/esylum

Copyright © 1998 - 2020 The Numismatic Bibliomania Society (NBS)
All Rights Reserved.

NBS Home Page
Contact the NBS webmaster