About Us
The Numismatic Bibliomania Society is a non-profit organization devoted to the study and enjoyment of numismatic literature. For more information please see our web site at coinbooks.org
Subscriptions
Those wishing to become new E-Sylum subscribers (or wishing to Unsubscribe) can go to the following web page link
Membership
There is a membership application available on the web site Membership Application
To join, print the application and return it with your check to the address printed on the application. Print/Digital membership is $40 to addresses in the U.S., and $60 elsewhere. A digital-only membership is available for $25. For those without web access, write to:
Terry White, Treasurer
Numismatic Bibliomania Society
P. O. Box 634,
Canal Winchester, Ohio
43110
Asylum
For Asylum mailing address changes and other membership questions, contact Terry at this email address: terrywhite5475@yahoo.com
Submissions
To submit items for publication in The E-Sylum, just Reply to this message, or write to the Editor at this address: whomren@gmail.com
BUY THE BOOK BEFORE THE COIN
Sale Calendar
Content presented in The E-Sylum is not necessarily researched or independently fact-checked, and views expressed do not necessarily represent those of the Numismatic Bibliomania Society.
New subscribers this week include: Grace Davidson, Warren Esty, Itay Tal, and Philip Timmins. Welcome aboard! We now have 3,410 subscribers.
Thank you for reading The E-Sylum. If you enjoy it, please send me the email addresses of friends you think may enjoy it as well and I'll send them a subscription with your compliments. Contact me at whomren@gmail.com anytime regarding your subscription, or questions, comments or suggestions about our content.
This week we open with results from the Kolbe-Fanning New York sale, three new books, a new chapter in The Banknote Book, one review, and a discount price book offer from Q. David Bowers.
Other topics this week include the mysterious Mrs. Marshall, seleucid coins, sculptor Selma Burke, Michelangelo's design, hidden gold, Sen. Bob Dole's antics, the Constitution Preamble coins, copy dies, and clothing on ancient coins.
To learn more about Dye's Bank Mirror and Illustrated Counterfeit Detector, Carson City Morgan Dollars, Irish Gunmoney, Kiau Chau, the Scheffold token, Jules Fonrobert, South Carolina colonial currency, the Easy Display System, the Pater Patriæ inaugural button, and medallic sculptor Heidi Wastweet, read on. Have a great week, everyone!
Wayne Homren
Editor, The E-Sylum


David Fanning submitted these results from last week's New York sale. The numismatic literature market is alive and well! Great prices for some great material. -Editor
KOLBE & FANNING NEW YORK SALE A SUCCESS
Kolbe & Fanning Numismatic Booksellers held their 2018 New York Book Auction on Saturday, January 13 at the Grand Hyatt hotel in Manhattan. The sale featured selections from the exceptional library formed by Chicago coin dealer William A. Burd, as well as other properties covering the entire spectrum of numismatics. The sale was a great success, with over $400,000 of rare and out-of-print books being sold. Some highlights follow (prices include the premium):
Lot 32: an extensive manuscript notebook by Elvira Eliza Clain-Stefanelli on Roman Republican coins, sold for $2950 on a $750 estimate
Lot 34: an attractively bound copy of Thomas Louis Comparette's 1921 Descriptive Catalogue of Greek Coins Selected from the Cabinet of Clarence S. Bement, sold for $2950 on a $400 estimate

Lot 47
Lot 47: a charming copy of Andrea Fulvio's 1517 Illustrium Imagines, the first edition of the first substantially illustrated numismatic book, brought $12,980 on a $6,000 estimate

Lot 73
Lot 72: a very rare 1682 volume illustrating the ancient coin collection of Louis XIV, from the Cabinet du Roi series, brought $15,340

Lot 131
Lot 131: a complete large-paper set of Visconti & Mongez's majestic Iconographie Grecque et Romaine in original bindings, brought $12,980
Lot 212: a complete set of the International Bureau for the Suppression of Counterfeit Coins' Counterfeit Reports, brought $3835 on a $1500 estimate

Lots 336 and 356
Lot 336: an exceptional copy, one of only five produced, of the deluxe edition of Ard W. Browning's The Early Quarter Dollars of the United States, sold for $16,520
Lot 356: Sylvester S. Crosby's own unbound set of his classic 1875 The Early Coins of America, which realized $22,420
Lot 365: a very large and vibrantly printed 1852 broadside for Dye's Bank Mirror and Illustrated Counterfeit Detector, realized $4720 on a $750 estimate
Lot 421: Howard R. Newcomb's copy of the very scarce deluxe edition of B. Max Mehl's catalogue of the Dr. George P. French large cent collection, with various invoices and correspondence laid in, sold for a robust $8260 on a $1500 estimate.
Over 150 bidders from around the world participated in the sale. While many of them bid through Kolbe & Fanning's custom online bidding platform at bid.numislit.com or using the firm's app, over three dozen bidders were in attendance at the sale: a better personal turn-out than for some of the coin sales! As always, we appreciate the opportunity to get to know our clients face-to-face, and we enjoyed spending the days before the auction talking to customers in the lot viewing room and on the bourse floor.
Kolbe & Fanning are working on our next mail-bid sale as we speak, with more information on that in the near future.
For more information, see:
http://www.numislit.com/
Scott Miller at Lot Viewing
Scott Miller writes:

Scott Miller, Dan Hamelberg
Thanks - I've added Scott's identification to the photo in our Flickr archive. Sorry we didn't get to meet! -Editor
To read the earlier E-Sylum article, see:
WAYNE'S NUMISMATIC DIARY: JANUARY 14, 2018 : Kolbe-Fanning Lot Viewing (http://www.coinbooks.org/v21/esylum_v21n02a25.html)
This article submitted by Dennis Tucker of Whitman Publication discusses the latest edition of the firm's Carson City Morgan dollar book. -Editor
Hobby's Demand Inspired a Special Book on Carson City Morgan Dollars
by Dennis Tucker
The Morgan silver dollar is one of the most popular American coins of recent generations. We see evidence of this all the time here at Whitman Publishing, in daily communication with coin collectors across the nation.
As a company we seek to publish books that help hobbyists understand their coins so they can build excellent collections, wisely and with as much useful knowledge as possible. The book Carson City Morgan Dollars, by Adam Crum, Selby Ungar, and Jeff Oxman, shines light on an exciting niche within the very popular Morgan dollar series. Its focus is on the coins struck in the 1800s at the United States Mint's factory in the "Silver State," Nevada.
The first edition of Carson City Morgan Dollars was released in late 2009. The new book satisfied a demand within the hobby community. Morgan dollars were so popular that even specialized subcategories, such as the Morgans struck at a particular mint, had large audiences of enthusiasts. This continues to be the case today.
In 2011 we published a second edition, expanded and revised. A few years later we updated the book to a third edition, which debuted at the American Numismatic Association's National Money Show, held in Atlanta in March 2014. The third edition featured additional historical photographs, revisions from ongoing numismatic research, updated retail values and certified-coin populations, and new market commentary.
Today, nearly a decade after the first edition was published, the hobby's appetite for information is as robust as ever. For the fourth edition of Carson City Morgan Dollars (due to be released next week) the authors have studied the rare-coin market and have updated the book's valuation charts with a snapshot of today's retail environment. Interestingly, some coin values have gone down in recent years—a reflection of market corrections in many areas of the hobby. Does this suggest interest in these historic coins is decreasing? I don't believe so, at least not in an intellectual sense. Collectors remain as fascinated as ever by the romance and history wrapped up in Morgan dollars. If anything, today's retail prices might offer fresh opportunities for newcomers (and longtime collectors) to acquire attractive coins for their collections at affordable prices.
In addition to updated valuations, the fourth edition has been expanded with 24 more pages that include a new photographic gallery of the Carson City Mint, drawing from government archives and other sources; a study of other coins minted there; a look at Morgan dollar values and numismatic research in the late 1940s; and more.
The fourth edition of Carson City Morgan Dollars takes its place on the bookshelf with other standard references such as Q. David Bowers's Comprehensive U.S. Silver Dollar Encyclopedia (1992) and his hugely popular two-volume Silver Dollars and Trade Dollars of the United States: A Complete Encyclopedia (1993), and the Guide Book of Morgan Silver Dollars (first edition 2004, fifth edition 2016). It also joins other recent Morgan dollar–related publications such as The Private Sketchbook of George T. Morgan, America's Silver Dollar Artist (Lee, 2013) and Morgan Dollar: America's Love Affair With a Legendary Coin (Standish, 2014).
If the past is preface to the future, and if collector demand remains as strong as it is, we can happily look forward to more books on Morgan silver dollars—including continuing guidance and insight from Messrs. Crum, Ungar, and Oxman.
Carson City Morgan Dollars, 4th edition
By Adam Crum, Jeff Oxman, and Selby Ungar; forewords by Steve Roach and Q. David Bowers
Available January 23, 2018
ISBN 079484524X
Hardcover, 6 x 9 inches, full color
160 pages
Retail $24.95 U.S.
For more information, or to order, see:
Carson City Morgan Dollars, 4th Edition (https://www.whitman.com/store/Inventory/Detail/Carson-City-Morgan-Dollars-4th-Edition+079484524X)
David Pickup forwarded this announcement of a new book by Phil Timmons on Irish Gunmoney. Thanks! -Editor
GUNMONEY: THE EMERGENCY COINAGE OF 1689-1691 FOR THE IRISH CAMPAIGN OF JAMES II
Philip Timmins
The Numismatic Society of Ireland is pleased to announce the publication of this new book: GUNMONEY: THE EMERGENCY COINAGE OF 1689-1691 FOR THE IRISH CAMPAIGN OF JAMES II
Written by NSI member Philip Timmins this important book brings together the years of his study of this uniquely Irish coinage. GUNMONEY is a scholarly publication written for collectors, dealers and students of Irish numismatics. Every denomination that was struck is listed as is every variety, and the book is extensively illustrated. Some varieties have never been published before.
The book is set out month by month, each of which begins with an account of the state of the warring kings' campaigns. For each month this is followed by details of Gunmoney production matters at the striking mints and its acceptance and use throughout Ireland are clarified.
The accounts of the state of the campaigns build to a general history of the Irish campaign of James II and at the same time they provide the numismatist with a context for striking Gunmoney. Coin sheets follow these war diary accounts and the coin sheets fully describe and illustrate all of the denominations struck in that month. A table of varieties sets out weight, edge type, orientation, reference number, diameter, denomination, month date, rarity and includes remarks about metal used, errors, and details of off-metal or restrike coins.
Gunmoney was struck at mints in Dublin and Limerick and varieties struck at each mint are identified. There are sections on the white metal coinage and on the Hibernia coins of Limerick. This is an important book about Irish numismatics and it comprehensively addresses the Gunmoney series in a way never done before. For easy reference the book includes a comprehensive index.
Philip Timmins was born in England and after qualifying as an engineer his professional career enabled him to travel worldwide while working in the printing and television industries. He is now retired and has settled in Ireland.
Philip has been interested in numismatics since his early 20s and for the past decade or so he has been studying and researching the Irish Gunmoney coinage. Over the years he has assembled a database of descriptions and illustrations of over 1350 specimens which includes all the varieties in the book. During his research he has had access to important museum collections in order to take photographs and to verify details. It was while on such a visit to the Fitzwilliam Museum in Cambridge that he lamented to Martin Allen that there was no significant reference book to the Gunmoney series that he could refer to. Martin replied, "Well, why don't you write one". So began the formal research journey, and the comprehensive bibliography in the book is indicative of the extent of the research and how far and rewarding the journey has been.
Illustrations
The book is extensively illustrated and all of the images are enlarged. The obverse images are all scaled relative to each denomination size and the reverse images fully illustrate the different reverse variants.
Description
Full colour hardback; viii; 148p; 178x252mm; ISBN 9780902605039. This edition is traditionally lithograph printed in Dublin on 130gsm gloss paper in full colour, thread stitched and hardbound by a Dublin antiquarian bookbinder with buckram cloth finish and gold lettering.
Citation
TIMMINS, P. (2017) GUNMONEY: The emergency coinage of 1689- 1691 for the Irish campaign of James II, Numismatic Society of Ireland, Dublin.
GUNMONEY: The emergency coinage of 1689-1691 for the Irish campaign of James II is recommended as an essential reference for all Irish numismatics libraries.
Ordering
The publication price of the book is £40.00.
Here is the announcement for the latest edition of the Gadoury book on French coins. -Editor
Gadoury releases 2018 edition of French Standard Reference, Monnaies Françaises ("Le Rouge")
Monnaies Françaises has been the bible on the coins of modern France since it was first published in 1973. It is now authored by Francesco Pastrone and published by Editions Victor Gadoury of Monaco. In French, it is called "Le Rouge" (The Red). The 23rd edition, covering the years 1789-2017 is now available with all illustrations in color and a number of new features. Making its debut in this edition is a 41 page section on the avidly collected essais, piéforts, and proofs or flans brunis of Napoleon III (1851-1868). Also new are the coins of the Kingdom of Westphalia, French euro coins through 2017, and expanded coverage of the coinage of Monaco. The book also has than 500 additional photos showing many close-up details.
At 590 pages, it is 30 pages larger than its last edition but is being sold at the same price of $45.00. It has information on all French coins minted since the revolution of 1789 through the current Fifth Republic in chronological order by denomination (smallest to largest), including both the circulation and collector issues of France's modern euro coins. Also given are: metal, fineness, weight, diameter, edge, engraver's name and privy marks. Mintage figures are provided by date and mint mark for each denomination, along with the current values in euros in up to five grades. Included are obsidional coinage for the sieges of Mainz and Antwerp and special sections on commemorative coins, coins of Monaco, coins of Corsica (1736, 1762- 68), coins of Saarland (1954-55), Italian coinage under Napoleon (1800-1815), and an illustrated guide of all privy marks.
The book may be ordered from the Coin & Currency Institute, P.O. Box 399, Williston, Vermont 05495. $5.75 should be added to each order for shipping and handling in the U.S.A.. Major credit cards are accepted. Call toll-free 1-800- 421-1866. Fax (802) 536-4787. E-mail: mail@coin-currency.com. Order online at www.coin-currency.com.
I'm pleased to announce the Kiau Chau chapter is now available for individual sale at US$4.99, and as a free download to subscribers.
Kiau Chau (East and Southeast Asia) This 7-page catalog covers notes issued by the Deutsch-Asiatische Bank (German-Asian Bank) from 1907 to 1914, and the Greater Japan Imperial Government in 1914. Published 19.01.2018.
I'd never heard of Kiau Chau and asked dr. Google for more information. I found a Wikipedia page in Spanish that Google kindly translated for me. Here's an excerpt. -Editor
Kiau Chau was a German colonial concession that existed from 1898 to 1914. With an area of ??552 km², it is located in the imperial province of Shandong on the south coast of the Shandong peninsula in north China.
Germany was relatively a newcomer to the imperialist struggle for colonies around the world. However, a German colony in China was conceived as a double undertaking: supporting the naval presence, and that the colonies (see German colonial empire ) were ideal for supporting the economy in the motherland. The densely populated areas of China were visible as a potential market. Thinkers like Max Weber demanded an active colonial government policy. In particular, the opening of China was a high priority, because it was thought to be the most important non-European market in the world.
But a global policy ( Weltpolitik ) without global military influence seemed impracticable, so an Armada was built. It was assumed that this fleet should emphasize German interests in peacetime ( gunboat diplomacy ), protect German trade routes and harass enemies during the war...
The article also touches on coinage of the region. -Editor
Alfonso XIII coin with Chinese legend that circulated in Kiau Chau during the protectorate.
During the German occupation, the lack of silver in the whole territory forced the government of this country to use as the basis of the economy the Spanish coins of 8 reales and pesos coined in the Philippine islands . These pieces circulated by value of 5 German marks, like all the other foreign currencies of that size. In smaller pieces, 10 and 5 cents were nickel nickel dated 1909. The countermark that Chinese bankers used to allow the circulation of these coins throughout the territory was named after the enclave (Kiau Chau) in Chinese. Without this countermark the value of the pieces was 15% less than the final price, which was 5 marks. This countermark was stamped when the port was declared free in 1899 on pieces of 8 Spanish reales, 5 French francs, Maria Teresa of Austria talers and Philippine pesos.
To read the complete article, see:
Kiau Chau (https://es.wikipedia.org/wiki/Kiau_Chau)
For more information on The Banknote Book, see:
http://www.banknotenews.com/banknote_book/banknote_book.php
Wall Street Journal Reviews Playfair by Bruce Berkowitz
The Wall Street Journal of January 12 (online version accessible by subscription) included a review of the book Playfair, recently published by George Mason University. " 'Playfair is the most famous man you have never heard of' Bruce Berkowitz declares of the subject of his biography" begins the review. Playfair (1759-1823) turns out to be a Zelig-like character, winding his way in and out of the events of the day, from the French Revolution to the founding of the United States.
Numismatists will be especially interested in his role as a counterfeiter. "In the mid-1790s, after war had been declared between England and revolutionary France, Playfair persuaded the London government to back his attempt to wreck the French economy by counterfeiting vast numbers of assignats, the paper currency France used to pay for its wars with England. At a time when paper was still handmade, one sheet at a time, from discarded cloth, 90 reams of paper a week were used to print counterfeit French bank notes…"
Playfair was also involved in the Scioto Affair of 1790, which duped French investors into purchasing western American land and ultimately stranded them in the Ohio wilderness. Thanks to Gerry Tebben for bringing this book review to our attention.
Thanks, guys. Playfair was an entrepreneur, spy, provocateur, and economist who pioneered clever uses of graphs and charts to explain changes over time. I was unaware of his role in counterfeiting assignats. Would anyone happen to have such a note attributed as a Playfair counterfeit? Have they ever been catalogued in a numismatic context? -Editor
To read the complete article, see:
Review: 'Playfair' Plotted for England (https://www.wsj.com/articles/review-playfair-plotted-for-england-1515790469)
For more information, or to order the book, see: Playfair: The True Story of the British Secret Agent Who Changed How We See the World (https://publishing.gmu.edu/press/catalog/playfair/)
To read the Wikipedia article on Playfair, see:
https://en.wikipedia.org/wiki/William_Playfair (https://en.wikipedia.org/wiki/William_Playfair)
I found that we have in storage a small number of copies of my book, U.S. Liberty Head Double Eagles: The Golden Age of Coinage, that I wrote a few years ago. It is hardbound, has 376 pages, and is fully color illustrated. I wrote this in coordination with Robert Galiette, whose magnificent collection we sold at auction.
Each double eagle, year by year, is discussed in detail, accompanied by an expanded panorama of life in America at the time. You'll read about the Gold Rush in California, the "Pikes Peak or Bust" excitement of the late 1850s, the financial turmoil of the Civil War, the gold strikes in Cripple Creek and the Klondike, and more, plus social and political events of the time. I guarantee it will be a "good read" or, as the New York Times likes to say, a "page turner" (not quite sure what that means, but it is favorable).
The list price of this book $49.95. I offer you one (limit: just one) for $25 plus $5 shipping to U.S. addresses. This offer is subject to availability, for once all are gone, that will be it.
To order: Call our Wolfeboro office at 866-811-1804 to purchase using your credit card. Or, you can send a check for $30 made out to Stack's Bowers Galleries to SBG/Book Department, PO Box 1804, Wolfeboro, NH 03894.
To read the complete article, see:
Q. David Bowers: Numismatic Books & the Appeal of Double Eagles (https://coinweek.com/us-coins/q-david-bowers-numismatic-books-appeal-double-eagles/)
To read an earlier E-Sylum article, see:
BOOK REVIEW: U. S. LIBERTY HEAD $20 DOUBLE EAGLES (http://www.coinbooks.org/esylum_v17n17a05.html)

LEFT: Cover of Mrs. Marshall catalog, from the Dave Hirt library
RIGHT: Inscribed back cover of ANS copy of the Mrs. Marshall catalog
In June 2016 we reported on the 1864 Catalogue of Coins of Mrs. Marshall from the Dave Hirt library. The function of the document wasn't entirely clear – did it represent an actual auction, an exhibit catalog, or a fixed price list? A recent discovery at the ANS answers the question. The back cover of this copy has a penciled inscription:
From this it is clear the document was an exhibit catalog, and one could make a case to classify it as a fixed price list as well. Thanks to Lara Jacobs of Internet Archive, who scans ANS library materials under Newman Portal sponsorship, for bringing this copy to our attention.
Link to June 5, 2016 article in The E-Sylum:
http://www.coinbooks.org/esylum_v19n23a11.html
Link to Mrs. Marshall catalog on Newman Portal:
https://nnp.wustl.edu/library/book/515883
Link to Mrs. Marshall biography on John Lupia's Numismatic Mall:
https://sites.google.com/a/numismaticmall.com/www/numismaticmall-com/marshall-frances-maria-keeler
Project Coordinator Len Augsburger offers observations related to content being searched for on the Newman Numismatic Portal. This week's search term is "Rothsay Cotton." -Editor
This week a Newman Portal user searched for "Rothsay Cotton." I thought this might be a 19th century American cotton producer in the south, which turned out to a bad guess, especially since trade tokens were more common in the north. Rothsay Cotton is in fact a UK countermark, and the first related document identified by Newman Portal is an index of the Virgil Brand ledgers prepared by UK researcher Eric Hodge. This index notes a number of related issues in the Brand collection, either from Rothsay Cotton Works or Rothsay Mills, which are listed in secondary ledger #12 (p. 148).
A recent (May 2016) issue of the NI Bulletin, published by Numismatics International, contains an article on the subject by Hodge, which states "…Another Scottish cotton concern that issued countermarked dollars was the Rothsay Cotton Works. Rothsay lies about forty miles southwest of Glasgow at the head of a bay on the Island of Bute. An English engineer, James Kenyon of Sheffield, moved to Scotland to evade Richard Arkwright's patent on his water frame. In 1779 he not only opened his new mill but employed ex. Arkwright employees that he had lured away with him….." The variety depicted here, 4/6 (of a crown), is scarce, with 48 examples known.



Image 1 (top): Virgil Brand secondary ledger #12, from the American Numismatic Society, depicting the Rothsay Cotton entries
Image 2: Rothsay Cotton Works countermark on Spanish dollar, from the NI Bulletin, May 2016
Link to Virgil Brand ledgers on Newman Portal:
https://nnp.wustl.edu/library/archivedetail/513927
Link to NI Bulletin, May 2016, on Newman Portal:
https://nnp.wustl.edu/library/book/540706?page=19
The ANS has announced the availability of another specialty web tool, this one on Seleucid coins. -Editor
The American Numismatic Society (ANS) is pleased to announce the release of a new web-based research tool: Seleucid Coins Online (SCO) (numismatics.org/sco). As a component of the National Endowment of the Humanities-funded Hellenistic Royal Coinages (HRC) project (see numismatics. org/pocketchange/neh-hrc), SCO aims to provide a comprehensive overview of the coinages struck by the Seleucid kings between ca. 320 BC and 64 BC, from Seleucus I to Antiochus XIII. The current version of SCO is based on Seleucid Coins: A Comprehensive Catalogue by Arthur Houghton, Catharine Lorber, and Oliver Hoover, published in two parts in 2002 and 2008 by American Numismatic Society and Classical Numismatic Group, Inc. In total, more than 2,491 primary coin types were published in these volumes. Ultimately, SCO will provide wide access to the coins listed in the print volumes of Seleucid Coins.
While the Seleucid coins in the ANS collection (some 5,129 pieces) serve as the core of the searchable catalogue, ultimately links to coins (many of which are unique) in the Bibliothèque nationale de France, the British Museum, the Munzkabinett der Staatliche Museen zu Berlin, and many other public and private collections will be included. SCO will also stand at the cutting edge of the discipline through the inclusion of new coin types and varieties that have been recorded since 2008. SCO will be the only place where researchers can keep track of such new coins comprehensively and the expanding picture of Seleucid economic, political, and art history that they reveal. Frequent updates to the website will permit users to find and learn about new material almost at the rate at which it is discovered, thereby making SCO the most up-to-date catalogue available to students of Seleucid coinage.
In addition, the ANS is pleased to announce that another component of the HRC project, PELLA (numismatics.org/pella), which was launched in 2015, with the aim to provide a comprehensive overview of the coinages of the Argead kings of Macedonia, now includes over 20,000 coins from 11 different institutions. The current version of PELLA focuses on the coinages in the name of Alexander the Great and Philip Arrhidaeus. Cataloguing work on the ANS's holdings of these coinages—nearly 11,000 examples—was recently completed and linked to PELLA substantially boosting the number of coins available for study on the website.
To access the SCO database, see:
http://numismatics.org/sco/
To access the PELLA database, see:
http://numismatics.org/pella/
There are some great numismatic digitization projects underway around the world. Here is a call for papers for the upcoming joint meeting of Nomisma.org and the European Coin Find Network (ECFN). Nomisma.org is a collaborative project to provide stable digital representations of numismatic concepts according to the principles of Linked Open Data. -Editor
The Call for Papers is now open for the 7th Joint Meeting of the European Coin Find Network and Nomisma.org, to be held at the Museu de Prehistòria de València on May 3-5, 2018.
We invite proposals for papers on studies of coin finds for sessions on the following topics:
• Coin finds from the Iberian Peninsula and neighbouring regions
• The results of digital projects on coin finds:including GIS applications, statistical studies, database and online applications, etc.
• General studies on coin finds from the Iron Age to the Medieval period.
The presentation format will be 20 minutes, with an additional 10 minutes for discussion.
• There will also be an opportunity for shorter presentations and posters on new projects and news.
Proposals for papers, including a short abstract of not more than 250 words,should be submitted by February 28 2018.
For more information on the meeting, see:
http://mupreva.org/act/664/en
For more information on the organizations, see:
Nomisma (http://nomisma.org/)
The European Coin Find Network (http://ecfn.fundmuenzen.eu/index.php)
WHEN WAS THE LAST TIME you looked—really looked—at a dime? It is the smallest coin in U.S. circulation, so it takes a keen eye to see the very subtle "JS" just beneath Franklin D. Roosevelt's truncated neck. These are the initials of John Sinnock, the U.S. Mint's Chief Engraver from 1925 to 1947, who is credited with sculpting the profile of the 32nd president. However, institutions such as the Smithsonian American Art Museum—and even Roosevelt's son—credit another sculptor with inspiring the design: Selma Burke, the illustrious Harlem Renaissance sculptor. So where is credit due? The answer is … complicated.
In 1943, 43-year-old Selma Burke won a Commission of Fine Arts competition and a rare opportunity to sculpt the president's likeness for the new Recorder of Deeds Building in Washington, D.C. Burke, renowned for her Booker T. Washington bust, ran into some problems, since she didn't feel that photographs captured Roosevelt's stature. So the sculptor wrote to the White House to request a live-sketch session. The administration, to her utter shock, agreed.
On February 22, 1944, Burke met with Roosevelt for 45 minutes, sketched his profile on a brown paper bag, and engaged in a lively conversation about their childhoods. At one point, Burke said, "Mr. President, could you hold your head like this?" He invited her back for another session the following day. About a year later, just months before Roosevelt's death, Eleanor Roosevelt visited Burke's home in New York to see the profile-in-progress. The first lady told her, "l think you've made Franklin too young." To which Burke replied, "I didn't make it for today, I made it for tomorrow and tomorrow."
Roosevelt died five months before the official unveiling of the plaque, in September 1945. To commemorate his legacy and his founding of the March of Dimes to combat polio, the U.S. Mint and Congress proposed engraving his portrait on the dime, which at that point held the profile of the goddess Liberty wearing a winged cap. U.S. Mint Director Nellie Tayloe Ross (the first woman elected governor, in Wyoming), tapped Sinnock for the job.
The dime's most vocal critic was Burke. She claimed that the dime bore a striking resemblance to her portrait. Edward Rochette, former American Numismatic Association president, supported her argument, and went a step further, suggesting that the reverse of the dime was also inspired by the Four Freedoms sculpted into Burke's plaque, though it's not entirely clear how.
According to Rochette, Sinnock allegedly had also taken undue credit for the design of the Sesquicentennial of Independence half-dollar coin, which he sculpted based on sketches by another artist, John Frederick Lewis, after Sinnock's own designs were rejected. Burke believed the administration change after Roosevelt's death and her political affiliations were reasons her claims were dismissed. When she demanded an investigation into Sinnock, Burke said the FBI investigated her instead.
U.S. Mint officials cite Sinnock's previous Roosevelt work as evidence that his initials on the coin are warranted. Brenda Gatling, a former U.S. Mint public spokesperson, told Litt that "both Ms. Burke and Sinnock conducted live sittings with the president" for their designs. Current U.S. Mint Curator Robert Goler states that, according to archival records, Sinnock began sculpting Roosevelt in 1936 for "a presidential medal," and that he "used that particular design of Roosevelt multiple times between then and the president's death in 1945, and it's the same the design" on the dime. (Though the 1936 medal and dime profiles face opposite directions).
To read the complete article, see:
Who Really Designed the American Dime? (https://www.atlasobscura.com/articles/who-designed-american-dime-selma-burke-franklin-roosevelt)
To read the earlier E-Sylum article, see:
SELMA BURKE DID NOT CREATE ROOSEVELT DIME (http://www.coinbooks.org/esylum_v09n06a16.html)
Julia Casey writes:
Julia kindly provided a transcription along with an image of the article. Thanks! -Editor
Chester Chronicle - Friday 29 November 1776

A gentleman who came home in the William, Capt. Moore, from Boston, says, that the people of America, being in want of change since the coining of the paper currency, used frequently to divide the dollar notes into halves, and again in quarters and eighths, to answer the purposes of smaller payments, which having been productive of frauds and inconveniences, the Congress, to remedy the same, have coined a great quantity of copper tokens in every province, which bear the arms of the colony where they are struck, and are to pass for half dollars, quarters, eighths and sixteenths, agreeably to the stamps upon them, a quantity of copper having been imported at Philadelphia in a Dutch ship for that purpose, which has been distributed to the other provinces, eighteen hundred weight having been sent to Boston, where they had already begun to stamp the several pieces allowed and approved of by the Congress, but they were miserably executed; their size corresponds with the piece in silver which they are intended to pass for. Before they got the copper they had it in idea to have made them of pewter, but on consideration, they remembered it would encourage the trade of the mother country, and it was therefore on that account set aside.
Julia adds:
To read the British newspapers of the day, see:
https://www.britishnewspaperarchive.co.uk/
A 1917 Baghdad Trench Art Dogtag

Erik Goldstein of Colonial Williamsburg writes:
Thanks! Another interesting piece. -Editor
To read the earlier E-Sylum article, see:
NOTES FROM E-SYLUM READERS: JANUARY 14, 2018 : 1917 Baghdad Trench Art Coin (http://www.coinbooks.org/v21/esylum_v21n02a13.html)
Lochmann Columbian Exhibition Award Medal
Regarding the 1893 Columbian Exhibition award medals, Dave Bowers writes:
Thanks. I cropped the reverse image to get a closeup of the insert die with the awardee name. Dave also included these images of the clock itself. Wonderful! -Editor
To read the earlier E-Sylum article, see:
ANSWER: 1893 COLUMBIAN EXHIBITION MEDAL WINNERS (http://www.coinbooks.org/v21/esylum_v21n02a10.html)
Query: Information on Scheffold Token Sought

Yosef Sa'ar writes:
Can anyone help? Interesting piece - is that a steam engine? -Editor
Query: Information on Jules Fonrobert Sought
David Gladfelter writes:
David adds:
To read the earlier E-Sylum articles, see:
NAMED COPY OF FONROBERT SALE SOUGHT (http://www.coinbooks.org/esylum_v10n10a06.html)
THE OBITUARY OF JULES FONROBERT (http://www.coinbooks.org/esylum_v16n01a19.html)
MORE ON JULES FONROBERT (http://www.coinbooks.org/esylum_v16n02a15.html)
JULES FONROBERT AND THE ARMS OF CALIFORNIA HALF DOLLAR (http://www.coinbooks.org/esylum_v16n03a09.html)
More on Ted Buttrey
Timothy Cook of Busby, MT writes:
To read the earlier E-Sylum article, see:
THEODORE V. BUTTREY (1929-2018) (http://www.coinbooks.org/v21/esylum_v21n02a05.html)
Robert Thompson's Passing
Charles Farthing writes:
To read the earlier E-Sylum article, see:
THEODORE V. BUTTREY (1929-2018) (http://www.coinbooks.org/v21/esylum_v21n02a05.html)
The Designer of the Numismatic Ambassador Award

Pete Smith acknowledged coming up empty on last week's question about the designer of the Numismatic Ambassador Award plaque, and it's hard to stump him. Here's some information from other readers. -Editor
Dick Johnson writes:
Clifford Mishler forwarded an email exchange he had with Tony Swicer of F.U.N. about the design, and the upshot seems to be that no one quite remembers exactly, but that it was likely a design by Gordon Green, former owner of Galaxie Design (the firm which produces the plaques), based on the ideas of Gordon and Krause Publications executives. -Editor
Pete Smith adds:
To read the earlier E-Sylum article, see:
NUMISMATIC AMBASSADOR WINNERS (http://www.coinbooks.org/v21/esylum_v21n02a21.html)
1813 Cheshire Bank Ads
Jim Lyons writes:
Thoughts, anyone? -Editor
1893 Atlanta Clearing House Note Sought
Claybourne Barrineau of Georgia writes:
Eric Schena writes:
The Numismatist Is In (the Doctor's Office)

Tom Caldwell of Northeast Numismatics writes:
A great idea for numismatic promotion - why not? Anyone with a collecting propensity will be drawn to the topic, which for them would be a clear standout among the usual drab waiting-room fare. -Editor
To read the earlier E-Sylum article, see:
ANA PREPARATIONS FOR 2018 NATIONAL COIN WEEK (http://www.coinbooks.org/v21/esylum_v21n02a15.html)
Maureen and Stu Levine submitted this excellent article relating to the source and inspiration for an image on South Carolina colonial currency. Thanks! -Editor
From Rome to Charleston:
Michelangelo, Beatrizet, and Coram
During last week's trip to the New York International Numismatic Convention, we visited the once-in-a-lifetime Michelangelo exhibit at the Metropolitan Museum of Art. One small black chalk drawing (19 x 33 cm) caught our attention:

Michelangelo's drawing of The Punishment of Tityus
The similarity of Michelangelo's drawing of The Punishment of Tityus to Thomas Coram's engraving of Prometheus Bound on the $70 note from South Carolina's February 8, 1779, issue was immediately evident:

Thomas Coram's Prometheus Bound on South Carolina $70 note
From the Eric P. Newman Collection
The first question that came to mind was: Who is Tityus and how does he relate to Prometheus? Both are immortal figures from Greek mythology who are sometimes confused with one another because they received similar punishments from Zeus for very different infractions. Various authors have different versions of their deeds, but for the sake of brevity, we will simplify. The Titan Prometheus came to the aid of mankind at the expense of the gods, and we tend to consider him as a hero. The giant Tityus, son of Zeus and his mortal consort, Elara, attempted to rape the goddess Leto, mother of Apollo and Artemis; therefore, he is reviled. Prometheus was chained to a rock with an eagle relentlessly feeding on his ever-regenerating liver. For his base act, Tityus was bound to the earth in the underworld with two vultures (although Michelangelo depicts only one bird) eating his liver as it regrew for eternity.
The second question is: Would Coram have been familiar with the Michelangelo drawing? Certainly not the original, which was first inventoried in 1810 as part of the British Royal Collection at Windsor Castle. A reproduction would have provided the source for Coram's engraving, but which one? Many other artists have used Tityus or Prometheus as their subjects in paintings, drawings, and engravings. Michelangelo's drawing was copied (and recopied) in various media: chalk, engraving, carving (on rock crystal). However, according to the Museo del Prado's website, "[Nicolas] Beatrizet's engraving resulted in the immediate dissemination of Michelangelo's composition." We posit as Coram's source Tityus Gnawed by the Vulture, by Nicolas Beatrizet:

Beatrizet's Tityus Gnawed by the Vulture
Harvard Art Museums/Fogg Museum, Gift of William Gray from the collection of Francis Calley Gray
According to the Fine Arts Museums of San Francisco website, Beatrizet was born in France and worked as a "reproductive engraver" in Rome from approximately 1550-1565. In addition to Michelangelo's Tityus, he also fashioned engravings after the three other drawings that the artist presented to Tomasso de'Cavalieri in 1532-3: A Children's Bacchanal, The Fall of Phaeton, and Rape of Ganymede.
The third question is: Why is the figure in the Beatrizet engraving oriented differently (with his head at the right) than that in the Michelangelo? A brief study of Beatrizet's other engravings of Michelangelo's drawings shows that this is also the case in the Ganymede; thus, two of the four presentation drawings were oriented as mirror images as was his engraving of Michelangelo's Archers Shooting at a Herm. The reason for the variance with the original drawings is unknown. Where Coram encountered the Tityus is also not known. Biographical information indicates that, although essentially without formal training, he did have a painting instructor for a time by the name of Henry Benbridge. Since Benbridge had been studying in Rome prior to teaching Coram in Charleston, it is possible that he brought Italian books or illustrations with him.
The last question is: What comments have been made about this self-taught engraver's skill? First, Eric P. Newman, in the Early Paper Money of America, writes, "The artistry of Thomas Coram of Charleston, South Carolina, was demonstrated by elaborate mythological vignettes on the February 8, 1799 issue of his State". We have located two other sources, with opinions that are diametrically opposed. Mantle Field, in the 1917 edition of American Engravers Upon Copper and Steel, said, "The design is well drawn and represents 'Prometheus Bound,' but the engraving is poorly executed in line." On the other hand, Clarence S. Brigham, in the October 1951 Report of the Council of the American Antiquarian Society's proceedings, said: "No other colony obtained such excellent engraving as South Carolina, and its issue of February 8, 1799, with the figures of Atlas, Prometheus, and Hercules, signed by Thomas Coram, compares with the best of eighteenth-century American engraving."
We have always been impressed by the beauty of the Coram notes, and find them all the more fascinating due to the discovery of Michelangelo's inspiration.
To read the complete lot description, see:
South Carolina February 8, 1779 $70 Fr. SC-156. (https://currency.ha.com/itm/colonial-notes/south-carolina-february-8-1779-70-fr-sc-156-pcgs-about-new-53/a/3547-28151.s)
Fred Holabird submitted these thoughts on hidden gold caches, inspired by last week's item about miner Granville P. Swift. -Editor
There are virtually an unlimited amount of stories about buried gold – both coins and nuggets, as well as other valuable artifacts. I have been involved with at least ten of them.
In each case, they were purposefully buried to conceal their whereabouts. If the reader thinks about it a little, the easiest and first place to look for one of these treasures is the "corner stone." A number of famous corner stones from history here in the US are missing, and create great stories.
Every year or two, a major story gets out about hidden gold. I wrote a piece on it recently for the Gray Sheet.
Here in the West, where mining was the source of money, men were often reluctant to use the banking system. There were many reasons for this – from the collapse of banks in the 1850's to the collapse of the Bank of California in 1875. Another major reason is the development of the banking system itself within major cities and within the mining communities themselves. That system was very slow to develop during gold rush years, and some of the methods used then, such as Bills of Exchange, were a chancy method of transferring cash. The same held true for gold shipments. The miner/merchant had to find the right shipper, the right insurance company, and had to wait months to hear the result. Sound a little different than today's computerized direct deposit system?
Swift was clearly one of these people who may or may not have ever held a bank account. Stories of the amounts of riches always multiply through time. Did he receive over $100,000 from Bidwell Bar near Oroville? If the articles are correct, gold was found at at least two of his properties – but in relatively small amounts, if you believe the stories.
Most miners never bragged about burying gold. The only time it got left behind was when they died unexpectedly. In Virginia City, at least two caches of gold coins were found in the 1960's-70's hidden inside stone walls. They were found by visual inspection, not a metal detector. Other caches, including nuggets, were found buried, such as the ceramic jar of gold coins found near Lovelock, found during highway construction.
Many caches contain valuables to the original owner. Cornerstones can contain a number of valuable relics – such as ore specimens and newspapers from the day of emplacement (Aurora, Nevada), or coins from people present at the emplacement, as was the case of a cornerstone found in Tonopah (Nevada) recently. Some folks tell the news media. Others simply sell the material, either all at once or over a decade or two, as was the case for one of the Virginia City finds.
Is there more gold related to Swift out there? If Huell Howser was still alive, I'd say "let's go!"
To read the earlier E-Sylum article, see:
THE $50 GOLD SLUGS OF GRANVILLE P. SWIFT (http://www.coinbooks.org/v21/esylum_v21n02a32.html)
Author David Lange submitted this information on Wayte Raymond's Easy Display System coin holders. Thanks, Dave! -Editor
I recently bought an item on eBay that fills a longstanding hole in my collection of Wayte Raymond coin holders. It's cabinet for Raymond's Easy Display System coin holders, which are covered on pages 183-184 of my book on the National Coin Album and related products. The attached photos and vintage ads reveal how it worked.
The individual coin holders measured 2" wide by 2.5" tall and came with various sizes of openings, as needed. These holders were then placed into trays, which measured 10" wide by 5" tall inside their raised borders, snugly holding two rows of five coins each. Ten trays could fit into the cabinet, which thus held a total of 100 coins. The concept was a less costly update of the traditional, rather expensive, coin cabinet. It was in production from 1936 until the onset of World War II cut the supply of necessary materials.
Neither the cabinet nor the trays carry any text identifying them as Raymond products. The brown tape on the trays is identical to that used on both Raymond National coin album pages and Meghrig American pages. The texture of the synthetic leather covering the cabinet, however, more closely matches that used by Meghrig products. Thus, it's possible that this is yet another Meghrig clone of the Raymond product line, but I may never be able to tell for certain. In any case, it's something I was glad to add to my coin album "museum."
Great item, and likely pretty rare, although without identifying markings, today's owners might not understand what it is that they have. Do any of our readers have one of these babies? -Editor
For more information, visit Dave's web site at:
http://www.coincollectingboards.com/
Former Senate Majority Leader Bob Dole (R-KS) received the Congressional Gold Medal on January 17, 2018. Here's an excerpt from a National Public Radio report. -Editor

VP Pence, President Trump, Sen. Bob Dole and House Speaker Paul Ryan
Former Sen. Bob Dole received the Congressional Gold Medal on Wednesday, in recognition of his service to the nation as a "soldier, legislator and statesman."
He was presented the medal by House Speaker Paul Ryan, R-Wis. at a ceremony in the U.S. Capitol rotunda, as other bipartisan congressional leaders, along with President Trump looked on. Dole was an early backer of Trump, and the only former GOP presidential nominee to endorse the president.
Dole was lauded by a succession of Washington officials. "Bob Dole always stood for what was just and what was right," Ryan said. "Because of you, America is much better."
Trump called Dole "a true American hero," telling him, "good job."
It takes support from two-thirds of the House and 67 senators to award the medal. Sen. Pat Roberts, R-Kan., said he got support for Dole's medal from all 100 senators in two days.
"You are our hero," Roberts said.
Senate Minority Leader Chuck Schumer, D-N.Y., injected a moment of levity into the proceedings, crediting Dole for the coining the phrase, "the most dangerous place in Washington is between Chuck Schumer and a camera." Noting that it had been applied to others before him, Schumer nonetheless thanked Dole for allowing C-SPAN cameras into the Senate chamber. "I never would have found as many TV cameras without you," Schumer joked.
The Congressional Gold Medal has been awarded to a range of recipients, from George Washington to Rosa Parks to Frank Sinatra and is Congress' "highest expression of national appreciation for distinguished achievements and contributions."
To read the complete article, see:
Bob Dole Receives Congressional Gold Medal (https://www.npr.org/2018/01/17/578568074/sen-bob-dole-to-receive-congressional-gold-medal)
To watch the C-SPAN video, see:
Bob Dole Congressional Gold Medal Ceremony (https://www.c-span.org/video/?439678-1/senator-bob-dole-awarded-congressional-gold-medal)
Here's some more information and images of the bronze version of the medal from the Mint's web site. -Editor
The medal was designed and struck by the United States Mint as authorized by Public Law 115-60. Its obverse (heads) features a portrait of Senator Bob Dole with the U.S. Capitol Building in the background. The design features the inscriptions "SON OF KANSAS," "SOLDIER," "STATESMAN," and "BOB DOLE." United States Mint Sculptor-Engraver Joseph Menna created and engraved this design.
The medal's reverse (tails) displays a Kansas wheat field below a quote from Senator Dole: "FOR GREATNESS LIES NOT IN WHAT OFFICE YOU HOLD, BUT IN HOW HONEST YOU ARE, IN HOW YOU FACE ADVERSITY, AND IN YOUR WILLINGNESS TO STAND FAST IN HARD PLACES." An additional inscription includes "ACT OF CONGRESS 2017." United States Mint Sculptor-Engraver Phebe Hemphill created and engraved this design.
The obverse and reverse have initials JFM and PH respectively, although the PH is tough to find! -Editor
To read the complete Mint Press Release, see:
Bob Dole Receives Congressional Gold Medal (https://www.usmint.gov/news/press-releases/bob-dole-receives-congressional-gold-medal)
Dick Johnson submitted these notes on his meeting with this week's Congressional Gold medal recipient, Sen. Bob Dole. Thanks! -Editor
It was a First Strike Ceremony in 1987 for the U.S. Constitution Commemorative I believe. The U.S Mint had a stage erected on the east steps of the U.S. Capitol, with two coining presses, one on each side of the stage.
My travel companion was my former employer, the president of Medallic Art Company, Donald Schwartz. We choose seats on the front row not more than ten feet from that coining press on the right. Senator Mark Hatfield strolled by and chatted with Don, as both had worked together on the Reagan Presidential Inaugural Medal.
Donna Pope, U.S. Mint Director, was in charge of the ceremony. Bob Dole was one of two celebrities on hand. Highlight was to have a celebrity push the button for the first strike. He did this on the press right in front of us. A workman retrieved the gold commemorative coin from the press and handed it to Bob Dole.
After examining the coin, holding it up to show the audience, he impishly stuck it in his pocket.
Donna Pope approached and asked for the coin. He winked at the audience and raised his arms, palms up, as if he didn't have it. Donna Pope turned white to the delight and snickering of the audience. Evidence of Bob Dole's inherent humor.
As the recipient of the latest Congressional Gold Medal this week he still had some of that humor at age 94. He made the audience in the U.S. Capitol's rotunda to laugh twice in his acceptance remarks, ending with: "Mister speaker, I yield the balance of my time to the esteemed Senator from the State of North Carolina," referring, of course, to his wife, Elizabeth Dole, the next speaker.
This week the U.S. Mint will release the first in a series of three coins embodying the principles cited in the Preamble of the U.S. Constitution, "Life, Liberty, and the Pursuit of Happiness." Here's an excerpt from the press release. -Editor
The United States Mint will open sales for the 2018 Preamble to the Declaration of Independence Platinum Proof Coin on January 25, 2018, at noon Eastern Time.
This coin is the first release in the three-year (2018-2020) Preamble to the Declaration of Independence Platinum Proof Coin Series. The series features all new obverse (heads) designs, as well as a new common reverse (tails) design on a one ounce, 99.95 percent platinum proof coin each year.
The series portrays Liberty planting seeds for future sustenance, lighting the way westward, and harvesting the well-worked crops. The inscriptions "Life," in 2018, "Liberty," in 2019 and "Happiness" in 2020, are in the likeness of the handwritten words from the Declaration of Independence.
The obverse of the 2018 coin features "Life" personified by Lady Liberty teaching a small child to sow seeds in a field. The sword she carries symbolizes the power to defend life. The furrowed earth represents the forethought and labor required to sustain life. The tree and stream represent nature, suggesting the need to be good stewards of an environment that sustains life. Inscriptions are "LIBERTY," "IN GOD WE TRUST," "E PLURIBUS UNUM," "2018," and "LIFE."
Artistic Infusion Program (AIP) Designer Justin Kunz created all the obverse designs of this platinum proof coin series. The 2018 platinum proof coins were sculpted by United States Mint Sculptor-Engraver Phebe Hemphill.
The coins' common reverse design for this series depicts an eagle in flight with an olive branch in its talons. Inscriptions are "UNITED STATES OF AMERICA," "1 OZ.," ".9995 PLATINUM," and "$100." AIP designer Patricia Lucas-Morris created the reverse design, which was sculpted by United States Mint Sculptor-Engraver Don Everhart.
To read the complete press release, see:
New Platinum Proof Coin Series on January 25 (https://www.usmint.gov/news/press-releases/united-states-mint-releases-first-coin-in-new-platinum-proof-coin-series-on-january-25)
Copy Die. A new die copying the design from an original existing die (or from the coin or medal struck from the original die). Copy dies can be made by any method, as hand engraved or cut by machine, but not produced by HUBBING, or if pantographically cut, not from the same DIESHELL as the original. A piece struck from copy dies is called STRUCK COPY.
Despite the original and the copy bearing the same devices and lettering, they are not exactly alike. Minute variations inevitably exist between the old and the new versions. These variations result in VARIETIES in their respectively struck pieces. The minute variations are of immense interests to numismatists who study the characteristics of each to identify the minute variations as a DIAGNOSTIC DETAIL to differentiate the two.
Original versus copy. Copy dies are always made later than the originals and often for clandestine purposes. The intent of the maker and current law determines their legality. Copy dies are highly desired by counterfeiters since the pieces struck from copy dies more closely resemble the originals than other process (as casting, say). Other aspects of legality and intent are given in the entry on COPIES AND REPLICAS.
Technically any die made from the original hub (if it was hubbed) or from the original dieshell (if it was cut on a pantograph) is still the original. If a TRANSFER DIE was made or an INTERMEDIATE REDUCTION was made, all these would still be an original. Only when fresh dies are made without employing any model or pattern of the original diemaking, is the new die a copy die. See DIES AND DIEMAKING
CLASS 04.4
Looking for the meaning of a numismatic word, or the description of a term? Try the Newman Numismatic Portal's Numismatic Dictionary at: https://nnp.wustl.edu/library/dictionary
John Lupia submitted the following information from the online draft of his book of numismatic biographies for this week's installment of his series. Thanks. As always, this is an excerpt with the full article and bibliography available online. This week's subject is New York collector/dealer Claude R. Collier. -Editor
Claude Raymond Collier (1879-1955), was born on December 30, 1879, at Kirkwood, New York, son of Homer Claude Collier (1855-), a chemist and paint manufacturer, and Nellie H. Emmons Collier (1858-).
Collier became interested in collecting curios, coins and stamps as a boy inspired by his father who also collected coins. While in High School he advertised to buy, sell and exchange stamps, Indian relics, and natural history curiosity items in The Museum.
In 1898, he graduated Binghamton Central High School. He then went on to study chemistry.
In January 1899, or perhaps earlier, he printed his stationery advertising he was both a collector and dealer in curios, coins and stamps.
In January 1905, he joined the ANA and in February became ANA Member No. 661.
He was a bidder in the Harlan Page Smith Sale held by Samuel Hudson Chapman and Henry Chapman, Jr.
In April 1909, he and his father exhibited their coin collections at the Binghamton Public Library.
In 1954, he was awarded the ANA Gold Medal at the annual convention commemorating his fifty years as an ANA Member.
He died November 9, 1955, at Our Lady of Lourdes Hospital, Binghamton, New York.
To read the complete article, see:
COLLIER, CLAUDE RAYMOND (https://sites.google.com/a/numismaticmall.com/www/numismaticmall-com/collier-claude-raymond)
* * * * *
The entire inventory of the Lupia Numismatic Library is for sale. Individual items will be available before the remaining archives are broken up into parcels sold at philatelic auctions in the U. S. and Hong Kong. Check NumismaticMall.com frequently as dozens of new items with estimates will be posted daily until everything is sold.
All inquiries will be given prompt and courteous attention. Write to: john@numismaticmall.com .
Here's a selection of interesting or unusual items I came across in the marketplace this week. Tell us what you think of some of these. -Editor
George Washington: Pater Patriæ Inaugural Button

George Washington: Pater Patriæ... the Holy Grail of GW Inaugural Buttons. Albert WI-19B, DeWitt GW-1789-41, 25 mm copper shell with lead-filled back. Half-length military bust of Washington facing one-quarter left or dexter. It is inscribed "General Washington Pater Patriæ". This is the only portrait button in the accepted canon of George Washington inaugural buttons and has always been at the top of the want list for anyone interested in the period. It may also be the earliest artifact that refers to Washington as the "Father of His Country".... There are certainly less than 10 specimens in existence and likely closer to 6 or 7. This may be the finest example known.
While not exactly numismatic, George Washington Inaugural buttons are avidly collected. This preview lot from the upcoming February 24the Heritage sale of the Frent collection of political Americana is an important rarity. -Editor
To read the complete lot description, see:
George Washington: Pater Patriae... the Holy Grail of GW I... (https://historical.ha.com/itm/political/george-washington-pater-patriae-the-holy-grail-of-gw-inaugural-buttons/p/6187-11324.s)
1897 Italian 2 Lire

Umberto I (1878-1900) - 2 Lire - 1897 - AG Pag. 598; Mont. 43 Segnetti al D/ - Fondi lucenti
In the hey-great-mustache department is this silver 2 Lire piece. -Editor
To read the complete lot description, see:
LOT 1909 (https://auctions.bertolamifinearts.com/en/lot/25506/umberto-i-1878-1900-2-lire-1897-ag-/)
1992 FIDEM Congress Medal

To read the complete lot description, see:
1992 PISANELLO FIDEM CONGRESS IN LONDON by Ron Searle bronze 69mm (https://www.ebay.com/itm/152871517941)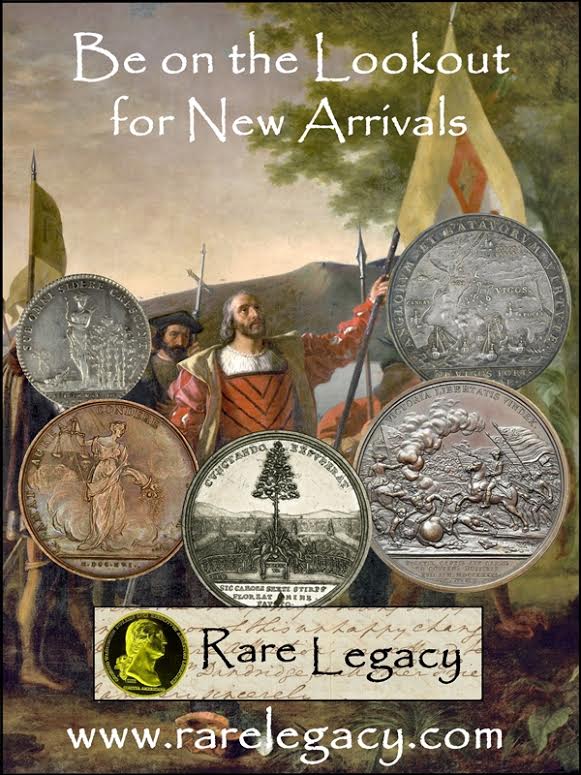 Clothes carried a range of social and cultural meanings that are expressed by the garments we see on ancient coins. Coin auction catalogues and reference books describe these garments with a Greek and Latin vocabulary that can be baffling for beginners. Only a handful of actual garments survive from classical antiquity (mostly from Roman Egypt), so to understand ancient dress we rely on evidence from art history and literature. Coins cannot tell us the colors or patterns of ancient textiles; for that we rely on wall paintings, mosaics and ceramics.
But the best ancient coin engravers did have a good eye for drapery.
The chiton (or kiton) was a loose, usually sleeveless ankle-length garment stitched from two rectangles of linen (front and back). It was belted at the waist (for men) or below the breasts (for women). A silver stater of Aspendus (c. 420-370 BCE) in Anatolia shows a slinger wearing an elegantly pleated short chiton that has the look of sheer Egyptian linen.
To read the complete article, see:
Does This Toga Make Me Look Fat? Clothing on Ancient Coins (https://coinweek.com/ancient-coins/toga-make-look-fat-clothing-ancient-coins/)
When we think of Roman fashion today, it's all togas and laurels, but as preeminent puzzle historian Jerry Slocum and his colleague Dic Sonneveld explain in the recent book Romano-Celtic Mask Puzzle Padlocks, some Romans probably also wore intricate mechanical rings, which they could also use to lock up a money pouch or small safe.
Slocum eventually identified 156 examples in museums and collections around the world, while developing his book on the subject. An impressive variety of padlocks have survived from the ancient Roman world, but this type of puzzle lock has a few distinctive features. Each about the size of a large ring, the locks were usually made of bronze and featured a faceplate sculpted into the image of a god. Janus, god of transitions and passages, was a popular subject. With few exceptions, the faceplate was hinged at the top, and flipped up to reveal a keyhole, the key to which was also sometimes crafted into a ring, worn separately. But the key alone was not enough to open one. The locks also hid one or two tiny little plates or switches that needed to be moved before the shackle—the hoop of the ring—would open. They were more akin to puzzle boxes than modern Master Locks.

Replica puzzle-locked coin pouches
To read the complete article, see:
The Fashion and Mystery of Ancient Roman Puzzle Locks (https://www.atlasobscura.com/articles/fashion-mystery-roman-puzzle-locks-rings-jewelry-money)
A luxury steamship that went to the bottom of the Atlantic in 1838 with half its affluent passengers may have been found 40 miles off the coast of North Carolina.
An underwater exploration venture based out of Florida said it has found enough evidence to convince backers they've found the wreck of the Pulaski sitting under 115 feet of water.
That evidence includes Spanish and U.S. silver coins that date up until the time of the wreck, along with wreckage that closely parallels survivor's stories of a starboard boiler explosion that sank the ship in 45 minutes.
To say the discovery is important is an understatement, historians said.
The ship was bound for Baltimore from Savannah when it exploded around 11 p.m. on June 13, 1838. One hundred of the roughly 200 people on board died, including many who were scalded to death by steam. Newspaper accounts tell dramatic stories of "panicky passengers in their night clothes, seeking refuge on the promenade deck as the bow rose out of the water and ripped apart."
Writers have likened the disaster story to "the Titanic of its time."
To read the complete article, see:
Divers believe they've found famed luxury ship that sank in 1838 off the NC coast (http://www.charlotteobserver.com/news/local/article195517649.html)
The coins that have been found by the operation's divers are dated to no later than 1836.
They include early United States silver issues and Spanish silver coins from the late 1700s.






To read the complete article, see:
(http://www.dailymail.co.uk/news/article-5289199/Explorers-shipwreck-North-Carolina-coast.html)
The Royal Canadian Mint have released a new gold coin which is a tribute to one of Canada's great military heroes of the War of 1812. Known as Tecumseh (1768-1813), whose life and legacy as a legendary Shawnee war leader are woven into the complex fabric of Canada's history, he is now honoured on the 250th anniversary of his birth. His beliefs, triumphs, and sacrifice were fuelled by a desire to protect his homeland. Born in 1768, Tecumseh, whose name refers to "the rising path of a shooting star, like a panther leaping across the sky," was a member of the Kispoko division of the Shawnees that focused on war. While the spiritual teachings of his brother Tenskwatawa (the prophet) warned of the dangers of abandoning ancestral ways, Tecumseh's message was one of cross-cultural unity.
His first visit to Canada (Upper Canada) was in 1808 when he arrived at Fort Malden located in Amherstburg, Ontario. While initially cautious of the British, the Americans aroused Tecumseh's fury with the Treaty of Fort Wayne in 1810 and an attack on his settlement at Prophetstown, known as the Battle of Tippecanoe, in 1811. Tecumseh was offered the rank of brigadier-general in the British Army and would go on to lead over 2,000 warriors into four major battles: The Siege of Detroit, Fort Meigs, Fort Stephenson, and the Battle of the Thames.
To read the complete article, see:
Canada: New gold coin is issued to mark the 250th anniversary of the birth of Tecumseh (http://news.coinupdate.com/canada-new-gold-coin-is-issued-to-mark-the-250th-anniversary-of-the-birth-of-tecumseh/)
A US Army hero dog, who met Winston Churchill during his military duties in the Second World War, has been posthumously awarded the 'animal Victoria Cross' for his brave service.
Chips, a Husky-cross, was recognised with a PDSA Dickin Medal for protecting the lives of his platoon during beach landings when the British and Americans invaded Sicily in July 1943.
The medal was first introduced in 1943 by Maria Dickin, the founder of the UK's leading veterinary charity the PDSA, and is a large bronze medallion bearing the words 'for gallantry' and 'we also serve'.
It was given at the Churchill War Rooms in London today, during the 75th anniversary of the Casablanca Conference.
During the US-led mission, called Operation Husky, as Chips and his platoon landed on the shore at dawn they immediately came under fire.
But, as the soldiers headed for cover, Chips escaped from his lead and ran towards the line of fire which appeared to be coming out of a hut.
His handler Private John Rowell and the rest of the platoon watched as Chips entered the shack and the firing stopped. One of the enemy soldiers then appeared with the dog at his throat, enabling them to push forward.
As well as his heroics on the battlefield, Chips served as sentry at the Casablanca Conference in Morocco in January 1943 when the Allies were still fighting to clear the Germans from North Africa.
To read the Daily News article, see:
Army pooch from New York who saved many lives in World War II honored for valor (http://www.nydailynews.com/new-york/army-pooch-saved-countless-lives-world-war-ii-honored-article-1.3758770)
This article from Singapore discusses the seizure of a huge cash of counterfeit Chinese currency. -Editor
Police seized fake bank notes with a total face value of more than 214 million yuan (S$44 million) late last year, after cracking the biggest counterfeiting case in China's modern history, a senior police official said.
Fourteen suspects, allegedly from a criminal gang, were detained and a large number of semi-finished counterfeit bills as well as printing equipment were seized after a production site and warehouse were raided, said deputy director-general Lin Weixiong of the Guangdong Provincial Department of Public Security.
"The case is regarded by the Ministry of Public Security as the country's largest counterfeiting case since the founding of New China in 1949," Mr Lin said at a news conference on Tuesday in Guangzhou.
A fake bank note with a face value of 100 yuan now sells for six yuan, compared with only two to three yuan about three years ago, according to the officer in charge of the case.
To read the complete article, see:
Fake yuan notes with record $44m in face value seized (http://www.straitstimes.com/asia/fake-yuan-notes-with-record-44m-in-face-value-seized)
Why counterfeit just one banknote when you can counterfeit several different ones? This report from South Africa (and published in Ghana) shows the variety of bills a man was discovered making there. -Editor
The South African authorities have arrested and detained a Nigerian man who was found with counterfeit banknotes of different currencies.

The unnamed suspected criminal, according to the Africanspotlight.com was arrested by the metro's K9 unit and found a gargantuan amount of R300'000 (about N9 million) fake bank notes on him.

The officers then accompanied him to his home where they shockingly found a printing press filled with equipment where he allegedly prints the counterfeit monies.

The US dollar, the South African Rand and Nigerian Naira were among some of the fake currency notes found in the man's possession.

To read the complete article, see:
Man arrested with fake monies, heavily equipped printing press found in his home (http://www.pulse.com.gh/filla/man-arrested-with-fake-monies-heavily-equipped-printing-press-id7862739.html)

This week's Featured Web Site is the studio of medal artist and citizens Coinage Adviory Committee member Heidi Wastweet.