About Us
The Numismatic Bibliomania Society is a non-profit organization devoted to the study and enjoyment of numismatic literature. For more information please see our web site at coinbooks.org
Subscriptions
Those wishing to become new E-Sylum subscribers (or wishing to Unsubscribe) can go to the following web page link
Membership
There is a membership application available on the web site Membership Application
To join, print the application and return it with your check to the address printed on the application. Print/Digital membership is $40 to addresses in the U.S., and $60 elsewhere. A digital-only membership is available for $25. For those without web access, write to:
Terry White, Treasurer
Numismatic Bibliomania Society
P. O. Box 634,
Canal Winchester, Ohio
43110
Asylum
For Asylum mailing address changes and other membership questions, contact Terry at this email address: terrywhite5475@yahoo.com
Submissions
To submit items for publication in The E-Sylum, just Reply to this message, or write to the Editor at this address: whomren@gmail.com
BUY THE BOOK BEFORE THE COIN
Sale Calendar
Content presented in The E-Sylum is not necessarily researched or independently fact-checked, and views expressed do not necessarily represent those of the Numismatic Bibliomania Society.
New subscribers this week include: Ian Speers, courtesy of Christopher Faulkner; and S. Hakim Hamdani AMRSC. Welcome aboard! We now have 4,229 subscribers.
Thank you for reading The E-Sylum. If you enjoy it, please send me the email addresses of friends you think may enjoy it as well and I'll send them a subscription with your compliments. Contact me at whomren@gmail.com anytime regarding your subscription, or questions, comments or suggestions about our content.
This week we open with a numismatic book sale, two new books, updates from the Newman Numismatic Portal, coin image search and grading, and a note about colonial-era money units.
Other topics this week include Dewitt's monograph on Alfred S. Robinson, tips on coin design orientation, the Castaing machine for adding lettering to coin edges, C. H. Shinkle, numismatic museum exhibits, Holabird and Kagin auction highlights, British Triple Unites, love tokens, and the JROTC Medal of Heroism.
To learn more about Royal Mint Master Issac Newton, scupltor Gutzon Borglum, quadrans and farthings, a rare Red Book, coin collectors, the Money and Medals Network, the 1737 Higley Copper, encased postage stamps, the library of the Reformatory Prison for Women, and living the Two Dollar Bill lifestyle, read on. Have a great week, everyone!
Wayne Homren
Editor, The E-Sylum


In an email announcement February 20, 2018 the book department of Spink in London announced a winter sale on numismatic titles. Some are heavily discounted at 50% off or more. Here's a selection of titles. Some are important numismatic bibliographies. Click the link below for more information, or check their web site directly. -Editor
Coinage in the Greek World by Carradice, I & Price, M
The development and use of coinage in the Greek world is surveyed in this book from its introduction in the 7th century BC to the late Hellenistic period. Coins can illuminate many facets of history
WAS: £20.00
NOW: £10.00
British Battles and Medals by Hayward, Birch and Bishop.
Based on the original, much admired work of Major L.L. Gordon, this indispensable guide is now in its seventh edition. The text has been fully revised and
WAS: £85.00
NOW: £30.00
Coinage and Currency in Eighteenth-Century Britain: the Provincial Coinage by Dykes, D.W.
This book, written by an expert in the field and drawing on recent research, aims to put Britain's eighteenth-century provincial token coinage into the context of the currency problems
WAS: £65.00
NOW: £25.00
The Beginner's Guide to Identifying Byzantine Coins by Fitts, P. M/
This book covers coins of the Eastern Roman Empire from Anastasius I (491-518) to Constantine XI (1448-1453) with an overview of the period of Diocletian
WAS: £20.00
NOW: £10.00
Identifying Roman Coins by Reece, R. & James, S.
This book aims at producing an easily usable and visual recognition guide to Roman coins. The authors chronological presentation follows and identifies major reverse types
WAS: £9.95
NOW: £5.00
A Bibliography of 17th Century Numismatic Books (3 Vol. Set) by Dekesel, C.
The first part explains the research strategy and also contains a detailed geographical, chronological, and categorical analysis of all 17th century numismatic
WAS: £375.00
NOW: £150.00
Ancient Numismatic Auction Catalogues 1880-1980 by Spring, J.
This listing of 886 ancient coin auction catalogues aims to include every important sale of ancient coins which took place between 1 January 1880 and 31 December 1980
WAS: £60.00
NOW: £5.00
The Uniform Coinage of India 1835 to 1947: a Catalogue and Pricelist by Stevens, P. and Weir, R.
This catalogue provides an authoritative guide to the different major coinages of William IV, Victoria, Edward VII, George V and George VI, with WAS: £75
NOW: £25
Numismatic Guide to British and Irish Printed Books 1600 - 2004. Encyclodpedia of British Numismatics Volume III by Manville, H.E.
This bibliographical volume lists printed books, booklets, pamphlets, and pre-1950's offprints and reprints of articles printed in Britain and Ireland
WAS: £60
NOW: £5
For more information, see:
Spink Books Winter Sale
Morten Eske Mortensen of Copenhagen, Denmark is taking preorders for the latest edition of his Roman coin price database books. -Editor
Pre-paid orders are now taken for the brand new 2018-editions of the "Database of auction prices of Roman coins 2017/2018" formerly "Roman Coin Price Yearbook", which will go to the printers around May 2018.
The Roman database comes in 3 handy paper printed volumes. Due to piracy electronic data files will not be supplied.
For more information, see:
http://numisbooks.dk/info/demodatabankROMANcatlist.htm
While only making passing reference to his important role at the Royal Mint, this review of a new book on Isaac Newton sheds light on his many other pursuits. Thanks to Arthur Shippee for passing this along. He writes, "Odd duck, this Newton fellow." -Editor
Priest of Nature is certainly not the first book to acknowledge that Newton was a deeply religious man. It is, though, one of the first to argue seriously that Newton's faith was as important to him as his natural philosophy – if not more so. Over the past fifteen years or so a series of private papers have emerged that reveal he invested enormous industry and rigour of thought in studying Christian origins. Iliffe's salutary achievement is to show that the writings emerging from his investigation reveal a different Newton to the man we are familiar with from histories of science. Equal parts litigator, millenarian, numerologist, moralist and paranoid conspiracy theorist, Newton probed the foundations of orthodoxy and found them wanting.
In many ways it is still hard to know quite what to make of Newton. He was so chary of his privacy that in spite of keeping a paper trail voluminous enough to assert his priority in using differential calculus nearly half a century after the event, he left only a few sparse scraps of introspection for future scholars to pick through. One suspects he would have preferred to be known to posterity through his achievements alone.
There is a sense of a life whose constituent parts have never quite been melded cogently together. Newton tends to come across in popular biographies as a prickly and profoundly ornery recluse whose mind was more at home in the heavens than in conversation with his fellow men, let alone women. Some of this is not exactly wrong. Newton prickled all right. Even as a child, growing up at Woolsthorpe Manor in rural Lincolnshire during the English Civil War and the early years of the Commonwealth, he threatened to set his mother and stepfather on fire and "burn the house over them".
To read the complete article, see:
The oddness of Isaac Newton (https://www.the-tls.co.uk/articles/public/isaac-newton-oddness/)
For more information, or to order, see:
Priest of Nature - The Religious Worlds of Isaac Newton (https://global.oup.com/academic/product/priest-of-nature-9780199995356?cc=us&lang=en&)
The latest addition to the Newman Numismatic Portal is the American Tax Token Society Newsletter. Project Coordinator Len Augsburger provided the following report. -Editor
Newman Portal Digitizes American Tax Token Society Newsletter
As noted in last week's E-Sylum, the ATTS Newsletter, published by the American Tax Token Society, is now available on the Newman Portal for the years 1971-2010. State sales taxes are today a routine matter with fractional cents rounded off as necessary. It was not always so. With the introduction of state sales taxes in the 1920s, the question arose of how to charge a fractional cent on, say, a ten-cent item. The ATTS website explains the situation: "Merchants had to pay sales tax to the state on the total amount of sales made by the merchant during each day's sales. You can imagine that if the sales tax rate is 3% and a child buys a 10c piece of candy there is no way to collect the three-tenths of one cent. If you rounded down that meant that the merchant could not collect anything for the tax. If you rounded up the state was gaining 7 tenths of a cent on every 10 cent sale.
You can see that if the merchant sold 100 pieces of candy he was losing 30 cents a day in tax revenues to the state, so the token was born. This allowed the merchant to take 11 cents for the first piece of candy and give change back in mills. The next time you wanted to buy a 10c candy you could present the merchant with the 10c and a token and complete the transaction. This allowed the merchant to collect the sales tax on each transaction."
Tokens of all kinds were produced to represent fractional cents, and these today are collected and researched by the ATTS. Thanks to John Ostendorf for his assistance with this project.
Image: Cardboard token good for one-third cent state sales tax at Harper's Variety Store in Washburn, IL.
Link to ATTS Newsletter on Newman Portal:
https://nnp.wustl.edu/library/publisherdetail/524434
Project Coordinator Len Augsburger offers observations related to content being searched for on the Newman Numismatic Portal. This week's search term is "Gutzon Borglum". -Editor
This week a Newman Portal user searched for "Gutzon Borglum." This is one of those search terms that sounds like an answer to a World Series of Numismatics question – the only problem is figuring out what the question is supposed to be. To the rescue comes the Newman Portal, and the most helpful source immediately identified is the ANS 1911 catalog of the International Exhibition of Contemporary Medals. Borglum is identified as an American medalist and sculptor, and several of his works are illustrated.
The March 1952 issue of Kelly's Coins and Chatter further notes Borglum as the designer of the 1925 Stone Mountain commemorative half dollar. Borglum today is of course most recognized for his role as the creator of the Mount Rushmore National Memorial. While this achievement is justly celebrated, the Newman Portal remains an important resource to fill in the numismatic parts of the story.
Image: 1925 Stone Mountain 50c, ex. Heritage 5/2007 CSNS, lot 2610. Courtesy HA.com.
Link to the ANS 1911 Catalogue of the International Exhibition of Contemporary Medals:
https://nnp.wustl.edu/library/book/520812?page=54
Link to Kelly's Coins and Chatter on Newman Portal:
https://nnp.wustl.edu/library/book/516064?page=2
As noted earlier, search isn't just for text strings anymore - searches can also be done with images. In her Newsletter #57 (published by email February 24, 2018), Shanna Schmidt described her experience with the Ex-Numis search service, which located a prior public offering of a coin in her stock, enabling her to document its pedigree, an increasingly important piece on information in today's regulated world. Here's what she wrote. -Editor
I've mentioned this great service several times in my newsletter but it is worth another mention. The coin of the week was purchased without a pedigree. After I sent in a picture of it to my friend Dr. Jonas Flueck he replied within a few days with a pedigree going back to 1991. I've heard some complaints that people send in pictures and don't get results but as time goes on and Jonas refines the program, I'm certain that matches will happen. In any case, you pay only a small amount to send in a coin so why not give it a shot? It can't hurt.
Here is Shanna's write-up of the newly pedigreed coin. -Editor
ROMAN REPUBLIC, C. Naevius Balbus. Rome, 79 BC AR Serrate Denarius, 3.88g (18mm, 1h) Diademed head of Venus r.; behind, S C; before, control letter, Rv. Victory in triga r., holding reins; in ex. [C] NAE BALB
Pedigree: Ex Schweizerischer Bankverein 28, 17 September 1991, lot 332
Price: $1,200
The moneyer, C. Naevius Balbus, was part of a wealthy family line that supposedly extended back to Phoenician origin and settled in Spain (Gades). Apparently the name Balbus meant "stutterers". This coin was minted around the time of Sulla, the general and later dictator, who was undoubtedly one of the men that helped to crumble the Roman Republic. C. Naevius Balbus was an ardent supporter of Sulla and this coin was likely minted to commemorate the Sulla's victory against Mithridates VI of Pontus around 85 BC. The obverse of the coin shows Venus who was the patron deity of Sulla and the triga represents a battle.
References: Crawford 382/1a; RSC Naevia 6b; Sydenham 769 Grade: Iridescent toning. Good EF
For more information, see:
http://www.shannaschmidt.com/coin-of-the-week/
To visit the Ex-Numis web site, see:
https://www.ex-numis.com/
To read the earlier E-Sylum articles, see:
EX-NUMIS ENABLES COIN AUCTION SALE SEARCH BY IMAGE (http://www.coinbooks.org/esylum_v19n05a07.html)
FINDING PEDIGREES THROUGH EX-NUMIS (http://www.coinbooks.org/v20/esylum_v20n35a08.html)
EX-NUMIS DEBUTS ACTIVE PEDIGREE LINKS (http://www.coinbooks.org/v20/esylum_v20n38a12.html)
To me, image search is a more tractable problem than grading. Grading clues are subtle and can be wildly affected by image quality. But design and die diagnostics are more prominent, and using image libraries to aid humans in detecting known counterfeits or attributing known die varieties is likely more possible, and some proprietary systems may already exist. The pedigree search used by Ex-Numis is a first step, and even that is far from perfect and needs a human in the loop. With enough investment, more can be done. But I think third party coin graders are safe in their jobs for now. -Editor
To read the complete discussion thread, see:
Coin-Recognition Technology? (Cited from: https://www.cointalk.com/threads/coin-recognition-technology.311830/) (https://www.cointalk.com/threads/coin-recognition-technology.311830/)
P. Scott Rubin submitted this remembrance of collector John Whitney Walter, who passed away last month. -Editor
On January 5 th 2018 Numismatics lost one of the greatest collectors with diverse numismatic interests, with the passing of John Whitney Walter. He passed away after a yearlong battle with cancer. He was known by many U.S. coin collectors as "Mr. 1796". This is because of his great collection of United States Coinage of that year which he exhibited at ANA conventions and was sold at auction by Stack's in May of 1999.
This however, was not his first historically formed collection. In November of 1990 he sold his Gold Roman Collection titled "Unique Complete Series Men of Rome The Golden Military Years Lvcivs Svlla to Severvs Alexander 82 B.C. – 235 A.D. This sale was also sold by Stack's and like the later 1796 U.S. Coinage Collection the catalogue was filed with much historical background.
Mr. Walter was so involved with how these two collections were presented that each was accompanied by a poster displaying that displayed the coins. The 1796 U.S. Coinage poster was published privately by Mr. Walter. He also asked that Stack's make available a separate printing of the Gold Coinage offered in the 1999 sale, because he felt that the illustrations as printed in the catalogue were not detailed enough and Stack's had them available at the auction.
From biographical information offered in three auction catalogues about his life and collecting interests, the third is the Lyn Knight sale of October, 2004, it is known that Mr. Walter started his collecting in this teenage years. To show more diversity in his collecting interests the Knight sale of "United States Federal Currency – Firsts, Lasts, Milestones and Mistakes" was yet another area of Mr. Walter's collecting and historical interests.
Along the way Mr. Walter won four Personal Choice Exhibit awards at American Numismatic Association Conventions. These where not his only interests, at the last Philadelphia ANA World's Fair of Money Convention Mr. Walter displayed his extensive collection Numismatic Coinage Errors.
I was saddened to learn of John Whitney Walter's passing and reminded of how impressed I was of his exhibits at ANA conventions. Especially the coinage of 1796 U.S. Coinage exhibit, I was also honored to be able to able to add historical auction sales information for Stack's Catalogue of that collection. I was humbled to have my exhibit at the Philadelphia ANA Convention right next to Mr. Walter's and be able to talk with him about it, since I at one time had a collection of One Cent error Coinage.
Mr. Walter is survived by His wife Joan and three married daughters and their husbands and seven Grand Children.
To view the May 1999 Stack's catalog of the John Whitney Walter 1796 Collection on the Newman Portal, see: Public Auction Sale of \Mr. 1796\: The John Whitney Walter Collection (https://nnp.wustl.edu/library/auctionlots?AucCoId=3&AuctionId=516733&page=11)
I met Mr. Walter at one of the ANA conventions and congratulated him on his breathtaking exhibit. He was quite approachable and clearly very knowledgeable about the material. Here is an excerpt from his obituary. -Editor
John W. Walter of Manhasset passed away on January 5th, 2018 from a year long battle with cancer. Born to William and Elizabeth Walter on April 17, 1934, in Queens, New York, John grew up in Hollis and moved to Manhasset in 1958 where he lived for almost 60 years until the day he died.
As a teenager, John attended St. Paul's High School in Garden City and Admiral Ballard Academy in Connecticut. After high school, John graduated in 1955 from Norwich University in Vermont with a BS in Business Administration and in 1960 from Columbia University with an MBA. In between undergrad and graduate school, John served for 2 years in the army as a second lieutenant and was stationed during non-war time in Heidelberg, Germany.
After graduating, John parlayed his love of engineering and systems into spending a lifetime working in communications, technology, security systems and construction up until a couple of months ago. He began his career working for the Trump Organization where he spent most of his adult life. An inventor and holder of patents, John worked for Teleprompter in the 1970's and then began his own company, National Security Systems, which produced and installed alarm systems using the liquid foil window striping patented by him along with the security panel and system from his design. Throughout the years, while still running National Security Systems, and using his knowledge of systems, John worked with the Trump Organization on a variety of hotels and apartment buildings in New York City, Las Vegas and Atlantic City.
To read the complete article, see:
In Memory of John Whitney Walter 1934 - 2018 (http://fairchildsons.com/tribute/details/1766/John-Walter/obituary.html#tribute-start)
Ron Thompson of Decatur, GA posed a question about denomination abbreviations seen on a U.S. colonial note. -Editor
I recently came across a Virginia Colonial $2 issue of First Day of May, 1780 that had an interest related box on the lower left of the face as follows:
Perhaps your readers could enlighten me as to what the s. d. q. means. Thanks
Well, I knew the "s" likely stands for shillings, and the "d" is for pence (based on the ancient denarius, a penny equivalent). But I was puzzled by the "q". My wife would say puzzlement is my natural state. But starting with what I did know I asked Dr. Google and found this summary of British money abbreviations on the University of Nottingham web site. -Editor
Until 1971, British money was divided up into pounds, shillings and pence.
• One pound was divided into 20 shillings.
• One shilling was divided into 12 pennies.
• One penny was divided into two halfpennies, or four farthings.
There were therefore 240 pennies in a pound.
Common abbreviations
To read the complete article, see:
Manuscripts and Special Collections : Money (https://www.nottingham.ac.uk/manuscriptsandspecialcollections/
researchguidance/weightsandmeasures/money.aspx)
Ron writes:
Another great question. Can anyone help? -Editor
First, a bit of hobby history borrowed from the Numismatic Guaranty Corporation (NGC) web site. -Editor
To read the complete article, see:
The American Numismatic Association (https://www.ngccoin.com/about/industry-affiliates/american-numismatic-association/)
I bring this up because I heard an echo of George Heath's words in the following note from E-Sylum reader Giordano Sereno:
On The Value Of Undocumented Coin Stories
Dave Lange writes:
Indeed. Caveat Emptor. -Editor
To read the earlier E-Sylum article, see:
BEWARE THE COIN SWAP TRICK (http://www.coinbooks.org/v21/esylum_v21n07a21.html)
A Rare Red Book
Dave Lange writes:
To read the complete lot description, see:
Red Book (https://www.ebay.com/itm/Red-Book/222845971581?hash=item33e2a7ac7d:g:s7kAAOSw0g1aikq6)


Polymer Bank Notes of The World
Regarding their 2016 book Polymer Bank Notes of The World, Katja Šajn, Sales Manager at PBN Ltd. writes:
Thank you. -Editor
To read the earlier E-Sylum article, see:
NEW BOOK: POLYMER BANKNOTES OF THE WORLD (http://www.coinbooks.org/esylum_v19n35a03.html)


How Does the Newman Portal Stay Up-To-Date?
John Phipps writes:
To read the earlier E-Sylum article, see:
NEWMAN PORTAL ADDS TAX TOKEN NEWSLETTER (http://www.coinbooks.org/v21/esylum_v21n06a08.html)
To visit the Newman Numismatic Portal, see:
https://nnp.wustl.edu/
March 2018 Numismatic Friends of Sherlock Holmes Dinner

The Fourth Garrideb will be in Irving, Texas for the American Numismatic Association' National Money Show being held March 8-10, 2018 at the Irving Convention Center.
The Numismatic Friends of Sherlock Holmes Dinner will be held on Friday, March 9, 2018 with being seated for dinner at 7:00P at the Ranch at Los Colinas, just a few blocks from the Convention Center. Both Sherlockians and numismatists are invited to attend. Individuals will order off the restaurant's menu and be responsible for their own tabs.
The dinner is purely social – no scholarly papers, no slideshows, no quizzes . . . just good food and conversation.
For more information, or to RSVP, see:
TFG Dinner – Dallas (http://fourthgarrideb.com/tfg-dinner-dallas/)
Book Finds: WWII North Africa Banknotes
Dave Hirt writes:
To read the earlier E-Sylum article, see:
NOTES FROM E-SYLUM READERS: FEBRUARY 18, 2018 : Found in Books (http://www.coinbooks.org/v21/esylum_v21n07a12.html)
Washington vs Lincoln

David Gladfelter writes:
David Gladfelter adds:
David Baldwin writes:
ALFRED S. ROBINSON'S HISTORICAL SERIES (http://ghlovett2.blogspot.com/p/robinson-historical.html)
1860 FIREMAN'S MEDAL (http://rlovettjr.blogspot.com/p/robinsons-firemans-medal.html)
Medals Depicting Civil War Figures (http://ghlovett2.blogspot.com/p/civil-war-figures.html)
1860 PRESIDENTIAL CAMPAIGN MEDALETS (http://ghlovett.blogspot.com/p/1860-and-1864-predidential-campaigns.html)
Miscellaneous Robinson Issues (http://ghlovett2.blogspot.com/p/alfred-robinson-misc-issues.html)

Robinson's Non Dependens Status
Thanks, guys! -Editor
To read the earlier E-Sylum article, see:
ALFRED SEYMOUR ROBINSON (1836-1878) (http://www.coinbooks.org/v21/esylum_v21n07a16.html)
Dick Johnson submitted these notes on how to identify the designer's intended orientation for a coin or medal image, which can sometimes be tricky for works in the round like these. -Editor
The Mussolini token illustration in last week's E-Sylum, which Editor Wayne stated was intact and could not be oriented correctly, brought to mind the task of orientation. The human mind craves correct visual perspective, everything on the level.
This is particularly so for round coins and medals which can easily be rotated out of sync. Photographers often rotate an object for better light and shadows (light from above as if the sun was shining on it). So we cannot rely on the photographer for accurate orientation - the photo must be corrected in preparation for publishing.
Each side of the Mussolini token gives easy clues. The reverse, shown on the left, shows a ground line the horse is standing on, an ideal horizontal requirement. The obverse has three clues: the figures of the date should be level, the eyes should be on the same plane, and the legend begins and ends on the same horizontal point.
Here are some tips identifying both horizontal and vertical clues:
• Lettering and figures generally are horizontal.
• Exceptions: legends, arc and undulating baselines of lettering.
• Exergues, ground lines, baselines, skylines are horizontal.
• First and last letter of legends generally end on the same level point.
• Ends of half wreaths begin and end on the same level point.
• Eyes in a portrait are generally on the same level.
• Cartouches are always level horizontally.
• Compass points are both horizontal and vertical.
• Sides of buildings are vertical.
• Smokestacks, columns, candles, caduceus are vertical.
• Anything horizontal or vertical in nature must be shown likewise on a numismatic design.
Having said that, when the rules are broken, an artist may create a design in mixed perspective by artistic license.
Dick adds:
I shared this with reader Ron Haller-Williams who wrote in to suggest the paint.net tool for image editing. He offers the following observations. Thank you. -Editor
Caveat #1: On eBay, some people express a preference for (or insistence on) unretouched photos, so that "what you see is what you get". Not even cropping, adjustment of brightness, contrast or colour_tone (so if the lighting shows a silver coin as golden you leave it as it is!), and I'm thinking this would apply to rotation also. I don't totally agree with this, but ...
Well, if the coin is in a holder I could see a reason for showing its orientation in relation to the holder, as this is part of the overall eye appeal of the complete object. The orientation of a single coin side is meaningless - rotation must be described in relation to something else. -Editor
Caveat #2: What if you are trying to portray the effect of a "rotated die"?
Interesting point. See Dick Johnson's earlier article on die alignment (linked below). For brevity cataloguers often just describe the alignment in the text in terms of degrees of rotation. But it could be illustrated with images, where one side (probably the obverse) is oriented normally, and the other is rotated as on the coin itself. Even this is somewhat subjective because it's not always completely evident from the coin itself what the designer intended. They don't usually include an explicit mark indicating "this is the top of the design." Example #2 below comes close to this, though. -Editor
Caveat #3: Ignore the eyes if there are any clues to suppose that the person is doing anything other than looking ahead while standing or sitting, with the viewer (camera or artist) at the subject's eye level.
Caveat #4: Horizontal/vertical lines in the picture (building sides, windows, doors, ground, exergue) and horizontal/vertical text & graphic lines would generally take precedence, where there is a clash. Note the word "generally!".
These designs (all from The Netherlands) are somewhat misleading:

Examples 1 and 2
Example #1: The graphic lines are vertical, and the text sideways.
Example #2: The best clue is the "initial mark" (crown at top-dead-centre).

Examples 3 and 4
Example #3: "NEDERLAND" is balanced at 0.5 degrees clockwise, while the flag is "right" at 8.5 degrees clockwise. And the stars around the edge are balanced and upright with no rotation!
Example #4: Again, the graphic lines are vertical, and the text sideways - but the date is skew!
As Dick noted, the designer may apply artistic license to purposely create a design in mixed perspective. Thanks, everyone. Fascinating topic. -Editor
To read the earlier E-Sylum articles, see:
NUMISMATIC NUGGETS: FEBRUARY 18, 2018 : NUMISMATIC NUGGETS: FEBRUARY 18, 2018 (http://www.coinbooks.org/v21/esylum_v21n07a22.html)
VOCABULARY TERMS: DIE ALIGNMENT, ROTATED DIE (http://www.coinbooks.org/v21/esylum_v21n05a15.html)
Bill Nyberg submitted these notes inspired by our Found in Books discussion. Thank you! -Editor
Last week Dick Johnson described four-leaf clovers found in a book. I found the same, in the first encyclopedia published in the United States, Thomas Dobson's Encyclopædia, published from 1790 to 1803, with the early volumes illustrated by engraver Robert Scot. My set has an interesting history, it was once in the library of the Reformatory Prison for Women, located in Massachusetts. This prison valued education and had a working farm, evidently with some four-leaf clovers.
The Encyclopædia disseminated Enlightenment knowledge and advancing technology. There was much numismatic information with articles on coins, coining, engraving, and drawing including classical figures and draperies. The British claimed, "British Coinage, both by the beauty of the engraving, and the invention of the impressions on the edges, that admirable expedient for preventing the alteration of the species, is carried to the utmost perfection."
The following excerpt represents an instructive technology transfer for the fabrication of a machine, described by the British, used to impress coinage edge designs and to thicken a rim, now commonly called a Castaing machine after Jean Castaing. With a stroke of good luck, the publication of Volume 5 in Philadelphia on was March 10, 1792, just prior to the Coinage Act on April 2, 1792. The Mint's complex rimming machine would have required instruction for the fabrication details, and reverse engineering of dollar and half dollar edges by Russ Logan and others indicate a machine exactly as described by the Coining article in the Encyclopædia:
To read the earlier E-Sylum article, see:
NOTES FROM E-SYLUM READERS: FEBRUARY 18, 2018 : Found in Books (http://www.coinbooks.org/v21/esylum_v21n07a12.html)
Coin Collecting. Gathering specimens of coins in systematic fashion as an avocation or numismatic pursuit. Collecting coins appeals to every age from the child who can identify the portrait on a small bronze piece to the senior who can understand the language and symbolism on an obscure piece from a distant land or time, from the person with limited funds to the wealthiest benefactor. Gathering coins, it has been said, appeal to the magpie instincts in humans who like bright, shinny objects. Contrast this to the scientist/numismatist who likes to classify every species and subspecies, or who likes to describe and catalog every specimen in their collection.
Coin collecting has occurred, it seems, ever since there were coins. Some ancient coin hoards that have been recovered intact indicate the pieces were assembled for their design and differing characteristics, as a collection more so than an accumulation for commerce.
For the most passionate collector, collecting coins is an emotional involvement exhibited by the thrill of the chase, to acquire a desired specimen. After all, coin collecting appeals to very intelligent people. It fulfills a desire to complete a series; it requires a dedicated investment in intellect, time, savings, yet still has the romance of distance peoples, long ago time and a miniature art form of the time. If for no other reason we study coins because they are artifacts – actual money that contemporary custom had placed a value on these coined objects.
Because coins are issued by denomination, the design within that denomination is called a TYPE. Often a single type will be issued over a number of years as the national authority (like a Treasury Department) attempts to supply its country with a quantity of circulating medium. Also, and particularly for large industrial countries, they may have more than one mint. Most mints have their own mark, MINTMARK, a signature on all the coins of their manufacture. Thus collecting by types, by dates and by mintmarks are important to collectors.
Any deviation in the design or form from the normal coin – whether intended or resulting from a manufacturing anomaly –results in a VARIETY of the coin in that series. Collectors are very interested in varieties and closely study every aspect of the coin's design and production to identify these varieties, no matter how minute. The discovery of a major variety is an event of major proportions in the numismatic field.
Collectors quickly learn that some specimens are not easy to obtain. The concept of RARITY is inherent to every collector. He learns that one variety may be quite rare and a similar one quite common. Rarity is based on the number originally made and how many of that number have survived. Numismatists have determined a SURVIVAL RATIO that indicates this degree for a particular rarity. Letter and number charts have been devised and published in numismatic literature to give a indication within a range of common to extreme rarity.
Coin Group Terms. Coin collecting deals with coins in groups. Here are some group terms:
HOARD – A retrieved group of monetary items.
SERIES – Three or more coins with a common theme or design with a continuity of issue.
SET – Two or more coins issued together.
Collection – Coins of any number gathered together for systematic study or the pleasure of ownership.
Rolls – Coins in uniform number packaged for commerce.
What to collect? Coin collectors first collect what is easiest for them to obtain, coins from circulation, their own nationality, an inherited collection. From early beginnings a collector typically moves into areas called specialties. He cannot collect everything at once, so he specializes. He chooses an area of coin collecting which interests him most and which he devotes his acquisition activities. These are also called TOPICS. (In England they are called thematics.)
Even the average coin collector may easily complete a SERIES. By obtaining all the varieties of specimens within that series he accomplishes a completeness that is psychological satisfying. From there he moves on to other specialties or topics. Or, more often, collects several topics at a time. Thus as one series is completed he can move on to another, occasionally selling one to finance the purchase of another. Sometimes these pursuits are lifetime activities, particularly where a topic is open ended and never can be "completed."
Choosing a topic is a very personal thing. Nobody can tell a collector what to collect. It comes from within a collector's psyche. It is what gives him pleasure, and he is willing to devote the required time and money to participate. (Collecting medals and tokens is even more selective, see the entry on MAT CODE for a list of major specialties .)
Coin collectors. Estimates of the number of coin collectors in American range from a few hundred thousand to as high at six million or about one in every forty Americans. The largest mailing list is maintained by United States Mint, but critics say this includes coin buyers not necessarily collectors (the grandmothers who buy birth year sets for their grandchildren, for example).
There have been some prominent coin collectors in America. Philanthropist John Pierpont Morgan was an active collector, as were actor Adolph Monjou, Texas oilman Lamar Hunt, and Colonel Green (son of Hetty Green, the Witch of Wall Street). No American president was known to have been a coin collector (like Franklin D. Roosevelt, a stamp collector). But heads of state of other countries were coin collectors. Most impressive was Victor Emmanual of Italy who was very active. Also, King Farouk of Egypt was a notorious coin collector.
Collector aids. A small industry has developed to supply the collector with the necessary accouterments to engage in collecting. Albums, envelopes, magnifying glasses, holders, everything that could aid in examining, organizing, displaying, housing and storing specimens has been manufactured for the collector.
Collectors early realize the importance of their specimen's condition. Determining condition of an individual specimen may be somewhat arbitrary, so service businesses have arisen to professionally affix a specimen's condition and genuineness. Following this was a related service to encase the item in plastic, now called a "slab."
Numismatic books and periodicals are widely published. The largest numismatic library is in New York City at the American Numismatic Society. It currently houses 100,000 items. Numismatic books – and documents, auction catalogs, and transcriptions – are on the internet, free to all, on the Newman Portal, underwritten by Eric P. Newman, a renowned collector, scholar and philanthropist.
Collector organizations are formed at every level, local to national, specialized to international. Thus collectors with similar interests can meet with others of that interest, discuss the COLLECTOR LORE of their mutual activity, exchange duplicates perhaps, or just gain more knowledge of the subject. Talks at these meetings are often illustrated with slides or the exhibition of actual specimens and information is widely exchanged. Collectors of the same specialty quickly form a close camaraderie.
Museums frequently form and display coin collections. The three largest in the United States with the widest breadth of holdings are the American Numismatic Society with a museum in New York City, the American Numismatic Association with a museum in their Colorado Springs headquarters, and the nation's coin collection at the Smithsonian Institution in Washington, DC.
Looking for the meaning of a numismatic word, or the description of a term? Try the Newman Numismatic Portal's Numismatic Dictionary at: https://nnp.wustl.edu/library/dictionary
John Lupia submitted the following information from the online draft of his book of numismatic biographies for this week's installment of his series. Thanks! As always, this is an excerpt with the full article and bibliography available online. This week's subject is Pittsburgh numismatist Charles Shinkle. -Editor
Charles Humberstone Shinkle (1852-1920), was born April 25, 1852, at Allegheny City, Pennsylvania, son of Charles Shinkle, a merchant and native of Pennsylvania, and Nancy Zinsmeister Shinkle, a native of Switzerland.
In his youth he was a collector of coins. As a very young boy American cents radically changed from 1856 to 1864. This sparked an interest in United States cents and the die patterns behind them. During his lifetime he amassed one of the most complete collections of U. S. Pattern Pieces of United States Cents, sold after his demise in 1932.
In the 1868 Pittsburgh Directory he is listed as a collector living at 129 River Avenue, Pittsburgh.
In 1878, he worked as a bookkeeper at Wilcox, Shinkle & Miller, a grist and saw mill company, 39 Water Street, Pittsburg, Pennsylvania.
In 1885, he joined the Western Pennsylvania Numismatic Society.
He entered the firm of Myers, Schoyer Printing Company, and worked there for several years. After the death of William Schoyer, Charles H. Shinkle took over his interest in company renaming the firm the Myers & Shinkle Company. Shinkle became a printer and bookbinder who made both books and stationery. By 1905, he became president of the Myers & Shinkle Company, Pittsburg, Pennsylvania.

June 1904 ad in The Numismatist
In 1905 he began to publish a 16 page quarto United States Coin Values and Lists with values based on prices realized from coin auction sales. The book was illustrated with photographs of coins, especially gold in the John A. Beck collection. It sold for $1.00
By 1910 he had studied over a hundred different Moffat & Company fifty dollar slugs and devised the list of varieties, which was published in the American Journal of Numismatics.
From 1914-1915 he was second-vice-president of the ANA.
He died of myocarditis with hypostatic pneumonia on February 10, 1920, at the Homeopathic Hospital, Pittsburg. He is buried in Homewood Cemetery, Pittsburgh, Pennsylvania.
His collection of U. S. Pattern Pieces of United States Cents was sold posthumously on April 26, 1932, by J. C. Morgenthau & Co., sale #278.
To read the complete article, see:
SHINKLE, CHARLES HUMBERSTONE (https://sites.google.com/a/numismaticmall.com/www/numismaticmall-com/shinkle-charles-h)
* * * * *
The entire inventory of the Lupia Numismatic Library is for sale. Individual items will be available before the remaining archives are broken up into parcels sold at philatelic auctions in the U. S. and Hong Kong. Check NumismaticMall.com frequently as dozens of new items with estimates will be posted daily until everything is sold.
All inquiries will be given prompt and courteous attention. Write to: john@numismaticmall.com .
Carol Bastable of the Love Token Society has been on a decades-long quest to locate contemporary images of people wearing bracelets and other jewelry items made with love tokens - coins engraved with initials and other sentiments which were quite popular around the turn of the last century. This week she discovered an image of a man wearing what may be a coin stickpin, and it turns out the name written on the back of the photo is that of a well-known American numismatist. -Editor
Carol writes:
To read the earlier E-Sylum article, see:
LOVE TOKEN BRACELET PHOTOGRAPHIC HISTORY (http://www.coinbooks.org/v20/esylum_v20n44a14.html)
Harvey Stack's latest Stack's Bowers blog series focuses on growing up in a numismatic family. Here is part 12. -Editor
Interest in coins really started to grow in 1951 once again. The issuance of Proof sets by the Mint stimulated people to collect. New issues of the Roosevelt dime and Franklin half dollar made collecting these a bit easier. Searching for coins was enhanced by popular Whitman blue coin folders (available for 25 cents each), which provided a great place to store coins found by both adults and children, novices and experienced collectors. The folders were punched with spaces for each date and mint issued for each design, properly labeled. They encouraged people to search their change and as people became more interested in collecting, they would visit coin shops to "fill in the holes"
There was revived interest in collecting gold coins, from the United States as well as the rest of the world. This was facilitated by the government, who had originally required the surrender of gold in the 1933-34 period, but by this time felt that the "Intent of the law was satisfied, hoarding abated, and they will relax on collecting gold coins." Many new collections were started and demand increased. The down side was that suddenly the market was flooded with numerous counterfeits.
Experienced professional numismatists could recognize the difference between coins that were fake and those that were genuine. Those with a good reputation for selling genuine coins received additional business. At Stack's we had visits from agents of the Secret Service to help them verify coins they found in local jewelry stores and hock shops. In addition to verification, they wanted to learn how to tell if coins were counterfeit. Their previous training had mostly related to paper currency, and not as much on counterfeit coins, especially those that were no longer in general circulation.
I was a government witness at several trials of those who were selling counterfeits, after the coins were seized. It was an important job, as we wanted to be sure that counterfeits would not damage the numismatic market. In the beginning, the most popular counterfeits seen were $1 gold, $2.50 and $3 gold. The gold dollars were sold to Spanish -Americans who wanted them for wedding gifts, the $2.50 (especially Liberty Head design), went mostly to Asia. The $3 gold pieces found their way into collections and it could be hard for buyers to tell the difference between real and fake coins.
Numerous counterfeit foreign gold coins also appeared, mostly for jewelry purposes. They were priced close to gold melt for the genuine coin, but the counterfeits were of lower carat gold; the profit was in the difference in gold content. It was determined that these were mostly from Milan and Beirut, where a big trade had developed in false coins.
The economy had gotten beyond its wartime status, and new collectors were attracted to the hobby at the same time as old collectors were finding their way back into numismatics. During this period and for several years afterward the market was very good for original gold coins along with our rarer numismatic coins.
To read the complete article, see:
Harvey Stack Remembers: Growing up in a Numismatic Family, Part 12 (http://www.stacksbowers.com/News/Pages/Blogs.aspx?ArticleID=2871)
Howard Daniel [LM-145]
1. Howard Daniel has been a member of the IBNS for the past forty-six years, having joined in mid-1971. During that time he has served the Society as First Vice President, Director and Chairman of the of Young Numismatists Committee.
His contributions to the IBNS go much beyond his service on the Board. For over three decades he has represented the Society at a variety of numismatic shows and events, manning the IBNS club table, recruiting new members and providing information about the Society. His main focus was to attract young members by making up packets containing coins, examples of paper money and other items of interest to give out as samples to youngsters who were attending the shows with their parents. Having retired after a career with the United States Army, Howard would also seek out fellow veterans, discussing military currency, and often, providing examples.
Howard is a most notable numismatic ambassador and researcher; he is also the author of many articles and books, specializing in the currencies of Southeast Asia. He has been a frequent speaker at many numismatic venues and has always been willing to share his time and his knowledge. His outgoing and friendly demeanor make him an excellent representative for the IBNS, and deserving of the Hall of Fame.
2. Howard Daniel meets and exceeds all qualifications for the IBNS Hall of Fame. He is a preeminent author, scholar, and expert, particularly with South East Asian numismatics. He freely gives his time to help and is skilled at establishing rapport with virtually anyone from the freshest, newest face on the block to the most knowledgeable and seasoned hobbyist. Of all of Howard's virtues, in my opinion his best credential is how much he cares about young people entering our field and how freely he gives of his time to make that happen. For many years, Howard has set up at major shows and has gone out of his way to generate interest with young people. On countless occasions, he used his own resources to give budding numismatists that critically important start by giving that individual some notes to collect. A significant number of young people he has met in this way have benefited from his guidance well beyond numismatics.
Howard Daniel is an eminently worthy candidate for the IBNS Hall of Fame.
3. Qualities making this individual worthy of the IBNS Hall of Fame
Howard Daniel has been an IBNS member since 1971. He served on the board as a director from 1996-2000, as 1st vice president 2000-2002, and again as a director 2010-2012. He served as chair of the IBNS committee for youth members (YNs) from 2010-2014.
For many years he staffed a table operated jointly for the IBNS, Numismatics International, and the Numismatic Bibliomania Society at both spring and summer conventions of the American Numismatic Association, the International Paper Money Show (Memphis), and other venues where note collectors gathered. His objective there was to distribute world notes and coins, and some books, to children accompanying their parents to the conventions. Much of what he distributed was donated by the organizations that he represented, but much also was acquired by him, at his own expense, specifically for this outreach program. He also engaged novice adult collectors and informed them of the myriad specialties within numismatics that might fit their own particular circumstances, be it career, ethnic background, or special interest. He distributed many books to youth leaders (teachers and Scout leaders) at conventions, encouraging those individuals to place the books in school libraries.
At each ANA convention he also hosted organizational meetings for the IBNS and NI, introducing speakers and, when needed, presenting educational programs. As a numismatic ambassador, Howard Daniel has few peers. He retired from such table work as he approached 75 years of age.
As YN chair for the IBNS, he presented many programs to the board directed at encouraging youth involvement in paper money collecting. After several years of seeing little or no action taken on his program suggestions, he resigned from that committee.
Howard Daniel is also an accomplished researcher and writer. He has been a specialist in Southeast Asian numismatics since the mid 1960s. Since 1975 he has published six volumes (two of them now in second editions) of his comprehensive treatment of coins and notes of Southeast Asia. Thus far they cover what was originally French Indochina; eventually they will also cover Thailand, Burma, and possibly Indonesia.
At the local and State levels, he has participated in many clubs' activities, providing education to members and encouraging collecting by anyone to whom he could make a pitch. When working or living overseas, this includes encouraging local residents to collect.
Few IBNS members have had the impact that Howard A Daniel III has had on the IBNS's mission as an educational organization.
Books published:
• Catalog and Guidebook of Southeast Asian Coins and Currency: vol I, France (two editions, 1975, 1978, BNR Press) (third edition pending)
• Catalog and Guidebook of Southeast Asian Coins and Currency: vol II part 2, Republic of Vietnam, 1992, Southeast Asian Treasury
• Catalog and Guidebook of Southeast Asian Coins and Currency: vol II part 3, Democratic Republic of Vietnam Coins and Currency,(two editions, 1995, 2016), Southeast Asian Treasury
• Catalog and Guidebook of Southeast Asian Coins and Currency: vol II part 4, Socialist Republic of Vietnam Coins and Currency, 2009, Southeast Asian Treasury
• Catalog and Guidebook of Southeast Asian Coins and Currency: vol III, Cambodia Coins and Currency, 2012, Southeast Asian Treasury
• Catalog and Guidebook of Southeast Asian Coins and Currency: vol IV, Lao Coins and Currency, 2014, Southeast Asian Treasury
Also a contributor to the Krause Publications line of international catalogs.
National and international organizations of which a member:
ANA, IBNS, NI, NBS, Society of Paper Money Collectors, Numismatic Literary Guild, Numismatic Association of Thailand, Numismatic Society of Indonesia.
Regional, state, and local organizations - many
Officerships held:
• IBNS - director 1996-2000, 2010-2012; 1st vice president 2000-2002; chair, IBNS young numismatist committee 2010-2015
• NI - Educational Program Coordinator 2001-2014
• Virginia Numismatic Assn - Walt Mason Award selection committee
• Several positions in local clubs over many years (including overseas)
Previous awards received:
• "Numismatic Ambassador," Numismatic News, 2004
• Glen Smedley Memorial Award, American Numismatic Assn, 2008
4. Howard has been a mentor to the junior members, going so far as to pay their dues until they are qualified for Adult Membership. I am not sure how long he has done this but I would guess at least 20 + years. He sets up at many Paper Money shows and runs the IBNS tables at these shows all over the world. He is an Author, Researcher and Publisher of books on Southeast Asia. He gives talks to students and adults at Meetings. He also hands out free Paper Money to many of the children that he sees at the shows. Howard is a Great Ambassador for the IBNS. He is always sharing of his information and knowledge. He has been on the IBNS Board and is always willing to help. He is exceptionally passionate about the Hobby of Collecting and belongs in the Hall of Fame.
For more information about the International Bank Note Society, see:
https://www.theibns.org/
Speaking of mentoring newbie numismatists, Dick Johnson submitted this report of his recent activity in this area. Thanks! -Editor
I did something this week, I hope, for the future of coin collecting. I tried to influence a distant relative to start collecting coins.
My sister told me her great grandson was nine years old and she wanted to start him collecting coins. She wanted me to write him a note to become a new collector. Instead of writing something I dictated a tape to listen to. Kids are more auditory, I reasoned, than visual, if they can put down their cell phone long enough.
I was nine when I first started collecting coins. So many collectors I know started about this age. Some lose interest in mid teens for sports and dating. Often, however, they return as an adult, age 35 or later.
A co-worker of my father, Allison Lowe, influenced my father to buy for me a "penny board," the flat kind. It was February 1939 - the portholes were only dated up to that year. I filled in every one, even the 1922 broken D, but without the S-VDB, all from circulation.
Despite our age differences, Allison Low, was a friend. He specialized in buffalo nickels, making up sets from circulation. You could do that in the 1930s and 40s. I bought one set from him for $20. I still have it, more than 75 years later.
Collectors are not born spontaneously. They need someone to introduce them to the hobby. I hope my great grand nephew becomes a lifelong collector.
A new exhibit at the British Museum highlights the work of the Money and Medals Network. -Editor
Money and Medals: mapping the UK's numismatic collections is the first of two British Museum exhibitions in Room 69a to be sponsored by Spink. It celebrates the achievements of the Money and Medals Network, one of many subject specialist networks that provide help and advice to UK museums. Run by the British Museum, the Money and Medals Network promotes numismatics – the study of coins, medals, banknotes and associated objects – and enables the sharing of knowledge in this field. This exhibition demonstrates the geographical spread of this work through the display of objects from six participating institutions, many of which have never been loaned before.
A framed set of replica Greek coins, dating to the late 19th century, has been specially loaned from the Science Museum for the display. In the past, the British Museum shared numismatic knowledge with other museums, in what could be seen as an early numismatic network, by making and distributing replicas of coins from its own collection. The examples chosen were considered by the Museum to be particularly fine examples of coins from different periods, and their distribution enabled other institutions to share the Museum's collection. The British Museum shares numismatic knowledge in different ways today, through projects like the Money and Medals Network.
Over 150 museums, country houses, libraries and universities from across England, Wales, Scotland and Northern Ireland are members of the Money and Medals Network. The objects in this exhibition represent the range of diverse collections that are available for visitors to UK museums to enjoy, including unusual objects such as badges, toy money and money boxes. Exciting loans from the Magic Circle Museum will be displayed, including a Magic Money Machine which seemingly transforms a roll of blank paper into banknotes, and a boxed set of coin tricks which must be displayed closed to ensure that no secrets are revealed. The use of money in the performance of magic continues to fascinate today, demonstrating that while numismatic objects may be small, they are certainly not boring.
Representing the UK's military museums, the exhibition also includes objects belonging to Henry Hook VC, from the Regimental Museum of the Royal Welsh, which have never been loaned to another museum before. After winning the Victoria Cross for gallantry at the Battle of Rorke's Drift, Hook was helped to a position in the British Museum, dusting the books in its library collection, by a letter of recommendation written in 1881 by his former commanding officer Lord Chelmsford. This is being displayed alongside letters from John Chard and John Williams VC as well as Hook's set of medal miniatures. These objects illustrate Hook's story and his connection to the British Museum, while offering a rare opportunity to see autographed letters from three important figures in the Anglo-Zulu War, which was fought between the British Empire and the Zulu Kingdom in 1879.
Representing Network activity in Northern Ireland are loan objects from Armagh Robinson Library, an institution founded in 1771 by Archbishop Richard Robinson. Robinson collected coins and medals and a selection of his Roman coins and replica medals of Louis XIV are being included in the display. A varied range of numismatic objects borrowed from Inverness Museum and Art Gallery also feature in the exhibition, representing local history collections and the Network's presence in Scotland.
Another example of the Network's success is being told through objects from Knowsley Hall. A collection of mostly Roman coins was discovered at this Merseyside country house in 2013. This display includes a selection of coins and tokens from Knowsley and a copy of the Money and Medals newsletter that featured a request for help from local numismatists that led to the collection being fully identified and catalogued.
Money and medals: mapping the UK's numismatic collections, sponsored by Spink, seeks to raise awareness of the work of this subject specialist network, which aims to make numismatics more accessible to museum staff and the public alike. The selection of objects on display reveals the wealth of collections held in UK museums and other public institutions.
Hartwig Fischer, Director of the British Museum, said: "The British Museum is delighted to be hosting this display, marking the beginning of a partnership with Spink. It is thanks to their generosity that we are able to bring this display to life".
Olivier Stocker, Chairman and CEO of Spink, said: "After celebrating our 350th year of continuous business in London, we wanted to lay the foundations for our next century in Numismatics, a cornerstone of our operations globally, and this partnership with the British Museum is a natural fit towards that future. The first two exhibitions are fascinating and we cannot wait to welcome our friends and clients to the British Museum for some inspiration with the guidance of the curators from our august neighbour. It is an honour and privilege to be associated with the best museum in the world".
Henry Flynn, exhibition curator at the British Museum, said: "The Money and Medals Network has been actively helping museums with numismatic collections since its creation in 2008. Activity has spread from England to Scotland, Wales and Northern Ireland so it is now a truly national network. This exhibition celebrates this work as well as championing the subject of numismatics through the display of loan objects from six fantastically diverse collections. Numismatic objects may be small, but they can be used to tell big stories which is something this exhibition aims to demonstrate."
To read the complete article, see:
Money and Medals: Mapping the UK's numismatic collections" opens at the British Museum (http://artdaily.com/news/102647/-Money-and-Medals--Mapping-the-UK-s-numismatic-collections--opens-at-the-British-Museum#.Wo6ka6jwaAs)
NOTE: the Money and Medals Day Conference is due to be held at the British Museum on the 23rd of March 2018. "this event will feature themed sessions on collections mapping, numismatic networking, education and outreach projects and innovative numismatic displays. The day is free to attend and open to anyone working or volunteering with numismatic collections in UK museums and other public institutions." -Editor
For more information on the Money & Medals Network, see:
http://www.moneyandmedals.org.uk/
Remember the piano tuner who found a hoard of gold coins stashed in an old piano? A local museum is seeking to acquire the piano and some of the coins for an exhibit. -Editor
In 2017, hundreds of coins dated between 1874 and 1915 were found inside a piano in Shropshire and investigations showed that the coins were hidden by a Saffron Walden resident in the early 20th century.
The hoard of 913 gold sovereigns and half-sovereigns has been declared treasure and made available to the British Museum and Saffron Walden Museum for acquisition.
Saffron Walden Museum needs to raise £3,000 to bring home a representative sample of the coins, as well as the packaging and the piano.
The museum hopes that the coins and the piano can be displayed and used for education sessions with local schoolchildren.
Leah Mellors, collections officer at the museum, said: "We are very keen to bring the piano hoard home to Saffron Walden and to preserve it for the benefit of our local community. But we can't do that without the support of local people."
So far, thanks to the generosity of local individuals and the Saffron Walden Round Table, the museum has raised £900.
To read the complete article, see:
Town museum makes bid to acquire hoard of rare coins hidden in piano (http://www.dunmowbroadcast.co.uk/news/town-museum-makes-bid-to-acquire-hoard-of-rare-coins-hidden-in-piano-1-5404508)
To read the earlier E-Sylum articles, see:
PIANO GOLD COIN HOARD DISPLAYED (http://www.coinbooks.org/v20/esylum_v20n17a39.html)
PIANO TUNER FINDS GOLD COIN STASH (http://www.coinbooks.org/v20/esylum_v20n03a21.html)
Bob Rightmire writes:
Interesting. Can anyone help? -Editor
It's been called the greatest lost treasure in U.S. history. More than $50 million worth of gold sank to the bottom of the ocean when the SS Central America sank in a storm in 1857. What unfolded afterward is a tale of tragedy, deception and ultimately discovery. Now the treasure will go on display at the Long Beach Expo Thursday, Feb. 22, through Saturday, Feb. 24.
Before that could happen, slowly and carefully, more than a century of sediment was removed from the treasure: some 3,100 gold coins and more than 10,000 silver coins, all recovered in 2014 from what's known as the "Ship of Gold."
"This is a whole new season of discovery for me," said Bob Evans, chief scientist and curator of the treasure. "There's something new and wonderful comes out every day. They have stories to tell."
Evans began hunting for the sunken treasure more than 30 years ago. He was aboard the expedition lead by Capt. Tommy Thompson in the late 1980s when they first spotted what they called the "Garden of Gold" more than a mile below the surface.
"Gold bars and coins ... lightly covered with sediment. That's kind of what's fascinating about it in some ways. You've got this coral that is like growing right out of a block of gold," Evans said.
Using a robotic vehicle they'd built in a garage, they were able to scoop up some $50 million in gold.
To read the complete article, see:
Sunken treasure from Gold Rush-era shipwreck to go on display (https://www.cbsnews.com/news/sunken-treasure-ship-of-gold-ss-central-america/)
Evans, a geologist by education and training, was involved with the location and initial salvage of the shipwreck site off the coast of the Carolinas and every salvage expedition since 1983 as chief scientist and historian. Evans has documented the retrieval of every coin and artifact from the site of the wreck of the Central America, which sank Sept. 12, 1857, during a hurricane.
Coin World had the privilege of meeting Feb. 13 with Evans at Collectors Universe in Santa Ana., California, in the inner sanctum of a Professional Coin Grading Service facility where he was entering his 34th straight 10- to 12-hour work day curating the treasure on behalf of its owner and marketer, the California Gold Marketing Group.
The article mentions three gold coins with U.S. merchant counterstamps - these are rarely seen, and I'll look forward to reading their eventual auction lot listings: J.J. POLHEMUS / DRUGGIST on an 1854-O Coronet $2.50 quarter eagle, WW. LIGHT / DENTIST on an 1852 Wass Molitor pioneer gold $5 coin, and H.H. PIERSON / DENTIST on an 1846 Coronet $5 gold half eagle. -Editor
To read the complete article, see:
SS Central America treasure undergoing curation before grading (https://www.coinworld.com/news/us-coins/2018/02/ss-central-america-treasure-under-curation.all.html)
Here is the press release with highlights from the upcoming Kagin's auction at the American Numismatic Association's National Money Show in Irving, Texas. -Editor
PATTERNS AND PAPER HIGHLIGHT KAGIN'S AUCTION ANA NATIONAL MONEY SHOW MARCH 8-9.
"Once again our official ANA auction provides something for everyone who collects American Numismatics," declared Don Kagin, President of Kagin's Auction. The auction is held in conjunction with the American Numismatic Association's National Money Show in Irving, Texas March 8-9, 2018.
The sale commences with the Colonial series featuring a number of early issues from Massachusetts, Maryland and Connecticut highlighted by the Finest Known 1737 Higley Three Hammers Ex: Ford. Two Texas Jolas including the rare 1817 follows along with a popular Continental Dollar and several important Colonial Medals.

Lot 1009: 1737 Higley Copper

Lot 1205

Lot 1396
Other tokens and medals including a set of Norse pieces precedes the Federal coinage. The latter includes many popular type coins such as a 1793 Chain Cent, over forty 2 cent pieces, a 1792 Half Disme; 1844 Orphan Annie dime and an 1796 25c, all of which are well within the means of the average collector. High end rarities for the sophisticated collector include an 1818/5 Gem off-centered quarter from the Boyd/Stack collections and the Proof 1842 Half Dollar also from Boyd. A small but interesting assortment of gold coins including a Proof-64 Ultra Cam 1898 $2 ½ will also be offered.

Lot 1396

Lot 1468
One of the featured collections of this sale is over 50 patterns from the Dr. George Barber collection. The star of this series is possibly the finest 1872 copper Amazonian Half. These are followed by Dr. Barber's So-Called Dollar collection. No Kagin Auction sale would be complete without some Pioneer Gold and selections from shipwreck treasure. This series is highlighted by two gold ingots from Kellogg & Co. and Harris, Marchand & Co from the S.S. Central America shipwreck. They are small so will be popular among those wishing to finally acquire one reasonably, claims the auctioneer. Miscellaneous California Gold and Hart Tokens close this session.
Friday night's session of paper currency commences with a small offering of Colonial, and Confederate bank notes. Regular federal currency include a rare 1862 $50 Legal, high end specimens of $20 and $50 Compound Interest Treasury Notes and several gem type notes and specimens, small size and National bank notes.

Lot 1481

Lot 2279
The auction includes a number of fractional currency notes and several errors. Then follows The Michigan Collection of the largest and finest collection of Encased Postage Stamps offering 145 different varieties of this intriguing series which bridges both the numismatic and philatelic world. All the rare merchants including Miles, Claflin and Sands Ale are represented as well as all denominations including one of four known 2 cent "Blackjacks". Many are the finest specimens known.

Lot 3084 front

Lot 3084 back
The final session features the Carlson R. Chambliss collections of Federal Reserve and Federal Reserve Bank Notes. There are fully 84 FRBN varieties including the ever popular St. Louis $50. The Federal Reserve Section includes 175 individual variety lots as well as several multiple lots. Every note is a distinct variety and believed to be part of the most extensive collection of these series offered since the Jim Thompson sale over a decade ago. Many of the notes, including the scarce red seals, are among the finest known and some may be the only collectable example available.
All lots are unreserved.
Besides free on-line memberships to the ANA for all who register and other free reference books to successful purchasers, Kagin's offers a Loyalty Program of 1% of your purchases back in credit toward their next two auctions. To register to bid and/or receive a free catalog go to auctions.kagins.com, call 888-8kagins (852-4467), or email info@kagins.com.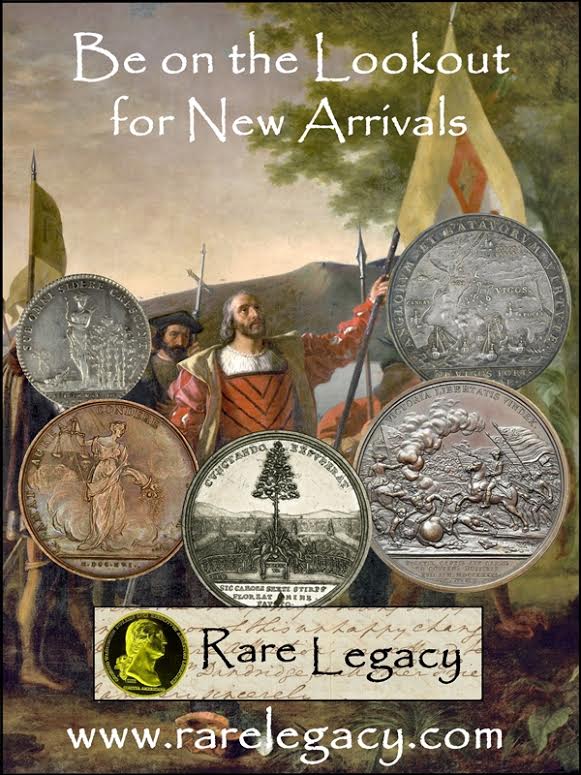 Kagin's Auction to Offer Major Encased Postage Stamp Collection at ANA National Money Show in Irving, TX March 9
Kagin's Auctions will be offering The Michigan Collection of encased postage stamps at the American Numismatic Association National Money Show in Irving (Dallas) Texas Friday March 9th. It is believed to be one of the most comprehensive sets ever and perhaps currently the finest and most complete including 147 different varieties. It is the result of some 25 years of working with Kagin's Inc. attempting to fulfil a dream of acquiring all known varieties. The pedigrees include pieces from almost all the most complete and famous collections including Mayer, Kelly, Ford, Kagin and by extension, Wilcox, Dunham, Perl, Green and Lilly.
Encased postage has always been one of the most historical and elusive of all numismatic and philatelic items to collect, and consequently one of the most rewarding to acquire. These coin substitutes helped augment the inadequate Federal coinage during our nation's Civil War. In 1862 paper money was not backed by gold and silver and commerce was strained due to a shortage of coins which were being hoarded. Various attempts to alleviate the small change shortage included private companies issuing Civil War tokens, the government authorizing the use of postage stamps in trade, and business issuing promissory notes for change.
Entering the fray was entrepreneur John Gault who patented the use of enclosing a U.S. stamp from 1c to 90c denominations with a round piece of brass. The stamp was sandwiched in between a roughly quarter sized piece of brass with a hole cut in it (the frame) followed by mica to protect the stamp, a piece of cardboard, and finally, a brass backing. A button making machine pressed these items together, the bent the edges of the brass frame over the edge of the brass back. Many of the cases of early examples were silvered to make them look closer to real coins.
Gault sold the encased postage pieces to over 30 different merchants at about 20% over face value and another 2 cents each for stamping their advertising on the backs. Merchants and their products included J.C. Ayer & Company selling Sarsaparilla to "purify the blood", White the Hatter, and retailer Lord & Taylor who survives today.
The first major offering of encased postage was in 1901 when S. H. & H. Chapman sold the Wilcox collection consisting of 88 different varieties. It was described at that time as "the finest collection ever sold." The next significant offering was five years later when the Hiram E. Deats collection was sold by Ben G. Green. In May of 1914, the Ben G. Green Collection, containing 133 varieties (many of which were in the Wilcox Collection and from dealer Ed Frossard in 1890), was purchased in its entirety by William F. Dunham.
The Dunham collection was auctioned in 1941 by B. Max Mehl and was, up to that time, the finest collection ever formed with 163 recognized varieties. Dunham's collection was acquired in its entirety by F.C.C. Boyd. In turn, numismatic dealer, John J. Ford acquired Boyd's collection and when Ford's collection was sold by Stacks in 2004 it comprised 197 different pieces.
Other significant collections include those of the T. James Clarke collection in 1956, the Josiah K. Lilly collection, sold by Robert A. Siegel in 1967, the Arnold Perl collection, sold by Stacks in December 1969, the Donald Kagin collection (150 different varieties), sold intact in 1983 and then resold in the "Abby" sale by Kagin's Numismatic Auctions in February 1988.
Frederick Mayer, purchased pretty much every variety he did not acquire from the Kagin and Ford collections and when his collection was sold by Currency Auctions of America (owned by Heritage) in 2007 it contained 205 different varieties, the most complete ever assembled.
The Michigan Collection contains 147 different varieties and represents many of the finest single specimens that could be obtained for each denomination and from every merchant.
A complete variety set (238 pieces) has never been formed, and most likely never will be. Yet, many "complete" sets within the broader "full" sets are within the grasp of the determined numismatist. Encased postage may be collected by denomination, by merchant, by type of merchant (medicinal, dry goods, etc.), by locality of merchant or whatever way one chooses.
I greatly enjoyed my quest to assemble a merchant set of encased postage stamps. I never acquired the great rarities like Clafin or Miles, but did own a number of quite scarce pieces, including a Sands' Ale. A large sale of EPS like this is a perfect opportunity to document a great collection, and it's a superb opportunity for buyers as well. Collectors have a chance to obtain rarities seen only once in a generation, and dealers can load up on eye-catching stock for the future. Good luck, bidders! -Editor
For more information, or to bid, see:
auctions.kagins.com
Here is the introduction to the catalog of Fred Holabird's March 15-18 2018 Gold Rush sale. Bibliophiles should note that a numismatic library is on offer as well. -Editor
Hello Everybody and Welcome to our Gold Rush sale of 2018!!
The sale features the Al Adams Gold Rush Memorabilia Collection and a number of others. Mr. Adams has been collecting for over 40 years, and along the way assembled perhaps the best collection in private hands, making this sale a "Once in a Lifetime Event." His specialty is an area few Americans ever knew about- the Georgia - North Carolina gold rush, c1799-1840's, literally decades before the California Gold Rush. Just think about some of the great pieces in this collection:
The first Gold Company stock certificate (1807)
• 1830 Letter from Georgia Bank to US Mint asking what to do with the gold coming in
• Gold Lottery Tickets for Georgia land
• Gold Lot Deeds with Medals rarely seen by collectors
• Pigeon Roost Mining Co. scrip collection (1835-1838), possibly the finest assembled
• Belfast Mining Co. scrip collection (1830's), finest assembled
• Dahlonega, Charlotte, San Francisco, Carson City, Denver, New Orleans, Philadelphia Mint gold bullion receipts
• Gold Rush era private assayer bullion receipts from California, Nevada, Colorado, Idaho, Montana, Oregon and Arizona
• 1840's, 1850's and 1860's mining company stock certificates from both the east (Appalachian gold belt) and the West (California, Nevada, Colorado) – the best offering ever.
These tidbits are part of this unique sale, which makes it the best offering of its kind in history.
The Gold Rush sale is nothing short of phenomenal.
The Gold Rush Setting
Here is the setting under which the gold discoveries in Georgia and North Carolina were made:
…Imagine a world before the civil war, before the gold rush, right after the United States was formed. We had just created our first coinage in the early to mid 1790's. As a country, we had just 16 states by 1800, which crept up to 24 states by 1821 and remained there for 15 years! Development of the areas south and west of and in the original 13 states was slow. It was called the "western frontier". The "America" then consisted of Native Americans and expats from western Europe looking for a better life. Most were farmers or merchants. The "scientists" of the western world remained in western Europe. Mankind dint know much about geology- indeed, the first geologic map was printed in Europe in 1799, and it would take another 25-30 years before we had anything similar in America. The science of ore deposits was not well understood, and was only just recently out from under the mystique of Alchemy.
Enter the discovery of a gold nugget in North Carolina in 1799. It took fully 29 years before substantive gold discoveries were made in Georgia and North Carolina. Here is the amazing part- these discoveries were made from good-old American ingenuity. Not one single miner had an education in mining in Europe. As far as is known, not a single man in the Georgia, North Carolina gold rush had been a miner. These men developed the ability to look for gold and mining systems on their own in the American wilderness, a marvelous feat of accomplishment – a true iconic part of American ingenuity at its best.
Auraria Mining Companies Create Their Own Money
Gold slowly flowed into the Philadelphia Mint coffers from Georgia and North Carolina. The decision to build branch mints was a major step for the US Mint. Once announced, it became clear that an internal monetary system needed to be developed. The Pigeon Roost and Belfast mining companies gambled they could fulfill the need for a circulating currency in paper.
Templeton Reid and C. Bechtler had created circulating gold coinage, but no effort was made to expand the market into the Auraria-Dahlonega region. Little historical record remains to tell us why.
Subsequent to publishing Gold at Pigeon Roost, I was able to uncover a tremendous amount of new information, which was presented at a well-attended lecture at the annual meeting of the American Numismatic Association. This new information taught us that the North Carolina, Georgia and California gold rushes were much, much more intimately and intricately connected that first known.
After the discovery of gold with a big nugget in North Carolina in 1799, which did not trade hands until a few years later, a gold company was formed to explore for and mine gold. An 1807 stock certificate for that company is in this sale. While the production of that company is yet unknown (but I'm not finished with that research), it led to a small degree of prospecting in the Rutherford region. Family clans and often religious groups moved into this remote region in the early 1820's for freedom and a place to raise food. Along the way, gold was discovered. Some of these clans moved into Sautee Valley near Duke's Creek and elsewhere, bringing their limited gold mining knowledge with them.
By the early 1830's, gold production was under way in five major regions surrounding Dahlonega. Templeton Reid's brother became a major gold merchant, obtaining contracts from miners throughout the Georgia gold regions, particularly the Sautee Valley. Along with Reid, who was based in Kentucky, came John Little Moffat. His property was near the head of Sautee Valley bisected by a creek adjacent to Duke's Creek. Reid appears to have sold gold to Bechtler, hence his Georgia gold pieces.
The Decision to Build a Mint
Once the decision to build a branch mint was made in 1835, it created the opening for the mining companies to create currency. Pigeon Roost and the Belfast mining companies created paper currency to fill the circulating currency void until the branch mint was completed in 1838 and the first Dahlonega gold coins were finally minted and circulated. That brought the end of the need for the Pigeon Roost and Belfast scrip.
Joseph Farnum became the first assayer, and he later went on to be the first known assayer in California in 1848, then was sent by Mint Director Patterson to Britain to settle disputes involving US and Private gold coinage that had been greatly disparaged by the British banking system.
More on the Auction
To add to this remarkable collection are hundreds of mining artifacts, including many collected from Georgia mines, as well as a fantastic Numismatic library inclusive of many rarities.
Other collections featured include the collection of Robert Bennet, a well known mining geologist who spent a good part of his career working the Goldfield district. During his 45-plus year career, he collected high grade ore specimens from many major mines he was lucky enough to work on, and these are dutifully included in this sale, as are gold and fabulous turquoise specimens from longtime collector Jerry Gray of Carson City.
Our friend Vern Potter, a national ephemera dealer known to all, retired from the business and gave us his massive collection, some of which is here, including gold rush era exchanges, important maps, and special documents you haven't seen in decades (more in coming sales!). Added to this are pieces from the Ken Prag Collection, which keeps on coming with great rarities!
Gold rush era coins, such as a complete Hart gold token set, -all graded and holdered; a number of Carson City coins; a fabulous 999 fine golden egg custom made for an Arizona collector in 1982; gold rush era soda bottles in hues of cobalt blue, teal, green from San Francisco, Sacramento and Savannah; Nevada mining camp bottles; Pawnee Bill full color posters – an integral part of Western history all supplement an otherwise terrific sale; and choice western mining photographs.
Rare books with a mining theme are also present, from several collections, including the Robert Fulton collection (former head of Univ. Nevada, reno in the 1920's). A key piece from one of the collections is an inscribed Sutro Tunnel book to Melville Atwood from the "Father of Arizona" Charles D. Poston.
The mining stock certificate collections offered here are among the best ever offered by us. They include four major collections. including the Laguna Collection of rare Arizona stocks, part of a major Bodie collection, antique firearms, and rare Tahoe gaming chips.
For more information, see:
http://www.fhwac.com
Here's a selection of interesting or unusual items I came across in the marketplace this week. Tell us what you think of some of these. -Editor
Parion Hemidrachm with Gorgon Face

PARION, Hemidrachm, 350-300 BC, Gorgoneion facg/bull stg l, looking back, branch below, as S3919 (£85); Choice EF, nrly centered & well struck, good bright silver, superb Gorgon face.
Note that according to legend, looking at the Gorgon's face would turn you to stone. I have looked at a great many coins with Gorgon faces, over the years; but I have never been turned to stone (yet).
This one is lot 129 in Frank Robinson's Auction 104, closing March 27, 2018. The sale includes Frank's personal collection of early India coinage. -Editor
To read the complete lot description, see:
SALE 104, PART 2 (http://www.fsrcoin.com/b.html)
1892 Wells Fargo Souvenir Columbian Half Dollar

Description: Presented to the employees of Wells Fargo & Company is an 1893 Colombian Exposition commemorative half dollar. In cardboard presentation that reads "A Keepsake from Wells Fargo & Company In Token of Regard and in appreciation of faithful services. John J. Valentine, president. 4 x 2 1/4 inches. Rare. (Al Adams Gold Rush Memorabilia Collection) Date: Location: HWAC# 58013
With our recent discussion of the Tidy House silver dollar I'd been wondering what other such promotional items might have appeared in the past. So this lot from the upcoming Holabird sale of the Al Adams Gold Rush Memorabilia Collection caught my eye - I'd never seen one of these before. Great item! -Editor
To read the complete lot description, see:
1672 Wells Fargo & Co. Columbian Half Dollar (https://holabirdamericana.liveauctiongroup.com/Wells-Fargo-Co-Columbian-Half-Dollar_i29370475)
1998 SBC Communications Medal

Description: SBC COMMUNICATIONS INC. BRONZE MEDAL
To read the complete lot description, see:
Lot 609: SBC COMMUNICATIONS INC. BRONZE MEDAL (https://www.invaluable.com/auction-lot/-1-c-0A6463F911)
The most spectacular ancient coins are often sold by "private treaty" without an accessible record. But for public auctions, it is still unusual for an ancient coins or medieval coins to exceed a price of one million US dollars (£715,389 UK pounds or €805,289 euro at the time of writing). It gets complicated, because reported prices may or may not include the 15% to 22.5% "buyer's fee" auction houses add to winning bids.
In contrast, classic collectible rare US coins so often bring prices over a million dollars now that it hardly rates notice in the trade media.
The record holder for an ancient Greek coin is the facing portrait gold stater of Pantikapaion, which brought $3,250,000 in a 2012 New York auction.
To read the complete article, see:
Million Dollar Ancients (and a Few That Come Close) (https://coinweek.com/ancient-coins/coinweek-ancient-coin-series-million-dollar-ancients-come-close/)
Last week Kyle Ponterio mentioned the three British Triple Unites featured in an upcoming sale. Here's an excerpt from a blog article about them by Stack's Bowers and Ponterio cataloguer Chris Chatigny. -Editor
Stack's Bowers and Ponterio is very pleased to offer a trio of British gold Triple Unites – the largest and heaviest hammered gold coin produced in England – in the April 2018 Hong Kong Showcase Auction. During the reign of Charles I (1625-49) a number of factors strained the relationship between the King and Parliament. The King's marriage to a Roman Catholic, failure in wars with Spain and France, the levying of taxes without the consent of Parliament and the use of antiquated laws to fine individuals led to revolts from both the Scots and the Irish and estranged the King from the main factions in Parliament. One of the final blows before the start of the war was Charles' attempted arrest of five members of the House of Commons, actually entering the House by force with an armed guard. After this failed arrest attempt Parliament seized control of London and Charles marched north to raise an army. The king would eventually control the west and north of England and set up his court at Oxford in October of 1642, which also produced coinage for the Royalists.
While assembled in Wellington before one of the first battles of the war the King made what became known as the "Wellington Declaration," wherein he declared he would uphold "the Protestant Religion, the Laws of England and the Liberty of Parliament." This slogan was afterward given a Latin abbreviation which was added to the design of several of his coins including the Triple Unites of 1642-44 which displays it on the reverse in three wavy lines or within an unfurled scroll. This design is surmounted by the Roman numeral "III" for the denomination and surrounded by three banded plume mintmarks. On the obverse we see Charles' half-length bust (at times robed) holding an upright sword and olive branch. This warrior image (along with the equestrian motif found on the silver issues) is prevalent in much of Charles' coinage and was meant to inspire as many of his subjects as possible. However his cause was all but lost by 1645 in the face of the Parliamentarians' New Model Army under Sir Thomas Fairfax and Oliver Cromwell. While seeking assistance from a Scottish army in Nottinghamshire Charles was handed over to Parliament only to broker a secret deal with the Scots leading to the Second Civil War where he was once again defeated. This time he was tried, convicted and executed.
The first of the trio of coins is dated 1642, with a Spink attribution of 2724, which indicates a tall, narrow bust. This example is certified by NGC at MS-61, and is the second finest certified at NGC with none of this type in Mint State at PCGS. The second example is dated 1643, with a Spink attribution of 2726 indicating a wider bust with a scarf. This example is certified by PCGS at AU-58, which makes it the second finest graded at PCGS, with one additional piece graded finer at NGC. The third and final example is dated 1644 with a Spink attribution of 2730. It is very rare and the only example of this variety certified at either PCGS or NGC. 1644 is the most difficult date to locate of this short-lived three-year type. This example is certified by PCGS at AU-55.
To read the complete article, see:
Trio of British Triple Unites (http://www.stacksbowers.com/News/Pages/Blogs.aspx?ArticleID=2867)
To read the earlier E-Sylum article, see:
BOWERS/WHITE CHINESE COPPER COIN SELECTIONS (http://www.coinbooks.org/v21/esylum_v21n07a24.html)
Four new 50p coins featuring some of Beatrix Potter's favourite fictional characters are to be released, the Royal Mint has announced.
Peter Rabbit, Mrs Tittlemouse and Flopsy Bunny will feature on the coins, which will enter general circulation for a limited time later this year.
Coloured collectable versions will be available to buy for either £10 or £60.
They will be added to the Beatrix Potter collection, launched in 2016 to commemorate 150 years since her birth.
The new designs will also include a helpful mouse from the story of the Tailor Of Gloucester.
Commemorative coins featuring some of Potter's other favourite creations first went on sale in 2016.
They included a different Peter Rabbit design, as well as Jemima Puddle-Duck, Squirrel Nutkin and Mrs Tiggy-Winkle coins.
Anne Jessopp, acting CEO at the Royal Mint, said the range had "grown in popularity since Peter Rabbit was first introduced onto UK coins in 2016".
My collection's a little light on Mrs Tiggy-Winkle coins. But hey, the colorization is nicely done, and I think these are respectable commemoratives. -Editor
To read the complete article, see:
New 50p Beatrix Potter coins released by the Royal Mint (http://www.bbc.com/news/uk-43106065)
To read the earlier E-Sylum article, see:
ANNE JESSOPP TO LEAD ROYAL MINT (http://www.coinbooks.org/v21/esylum_v21n07a19.html)
John Isles of Hanover, Michigan writes:
Thanks! I can't say I'd heard of that tradition either. Is it true? I wonder if there are contemporary references to the practice. It's an interesting group of tokens regardless. -Editor
For centuries, suitors would carve names on coins before tossing them into the river. Mudlark Steve Brooker has unearthed hundreds of them.
During the reign of William III, in the second half of the 17th century, it was the fashion for a young man to give a crooked coin to the object of his affections.
The suitor would bend the coin, both to make it an amulet and to prevent it being reused. If the token was kept, it indicated that affection was reciprocated, but if the coin was discarded then it was a rejection.
Mudlark Steve Brooker has unearthed thousands of coins from the banks of the River Thames over the past 25 years. In spite of his appearance – chest-high bespattered waders, grizzled beard and clutching a yellow plastic bucket and trowel – Brooker is a romantic at heart. Of all the treasures he has discovered in the mud, he cherishes his collection of love tokens the most, even if his passion for collecting them might occasionally risk compromising his own romantic appeal. "The smell is so unbearable down there it's unreal," he says. "Even once you've had a shower you stink. My wife is a bit upset about it."
With a river flowing forever to the sea, there is a sense of a connection to the infinite. There is also an undeniable romance in the notion of a lover secretly throwing a token into the water.
For centuries, smoothed coins were used as love tokens, with the initials of the sender engraved or embossed on the surface. Sometimes these were pierced, which gave recipient the option to wear it around the neck.
Brooker's collection ranges from heavy silver coins with initials professionally engraved, to pennies worn smooth through hours of labour and painstakingly engraved letters. The amount of effort expended in working these coins – smoothing, engraving or cutting them – speaks of the longing of the makers.
It was not part of the conceit that someone might ever find these coins centuries later. We can only surmise that engraving your or your beloved's name on a coin and throwing it into the water was a gesture to attract good fortune.
I reached out to Love Token Society President Carol Bastable to ask if this practice was common in the U.S. -Editor
Carol writes:
To read the complete article, see:
Tokens of unrequited love? Thames yields 'crooked coins' tossed in by romantics (https://www.theguardian.com/cities/2018/feb/09/tokens-unrequited-love-thames-mudlark)
Since we've discussed the "coin" used in deciding the opening possession in American football, I wanted to note that the practice of having a special coin for opening sporting events is worldwide. Here's an item from a Pakistan publication about a Sri Lankan cricket match. -Editor
The special gold coin was used for the toss before the commencement of the second T-20 match played at the Sylhet International Cricket Stadium. This was revealed by Nizamuddin Chaudhury, the CEO: Bangladesh Cricket Board (BCB). Speaking exclusively over his mobile from Bangladesh, he said, "the special gold coin used for the toss, which was made to commemorate the first ever international game played at Sylhet".
"This was the first bilateral match between the two countries, though we have hosted the ICC (International Cricket Conference) event match in the past and whenever the first international match is hosted at the new venue in our country, we prepare a special coin and it was no exception this time". One side of the coin has an image of the Si Lanka Cricket (SLC) with its team logo.
The gold coin (weight not known) was tossed in the air and won by the home captain Mohammad Mahmudullah when the visiting captain Dinesh Chandimal did not call it correctly in the presence of match-referee David Boon.
"The original tossed coin has not been handeed over to either captain but will be treasured in the BCB custody", the CEO added.
However, he added, "the replica of the coin will be handed over to the visiting team", he signed off.
To read the complete article, see:
Sri Lankan team gets replica of the gold coin (https://pakobserver.net/sri-lankan-team-gets-replica-gold-coin/)
Unfortunately, the article didn't include an image of the piece. So I reached out to our numismatic expert in Sri Lanka, my old friend Dr. Kavan Ratnatunga, who located some poor but passable images. Thank you! -Editor
Kavan writes:
Three Parkland, Florida high school students killed in last week's shooting have been awarded JROTC Medal of Heroism. -Editor
The U.S. military is awarding medals to three Junior Reserve Officers' Training Corps cadets who were killed in last week's high school shooting here, and one of them has received a rare posthumous admission to the U.S. Military Academy at West Point.
The three students — Peter Wang, 15, and Alaina Petty and Martin Duque, both 14 — were members of the JROTC program at Marjory Stoneman Douglas High School, which came under attack on Valentine's Day. Police said 19-year-old Nikolas Cruz — a former JROTC member at the school — opened fire inside the school with an assault-style rifle, killing 17 people, and authorities have hailed the JROTC members for their bravery that day in helping other students reach safety.
The U.S. Army Cadet Command said the JROTC Medal of Heroism is given to a cadet who does something "so exceptional and outstanding that it clearly sets the individual apart from fellow students" and "involved the acceptance of danger and extraordinary responsibilities, exemplifying praiseworthy fortitude and courage."
To read the complete article, see:
JROTC members killed in Florida school shooting receive Medal of Heroism; one is admitted to West Point posthumously (https://www.washingtonpost.com/national/jrotc-members-killed-in-florida-school-shooting-receive-heroism-medals-one-admitted-to-west-point-posthumously/2018/02/20/97df5ab0-167d-11e8-b681-2d4d462a1921_story.html?utm_term=.9279a5d55de8)
The JROTC medal isn't illustrated, but here's a Wikipedia article on the ROTC Medal for Heroism. -Editor
The ROTC Medal for Heroism is the highest United States Department of the Army medal awarded exclusively to Army Reserve Officers' Training Corps cadets. This award is presented to cadets who perform acts of heroism. As with other Department of the Army decorations, the award consists of a medal and ribbon, accompanied by DA Form 638. In the Army, this award is also known as the Medal of Heroism.
To read the complete article, see:
ROTC Medal for Heroism (https://en.wikipedia.org/wiki/ROTC_Medal_for_Heroism)


Dick Johnson forwarded a compilation of images of "9 Awe-Inspiring Bookstores Around the World" published in 2015 by The Book Insider. Thanks! Here are some selections - see the complete article online for the rest. -Editor
El Ateneo in Buenos Aires, Argentina

The Last Bookstore in Los Angeles, California

Livraria Lello in Porto, Portugal

Cook & Book in Brussels, Belgium

To read the complete article, see:
9 Awe-Inspiring Bookstores Around the World (http://thebookinsider.com/beautiful-bookstores/)
It usually goes like this: Nathan Broshear orders beers and when it comes time to tip, he slides a $2 bill onto the bar.
The bartender does a double-take and says something about how he didn't know they still printed these things. Then he folds the note carefully into his own wallet. Mr. Broshear never has to wait long for a second round.
"If you order two beers, you're probably going to drop $2 in a tip anyway," Mr. Broshear says. "But if you drop a $2 bill in, the person feels like they got a $5 or $10 tip. But it still only cost me two dollars."
The country is divided into two camps when it comes to twos: Those who are barely aware $2 bills still circulate, and those who live the $2 bill lifestyle.
Mr. Broshear, firmly in the second camp, marvels at the deuce's efficiency. "I only have to get a single bill out," he says.
Pause.
"Why is that funny?"
Here's a factoid I wasn't aware of. -Editor
U.S. Air Force pilots who fly the venerable U-2 spy plane always keep a $2 bill in their flight suit.
Each pilot is issued a number identifying their chronological position among the 1,000 or so pilots who have flown the U-2 solo. Some pilots search until they find a $2 bill with a serial number whose final digits match their pilot number.
New pilots must provide $222 in $2 bills to fund the U-2 clubhouse at Beale Air Force Base, near Yuba City, Calif. Veteran pilots conduct periodic "conformity checks" to make sure new fliers are carrying at least one bill. The fine for a violation? $2.
"It's sort of a calling card," says one pilot, who goes by the call sign Nova.
The article also makes a case for carrying $50 bills, all the easier for paying a restaurant bill and scooting while everyone else shuffles credit cards around. I've taken to doing that in recent months. Who knew it was already cool? -Editor
To read the complete article, see:
What's The Most Useful Form of Cash? (Hint: It's not a $100 Bill) (https://www.wsj.com/articles/whats-the-most-useful-form-of-cash-hint-its-not-a-100-bill-1519402501)
To read earlier E-Sylum articles, see:
STEVE WOZNIAK'S PERFORATED PADS OF $2 BILLS (http://www.coinbooks.org/esylum_v18n36a40.html)
THE TWO DOLLAR BILL DOCUMENTARY (http://www.coinbooks.org/esylum_v19n36a19.html)
GOVERNMENT'S PLAN B: TWO DOLLAR BILLS (http://www.coinbooks.org/v20/esylum_v20n26a34.html)
THE TWO DOLLAR BILL BOOK (http://www.coinbooks.org/v20/esylum_v20n50a27.html)
As a member of the Currency Club of Chester County (CCCC), this article caught my attention because the club successfully influenced the redesigning of the $2 bill to commemorate our country's bicentennial in 1976. The result was a Series 1976 Federal Reserve Note. The obverse design was mainly unchanged from the Series 1963A Legal Tender Note with a portrait of Jefferson. However, the new reverse featured a depiction of the presentation of a draft of the Declaration of Independence to the Second Continental Congress, based on a painting by John Trumbull.
This basic design was proposed by the CCCC in a June 28, 1973 letter to the Federal Reserve Board. Attached is a copy of the letter, which was written by one of the club's founding members, Nelson "Doc" Aspen. The letter is courtesy of Dave Stitely, President of the CCCC.
Even though the Federal Reserve Board did not take up the club's recommendations for redesigning all of our nation's paper money, it is definitely interesting to compare the proposals made at that time to the recommendations made in the last few years to redesign our existing currency.
I believe that on the first day the $2 FRN's were issued (April 13, 1976 – Thomas Jefferson's birthday), Doc Aspen was in Washington for the ceremony. Like the $2 bill enthusiasts mentioned in the Wall Street Journal article, he has been a proponent of the $2 bill since its redesign in 1976. Even at age 94, he still carries $2 bills around to use in change or to give out to promote the not-so-popular denomination. His advocacy of the $2 bill has inspired several CCCC members to collect examples of this denomination over the years.
Here is a link to the CCCC website for anyone who may be interested in joining the club, which welcomes members of all ages and is strongly focused on numismatic education: http://currencyclubofchestercounty.org/ .
Here's a section of Dr. Aspen's letter. It suggested changes for all of the country's banknotes. It would have been interesting had these recommendations been followed, but the $2 bill change was still a great way to celebrate the Bicentennial. -Editor
Inscribed: "To Alice Horton / C.J. Egan / Valdez, Alaska: Went Through / Earthquake & / Tidal Wave"
C.J. "Truck" Egan inscribed this note to his sister, Alice Egan Horton. C.J. Egan was proprietor of The Pinzon in Valdez. Valdez was devastated in the 1964 earthquake and tidal wave.
Dick adds:
Here are some additional items I came across in the media this week that may be of interest. -Editor
Double-Tailed Quarter Dollar Error

Nationally-known error coin dealer Fred Weinberg always brings amazing error coins with him when he travels the national coin show circuit.
At the January 2018 FUN Show, Fred brought an error coin that for as hard as you look, you probably will never find in change – a double-tailed quarter.
The double-tailed quarter is one of the most unusual and highly coveted mint error in the modern U.S. series.
To watch the complete video, see:
Double-Tailed Quarter Dollar Error Coin – Most Expensive Washington Quarter Error – 4K Video (https://coinweek.com/video-news/double-tailed-quarter-dollar-error-expensive-washington-quarter-error-4k-video/)
VIDEO: 2018 PERTH MINT COIN PREVIEW

To watch the complete video, see:
Perth Mint 2018 Coin Video Preview – 4K Video (https://coinweek.com/video-news/perth-mint-2018-coin-video-preview-4k-video/)
Team Given Wrong Gold Medals at Olympics
The US men's curling team just realized the gold medals they were awarded moments ago say "women's curling gold medal" on them.
To read the complete article, see:
Team USA curling team members given the wrong gold medals at Olympics medal ceremony (https://www.usatoday.com/story/sports/winter-olympics-2018/2018/02/24/team-usa-curling-team-members-given-wrong-gold-medals-olympics-medal-ceremony/369778002/)
Promoting India's 10 Rupee Coin

India's central bank is reckoned to have sent out hundreds of millions of text messages in the last couple of days - all part of a rearguard effort to protect the value of the Indian currency.

Don't be too alarmed, the Indian economy isn't about to tank - not quite yet, anyway. The bank's herculean campaign is only designed to ensure the integrity of the country's humble 10 rupee coin - worth just 10 US cents or 10 UK pence.

To read the complete article, see:
The Indian coin that set off millions of messages (http://www.bbc.com/news/world-asia-india-43124087)

Curating Books for the Boston Athenaeum


And for the biblophiles among us, here's a great "Exit Interview" with the retiring curator of books for the Boston Athenaeum's 200-year-old library. -Editor
The Boston Athenaeum—a 211-year-old independent library in the center of Beacon Hill—is home to about 150,000 rare books. Some are old, and some are brand new. Some are huge, and some are tiny. Some are made of lead, some are made of shredded army uniforms, and one is, famously, made of human skin. Until recently, Stanley Ellis Cushing was in charge of all of them.

Cushing began his career at the Athenaeum in 1970, right after he graduated from college. He ended up staying for 47 years—"longer than anybody else in the last hundred years or so," he says—working as a bookbinder and conservator, then as the Chief of the Conservation Department, and finally as the first-ever Curator of Rare Books.

To read the complete article, see:
Exit Interview: I Curated Rare Books for a 200-Year-Old Library (https://www.atlasobscura.com/articles/stanley-cushing-interview-rare-book-curator-boston-athenaeum-library)

This week's Featured Web Site is ExpoMedals.com.