About Us
The Numismatic Bibliomania Society is a non-profit organization devoted to the study and enjoyment of numismatic literature. For more information please see our web site at coinbooks.org
Subscriptions
Those wishing to become new E-Sylum subscribers (or wishing to Unsubscribe) can go to the following web page link
Membership
There is a membership application available on the web site Membership Application
To join, print the application and return it with your check to the address printed on the application. Print/Digital membership is $40 to addresses in the U.S., and $60 elsewhere. A digital-only membership is available for $25. For those without web access, write to:
Terry White, Treasurer
Numismatic Bibliomania Society
P. O. Box 634,
Canal Winchester, Ohio
43110
Asylum
For Asylum mailing address changes and other membership questions, contact Terry at this email address: terrywhite5475@yahoo.com
Submissions
To submit items for publication in The E-Sylum, just Reply to this message, or write to the Editor at this address: whomren@gmail.com
BUY THE BOOK BEFORE THE COIN
Content presented in The E-Sylum is not necessarily researched or independently fact-checked, and views expressed do not necessarily represent those of the Numismatic Bibliomania Society.
New subscribers this week include: Mr. Diem Bui, courtesy of Howard Daniel; and Jeanette Violet. Welcome aboard! We now have 4,763 subscribers.
Thank you for reading The E-Sylum. If you enjoy it, please send me the email addresses of friends you think may enjoy it as well and I'll send them a subscription with your compliments. Contact me at whomren@gmail.com anytime regarding your subscription, or questions, comments or suggestions about our content.
This week we open with SIX new numismatic books, a brand new (old) pricing periodical, the loss of another prominent collector, and updates from the Newman Numismatic Portal.
Other topics this week include the Chicago Coin Club, Sculptor-Engraver Adam Pietz, the bankrupt Northwest Territorial Mint, numismatic educational fora around the world, Washingtonia collector Paul Magriel, postal notes, and numismatic literature dealer Douglas Saville.
To learn more about Flying Eagle and Indian Head Cent die varieties, Catholic churches in medallic art, Lord Stewartby, David Litrenta, Alfred Joseph Bull, the Hog Penny Pub, antitarnish paper, and the Long Whisker Dragon Pattern Dollar, read on. Have a great week, everyone!
Wayne Homren
Editor, The E-Sylum


The latest edition of the Red Book is on its way! -Editor
New 2019 OFFICIAL RED BOOK Includes More Coins, More Die Variety Photos Best-Selling Annual Guide Prices Nearly 8,000 Items
The 72nd edition of the hobby's Guide Book of United States Coins (popularly known as the "Red Book") will debut at the Whitman Baltimore Coin and Collectibles Expo on March 22, 2018. It features new and extensively updated content reflecting the current market for collectible coins. The Red Book can be pre-ordered online (including at Whitman.com) in several formats. After the Baltimore Expo it will be available from booksellers and hobby shops nationwide.
Coin collectors have used the Red Book to value their collections since the 1st edition was published in 1946. Over many years of guiding the publication through numerous revisions and improvements, long-time Senior Editor Kenneth Bressett, now serving in the role of Editor Emeritus, has often commented on the grassroots nature of the guide, and the way collectors regard it as a book that belongs to the entire hobby. "The Red Book is a reliable standard reference written not only for collectors, but by collectors," said Bressett. "Through their constant vigilance and input hobbyists contribute significantly each year to the Red Book's consistency and reflection of market trends."
At 464 pages the new 72nd edition prices nearly 8,000 entries in up to 9 grades each, with more than 32,000 retail valuations in total. "The Red Book gives a deep, wide-ranging look at today's retail prices," said Senior Editor Jeff Garrett. "We draw on the experience of more than 100 active coin dealers and market analysts nationwide."
Research Editor Q. David Bowers said, "The Red Book is a single-volume library. It gives collectors and dealers valuable historical information for every U.S. coin series, from half cents up through gold $20 coins, and more.&quot These are illustrated by 2,000 photographs, including more enlarged close-ups of rare die varieties this year.
The latest coins from the United States Mint""Lincoln cents, Jefferson nickels, Roosevelt dimes, America the Beautiful quarters, Kennedy half dollars, Native American dollars, commemorative coins, and government-packaged coin sets" are kept up to date.
The 72nd-edition Red Book includes illustrations of the Mint's new 2018 Centennial of World War I silver medals honoring the U.S. Army, Navy, Marines, Air Service, and Coast Guard, plus the World War I silver dollar and the new program of Breast Cancer Awareness commemoratives, including, struck for the first time ever, a pink gold $5 coin.
The 72nd edition covers 71 additional new issues compared to the 71st edition, and 15 new coin sets. Mintages have been updated across the board using the latest numismatic research and government data.
The 72nd edition continues a section that debuted with the 70th, covering foreign coins that circulated as legal tender in the British American colonies and early United States. This section includes photographs, history, and pricing for collectible Spanish-American, Dutch, French, and English coins dating from the 1550s to the 1820s.
Expansions and updates are also seen in the appendices. The appendix on modern U.S. Mint medals covers more than 40 medals and sets, now including the American Revolution Bicentennial medals, National Wildlife Refuge System centennial medals, silver Presidential medals, and others.
As in past years, collectors will benefit from the Red Book's recent auction records provided for significant rare coins. Listed throughout the charts are nearly 200 notable auction results. Combined with the listed retail prices, the auction data help advanced collectors understand the modern market for high-priced rarities.
In addition, the appendix of the "Top 250 U.S. Coin Prices Realized at Auction" has been fully updated. Since the last edition 2 more coins have broken the $1 million mark, for a new total of 95. The coin at #250, a 1794 silver dollar, sold for $4,200 more than #250 in last year's edition.
In a positive measure of the health of the hobby and ongoing numismatic research, the Red Book's bibliography includes 28 standard references published within the past five years.
The cover of the spiral-bound 72nd edition shows a mix of classic and modern American coins: a 1792 Birch cent, a 2017 Boys Town commemorative silver dollar, and an 1855-S Liberty Seated half dollar.
All versions and formats of the 72nd-edition Red Book will be available at its national debut at the Whitman Publishing booth during the Baltimore Expo, March 22" 25, 2018, at the Baltimore Convention Center.
About the Guide Book of United States Coins
A Guide Book of United States Coins is the world's most popular annual retail price guide for U.S. coins, tokens, and other numismatic items. 24 million copies have been purchased since 1946, making it one of the best-selling nonfiction titles in the history of U.S. publishing.
For the 72nd edition, more than 140 professional coin dealers, scholars, and other numismatic experts contributed their knowledge under the direction of Senior Editor Jeff Garrett, Research Editor Q. David Bowers, and Editor Emeritus Kenneth Bressett.
The 72nd edition of the Red Book is available online and at bookstores and hobby shops nationwide. In addition to offering a Large Print Edition and several formats of the regular edition (hardcover; spiralbound softcover; and spiralbound hardcover), Whitman Publishing is also taking pre-orders for the leather-bound Limited Edition (250 copies autographed by Bressett). Details about the forthcoming 1,504-page expanded Deluxe Edition, popularly known as MEGA RED™, will be available at the Whitman Baltimore Expo and pre-orders will be taken for anticipated delivery in June. For more information and to order, visit Whitman Publishing at www.Whitman.com.
This week I came across a recent book on Flying Eagle and Indian Head Cent Die Varieties by Russ Doughty. I contacted him and he provided the following information. Thanks. -Editor
The book contains over 160 pages of full color images of the best varieties in the Flying Eagle and Indian Head Cent series. It discusses how dies were made, what die varieties are, details about the designs, and collecting strategies. It also includes planchet specifications, mintage, number of dies made, and has a checklist. I wrote the book and it was published in May 2017 with a run of only 200 copies. It costs $29.95 free shipping. The ISBN is 978-0-692-89623-5. It can be ordered on my website - www.indianvarieties.com - or by sending a check or MO to:
Russell Doughty
PO Box 1731
Noble, OK 73068
Russ also provided this biographical background. -Editor
I'm a life member of the ANA, President of the Oklahoma Numismatic Association (ONA), and a PhD student at the University of Oklahoma's Department of Microbiology and Plant Biology where I study land cover change and vegetation productivity using satellite observations from space. More information about me can be found here: https://indianvarieties.com/russell-doughty-numismatist-author/.
For more information, or to order, see:
https://indianvarieties.com/
A new book has been published on the extensive series of medals and tokens issued by the Chicago Coin Club. -Editor
Medals and Tokens a/the Chicago Coin Club
Author: William A. Burd
Price: $30.00
ISBN: 978-0-578-20026-2
Hardcover, 108 pages
Coinciding with the Chicago Coin Club's 100th anniversary next year, this book covers every medal, token and associated ephemera issued by the Club since it's founding in 1919. It is an in-depth look at each issue from the 100th meeting in 1927 to the 95th anniversary in 2014. The book also covers issues relating to the numerous conventions the Club hosted for the American Numismatic Association and Central States Numismatic Society. The book begins with the Club's predecessor, the Chicago Numismatic Society and ends with several appendixes covering the Club's award medals, souvenir sheets, and publications.
The information is presented in a story format rather than a list of technical information in catalog format. However nothing is left out. In addition to why and how each piece was created, the mintage, composition, weight; and original cost is included. There are over 150 high quality color images of medals, tokens and ephemera accompanying the text.
The 108 page hardcover book measures 8.5 x 11 inches and retails for $30.00 delivered. It is available from Chicago Coin Co. Inc., 6455 W. Archer Ave., Chicago, IL 60638.
Bill Burd kindly furnished an electronic copy of the book's Foreword by Carl Wolf, and I think it's spot-on. -Editor

Chicago Numismatic Society annual medals
The publication of this book comes on the cusp of the centennial celebration of the Chicago Coin Club.
Perspectives in Numismatics appeared in December 1985 and included a chapter on the Chicago Coin Club. At that time it was the most complete club history written. Since then the Club produced many more numismatic issues and it now requires a book to list them. There is no current work on a local coin club that provides anything approaching this survey of the numismatic material issued by the Chicago Coin Club.
In March 1993 Bill Burd joined the Chicago Coin Club and soon began collecting club-related material. After twenty-plus years, he assembled the most complete collection of club-issued numismatic material, including previously rumored unique pieces. This invaluable study provides information on artists, mintages and private mints. Without doubt, this book will be the most significant work on the subject, a rich source of numismatic history and will help collectors understand pieces in their collection.
Bill Burd deserves praise for his excellent research. The Chicago Coin Club is fortunate to have him as a member and will be forever grateful for his work.
And in the Introduction, Bill describes his impetus for writing the book, which is one I think all researchers can relate to - he wished such a book already existed. Since it did not, he ended up writing it himself. -Editor

1910 Chicago Numismatic Society aviation Medal
While building this collection, I had difficulty finding background information regarding the various issues. I began to assemble a simple catalog adding information as I found it. I realized other collectors might benefit from my efforts and decided to put the material into book form.
In the book I have attempted to document every medallic item produced by the Chicago Coin Club and to answer the questions of what, why and when as well as the technical data of mintage, composition, size and cost. Although the title is Medals and Tokens of the Chicago Coin Club, I felt it important to include items issued by predecessor clubs" the Chicago Numismatic Society and Branch 1 of the ANA. In addition, I have listed personal items produced by various members to commemorate a club function. Although these items are not technically club issues, they closely relate to the event and were enthusiastically accepted by members as part of the celebration. All items shown are actual size except for a few instances where it was not practical.
I have purposely incorporated this information as a story rather than list the technical information in typical catalog fashion. Perhaps some will not like this format because of the inconvenience of having to read the story to find out the details, however I assure you it is worth the time.
Trust me, there's nothing inconvenient about reading the story. It's an important and interesting one which parallels the rise of organized numismatics across the United States. The book is easy and delightful to read, and I recommend it to any student of numismatics; one needn't be a collector of Chicago Coin Club exonumia, but by the end you might become one. The large format hardcover book is printed on glossy heavy stock paper and copiously illustrated throughout in color. I've included a handful of illustrations as examples. Other clubs would do well to emulate the approach of author Burd. Congratulations on a book well done. -Editor

Chicago Coin Club 25th anniversary medal
For more information on the Chicago Coin CLub, see:
http://www.chicagocoinclub.org/
Peter Jencius submitted this information about a relatively new limited edition book by papal medal authority Adolfo Modesti. Thanks. -Editor
LE CHIESE CATTOLICHE NELLA MEDAGLIA D'ARTE (Catholic Churches in the Medal of Art) (Rome, 2016). Edited and curated by Adolfo Modesti under the aegis of the Accademia Italiana di Studi Numismatica, this volume studies the churches, cathedrals, basilicas--as well as the shrines, abbeys and monasteries--of Italy. The basis of the study is an amazing collection of some 363 medals, each described and pictured in full color.
New, large hardcover, 580 pages, Italian language. U.S. orders only, international customers please contact me for shipping rates.
Note: Only 30 copies of this book were printed for the Italian market and 20 copies for the U.S. market.



Link to Adolfo Modesti's website here: http://www.papalmedalsinthebooks.com/home.html
For more information, or to order, see:
Chiese Cattoliche Medaglia D'Arte, Adolfo Modesti (http://vaticancoins.com/book/2020/Chiese_Cattoliche_Medaglia
_DArte_Adolfo_Modesti/)
The Journey of the Insignia for Valour and Loyalty
From the awarded author of Portuguese Coins in the Age of Discovery comes another unpublished work of Portuguese-Brazilian historiography
Portuguese and Brazilians can be proud to have had one of the most prestigious Military and Honorary Orders of the first half of the 19th century. It was called the Royal Order of the Tower and Sword, for Valour and Loyalty, and was founded by the Prince Regent João of Portugal in 1808, in Rio de Janeiro. Many of the British military who came to fight the French invader in the Peninsula felt a particular fascination for this Royal Order, fruit of the prestige gained over these years as a Coin of Honor, with which the greatest services rendered to the Crown of Portugal were paid.
In the fiercest period of the Civil War of the Two Brothers, a second Military Order was created with the same name, of the Tower and Sword, but then for Valour, Loyalty and Merit. It was a "war of insignia" designed by the former Emperor of Brazil to discredit the Royal Order, that his brother the King Miguel I continued to grant to his soldiers as Grand Master of the Portuguese Military Orders.
Between August of 1832 and May of 1833, two Orders of the Tower and Sword co-existed in Portugal, with very different insignia and statutes. The fate of the arms dictated the end of the first Royal Order and the continuity up to our days of the second Military Order. The Royal Order of King Regent João VI ceased to exist and sank into oblivion. Up to now.
This is the unpublished history of the Royal Portuguese Order of the Tower and Sword, and the journey between continents of its insignia and medals for Valour and Loyalty.
On February 6, 2018, Portugal and Brazil will be celebrating 200 years of the coronation of King João VI, the only head of state of the United Kingdom of Portugal and Brazil (1815-1822) and the sole European monarch crowned in the Americas. This book is published in his honor, being the result of years of research in the national archives and museums of Portugal, Brazil and Great Britain, unveiling a wide range of unpublished documentation, allowing a new insight into the regency and reign of "The Good King Dom João".
Among other features, it reveals unpublished letters of Lord Wellington and Marshal Beresford; complete list of Portuguese and foreign Orders insignia manufactured in Rio de Janeiro by the goldsmith of the Court, António Gomes da Silva; complete list of insignia manufactured in Lisbon by the goldsmith Francisco dos Santos Leite; complete list of Portuguese and foreign Orders insignia manufactured in Lisbon by the embroiderer of the Royal House, Francisco Alves Pereira; a comprehensive list of all insignia of the Royal Order of the Tower and Sword listed in the 19th century inventories of the Royal House of Portugal, and the Ducal Houses of Cadaval and Lafões.
It will be of interest to collectors and dealers, historians, professors and university undergraduate and postgraduate students, in a subject in which there are few specialists and very few works of a scientific nature published on the Royal Orders of Portugal.
A Viagem das Insignias. Valor e Lealdade (For Valour and Loyalty. The Journey of the Insignia) 384 pages with color illustrations throughout, hardcover, 21.7 x 30.5 cm. Portuguese text. ISBN: 978-989-20-7974-5
Some books leave their mark on an era and became essential works of reference. With its innovative numismatic approach to the study of the insignia of the Portuguese Military Orders, we feel that this is one of those books.
Every known insignia of the Royal Order of the Tower and Sword is reproduced in color photography. Historical background is abundant, revealing the unpublished documents kept at National Archives of Brazil and Portugal.
The book ends with an exhaustive list of the primary sources and bibliography. All this combines to make it an invaluable contribution to the knowledge and international appreciation of the magnificent insignia of the Royal Order of the Tower and Sword, for Valour and Loyalty.
Price: Europe - €58,50* // Rest of the World - €68,50* (includes packaging and registered airmail postage. Available in December 2017)
* Limited edition. VAT exempt. This book will not be distributed through bookstores
To order your copy please contact: Antonio M. Trigueiros, author and publisher
Email: editor@estudosdenumismatica.org
Payment by Bank transfer: PT50003602709910002835557 // MPIOPTPL
NIF-TIN: PT149376065
Revisto por Arthur Friedberg // 23NOV2017
Standard Catalog of World Paper Money, Modern Issues, 1961-Present, 24th Edition
Featuring the insight and experience of a worldwide network of numismatic experts, the 24th edition of the Standard Catalog of World Paper Money, Modern Issues, provides the most comprehensive and complete reference to world bank notes issued since 1961.
This industry-leading catalog details:
Over 25,000 listings
Over 15,500 illustrations for easy identification of notes and signature varieties
Bank note values in two popularly available conditions
Country signature charts for specific and accurate variety identification
Hundreds of new bank note issues
Updates of Czech Republic, Czechoslovakia, Faeroe Islands and India varieties
With contributions from an international team of collectors, dealers, researchers and national bank officials working to ensure accuracy, the Standard Catalog of World Paper Money, Modern Issues, is the most informed and global resource on the market for the proper identification, description and valuation of modern world bank notes.
For more information, or to order, see:
Standard Catalog of World Paper Money, Modern Issues, 1961-Present, 24th Edition (https://www.shopnumismaster.com/sc-world-paper-money-mod-1961-24th-r7636)
CDN Publishing announced that its family of numismatic pricing publications (Greysheet, Bluesheet, Goldsheet etc) is being streamlined, with many being consolidated into a single handy product. -Editor
After 55 years, CDN is making a BOLD move. We're merging all our award-winning coin publications into a SINGLE "Monthly Greysheet" edition.
Everyone wins! Every month, subscribers will get:
All the pricing from all of our coin sheets in a single large-format tabloid
Added price columns in nearly EVERY series
Every one gets BLUESHEET pricing
Every one gets CAC pricing
Every one gets GOLDSHEET (modern China) pricing
Quarterly series will be updated EVERY month
All subscribers to the "Monthly Greysheet" will get access to wholesale pricing online and on our popular iOS & Android apps (spot-related pricing like Eagles and generic gold issues will soon be updated in REAL TIME!)
Why are we changing format? There are several important reasons for this change, including:
Popular demand. Readers can't keep up with all the different publications
Confusion. There are too many publications issued at varying times for new subscribers to understand.
Space. We've simply run out of space to publish all the new prices we've added in the last two years. Recently, we added Colonials and Territorial gold, but we don't have space to publish all the prices. Also, we can't fit all the grades we price.
Frequency. Readers want to see early and Liberty gold coins priced more often than once every three months.
How will this effect existing subscribers?
If you are a current CDN Greysheet subscriber, you will be automatically be subscribed to the new "Monthly Greysheet" with the same number of months remaining on your subscription. You will get an email soon with specific information regarding your subscription. (Note: there is no change to Greensheet publication or subscriptions.)
Don't miss the launch of our exciting new publication, which is sure to be a must-have for all coin dealers. The new "Monthly Greysheet" will replace all these other sheets, starting May 1!
Our new subscription rates for MONTHLY GREYSHEET are as follows:
Annual Billing: $249 (print); $199 (PDF); $349 (both)
Monthly Billing: $22 (print); $18 (PDF); $30 (both)
Call 757-656-1055 today and ask for 10% off!
To read the complete article, see:
IMPORTANT GREYSHEET ANNOUNCEMENT: More Big News from CDN"¦Single Monthly Greysheet to replace all wholesale coin sheets (http://blog.greysheet.com/important-greysheet-announcement-more-big-news-from-cdn-single-monthly-greysheet-to-replace-all-wholesale-coin-sheets-%F0%9F%92%A5-%F0%9F%92%A5-%F0%9F%92%A5/)
LORD Stewartby, who has died aged 82, was a distinguished politician and numismatist, a member of Margaret Thatcher's government and a well-known and respected figure in academic circles in Scotland " especially at the Hunterian Museum in Glasgow.
He was a leading authority on numismatics, the study of money and coins, having started collecting them as a boy. Indeed, as a child he spotted a copper coin in a jar on the counter of a grocer's shop with two heads on it. After meticulous research he discovered it dated from the reign of William and Mary. While at school he also carried out extensive research into early Scottish coins and published The Scottish Coinage in 1955.
Over the years Lord Stewartby built up an outstanding collection including rare pieces which he then diligently authenticated. It was a unique collection that was important to scholars, historians and numismatists.
Last year he donated a treasure trove of coins covering over 600 years of Scotland's history to The Hunterian at the University of Glasgow. He had visited the museum since 1954 and his gift contained over 6,000 coins from the reign of Alexander III in 1280 until the Act of Union of 1707. Included were silver pennies of Robert the Bruce, gold lions and unicorns of James I and II, and a Renaissance portrait of James III. Its historical significance was typified by large silver 'dollars' which came from the time Mary Queen of Scots was married to Lord Darnley, bearing the insignia Mary and Henry, Queen and King of Scots.
Donal Bateson, the curator of coins and medals at The Hunterian, described Lord Stewartby as the doyen of Scottish numismatics. "He will be much missed in the realm of collecting and research on the coinage of this country," Mr Bateson told The Herald. "It was a surprise and delight when he and Lady Stewartby visited The Hunterian and proposed to gift his Scottish coins to the university: the number, range, depth and quality exceeded our expectations."
Sadly, part of the collection was stolen a decade ago from Lord Stewartby's home in Broughton, near Peebles. Despite the police saying that it would be very difficult to sell the rarest coins in Britain and a reward being offered, none of the coins has been returned. Despite the theft the resulting gift to The Hunterian was both generous and considerable. Lord Stewartby last visited The Hunterian Coin Room in November to see the exhibition Scotland's Own Coinage where many of his coins were on display for the public to enjoy.
Lord Stewartby served in the Thatcher government firstly as Economic Secretary to the Treasury (1983-87) with responsibility for the Royal Mint. In that capacity he supervised the issue of the first £2 coin to celebrate the Commonwealth Games in Edinburgh. He was also a member of the Treasury team at a meeting the Prime Minister held at Chequers in 1985 regarding South Africa. Lord Stewartby then served under Tom King at the Northern Ireland Office.
To read the complete article, see:
Obituary - Lord Stewartby, pre-eminent expert on Scottish coins who donated his collection to the Hunterian (http://www.heraldscotland.com/opinion/16071764.Obituary
___Lord_Stewartby__politician_and_pre_eminent_expert_on_Scottish_coins/)
The latest additions to the Newman Numismatic Portal include original Pittsburgh bank ledgers. Project Coordinator Len Augsburger provided the following report. -Editor
The latest additions to the Newman Portal are a set of minute books from two 19th century Pittsburgh banks, loaned by Wayne Homren for scanning. Although large format volumes, the Newman Portal has several options for scanning and is able to process material of varying sizes.
These books, luckily saved from destruction, capture the corporate proceedings of the institutions and detail the inner workings of banks of that era. They were produced in neat, easily readable script but are best viewed on a large screen.
Included are articles of incorporation, stockholder lists, and other administrative data. While there are many sources for published material ranging from booksellers to libraries to the Internet, access to manuscript material such as this has heretofore been problematic. With today's technology these barriers are disappearing, and we are pleased to have a role in making such resources widely available.
Link to Bank of Pittsburgh Account Book (1822-1824):
https://nnp.wustl.edu/library/book/543252
Link to Bank of Pittsburgh Minute Book (1834-1843):
https://nnp.wustl.edu/library/book/542947
Link to Merchants and Manufacturers Bank of Pittsburgh Minute Book (1833-1836):
https://nnp.wustl.edu/library/archivedetail/524944
Link to Merchants and Manufacturers Bank of Pittsburgh Minute Book (1864):
https://nnp.wustl.edu/library/book/542949

Bank of Pittsburgh Account Book
Project Coordinator Len Augsburger offers observations related to content being searched for on the Newman Numismatic Portal. This week's search term is the cryptic term "AC-39". -Editor
This week a Newman Portal user searched for "AC-39." U.S. medal collectors will quickly recognize this as a reference to a medal of the annual Assay Commission. The Assay Commission medal series illuminates the engraving capability of the U.S. Mint, which has been more often measured by its circulation strike coinage. In contrast to coinage designs which were executed once and lasted many years, the assay commission medals were created annually (although there is some die reuse in the series) and provide a much wider palette for artistic judgment.
AC-39 is the 1895 medal, engraved by Charles E. Barber and featuring president Grover Cleveland. Pete Smith's American Numismatic Biographies, which forms the basis for the Newman Portal people database, identifies a long list of medals engraved by Charles Barber, likely the only source where all this information is summarized in one place. The Assay Commission medals were cataloged by R. W. Julian and Ernest E. Keusch in 1989 and published in the TAMS Journal. Newman Portal further identifies auction appearances of this medal, including the Stacks-Bowers March 2014 Baltimore auction.
Image: AC-39, 1895 Assay Commission medal, from Stack's March 2014 sale, lot 34 (realized $381.88).
Link to Newman Portal people database:
https://nnp.wustl.edu/library/people
Link to Julian-Keusch reference on Assay Commission medals:
https://nnp.wustl.edu/library/book/525540?page=30
David Hill of the American Numismatic Society writes:

Adam Peitz
To read the earlier E-Sylum article, see:
VIDEO: 1940S PHILADELPHIA MINT (http://www.coinbooks.org/v21/esylum_v21n09a36.html)
Thanks. Here's what the ANS Archives database says. -Editor
Biographical Note
Adam Pietz (1873-1961) was a sculptor, medalist engraver, and etcher. He was born in Offenbach, Germany, and moved to the U.S. in 1889 where he studied at the Chicago Art Institute (1892-1893), Drexel Institute (1894-1898), and the Pennsylvania Academy of the Fine Arts (1899-1903). By 1897 he was an established engraver and die sinker operating out of a private studio on Chestnut Street in Philadelphia. He also served as assistant chief engraver at the Philadelphia Mint from 1927 to 1946. In 1917 he designed a World War I good luck medal for the United States. This So-Called Dollar is remembered for having a swastika, an ancient good-luck symbol, on its obverse. He designed the American Numismatic Association's Medal of Merit. His only coin design to be minted was the Iowa Statehood Centennial Commemorative Half Dollar (1946). After retiring, he continued his work on medals for the Treasury Department, producing designs that included the Meritorious Service Award Medal (1949), Alexander Hamilton Medal (reverse, 1955), and the Distinguished Service Award (bestowed after his death, 1963).
Scope and Content Note
Contains the following artwork by Pietz: four pencil sketches of an eagle and the reverse of a 1932 commemorative quarter dollar; a sketch of the design for the 1925 presidential inaugural medal; an undated sketch of an obverse and reverse of a medal for the Pennsylvania Railroad; a large watercolor of a proposed commemorative half dollar depicting Davy Crocket, James Bowie, and William Barrett Travis, probably for the Texas centennial of 1936; and a photographic print of a design for the tercentenary of the Pine Tree shilling in 1952. There are also assorted images likely used by Pietz in the development of his designs, such as rubbings of mostly German medals, photographs of ancient and modern coins and medals, and photographs of proposed designs for the obverse and reverse of the 1932 George Washington quarter and the 1938 Thomas Jefferson nickel. Also includes a photograph of Pietz overseeing a transfer engraving machine at the United States Mint, Philadelphia, and an empty envelope from the Iowa Centennial Committee.
I reached out to American Numismatic Association Curator and Museum Director Doug Mudd who confirmed my recollection that the ANA has a large collection of Pietz material including drawings and plasters. Great material for researchers. -Editor
David Hill adds:
To read the complete ANS ARCHER Archives entry, see:
Adam Pietz artwork, photographs, and rubbings, 1932 - 1952 (http://numismatics.org/archives/ark:/53695/nnan0089)
To read David's earlier ANS Magazine article, see:
David Hill, "The Smiling, Genial German: U.S. Mint Engraver Adam Pietz," ANS Magazine 13:1, 2014, 46-51. (http://numismatics.org/magazine/wp-content/uploads/sites/2/Spring2014.pdf)
Dick Johnson submitted these thoughts in response to a comment in last week's item on the orientation of coins and medals. See the previous article (linked below) for the full context. -Editor
I stand by what I said, correct orientation is determined by the mind. Mike Marotta's statement of "cultural context" applies only to a small segment of numismatic items, as the Celtic coins you cited. But I greatly appreciate his response.
Even the Celtic coin illustration shown has strong visual clues to correct orientation. The strong vertical side of the face on the obverse and the cross with arms of obvious horizontal and vertical orientation vividly display the intended orientation. It is the part of the brain "" the cerebellum "" which processes balance, coordination and perspective. Thus my attribution to the human mind.
Granted there are several types of numismatic items in which it is impossible to orientate, both of which are art medals. A class of Medallic Objects with a textural surface, say entirely composed of dots (bosses) cannot be orientated. Such textural designs have been made by the Paris Mint and are occasionally found in FIDEM exhibitions. The other would be designs of Mixed Perspective, with multiple views with jumbled base lines.
However, since most coin designs are of lineal perspective they often have visual clues indicating correct orientation.
Maybe it's my diplomat side surfacing, but I don't think Mike and Dick are so far apart on this issue. Cultural context resides in the human mind as well, so all of this is in our heads. And the clues Dick describes are only clues in two dimensions - the Celtic coins have no discernible clues indicating that they should be viewed from a third dimension.
Anamorphic Perspective
I enjoyed reading Mike Marotta's article "Viewing Coins Obliquely". The art historical term is anamorphic perspective. I wrote a paper on this in 1976 and another in 1982 for my master's thesis.
One-point linear perspective was the mapping out of a grid to place objects in a picture into correct perspective toward a vanishing point which was typically placed dead center. The beauty of the pictures was enhanced when viewed standing in front of the picture. The idea was developed by Leonardo da Vinci to overcome the limitations of one point linear perspective since those paintings looked flat when viewed from any angle.
The portrait of Ginevera de'Benci in the National Gallery of Art, Washington, D.C. Ailsa Mellon Bruce Fund, No.2326, is the earliest known portrait painted in anamorphic perspective.
The picture when viewed standing directly in front is a subtle distortion rather than the correct one-point linear perspective. Leonardo placed her face within a circle so that the distortion is so subtle that you do not realize it.
Leonardo managed this optical trick with finesse by bisecting the face in the three-quarter view on the left and the frontal perspective on the right.
However, from any angle the face is seen in perfect three-quarter view.
This is a fascinating topic and I'd be eager to learn more about coins created with oblique viewing in mind. I know there is software the enables the creation of 3-D rotating views of a coin, and it would be great to see that done with one of the Picasso-like Celtic coins. -Editor
To read the earlier E-Sylum article, see:
VIEWING COINS OBLIQUELY (http://www.coinbooks.org/v21/esylum_v21n09a18.html)
Subscriber Ranks Grow
Steve Shupe writes:
Query: Adams Central American Republic Coinage Article Sought
Philip Mernick of London forwarded this query on behalf of his old college friend Mervyn Brown. Mervyn writes:
David Litrenta Token

Jeanette Violet writes:
To read the Smith listing, see:
Personal Tokens and Medals of American Numismatists (https://nnp.wustl.edu/library/book/528986)
To read the earlier E-Sylum articles, see:
DAVID E. LITRENTA 1936 - 2014 (http://www.coinbooks.org/esylum_v17n48a06.html)
PETER PRESTON-MORLEY RECALLS DAVID LITRENTA (http://www.coinbooks.org/esylum_v17n49a08.html)
The Hog Penny Pub T-Shirt
Bruce Smith writes:

LEFT: Hog Penny token; RIGHT: Bruce's shirt
To read the earlier E-Sylum article, see:
NUMISMATIC NUGGETS: MARCH 4, 2018 : Bermuda Hog Penny Pub Good-For Token (http://www.coinbooks.org/v21/esylum_v21n09a28.html)
We earlier reported on the bankruptcy of Northwest Territorial Mint, which had earlier purchased the assets of Medallic Art Company. As part of the proceedings the company has been shopping its assets, including its die vault. The final chapter has yet to be written. A blog on the about.ag site has been following fact and rumor about the company for a couple years. The latest entry was just yesterday, stating "I have heard that Medalcraft was outbid for the Medallic Art Company assets..." Some 400,000 dies are involved, although it's not clear to me how many of those are Medallic Art dies. On March 2 of this year the blog published some photos of the die vault. -Editor
Ross Hansen on May 27, 2016 testified that 15,000 Medallic dies were shipped to Tomball, but the Trustee disputes that there were any Medallic dies in Tomball.
In 2009, a security agreement (p84) refers to "210 Shelves of Dies" and "2 Cabinets of Coining Dies". If the shelves held 100 dies each (this article says that a "drawer" can contain 100 small dies), that would be roughly 20,000 dies.
At the May 27, 2016 hearing, Ross Hansen also testified that Medallic had 400,000 coining dies. Mr. Hansen had previously stated that there were about 400,000 dies in Dayton in the Creditors' Meeting (341 Meeting) on May 11, 2016 (per the questioning, that should have referred to NWTM dies, but was likely referring to Medallic dies).
An image shows what appears to be 10,000s of larger dies stored on shelves (which is separate from the ones in drawers).
Ross Hansen also stated at the May 11, 2016 Creditors' Meeting that there were about $2M-$4M of dies in China, stating that there are "tens of thousands of dies" at the two companies in China.
I have not seen any court documents where Mr. Calvert has clearly stated how many dies there are (or claimed that some were missing or lost). Some dies may have been included in the Graco/Tomball sale. But what has happened to the 10,000s of dies in China, and the estimated 20,000-400,000 dies in possession of NWTM?
To read the complete blog, see:
http://about.ag/NWTMint.htm
All I can say is that hopefully the dies will find good homes and that the medal business can resume somehow after all this trauma. -Editor
To read the earlier E-Sylum article, see:
NORTHWEST TERRITORIAL MINT OWNER LOSES $38M VERDICT (http://www.coinbooks.org/v20/esylum_v20n09a22.html)
ICTA appoints seven to non-profit foundation board
The Board of Directors of the Industry Council for Tangible Assets has appointed seven industry leaders to guide the Anti-Counterfeiting Educational Foundation (ACEF), the non- profit organization recently formed to receive contributions to support the work of its Anti-Counterfeiting Task Force.
Scott Spitzer, chief executive officer of Manfra, Tordella & Brookes, Inc., will serve as president. Officers joining him will be Gary Linthicum of Universal Coin and Bullion, who will serve as vice president; Greg Allen of Greg Allen Coins as secretary; and Philip N. Diehl of U.S. Money Reserve as treasurer. Other board members include Robert Brueggeman, executive director of the Professional Numismatist Guild; Larry Baber, treasurer of the American Numismatic Association, and Robert Harwell of Hancock & Harwell Rare Coins.
ICTA's board of directors approved the formation of the new non-profit for the purposes of receiving contributions from individuals, other 501(c)(3) organizations, local and regional coin clubs, grants, eBay for Charities, and government agencies. Those desiring to donate to the non-profit foundation should make checks payable to the Anti-Counterfeiting Educational Foundation and mail to P.O. Box 237, Dacula, Ga. 30019.
The foundation's board of directors will review project proposals from ACTF to ensure that they are covered under IRS 501(c)(3) regulations.
"While we shall be forever grateful to those who stepped forward in our first year to support the work of our task force, we have come to realize that we can't move forward by drawing from the same small well year after year," said Diehl who serves as chairman of ICTA and will be serving the new non-profit as treasurer.
Diehl noted that the paper work has been completed and filed and the foundation can receive contributions as it awaits final approval from the IRS. Additionally, he pointed out that collectors, interested individuals, and organizations can now support the task force's work through tax-deductible contributions of cash or coins.
Formed in January 2017, the Anti-Counterfeiting Task Force's mission is to mobilize law enforcement to defend the nation's coinage by educating officials about the economic impact and growing threat counterfeits pose to the marketplace and the public. ACTF serves as the coin industry's liaison with law enforcement and policy makers, assisting in the investigation and prosecution of suspects involved in all aspects of coin counterfeiting. It also provides education, expertise, and other resources to law enforcement to assist in curtailing the manufacture, importation, marketing, and sale of counterfeit coins, related fakes of precious metals products, and counterfeit security packaging.
ACTF is totally funded through donations from businesses and individuals made directly to the Anti-Counterfeiting Educational Foundation, the 501(c)(3) not-for-profit entity that funds the work and mission of the ACTF. Make checks payable to the Anti-Counterfeiting Educational Foundation and mail to ICTA, P.O. Box 237, Dacula, GA 30019. For information about donating, contact Beth Deisher at 567-202-1795; email beth.deisher@ictaonline.org.
The London Branch of the International Bank Note Society (IBNS) is holding its second annual Educational Forum Friday April 13th at the offices of Spink & Son. Thanks to Martin Kaplan for passing this along. Here's the announcement. -Editor
The IBNS London Branch would like to invite you to the second Educational Banknote Forum, which will be held on:
Friday 13th April 2018
In the Lower Auction Room at Spink (69, Southampton Row, London, WC1B 4ET)
Speakers from the Banknote Industry, as well as researchers and collectors from around the world, will deliver presentations on diverse topics:
Alfred Joseph Bull and his contribution to banknote design, c. 1920-1950
All that glitters', why movement is the new gold
Banknotes of the French Pacific to 1950
Aspects of Scottish Banknote Design, 1695 to 2017
A short tour through the wonderful world of banknote production
Falun, Sweden: The Mountain, The Mine, The Monarchs, The Coins and The Currency - A Numismatic History
Polymer Bank Notes "" The Future of Banknotes
A wide range of topics with hopefully something of interest for everyone.
Attendance is free, however places are strictly limited.
To reserve your place email: forum2018@ibnslondon.org.uk
Saturday 14th April 2018
If you are able to stay in or near London for the 2018 Educational Banknote Forum a trip has been arranged to Windsor Castle on Saturday 14th April. Places are again limited and need to be reserved as soon as possible.
To reserve your place on the Windsor Castle trip, please email: forum2018@ibnslondon.org.uk
For more information, see: https://www.ibnslondon.org.uk/2018-educational-forum
Bob Leonard passed along this announcement from the National Hellenic Research Foundation in Athens, Greece. Thanks. -Editor
The Institute of Historical Research of the National Hellenic Research Foundation is pleased to announce the organisation of its second Summer School on Ancient Greek and Roman Numismatics, to take place at its premises in Athens, from 2 to 11 July 2018.
The courses will provide a chronological survey of ancient Greek and Roman coinage (from the invention of coinage to the Roman period), combined with special lectures on numismatic methodology, such as the study of coin hoards, metrology, iconography and online resources. Practical sessions will take place at the NHRF premises and in museums.
The Summer School on Numismatics is addressed to undergraduates, postgraduate students and PhD candidates in History, Archaeology and Art History, to historians and archaeologists, but also to individuals with a special interest in numismatics.
Further information on the Summer School can be found on its website: IHR/NHRF 2018 Summer School on Ancient Greek and Roman Numismatics
Bob adds:
For more information, see:
http://www.eie.gr/nhrf/institutes/ihr/index-en_IHR.html
While major museums practice conservation of their numismatic specimens, the average collector and numismatist should be aware of this activity. Using antitarnish tissue is one method of conservation anyone can employ. Both entries are given this week. Since chemicals are used for restoration, this is a field for experts.
Conservation. Doing everything possible to protect numismatic and medallic specimens from damage, deterioration and destruction; preserving for future study. Die-struck metal objects are one of the easiest to conserve. They do not have the problems of other artifacts, as paper, textile or organic objects, for example. Coins and medals are intended to be permanent. Being struck in metal fulfills this intent. They do not break or crumble; they do not need the controlled conditions of temperature or humidity that other objects require. They can endure and survive extreme cold, except tin under certain circumstances, and heat up to just below their melting point. They are virtually impervious to humidity (except, of course, iron objects which may rust). Other environmental conditions are easy to control, with obvious knowledge (as chemical contact with corrosive compounds, acid for example).
Coinage metals of gold, silver bronze, copper nickel, nickel and zinc are well known to conservationists. They work with restoration, the removal of corrosion and other adherents, then prevention, with waxes and lacquers. It requires an extensive knowledge of metallurgy and chemistry. It is not to be conducted by amateur who can easily damage a numismatic item.
Having established the ease of environmental factors to conserve coins and medals, they are best preserved for storage and easy viewing in trays. The most valuable items can be stored in shallow boxes (which have the advantage of being able to be captioned - data identifying the item applied to the box), and these can be lined with thin cotton batting if desired. Trays can be lined with cloth that is sulfur-free, or tissue that is ANTI TARNISH PAPER. The industry of collectors' supplies have created products in the 20th century of further protection including albums, plastic holders, capsules, envelopes and such. The industry of encapsulating coins and medals "in plastic slabs" grew popular in the late 20th century furthers conservation.
The greatest enemy of coins and medals are being dropped or having sharp objects dropped on them creating nicks and dents. To overcome this is the care in handling by everyone in contact with them must exercise.
CLASS 11.7
Anti tarnish Paper. Paper made without sulfur being used in its manufacture. Ranging from tissue to Bristol board in thickness and weight, it is used to prevent tarnish in bronze or silver coins which come in contact with it (medals before they are lacquered, or any numismatic item with a COIN FINISH). Coins may be wrapped in anti tarnish tissue for long-term storage. It is also used to line numismatic storage boxes and trays "anti tarnish cloth" is also available for this same purpose. TOTE BOXES are lined with anti tarnish paper for blanks and struck pieces of proof coinage.
CLASS 10.8
Looking for the meaning of a numismatic word, or the description of a term? Try the Newman Numismatic Portal's Numismatic Dictionary at: https://nnp.wustl.edu/library/dictionary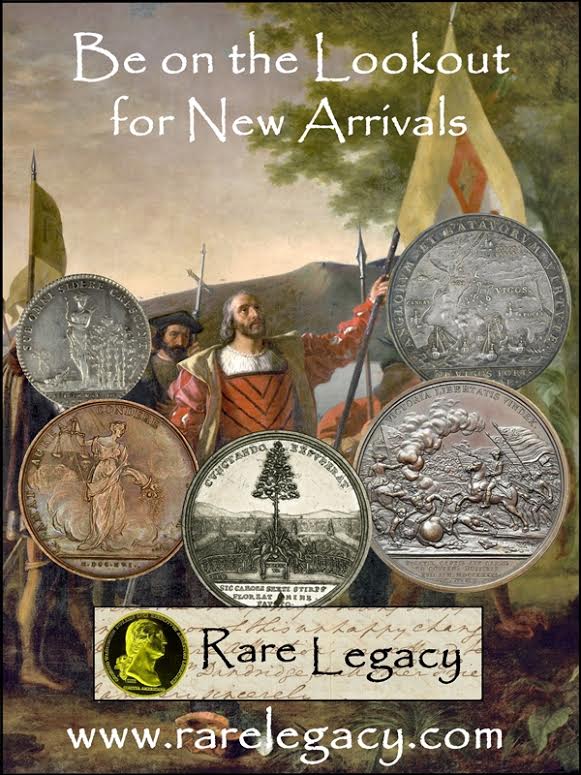 John Lupia submitted the following information from the online draft of his book of numismatic biographies for this week's installment of his series. Thanks! As always, this is an excerpt with the full article and bibliography available online. This week's subject is publisher Frederick A. Thomas. -Editor
Frederick Almeron Thomas (1867-1938), was born on September 10, 1867, at Mexico, New York. Frederick was the seventh and final child of Almeron Thomas (1812-1897). His mother is his father's second wife Louisa "Lois" Paine Thomas (1831-1903), married on May 18, 1848, of which they had only two children, Emma and Frederick.
His father Almeron Thomas was born in [South] Rutland, N. Y., June 22, 1812, and during most of his active life was a miller. About 1850 he purchased a grist mill at Pulaski, which he traded in 1855 for a farm in Mexico. Later he became proprietor of the Railroad (formerly the Sandhovel) Mills, and the Toronto Mills, in Mexico village, and also a mill at Parish, another at West Amboy, and still another at Holmesville. During his life he owned seventeen different milling establishments. The mill in Mexico village is now conducted by his son, Frederick A., who recently succeeded his brother, Amos C. Thomas."
In 1885, he graduated from the Mexico Academy, Mexico, New York. His earliest pursuits were in the newspaper industry working in Mexico and Utica, New York, and Jacksonville, Florida.
Frederick, like his father was an industrialist in mills. He was also, however, a newspaper man, and coin, stamp, Indian relics, and curiosities dealer, and publisher of the magazine Common Sense : Devoted to the Interest of Collectors of all classes, beginning with Volume 1, Issue number 1, March, 1887. The magazine was so-named after Thomas Paine's (1737-1809), Common Sense, perhaps since he thought he might be related through his maternal ancestry. He began this collectors magazine after the demise of his earlier magazine, the Mexico Republican, which ran from November 1884 until March 1887. Copies of Common Sense are in The National Postal Museum, Smithsonian Institution Libraries, Washington, D. C., and of course, the Lupia Numismatic Library.
He died on October 20, 1938, at the Alexander Sanitarium, Belmont, California. He was cremated and given a burial plaque at Mexico Village Cemetery, Mexico, New York.
To read the complete article, see:
THOMAS, FREDERICK ALMERON (https://sites.google.com/a/numismaticmall.com/www/numismaticmall-com/thomas-frederick-almeron)
* * * * *
The entire inventory of the Lupia Numismatic Library is for sale. Individual items will be available before the remaining archives are broken up into parcels sold at philatelic auctions in the U. S. and Hong Kong. Check NumismaticMall.com frequently as dozens of new items with estimates will be posted daily until everything is sold.
All inquiries will be given prompt and courteous attention. Write to: john@numismaticmall.com .
Harvey Stack's latest Stack's Bowers blog series focuses on growing up in a numismatic family. Here is part 13. -Editor
The year 1952 followed the pattern that had been set in 1951. Collectors were still adding Proof sets to their collections and starting new series. Several small and medium size collections were dispersed at public auctions, conventions got more popular, and regional clubs started having conventions, like the Metropolitan New York show, the Middle Atlantic show and the New England show (just in our area alone). Similar shows were started nationwide, but these eastern shows attracted many and initially were the most attended.
We continued to attract collectors to Stack's Rare Coins on 46th Street and to the sales we conducted there. By this time, we had taken over the whole second floor for the cataloging staff and for presenting auctions.
Mr. Lilly continued to build his collection. His interest in coins from the Spanish Colonial period grew to include items from England and France, important trading countries who also had a presence in the New World.
While the shop was close to 5th Avenue a very popular attraction, the surrounding neighborhood was starting to change. It was decided that Stack's would do better if the store were moved. We searched for a new location going north towards Central Park, (59th Street) where there were high-end stores that seemed a better fit for us. We were fortunate to find a location (where Stack's is still today after six decades) at 123 West 57th Street. At the end of 1952 we began to prepare for the move.
We initially moved our Foreign Department, Stack's Coin Galleries, to offices we found at 41 West 57th Street, as a temporary location. We moved our entire foreign inventory, our foreign book library and our bookkeeping department. This job was supervised by the three Stack family members and Dr. and Mrs. Stefanelli, who headed the foreign department. The Stefanellis and their staff members set up shop here, just down the street from where Stack's Rare Coins would soon relocate.
Stack's, who had owned the location at 12 West 46th Street, sold the property and the funds were used for the move and to increase our inventory. As we moved into 1953, it would be a historic year for Stack's. When I look back at what we were able to accomplish, Morton, Joe, myself, and all our staff members, I am amazed. Even with moving and all that came along with it, we continued to grow and make some numismatic history. In my next part I will tell of some of the hectic activities of 1953."
To read the complete article, see:
Harvey Stack Remembers: Growing up in a Numismatic Family Part 13 (http://www.stacksbowers.com/News/Pages/Blogs.aspx?ArticleID=2885)
The release of the Centennial Edition of Medallic Portraits of Washington, the vastly expanded catalog by Russell Rulau, based on Dr. George Fuld's 1965 reprint of Baker, has set the stage for a triumphant comeback of Washingtonia.
During the quiet years, of course, far-seeing numismatists continued to assemble great collections of Washington pieces, astutely taking advantage of the low prices prevailing in the 1930's and 1940's.
One such collector was Paul Magriel, a Springfield, Massachusetts, native residing in New York City. A very private man, Magriel shunned the spotlight as he went about finding the great rarities for the collection he called in 1956 "the finest in America."
From the earliest medals such as the Voltaire, Manly and Sansom pieces to the Bushnell pieces or unlisted Bicentennial medals and merchants tokens of 1932, Magriel ferreted out the finest wherever they might be found. A number are pieces that have not been seen at public auction in decades, and years may pass before comparable medals appear on the market.
An American Numismatic Association member from 1954 to 1974, Magriel listed his personal specialty as American copper coins, and his profession as a writer on his membership application.
As a numismatist, he first made headlines in his home town by exhibiting the Washington collection at the Springfield Institution for Savings in June 1956. The collection was subsequently exhibited at the Museum of the City of New York in early 1957 and in Washington, D.C.
Magriel's only numismatic article known today is his article "American Icons: George Washington Medals," in Antiques magazine for February, 1957, a brief overview illustrated by eight choice examples from his collection.
Magriel was perhaps more widely known in the larger world of art than in the numismatic community. A former art director for the U.S. Army in World War II, he served on the staff of New York's Museum of Modern Art after the war.
The Magriel Washingtonia offered here and in our next few sales spans many different fields and will be of additional interest to collectors of early merchant tokens. Civil War tokens, So-Called Dollars, Mint Medals and the general field of art medals.
To read the catalog on the Newman Portal, see:
Paul Magriel Collection (https://nnp.wustl.edu/library/auctionlots?AucCoId=511514&AuctionId=511897&page=16)
Paul Magriel, an art collector, connoisseur and former tour guide at the Metropolitan Museum of Art, died yesterday at his home in Manhattan. He was 84 years old.
He was librarian at the American School of Ballet and was later curator of the dance archives at the Museum of Modern Art.
He was an editor of "Dance Index," a magazine started in 1942 dedicated to providing a historical and critical basis for judging dance. He was editor of many books on the subject, including "Chronicles of the American Dance," "Nijinsky," "Isadora Duncan" and "Pavlova."
His collecting interests were wide ranging and included sports in art, American still life, numismatics, watercolors, drawings and sculpture. His collections were exhibited in more than 84 American museums and galleries.
He was considered an authority on Italian Renaissance bronzes, and he had an impressive collection of watercolors and pastels, particularly those of 19th-century painters, including Sargent, Chase and John LaFarge.
To read the complete article, see:
Paul Magriel, 84, Collector of Art And Tour Guide at the Met, Dies (https://www.nytimes.com/1990/09/13/obituaries/paul-magriel-84-collector-of-art-and-tour-guide-at-the-met-dies.html)
To read about the chess/backgammon/poker-playing Paul David Magriel Jr., see:
Paul Magriel, Who Was Called the Best in Backgammon, Dies at 71 (https://www.nytimes.com/2018/03/08/obituaries/paul-magriel-who-was-called-the-best-in-backgammon-dies-at-71.html)
Dave Bowers assembled a landmark collection of U.S. Civil War Tokens in his decades as a collector and coin dealer. He's in the process of putting the pieces back on the market, making a wonderful opportunity for others. He shared an article he penned to introduce today's collectors to the subject. Here's an excerpt. -Editor
My collecting objective over a long period of years was to obtain the finest example I could find of each patriotic die combination and at least one of each of the nearly 1,000 store card-issuing merchants. Beyond that, I sought any and all numismatic rarities such as die combinations in off-metals, overstrikes on other coins, and the like. I find the interface that contemporary collectors such as Edward Groh, J.N.T. Levick, H.C. Ezekiel, and others had with the Stanton, Lanphear, Bridgens, Sigel, and other die shops to be fascinating.
Again and again I stepped up to the plate and purchased en bloc a number of specialized collections, including the personal holdings of Richard Rossa, much of the private collection of Steve Tanenbaum, my choice of much of George J. Fuld's collection, and more. The result is that nearly all tokens in this listing are condition census (among the finest of their kind) or are the very finest known. R-7, 8, and 9 coins abound as do many unique pieces. In addition there are any number of "trophy" tokens that likely represent a once-in-a-lifetime opportunity to acquire.
There are many R-8 and R-9 tokens that I have never seen offered in over 65 years (since the late 1950's) of studying and collecting Civil War tokens! If you are a collector of high-grade 19th century federal coins, the problem is not usually in finding them; it is paying for them! For Civil War tokens it is just the opposite - finding them can be very difficult, but when located the prices are usually only tiny fractions of those of federal coins of comparable rarity and grade.
There are many ways to collect these pieces. For patriotic tokens a favorite direction is to obtain one each of every die. There are slightly over 500 different. In this way you do not need to seek all combinations, which, in any event, would be impossible to complete. Another specialty is to seek motifs of interest - French Liberty Heads, Indian Heads, portraits ranging from Washington to McClellan, the Monitor ironclad, Civil War arms, flags, and more.
Among store cards, seeking one from every state is a good way to start. A greater challenge is to seek one from every town and city - which will keep you busy for the next five to ten years, and still there will be some on your "want list." I never did get them all, but came close. Still another way is to pick a favorite state and specialize in it. New York, Pennsylvania, Ohio, Indiana, Illinois, and Wisconsin are veritable playgrounds for this.
Some other states such as Massachusetts, New Jersey, Maryland, and Kentucky, have far fewer. New Hampshire has just one issuer and Maine only a few. Tennessee is on the rare side, and West Virginia includes some rarities I have never seen offered and therefore never acquired. Rhode Island tokens are for the most part rare, and my offering of them far exceeds any listing in numismatic history! Most of these trace their pedigrees to the George J. Fuld Collection.
Pictorial dies showing people, places, and events are very interesting and in most cases very affordable - stoves, wagons, dentures, saddles, mortars and pestles, tools, eagles (flying and perched), flags and banners, munitions, buildings, fish, lions, rabbits, and even the mythical hippocampus are easily enough found. The shop of W.K. Lanphear in Cincinnati was the most prolific issuer of these. Indian Heads in imitation of federal cents are usually far rarer and far less expensive than their Philadelphia Mint counterparts""and are a natural add-on if you collect federal cents.
Various occupations can be collected, often with more than a dozen possibilities""patent medicines, billiard parlors, oyster houses, dentists, saloons, hotels, toll roads and bridges, you name it.
Just as folk art is popular with art collectors, "Indiana primitive" tokens made by Henry D. Higgins of Mishawaka, Indiana, are from naively crafted dies, sometimes with historical sayings, and are very popular. The "primitive" dies of Alexander Gleason of the same state are likewise fascinating. These were completely ignored by numismatists in the 1860s, with the result that no special rarities or strikings were made. For many, the highest usually (but not in my listing!) obtainable grades are VF and EF.
As all Civil War tokens dies were hand-made, there are many repunchings, misalignments, and errors. The looking glass offers many adventures!
If I were about 20 years younger I would keep all of these tokens. As I see it, the market is very strong and dynamic, and although I have no way of predicting, it is likely that a generation hence many of today's prices will be bargains.
As it is at age 79 I still love studying the tokens, their dies, and history - my first love in the field. As you read these words I am immersed in research for two books for the Civil War Token Society.
Beyond the above, there is a lot of enjoyment and challenge awaiting you if you are interested in the histories of the merchants issuing tokens. The majority have never been studied in depth. Today, the Internet offers endless opportunities for research.
If you are not now a member of the Civil War Token Society check its website. The dues, unbelievably, are just $18 per year! I was a founding member back in the 1960s and still contribute to issues of the Civil War Token Journal. You will, of course, want to buy a copy of the (relatively) new U.S. Civil War Store Cards, edited by John Ostendorf, and sixth edition of U.S. Patriotic Civil War Cards edited by Susan Trask with input from Mark Glazer, Steve Hayden, me, and others; this has just been published.
Compared to a lot of other series, Mint State Civil War tokens can be bought for the equivalent of pennies on the dollar! It is possible on today's market form a great collection for modest cost. This probably will not last!
I collected Civil War storecards of the Pittsburgh, PA area for many years and greatly enjoyed each new acquisition. See Dave's ad elsewhere in this issue for more information. The Civil War Token society also has an ad for the corresponding books, a must for any collector of the series. -Editor
Here's a very interesting lot in the upcoming Holabird Gold Rush sale that the auctioneer describes as "Likely the Earliest Known American Gold Certificate: North Carolina Gold-Mine". I've taken the following text from the lot description and a promotional email for the sale. -Editor
Enter the discovery of a gold nugget in North Carolina in 1799. It took fully 29 years before substantive gold discoveries were made in Georgia and North Carolina. Here is the amazing part: these discoveries were made from good-old American ingenuity. Not one single miner had an education in mining in Europe. As far as is known, not a single man in the Georgia, North Carolina gold rush had been a miner. These men developed the ability to look for gold and mining systems on their own in the American wilderness, a marvelous feat of accomplishment - a true iconic part of American ingenuity at its best.
This is the very earliest beginning of the commercialization of gold in America. "Be it known that Daniel Carroll of Duddington Esquire" has purchased 161 shares on November 5, 1807. Signed by president J Weeny(?). This is the Reed Gold Mine - the mine that started the first gold rush in America. Around 1805, only a few years after Conrad Reed's discovery, newspapers began reporting on gold-mining activities and people coming into the area to search for gold. William Thornton, of Baltimore, Maryland, designer of the United States Capitol, was one of these seekers. After learning of the gold, he purchased thirty-five thousand acres of land in Montgomery (now Stanly) County and formed the North Carolina Gold Mine Company. By 1806, investors in this company included a former governor of Maryland and the treasurer of the United States.
To read the complete lot description, see:
Likely the Earliest Known American Gold Certificate: North Carolina Gold-Mine (https://holabirdamericana.liveauctiongroup.com/Likely-the-Earliest-Known-American-Gold-Certificate-North-Carolina-Gold-Mine_i29371876)
Here's an excerpt from the press release for the Stack's Bowers and Ponterio April 2018 Hong Kong Sale. -Editor
Stack's Bowers and Ponterio is pleased to announce details of their upcoming Hong Kong Auction of Chinese and Asian coins and currency, to be held Monday, April 2 through Wednesday, April 4, 2018, at The Mira Hong Kong, 118 Nathan Road, Tsim Sha Tsui, Kowloon, Hong Kong.

CHINA. Chihli (Pei Yang Arsenal). Dollar, Year 22 (1896)

CHINA 10 Tael Gold Ingot, ND (ca. 1750).
Session B will commence at 9:30 AM Hong Kong Time on Tuesday, April 3, beginning with Vintage Chinese Coins. The first major highlights are back to back 10 Tael Gold ingots (Lots 50010 and 50011) with the first confirmed to be Ex Nanking Cargo and the second presumed to be. Either would be a thrilling addition to any collection of world gold or the cabinet of a treasure enthusiast. A strong run of the standard sycee types follows.
A robust Provincial Issues section presents over 240 lots. This vast and deep area of Chinese numismatics is well represented with coinage from Anhwei, Chekiang, Chihli, Fengtien, Fukien, Honan, Hunan, Hupeh, Kiangnan, Kiangsi, Kiangsu, Kirin, Kwangsi, Kwangtung, Kweichow, Shanghai, Sinkiang, Szechuan, Taiwan, Tibet and Yunnan. The first highlight appears just six lots in - Lot 50052 is a condition census Chekiang 1898 50 Cents piece.
The next highlight is featured prominently on the front cover of the catalog: Lot 50056, a Chihli (Pei Yang Arsenal) 1896 Dollar. This rare and impressive coin offers gorgeous multi-color iridescent tone and is a stunning piece certain to elevate the next collection it enters. Another exceptional Chihli piece is Lot 50078, a Mint State 1907 Dollar with lovely champagne toning. Moving on to Fukien province, a rare 20 Cent issue commemorating the "Victory of the Revolutionary Army's Northern Expedition" is featured as Lot 50098.
The ever popular Hupeh Tael in Lot 50107 has "Small Characters" and a dynamic pair of flying dragons, a very desirable type. Lot 50161 is a high grade and rare "Wu Shen" Dollar from Kirin that features the Arabic numeral "11" at the center of the reverse and is an exception for an issue that is typically encountered with surface issues such as chopmarks. An exceptional Auto Dollar from Kweichow in Lot 50181 offers quality that is especially nice.
There are an additional three Auto Dollars, a veritable "Car Dealership." Lot 50188 is a historically significant Shanghai Tael, representing an attempt to oust the Spanish 8 Reales as the currency of choice in Shanghai. This piece is notable as the first Tael coinage produced in China. The next highlight is also a major first for Chinese numismatics: an "Old Man" Dollar produced in Taiwan. This coin "Lot 50226" is considered the first silver dollar minted in China and remains an ever-popular type. Tibet is represented by a strong run of coinage of over 30 lots in this catalog.

HINA. Long Whisker Dragon Pattern Dollar, Year 3 (1911)
Immediately following the Provincial coinage is the Empire General Issues section. A glorious 1906 5 Mace Restrike in Lot 50302 is the finest certified. Starting with Lot 50304, there is a steady run of highlights: two gorgeous 1910 Pattern Dollars, a ¼ Dollar from the same series, a tremendous "Long Whisker Dragon" Dollar and a "Reversed Dragon Pattern" Dollar. The Long Whisker Dollar offers gorgeous toning and the "Reversed Dragon" Pattern features blazing white luster (Lots 50307 and 50308).

CHINA. Gold Standard Pattern Dollar with Plain Edge, Dated Year
Republic General Issues are well represented in this sale, with nearly 90 lots that include many popular types representing the personages of the era: Sun Yat-sen, Li Yuan Hung, Yuan Shih-kai, Hsu Shih Chang, Tuan Chi Jui and Tsao Kun. The highlights begin with a superb gem quality Low Stars Dollar (L&M-42) as Lot 50322. An exceptional Li Yuan Hung with hat Dollar appears as Lot 50324 while a gorgeous Dragon and Peacock Dollar is found in Lot 50369.
A trio of exciting Sun Yat-sen Pattern Dollars are offered as Lots 50377 through 50379, with two from the British dies and one from the Austrian design. Lot 50387 is a superb gem Yuan Shih-kai in tall hat Dollar featuring pristine surfaces and radiant luster. One of the most interesting highlights offered in this auction is the "Mint Sport" Pattern Dollar with Gold Standard Reverse (Lot 50394). A history of this piece can be found in the catalog or online at StacksBowers.com.
Three separate offerings of the Yuan Shih-kai Flying Dragon Reverse Dollar in Lots 50395 through 50397 present an always in demand and visually stunning type. Rounding out the Republic section are two Meng Chiang aluminum pieces (a Fen [Cent] as Lot 50410 and a Chiao [10 Cents] as Lot 50411). Soviet Issues feature a rarely encountered Hupeh-Honan- Anhwei Soviet Dollar, with an intriguing pseudo-Russian script of debased Cyrillic (Lot 50412), the fascinating history of which can be found in the catalog. Additional exciting pieces are found in the Fantasies and Chinese Medals sections, so if Exonumia piques your interest be sure to browse there.
For more information, see:
www.Stacksbowers.com.
Here's a selection of interesting or unusual items I came across in the marketplace this week. Tell us what you think of some of these. -Editor
1878 Italy Vittorio Emanuele II Medal

1878 - Italy - Vittorio Emanuele II medal on the day of his death.
On the obverse, the King facing left, under his neck 'N. F.' - On the reverse, inscriptions inside a laurel wreath surmounted by the Star of Italy above the Savoy Crown.
Perfect condition with patina.
Diameter: 50 mm
Weight: 60 g
A wordy reverse, but a decent bronze medal. -Editor
To read the complete lot description, see:
1878 - Italy - Vittorio Emanuele II medal on the day of his death (https://auction.catawiki.com/kavels/17217817-1878-italy-vittorio-emanuele-ii-medal-on-the-day-of-his-death)
1898 Italy 50th Anniversary of the 1848 Statute Medal

1898 - Italy - Medal of the 50th Anniversary of the 1848 Statute.
Front: allegory of new Italy meeting old Italy, on the floor a lilied shield on a palm branch - Back: Italian inscription between the 1848 Statute and floral patterns.
Johnson - Milan.
Large size.
Diameter: 61 mm.
Weight: 100 g.
I don't know what the 1848 Statute is, but I love the staircase. Architectural medals are great, but usually focus on a sweeping view of an exterior or a large-scale interior, such as a cathedral. It's unusual for a medal to focus on one architectural element such as this grand staircase. Very nice. -Editor
To read the complete lot description, see:
1898 - Italy - Medal of the 50th Anniversary of the 1848 Statute (https://auction.catawiki.com/kavels/17216323-1898-italy-medal-of-the-50th-anniversary-of-the-1848-statute)
1930 Paquebot Lafayette Medal

Love the fashionable (for the day) high collar and hairdo. -Editor
To read the complete lot description, see:
France - Medal 'Paquebot Lafayette - Compagnie Generale Transatlantique' 1930 by M. Delannoy - bronze (https://auction.catawiki.com/kavels/17330649-france-medal-paquebot-lafayette-compagnie-generale-transatlantique-1930-by-m-delannoy-bronze)
1933 Christmas flight of de Pelikaan Medal

This medal was made to commemorate the flight of the KLM aeroplane 'de Pelikaan' during Christmas 1933
Front: a pelican flying the route from the Netherlands to the Dutch Indies. Year 1933
Back: signatures of the crew against a rising sun with clouds
Diameter: 41 mm
Great aviation medal with classic Art Deco lettering. -Editor
To read the complete lot description, see:
Commemorative medal. Christmas flight of "˜de Pelikaan', 1933 (https://auction.catawiki.com/kavels/17202559-commemorative-medal-christmas-flight-of-de-pelikaan-1933)
1968 Beaver Falls Centennial Half Dollar Token

This caught my eye because Beaver Falls is near my hometown of Pittsburgh, PA. But the kicker was the spelling of a word on the reverse. Is that "REEDEMABLE"? -Editor
To read the complete lot description, see:
Lot 609: 1968 BEAVER FALLS, PA. HALF DOLLAR TOKEN (https://www.invaluable.com/auction-lot/-1-c-1454DA3908)
1970 United Nations 50th Anniversary Medal

[World] 50th Anniversary U.N. Medals - Sterling.
Large thick medal commemorating 25th Anniversary of the United Nations in 1970. 156 grams of Sterling Silver with 4.64 Ozt Silver; Undernumber 5987
Nice medal. I don't see any indications of who designed or made it, though. -Editor
To read the complete lot description, see:
[World] 50th Anniversary U.N. Medals - Sterling . (https://alexcooper.hibid.com/lot/38783303/-world--50th-anniversary-u-n--medals---sterling--/)
Here's the press release for a new product from Coin Invest Trust. I like the clover design. Check out the video, but it's about their manufacturing process in general, not this specific piece. -Editor
Palau. 5 Dollars. 2018. Silver .999. Antique finish. 1 oz. 38.61 mm. Mintage: 2500 pcs. B. H. Mayer's Kunstprägeanstalt, Munich.
The obverse shows the coat of arms of Palau with the inscription REPUBLIC OF PALAU - 5 $ - 2018.
The reverse features a four-leaf clover in ornamental design.
How better to wish a beloved person good luck than with a four-leaf clover? For all those, who would rather revert to giving everlasting silver, CIT initiated the "Ounce of Luck" series in 2011. While all previous issues featured a real, small four-leaf clover, in the year 2018 the coin itself has been transformed into a cloverleaf thanks to the latest smartminting technology, a cloverleaf whose design was only possible with the most complex minting technology. Under maximum minting pressure a blank, produced specifically for this issue, is turned into a little artwork which combines two difficult-to- unite components: The incredibly high relief, only made possible by smartminting technology, and the most delicate features of a lavish ornamental surface, which curves like a real cloverleaf. Only by holding this cloverleaf in your own hands can you fully appreciate the finesse of the artful minting technique applied here.
To learn more about smartminting, watch this film made in-house by CIT: https://www.youtube.com/watch?v=bpzerLemadI
For more information, see:
https://www.coin-invest.li/coins/silver-fortune/
A rare New Zealand £5 note that came about after a banking crisis in the 1890s is estimated to sell for $17,500 at auction next week.
The 1894 £5 postal note is one of just four known to exist as trials or proofs and will go under the hammer in Wellington at Mowbray Collectables coin and banknote auction.
After the 1890s banking crisis in which the public lost confidence in banks, the Colonial Treasurer and later Prime Minister, Sir Joseph Ward, decided to issue a postal note that could double as a banknote. This note is a unique pink colour trial.
No issued notes are known to survive and none of the four known notes is in the hands of New Zealand banknote collectors.
To read the complete article, see:
Rare New Zealand postal note expected to sell for $17,500 (http://www.nzherald.co.nz/nz/news/article.cfm?c_id=1&objectid=12007859)
A black woman who refused to leave the whites-only section of a Canadian movie theatre in 1946 "nearly a decade before Rosa Parks's act of defiance" has been honoured on the country's newest $10 bill.
Civil rights pioneer Viola Desmond was selected from the more than 26,000 submissions that rolled in after the Bank of Canada announced plans to put a Canadian woman on the country's regularly circulating currency for the first time.
Looking to kill time while her car was being repaired, she stopped by a local movie theatre. It was a segregated space - floor seats were for white people while black people were relegated to the balcony.
Desmond, who was shortsighted, tried to buy a floor seat but was refused. So she bought a ticket for the balcony, where seats were one-cent cheaper, and sat in the floor area anyway.
She remained there until police arrived. Desmond was dragged out of the theatre and arrested, ultimately spending 12 hours in jail.
In 2010, more than six decades after she was arrested, Nova Scotia apologized to Desmond and pardoned her - a posthumous pardon signed into law by Mayann Francis, the province's first African Nova Scotian lieutenant-governor. "Here I am, 64 years later - a black woman giving freedom to another black woman,"
To read the complete article, see:
Civil rights pioneer Viola Desmond is first Canadian woman on currency (https://www.theguardian.com/world/2018/mar/09/civil-rights-pioneer-viola-desmond-is-first-woman-on-canadian-currency)
Viola's sister championed her story, and this video of her seeing the banknote for the first time is priceless. -Editor
This is the touching moment Wanda Robson saw her sister on a bank note for the first time.
Robson was brought to tears after being handed Canada's new $10 note, featuring her sister Viola Desmond.
After a nation-wide vote, Desmond was selected to feature on the new note.
Video of her reaction is now spreading after it was posted to the Bank of Canada YouTube channel on Friday.
It comes after the note was unveiled on Thursday, coinciding with International Women's Day.
People were loving how proud Robson was of her sister.
At the age of 73, Robson enrolled in a race relations university course in which her sister's experience came up.
Inspired, Robson channelled her efforts into sharing Desmond's story, publishing a book called, Sister to Courage in 2010.
As a result of Robson's efforts, Nova Scotia Lieutenant-Governor Mayann Francis granted Desmond an official pardon in April, 2010.
To watch the complete video, see:
Sister of late civil rights icon sees her on a bank note for the first time (https://pickle.nine.com.au/2018/03/09/13/53/viola-desmond-sister-wanda-robson-sees-bank-note)
Here are some additional items I came across in the media this week that may be of interest. -Editor
Video: Ship of Gold Exhibit


Dwight Manley
To watch the complete video, see:
CoinTelevision: Ship of Gold Sails into Long Beach Expo. VIDEO: 4:07. (https://www.youtube.com/watch?v=CAQh1eMQdUE)
To read the earlier E-Sylum article, see:
LONG BEACH "SHIP OF GOLD" EXHIBIT (http://www.coinbooks.org/v21/esylum_v21n09a27.html)
Contemporary Counterfeit Coins From the Reign of Queen Isabel II

To read the complete article, see:
The Good, the Bad, and the Ugly "" Contemporary Counterfeit Coins From the Reign of Queen Isabel II (https://coinweek.com/counterfeits/the-good-the-bad-and-the-ugly-contemporary-counterfeit-coins-from-the-reign-of-queen-isabel-ii/)
Man Unable to Retrieve Smuggled Banknotes

Algerian jeweller Salah Mennaoui, 67, was recently deported to his home country following surgery in Turkey after he was found to have illegally smuggled 290 banknotes worth 144,200 euros in his anal canal.
Last month, Mennaoui arrived in Istanbul from Algeria to buy gold. Because there was a limit to the amount of money he could carry across the border, he hid 288 banknotes worth 500 euros, as well as two banknotes worth 100 euros, in his anal cavity in the hopes of evading detection.
He was later unable to remove the banknotes and had to be rushed to a nearby private hospital after falling ill at his hotel in Istanbul. The doctors notified police after discovering the collection of 290 rolled banknotes in his anal cavity.
After the banknotes were surgically removed, Mennaoui was detained by police.
To read the complete article, see:
Algerian jeweller hospitalized after smuggling nearly 300 banknotes in anal cavity (http://canadiancoinnews.com/76893-2/)
To read the earlier E-Sylum article, see:
IN OTHER NEWS: MARCH 4, 2018 : Airport Catches Gold Smugglers (http://www.coinbooks.org/v21/esylum_v21n09a40.html)
Dennis Tucker writes:
This gem has made the rounds again and again with a staying power as strong as the book itself. Here's an excerpt from a 2012 blog post on the 50th anniversary of its original publication. See the complete post online for the referenced cartoons. Dennis copied a few friends on his note, and their (sometimes sarcastic) responses are below. -Editor
If you've been around librarianship, or interested in books and book- and information-related technologies, for a while, you realize both of these touch on familiar themes and have a common antecedent, which you're probably also familiar with. It's a widely-circulated bit of humor, which typically starts off something like this:
But if you've been interested in these sort of issues for a really long time - say, twenty years or more - back before there were so many possible outlets on-line for this type of humor, you probably remember that whenever someone forwarded a version of this to a listerv or usenet group someone would usually point out that the original version of this piece was published in some humor magazine way back when.
I couldn't remember the source, and it took a bit of poking around and looking at different version of this piece, but I found it and, as the subject of this post indicates, yes, the original is 50 years old today. In its May 9, 1962 issue, Punch, a now-defunct British humor magazine, carried R. J. Heathorn's essay "Learn with BOOK":
The Internet Archive and other sources have parts of Punch digitized and freely available, but mainly the 19th century and early 20th century stuff, and I couldn't find a copy of the original on-line so, in commemoration of the 50th anniversary of this piece, here it is in its entirety:
Fifty years. This gives you a idea of just how long the promise of some new device replacing the book has been a wet dream of technological prognosticators. And those two recent cartoons, and how widely-circulated all the variations of Heathorn's original essay still are today, all indicate how many people still feel we have a good ways to go to realize such prognostications, and that print books will still be around for a long, long time.

Joel Orosz writes:

Dave Bowers writes:

To read the complete article, see:
"Learn with BOOK", Classic Library/BookGeek Humor, Is 50 Years Old Today!!! (http://brianhuddleston.blogspot.com/2012/05/learn-with-book-classic-librarybookgeek.html)

Thanks, everyone! -Editor

This week's Featured Web Site is that of numismatic literature dealer Douglas Saville of Reading, England.