About Us
The Numismatic Bibliomania Society is a non-profit organization devoted to the study and enjoyment of numismatic literature. For more information please see our web site at coinbooks.org
Subscriptions
Those wishing to become new E-Sylum subscribers (or wishing to Unsubscribe) can go to the following web page link
Membership
There is a membership application available on the web site Membership Application
To join, print the application and return it with your check to the address printed on the application. Print/Digital membership is $40 to addresses in the U.S., and $60 elsewhere. A digital-only membership is available for $25. For those without web access, write to:
Terry White, Treasurer
Numismatic Bibliomania Society
P. O. Box 634,
Canal Winchester, Ohio
43110
Asylum
For Asylum mailing address changes and other membership questions, contact Terry at this email address: terrywhite5475@yahoo.com
Submissions
To submit items for publication in The E-Sylum, write to the Editor at this address: whomren@gmail.com
BUY THE BOOK BEFORE THE COIN
Content presented in The E-Sylum is not necessarily researched or independently fact-checked, and views expressed do not necessarily represent those of the Numismatic Bibliomania Society.
New subscribers this week include: Joe Casazza of the Nashua Coin Club, courtesy Bob Fritsch; and Bob Giroux. Welcome aboard! We now have 5,778 subscribers.
Thank you for reading The E-Sylum. If you enjoy it, please send me the email addresses of friends you think may enjoy it as well and I'll send them a subscription (but let me know if they are located in the European Union). Contact me at whomren@gmail.com anytime regarding your subscription, or questions, comments or suggestions about our content.
Remember the recurring theme in the Bil Keane cartoon Family Circus, where the oldest son Billy steps in as guest cartoonist? Well, this week my son Chris helped out with formatting several articles (he did a few last week, too). Thanks for the help!
This week we open with blockbuster results from Kolbe & Fanning's sale, two new books and a periodical, an obituary, and an item from the Newman Numismatic Portal.
Other topics this week include Chinese Sycee, the Columbian Shield, a U.S. Agricultural Society medal, dealers Smith & Son, next steps for Continental Dollar research, SS Central America territorial gold, cut and countermarked coins, U.S. Loan Certificates, coin carvers, and the return of the Quint.
To learn more about Saint-Gaudens Double Eagles, the Griqua tokens, Charlie Browne, sculptor Pol Dom, the Discovery 1943 copper cent, Labor Exchange notes, double exergues, ISIS coins, the George Cross, Nick O'Honis, and the atrocious hideousness of U.S. coinage, read on. Have a great week, everyone!
Wayne Homren
Editor, The E-Sylum


Kolbe & Fanning's Sale #150 of highlights of the John W. Adams numismatic library is now history, and the results were gangbusters, proving that the numismatic literature market is quite alive and well in the digital age. Here's a press release with some impressive prices realized. -Editor
On Saturday, July 14, Kolbe & Fanning Numismatic Booksellers held their live online auction of highlights from the John W. Adams Library. The Adams Library was strongest in classic American auction catalogues, an area of the numismatic book market that has been somewhat weak in recent years due to the proliferation of online resources and other factors.
That market came roaring back on Saturday, as record prices were repeatedly realized for sales by the Chapman brothers, Tom Elder, Ed Frossard, Lyman Low, and others. The Adams Library included exceptionally rare plated catalogues from a number of different firms, as well as seemingly unremarkable, but extremely rare, unplated sales necessary to those striving to complete sets of given cataloguers. A few of the more extraordinary results follow:
Lot 28: David Proskey's annotated copy of the Bushnell sale (S.H. & H. Chapman, 1882), with plates, brought $20,400 (all prices here include the 20% buyers' premium).

Lots 58 and 70
Lot 58: a bound volume of eight Chapman brothers sales including the very rare H.M. Smith stamp sale, brought an amazing $21,600 on a $750 estimate.
Lot 63: the rare Charles Morris sale with plates (S.H. & H. Chapman, 1905), brought $15,600 on a $2000 estimate, after aggressive bidding by several parties.
Lot 70: S.H. Chapman's 1909 sale of the Charles Gordon Zug collection, with plates, brought $18,000 on an estimate of $5000.
Lot 127: Virgil Brand's copy of the extraordinarily rare J.B. Chase Sale with plates (Tom Elder, 1907), brought $19,200 on a $2000 estimate.
Lot 133: a bound volume of Elder sales, including his very rare 37th sale (1910) with plates, brought $20,400 on an estimate of $3500.

Lots 144 and 252
Lot 144: Elder's extremely rare Sale 89 (1913), an unillustrated, self-covered, 16-page production, brought perhaps the most shocking price, realizing $13,200 on a $350 estimate.
Lot 218: A finely bound volume including plated copies of Ed Frossard's 90th and 97th sales (1898), brought $24,000 on a $1000 estimate.
Lot 252: Lyman Low's own set of early fixed price catalogues, sold for $16,800 on an estimate of $1500.
Lot 340: the extremely rare catalogue of United States Coin Company's 1917 sale of the Dr. French collection, featuring a plate of Colombian gold coins, realized $18,000 against a $2500 estimate.
These astonishing results were joined by many others that, in a less spectacular sale, would deserve press releases of their own. The 368-lot sale (which took nearly six hours to complete!) realized over 160% of the pre-sale estimate, bringing over $550,000 with the premium.
Kolbe & Fanning extend our thanks to all who took part in this wonderful sale, and are happy to state that reports of the death of the numismatic book market in this country are greatly exaggerated.
To view the catalogue of the John W. Adams Library, or to download the prices realized list, visit Kolbe & Fanning's website at numislit.com. https://www.numislit.com/
Roger Burdette's new book on the Saint-Gaudens Double Eagles has been published by Heritage. Here's the press release. -Editor
Saint-Gaudens Double Eagles Available Through Heritage Auctions
Volume written by Roger Burdette and edited by Heritage Auctions experts
breaks down history of popular collectible coin
The definitive resource on the history of one of the world's most popular collector coins, Saint-Gaudens Double Eagles as Illustrated by the Phillip H. Morse and Steven Duckor Collections, written by Roger Burdette and edited by Heritage Auctions Co-Chairman Jim Halperin and U.S. Coins Chief Cataloger Mark Van Winkle, is now available through the firm's website, HA.com.
Widely accepted as the most detailed resource ever compiled about these popular coins, the book covers every die variety available to Burdette, a multiple winner of the Numismatic Literary Guild (NLG) Book of the Year Award.
"The amount of research and expertise that went into this book is extraordinary, and is the reason this is as complete a resource as there is about Saint-Gaudens Double Eagles," Halperin said. "Roger Burdette and the Heritage Auctions staff who worked on it are unquestioned authorities on the coin and its history, making this a must-have resource for these coins."
Each issue details the estimated number of examples available to collectors, starting with the mintage. That total is pared down based on the number known to have been destroyed by the Annual Assay Commission, how many are believed to have been shipped overseas and how many are estimated to have been melted after 1933. In the cases when it is available, the delivery schedule also is included. Also included are coin details like the number of dies used to strike each issue, date and monogram placement and mintmark placement. Each issue includes an extensive commentary section, as well as a list of exceptional specimens.
One exceptional resource in the book is the collection of multi-page sections that cover specific groups of coins. Among the groups studied are Double Eagle Shipments Between the U.S. and Europe as well as Central and South America, 1906-1907 Patterns, the Gold Standard (1907-1913), the controversial status of proof 1907 High Reliefs, World War I and Gold Exchange Suspension (1914-1919), post-war production (1920-1929), America's Last Circulating Gold Coins (1930-1933), and the Manufacture of Proof Saint-Gaudens twenties. There also is an in-depth comparison of the die characteristics of the two 1933 twenties in the Smithsonian and the 10 Langbord coins currently in Fort Knox.
The 648-page book sells for $95.
For more information, or to order, see:
The Coinage of Augustus Saint-Gaudens as Illustrated by the M. . . (https://coins.ha.com/itm/books/the-coinage-of-augustus-saint-gaudens-as-illustrated-by-the-m/i/960001281.s)
A new edition has been published of the book by Dr. Morgan Carroll on South Africa graded coins. Here are the basics from the product page. -Editor
New Graded Coin Price Catalog for South Africa coinage
Read about the Carroll Stuart Griquatown Coinage investigation
New varieties and listings
Article on the Dutch Coinage of the Cape
Prices for the rare coinage are quoted in USD except for chapters 10 & 11 that are quoted in Rand prices for young Numismatists as these coins are easily obtained and not expensive!
Book printed in colour and wire-bound for easy folding
296 Pages and book is A5+ size - easy to carry around or fit into a bag!
Prices cover a 3 year period!
Only 124 printed books for sale (of 152 printed = 2 are proof and the remainder rejected due to QAQC)
The Carroll / Stuart investigation report into the Griquatown coinage (1817) is included in the catalog. This report clarifies all the mystery around the Griquatown coinage of 1817 in South Africa.
Several auction houses (I recall HA recently listed a coin) have listed a few of these rare coins but there was always uncertainty surrounding the claim that they were tokens. The Carroll / Stuart report delved into the archives of many missionary societies throughout Great Britain, extending to local research in South Africa and some clarity on shipping liner transportation undertaken in the USA and uncovered hard evidence of the intent, amount and issuance date of these coins.
Furthermore there is new information on various South Africa coins and currency coins which your readers would find most fascinating.
For more on the Griqua tokens, see:
Griqua coinage (https://en.wikipedia.org/wiki/Griqua_coinage)
For more information, or to order, see:
New 2018-20 MTB Graded Coin Catalog (1874-2000) (https://www.bidorbuy.co.za/item/351870052/
New_2018_20_MTB_Graded_Coin_Catalog_1874_2000.html)
At Fun 1998, the late Archie Taylor Sr. donated to OHNS a painting he had bought at a garage sale. The OHNS Board decided to adopt the gentleman pictured as the OHNS "mascot" and to have a "Name the Hobo Contest" Both a name and a short story were required to enter the contest.
Throughout 1998, our OHNS members submitted suggested names along with stories behind the names. The names and stories were published in subsequent BoTales issues.
Life member Stephen Alpert submitted what became the winning entry. He chose the name Nicholas "Nick" O'Honis. The name is derived from the name of the organization, the Original Hobo Nickel Society: The O from Original, HO from Hobo, NI from Nickel & S from Society. The nickname "Nick" is from Nickel, O'Honis is pronounced as in "honest."
Table of Contents
Do You Know This Distinguished Gentleman
BoTales Banner Banter and Editor's Remarks
Factoid concerning OHNS annual auction
BoTales Publishing Schedule
Archie Taylor Educational Scholarship
Inside This Issue
OHNS Board & Appointees
2018 OHNS Hobo Tokens
President's Message
EBay Shill Bidding
Spotted at ANA National Money Show
Who Was Frederick Burr Opper?
Time to Submit Your Coins
Specific Auction Submission Rules
How to Package Coins for QD
Carver Spotlight
Introducing "Portly"
Introducing "Billy Acher"
Introducing "Slip"
Introducing "Rain Beard"
Introducing "Mug Mouth"
First 25 Years of BoTales Flash Drive
Quality Designation Submission Form
Member Quests: Three's A Match
ANA Summer Seminar Scholarship
Burma-Shave
Some Classic Hobo Nickels Sales
Some Modern Hobo Nickels eBay Sales
New Members Since BoTales 2018 #1
Come to Summer F.U.N. in Orlando
OHNS Membership Application
Hobo Ephemera
For more information on the Original Hobo Nickel Society, see:
http://www.hobonickels.org/
Charles "Charlie" Browne, 69, of East Derry, New Hampshire, died on May 19, 2018. Browne was born in Elmira, New York, on March 2, 1950.
Browne graduated from a Medfield, Massachusetts, high school in 1968. He attended Western New England University in Springfield, but left and started working at a coin shop in Wellesley in 1974. As his numismatic knowledge grew, Browne's career did as well. He was employed by New England Rare Coin Galleries and then partnered with Bruce Dubin in 1980, forming Dubin-Browne Rarities.
Browne was said to have one of the sharpest eyes in the business. In 1986 he became a grader at Professional Coin Grading Service at its inception and worked there occasionally over the next 25 years. He also was employed by the National Gold Exchange and Rare Coins of New Hampshire. In 2003 he was hired by Certified Assets Management, where he handled many of the greatest American rarities. For the past 10 years, he operated Charles O. Browne Rare Coins in East Derry, where he dealt in both raw and slabbed U.S. and world coins.
In 1976 Browne became an ANA member. Since 2005 he delighted in teaching at the Association's Summer Seminar. In the April 2014 issue of The Numismatist (p. 91), he stated, "It is hard to explain what a joy it has been to volunteer in this capacity and to see the students' anxiety disappear as their confidence grows. Numismatics has helped me enjoy every aspect of life."
Browne is survived by his daughter, Meg; his son, Ryan; his brother, David; and his sister, Hilarie.
Bob Rhue writes:
Newman Numismatic Portal Project Coordinator Len Augsburger provided the following timely report on some of the interesting content to found among its 2 million+ pages. -Editor
The Newman Portal can be used to locate numismatic items of most any genre, and the news of the day, from Moscow, is the World Cup finals championship. This gold medal (from the NASCA July 1979 sale, lot 1350), weighing in at a hefty three ounces, was struck in commemoration of the Brazil World Cup victory in 1970. The catalog description tells the story:
"Presented on the occasion of becoming the first - and thus far only - nation to win the World Cup three times. As such, probably as important a sports medal as has yet been struck. Of additional interest, several countries have now struck commemorative coins with soccer themes. Although perhaps 20 such medals would have been issued, it is unlikely that most of the players and coaches will ever part with their medals (Brazilian soccer superstars are well-paid). We were told that the player who received this piece "blew a wad in Panama", and pawned it for bullion. We don't expect additional examples to appear soon on the market. Indeed, the sale of this piece may strain Brazilian-Panamanian relationships!"
We suspect there is much more to the story here, perhaps a Brazilian soccer historian can fill us in. The Newman Portal acknowledges John Herzog and Robin Majlak of Herzog & Co. for their assistance with auction sale catalogs of NASCA and R. M. Smythe.
Link to the NASCA July 1979 catalog:
https://nnp.wustl.edu/library/auctionlots?AucCoId=511370&AuctionId=521427
Here's a press release from Heritage Auctions about their addition of new information on ancient coins to the web site. -Editor
Heritage Adds Comprehensive Ancient Coins Data to HA.com
Comparable auction results and graded population guide for ancient coins marks another industry first for world's leading numismatic auctioneer
Collectors of ancient coins now have more information at their fingertips with Heritage Auctions' new feature, which serves up comparable auction results and census statistics on coins auctioned through HA.com. The auctioneer's World & Ancient Coins portal provides more information available in one convenient search.
Below nearly every ancient coin graded by Numismatic Guaranty Corporation (NGC) in a Heritage Auction appears an Auction Comparable Results Grid and a Population Guide. While this information is second nature to many U.S. coin collectors and has been utilized for decades in that segment of the market, Heritage Auctions is the first numismatic firm in the world to present the graded population data and auction comparable results for ancient coins in any sort of systematic and relevant way.
The Auction Comparable Results grid takes the results of similar coins from past auctions and presents the information in a clear and concise table. While auction lots still will contain an estimated price determined by Heritage experts, the results for similar coins at auction are infinitely more relevant. Potential bidders now easily can assess the raw data and make their own judgements as to what a particular coin is worth.
Population information from NGC now appears below the Auction Comparables Results grid, as well in an easy-to-use dashboard. Highlighting the grade of the specific coin up for auction, potential bidders can see how many examples have been graded at that same level, as well as how many exist at other grades above and below it.
"This feature educates buyers about the true market for specific ancient coins," Heritage Auctions Executive Vice President for World & Ancient Coins Cris Bierrenbach said. "The more information is available, the more comfortable and more confident people are when buying anything, regardless of the price.
"The additional information this provides will help assure buyers that the value of what is bought reflects the coin's rarity and is in line with past results. Customers who feel comfortable that they got a fair deal are more likely to be repeat customers, and more likely to get real enjoyment out of whatever it is that they purchase."
Similar information has been available for years for Heritage clients of U.S. Coins and, and as of last year, world coins. It has been harder to establish such metrics for ancient coins, because there are so many varieties. But the standardization of the market, established in part by the information available in this tool on HA.com, could increase the number of clients willing to buy ancient coins.
"The hope is that Heritage's commitment to transparency and advances in technology, as evidenced by these latest features, will lower the barrier for entry into the exciting collectible field of ancient coins," Bierrenbach said. "The best customers are informed, educated customers, those who understand the value of something before they buy. This feature will allow more and more of our clients to make educated, informed decisions, thereby increasing confidence and satisfaction from each transaction."
To visit the Heritage Auctions web site, see:
https://www.ha.com/
Regarding an item discussed in recent issues, Author Joe Cribb writes:
Joe included the cover image and a sample page from his book. Thank you! -Editor
To read the earlier E-Sylum articles, see:
NUMISMATIC NUGGETS: JULY 1, 2018 : Chinese White Metal Trade Token (http://www.coinbooks.org/v21/esylum_v21n26a23.html)
NOTES FROM E-SYLUM READERS: JULY 8, 2018 : Chinese Sycee Bullion Pieces (http://www.coinbooks.org/v21/esylum_v21n27a13.html)
Regarding the designer of the 1963 Kennedy Noble Servant medal, Wido Rinzema of Nijmegen, Netherlands writes:
Thank you. Wido had written to ask about a gold version of the medal in his possession. I was unaware of one and asked for more information. He kindly provided these images and weights. His bronze example weighs 24 grams, and the gold one 5 grams. -Editor
To read the earlier E-Sylum articles, see:
NUMISMATIC NUGGETS: JANUARY 22, 2017 : 1963 Kennedy Noble Servant Medal (http://www.coinbooks.org/v20/esylum_v20n04a21.html)
NOTES FROM E-SYLUM READERS: JANUARY 29, 2017 : More on the 1963 Kennedy Noble Servant Medal (http://www.coinbooks.org/v20/esylum_v20n05a09.html)
Julia Casey writes:
Wow! What a great find - sorry I missed this one. It sold for a lousy $14.99! I've been calling these "Columbia Shields" but this clearly states "Columbian Shield", which makes more sense anyway, since these were made for the Columbian Exposition. Thanks, Julia! -Editor
1893 Illustrated Advertisement for Columbian Medals & Shield by Heeren Brothers & Co.
A great vintage illustrated advertisement for Columbian Medals & Shield by Heeren Brothers & Co. of Pittsburg , Pa.. The advertisement features engraving of some of the items offered by this company. On the reverse is a section of text on the World"s Fair itself. A scarce vintage advertisement ready to be Framed.
To read the complete lot description, see:
1893 ILLUSTRATED ADVERTISEMENT FOR COLUMBIAN MEDALS & SHIELD BY HEEREN BROTHERS (https://www.worthpoint.com/worthopedia/1893-illustrated-advertisement-503834397)
To read the earlier E-Sylum article, see:
INDIANA STATE MUSEUM HEEREN BROS COLUMBIA SHIELD (http://www.coinbooks.org/v21/esylum_v21n27a20.html)
Ken Berger submitted these notes and images regarding Breen-Taxay Authentication Certificates. Thank you! -Editor
I too have a Breen-Taxay Certificate but it differs slightly from the one shown by David Lange. Whereas David's ID number is typed directly on the card, mine is typed on a separate piece of paper and is glued to the card. Upon holding the certificate up to a light, I am able to see a different number typed on the card. Also, Dave's certificate shows a Member Number but mine is blank.
Dave's certificate shows that something additional was, at one time, stapled to the bottom of the certificate which, I assume, was the formerly stapled holder containing the note. My certificate shows no such additional stapling. However, my certificate shows an embossed seal on both the certificate and the photocopy. The seal consists of two circles. Between the circles along the bottom, I can read "FIRST COI (obviously First Coinvestors). In the center of the seal, I can read C.A.C. (obviously, for Colonial American Coin Club). Above it is the word BY and above that I can read ARANTEE (obviously GUARANTEE). Above that I can read TH TIC (possibly AUTHENTIC). Finally, between the two circles at the top, I can read what appears to be AMERICAI CIII. Perhaps it said Colonial American Coin Club.
I've attached scans of both the front and the back of the certificate along with the note for which it applies.
In addition, I am including scans (front and back) of authenticity certificates issued by ANACS and INS prior to the advent of slabbing. The ANACS certificate consists of a B&W photograph of the coin with the certificate glued to it, starting on the front and folded over and glued onto the back. The INS certificate also consists of a B&W photograph of the coin with the certification typed and signed on the back of the photograph.
Wayne Myers of Pittsfield, MA submitted this information relating to the Breen-Taxay authentication certificates. Thank you! -Editor
Keep up the great work with The E-Sylum; it's a weekly treat.
After seeing the recent posts for the Breen and Taxay authentic cards I searched back through some of my material. I have four of the Taxay items from 1980 which I have included the scans for. The interesting thing is that these are sequential registry numbers.
The other scan that is more interesting is from Walter Breen to Don Lutes concerning the "Discovery" 1943 copper cent. This post card was sent I believe around 1959. The coin was given to Don Lutes as change in 1947 at the Pittsfield High (MA) lunch line.
While the original post card has faded over time the text is as follows:
Written in pencil at the top right of the post card is " It is nevertheless genuine."
Breen was not the best typist from the looks of the postcard. Breen also carried the coin around showing various dealers for about 1 year. The coin was never sold and returned to Don Lutes.
Don Lutes has shared this information and the card that is part of the file he maintained for the coin. Unfortunately, Don's health is failing and he must finally part with his prize possession. The coin will probably be auctioned later this year.

#3561 Two Cent

#3562 Nickel

#3563 Dime

#3564 Three Cent Nickel
Regarding the mystery of what happened to Don Taxay, Dick Johnson writes:
To read the complete article, see:
BREEN AND TAXAY AUTHENTICATION CERTIFICATES (http://www.coinbooks.org/v21/esylum_v21n27a12.html)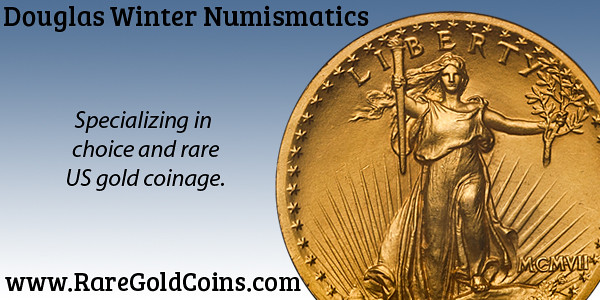 Dick Grinolds On So-Called Dollar Terms
In response to Dick Johnson's Vocabulary article last week, Dick Grinolds writes:
To read the earlier E-Sylum article, see:
VOCABULARY TERMS: SO-CALLED DOLLAR, SOUVENIR MEDALS (http://www.coinbooks.org/v21/esylum_v21n27a17.html)
The Order of the Peacock Award
Jeff Shevlin writes:
To read the earlier E-Sylum article, see:
VOCABULARY TERMS: SO-CALLED DOLLAR, SOUVENIR MEDALS : JEFF SHEVLIN AWARDED ORDER OF THE PEACOCK (http://www.coinbooks.org/v21/esylum_v21n27a17.html)
Salt Lake City #1 Labor Exchange Note
Chris Grater of Boone NC writes:
Thanks for sharing this. I enjoy the Labor Exchange notes on a number of levels. They're interesting and historical, and a nice souvenir of a grass-roots effort to help people in need during tough financial times. The number of different denominations and issuing communities make for a never-ending quest for new examples to collect. Perhaps someday someone will write a standalone book on these. Congrats on landing a #1. -Editor
More on Louis Riel
Ed. Nelson of North Little Rock, AR writes:
For more information, see:
https://en.m.wikipedia.org/wiki/Louis_Riel
To read the earlier E-Sylum article, see:
RARE HBC PROMISSORY NOTE AT REGINA COIN SHOW (http://www.coinbooks.org/v21/esylum_v21n27a32.html)
2018 ANA Tokens and Medal Symposium

Susan Trask submitted the following reminder of the Tokens and Medal Symposium at the upcoming ANA Philadelphia World's Fair of Money. Thanks. -Editor
Meet the Experts: A Symposium on Tokens and Medals with Q. David Bowers, Neil Musante, David Schenkman, Fred Holabird and Steve Hayden, Moderated by Susan Trask. Thursday, August 16th , 3:00 at the ANA World's Fair of Money.
Please send your questions for this exciting Money Talks presentation to Susan Trask via email @susantrask@mindspring.com. Any question, on any token is welcome and we look forward to seeing you there!
Don Taxay and First Coinvestors
Tom Caldwell of Northeast Numismatics writes:
To read the earlier E-Sylum article, see:
BREEN AND TAXAY AUTHENTICATION CERTIFICATES (http://www.coinbooks.org/v21/esylum_v21n27a12.html)
Breen's Outbursts

Dave Lange writes:
Quite possible! -Editor
To read the earlier E-Sylum article, see:
SUMMER SEMINAR BOOK SALE FINDS (http://www.coinbooks.org/v21/esylum_v21n27a22.html)
A Numismatic Calendar
Ed Hohertz writes:
Thanks. This numismatic calendar is an interesting compilation of significant dates. -Editor
To read the earlier E-Sylum article, see:
A numismatic calendar.pdf (https://www.academia.edu/37010175/A_numismatic_calendar.pdf)
Treating Musty Smelling Books
Dave Hirt writes:
Our June 24, 2018 article mentioning Queen Christina of Sweden prompted Jim Duncan to ask for information on a countermark thought to identify coins from her collection. -Editor
Jim wrote:
Here are some reader responses, beginning with an example of the crowned C countermark. Mary Lannin and Hadrien Rambach located this in Classical Numismatic Group's 93rd sale. -Editor
Gordian I Sestertius

CNG 93, Lot: 1210. Estimate $3000. Sold for $6000. This amount does not include the buyer's fee.
Gordian I. AD 238. AE Sestertius (31mm, 17.80 g, 12h). Rome mint. IMP CAES M ANT GORDIANVS AFR AVG, laureate, draped and cuirassed bust right; c/m: crowned C / VICTORIA AVGG, Victory advancing left, holding wreath in extended right hand and cradling palm frond in left arm; S C across field. RIC IV 12; BMCRE 14-16; Banti 8; Havercamp, Numophylacium Reginae Christinae (The Hague, 1742), p. 235, III, pl. XXXIII (this coin); Cohen 14. VF, green patina, some red, edge split and hairline flan crack.
Ex Robert Schonwalter Collection (Triton V, 15 January 2002), lot 2053; Münzen und Medaillen AG 61 (7 October 1982), lot 466; Hess-Leu 41 (24 April 1969), lot 419; Queen Christina of Sweden Collection (reigned 1632-1654).
In 1654, Queen Christina abdicated and moved to Rome, taking with her an immense coin collection of more than 15,000 coins, some of which she had inherited. She patronized a group of prominent numismatists of the time, and when she died, she bequethed more than 6000 coins to the Odescalchi family, and these coins were later sold to Pope Pius VI for the Vatican's coin cabinet. Her coins are easily identifiable by the crowned C stamped on them, and are some of the oldest and most prestigiously pedigreed coins.
To read the complete lot description, see: Ex Collection of Queen Christina of Sweden
Published in 1742 by Havercamp (https://cngcoins.com/Coin.aspx?CoinID=231824)
Doubts Emerge

Hadrien Rambach also submitted this excerpt from a paper he published on the topic. Thank you. I've used Google Translate to get an English version, but included the original for those who read French, -Editor
English Translation:
From : Hadrien Rambach, « Un aigle contremarqué sur un dupondius de Titus appartenant à la Bibliothèque royale de Belgique, signe d'une provenance d'Este à Ferrare », in In Monte Artium, vol. 10 (2017), pp. 103-117
English Translation:
Mary Lannin adds:
So it seems in doubt that the crowned C connects coins to the cabinet of Queen Cristina of Sweden. But it's still not clear who was responsible for it. Perhaps future research will shed more light on this. Thanks, everyone. -Editor
To read the earlier E-Sylum articles, see:
QUEER COINS: LGBTQ RULERS THROUGH HISTORY (http://www.coinbooks.org/v21/esylum_v21n25a29.html)
NOTES FROM E-SYLUM READERS: JULY 1, 2018 : Queen Christina's Crowned C Countermark (http://www.coinbooks.org/v21/esylum_v21n26a09.html)
John Nathan writes:
Here are some more images. -Editor
To read an earlier E-Sylum article, see:
AUTHOR'S RESPONSE TO REVIEW OF AGRICULTURAL AND MECHANICAL SOCIETY AWARD MEDALS BOOK (http://www.coinbooks.org/esylum_v14n17a08.html)
Exergue. The segment of a coin or medal design beneath a base line, usually containing lettering. While exergue means the area beneath the base line, by extension it also means the lettering within this area. Designing any scene or illustration with a ground line and placing this in a circular shape gives rise to the area so described. From almost the beginning of the Renaissance medal, the exergue was being used. It was a logical place to put additional information: signatures, dates, mottos, inscriptions and such, some lines in smaller letters than others for variety. Only in rare instances was any ornamentation placed there, so important was it for lettering. An exergue can only exist on a circular or rounded bottom; if the area has square corners the lower portion is a PLINTH. See PANEL.
History of exergue. The earliest art medals of the Renaissance exhibit exergues. The dual portrait medal of Rene d' Anjou and Jeanne de Laval (Kress 24), dated 1463, contains an exergue on the reverse containing the artist's name: FRANCISCVS LAVRANA / FECIT in two lines beneath the base line of Peace standing next to an olive tree. The use of an exergue continued in medallic art from that time forwards.
The first coin designed with an exergue may have been a coin of Charles II, a halfpenny of 1673. The design of the seated Britannia obviously had a base line, but this was extended across the full flan on this coin with the 1673 date below in the exergue. The first use of the term, at least in English, was shortly thereafter, in 1697. It is widely used in numismatic cataloging.
A supraexergue is a similar area at the top of a design – as on a circular or oval medal – with a line across the top of the device creating an area above for lettering or symbols. The reverse of the United States oval Indian Peace medal series has such a supraexergue.
A bowed exergue was created for a Columbus medal of 1892; it showed the Landing of Columbus as a scene on the reverse and the design lends itself to a base that is an arc rather than a straight line. The lettering in the exergue is on a bowed base line congruent with the bowed truncation of the device.
A double exergue exists on a U.S. Mint medal, the Eleeazer Wheelock Ripley Medal of 1826, where a question of fact was raised to correct lettering already cut into this area (had Ripley indeed participated in the Battle of Erie, September 17, 1814?). When the correct information was furnished engraver Moritz Furst, he placed it on a higher plane than the rest of the exergue, creating the double exergue. [The author suspects he did this to save an already completed die without having to cut a new reverse die.]
CLASS 02.4
To read the complete article, see:
https://www.wikitree.com/wiki/Ripley-993
Book lovers should be word lovers as well.
Looking for the meaning of a numismatic word, or the description of a term? Try the Newman Numismatic Portal's Numismatic Dictionary at: https://nnp.wustl.edu/library/dictionary
Or if you would like a printed copy of the complete Encyclopedia, it is available. There are 1,854 terms, on 678 pages, in The Encyclopedia of Coin and Medal Technology. Even running two a week would require more than 19 years to publish them all. If you would like an advance draft of this vital reference work it may be obtained from the author for your check of $50 sent postpaid. Dick Johnson, 139 Thompson Drive, Torrington, CT 06790.
John Lupia submitted the following information from the online draft of his book of numismatic biographies for this week's installment of his series. Thanks! As always, this is an excerpt with the full article and bibliography available online. This week's subject is the numismatic firm Smith & Son. -Editor
Smith & Son, a numismatic firm originating in 1938, at 2267-69 Clybourn Avenue, Chicago, Illinois, formerly a furniture manufacturing factory owned by the firm's senior principal. In May 1946, the firm moved to Wheaton, Illinois. In 1953, the firm relocated to Tucson, Pima County, Arizona, known then as Smith & Son's. No notices regarding the firm or the principals are found after 1964.
The firm specialized in gold coins and paper money as a business venture following the U. S. paper money being taken off the gold standard on March 6, 1933.
Frank S. Smith (1891-1951), was born on December 16, 1891, at Edoraisce, Lithuania. According to his WWII draft card he was 5'-10" tall weighing 215 pounds. In 1911, he came to America as a young man of nineteen and lived for three years in Wisconsin. In 1914, he moved with his wife to Chicago, Cook County, Illinois. Shortly afterwards Frank Jr., was born.
On June 29, 1940, the firm held its only known coin auction sale, a mail bid of the collection of Chicagoan Dr. August J. Lorenz (1881-1951).
Frank J. Smith (1914-1967?), was born in August, 1914, in Illinois, son of Frank S. Smith and Ana Smith. He graduated Garfield School, Chicago, in June 1920. At the time he was nearly 6' tall.
In 1950, Frank J. Smith published a detailed article on Oregon Territorial Gold in Hobbies Magazine, "1849 Oregon Territory," Hobbies, May (1950) : 119
Frank J. Smith applied for membership to the American Numismatic Association in March 1938. He became ANA Member #6789 in April, 1938.
In 1948, Smith & Son published a broadside circular "Coins and Coiners of Colorado" with photographs of Milton E. and Austin M. Clark as well as Emmanuel Henry Gruber.
In November 1949, Frank Smith ran an ad in The Numismatist under the name Frank's.
Late 1950, before Thanksgiving, Frank S. Smith joined the Chicago Coin Club and became member R-541.
On January 26, 1951, Frank S. Smith died of congestive heart failure, days after the death of Dr. August J. Lorenz.
Following his death Frank Jr. changed the name to Smith & Son's.
The Brasher Doubloon in the Smithsonian Institution was once owned by Frank Smith.
To read the complete article, see:
SMITH & SON (https://sites.google.com/a/numismaticmall.com/www/numismaticmall-com/smith-son)
* * * * *
The entire inventory of the Lupia Numismatic Library is for sale. Individual items will be available before the remaining archives are broken up into parcels sold at philatelic auctions in the U. S. and Hong Kong. Check NumismaticMall.com frequently as dozens of new items with estimates will be posted daily until everything is sold.
All inquiries will be given prompt and courteous attention. Write to: john@numismaticmall.com .
Harvey Stack's Stack's Bowers blog series focuses on growing up in a numismatic family. Here are parts 20-22. Thanks, Harvey! Nothing beats a report on numismatic events and personalities direct from someone who was there to witness them in person. -Editor
Part 20: 1955
The year 1955 began, and it would prove to be another incredible year.
Early in January, my cousin Norman Stack returned from his tour of duty in the Army, after being stationed in Germany. He was back on board at the shop and ready to pursue the job he left in 1951, when he was drafted because of the Korean War.
Norman was a great cataloger and numismatist, and my father Morton welcomed him back with open arms. Norman could now help out our staff in preparing catalogs, as well as help me manage the daily operations of the firm.
We all got to work preparing catalogs for the 1955 spring auctions, making new price lists and serving our clients. In late winter, Benjamin Stack (Norman's brother and my cousin), contacted his father, Joseph, to say he would like to return to New York to rejoin the company. His venture in Las Vegas had not been successful and he had closed the operation there. It seems that all he got from Las Vegas was a chance to watch some atomic bomb tests. Joseph spoke to my father, and after some family discussions, it was decided that Ben should return to the firm. As my father had 50% of the company, he was able to give me 25% and retain 25% for himself. Norman proposed that if Joe would do the same, Norman and Ben would split 25%, and each have 12.5%. Ben was very appreciative of what Norman and their father did for him.
I spent most of my time getting Norman back up to speed, including making him fully aware of our dealings with J.K. Lilly and the other important customers we served.
When he got back, Ben reacquainted himself with the general operations of Stack's. Whenever he was not needed in the store, he would go out on the road to try find consignments. He was successful in reaching out and establishing contacts with clients he had served before 1952.
Early in the spring of 1955 we talked to Clifford T. Weihman, whose foreign gold collection we had sold a few years earlier. We inquired whether he was willing to sell, intact, his collections of $5 and $10 gold coins, both of which were quite extensive in dates and mintmarks.
We told Cliff, who was a close friend of the Stack family (he attended my wedding in 1949), that we had a client who would be interested in buying both sets outright. It seems that J.K. Lilly had done some homework, and had read about the Brand Collection of Chicago, the Farouk Collection of Egypt, and the Eliasberg Collection of Baltimore. Through his reading he learned that these collectors had built their cabinets by purchasing major sections of their collections outright (as Cliff had bought the gold coins from the Col. Green Collection via Stack's in 1944). Mr. Lilly felt that if he could get major parts of each series he would not have so many spaces to fill that required waiting for coins to come on the market.
Cliff Weihman liked the idea of passing on the Col. Green coins to another collector who was trying to build a world class collection. We worked with Weihman in valuing the sets (which he had owned for over 11 years) and came up with a fair market value for both buyer and seller. The deal was struck. My father and I personally delivered the sets to Mr. Lilly in early summer 1955. These sets, which Stack's had considered the second sets of these gold coins from the Col. Green Collection, were lacking a few of the very rare pieces that had been in the first set of Col. Green coins, which had been sold to King Farouk. But Mr. Lilly was pleased to get this head start on his U.S. gold collection and appreciated the challenge that came along with filling in the missing pieces.
Stack's was aware that the famous Amon Carter, Jr. Collection of United States gold had some great rarities (including an 1822 half eagle), even though the collection was not complete. Amon was a major stockholder in American Airlines and the family owned among other things, the Fort Worth Star Telegram. Amon would visit Stack's in New York a number of times each year. After Mr. Lilly bought the Weihman gold sets, every time Amon stopped in or one of the Stacks would see him at a numismatic event, we always said to him: "We have a great collector who has quite an advanced half eagle collection and your 1822 will fill out his set." Amon responded: " If I decide to sell my coin I promise to give you the first chance on it," and he then chomped on his cigar, which he smoked incessantly.
It might surprise many collectors today who read about rare and choice coins selling for millions of dollars. If look back at the coin market of over 60 years ago in the 1950s, few sold for over $1,000, a few brought over $500, some sold for over $100, and the majority brought under $100. After all gold was only $35 an ounce, and silver was less than a dollar an ounce, just a small fraction of what bullion is worth today. This, of course, was a determining factor in the prices of collectible coins, as was the fact that there were not as many collectors interested in gold coins at the time.
Part 21: Numismatics in the 1950s
Numismatics grew all through the 1950s. Many of the servicemen who were collectors before World War 2 returned home, settled down to their regular jobs, started to raise families and re-entered their hobbies. It was a wonderful to have them rejoin their fellow hobbyists, and renew friendships from years gone by. The hobby was reinvigorated as they again discovered the fun and relaxation of coin collecting.
However in addition to this normal growth, there was also a speculative fever that emerged during this period. While it added people to the hobby, it also caused havoc in the market and affected the way one dealt in coins.
Because of the war, the U.S. Mint stopped making special Proof sets for collectors from 1942 until 1950. About 21,000 1942 Proof sets were struck, and when Proof coinage began again in 1950 the mintage was 51,000 sets, indicating that demand for these sets had more than doubled. Collectors loved the ability to buy Proof sets that included the cent, nickel, dime, quarter and half dollar directly from the Mint for $2.10. Dealers also paid the same price, and we kept them in stock to accommodate collectors who wanted them but would rather not send an order for them. We usually priced them about $3 per set, just to cover cost of purchase, stocking and shipping. But speculation hit the market by 1955 when some 700,000 sets were struck and sold by the Mint — many, many more than the number of collectors who wanted them.
However, at $2.10 per set these became major speculative items. Collectors and speculators started to buy these in quantity – groups of 5, 10, 50 and even 100 sets from the Mint. The Mint had what appeared to be an unlimited supply. About half of the sets were packed in boxes like the earlier dates, and the other half were packed in a flat pack envelope. At $2.10 per set, with 91¢ face value and a bright finish, how could you go wrong?
But the trading of bulk groups of Proof sets was initially just another idea for speculators. In addition, by 1955 clients started to buy rolls of current and near current dates and trade them. Even bags of coins were being offered as an investment. Some dealers began to hoard rolls and bags, trying to create a market that would bring them big profits. The hype was so great that no one seemed to consider that the numbers struck far outnumbered the collectors interested in buying them.
It got to the point where Sol Kaplan, a dealer from Ohio set up a board (like that of a bookmaker) at the 1955 ANA Convention. The board recorded bid and ask prices and created such a furor at the show that the ANA made him stop after a couple of days. At the show, investors and collectors bought and sold, as bags of coins, rolls of coins, and Proof sets were traded until there were no buyers, only sellers.
I remember that no 1950-D nickels seemed to be available in the marketplace and the price jumped from $10 per roll ($2 face value) to over $100 a roll. Shortly after the 1955 show was over, a Detroit bank which had received a huge quantity of 1950-D nickels distributed them to their clients and suddenly the oversupply led to the market dropping like a stone. By the end of 1955, a roll could readily be acquired for very close to the $2 face value.
The same speculation hit commemorative half dollars that were issued after 1946. Prices for the Iowa Centennial, Booker T. Washington, ?and Washington Carver issues went up and up, but the prices returned to close to face value within a few years when it was realized that the supply was sufficient to meet the demand.
This speculation had a negative effect on the market for late issue coins. For me as a young coin dealer it was an important lesson. I learned that you cannot make something rare, scarce or desirable purely through promotion – by saying it is so. Prices may rise temporarily but the market will eventually collapse if there is nothing to maintain the demand.
Part 22; Expanding the Staff
Among the reasons for the move from 46th Street to West 57th Street in New York was that more space was needed for our library and foreign coin business. Also on West 57th Street, about a half a block away from our store, we located a second floor space to house a division called "Coin Galleries." We were fortunate to be able to get Dr. and Mrs. V. Stefanelli to run it for us. They were scholarly, had a good following among collectors of foreign and ancient coins, and developed a mail bid auction program for those clients.
Eventually, they were able to move above our shop on the second floor of the building we occupied and so we had them close by. Coin Galleries provided for us venue that was mainly dedicated to those who collected foreign and ancient coins. We then added to our staff James C. Risk, George Weyr, Hans Holzer, and John Burnham, each a great numismatist. We had a world class staff for sure!
Stack's Coin Galleries division grew in popularity and we were proud of our staff. However, good things do sometimes come to an end, and even when the end is friendly there can be disappointment and sadness. Dr. and Mrs. V. Stefanelli were offered the position as curators of the National Numismatic Collection at the Smithsonian Institution in Washington D.C. To scholars such as them, this was a great honor and came with a great deal of prestige. We were happy for them and our relationship with them continued for decades.
I was able to learn a lot from the Stefanellis during the time they were at Stack's. The Stack family was later recognized as major donors to the Smithsonian Collection, and I was honored to be able to call upon them in their capacity as curators for numismatic help and guidance.
During 1955 Stack's continued to present auctions that were aimed at all levels of collectors, those just starting out and those expanding their collections. We were able to offer many choice and scarce coins of the United States as well important sales of Foreign and Ancient coins. In the early part of 1955 we had several smaller auctions, which were well attended by a developing following. In the spring we offered some important name collections including the C.R. Smith Collection and the Frank Limpert Collection. In the fall we were the auctioneers for the New England Numismatic Convention sale, conducted in Connecticut. And, we ended the year with the famous Farish Baldenhofer Collection of choice and very rare coins from the United States in gold, silver and copper. It was the highlight auction of the year and was attended by collectors from all over the country who bid for rarities and established new records for the period.
To read the complete articles, see:
Harvey Stack Remembers: Growing up in a Numismatic Family, Part 20 June 14, 2018 (http://www.stacksbowers.com/News/Pages/Blogs.aspx?ArticleID=2998)
Harvey Stack Remembers: Growing up in a Numismatic Family, Part 21, June 28, 2018 (http://www.stacksbowers.com/News/Pages/Blogs.aspx?ArticleID=3016)
Harvey Stack Remembers: Growing up in a Numismatic Family, Part 22 July 10, 2018 (http://www.stacksbowers.com/News/Pages/Blogs.aspx?ArticleID=3036)
To read the earlier E-Sylum article, see:
http://www.coinbooks.org/v21/esylum_v21n22a23.html (http://www.coinbooks.org/v21/esylum_v21n22a23.html)
Having set out to replace erroneous and presumptive statements about the Continental Dollar with provable truths, I have taken this study as far as possible for now. Many questions cannot be answered at this point. In the absence of hard evidence, any further hypotheses could lead to a fresh layer of theoretical baloney. I want to avoid this at all cost, so I offer no speculation here.
Instead, I'd like to encourage the pursuit of additional facts by posing a few queries. Some of these relate to flawed suppositions of the past and might seem rhetorical or, at best, the beating of dead horses. Regardless, exploring them could prove to be a useful and enjoyable exercise in critical thinking... and therefore worthwhile. As possible answers and clues arise regarding the following, they surely will bring fresh questions:
• Who was "EG," the person who created at least one Continental Dollar obverse die? Now that we know the search has long focused on the wrong side of the Atlantic, we can begin to look for him in 1780s England or Europe.
• As off-metal strikes of a common pewter medal, did the brass and silver examples play a historic or numismatic role?
• Other than the explanatory flyer saved by Sarah Sophia Banks (an artifact that now resides in the British Museum), do other examples exist and are they identical to hers?
• How do these Continental Dollar medals relate to the pewter "Felicitas Britannia et America" medals (Betts-614) struck in England after September 1783? Not only do the two share a common reverse design and lack a copper "scavenger," but both also have milled edges, making them strikingly similar.
• Can the dies used to impress the edges of the Betts-614 medals be linked to those used on any varieties of the Continental Dollar?
• Why do no Revolutionary War-era newspapers mention a circulating, Congressionally authorized pewter dollar? This absence stands in stark contrast to the innumerable times that diverse aspects of Continental paper money were discussed. Money was as fascinating to newspaper readers then as it is now.
• Why have none of these pewter pieces been excavated from campsites occupied by the Continental Army during the Revolutionary War? Collectively, these sites have yielded thousands of pewter buttons and countless copper and small silver coins. Since one of the main purposes of the Continental Currency was to pay troops, huge quantities of the money went directly to the military. One would think if a Congressionally sanctioned pewter dollar circulated after mid-1776, then a good place to look for a lost or discarded example should be the site of a Continental Army encampment, home to thousands of soldiers for months or years on end.
• The Continental Congress conducted a majority of its materials-based business in the Philadelphia area, and its paper money, from A to Z, was produced by local tradesmen. Though David Rittenhouse supplied the first 36 "cutts" 30 for the Continental Currency plates in 1775, we don't know who supplied those employed for the February 1776 fractional bills. However, other convenient options existed. Philadelphia had many of the best engravers and metalworkers in 18th-century America, like James Smithers, who made cuts for some currency issues. Other highly skilled mechanics, like silversmith Joseph Richardson, produced the dollar-size 1756 "Kittanning Destroyed" and the 1757 "Treaty of Easton" medals, the first such items struck in British America. Even the dies Richardson used were Philadelphia-made, from the hand of clockmaker Edward Duffield. One might wonder why the Continental Congress would turn to Gallaudet in New York City, a hundred miles and a few days' travel away, when it had a plethora of more talented craftsmen with a greater array of skills right in its backyard.
• The suggestion that the Continental Congress was producing coins in secrecy to avoid trouble with the British makes no sense. Other far more "treasonous" activities were extensively documented in its records, like the active support of rebellious troops (the Continental Army) and the issuance of "Letters of Marque," which authorized patriotic American sea captains to prey on British shipping anywhere in the world. While Congressionally licensed ­pirates were a clear and present danger to Great Britain, the striking of base-metal coins during wartime posed no threat to the Crown Forces or the empire's economy. And would the production of such coins be deemed more ­treasonous than the printing of Continental Currency or, for that matter, the dispatching of the Declaration of Independence to King George III?
To read the complete article, see:
1783 Felicitas Britannia et America Medal (http://coinappraiser.com/coins/1783-felicitas-britannia-et-america-medal/)
To read the earlier E-Sylum article, see:
GOLDSTEIN AND MCCARTHY ON THE CONTINENTAL DOLLAR (http://www.coinbooks.org/v21/esylum_v21n21a21.html)
Unprecedented Grouping of Rare Territorial
Gold Coins Aboard SS Central America Treasure
Some of the finest known Kellogg & Co. and Wass Molitor & Co. San Francisco gold coins are among the 105 historic California Gold Rush Territorial coins recovered during the last expedition to the fabled "Ship of Gold," the SS Central America, that sank in 1857. The headline-making recovery also includes a rare variety U.S. Assay Office $20 coin and an unusual counterstamped Wass Molitor $5 gold piece.
These are some of the latest major discoveries revealed in the continuing chronicle of the United States' greatest sunken treasure, according to the California Gold Marketing Group (CGMG).
"We have finished carefully examining and cataloging the $5, $10 and $20 gold Territorials we took possession of earlier this year that were retrieved from the SS Central America in 2014. It was exhilarating to see these gold coins created by major assayers from the height of the Gold Rush: Humbert; Kellogg; Moffat; Wass Molitor; and the U.S. Assay Office," said CGMG Managing Partner Dwight Manley.
"There are an unprecedented fifty Kellogg & Co. $20 coins, including two monumentally rare, uncirculated coins! Ten of those 50 were found together in a pile with other coins on the Atlantic Ocean seabed off the coast of the Carolinas. Each of the 105 recovered Territorials is a remarkable part of American history and a tribute to the memory of the fabled ship, the passengers, crew and the era," stated Manley.
Professional Coin Grading Service (www.PCGS.com) now has certified these retrieved treasure coins.
Among the highlights of the SS Central America Territorial coins are:
The second finest known 1854 Kellogg $20, graded PCGS MS62+.
The second finest known 1855 Kellogg $20, PCGS MS61.
Two rare 1855 Wass Molitor Small Head variety $20 gold coins that are among the finest known with one graded PCGS AU58 and the other PCGS AU55.
A rare 1853 U.S. Assay Office $20 "884 THOUS" variety, PCGS AU55+.
"The very rare 884 THOUS variety, representing a gold content fineness of .884 purity, was struck for only eight days in February and March of 1853 before they switched to the more acceptable '900 THOUS' standard," explained Bob Evans, the chief scientist on the 1980's missions that first located and recovered a portion of the fabulous SS Central America treasure and then assisted with the 2014 recovery. He is the curator of the treasure.
"We also found five 1853 Moffat & Co. $20s," Evans revealed. "It was really exciting to locate these because we didn't recovery any Moffat $20s during any of the earlier expeditions."
One 1852 Wass Molitor $5 Small Head variety gold coin was counterstamped, "W.W.LIGHT/DENTIST," by a Sacramento, California dentist.
"It's pretty cool!," exclaimed Evans. "It's graded PCGS VF30. It apparently had years of use in the goldfields and must have stories to tell!"
Here is a listing from CGMG of the 105 Territorials from the latest "Ship of Gold" recovery.
$20 denomination (total of 77 coins):
1854 Kellogg & Co. (26 coins)
1855 Kellogg & Co. (24)
1853 Moffat & Co. (5)
1853 US Assay Office 884 THOUS (1)
1853 US Assay Office 900 THOUS (19)
1855 Wass Molitor & Co. Small Head (2)
$10 denomination (13 coins):
1849 Moffat & Co. TEN DOL. (1)
1849 Moffat & Co. TEN D. (2)
1852/1 Humbert (1)
1852 Humbert (1)
1852 US Assay Office (3)
1853 US Assay Office 900 THOUS (1)
1852 Wass Molitor & Co. Small Head (1)
1852 Wass Molitor & Co. Large Head (2)
1855 Wass Molitor & Co. (1)
$5 denomination (15 coins):
1849 Moffat & Co. (11)
1850 Moffat & Co. (2)
1852 Wass Molitor & Co. Small Head (2)
A complete inventory of U.S. and world coins and assayers' ingots recovered in 2014 will be listed in an upcoming book, America's Greatest Treasure Ship: The SS Central America, The Second Journey, by Q. David Bowers and Manley. It will be published by the California Gold Marketing Group later this year.
The SS Central America was a 280-foot long, three-masted side-wheel steamship carrying tons of California gold that had been shipped from San Francisco to Panama when she sank in a September 1857 hurricane during a voyage from Aspinwall (now Colón), Panama to New York City. The loss of the gold cargo was a major factor in the economically devastating financial panic of 1857 in the United States.
The California Gold Marketing Group LLC of Brea, California acquired the 2014 treasure from Ira Owen Kane, Receiver for Recovery Limited Partnership and Columbus Exploration, LLC in a court-approved transaction in November 2017. In 1999, the group acquired all of the available treasure that was recovered in the 1980s.
With permission, here is a July 13, 2018 CDN blog article by Joshua McMorrow-Hernandez on aftermarket U.S. mint set envelopes. Not being an active buyer of mint sets I wasn't aware of these. Would readers have images of original and aftermarket envelopes to share? -Editor
I love collecting mint sets. Like many other hobbyists, I built a complete run of uncirculated sets ranging from 1959 through the present. In building this large collection of uncirculated sets, I've gained some knowledge on the variety of mint set packaging formats over the years. Maybe my interests in collecting mint sets with their original packaging stem somewhat from one of my other pastimes: my love of vintage theme park maps and brochures – ephemera as we paper-loving hobbyists call such paper collectibles.
Pre-2007 uncirculated mint sets were originally packaged in paper envelopes, and as I learned when building my mint set collection finding complete uncirculated sets with clean envelopes can actually be a challenge – especially in the case of the pre-1970s mint sets. In many cases, mint sets from the 1960s, and especially those from before 1965, are often encountered with envelopes in horrendous shape. From post-Mint writing and postage stamps to stains and tears, these early mint set envelopes are difficult to find in good, clean condition. That is, of course, of the mint set even comes with the envelope at all.
And, because my mint set collecting goals include finding sets in complete, original condition with all packaging, I wasn't just looking for "any" mint sets – I wanted those in nearly perfect shape. In my pursuit of these "complete" mint sets, I noticed something unusual. Some early mint sets advertised with "original" packaging looked off. I couldn't put my finger on it at first.
But then, it struck me – some of those mint sets with "original envelopes" didn't have their original envelopes at all. They were being sold in new, aftermarket envelopes that were designed to resemble the original government-issued envelopes. I didn't realize this was even a "thing" until I dug deeper and found distributors on eBay selling bulk packages of envelopes for mint sets and pre-1968 proof sets. These manila-style envelopes are actually being printed with markings that are designed to look like the original mint envelopes.
Generally, these mint set envelope reprints contain all of the correct inscriptions, including the TREASURY DEPARTMENT slug and physical addresses, with the year of the set denoted on the bottom-left corner of the envelope. I find the paper quality with these new envelopes different than the original envelopes, and a sharp eye will notice slight differences between the font and heaviness of ink on the original envelopes versus the original – distinctions that would only really become evident after looking at enough mint set envelopes for a time.
There is one huge telltale difference between the original mint set envelopes from before 1963 and the aftermarket mint set envelopes for those same sets. The original mint set envelopes for the sets from the 1950s and early 1960s generally have only a two-digit code number ("12," "28," etc.) in the bottom left corner where on envelopes from the later '60s and early 1970s denote the year of the uncirculated set within with the code "1963 U.C., " "1964 U.C.," and so on.
The question I ask as a coin collector and ephemera hobbyist is, are these aftermarket envelopes defrauding the coin-buying public or merely filling a gap for collectors who wish to house their mint sets that don't no longer have their original envelopes? Whether these aftermarket mint set envelopes are a harm or help isn't for me to decide. But if you're a purist like me, you'd probably agree a 1959 mint set packaged in a brand-new envelope that is but a rough facsimile of the original envelope is not the "real McCoy" and certainly should be advertised as "original." But that's just my two cents…
To read the complete article, see:
Aftermarket Mint Set Envelopes: Good or Bad for Uncirculated Set Collectors? (http://blog.greysheet.com/aftermarket-mint-set-envelopes-good-or-bad-for-uncirculated-set-collectors/)
Congratulations to winners of this year's awards from the American Numismatic Association. Here's the press release. -Editor
ANA Honors Distinguished Numismatists with Awards
Every year, the ANA recognizes members who go above and beyond with their service and dedication in numismatics. Awards are given to those who display a passion for the hobby, a willingness to expand it and a pride in being involved.
The Adna G. Wilde Jr. Memorial Award for Exemplary Service honors an ANA member who dedicates their time and resources to strengthen the hobby and further the educational mission of the ANA, and sets an example for others to follow.
This year, the award will be presented to ANA life member John D. Nebel of Boulder, Colorado. He will be honored during the ANA World's Fair of Money in Philadelphia at the ANA Member and Awards Celebration on Thursday, August 16.
Nebel joined the ANA in 1989. He customized the ANA's member database and in 1995, registered and purchased the ANA's signature money.org. domain name. Since 2015, he has served the American Numismatic Society in New York City as a life fellow and trustee.
Since 2014, Nebel has authored biannual articles for The Numismatist about his passion, ancient coins. His immersion in numismatics has led him to study classic literature, learn to decipher Attic Greek (the language of ancient Athens), and make friends in the Classics Department at the University of Colorado. Nebel manages to devote many hours to numismatics and the intense study it demands and always welcomes opportunities to support the ANA and its educational programs.
The Medal of Merit honors individuals who have dedicated numerous years of service to the Association and promotion of the hobby. The 2018 recipients will be recognized at the ANA World's Fair of Money in Philadelphia, to be held August 14-18.
ANA Treasurer Larry Baber has spent 25 years volunteering at the ANA's annual conventions. Since 1977, he has dedicated his talents to judging exhibits at ANA conventions, even serving as chief judge in 1994-95. Baber has held various offices in clubs throughout the United States, including the San Diego Numismatic Society, Maui Coin Club, California State Numismatic Association and Hawaii State Numismatic Association. He also serves as a public speaker, presenting talks at local, state and national meetings and conventions, and has earned numerous accolades for his own exhibits.
Longtime ANA Summer Seminar instructor and Early American coinage expert, John Kraljevich Jr. is the second recipient. When he was just 16, he received the ANA's Outstanding Young Numismatist of the Year award. He has served as secretary of the Colonial Coin Collectors Club (1994-96), vice president of the Medal Collectors of America (2003-06) and secretary of the Early American Coppers (2008-12). An ANA member since 2008, Kraljevich volunteers as an exhibit judge, has authored numerous award-winning articles and contributed content to more than a dozen books and auction catalogues.
Numismatic Art Award for Excellence in Medallic Sculpture recognizes an individual whose imaginative compositions transcend circulating coins.
The recipient this year is Carsten Theumer, from Zeitz, Germany. From 1977-82, he studied sculpture with Bernd Göbel at the Giebichenstein Art Academy, where he currently works as an artist and teacher. Known for his mastery of the small form and his bronze sculptures, his work has been featured in solo and group exhibitions worldwide and is part of many museum collections, including the British Museum in London and institutions in Pernik, Bulgaria; Edinburgh, Scotland; and Dresden, Munich, Stuttgart, Nuremberg and Berlin, Germany. His best-known coin design is the 10-euro commemorative coin produced to honor the 200th anniversary of Friedrich Schiller's death in 2005.
Harry J. Forman Dealer of the Year honors a professional numismatist who shows uncommon dedication to strengthening the hobby and the ANA, and displays exemplary ethical standards as a numismatic dealer.
This year, the award was presented to Larry L. Lee by former ANA President and good friend Jeff Garrett in May. Lee began his hobby when he was a teenager by collecting silver pieces he came across. After reading an issue of Coin World magazine, he found people looking to purchase specimens made of the disappearing medal. After he sold his first piece, he was hooked. In 1972, Lee joined the ANA as a life member and is also a member of the Professional Numismatists Guild and was certified by Accredited Precious Metals Dealers in 2015. At an April 25, 2013 Heritage Auctions sale, Lee purchased a 1913 Liberty Head nickel previously owned by the late collector/dealer George O. Walton. He is also the owner of the 1861 Paquet reverse double eagle, of which only two are known to exist.
Sometimes the months just fly by. After work on Tuesday July 10, 2018 I made my way to the Pazzo Pomodoro restaurant in Vienna, VA. Mike Packard was the host for this month's dinner meeting of our Northern Virgina numismatic social group, Nummis Nova.
I got there early and was the first to arrive. I was seated at a long table in a nice side room. As it happened we had the room to ourselves for the evening. The rest of the place was busy for a Tuesday night, and we soon learned why - the food was excellent and the wine list amazing.
One of the next to arrive was our resident wine expert Gene Brandenburg who studied the list and ordered a magnum only to be told they'd just sold the last one. Fearing a reenactment of the Monte Python cheese shop sketch, I was relieved when they could supply his second choice, which he shared with me, Eric Schena and Dave Schenkman; we were all seated at one end of the table.
Others arrived and filled in the rest of the seats. Julian Leidman held court at the opposite end with Mike Packard between us and Jon Radel, Robert Hoppensteadt and Steve Bishop across. It was a small gathering this time. Tom Kays expressed regrets through the Meetup app, having to turn back after hitting traffic too slow to bear.
I started the evening off by circulating some non-numismatic catalogs I'd received, but ones where great numismatic items can sometimes be found. On the right is a page from Rex Stark's Catalog #88. He was unable to attend, but I'd planned to show Joe Esposito the Kennedy license plate. He's our resident JFK expert, having just published his book, Dinner in Camelot: The Night America's Greatest Scientists, Writers, and Scholars Partied at the Kennedy White House.
ISIS Coins?
I brought out the following recent acquisitions, coyly asking folks to identify them. Mostly I got shrugged shoulders and smartass comments like, "it's a round metal thing called a coin." Eric was the first to correctly guess these are coins issued by the terrorist group ISIS. At least I THINK that's what they are.
See the links below for earlier E-Sylum discussions about these. After publishing the articles I heard from someone who said they were embedded with YPG troops in Syria fighting ISIS and he wanted to thank me for the articles, which had helped him identify some of the coins he and his comrades had found in areas cleared of ISIS fighters. He said he would send me some, and after a very long wait a box had arrived in the mail a couple days earlier.
If I'm reading these right, they are (left to right):
5 fils, copper, 0.825" diameter
1 dirham, silver?. 0.825"
10 fils, copper, 1.0"
25 fils, copper, 1.33"
Matching these images with some identified by readers earlier, I could see they have a common obverse design which Chip Howell had translated as saying "Islamic State" around the top and "Caliphate for the Prophet's Pathway" below. I measured them and translated the denominations, double checking against what readers had said before. At the meeting Jon Radel read the inscription on the silver-colored one and said it stated "99.9 Fine Silver", confirming Chip Howell's reading.
I had thought it was nickel (and too light for aluminum). That inscription is a clue that it might actually be made of silver, but as Jon correctly pointed out, these people aren't known far and wide for telling the truth. I don't have a working scale and forgot to ask someone to bring one, so I don't know what they weigh.
Are these catalogued anywhere yet? Where? Krause's Unusual World Coins? I'm missing the 2 dirham from the set pictured earlier, but are there any more denominations? It's hard to find time, but I wouldn't mind exhibiting these or writing an article sometime. Any willing and able co-authors out there?
To read the earlier E-Sylum articles, see:
QUERY: WERE THESE COINS MADE BY ISIS? (http://www.coinbooks.org/v21/esylum_v21n01a32.html)
ANSWER: WERE THESE COINS MADE BY ISIS? (http://www.coinbooks.org/v21/esylum_v21n02a11.html)
U.S. Mint Silver Dollar Box

I took pictures of this U.S. Mint product. Can anyone tell us more about it? Is this a gift shop product? The eagle logo connects it to the mint, but inside is a circulated silver dollar on no particular note.
Jon Radel looked online and found that the mint is selling similar boxes today (sans coins).
To read the complete product listing, see: American Eagle Silver Bullion One Ounce Presentation Case (100 Count) (https://catalog.usmint.gov/american-eagle-silver-bullion-one-ounce-presentation-case-100-count-SPB.html?cgid=collectors-boxes#start=1)
Bishop's Beauties
Steve Bishop always has some attractive new acquisitions to share. These are often nicely toned silver dollars, but his interests run far and wide. I especially enjoyed the Lincoln cent error. Thanks to Steve for providing these images.

1796 Adam & Eve Conder Token Farthing DH1087

ND (1796) Adam & Eve Conder Token Farthing DH1083

1884-O Morgan PCGS MS65 Toned

ND Lincoln Cent Saddle Strike
$100 Bank of the Commonwealth of Virginia Note

Eric Schena exhibited a rare Civil War era Virginia banknote. He writes:
A very impressive note.
A Visit To Stack's Bowers
Eric also shared with us the story of his recent visit to Stack's Bowers Galleries. He writes:
World Coin Games
Tom Kays made a futile attempt at fighting traffic, but had to turn back and didn't make our meeting. But afterwards he took the lead to prepare for the next Kids Event at the upcoming Annandale Coin Show.
As you may recall from earlier E-Sylum articles, Gary Beals invented the World Coin Games as a fun, interactive way for young numismatists to participate and learn. Using a dealer junk box style pile of loose foreign coins, the players form teams and compete in timed segments to see which team can find and identify coins from the most continents, the most countries, the most different metals, the most different shapes, the most different animals, etc.
Not knowing just how many different pieces we had in our treasure box, I suggested we seed the pile ordering a One of Each Country package from Educational Coin Company (170 different!). Tom did this, picked up index cards and markers, and also located and purchased three world maps (we'll pass the hat to reimburse him).
The show is next weekend, so stay tuned for reports on how it goes. I understand the Virginia Numismatic Association is also planning the give the World Coin Games a try at their show this fall. Many thanks to Gary Beals for originating the concept.
To read the earlier E-Sylum article, see:
INTRODUCING: WORLD COIN GAMES (http://www.coinbooks.org/v21/esylum_v21n20a27.html)
Flight 93 Congressional Gold Medal

Although it didn't take place this week, I wanted to publish this photo I took recently while visiting Pennsylvania with my family. On our way home we detoured to the Flight 93 Memorial run by the National Park Service in Shanksville, PA.
My next numismatic diary will likely be from the American Numismatic Association World's Fair of Money in Philadelphia, PA. I hope to see many of our readers there. Look for me in the Numismatic Bibliomania Society events, the Money Talks presentations,or the NBS club table. It's always nice to connect faces to email addresses. See you then.
This press release from Dix Noonan Webb highlights the upcoming sale of Bob Lyall's collection of cut and countermarked coins. -Editor
The magnificent collection of cut and countermarked coins assembled by the leading British numismatist Bob Lyall is to be auctioned by Dix Noonan Webb, the international coins, medals, banknotes and jewellery specialists, in London on 25 September 2018. The collection includes many rarities, some of which are the the only recorded specimens, and is expected to fetch up to £270,000 in the stand-alone auction with its own catalogue.
Over several decades, Mr Lyall has established himself as one of the world's leading authorities on cut and countermarked coins, which had additional marks and symbols punched into them, and in some cases were cut down, while they were still circulating. This was done for a variety of reasons to address specific currency and marketplace issues on the various islands. His collection is mainly from the Caribbean, although it also includes specimens from Gibraltar, the Ionian Islands and West Africa. Mr Lyall has decided to sell the collection because it has gone as far as it can go and it is increasingly difficult to find additions. He also wants to give other collectors the chance to own such special coins. Over several decades, Mr Lyall has established himself as one of the world's leading authorities on cut and countermarked coins, which had additional marks and symbols punched into them, and in some cases were cut down, while they were still circulating. This was done for a variety of reasons to address specific currency and marketplace issues on the various islands. His collection is mainly from the Caribbean, although it also includes specimens from Gibraltar, the Ionian Islands and West Africa. Mr Lyall has decided to sell the collection because it has gone as far as it can go and it is increasingly difficult to find additions. He also wants to give other collectors the chance to own such special coins.
Among the highlights of the sale will be the only recorded specimen of the Essequibo & Demerara 22 Guilders countermarked under the Ordinance of August 1798. This handsome gold coin, originally minted in 1771 during the reign of Joseph I of Portugal, has the Essequibo & Demerara countermark under Joseph's chin on the obverse and is expected to fetch £6,000 to £8,000.
Another gold coin which was minted in 1784 during the reign of Maria I and Peter III of Portugal was subsequently countermarked by the French administration in Guadeloupe with a value of 22 Livres under the authority of April 1804. This specimen, which the Lyall catalogue describes as being "of the highest rarity", is expected to sell for £5,000 to £6,000.
Other rarities include an Essequibo & Demerara 3 Guilders countermarked under the authority of 1808 which had first gone into circulation in Mexico City in 1796 bearing the head of the Spanish king Charles IV. In addition to the countermark, this piece has a circular piercing with 19 crenations. It carries an estimate of £4,000 to £5,000.
Only two other specimens of a Guadeloupe British administration coin authorised in 1811 have been recorded. The Maria I and Peter III Portuguese gold coin dating from 1786 has an 82 Livres 10 Sols countermark is and is expected to fetch £3,000 to £5,000.
Mr Lyall developed a collecting interest at an early age, starting off with artefacts and objects of interest given to him by family members. By the age of 12, his interest focused primarily on numismatics. He was already on his way to forming a significant collection of the coinage of Charles I (sold by Dix Noonan Webb in 2015 and 2016) when he had his first exposure to the West Indies whilst doing National Service with the Royal Navy in 1958.
He developed a particular interest in the cut and countermarked coins of the West Indies and over several decades built up a huge fund of knowledge. He focused on study and research, writing hundreds of letters to museums, historical societies and individuals who might have useful information and visiting libraries and museums in the United Kingdom and the Caribbean.
United States Loan Certificates are a fascinating area of numismatics. The upcoming Stack's Bowers Galleries sale of the John E. Herzog Collection is a great opportunity to bid on early and rare items that haven't been seen on the market in decades. The catalog itself should become a very useful reference. Here's the press release. -Editor
Museum Caliber John E. Herzog Collection of
United States Loan Certificates
To be Auctioned at 2018 World's Fair of Money
It is not often that a museum caliber collection comes to auction that was formed over five decades by the founder of a museum. John Herzog is well known in the numismatic community, through his charitable pursuits, and on Wall Street as the founder of the Museum of American Finance. Mr. Herzog's career as a stockbroker trading over the counter on the NASDAQ helped establish it as a leading global exchange. Mr. Herzog's passion for financial history and the development of the capital markets in America from under the Buttonwood Tree onward, evolved into his devoted interest in the documents and certificates associated with those events. Often, it was not an item's intrinsic value that was important, but the fabric of economic history it contained.
The Stack's Bowers Galleries sale of the John E. Herzog Collection of United States Loan Certificates 1837-2000 presents an important opportunity for collectors to compete for exceptional, historic items that are rarely offered publicly. Many of the pieces in the collection have traded hands once in a generation, if that, and often have provenances to illustrious collectors. Many items were purchased privately from well known dealers over the past 50 years or through Mr. Herzog's obsolete securities and financial history firm, R. M. Smythe & Co. (which later acquired the NASCA numismatic auctions brand), headquartered in the Standard Oil Building at 26 Broadway.
The collection itself contains hundreds of individual items, from extremely rare United States Federal Interest Bearing Note Proofs to colorful postcards and other ephemeral pieces that relate to a specific bond or document. Most of the items themselves evolve from war and conflict, and the methods necessary to fund them. Commencing in 1836, the items in the collection provide an overview of the American financial landscape from the Mexican War era loans, the apportionment of Federal lands to war veterans ("40 Acres and a Mule"), the Union financing of the Civil War, the aftermath of these events, the beginnings of American foreign expansion, the Spanish American War, the Liberty Loans of World War I (which inspired individual patriotic Americans to invest in smaller denomination loans for the war effort), and the development of Savings Bonds and other later 20th century Federal loans for individual investors. Many of the collateral items in the collection contain patriotic imagery.
Highlights from this cabinet are numerous, and several items are apparently unique based on research by Mr. Herzog and Stack's Bowers Galleries. The earlier 1837-1850 period Treasury Notes and loan certificates display amazing artistry from the New York engraving firms, prior to the United States government's establishment of its own security printing apparatus. Several of these loans originated in the 1982 Alexander Vattemare Albums' auctions at Robson-Lowe (Christie's), and were off the market afterwards for a significant period. The circa 1847 $5,000 Treasury Note Hessler X115 Specimen is one of the major highlights in the Herzog Collection. It arguably merits a Friedberg listing as a type note and is not unlike the high denomination Interest Bearing Notes issued in the Civil War that reside in the "middle of the book" of Friedberg. The Civil War era notes and bonds are impressive. There are several important Friedberg-listed Interest Bearing Proofs, including the finest complete $5,000 Fr. 211 (the "7-30" Act) Color Proof face and back pairing with all coupons and a $1,000 Fr 210 "7-30" Color Proof face. All were redeemed and these Proofs are the only way this type may be obtained. Loan certificates include a $1,000 Loan of 1862 bond issued to the First National Bank of Washington, D.C. to back up their circulation of the first Original Series National Bank Notes. There are also choice issued coupon loan certificates from the 1861 and 1862 acts.
The certificates and documents from after the Civil War illustrate changes in American domestic and foreign policy. There are two issued 1867 Consol loans and a fine copy of the related 1869 American Bond Detector published by Laban Heath. Other bonds from the 1867 to 1900 period include specimen coupon loan certificates for the Kingdom of Hawaii (annexed by the United States for economic and strategic purposes) and Cherokee Nation Department of the Interior specimen bonds. Loans from the Spanish American War period commenced low denomination registered and coupon bonds sold to the general public. These were pre-cursors to the Liberty Loans system that provided financing for World War I.
The collection of United States Liberty Loans issued from 1917 to 1919 is the finest assembled for a public auction sale. It represents loans from the many different series, coupon types, and sizes sold to general public and larger investors. The sale of these bonds to the public inspired patriotism, along with posters, propaganda, and art that is collected by many mainstream collectors. The certificates were printed at the Bureau of Engraving and Printing and reflect the engraving style seen in the transition from large size currency to the soon to be issued small size notes in 1929 that we use today. Also of particular note a serial number 1 $50 Gold Bond of 1933-1938 with all coupons, offered at public auction for the first time.
There are several other 20th century bond genres in the Herzog Collection, including Postal Savings coupons bonds, Clearing House certificates relating to the establishment of the Federal Reserve system, United States Savings Bonds and Specimens, United States territorial bonds, and issues into the late 1960s. Additionally there are modern certificates related to famous institutions such as "Fannie Mae" and the Savings and Loan Crisis. Overall, the broad sweep of over 150 years of American finance is contained among the many Treasury Notes, Loan Certificates, documents, and ephemera that comprise this fine cabinet. As each piece finds its way into a new collection it brings with it an elite pedigree and a historic story to tell.
Stack's Bowers Galleries will be presenting the John E. Herzog Collection at their Official Currency Auction of the ANA World's Fair of Money on Tuesday, August 14, 2018, at the Pennsylvania Convention Center in Philadelphia. Lot viewing will be available prior to the convention at the firm's California and New York City locations, as well as at the Pennsylvania Convention Center beginning on August 11. For further details, visit StacksBowers.com or call 800-458-4646.
Our previews of marvelous European gold coins continues with this week's highlight from the August ANA World Coin auction. The Canton of Bern in Switzerland produced this lovely multiple ducat, which pairs well with last week's gorgeous Nurnberg City View 4 Ducats and the Fine Sovereign of Mary from the week before. The founding of the city of Bern is attributed to Berthold V, Duke of Zahringen in the year 1191. Local legend states that Duke Berthold vowed to name the city after the first animal that crossed his path during his next hunt. That animal turned out to be a bear, and so the bear became the heraldic representation on the seal and coat of arms of Bern from at least 1220. Additionally, the city would keep live bears in a Bärengraben "Bear Pit" at the edge of the old city dating back to the 15th century.
The aforementioned heraldic bear dominates the obverse design: a bear walks with its front right paw raised along a diagonal band on a crowned shield between laurel sprays. The legend states: "RESPUBLICA BERNENSIS" or Republic of Bern. The reverse features a simpler design: the outer legend states: "BENEDICTUS SIT IEHOVA DEUS" (Blessed be Jehovah God). The inner design is a laurel wreath enclosing a three line inscription: "IV / DUCAT / 1798" (stating the denomination and date). A four petaled rosette marks the start and finish of the outer legend. This example is the more elusive of two known dates (1796 and 1798), and is quite exceptional, displaying sharp strike quality throughout the heraldry. The stunning prooflike fields and lovely orange tone make this piece worthy of the most sophisticated collection.
While we are no longer accepting consignments for our August 2018 ANA Auction, we are accepting consignments for our October 2018 Collector's Choice Online Auction and the January 2019 New York International Auction. In addition, we are taking consignments of Chinese and other Asian coins and currency for our April 2019 Hong Kong Showcase Auction. If you are interested in consigning your coins and paper currency (whether a whole collection or a single rarity) contact one of our consignment directors.
View all lots in the August 2018 ANA World Auction
Here's an excerpt from a press release discussing the new Corum watch designs by Hobo Nickel carver Aleksey Saburov. It opens with a fractured history of the Hobo Nickel but includes some decent videos of the artist at work. -Editor
The Corum Heritage "Hobo Coin" is a tribute paid to the street artists of the Great Depression. Starting with 1913, the five cent nickel coins gained the name of "poor's man coin". The coin value was so low that talented vagrants (homeless people with no means of support – hobos) begun to rework them in an attempt of a profit. In time, this led to the name of "hobo coins".
In the contemporary times, the genuine hobo coins became extremely rare and became highly appreciated by collectors. The Original Hobo Nickel Society was founded in 1992, with the main purpose to preserve this American Heritage. The Russian freelance artist Aleksey Saburov is part of the move. Living in New Your, he is involved in the historical revival of the move by engraving "hobo coins" using authentic early century five-cent coins.
Corum collaborates with Aleksey Saburov and give him the chance to express his unique works of art in the newest Coin Watch Collection. Using a special micro-engraving technique on the silver coins, Corum made the art into dials in a limited edition of the prominent collection named Corum Heritage "Hobo Coin".
The dial is impressive. The lavish engravings of Aleksey Saburov explore "dark" themes in an attempt to celebrate life in all her aspects. His engravings keep alive the work and art of unknown artists of the Great Depression. His work explores the surface of the one dollar silver US coin. While taking care to ensure the design keeps the original coin text is intact, Mr Saburov maximises the area he engraves. The images are rich in detail and have a powerful graphical impact.
To read the complete article, see:
REVIEW: CORUM HERITAGE "HOBO COIN" – AUTHENTIC AND ORIGINAL (https://deployant.com/review-corum-heritage-hobo-coin-authentic-original/)
Here are some examples of Saburov's earlier work. -Editor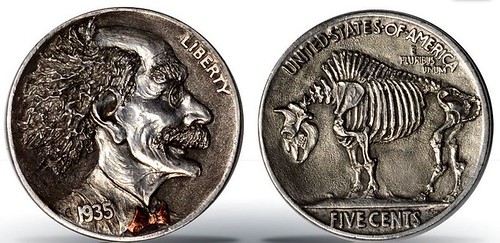 To read earlier E-Sylum articles, see:
ARTICLE PROFILES NICKEL CARVER ALEXSEY SABUROV (http://www.coinbooks.org/esylum_v16n09a19.html)
THE STUDIO OF ALEKSEY SABUROV (http://www.coinbooks.org/esylum_v17n42a18.html)
SOME MORE MODERN HOBO NICKELS : The Professor (http://www.coinbooks.org/esylum_v17n42a17.html)
Roman Butin (pronounced Booteen) emerged on the scene a few years ago with his earliest carvings dating to 2014. It was clear he had talent from the start and his coin auctions on eBay had prices soaring. He set a new record when one of his coin carvings broke the $10,000 mark. It was a mechanical Morgan dollar with jaws that snapped shut around a Mexican two peso coin if a person were to reach in and grab the coin. Of course all this was demonstrated with a stick of wood that touched the coin in a video made by Butin.
Butin got the inspiration from a brass keychain of a trap that he had seen on the internet however that one was not mechanical. He took on a challenge to make his trap fully functional and one that could grab a finger.
Butin had to do three variations of the coin before perfecting it. Then he placed it on eBay with a starting bid of ninety-nine cents as was his regular practice. The auction was to close within three days and by the second day the price was up to $4000. Roman describes it as "it was incredible money for me!!!!!" He was actually in a bit of a panic as to how he was going to ship it outside of Russia where he lives. Coincidentally his friends asked him what he would do if the price went to $10,000 and Butin answered somewhat jokingly that he would have to go to the U.S. and hand deliver it. Well at the end of the third day with minutes to go, the coin started to jump…..$5,000, $6,000, $7,000. $8,000, $9,000, and finally ended at $10,101. It had actually surpassed the $10,000 mark that he and his friends had contemplated the prior day.
Butin has been involved in other art forms. In the 1990's he did some painting, ceramics, and tattoo art. So far he has made fifty-four coin carvings and before that he was doing some stunning engravings on zippo lighters. He estimates making between fifty or sixty of those. Butin first saw engraved lighters on the internet and was inspired to pursue the art and then he stumbled on the hobo nickel art in much the same way. He liked that the coins were thicker than the zippo sheet metal and he could do more artistic things with them since the metal was thicker to work with. He also said they looked cooler!
One day Butin dreams of coming to the January coin show where OHNS has a bourse table and conducts its annual meeting and auction. He is excited to meet the collectors and engravers. We are also very hopeful to see him in person but until then we will just keep admiring his coins and continue to get to know him better through the internet.
For more information on the Original Hobo Nickel Society, see:
http://www.hobonickels.org/


Carol adds:
To read earlier E-Sylum articles, see:
ROMAN BOOTEEN'S MECHANICAL GOLD BUG COIN (http://www.coinbooks.org/v20/esylum_v20n49a36.html)
Today in 2018 the collecting of medals is at an all-time high. This is due to several aspects. First, an extensive collection of medals can be formed for a low cost. One of the most important sets ever produced is the Society of Medalists series issued from 1930 into the 1980s at the rate of two per year. Strikings were made in bronze (the most attractive to my eyes) and silver.
Well-known American sculptors and artists were invited to produce medals with designs of their choice. This was a remarkable opportunity, as the standard arrangement was for a patron or sponsor to hire a medalist and direct him or her as to what to depict. A full set of Society of Medalist issues, well over 100 specimens, costs less than $10,000. While that amount of money is not trifling, the same amount will not get you very far in building a type set of United States coins or even a collection of American Gold Eagles from 1986 to date.
To read the complete article, see:
Bowers on Collecting Medals (http://mintnewsblog.com/bowers-on-collecting-collecting-medals-in-2018-and-in-1789/)
This article describes the U.S. challenge coin issued for this week's NATO summit. It's not a "gold coin" or "token" as the article states but a special type of medal called a "challenge coin" issued by military or government units to commemorate a shared milestone or event. -Editor
The White House Communications Agency on Thursday released a coin commemorating President Trump's attendance at the July 2018 North Atlantic Treaty Alliance Summit in Brussels.
The gold coin features NATO's emblem, a white compass on a blue background, against Belgium's flag. Images of the White House, Air Force One, and the globe are emblazoned on its flip-side.
The token follows a similar coin being minted for Trump's historic meeting with North Korean leader Kim Jong Un in Singapore in June.
The White House Communications Agency, a military unit that offers information and communications support to the administration, traditionally produces coins to mark presidential travel or visits. They are given to dignitaries, among others.
To read the complete article, see:
Trump NATO Summit Challenge Coin (https://www.washingtonexaminer.com/news/heres-the-coin-commemorating-trumps-trip-to-the-summer-2018-nato-summit)
Thousands of people have supported a bid to award Britain's second highest honour to the British divers who helped rescue a group of schoolboys from an underground cave in Thailand.
Among them was Jason Mallinson from Oakes who went out to support the lead divers Rick Stanton and John Volanthen in the treacherous Tham Luang cave near Chiang Rai.
Lord Ashcroft, former deputy chairman of the Conservative Party, took to Twitter to ask people to back his call to give the men the George Cross.
He said: "Please retweet if you would support a George Cross or George Medal to the two volunteer Brit cave divers who found the missing Thai boys and participated in their difficult rescue ..."
His post was re-tweeted 11,000 times.
The George Cross is awarded for acts of the greatest heroism or for most conspicuous courage in circumstance of extreme danger not in the presence of the enemy.
Only the Victoria Cross is higher, but that is only given to military personnel for bravery in the presence of the enemy.
The British volunteers that saved the 12 Thai boys and their football coach from a flooded cave are reported to have flown back to the UK today (Thurs).
"He started caving when he was 16 and he took to it like a duck to water.
"He progressed to cave diving when he was at university in Portsmouth. He joined a caving club in North Yorkshire and it just went on from there."
Anne said there would be no huge homecoming celebrations as her son was not one to seek glory.
"He doesn't like the attention," she said. "He's very unassuming, modest person. He'll just think it's job done and move on to the next one.
"He'll probably go caving again in the next few days although I imagine he's got a lot of rest to catch up with."
At the start of Wednesday's full council meeting Mayor of Kirklees Gwen Lowe said: "Please can I ask that the council gives its thanks to Jason Mallinson, of Oakes, to be placed on record in respect of his involvement in the rescue of those trapped in the flooded caves in Thailand."
Her words were greeted by a chorus of "Hear, hear" from the chamber and a round of applause for Mr Mallinson.
To read the complete article, see:
Britons Request George Cross For Thai Divers (https://www.examiner.co.uk/news/west-yorkshire-news/calls-huddersfields-thai-cave-dive-14902017)
To read the earlier E-Sylum article, see:
WWII HEROINE VIOLETTE SZABO'S MEDALS SOLD (http://www.coinbooks.org/esylum_v18n30a27.html)
Stack's Bowers World Currency Auctions Director Aris Maragoudakis wrote about some scarce Russian notes coming up in the firm's 2018 ANA World's Fair of Money, sale. -Editor
An 1882 Pick A53 100 Rubles Rainbow note is offered in lot 30229. It features a highly popular design printed on watermarked paper and in the nicest condition we have seen or handled for the type. Typically these pieces are found in the lower Fine range with tears, holes, splits, and stains. The reverse, the rainbow colored side which features Catherine the II at center, is almost always compromised.
This is the highest denomination for the series, and as such, this piece has been heavily counterfeited. The giveaways on the fake pieces are often the eyes on the Empress, or an absence of the watermarked paper. Based on our research of auction archives, this is the only fully original example we have found of this piece. The plated date on the reverse, 1882, is the earliest date available for this Pick number. This pristine example is free of any of the bank or teller stamps frequently found on pieces from this series.
Another highlight of the sale in the Russian Section is a 25 Rubles State Credit note in lot 30225. This is the first example, in specimen or issued, that we have handled for this type. Of the dates known, this 1876 is the earliest available date. At left is the monogram of Czar Alexander II with the crowned double headed eagle above. The purple panel at left is Cyrillic and roughly translates to ""Obtain from the Highest Manifesto of 1 June 1843, pertaining to the issue of state credit notes."
The note has predominantly gray text, with black serial numbers and a black plated signature. The text translates to "State credit note. Upon presentation, it is issued from the cash register of the State Bank TWENTY FIVE RUBLES in silver or gold coin." The obligation is in purple. A watermark of Czar Alexey Mikhailovich is seen when held to the light as are the letters GKB, wavy lines, and the obligation. This is a classic display of the advanced, and intricate watermark work of Imperial Russia. The edges are rounded and deckled. PCGS Currency mentions Small Edge Tears at Right, and Minor Stains on the holder.
To read the complete article, see:
Stack's Bowers Offers Srace Russian Banknotes (https://www.google.com/url?hl=en&q=http://www.stacksbowers.com/News/Pages/Blogs.aspx)
Last month we noted plans for the resurrection of the Liberty Dollar in the form of a cryptocurrency. This week we learn of the resurrection of the "quint" in cryptocurrency form. A Utah-based company called Quintric plans to launch similar specie-based system backed by fractional shares of gold and silver bullion coins. What they call the "Quint token" is claimed to constitute "five U.S. gold cents" or "one 1/1000th of a one-ounce, U.S. legal tender, gold coin". -Editor
The Quintric monetary system combines the best aspects of precious metals, cryptocurrencies, and legal tender into one revolutionary, patent-pending, medium of exchange. Harnessing the stability of gold and silver, the technological prowess of cryptocurrency, and the legal standing of the U.S dollar, Quintric addresses challenges ranging from inflation to deflation, from carrying costs to currency exchange rates, and from transparency to transaction times. The system's design and implementation represents the combined efforts of leading monetary reform experts determined to succeed in finally creating cryptos that can actually function as usable currency.
U.S. Gold
Each Quint token constitutes five U.S. gold cents (one 1/1000th of a one-ounce, U.S. legal tender, gold coin) payable on demand in minimum 1,000 token increments for an American Eagle/Buffalo gold coin, bearing a fifty dollar face value
U.S. Silver
Each QuintS token constitutes five U.S. silver cents (one 20th of a one-ounce, U.S. legal tender, silver coin) payable on demand in minimum twenty token increments for an American Eagle/Walking Liberty silver coin, bearing a one dollar face value
International Gold
The iQuint is coming soon and will be redeemable in 1,000 token increments for any one of five, one-ounce, legal tender gold coins from around the world — the Canadian Maple Leaf, the British Britannia, the Australian Kangaroo, the Austrian Philharmonic, or the Chinese Panda. Redemptions in smaller denominations will soon be offered as well.
International Silver
The iQuintS is coming soon and will be redeemable in 20 token increments for any one of five, one-ounce, legal tender silver coins from around the world — the Canadian Maple Leaf, the British Britannia, the Australian Kangaroo, the Austrian Philharmonic, or the Chinese Panda. Redemptions in smaller denominations will soon be offered as well.
To visit the company's web site, see:
https://quintric.com/
The Quint is one of the denominations proposed by Robert Morris in the famous 1783 Nova Constellatio pattern set. -Editor
To read earlier E-Sylum articles, see:
NOVA CONSTELLATIO QUINT STRUCK AS AMERICAN COIN (http://www.coinbooks.org/v20/esylum_v20n32a10.html)
THE NOVA CONSTELLATIO MARK: 1,000 UNITS (http://www.coinbooks.org/esylum_v16n31a06.html)
LIBERTY DOLLAR RESURRECTED AS CRYPTOCURRENCY (http://www.coinbooks.org/v21/esylum_v21n25a40.html)
Here are some additional items I came across in the media this week that may be of interest. -Editor
1848 Proof Dime found on eBay

What would you do if you found an extremely rare 1848 proof Liberty Seated dime in a lot of otherwise ordinary coins you just bought on eBay? If you're Sam Shafer, a 30-year-old vest pocket coin dealer in Fishers, Indiana, you jump for joy! Shafer, who shares his love for the hobby with friends and those who visit Gold and Coin of Fishers, finds buying coins on eBay a profitable way to acquire coins for his business. But he never dreamed his periodic eBay purchases would uncover a rare 1848 proof dime, which had a tiny mintage of merely 10 pieces and has only eight known surviving specimens, all struck from a single pair of dies.
To read the complete article, see:
Indiana Coin Dealer Discovers Rare 1848 Proof Dime in eBay Lot (http://blog.greysheet.com/1848-proof-dime/)
Carson City Mint Commemorative

To read the complete article, see:
The Carson City Mint 150th Anniversary Commemorative Coin Act of 2018 (http://news.coinupdate.com/the-carson-city-mint-150th-anniversary-commemorative-coin-act-of-2018/)
Banknote Neutralisation Systems

Earlier this week I saw the headline "ATM banknote neutralization systems made mandatory in Uruguay" and wondered, "What the heck is a banknote neutralization system?" So I asked Dr. Google. -Editor
An intelligent banknote neutralisation system (IBNS) is a security system which protects valuables against unauthorised access to its contents by rendering it unusable by marking all the cash as stolen by a degradation agent when an attempted attack on the system is detected. Ink is a popular agent, which functions by staining cash with a permanent dye. Such marked money is highly conspicuous and cannot be readily used. In 2016, glue was released as an alternative agent. Glue alters the physical properties of the banknote by fusing all banknotes inside an ATM cassette together into a solid brick. If one should try to peel off individual notes, they will tear into pieces.
Well-neutralised banknotes cannot be brought back into circulation easily. They can be linked to the crime scene and restricted procedures are in place to exchange them at the financial institution. This makes stealing neutralised banknotes uneconomical and impractical. The IBNS removes the anticipated reward of the crime and increases the risk of being caught. This not only foils the theft but acts as a deterrent against further attacks.
To read the complete articles, see:
Intelligent banknote neutralisation system (https://en.wikipedia.org/wiki/Intelligent_banknote_neutralisation_system)
Intelligent Banknote Neutralisation Systems (https://www.association-secure-transactions.eu/tag/intelligent-banknote-neutralisation-systems/)
Forrest Fenn Interviewed

'I think he's a pretty impressive person, no matter whether you believe the story or you don't believe the story,' says Joe. 'Nonetheless, it's very inspiring.'
'I just thanked him for everything he's provided us with for the search,' his 16-year-old daughter adds, beaming.
Her mother chimes in next.
'I think it's provided a different layer of our vacations and giving us something else to do than just the regular hikes,' Julie says. 'It kind of gives a little bit extra to look for something different and talk about the clues and figure things out.'
To read the complete article, see:
EXCLUSIVE: Inside the epic - and fatal - 8-year hunt for a $2MILLION treasure chest full of gold and gems hidden in the Rockies by a millionaire art dealer (http://www.dailymail.co.uk/news/article-5888961/Inside-epic-fatal-treasure-hunt-Rockies-gold-hidden-millionaire.html)
This week's Featured Web Site is Wexler's Die Varieties. Joshua McMorrow-Hernandez mentioned it in his CDN blog this week, writing, "When I'm not spending time perusing the titles in my personal numismatic library (because I like to buy the book before the coin), I am often hanging out on John Wexler's die variety website. It's an awesome virtual hub that lists thousands of varieties – many that you won't find in just any die variety book." -Editor
To read the complete article, see:
When Junk Silver Coins Aren't Really "Junk": Cherrypicking Varieties, Errors & More (http://blog.greysheet.com/junk-silver-coins-variety/)