---
Here's an excerpt from a press release discussing the new Corum watch designs by Hobo Nickel carver Aleksey Saburov. It opens with a fractured history of the Hobo Nickel but includes some decent videos of the artist at work. -Editor
The Corum Heritage "Hobo Coin" is a tribute paid to the street artists of the Great Depression. Starting with 1913, the five cent nickel coins gained the name of "poor's man coin". The coin value was so low that talented vagrants (homeless people with no means of support – hobos) begun to rework them in an attempt of a profit. In time, this led to the name of "hobo coins".
In the contemporary times, the genuine hobo coins became extremely rare and became highly appreciated by collectors. The Original Hobo Nickel Society was founded in 1992, with the main purpose to preserve this American Heritage. The Russian freelance artist Aleksey Saburov is part of the move. Living in New Your, he is involved in the historical revival of the move by engraving "hobo coins" using authentic early century five-cent coins.
Corum collaborates with Aleksey Saburov and give him the chance to express his unique works of art in the newest Coin Watch Collection. Using a special micro-engraving technique on the silver coins, Corum made the art into dials in a limited edition of the prominent collection named Corum Heritage "Hobo Coin".
The dial is impressive. The lavish engravings of Aleksey Saburov explore "dark" themes in an attempt to celebrate life in all her aspects. His engravings keep alive the work and art of unknown artists of the Great Depression. His work explores the surface of the one dollar silver US coin. While taking care to ensure the design keeps the original coin text is intact, Mr Saburov maximises the area he engraves. The images are rich in detail and have a powerful graphical impact.
To read the complete article, see:
REVIEW: CORUM HERITAGE "HOBO COIN" – AUTHENTIC AND ORIGINAL (https://deployant.com/review-corum-heritage-hobo-coin-authentic-original/)
Here are some examples of Saburov's earlier work. -Editor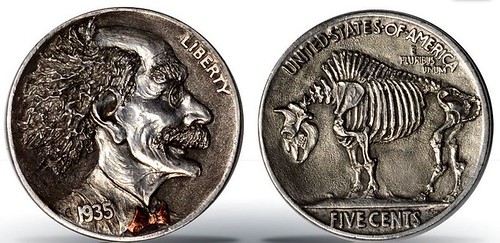 To read earlier E-Sylum articles, see:
ARTICLE PROFILES NICKEL CARVER ALEXSEY SABUROV (http://www.coinbooks.org/esylum_v16n09a19.html)
THE STUDIO OF ALEKSEY SABUROV (http://www.coinbooks.org/esylum_v17n42a18.html)
SOME MORE MODERN HOBO NICKELS : The Professor (http://www.coinbooks.org/esylum_v17n42a17.html)



Wayne Homren, Editor


The Numismatic Bibliomania Society is a non-profit organization promoting numismatic literature. See our web site at coinbooks.org.

To submit items for publication in The E-Sylum, write to the Editor at this address: whomren@gmail.com

To subscribe go to: https://my.binhost.com/lists/listinfo/esylum

Copyright © 1998 - 2012 The Numismatic Bibliomania Society (NBS)
All Rights Reserved.

NBS Home Page
Contact the NBS webmaster