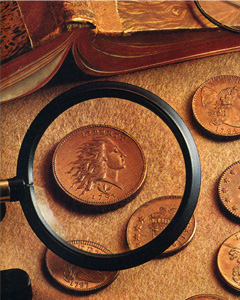 Photo from the cover of Louis Helfenstein Collection of Large Cents (August 14, 1964). Catalog courtesy of Dan Hamelberg.
Welcome to NBS!
The Numismatic Bibliomania Society (NBS) is an educational organization founded in 1979 to support and promote the use and collecting of numismatic literature. Numismatic literature includes books, periodicals, catalogs and other written or printed material relating to coins, medals, tokens, or paper money, ancient or modern, U.S. or worldwide. Membership is open to any individual or organization interested in the study of numismatics and the study and collecting of numismatic literature.
Our website's features include an archive search function for The E-Sylum (our electronic newsletter), a Community Resources wiki which allows our members to easily contribute content to the site, and a new photo gallery hosted by Flickr. Please let us know about any feedback or new ideas which you may have – we'd love to hear it!
Subscribe
Table of Contents
July-Sept. 2015 • Vol. 33, No. 3
David Yoon - Editor's Introduction
Joel J. Orosz - Ford, Farrell, and G. Frederick: A Cautionary Tale Advocating Assumption Avoidance
Paul Withers - Researching and Writing a New Catalogue of Anglo-Gallic Coins
David F. Fanning - Off the Shelf: John Allen's 1839 "On Coins and Medals"
Joel J. Orosz - Numismatic Bibliomania Society Annual Meeting 2015
Elizabeth Hahn Benge - Numismatic Bibliomania Society Symposium 2015
Back Issues of "The Asylum" are available! Ordering Info
Sponsors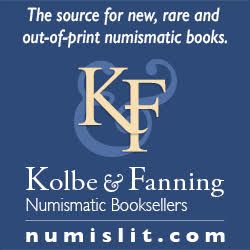 Quality coin supplies: folders, holders, slabs, 2x2s and more!
To become a sponsor of the NBS web site and/or The E-Sylum, contact Wayne Homren at whomren @ gmail.com