---
Confederate Numismatica author Peter Bertram submitted this note about an interesting piece he learned about subsequent to publishing the book. Thanks! -Editor
The recent Stack's Bowers ANA Auction, Part 6 offered a US Half Dime with the Obverse smoothed over and hand engraved with a Confederate theme. The auction was internet only so the coin (Lot 4144) probably didn't garner the attention it deserved and, as a result, sold for only $129.25! I, of course, managed to discover it after the auction was already closed (sigh…). I do, however, have it cataloged and archived to appear in the next Confederate Numismatica Supplement. While opposing viewpoints are always welcome, I believe this little gem to have been engraved as a pocket piece in 1861, most likely between early July and December.
So let's see what we have here. The engraving has a shield in center with 11 stars at top and three vertical stripes below (two outside stripes filled in with vertical lines, blank stripe center) representing red-white- red.
At top center above the shield is a hand with the index finger pointing upward. I suggest this possibly makes reference to the first motto of the Confederacy, "Deo Duce Vincemus" (under God we will conquer). The more familiar motto, "Deo Vindice" (God our Vindicator), was not officially adopted until the Congressional Flag and Seal Committee finalized the design for the Confederate Great Seal and a House Resolution approving it was signed by President Davis on April 30, 1863.
On each side of the hand are two rifle barrels with fixed bayonets and below them are four First National Flags (Stars and Bars), two on either side of the shield. On each side, the flags are positioned one in front of the other and the flags in front each display eleven stars in the canton and three stripes shaded as in the shield to represent red-white- red.
There were four versions of the Confederate First National Flag. The "1 st " First National Flag was adopted on March 4, 1861 and had seven stars for the first states to secede (SC, MS, FL, AL, GA, LA, and TX). The "2 nd " flag with nine stars was adopted on May 21, 1861 (adding VA and AR). The "3 rd " had eleven stars and was adopted on July 2, 1861 (adding NC and TN, the last states to secede). The "4 th " and final First National Flag was adopted on November 28, 1861 and had thirteen stars by adding the non-seceding border states of MO and KY. The "4 th " Stars and Bars was the Confederacy's official national flag until May 1, 1863, when the second national flag (The Stainless Banner) was adopted.
Below the flags are a drum and a cannon barrel on the left and cannon balls on the right. At bottom are many horizontal line type cuts, probably representing artistic shading, and all the rest of the way around are numerous straight accent cuts, parallel to each other.
A really neat and historic little gem – truly sorry I managed to miss it………………
To read the earlier E-Sylum articles, see:
NEW BOOK: CONFEDERATE NUMISMATICA, PART 1 (www.coinbooks.org/esylum_v19n30a04.html)
BOOK REVIEW: CONFEDERATE NUMISMATICA (www.coinbooks.org/esylum_v19n31a11.html)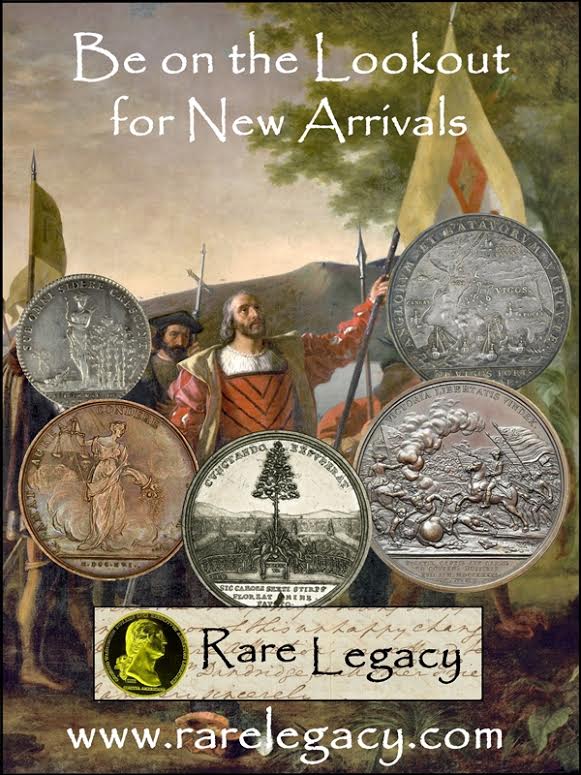 Wayne Homren, Editor


The Numismatic Bibliomania Society is a non-profit organization promoting numismatic literature. See our web site at coinbooks.org.

To submit items for publication in The E-Sylum, write to the Editor at this address: whomren@gmail.com

To subscribe go to: https://my.binhost.com/lists/listinfo/esylum

Copyright © 1998 - 2020 The Numismatic Bibliomania Society (NBS)
All Rights Reserved.

NBS Home Page
Contact the NBS webmaster