Visit our NBS Sponsors
About Us
The Numismatic Bibliomania Society is a non-profit association devoted to the study and enjoyment of numismatic literature. For more information please see our web site at coinbooks.org
Subscriptions
Those wishing to become new E-Sylum subscribers (or wishing to Unsubscribe) can go to the following web page link
Membership
There is a membership application available on the web site Membership Application
To join, print the application and return it with your check to the address printed on the application. Print/Digital membership is $40 to addresses in the U.S., and $60 elsewhere. A digital-only membership is available for $25. For those without web access, write to:
Charles Heck, Treasurer
Numismatic Bibliomania Society
P. O. Box 2058,
Bluffton, SC
29910-2058
Asylum
For Asylum mailing address changes and other membership questions, contact Chuck at this email address: treasurer@coinbooks.org
Submissions
To submit items for publication in The E-Sylum, write to the Editor at this address: whomren@gmail.com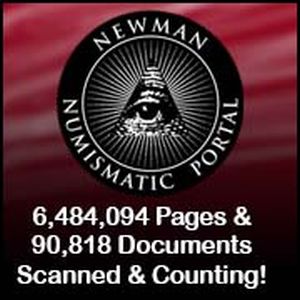 BUY THE BOOK BEFORE THE COIN
Sale Calendar
Watch here for updates!
Content presented in The E-Sylum is not necessarily researched or independently fact-checked, and views expressed do not necessarily represent those of the Numismatic Bibliomania Society.
New subscribers this week include: Normand Pepin, courtesy George Cuhaj; James Cavestro, courtesy Steve Hill; Thomas Engelen, and Gerald A Widstrom. Welcome aboard!
Thank you for reading The E-Sylum. If you enjoy it, please send me the email addresses of friends you think may enjoy it as well and I'll send them a subscription. Contact me at whomren@gmail.com anytime regarding your subscription, or questions, comments or suggestions about our content.
This week we open with two new books, updates from the Newman Numismatic Portal, the American Numismatic Society and the Royal Canadian Numismatic Association.
Other topics this week include Alexander the Great, Cornelius Vermeule, Neil Shafer, Coin World's Most Influential, Hannibal, King Offa, relic medals, and the Medal of Honor.
To learn more about Saudi Gold discs, Numismatic Antiquarianism, the Dakota Award, Glenn Smedley, ANS Library interns, Nickle Galleries, Fractional Currency, misaligned dies, numismatic art in America, Bette Davis, the Milan Cathedral, cord wood tokens, the first Morgan dollars struck at San Francisco, disappearing ATMs, and World War Zero, read on. Have a great week, everyone!
Wayne Homren
Editor, The E-Sylum


SAUDI GOLD and other Tales from the Mint
America's national numismatic journey began with tentative issues of Fugio cents in 1787 and half dismes in 1792. Over time, external events generated unexpected changes to accustomed financial and coinage systems. Some changes were of wide impact, while others were limited to our national mints, and some remain largely unknown to the present.
Saudi Gold and other Tales from the Mint explains use of gold as a single monetary standard, commonly accepted by most nations. But the United States, with its diverse and questioning population, attempted to have gold and silver as semi-exchangeable if not practical dual standards.
Numismatic Antiquarianism through Correspondence (16th–18th c.)
In the Margin of the Project Fontes Inediti Numismaticae Antiquae (FINA)
François de Callataÿ (ed)
Pages: x + 270 p.
Size:216 x 280 mm
Illustrations:108 b/w, 12 tables b/w.
Language(s):English
Publication Year:2023
Rare Dakota Award Medal Surfaces
David Gladfelter writes:
Remembering Kay Edgerton Lenker

Catharine Edgerton Lenker (Kay) was born on November 29, 1922 in Philadelphia and joined the Navy as a meteorologist in 1945 serving in active duty from 1944 to 1954. She retired from the Naval Reserves with the rank of Captain and used that in her e-mail address. She became interested in coins in 1955. Kay was a remarkable woman who contributed over 250 service years (Joe Boling figured that out!) to numismatics.
I met Kay and husband Stuart in Oceanside, California at a joint meeting of the San Diego County Inter-Club Numismatic Council where they were selling some of their coins. An avid exhibitor, Kay always had at least 2 or 3 exhibits whenever she could bring an exhibit and more often than not, took a best-of-show or first place ribbon. I will never forget when she exhibited an 1895 proof set at the Del Mar Fair in San Diego County with its limited security.
She was always working on behalf of the hobby and volunteered to serve as an officer in too many organizations to count. She served 2 terms as Governor for the ANA. She edited the SDCICNC bulletin for over 50 years which was mailed to every member of every Council club. She turned 100 in November and was staying in an assisted living facility where she caught a cold that turned into pneumonia which she succumbed to in February, 2023. She had previously been given the 2022 ANA Elvira-Clain Stefanelli Memorial Award of which she proudly showed off to all her visitors.
She had so many friends in the world and was a member of the group of travelers who circumnavigated the world. We in San Diego were so blessed when Kay and Stuart decided to live in San Diego, California. Ken Spindler has sponsored the best-of-show plate dedicated to Kay and is going on his second plate.
RIP our friend and mentor; you leave us heartbroken but very glad that you were always there for us.
To read earlier E-Sylum articles, see:
HAPPY 100TH BIRTHDAY, KAY LENKER! (https://www.coinbooks.org/v25/esylum_v25n49a20.html)
KAY EDGERTON LENKER (1922-2023) (https://www.coinbooks.org/v26/esylum_v26n08a03.html)
The ANS Welcomed Two Library Interns
We are pleased to welcome two new interns to the library, Jennifer Jenkins and St John Karp. Jennifer, who expects to complete her library degree at the Palmer School this year, with a concentration in rare books, special collections, and archives, has over a decade's experience as an editor with financial and auction firms.
The Royal Canadian Numismatic Association (RCNA) has announced the sale of its library to the Nickle Galleries, a museum and art gallery housed at the University of Calgary.
Home to what its curators called one of the most important numismatic collections in Canada, the Nickle Galleries (formerly known as the Nickle Arts Museum) also displays contemporary art with a focus on Western Canada plus an extensive textile collection. The RCNA library will join the Nickle Galleries' numismatic collection.
Once staff finishes cataloguing the library's contents on the university system, its material will be available to everyone – both RCNA members and the general public – to borrow through an inter-library loan via their local library. Visitors to the Calgary museum can also view the material in person.
Drawing on the rich holdings of the Nickle Numismatic collection, curator Marina Fischer explores the life of Alexander the Great and his successors through their portraits on ancient coins. Tiny masterpieces of Hellenistic art, these ancient coins record likenesses and suggest the distinctive personality of their subject's.
A portrait is typically defined as a representation of a specific individual. It does not merely record someone's features, but says something about their character and personality, offering a vivid sense of a real person's presence.
Join The NEW F.C.C.B. Facebook Group today!
Why should you join our Facebook group?
Mintmaster's Mark. The signature, usually the initial, of the chief official of a mint, infrequently found on coins and medals. Such personal signatures were in addition to that of the die engraver, or mintmark (often two such marks would appear on the same coin, rarely three, as this did lead to some confusion). A modern example is the precious metal products of the jewelry firm of Tiffany & Co., where, since 1880, all items were signed with the last initial of the president's name (M for Edward C. Moore, P for Henry B. Platt, and such). In a way, it meant the president guaranteed the quality of the piece that bore his initial much like that of a mintmaster's mark.
Cornelius Vermeule was known to share his opinions about the artistic merit of American coins. In describing the 1792 half disme, he wrote, The eagle on the reverse is an ailing barnyard fowl, with undersized wings spread at odd angles, curving neck, and oddly foreshortened body, a creature nowhere better seen that on the small surfaces of the dime and half disme.
He was born in South Orange, New Jersey, on August 10, 1925. His father, Cornelius Vermeule II (1895-1943) was distinguished as a major during the first world war and served as Director of Public Works Administration in New Jersey. His Mother was Catherine Sayre Comstock (1894-1996).
While in England in 1934, he began to collect ancient coins. Both his father and grandfather collected coins and their collections were passed down to him. Before going to college, Vermeule worked at Stack's on 57th Street in New York He was not paid in cash but in ancient Roman coins.
MPC Fest announces new name of annual National Champion award
For over twenty years collectors of military currency and related objects have eagerly awaited the announcement of the winner of the annual National Championship competition held at MPC Fest. Each night of Fest attendees are matched against each other in a brackets-style competition testing their knowledge of military numismatics, including contents of The Book (World War Two Remembered: History in Your Hands, also known as Schwan-Boling) as well as material discovered through subsequent research. Each winner receives the title National Champion, and a silver Fest challenge coin of the year engraved Champion. Notable three-time winners include Neil Shafer, Jim Downey, Bill Myers, and Fred Schwan. By tradition these four have retired from the competition, to give aspiring contenders a chance at winning! This hard-earned award has never had a formal name, but this year, that will change.
For the first time since the COVID pandemic began in 2020, the Professional Numismatists Guild (www.PNGdealers.org) will provide a scholarship to a deserving young numismatist (YN) to attend one of the six-day sessions of the American Numismatic Association (www.money.org) Summer Seminar in Colorado Springs, Colorado.
Now that the pandemic has subsided and the ANA is back to its full Summer Seminar programming this year, we are delighted to resume our long tradition of providing a YN scholarship for the popular, annual ANA educational programs. The PNG scholarship will cover airfare, tuition for one of the two 2023 Summer Seminar sessions, meals, and five nights of dormitory accommodations on the campus of Colorado College, the site of the ANA headquarters, said PNG Executive Director Robert Brueggeman.
All young numismatists between the ages of 13 and 22 are eligible to enter and are cordially invited to apply for the scholarship, but time is short. Entrants must submit a short essay outlining why they should be chosen as this year's scholarship recipient. The deadline for receipt of the entries is Friday, March 31, 2023, explained Brueggeman.
Stack's Bowers Galleries is launching a Professional Numismatist Program (PNP). This program is geared toward aspiring numismatists ages 18-25. The first one-week seminar is scheduled from July 30 to August 5, 2023 at our global headquarters in Costa Mesa, California.
102314 | ITALY. Vatican City. St. Peter's Basilica silvered bronze Medal. Issued 1857. Most Remarkable Edifices of Europe series (60mm, 94.93 g, 12h). By J. Wiener in Brussels and struck at the Geerts mint in Ixelles. BASILICA DI S. PIETRO A ROMA, perspective view of the eastern façade of the exterior of the Basilica, from a viewpoint just to the left of center / Perspective view of the interior looking down the nave toward the baldacchino; in four lines in exergue, DA GIULIO II INCOMINCIATA / NEL MDVI / DA PAOLO V COMPIUTA / NEL MDCXII. Edge: Some scattered light marks, otherwise plain. Cf. Ross M201 (R1; for bronze/silver); cf. von Hoydonck 152 (same); cf. Reinecke 50 (same). About Uncirculated. Mostly argent-gray surfaces, with a slight matte nature and darker hues nearer the peripheries. Compare to a similar example in Stack's Bowers NYINC 2022 auction, lot 7550 (which sold for a total of $1,200). $465.
Michael Ross, noted author of Jacques Wiener's Most Remarkable Edifices of Europe: The Man, Monuments, and Medals, has found no evidence for medals in this series being issued in silvered bronze, only in separate silver and bronze strikings. Given the disparity in price between silver and bronze examples during their time of production, he believes it likely that an enterprising individual or two took bronze examples and silvered them privately, passing them off as the next best thing to the silver specimens. No matter their post-mint silvering, these silvered examples continue to be collected along with their bronze and silver brethren.
Located in what is now the Vatican City—the Papal enclave situated entirely within Rome—St. Peter's Basilica was planned by then-Popes Nicholaus V and Julius II to replace the old St. Peter's Basilica. Begun in 1506 and completed in 1626, it is the largest church in the world, with respect to its interior, and is the most renowned structure of Renaissance architecture. An iconic site for pilgrimages, its famous dome still features rather prominently in any skyline of Rome.
From what is today eastern Netherlands and western Germany, the Wieners were a Jewish family of exceptional medalists, especially known for numerous numismatic works throughout the Kingdom of Belgium. Eldest brother Jacob (Jacques), along with younger brothers Leopold and Charles, created some of the finest works of medallic art of the 19th century, and all are particularly noted for their work in the highly detailed and intricate work of architectural renderings.
To read the complete lot description, see:
102314 | ITALY. Vatican City. St. Peter's Basilica silvered bronze Medal. (https://www.numismagram.com/product-page/102314)
Danubian Celts Tetradrachm

Danubian Celts (c. 3rd – 2nd Centuries BC) AR Tetradrachm, in the types of Philip II, 13.23g. Stylised laureate head of Zeus facing right. Rev. Rider on horseback right. (Allen, Celtic Coins in the British Museum, pl.XXII, S107; Göbl, OTA, 167). About Extremely Fine.
To read the complete lot description, see:
Danubian Celts (c. 3rd – 2nd Centuries BC) AR Tetradrachm (https://auctions.baldwin.co.uk/109-lot-1-lot-1-celtic?arr=0&auction_id=7)
BORN IN 247 BCE at Carthage (near modern Tunis in North Africa), Hannibal Barca is remembered as one of the greatest military commanders of ancient history. His father, Hamilcar Barca (lived 275-228 BCE), led Carthaginian forces in Sicily during the 23 year-long First Punic War, defeating a revolt by mutinous mercenaries in the aftermath of that disastrous conflict. Beginning in 237 BCE, he built a new Carthaginian empire; numismatists call it the Barcids in Spain. Spain, with rich mines of precious metal and a warlike Celtiberian population, provided a base for renewed war against Rome – a war known to us as the Second Punic War (218-202 BCE). Romans called it the Hannibalic War. According to legend, Hamilcar made his nine-year-old son Hannibal swear a solemn oath of eternal enmity toward Rome.
A 1200-year-old rare coin has been donated by its owner to Hereford Museum. The silver penny dates back to the reign of King Offa, the famous eighth century ruler of Mercia.
Acquiring a c.1670 St. Patrick New Jersey Farthing
On the night of December 19, 2022, New Jersey Numismatic Society (NJNS) members gathered at the Madison Public Library to celebrate the holiday season. We had a festive evening and enjoyed spending some time together. During the show-and-tell segment of our meeting, member Mike McKeever showed us his c.1670 St. Patrick New Jersey Farthing NGC F-12. While studying it with my magnifying glass, I asked Mike several questions about the piece.
WITH THE IMPLEMENTATION of the Coinage Act of 1853, arrows were added to the designs of half dimes, dimes, quarters and half dollars. The arrows served as an announcement that the required silver content in new Liberty Seated silver coins had been reduced. The purpose of the announcement was to encourage people to spend new silver coins rather than saving, hoarding, melting or trading them. Why, though, were such arrows removed by 1856?
From 1856 until 1873, the silver content of silver coins continued to be in line with the Coinage Act of 1853. A law in 1873 led to the restoration of arrows on dimes, quarters and half dollars for reasons that are different from the reason that arrows were added to Liberty Seated coins, except silver dollars, in 1853.
Should arrows have continued in place after 1855 to indicate that post-1853 silver coins were specified to contain less silver than pre-1853 Liberty Seated silver coins of the same respective denominations and design types? The reason for the reduction in silver content relates to the value ratio of silver to gold.
The first standard Morgan Silver Dollars designed by George T. Morgan were struck at the San Francisco Mint on April 17, 1878. A box containing 10 pairs of dollar dies was shipped on April 8 and arrived at the Mint on the evening of April 16. The dies were apparently numbered one through 10 for both obverse and reverse.
On the morning of April 17, Superintendent Henry L. Dodge notified San Francisco newspapers that Morgan silver dollar dies had arrived and that the first coins would be struck at 3:30 PM at the Mint. Nearly all daily newspapers sent reporters, and several other people were either invited or learned of the event.
Many numismatic items, including Civil War tokens and medals, honor the Battle of Hampton Roads, the 1862 naval battle that saw the first direct engagement between ironclad warships. Among the most interesting are relic medals produced with metal recovered from the wreck of the C.S.S. Virginia (formerly the U.S.S. Merrimack, named for a river that runs from central New Hampshire into northern Massachusetts). We're offering one such medal in lot 2220 of our upcoming Spring 2023 Expo Auction.
The Confederacy scuttled the Virginia, an ironclad ram built on the hull of the U.S.S. Merrimack, months after Hampden Roads to prevent its capture by Union forces. Extensive salvage operations began in the 1860s and continued into the 1870s. By 1876, much of the wreck had been recovered, according to the National Underwater and Marine Agency's website (https://numa.net/expeditions/merrimack-u-s-s/). From the armor plating a number of medals were struck.
President Joe Biden on Friday awarded the Medal of Honor to retired Army Col. Paris D. Davis for what the White House called "conspicuous gallantry" during combat operations in the Vietnam War — a recognition that comes almost 60 years after the actions that earned him the nation's highest military award for valor.
Davis, who was a captain at the time, "distinguished himself by acts of gallantry and intrepidity above and beyond the call of duty" while he was a commander of a special forces group during combat with the enemy over two days in June of 1965, the White House said in a description of Davis' heroic actions.
One of Yale's most intriguing investments is a 375-year-old perpetual Dutch bond that still pays interest. It was issued by the Hoogheemraadschap Lekdijk Bovendams, a semi-public organization charged with maintaining the dike along the Lek river in the Netherlands. The water authority was founded in 1323; its successor still operates today, in the province of Utrecht, as the Stichtse Rijnlanden. This is where Yale Beinecke curator Timothy Young showed up in 2015 to collect twelve years of past interest payments, amounting to 132 euros. The authority was glad to pay. There are few entities in the world that can claim such a long, continuous history of good credit.
Nigeria's botched attempt to replace its banknotes has been declared invalid by the country's Supreme Court.
In a ruling Friday, the country's highest court said a presidential directive to discontinue the use of old naira notes following a redesign was illegal. The court said the old banknotes should continue to be legal tender, alongside new versions, until the end of this year.
Nigeria's old 200-, 500-, and 1,000-naira ($2.17) notes ceased to be legal tender starting February 11, sparking violent protests across the country as millions of people struggled to get their hands on the redesigned money. That prompted a partial retreat by the government, which agreed to reissue the old 200-naira notes for a limited period of time.
The slow move toward a cashless society is helping to send the ubiquitous ATM into decline around the U.S., presenting challenges for those who still largely rely on cash.
After peaking at 470,000 ATMs in the U.S. in 2019, the number of machines has declined annually over the past few years to 451,500 at the end of 2022, according to data tracked by research firm Euromonitor International. The reason: Many people quit using cash during the pandemic and haven't gone back, said Kendrick Sands, consumer finance research manager for the London-based firm.
True or not true – that is the question here. Secret papers from the US foreign intelligence service CIA bring a surprise to light:
A report released in August 2002 made outrageous claims. Here's how to read in seven points:
1. It has long been reported that the well-known printers Giesecke & Devrient in Leipzig were involved in the counterfeiting of foreign currency on behalf of the Soviets. This company is known to have printed counterfeit funds for German intelligence during the war.
Coin Collecting is Changing
Both the business and hobby of coins are both changing. Coin collecting simply isn't your grandfather's collecting anymore. Fortunately for the future, the hobby and the business are changing with the times, this being something not all other collectible fields are doing. Two speakers at the recent New York International Numismatic Convention likely didn't realize that their presentations dovetailed, illustrating not only where the hobby has come from, but where it is going.
To read the complete article, see:
Coin Collecting is Changing (https://www.numismaticnews.net/world-coins/coin-collecting-is-changing)
This week's Featured Web Site is Mike Locke's site on California fractional gold coins and tokens.