Visit our NBS Sponsors
About Us
The Numismatic Bibliomania Society is a non-profit association devoted to the study and enjoyment of numismatic literature. For more information please see our web site at coinbooks.org
Subscriptions
Those wishing to become new E-Sylum subscribers (or wishing to Unsubscribe) can go to the following web page link
Membership
There is a membership application available on the web site Membership Application
To join, print the application and return it with your check to the address printed on the application. Print/Digital membership is $40 to addresses in the U.S., and $60 elsewhere. A digital-only membership is available for $25. For those without web access, write to:
Charles Heck, Treasurer
Numismatic Bibliomania Society
P. O. Box 2058,
Bluffton, SC
29910-2058
Asylum
For Asylum mailing address changes and other membership questions, contact Chuck at this email address: treasurer@coinbooks.org
Submissions
To submit items for publication in The E-Sylum, write to the Editor at this address: whomren@gmail.com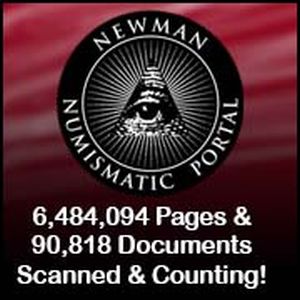 BUY THE BOOK BEFORE THE COIN
Sale Calendar
Content presented in The E-Sylum is not necessarily researched or independently fact-checked, and views expressed do not necessarily represent those of the Numismatic Bibliomania Society.
New subscribers this week include: Jonathan Baffi, courtesy Andy Singer; and Dan Vial. Welcome aboard!
Thank you for reading The E-Sylum. If you enjoy it, please send me the email addresses of friends you think may enjoy it as well and I'll send them a subscription. Contact me at whomren@gmail.com anytime regarding your subscription, or questions, comments or suggestions about our content.
This week we open with NBS news, a numismatic literature sale, a new book, two periodicals, Maundy money, and more.
Other topics this week include U.S. colonial currency, Barber coinage, modern U.S. encased postage stamps, Jules Reiver, R.S. Yeoman, banknotes of the Bahamas, medallic work of Jeffrey and Lindley Briggs, St. Eligius, Tommy Thompson, eagles on banknotes, and Korea's coin bread.
To learn more about bookbinding, Albion Cox, the Nova Eborac Coppers, Auctori Plebis tokens, backed colonial notes, more women coin dealers, Albert W. Ault, Multiple Striking, counterstamped coins, growing to the size of your own fishbowl, the Indigenous Peoples toonie, FUBAH coins, and that that "million penny hoard", read on. Have a great week, everyone!
Wayne Homren
Editor, The E-Sylum


NBS Bookbinding Demo at ANA Convention
Selections from A Latin American Numismatic Library and other Consignments: Sale 6, closing November 11, 2023 | Mark Your Calendars!
Workman's Books' sixth bid sale of rare and out-of-print books, auction catalogs, journals, and fixed price lists is currently being cataloged! The sale will close on Saturday, November 11, 2023 and will include many lots of rare and hard-to-find items on Latin American numismatics, ancient, U.S. and world numismatics, orders & decorations, militaria, shipwrecks, sunken treasure, lost treasure, treasure hunting, lost mines, and treasure in the American West.
Whitman Publishing will release the updated third edition of the Guide Book of Barber Silver Coins, by Q. David Bowers, in August 2023. The 400-page book is volume 20 in the popular Bowers Series of numismatic references. It will debut at the American Numismatic Association World's Fair of Money in Pittsburgh, August 8–12. After the show, the new book will be available from booksellers and hobby shops nationwide, and online (including at www.Whitman.com).
The subject of the book is the silver coinage—dimes, quarters, and half dollars—designed by U.S. Mint chief engraver Charles E. Barber and minted from 1892 to 1916. These were workhorse coins of American commerce. They circulated for decades, and could be found in pocket change into the 1950s. Today Barber's silver coins are among the most popular classic U.S. series, with many enthusiastic collectors. The Barber Coin Collectors Society (BCCS, online at www.barbercoins.org) is one of the hobby's most active and fastest-growing specialty groups.
Make your favorite beverage, sit in your reclining chair, and indulge in JEAN's semi-annual serving of numismatic catnip. This issue is brimming with excellent articles, making it difficult to pick a favorite—they each have attributes that set them apart. However, in this issue, there is one article that I unabashedly favor, The Life and Character of Albion Cox, by Gary Trudgen. While I may have missed one of Gary's past articles, it is safe to say that I have read nearly everything he has written on colonial numismatics. The Cox article is, in my opinion, the best monograph he has ever produced. Indeed, it is one of the top ten numismatic articles I have read. I placed it first in this issue so it is easy to locate. If you don't read anything else, read Gary's article on Albion Cox, a skilled assayer intimately involved in minting New Jersey coppers and integral to the production of America's first specie coins at Ye Olde Mint.
Gary has two articles in this issue. His second offering, 'Honest Industry' and the Nova Eborac Coppers, is much shorter but should not be overlooked—good things come in small packages. Gary has uncovered compelling contemporary documentation relating to John Bailey's workshop in New York City. I have run out of superlatives for Gary and the corpus of his lifetime of work on colonial numismatics. I highly recommend both of Gary's articles.
The U.S. Colonial Currency Greensheet
We're thrilled to offer a new product that is an absolute necessity for dealers, investors & serious collectors of U.S. bank notes. The collecting of United States Colonial paper money goes back more than 150 years and presents collectors with an extraordinarily diverse field to study and research. This genre covers all paper money issued by the 13 colonies and other state legislators, in addition to the Continental Congress.
In the modern era, the interest and market for Colonial paper money has expanded significantly. The first modern, comprehensive reference work written by Eric P. Newman in the 1960's opened the field up to a much larger audience, who could now collect in a much more methodical way than ever before. Fast forward another 30 years and the advent of third-party currency grading made collecting these notes safer and more trustworthy.
Regarding the question about the Penny Plunderer's backstory in the Batman series, his real name is Joe Coyne. He sells newspapers but is fired from his job for pitching pennies in the office. His lack of employment leads him to rob a cash register, but it only yields him pennies. Joe then decides to embrace this failure and lives a life of crime as the Penny Plunderer, focusing on illegal penny-themed capers. His first appearance is in World's Finest Volume 1 #30 (September 1947), where Batman resourcefully uses a giant cent to defeat the Penny Plunderer.
In another numismatic/comic book connection, paper money is prominently featured in issue No. 7 (December 1968) of a comic book called The Spectre. My father bought this specific issue when he was very young and recently handed it down to me because of its numismatic content.
Tom Caldwell writes:
Clip a Bright Guinea
David Powell writes:
To read the earlier E-Sylum article, see:
THE CRAGG VALE COINERS (https://www.coinbooks.org/v26/esylum_v26n25a25.html)
I recently acquired the "modern" (1940's & 1950's) encased postage inventory and accumulation of the late Rockford, Illinois dealer Rich Hartzog. I'm aware of your soft spot for Civil War era encased postage so I thought this group of second generation U.S. encased postage might be of interest to others as well. Most of the encased of this era were made by two individuals, Albert W. Ault, a Cincinnati, Ohio coin & stamp dealer and R.H.Rosholt, a Round Lake, Illinois coin & medal collector.
Ault produced encased postage mostly for other coin dealers and collectors including Sol Kaplan of Cincinnati, Max Schwartz and Harvey Dolin of New York City, C.A. Brownell of Clearwater, Florida, A.N.A. President Nelson Thorson of Omaha and more. According to Max Schwartz, the price from Ault was $40 per 100 pieces which could be broken into groups of 25 with different stamps and/or metal frames. Ault often used 5c & Xc stamps cut from the 1947 CIPEX souvenir sheet.
Kenneth Bressett's memoir A Penny Saved: R.S. Yeoman and His Remarkable Red Book celebrates the life of his mentor, hobby legend Richard S. Yeo (known as R.S. Yeoman), and the longevity of the Guide Book of United States Coins (the Red Book), first published in 1946. The 352-page hardcover volume is available from bookstores and hobby shops and online (including at Whitman.com). This excerpt is from chapter 5, wherein Bressett shares a number of Yeoman's writings. It was first published in the February–March 1964 issue of the Whitman Coin Supply Merchandiser. Yeoman talks about the importance of coin shows, the camaraderie they foster, and how to balance their objectives. He put these thoughts on paper 60 years ago—but they could have been written with equal wisdom today.
Erwin Schäffer, 1937-2022

Yosef Sa'ar writes:
Multiple Striking. Using more than one blow to form a piece by striking in a press. Some coin relief items – coins or medals – are intentionally double struck, struck twice in a coining press engineered to perform a double blow. This is done without disturbing the blank so the register is perfect for the second blow. Should the blank be twisted between the first and second blow it will exhibit both images and will be called double struck image. Proof surface items are often double struck on these special coining presses to effect a better strike, to impart a sharper image, with full angle edges at the rim/edge junction, and, of course, the highly reflective proof surface.
This week is the second installment of numismatists portrayed in movies. Jules Reiver's exploits during the Battle of the Bulge were grossly exaggerated in the movie, but he was a legitimate American hero.
Julius Reiver got his name in the newspaper during his service in World War II. He came to the attention of combat reporter Ernie Pyle who reported several times on Reiver's exploits. Pyle devoted a chapter in his book Brave Men to antiaircraft batteries and to Reiver's Retrievers.
Stack's Bowers Galleries has been dealing in rare coins and currency for 90 years and now they have a shop in Boston.
Stanley Chu is the manager of the branch. He got his love for coins and currency while working in his parents' bakery in the city.
"My job was to roll up coins to prepare for the next day's deposit for the store and anything that was interesting, I got to keep, like wheat back pennies, silver coins," he told WBZ-TV.
His interest has never stopped.
World Banknote Auctions is thrilled to announce the inclusion of the highly anticipated Varik Collection of Bahamas in its upcoming sale, World Currency Sale 45 (Session 2) The auction is scheduled for three sessions that take place from June 28th to July 2nd, 2023. The Varik Collection offers an unparalleled opportunity for collectors and enthusiasts to acquire a remarkable selection of 58 lots of banknotes from the Bahamas, spanning from the 1930s to 2009. The Varik Collection is renowned for its exceptional quality and rarity, attracting the attention of banknote enthusiasts from around the world. This unique assemblage of Bahamian banknotes has been curated meticulously, representing a fascinating journey through the monetary history of the Bahamas.
Unidentified Nummis NoVa grouping of Not so Grumpy Old Men interrupted by a camera-wielding interloper, amid an Afghan feast of epic gustatory perfection
Numismatics can open up a window to the past, and in certain circumstances, reveal a story behind a numismatic item. I recently bought a counterstamped 1856 large cent on eBay from Steve Hayden. It features a beautifully detailed eagle counterstamp along with the legend Patented May 1854.
An Italian coin dealer was arraigned in Manhattan on Wednesday for possession of stolen coins worth one million dollars - after one he gave to his colleague sold for $4.1million.
Italo Vecchi was charged with one count of grand larceny in the first degree, two counts of conspiracy in the fourth degree and second degree criminal possession of stolen property, among other charges.
The 75-year-old worked with British coin dealer Richard Beale, who was charged in March over the fraudulent $4.1 million sale of the 'rarest and most valuable' coin in the world.
More than a week after capturing the interest of the entire nation, a California family's bounty of 1 million copper pennies has officially changed hands.
John and Elizabeth Reyes, who discovered the massive cache of precious metal coins in the home that previously belonged to Elizabeth Reyes' father, say they've completed a sale for the pennies.
Since first speaking with NewsNation affiliate KTLA, the Reyes' story went viral and they received no less than a thousand offers. John Reyes said he was so inundated with inquiries that many interested parties were left without an answer, their messages forever lost as social media requests and unread mail in his inbox.
Artwork created by three Indigenous women will now be in the hands of millions, on the first Canadian coin to feature the collaborative work of multiple artists.
In Ottawa on Tuesday, the Royal Canadian Mint unveiled a commemorative toonie to celebrate National Indigenous Peoples Day.
A unique gold medal celebrating the Revolutionary War victory by Brigadier General Daniel Morgan over British Army forces in the 1781 Battle of Cowpens in South Carolina is making its first appearance since it sold at auction for $960,000 in April 2022. It apparently also is the first time it is available for general public viewing since its creation in 1839.
A SERIES OF BAS RELIEFS PORTRAYING ANIMAL / HUMAN RELATIONSHIPS
New Medal Designed by Renowned Italian Sculptor
Sergio Pasetto has recently announced his new medal design honoring St. Eligius the Patron Saint of Numismatists. This issue will be a limited number of pieces. The medal was originally created in 2022 and only three were made. He was encouraged by a collector of St. Eligius medals to make a few more to be available to collectors of St. Eligius medals.
As the video stream blinks to life, the bearded inmate appears, sitting impassively as he waits for his virtual hearing to begin. Thomas Tommy Thompson, wearing a short-sleeve brown shirt, his graying hair in a ponytail, occasionally glances to his right, scratches his beard and sips from a plastic cup.
It's April 14, 2023, Thompson's 2,677th day behind bars for keeping a secret.
The road leading to this moment stretches back decades, to the day in 1988 when Thompson, then a Battelle scientist, made one of the biggest discoveries of sunken deep-sea gold in history. Heralded as a genius at the time, he's a legal oddity today as he sits in a cell in a federal penitentiary in Milan, Michigan, unable—or unwilling—to reveal the location of 500 coins cast from some of that gold. For his refusal, he's been declared in contempt of court by Columbus federal judge Algenon Marbley and held for more than seven years, racking up $2.7 million in fines—and counting.
The eagle is a symbol of strength and freedom throughout the world, and it can be seen soaring on banknotes from many different countries.
National Bald Eagle Day is a day dedicated to celebrating and raising awareness about the bald eagle, the iconic national bird of the United States. This day is observed annually on June 20, in celebration of the day when the Second Continental Congress selected bald eagles as the national symbol of the United States in 1782.
Three men involved in a conspiracy to supply over £12 million of counterfeit banknotes must give up the real money they earned from their crimes.
Phillip Brown, John Evans and Nick Winter were all jailed following an investigation in 2019 by detectives from the Kent and Essex Serious Crime Directorate.
As part of the officers' enquiries they carried out the largest face-value seizure of fake currency in UK history following a raid at a printing press in Beckenham.
FUBAH coins: fouled up beyond all hope
Many coins fall into the FUBAH category, including ones with scratches or environmental damage; the most irritating ones are stained. These may seem like restoration candidates at PCGS or NGC. However, chances are they will be returned in their original ungrade-worthy condition because dipping — removing a thin layer of a coin's surface — may be the only removal method, and even in those cases, the stain will remain, and the specimen will be permanently damaged.
I have written in the past about cleaning coins using MS-70 detergent or Jewel Luster (e-Z-est coin cleaner) dip. The former may remove light PVC damage or verdigris. The latter strips surface metal. True, some coins are candidates for a dip. Expert numismatists know which coins and what percentage of dip and water, etc., to use. (I can't share formulas here.) But in almost every case, this devalues the coin, earning a details grade from major holdering companies.
To read the complete article, see:
FUBAH coins: fouled up beyond all hope (https://news.coinupdate.com/fubah-coins-fouled-up-beyond-all-hope/)
Makers of Gyeongju's "10-won bread," a popular street food shaped like a Korean 10 won coin, are facing pressure from the Bank of Korea (BOK) to change its design.
According to relevant authorities, Thursday, the BOK requested makers of the treat stop using the coin's design for their bread.
"We are in discussions with the manufacturers of the 10 won bread about making design changes within legal boundaries, in order to ensure the continued operation of their local business," the BOK said in its official statement.
This week's Featured Web Site is Error-ref.com, the Error-Variety Ready Reference.