Visit our NBS Sponsors
About Us
The Numismatic Bibliomania Society is a non-profit association devoted to the study and enjoyment of numismatic literature. For more information please see our web site at coinbooks.org
Subscriptions
Those wishing to become new E-Sylum subscribers (or wishing to Unsubscribe) can go to the following web page link
Membership
There is a membership application available on the web site Membership Application
To join, print the application and return it with your check to the address printed on the application. Print/Digital membership is $40 to addresses in the U.S., and $60 elsewhere. A digital-only membership is available for $25. For those without web access, write to:
Charles Heck, Treasurer
Numismatic Bibliomania Society
P. O. Box 2058,
Bluffton, SC
29910-2058
Asylum
For Asylum mailing address changes and other membership questions, contact Chuck at this email address: treasurer@coinbooks.org
Submissions
To submit items for publication in The E-Sylum, write to the Editor at this address: whomren@gmail.com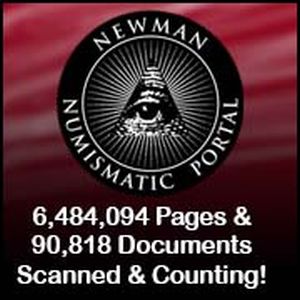 BUY THE BOOK BEFORE THE COIN
Content presented in The E-Sylum is not necessarily researched or independently fact-checked, and views expressed do not necessarily represent those of the Numismatic Bibliomania Society.
New subscribers this week include: Tom Cooper, courtesy Al Raddi. Welcome aboard! We now have 8,047 subscribers.
Thank you for reading The E-Sylum. If you enjoy it, please send me the email addresses of friends you think may enjoy it as well and I'll send them a subscription. Contact me at whomren@gmail.com anytime regarding your subscription, or questions, comments or suggestions about our content.
This week we open with updates from the Numismatic Bibliomania Society, three new books, a book review, updates from the Newman Numismatic Portal, and more.
Other topics this week include Korean coins and Swiss tokens, the Libertas Americana medal, online fakes, Barney Bluestone, Mike Diamond, Ken Rendell, Barbara Gregory, Pittsburgh ANA events, fixed-price offerings, the 1862 Postage Currency riot, and the Pope's banknote carpet.
To learn more about the Canadian Numismatic Bibliography, the Vermont Enigma, the Van Wart Andre Captured medal, colonial paper money's slavery connection, the Roman Coin restaurant, The Salt City Coin Book, Ice Worm Cocktails, the Miami Rare Coin Co., Russian privatization vouchers, and the "pretty damn tasty" beer made with money, read on. Have a great week, everyone!
Wayne Homren
Respected Knight of the Sacred Order of The E-Sylum
(as a reader referred to me this week)


NBS Podcast Features Daryl Atchison
The latest episode of the NBS Bibliotalk podcast, The Canadian Numismatic Bibliography, with Daryl Atchison is now available on the NBS website and other popular podcasting platforms such as Buzzsprout. In this episode, Daryl Atchison speaks about his beginning as a collector, and talks in-depth about the Canadian numismatic bibliography, a massive group effort that extended from three years to twelve. The final product was a two-volume set, numbering over 1,200 pages. The NBS podcast is produced every other month by Lianna Spurrier of Numismatic Marketing.
Bookbinders Unite at the ANA Convention
Our bookbinding term of the week is case binding. In this process, multiple signatures are sewn together prior to being cased. The sewn text block is then attached, via the endpapers, to the cover or case, which is made of cardboard covered with paper, cloth, or leather.
In our bookbinding demonstration at the ANA, we will sew and case bind a simple example (the Asylum index for 2013-2022), which is illustrated here. This demo will run all day Wednesday, August 9 at the NBS booth, table 433.
For sale is a new price guide for Korean coins from the author of South Korean Coins in the Era of Development.
This price guide gives auction pricing for certified (graded/holdered) coins that were sold at auction in South Korea. The coins included are the early machine-struck coins (1884~1910) of the Joseon Dynasty and Korean Empire period, along with Republic of Korea (South Korea) coins from 1959 to 2020.
North American market pricing is also included for South Korean coins, as well as a scarcity guide for South Korean coins.
The Korean auction hammer prices for all of these coins date from 2019 to 2023, but some results are from auctions that took place in earlier years, especially for those rarer coins that do not appear often at auction in Korea.
Yosef Sa'ar writes:
Ruedi Kunzmann
Swiss consumer money, beer stamps, milk stamps, tram stamps
Title: Battenberg Verlag
ISBN: 978-3-86646-242-7
Edition: 1st edition 2023
Dimensions: 14.8x21cm
Type of figures: colored throughout
Type of cover: hard cover
Number of pages: 392
Without the author's extensive research into Switzerland's chips, the monetary history of the country in the heart of Europe would be a lot poorer. With meticulousness and years of probing for the sometimes extremely rare coins, the author has now put together a supplementary book on the three topics of Swiss consumer money, Swiss beer stamps and Swiss milk stamps, which contains a large number of newly discovered tokens - a total of 880 numbers. As usual, the interested person often finds various background information, which is otherwise difficult to find. As an additional chapter, Ruedi Kunzmann added a list of tram brands in Switzerland. The worldwide collectors of these special coins will thank him.
Whitman Publishing announces the release of Safeguarding History, the autobiography of famed artifacts collector and dealer Kenneth W. Rendell. Subtitled Trailblazing Adventures Inside the Worlds of Collecting and Forging History, the 328-page memoir of the Indiana Jones of the art and collecting world will debut nationwide on October 3, 2023.
Rendell has spent decades adventuring around the globe to track down, buy, and sell some of the most significant, iconic historical artifacts from the ancient world to the Renaissance to the present day. He is known as a collector and dealer in rare manuscripts and historical artifacts and an expert in autographs—he debunked the Hitler Diaries in the 1980s, helped solve the Mormon Church White Salamander Letter murders, and exposed the so-called Jack the Ripper diary as a fraud. Rendell built the incredible collection of Bill and Melinda Gates's personal library, and has appraised, bought, and sold major archives including Richard Nixon's White House papers and Watergate tapes, Ronald Reagan's papers, Frederick Law Olmsted's papers, General George Patton's personal artifacts, 12 million uncataloged artifacts of the Northern Pacific Railroad, and many others.
U.S. Treasury Notes 1812–1865: An Excellent New History Book on a Fascinating American Era
Reviewed by Dennis Tucker, July 2023
Nicholas J. Bruyer has accomplished a remarkable feat with his beautifully illustrated new history book, U.S. Treasury Notes 1812–1865. Bruyer's work brings fresh understanding to a numismatic subject that is often merely summarized, but which deserves this level of careful attention and creative exposition.
At Whitman Publishing we've explored just the surface of America's Treasury Notes. Chapter 21 of Q. David Bowers's Whitman Encyclopedia of U.S. Paper Money gives a nine-page overview of the subject. In Arthur and Ira Friedberg's Guide Book of United States Paper Money there's a six-page section on Treasury Notes of the War of 1812. The subject is summarized even more briefly with two pages in Kenneth Bressett's popular Guide Book of United States Currency. Various other Whitman books touch lightly on Treasury Notes, often as a precursor to much more in-depth discussion of state-chartered bank notes and later money.
Now, with the assistance of Stack's Bowers Publishing, Nicholas Bruyer has given U.S. Treasury Notes the spotlight they deserve. He presents them in a comprehensive manner, colorfully illustrated and rich in historical narrative. Bruyer explores the use of these notes not only as investment vehicles—employed by the government to stave off bankruptcy—but also as an early form of national currency. U.S. Treasury Notes 1812–1865 is more than a catalog; it's a well-reasoned study that offers new perspectives in American financial and economic history.
1 - 1978
[Collection. Merchant catalogs. Numismatics] / Frédéric Droulers Frederic Droulers Books
2 - 1978-2001
Gadoury, Victor
French royal coins from Louis XIII to Louis XVI: 1610-1712: copper, billon, silver, gold / Victor Gadoury, Frédéric Droulers 3rd ed. expanded and updated V. Gadoury Books
3 - 1989-...
Droulers, Frédéric (1943-....)
Practical encyclopedia of numismatics and royal finances: 1610-1792 / Frédéric Droulers Ed. Albuquerque Books
An Unpublished Vermont Enigma Plate
Recently the Newman Portal scanned a photographic paste-up plate, from the Eric Newman papers, that was apparently intended for publication with Newman's article A Recently Discovered Coin Solves a Vermont Numismatic Enigma, from the Centennial Publication of the American Numismatic Society (1958). Although this plate does not include the Enigma coin, the layout and typography are consistent with those published.
It is interesting to me for a variety of reasons. First off, the photo on the opening page shows Doris in the same pose as the one that appeared in the Brooklyn Daily Eagle that was included in the earlier article. She's clothed in this one. I also liked the coin showing its edge.
In reference to this week's E-Sylum about the 1976 Paris gold restrikes of the Libertas Americana, I bought a restrike 64 grams proof gold Libertas Americana Gold medal in June 2022 at the Stacks Bowers precious metals auction.
I bought is because, of all the Comitia Americana medals, this was the one Franklin was most proud of. As Adams and Bentley called it: "Simply put, a masterpiece." He spent an enormous amount of time and effort to get the message correct.
Rather than creating a monumental pillar for Yorktown, then in vogue, Franklin created a medal. As a diplomat, he knew Louis XVI would appreciate a gold masterpiece in his hands lots more than a marble column in America.
More on the Van Wart Andre Captured Medal
Julia Casey writes:
To read the earlier E-Sylum article, see:
MUSEUM ACQUIRES VINCIT AMOR PATRIAE MEDAL (https://www.coinbooks.org/v26/esylum_v26n30a12.html)
Students studying numismatics at the University of Calgary will soon benefit from the volunteer commitment of the Calgary Numismatic Society (CNS).
The Calgary club has created a $50,000 scholarship endowment at the university that is designed to make a significant long-term numismatic contribution within the community, says CNS president Tom Woznow. Knowing that the University of Calgary has the Nickel Galleries museum with large numismatic holdings, we wanted to enhance the study opportunities by providing funding that could be paid out in a bursary, yearly, to a student that might be studying and working within the field of numismatics.
John Mercanti Plaster Sculpts to be auctioned at PAN Welcome to Pittsburgh Dinner
Retired U.S. Mint 12th Chief Engraver, John Mercanti, has created two plaster bas-relief sculpts that will be the highlight of a Benefit Auction to occur on the evening of Tuesday August 8th at the Welcome to Pittsburgh dinner to be held during the American Numismatic Association World's Fair of Money Convention in Pittsburgh, Pennsylvania.
The first sculpt is a beautiful likeness of 16th President of the United States, Abraham Lincoln. It is hand signed by Mr. Mercanti. His work is world-renowned and this piece of Honest Abe is a stunning example of his accomplished talent.
Nickel. A metallic element, of silver-gray color and often alloyed with copper and other metals for a coinage metal. Numismatic items have been struck in pure nickel, but as such it is very hard and difficult to strike. Coins with high nickel alloy do have one interesting characteristic – they are magnetic (the magnetic quality diminishes with the reduction of nickel in the alloy below 45%, however). Nickel is most useful as an alloy with copper, to form copper-nickel, or with zinc and copper to form nickel-silver. Even as little as 20% nickel in a copper-nickel alloy effects the color: it is gray (from the nickel) to supersede the copper red color. Nickel appears in a wide number of coinage alloys.
Some weeks I have difficulty coming up with the concept for a story. Some weeks the idea comes from someone else. The idea this week comes from Mark Borckardt who suggested I look at the 1930 Census for Barney Bluestone. There are two listings that might be confused.
The first Barney Bluestone in the 1930 Census was married to Harriet R., age 37, with no children. His age was 41 and born in New York with parents born in Russia. His profession was listed as numismatist. They had a servant, Stella Simienysk, age 18. The Census was taken in Syracuse, New York.
The second Barney Bluestone in the 1930 Census was married to Rebecca with son Leon and daughters Dinah and Natalie. His age was 37 and born in Russia. His profession was proprietor of a hardware store. The Census was taken on Bath Avenue in Brooklyn.
Mike Diamond: Oh yes.
Greg Bennick: So, this is how you learned the minting process, through Arnie's work and Alan Herbert's work. And I'm assuming that when you mention James Wiles, you meant that he had an ANA course?
Mike Diamond: Yes. He ran a course called The Modern Minting Process and U.S. Minting Errors and Varieties, put out by the ANA. I looked at videos and other sources as I continued to learn about it. The diagrams in Arnie Margolis' book, as far as the operation of presses, is sometimes inaccurate. It was derived from Steiner and Zimpfer. It shows the anvil die sitting on a cam going up and down, which is fine, but it also implies that the impact is directly transmitted to the cam. There's a well-known fellow I've talked to who has worked in private mints and he basically said that the impact is absorbed by the press frame surrounding the anvil die. I'd have to draw a diagram, but yes, it's not exactly as the diagrams in the book show.
Greg Bennick: You mean in Arnie's book, in terms of the cam?
Mike Diamond: Yes, it made a whole lot more sense once I got an explanation. I couldn't imagine a cam withstanding the tons of pressure.
One long-time numismatist and one budding collector are being recognized with American Numismatic Association (ANA) awards for their devotion to the hobby. The Numismatist of the Year is being awarded during the Pittsburgh World's Fair of Money® 132nd Anniversary Awards Banquet, 7-10 p.m. in the Allegheny Ballroom at The Westin Pittsburgh. The Young Numismatist of the Year was presented during this year's annual Summer Seminar event.
The American Numismatic Association (ANA) is presenting its Elvira Clain-Stefanelli Memorial Award for Achievement in Numismatics and Medal of Merit honors to members that have left indelible marks within the numismatic community. The recipients will be recognized during the World's Fair of Money® in Pittsburgh, August 8-12.
The Elvira Clain-Stefanelli Memorial Award for Achievement in Numismatics is presented annually to a woman who has made significant contributions to numismatics through her research, leadership, and/or mentorship, and who has demonstrated a longtime commitment to the betterment of numismatics. This year's recipient is the longest-serving and only woman editor-in-chief of The Numismatist, Barbara J. Gregory.
Class 1 — United States coins
The Making of the Liberty Nickel
I Like Ike: The History of the Eisenhower Dollar 1971-1978
Making the Grade – The 1900 O Morgan Dollar Grading Set
The Historically Significant Two Cent
The unique Experimental Finish 1910 Saint-Gaudens Double Eagle, described by researchers as one of the most important recent discoveries in 20th century American numismatics, will be displayed alongside the finer of the two known Satin Finish Proof 1921 Saints at the American Numismatic Association 2023 Pittsburgh World's Fair of Money®. It is the first time these multi-million-dollar, Philadelphia Mint coins will be publicly exhibited together in their home state of Pennsylvania.
The coins are from the personal collection of Brian Hendelson, president of Classic Coin Company of Bridgewater, New Jersey (www.ClassicCoinCompany.com), and will be displayed at his booth, #1202, during the ANA convention in the David L. Lawrence Convention in Pittsburgh, August 8-12, 2023.
Four acclaimed artists who have designed coins and medals for the United States Mint now have produced artwork commemorating the famous Victory statue crafted a century ago by another acclaimed numismatic designer, Augustus Saint-Gaudens. Free, hand-signed and numbered copies of their renditions of Victory will be available while supplies last at the American Numismatic Association 2023 Pittsburgh World's Fair of Money®.
The four artists are Emily Damstra, Miley Frost, Michael Gaudioso, and John Mercanti. Their Victory artworks were commissioned by Kevin Lipton Rare Coins in Beverly Hills, California. During the convention, Lipton will display one of only three privately-owned reductions of Saint-Gaudens' famous masterpiece statue that has been in New York's Central Park area since 1903.
High-quality 8 by 10-inch prints of the artwork will be available free while supplies last Tuesday through Friday, August 8 to 11, courtesy of Lipton and Rare Collectibles TV.
1074996 | AUSTRIAN STATES. Salzburg. Hieronymus of Colloredo. (Archbishop, 1772-1803). 1777 M (Franz Matzenkopf) AR Thaler. NGC MS65. 28.03gm. HIERONYMUS D · G · A · ... Bust right / Cardinal's hat above oval, mantled shield, crown above, divided date below. KM 435; Dav.-1263; Probszt 2430; Zöttl 3213 (Type 2e).
$3,950
For my work with the Newman Numismatic Portal I attended a conference by the Internet Archive at the Martin Luther King Jr. Library in Washington D.C. on Wednesday. It was a sweltering hot day and I had an hour to kill before the event began at Noon. Across the intersection was the National Portrait Gallery, housed in the old Patent Office building. Unfortunately it didn't open until 11:30, but I hung around and took a whirlwind tour of some first-floor exhibits.
Here are some of the great exhibits I saw, several with connections to numismatics or my hometown of Pittsburgh, location of the upcoming ANA convention.
A 2,000-year-old silver half-shekel bearing the Hebrew inscription Holy Jerusalem has been discovered in the Judean desert, the Israel Antiquities Authority revealed on Tuesday.
The rare coin, dated to 66/67 C.E., the days of the first Jewish revolt against the Romans, was discovered at the entrance to a cave near Ein Gedi. The find was part of a cave survey operation, now in its sixth year, that the IAA is managing in cooperation with the Israeli Heritage Ministry and an archaeology staff officer at the Civil Administration.
Recently, as part of the survey, IAA inspectors had reached a section of a cliff along one of the streams in the Ein Gedi area, and noticed the coin sticking out of the ground at the entrance to one of the cliffside caves.
A Major Clashed Die variety like none I have seen in recent years has been discovered on a 2023-P Edith Kanaka'ole American Women Program quarter.
It was first reported to me by Sonya Holt Esquibel of Alabama, who obtained one from Chad Savage on TikTok after another one of her friends, Maria Trammel, found two out of two rolls she purchased from Chad and advised him of her find. Savage reports finding 11 so far, having not checked all the rolls at the time of this writing.
In my opinion, the coin has more going for it than even many of the stronger clashes. First and foremost, the coin has pizzaz, or what I call sizzle in the steak, or what Bill Fivaz likes to call character. Not only is it very strong, but it stands out like a sore thumb right in the center of George Washington's profile from a reverse design that will have a short run never to be seen again.
In an age of cashless transactions, it's hard to imagine rioting over a shortage of small change. The economy of mid-19th century America, however, ran on physical currency and in November 1862 people in Cincinnati took to the streets, practically laying siege to the Customs House in response to an acute shortage of small change and a lethargic government response.
The disappearance of small change at the outset of the Civil War – and the responses at both the legislative and local level – have been explored in detail by many numismatic historians. The monetization of postage stamps, authorized at the federal level in July 1862, introduced Postage Currency, subsidiary denomination paper bills redeemable for postage stamps or, in sums five dollars and greater, for United States notes; the notes could also be used to pay customs dues up to five dollars. Postage Currency would evolve into the longer-lived Fractional Currency in subsequent issues stretching into the 1870s. Distribution of this currency was often too slow for the rampant demand, as evidenced by the events that unfolded in Cincinnati in 1862.
Canada used to have a 25-cent note that first appeared in 1870. The bill was meant to be a temporary solution to an ongoing problem, and many were even against it. However, it ended up being in circulation for 65 years.
According to Canadian Government Paper Money, 25-cent and 50-cent silver coins in the US depreciated by 5% compared to gold during the American Civil War. Since Canada received these coins at full face value, the coins poured into the country.
In the early 1990s, Bill Browder traveled to Moscow for Salomon Brothers to buy Russian companies for very low prices. The country was in shambles and had only the most primitive financial and payment systems, including the physical vouchers the government had distributed to its people, for free, as it transitioned to a market economy:
Portugal's famed street artist, Bordalo II, has broken into a Lisbon venue where Pope Francis will celebrate a mass next week and rolled out a huge carpet of oversized banknotes to criticise how much the state has spent on the event.
Francis will travel to Lisbon from Aug. 2-6 to attend the World Youth Day global gathering of young Catholics, which is expected to bring together hundreds of thousands of pilgrims.
Barnes & Noble was once the enemy of independent bookstores. Now it's trying to be more like them. And no place better explains the improbable reinvention of the biggest American bookstore chain than the Barnes & Noble on the Upper West Side of Manhattan.
That shop in one of the world's greatest book markets has been a battleground since the day it opened three decades ago. It might be the most iconic of the chain's 596 locations: It's the store that helped inspire the mega-store run by Tom Hanks's character in the classic romantic comedy You've Got Mail.
It also has been the site of a grand experiment for much of the past year. The chain invested millions of dollars to rebuild this Barnes & Noble into a model for its other stores to emulate as the company transforms into a bookseller for the modern age.
As a privately held company, Barnes & Noble doesn't report financial results, but it's clear that it's no longer near death. While the number of locations has decreased 5% since the acquisition, the chain is now expanding and plans to open 45 stores this year, including some that closed and reopened with smaller footprints, like one on the Upper East Side that opened this month to a line around the block. It's also giving facelifts to existing shops across the country. But not every store needs a complete makeover to feel refreshed. I recently popped into a Barnes & Noble off the interstate in Pueblo, Colo., where even subtle tweaks made for a delightful browsing experience.
Silk Purse Coins
You can't make a silk purse out of a sow's ear, is an expression that has been around for at least 500 years. It emphasizes the near impossibility of turning something inferior or repellant into a valuable or attractive item. In coin collecting, some attempt this by polishing a common coin, then promoting it as a Proof. Others try to claim that parking lot damage is actually a mint error and worth a lot of money – plus the promoter just happens to have some for sale at high prices.
In this little column, I'm going to use a somewhat interesting variation: You can't make a silk purse out of a sow's ear, applies to authenticators who assign highfalutin titles to some coins without reason, rationale, or evidence. This is not the gradeflation that we all loath; this is giving a coin a specious title and exotic-sounding attribute that does not, in reality, exist. It is a fake title built on self-serving ignorance and possibly a goodly portion of old fashioned greed.
To read the complete article, see:
Roger Burdette: Silk Purse Coins (https://coinweek.com/roger-burdette-silk-purse-coins/)