Visit our NBS Sponsors


About Us
The Numismatic Bibliomania Society is a non-profit association devoted to the study and enjoyment of numismatic literature. For more information please see our web site at coinbooks.org
Subscriptions
Those wishing to become new E-Sylum subscribers (or wishing to Unsubscribe) can go to the following web page link
Membership
There is a membership application available on the web site Membership Application
To join, print the application and return it with your check to the address printed on the application. Print/Digital membership is $40 to addresses in the U.S., and $60 elsewhere. A digital-only membership is available for $25. For those without web access, write to:
Jeff Dickerson, Treasurer
Numismatic Bibliomania Society
P. O. Box 578,
Weatherford, TX 76086

Asylum
For Asylum mailing address changes and other membership questions, contact Jeff at this email address: treasurer@coinbooks.org
Submissions
To submit items for publication in The E-Sylum, write to the Editor at this address: whomren@gmail.com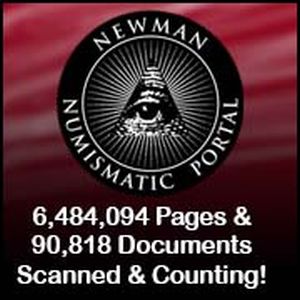 BUY THE BOOK BEFORE THE COIN
Content presented in The E-Sylum is not necessarily researched or independently fact-checked, and views expressed do not necessarily represent those of the Numismatic Bibliomania Society.
New subscribers this week include: Chris Tyrimos of Sovereign Rarities Ltd, courtesy Steve Hill; Jo Flores, and Elon Malis. Welcome aboard! We now have 7,616 subscribers.
Thank you for reading The E-Sylum. If you enjoy it, please send me the email addresses of friends you think may enjoy it as well and I'll send them a subscription. Contact me at whomren@gmail.com anytime regarding your subscription, or questions, comments or suggestions about our content.
This week we open with a new index for The Asylum, a numismatic literature sale, two new books, a book review, updates from the Newman Numismatic Portal, and more.
Other topics this week include banknotes of France, a Waterloo soldier's coins, the meaning of coin images, the Australian Numismatic Society, the New Jersey Numismatic Society, occluded gas, bullion dealer laws, Vera Liu, Bill Groom, Ken Rendell, auction previews, my numismatic diary, and Vietnam's dealers in damaged paper money.
To learn more about coins of the ancient Celts, Charles I Oxford Mint Half-Crowns, the S&S Library, NumiStudy, medals in the Bargello National Museum of Florence, Italy, the curator of The World's Most Valuable private coin collection, the Three Graces, the Diamond Jubilee of Queen Victoria, the consignor of The French Collection, and the Harvard Banjo Club, read on. Have a great week, everyone!
Wayne Homren
Editor, The E-Sylum


The Asylum's 10-year Cumulative Index of Volumes 31–40 (2013–2022) is attached. A big thanks for Len Augsburger for coordinating this effort and to Nicole Fry for compiling this handy index.
Print copies will be mailed to current NBS members. If you are a digital member and would like a printed copy, please email Maria Fanning at maria@numislit.com to purchase a copy for $5. International customers will pay more for mailing costs.
Charles I Oxford Mint Half-Crowns (1642-1646)
Maurice Bull
£100.00
This publication is the culmination of a lifetime's work collecting, studying, and recording full details of the Half-crown denomination struck at the Oxford Mint, 1642-1646, the largest of all the King's Provincial Mints during the Civil War of England (1642-1649). The Half-crown was the most important denomination required during the Civil War since it was the daily rate of pay for a Royalist cavalier, and useful to pay other ranks accordingly. It is worth pointing out that the Parliamentary cavalier only received two shillings per day.
Testimonia Numaria Romana Volume III
Melville Jones, J.R.
£80.00
This work is a sequel to the two volumes of Testimonia Numaria, published by Spink in 1993 and 2007, which presented literary texts and selections from inscriptions and papyri relating to ancient Greek coinage, with translations and commentaries.
It presents in one volume of 698 pages 1052 texts relating to Roman coinage. It is, like its predecessors, a major and permanent work of reference, which will be an essential aid not only for numismatists, but also for ancient historians wanting to learn more about this specialised area of study.
Dennis Tucker of Whitman Publishing writes:
Kenneth Rendell, now 80, a life-long collector-dealer in collectibles, has written an immensely interesting account of his life in our field. This book, his ninth, is being released October 3rd, 2023 and can be pre-ordered on Amazon and elsewhere.
When kids find their imaginations soaring about old books and paper, they inevitably daydream about discovering gems and subsequently share their prizes with luminaries, collectors and institutions. In the human imagination, possibilities live. Children have long been drawn into the magic of discovery and some lucky few grow up to spend their lives in the embrace of collecting wanderlust. Kenneth Rendell has lived that life.
While many are drawn, few have both the retentive memory and comparative logic necessary to play at the highest levels. Mr. Rendell has both as well as boundless self-confidence and an engaging style. Taken together, you have the makings of an exceptional dealer who becomes the scholar-expert. His story will quicken the hearts of those who hope to follow his path.
Four superb-quality Franklin and Kennedy silver half dollars featured on the front cover of a new reference book will be offered in a live television auction by Rare Collectibles TV (www.RareCollectiblesTV.com) on September 21, 2023.
The illustrated, 248-page A Guide Book of Franklin and Kennedy Half Dollars Fourth Edition by long-time professional numismatist and award-winning author Rick Tomaska, and with a foreword by the esteemed Q. David Bowers, is now available. Tomaska is a co-founder of Rare Collectibles TV.
Produced by Whitman Publishing, it contains updated pricing information for premium quality and Rick Tomaska Signature Series coins as well as new research, including a chapter about one of the rarest United States coins of the 20th century, the 1964-P Specimen Kennedy half-dollar.
The specimen 1964 Kennedy half, graded NGC SP67+, depicted on the book's cover was recently sold by Rare Collectibles TV to a collector for more than $100,000.
Newman Portal and S&S Library, LLC Team to Digitize Literature of Ancient Numismatics
The Newman Numismatic Portal (NNP) and the S&S Library today announce an initiative to digitize over 6,000 volumes from the S&S Library, which is primarily focused on ancient numismatics. We are excited to expand the scope of our content to include world and ancient numismatics, said NNP Project Coordinator Len Augsburger. Shanna Schmidt, a partner in S&S Library, LLC noted The literature of numismatics began with ancient coins, and the appreciation of all numismatics will be enhanced by knowledge of our earliest coins. We are pleased to partner with Newman Portal on the broad scale digitization of the literature related to ancient numismatics.
The S&S Library, housed in Chicago, is jointly owned by Shanna Schmidt Numismatics and a leading, U.S.-based collector in the field of classical and ancient numismatics. The library includes core holdings in all fields of numismatics, with a concentration on literature related to ancient coinage. Library highlights includes E. J. Haeberlin's Aes Grave (1910), Dattari's Monete Imperiali Greche (1901), and the first six volumes of The Numismatist (1888-1893), one of perhaps ten copies in private hands. The S&S Library was recently the subject of a video produced by Newman Portal, available at https://nnp.wustl.edu/library/book/630666.
Here are some pictures from the Waterloo Museum. Only two full skeletons have ever been recovered from the battleground, this one from the site of a recently installed parking lot. He was probably one of Blucher's German states soldiers as he has coins from them in his purse and (ironically) Napoleonic coins too, plus (dispositively) a ball from a French musket in the spot where his right lung used to be. They think the soldier lost the top of his head to a postmortem plow.
Waterloo is a challenge for a car-less tourist to visit from Brussels, but well worth the effort. I found two excellent books in the gift shop: The Waterloo Soldier - An Archaeological Investigation at the Heart of the Conflict, Dominique Bosquet et al., Wallonia Public Services (2017) ISBN 978-2-930711-35-5 (while complete on the post-mortem of the body, no list of the coins in detail) and Gordon Corrigan Waterloo - A New History of the Battle and its Armies, paperback by Atlantic Books (2015) ISBN 9781848879294
Upside Down Hebrew
Regarding a medal pictured last week, Ken Spindler writes:
Christopher Baker of Atlas Numismatics writes:
To see the corrected image at PCGS, see:
https://images.pcgs.com/trueview/47664993
To read the earlier E-Sylum article, see:
ATLAS NUMISMATICS SELECTIONS: SEPTEMBER 17, 2023 (https://www.coinbooks.org/v26/esylum_v26n38a25.html)
I enjoyed the overview of goats on ancient coins - surprised how many there are. The idea they're a fertility symbol, and thus carry an appropriate message for coins is certainly plausible.
The goat also appears on an ancient British coin, copied from an image on a Roman denarius. One must begin to suspect the goat might not mean the same thing in different cultures over such a long period of time.
Expert numismatist, Gary E. Lewis, had been in contact with the Australian Numismatic Society's Treasurer & Membership Secretary Rodney Rod T. Sell, FANS, about attending an ANS meeting during Gary's visit to Australia. As luck would have it, Gary was a Guest Presenter for the ANS-Sydney Annual General Meeting, No. 1240, held at 1:30PM on 10th September at the Roseville Club in Roseville, New South Wales, Australia. Gary spoke about his local club, the ANA, and he showed his 2023 S US Morgan and Peace Dollars—First Day of Issue NGC PF 70 Ultra Cameo, and an elongated Lewis & Clark coin.
President Pete LaConte called the historic 1,000th meeting of the New Jersey Numismatic Society (NJNS) to order on Monday, September 18, 2023. This year marks the 90th anniversary of our club, which was founded in 1933. Our club logo is a horse and plow, emblematic of the New Jersey State Seal. We have held meetings in a number of locations over the years, including the Upper Montclair Public Library and the Madison Public Library.
At present, we meet on the third Monday of the month at the Library of the Chathams at 7:00 p.m. Our meetings start with business matters and numismatic news, followed by a presentation on a topic of interest. The last part of our gathering is a show-and-tell session.
Occluded Gas. Trapped gas bubbles in ingots or castings creating a pocket where no metal exists. If retained in the ingot, occluded gas may remain in the metal through other operations, as rolling, blanking or striking; if so they could cause laminating in blanks or struck pieces. If any metalworking activity reaches the pocket of occluded gas it may exhibit a blister in the surrounding metal. Blanks made from rolled strip that contains pockets of occluded gas would be light weight and not pass a ring test. Obviously struck pieces from these blanks would also be light weight and not ring true. Finished pieces with such condition would be rejected if caught by inspection.
The Minnesota bullion coin dealers act became national news when it was passed in 2014. The law is not currently being enforced but the state Department of Commerce has been slow to mention that.
In 2011, the Minneapolis Star Tribune began a series of articles about Minnesota coin dealers. In consumer fraud reporter Dan Browning's May 8 article, he stated, the metro area is a hub of what has become a multi-billion dollar industry with about 30 Minnesota firms pitching to an estimated half million serious collectors and investors nationwide.
Kan (Vera) Liu, creator of the innovative and eye-catching displays for the world-famous Tyrant Collection, has joined Classical Numismatic Group LLC as a Marketing and Consignments specialist, according to CNG's Managing Director Michael Gasvoda.
Vera is a true rising star in this industry, Gasvoda said. We are very excited to have someone with as much talent, and as much international experience in the coin market, joining CNG.
"As a coin collector myself, I love my hobby and always want to promote my passion to a broader audience, Ms. Liu said. I'm very happy to be joining CNG, one of the most prestigious coin firms in the world. Through my profession, I will seek to expand CNG's business into new territories with more interactive marketing methods.
A native of Dalian, China, Ms. Liu is a 2011 graduate of Renmin University of China, where she attained an L.L.B. in Diplomacy in the university's School of International Studies. Through an exchange course with UCLA, she also studied Ancient Greek language and art, which kindled her interest in Green coins, which soon spread to all forms of ancient and modern coinage.
Greg Bennick Well, you know what would be fascinating, I'm just thinking of this as an aside almost would be a new edition. I don't know where the rights remain for Gregory Brunk's book, but a new and updated edition with new information would be pretty fascinating. The book itself is quite incredible. So I think that to have it as accurate as possible would be really important. But even as it stands now, it's a wealth of information about the history of individual merchants and why the stamps and where the stamps were made and whatnot. But your caution to readers is very important, and I think that's true across the board. Right? We need to be able to do our own research and be our own numismatic sleuths in a way just to make sure that what we're finding out is as accurate as possible.
Bill Groom Right. One of the things I did in my database I have for each counterstamp about twenty fields of information. And I am hoping that eventually that'll end up on the Newman Numismatic Portal there. One of the fields I call a proof scale. And in other words, this regards attribution. If I have a 0 in that box, it means there's probably no way this piece is ever going to get attributed. If I have a 1, it means, well, this one could probably be attributed, but there are so many people that this could be. We're just at that level. If it's a 2, I've narrowed it down to maybe two good candidates that could have might have stamped that piece. Now, it's not either or, but it is probably one of these two. And if it's a 3, then I have narrowed it down pretty much by - most of the evidence points to the stamp having been produced by one person, and it may not be correct, but the evidence suggests same. And then a 4 would be this is a slam dunk attribution with absolute proof. I've got a, let's say, an invention with stamped by the same fellow a photograph, a gun, a coin, a silver piece of silverware, whatever - the same mark exists elsewhere. And we can nail it down. Say, this is the guy that's a 4.
The day is almost upon us for Sovereign Rarities Auction 10, starting at 10:30am on Tuesday the 26th of September. This week we'll be highlighting some of our selection of Modern, Islamic, World, and Commemorative Medals. These include an Elizabeth II 2020 and 2022 gold proof 5oz 'Three Graces' and '200th Anniversary of the Death of George III'; a gold Afghani Mohur of Durrani Taimur Shah; a Chinese gold Sycee c.1750 from the Nanking Cargo Hoard, a silver Ingot from the Russo-Chinese Bank; a gold Dutch 1619 Cavalier d'Or from Utrecht; a gold Portuguese 1833 Peça (or 7500 Reis) of Maria II; and lastly, a large silver Diamond Jubilee Medal of Queen Victoria.
Lot 43: KROTON, Stater, broad flan type, c.500-480 BC, 25 mm, Tripod, lgnds rt & left/Eagle flying rt, HN Italy 2095; Nice VF, well centered & struck, good metal with mellow tone. Rare! (Much more so than the smaller flan issues with eagle rev)
MDC Monnaies de collection is excited to auction The French Collection in October 2023. The collection of 540 lots, built over 40 years, includes the most beautiful coins from the French Revolution to the Fifth Republic, with a vast majority of Top Pop. Today, it is not possible to recreate such a collection. We know that many collectors will find in it the special coins they have been looking for. The auction will take place in Monaco at the Hôtel Métropole on the 11th of October 2023, from 1:30 pm to 4 pm (lots 1 to 296) and from 4:15 pm to 7 pm (lots 297 to 540), Nicolas Gimbert, Auctioneer.
To view the complete collection:
https://mdc.mc/auction/vente-aux-encheres-numismatique-12/
In 1984 I was the successful bidder in an auction, buying an 1851A Ceres Head 5 Francs, lot number 234 in this catalog. That purchase inspired me to begin collecting French coins.
I was familiar with collecting by type and used Victor Gadoury's Monnaies Francaises catalog as the reference for my Decimal Type Set.
I met Wade Hinderling, my mentor, in 1988. I told him I wanted to collect a high grade French Decimal Type Set. He took it from there. Wade recommended not including coins minted after about 1940 because they are common.
Faustina II Aureus

Faustina II., Gemahlin des Marcus Aurelius, Augusta, 145-175/6 n. Chr. AV-Aureus 147-150 n. Chr. Rom 7.20 g. Vs.: FAVSTINA AVG PII AVG FIL, drapierte Büste n. l., Rs.: CONCORDIA, Taube steht n. r. RIC 503b; Coh. 60; Calicó 2044 Gold, attraktives Exemplar mit hohem Relief
To read the complete lot description, see:
https://koelner-muenzkabinett.auex.de/Auktion/Onlinekatalog
On Tuesday September 19, 2023 I made my way after work to the Lazy Dog restaurant in Fairfax, VA for the monthly meeting of my Northern Virginia numismatic social group, Nummis Nova. Wayne Herndon was our host. I was the last to arrive this time and took a seat at the end of the table between Lorne LaVertu and Steve Bishop. Tom Kays was positioned at the opposite end, and I'll open with his report.
A man stopped Truong Thi Kim Loan as she was passing by and offered to sell her a mangled VND100,000 ($4) note, a corner of which had been burned off.
Loan, 60, of Ho Chi Minh City, held the bill in her hands, looked at both sides carefully, checked the serial number, and gently inspected the burned corner. She then offered to buy the banknote for VND60,000.
The man agreed and Loan paid up. She put the burned bill in a small bag full of other damaged notes she'd collected that day.