Visit our NBS Sponsors



About Us
The Numismatic Bibliomania Society is a non-profit association devoted to the study and enjoyment of numismatic literature. For more information please see our web site at coinbooks.org
Subscriptions
Those wishing to become new E-Sylum subscribers (or wishing to Unsubscribe) can go to the following web page link
Membership
There is a membership application available on the web site Membership Application
To join, print the application and return it with your check to the address printed on the application. Print/Digital membership is $40 to addresses in the U.S., and $60 elsewhere. A digital-only membership is available for $25. For those without web access, write to:
Jeff Dickerson, Treasurer
Numismatic Bibliomania Society
P. O. Box 578,
Weatherford, TX 76086

Asylum
For Asylum mailing address changes and other membership questions, contact Jeff at this email address: treasurer@coinbooks.org
Submissions
To submit items for publication in The E-Sylum, write to the Editor at this address: whomren@gmail.com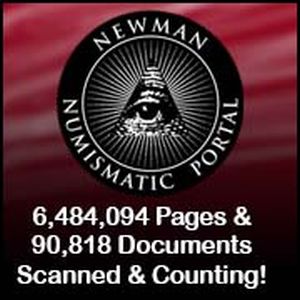 BUY THE BOOK BEFORE THE COIN
Sale Calendar
Content presented in The E-Sylum is not necessarily researched or independently fact-checked, and views expressed do not necessarily represent those of the Numismatic Bibliomania Society.
New subscribers this week include: Harold Fears. Welcome aboard!
Thank you for reading The E-Sylum. If you enjoy it, please send me the email addresses of friends you think may enjoy it as well and I'll send them a subscription. Contact me at whomren@gmail.com anytime regarding your subscription, or questions, comments or suggestions about our content.
On this date in 1863, Abraham Lincoln delivered the Gettysburg Address at the dedication of the Soldiers' National Cemetery in Gettysburg, Pennsylvania.
This week we open with a signed Red Book offering, four new books, a review, updates from the ANA and Newman Numismatic Portal, and more.
Other topics this week include Barber coins, a coin identification and grading app, Taylor Swift's great-grandfather banker, the Money Museum of the National Bank of Detroit, oroide, Coin-A-Rama City, fixed price and auction offerings, ancient coin hoards, the Inverted Jenny, and a 1624 bond that still pays interest.
To learn more about the Alpha Bank Collection, paper money dealers, the Reading Room, the Susan B. Anthony Dollar, counterfeit coins in fake PCGS holders, semiquincentennial quarter design ideas, Sprague and Blodgett's Georgia Minstrels, another numismatic Titanic relic, the Abundance medal, the Kingdom of Pomona, the Pedley Ryan dollar, mutoscopes, scrip payable in salt, John Dannreuther and I-shoulda-bought-that-when-it-was-cheap remorse, read on. Have a great week, everyone!
Wayne Homren
Editor, The E-Sylum


For the complete story and text of the Gettysburg Address, see:
The Writer's Almanac from Sunday, November 19, 2017 (https://thewritersalmanac.substack.com/p/the-writers-almanac-from-sunday-november-cb8)
George Cuhaj writes:
Monnaies Françaises, 1789-2023
Author: Pastrone
Publisher: Editions V. Gadoury
Year: 2023
Language: French
Price: € 39.00
This year Gadoury is celebrating its fiftieth anniversary of the edition of the red book 1973-2023:
TRADITIONAL NUMBERING We have integrated all the essays and pieforts into the book according to the numbering of the famous 1989 special edition.
NEW CHAPTERS Numerous essays, pieforts and Convention, Constitution, Louis Philippe, Henri V, 1st Republic and Government of National Defense tests added in this new edition.
MANY NEW PHOTOS The most beautiful coins sold in the best auctions around the world.
UNPUBLISHED COINS As in each new edition, our experts have pointed out coins and variants not listed in previous editions.
CISALPINE REPUBLIC The 6 Lire and 30 Soldi coins of the Cisalpine Republic 1800 - 1802 not listed in previous editions.
To celebrate the 50th anniversary of the creation of its world-famous Numismatic Collection, Alpha Bank recently organized two major retrospective exhibitions, one in Athens and one Bucharest, Romania.
The first exhibition under the title "The Other Side of the Coin" took place at Goulandres Museum, Athens, Greece. The catalogue presents 150 rare coins from this collection, today one of the most important of its kind.
The second exhibition under the title "Two Sides of the Same Coin" took place at the Museum of the National Bank of Romania. The catalogue presents 100 of the most important coins from the Alpha Bank Numismatic Collection, which travelled to Romania for the exhibition and explores coins as both a means of transactions and a work of art that narrates stories and captures moments from the era in which they circulated.
Paper Money dealers have all the fun as noted in Len Glazer's long-awaited new work. This book of 164 pages tells how Paper Money dealers enjoy themselves at shows. If you have a favorite dealer, you will find him or her in the pages that abound with pictures and illustration which tell of our way to enjoy life.
Soft Bound Book $50.00 postpaid
Hard Bound Book $80.00 postpaid
You will love this book!
Author
Len Glazer, a co-founder, and president of Currency Auctions of America, is widely recognized as one of the country's foremost authorities on paper money. Still in high school, he entered the market as a coin dealer at local trade shows and continued to buy and sell coins throughout his years at St. John's University. Before graduating, he became a recognized dealer of - and authority on - Fractional Currency. In 1975, Len founded Fractional Currency Incorporated.. In 1990, Len helped start Currency Auctions of America, Inc. Today, Len Glazer is recognized as the country's foremost authority on Fractional Currency, as well as one of the most respected figures in the entire paper money community.
Like previous editions, Bowers begins his look at the three Charles E. Barber silver series by establishing the historical context within which the new coins appeared. He recounts the work of three judges to choose the best entry from a group of submissions. In the end, the three concluded that none of the submissions were decided improvements over the then-circulating Liberty Seated design.
Of course, one of the judges was Mint Chief Engraver Charles E. Barber, and in the end, Mint Director Edward O. Leech chose Barber for the design. Unfortunately, his creations did not meet with universal acclaim. One writer began his critique with the following sentence: The mountain has labored and brought forth a mouse.
The team behind the American Numismatic Association's (ANA) official publication, The Numismatist, has launched the Reading Room - a brand new ANA member benefit. This online publication allows members the opportunity to stay on top of breaking industry news, access exclusive articles, read fan-favorite columns from The Numismatist, and listen to audio versions of articles on the go.
Through December 15, you can access the Reading Room, even if you aren't an ANA member.
Eric Brothers on the Susan B. Anthony Dollar
The Fall 2023 issue of Financial History, recently published by the Museum of American Finance, includes an article by Eric Brothers on the Susan B. Anthony dollar. This journal often contains well-written numismatic content and deserves to be more recognized among coin and paper money collectors.
Brothers explores the related legislation, artistic development, and public reception of this well-intentioned but failed coin. In 2022, Newman Portal scanned the Frank Gasparro papers at the American Numismatic Association, which includes additional background information on the Anthony dollar, including Gasparro's clip file, drawings, and concept renderings of Liberty.
Image: Gasparro sketch for Susan B. Anthony dollar, courtesy of the National Museum of American History
Do you remember a few weeks ago when I brought up how OpenAI's artificial intelligence models were making major strides in generating realistic images of coins? Well, OpenAI just made another massive update with the release of GPTs. GPTs are a way to create highly customized ChatGPT apps.
I got access to it and in less than 10 hours I was able to create the initial alpha build of Numi, a fine-tuned version of ChatGPT4 specifically made to provide objective grading estimates and coin identification.
Here's a brief overview of the development process:
Creation Effort: It took about 10 hours to develop an alpha build. The key task was fine-tuning the AI with detailed custom instructions [all written in English] and background documents [also in English] about coin grading, particularly the Sheldon scale.
Here are some of the custom instructions I used:
Jim Haas writes:
Dave Schenkman writes:
More on the Ames Monument
Regarding the Ames Monument, Steve Mengler writes:
To read the earlier E-Sylum article, see:
SAINT-GAUDENS' GREAT PYRAMID PORTRAITS (https://www.coinbooks.org/v26/esylum_v26n45a21.html)
John Regitko of Toronto, Canada writes:
During one of my visits to see friends in Michigan in the 1990s, I stumbled across the Money Museum of the National Bank of Detroit. Other than errors & varieties, I owned quite a collection of primitive forms of money. So when I entered the museum, it was like a kid entering a candy store, since the majority of the displays were taken up by unusual forms of money from around the world, as these photos attest to.
The National Bank of Detroit (NBD) was founded in 1933 in the midst of widespread bank failures during the Great Depression. Spurred by the Reconstruction Finance Corporation (RFC) to help stabilize the nation's banking system, NBD's shares were initially equally owned by General Motors and by the U.S. government under the RFC. The bank opened for business on March 24, 1933. By 1945, GM had divested of its ownership in NBD and by 1947 the RFC had ended its involvement.
We (the Fairbanks Coin Club, Alaska 4H Clubs and the Alaska State Legislature) tried to get the Elizabeth Peratrovich Dollar released to circulation. The US Mint grudgingly made them available to banks with stringent limitations, pretty much ignoring the wishes of the State of Alaska.
BYW, only 4,000 of the Peratrovich dollars were issued to banks in Alaska: 3,000 to Mt. McKinley Bank in Fairbanks (ordered for us to put into circulation), and 1,000 to the Tongass Federal Credit Union - far cry from the 5,000,000 requested by the Alaska State Legislature.
Oroide. A brass alloy resembling gold in color and brilliancy widely used in striking low-cost coin-like and token-like medals. A typical alloy of oroide (pronounced
O-row-ide) is 85% copper, 15% zinc or tin. It is malleable, easy to strike, and does not readily corrode or tarnish. It is sometimes known as artificial gold, golden bronze, or goldene; and often mistaken for bronze gilt. Infrequently spelled oreide in England. Items struck in oroide can be electroplated quite successfully, and – like brass – such an electroplated item would bleed yellow should the plated metal wear thin.
Coin-A-Rama City was an incubator for numismatics in the Los Angeles area. It opened on Saturday, March 2, 1963, in Hawthorne, California, with more than 3000 square feet of space. On opening day, they claimed more than 2000 visitors.
The location hosted three to eight permanent dealers in separate booths. George Ray was listed as owner and operator. Others included at various times were Anlyn Coins, Dick Barlow d/b/a National Coin Broker, Ronnie Downing (1943-1997), Eddie Doyle, (Volney) Allen Harriman (1933-1985), Dan Long, James Miladin (1908-1969) and Pauline Miladin (1923-2014), Orvil L. Payne (1920-2001), Bill Rayburn, Leroy Schmidt and Bill Simpson.
Greg Bennick: Are the people who are discovering or connecting these counterstamps to historical sources, are they typically researchers, scholars and academics and coin experts? Or are they the average person who happens upon, say a token and says, You know what, my grandfather's uncle's cousin's sister owned that store and then making those connections that way?
David Schenkman: There's probably a little of that. But I think that collectors, if they have that collector instinct, no matter whether it's coins or tokens or paper money, when they get something that asks a question to them when they look at it, they want to find the answer. And that's how researchers are born.
Greg Bennick: Yeah, that totally makes sense. Okay, so along these lines, we've mentioned them in reference them a few times: counterstamps. I've become fascinated by counterstamps in the last year or so, and I actually purchased two really cool ones from you recently. But I wanted to talk about counterstamps a bit and pose the same question to you as I did just in case somebody didn't listen to the Bill Groom interview. And they're just coming into this for the first time and they don't have a sense of what counterstamps were or are. Could you tell us a little bit about counterstamps and then maybe we'll talk about some specific ones using the examples that I bought from you recently as examples for our conversation.
R.M.S. TITANIC/NUMISMATICS- RARE SILVER DOLLAR COIN RECOVERED FROM TITANIC VICTIM JOHN GILL'S POCKET: John William Gill was a Second-Class Titanic passenger travelling to America to seek his fortune as well as a new home for himself and his newlywed wife who remained in England. Gill died in the sinking. His body was the 155th to be recovered by the cable laying ship Mackay-Bennett. Though there was some initial confusion regarding its disposition, Gill's body was buried at sea.
The Madison County Coin Club of Huntsville, Alabama, has decided to have Daniel Carr, proprietor of the Moonlight Mint of Loveland, Colorado, produce silver and copper medals for their club. The issue price will be $100 for the silver and $15 for the copper with a limit of 5 silver medals per household. The number minted will be determined by the number of pre-orders along with a possible small additional quantity for sale. If you are interested in acquiring these medals, send an email to madisoncountycoinclub2020@gmail.com.
Jamie Franki Art Work brings $1,400 at the PAN Fall Banquet Auction
Numismatic coin and medal artist / designer Jamie Franki created and donated an original piece of art depicting PAN's Living American History performers to support and fundraise for PAN's Living American History Program that continues to be a very popular addition at major coin shows across the country. Coin dealer David Siebert owner of The Coin Collector was the winning bidder at $1,400 that took place on Thursday evening October 19th during the PAN Banquet held at the iconic LeMont Restaurant overlooking the City Pittsburgh skyline.
102575 | GREAT BRITAIN. England. Archbishop William Sancroft cast silver Medal. Issued 1688. Sancroft and the Seven Bishops (49mm, 12h). By G. Bower. GVIL · SANCROFT · ARCHIEPISC · CANTVAR · 1688 ·, bust right, wearing camauro and canonical robes // Seven medallions of the Bishops committed to the Tower of London: Bishops Henry Compton (middle – London), Francis Turner (upper right, proceeding clockwise – Ely), Thomas Ken (Bath), Sir John Trelawney (Bristol), Thomas White (Peterborough), John Lake (Chichester), and William Lloyd (St. Asaph); twelve stars around. Cf. MI 622/37; Eimer 288b. NGC AU Details—Tooled. Despite the noted tooling and details designation by NGC, it should be mentioned that this type always displays some evidence of tooling and chasing in the fields, it being an aspect of manufacture following the casting process; as such, it can be discounted and expected and as issued. $465.
Following the exclusion crisis in the late 1670s over the fear of the rise of Catholicism, James II proposed the Declaration of Indulgence in 1687–the first step in establishing the freedom of religion in England. The ensuing protest, however, concerned the bill's lack of guarantee that the Anglican Church would remain as the established church, with many leaders within the clergy refusing to read the declaration. This act against the crown was led by the Archbishop of Canterbury, William Sancroft, along with six other bishops (Bishop Henry Compton being included on this medal on account of his earlier dissent to Catholicism and removal from office by James), and resulted in their imprisonment in the Tower of London. Brought to trial before the Court of the King's Bench, the bishops were acquitted, serving as a precursor to James' deposition shortly thereafter by his nephew, the Protestant William III of Orange, in the Glorious Revolution.
To read the complete item description, see:
102575 | GREAT BRITAIN. England. Archbishop William Sancroft cast silver Medal (https://www.numismagram.com/product-page/102575)
Lot 2418: Unknown Kingdom of Pomona One Nothing Note Fantasy/humorous note titled The Unknown Kingdom of Pomona and Other Places, created to look like currency. Denomination: One Nothing. Includes Profile w/signature of Abraham Cosby with inscription around profile reading Golf Balls Make Hagen Lots of Money.
To read the complete lot description, see:
Fantasy/Humorous Currency Note [173843] (https://holabirdamericana.liveauctiongroup.com/Fantasy-Humorous-Currency-Note-173843_i50916800)
Lot 3: Carrollton, Arkansas Scrip Note Carrollton, Arkansas. August 5, 1862, Bishop & Snell. $2, Unlisted in Rothert, Issued obsolete scrip note, Dated August 5th, 1862, Printed text on face "Payable in Confederate Notes, Arkansas War Bonds, or Treasury Warrants", Black text, Denomination at top center, Signature at bottom right, S/N 60, VG to Fine to Choice Fine condition with some rough margins and toning. Only 1 other Carrollton issued note has appeared at auction.
To read the complete lot description, see:
Carrollton, Arkansas. Bishop & Snell. 1862, $2, Obsolete Scrip Note (https://auction.archivesinternational.com/Carrollton-Arkansas-Bishop-Snell-1862-2-Obsolete-Scrip-Note_i50593620)
Lot 27: Millions For Contractors Civil War token 27 - 97/389 a R2 PCGS MS63 BN Well struck and nicely toned. Millions For Contractors Fort Lafayette Not One Cent For The Widows. A nice NGC MS62 BN realized $154.37 in our June 2023 eBay auction. (200-300)
To read the complete lot description, see:
27 - 97/389 a R2 PCGS MS63 BN Patriotic Civil War token (https://www.civilwartokens.com/Event/LotDetails/3703526/27-97389-a-R2-PCGS-MS63-BN-Patriotic-Civil-War-token)
In my haste to complete last week's issue, I missed this great photo of John Dannreuther. So here's an addendum.
The massive finding was made during ongoing excavations at Claterna (also spelled Claternae), a Roman town located near modern-day Bologna, according to a translated statement from the Italian Ministry of Culture.
Previously, archaeologists at Claterna had found a forum, streets, a dwelling with multicolored mosaics and Roman baths. The latest excavations at this "magical place" unearthed thousands of coins, which were mainly cast of silver and bronze, according to the statement. While sifting through the currency, the researchers found one that was particularly notable: a quinarius, a rare silver coin minted in 97 B.C. by the Roman Republic. Archaeologists spotted it hidden in the remains of a corridor in a former theater.
In an excavation at the Sosha Village East 03 archaeological site in Maebashi City, Japan, archaeologists stumbled upon a remarkable discovery – a cache of over 100,000 ancient coins, some of which are of Chinese origin and are more than 2,000 years old.
These coins include the Ban Liang,(coin from 175 B.C.) China's first unified currency, as well as others dating from the seventh to the thirteenth centuries. What's more, they were bundled in groups of around 100 coins and secured with straw cords known as sashi.
A pot full of copper coins was discovered from a stupa (a dome-shaped building erected as a Buddhist shrine) at the UNESCO World Heritage Site of Mohenjo Daro during conservation work in Pakistan's Sindh province.
Mohenjo Daro, or Mound of the Dead is an ancient Indus Valley Civilization city that flourished between 2600 and 1900 BCE. The ruins of the huge city of Moenjodaro – built entirely of unbaked brick lie in the Indus Valley. The site was discovered in the 1920s.
Director of Archaeology Mohenjodaro, Dr Syed Shakir Shah, who led the team comprising archaeological conservator Ghulam Shabir Joyo, had confirmed that the staff busy with preservation work had stumbled upon the pot of coins on Wednesday.
With only pocket change to spend in the 1950s, collector Charles Hack focused on acquiring stamps that few wanted: overprints churned out in Eastern Europe during World War I. As a boy building a stamp collection, first in Brooklyn and later in Long Island, he could only gaze longingly at advertisements announcing the auction of an Inverted Jenny — one of the rarest and most coveted stamps in the world.
Even then, he knew it was the holy grail of postage.
At the time, they sold for more money than God, in my mind — $7,500 each, Hack told The Washington Post.
Hidden deep in an archive in New Jersey is the world's oldest living bond. Originally issued to fund a dike in the Netherlands after a big flood, these days, it's gearing up for its 400th birthday and still paying interest. Today on the show, we visit this elder bond and hear its story.
Media reports about wrecks this man has found or recovered have described him variously as an anonymous London financier, the unknown salvor and the Originator. He's marshaled a high-tech operation to recover the lost treasures of history, spanning centuries and entire civilizations and covering most of the blue portion of the planet. And he's managed to keep this remarkable enterprise secret—until now.
To piece it all together, Bloomberg Businessweek investigated the financier's operations across 11 months, interviewing more than 40 current and former employees of his companies, as well as contractors, archaeologists, government officials, law enforcement officers and attorneys. Many of them requested anonymity, concerned about possible legal consequences from discussing what the financier considers his private business. The research also drew on corporate and legal filings, government records and satellite ship location data to confirm previously unreported expeditions.
Salvation Army Receives Gold Coin
The Salvation Army announced one of their bell ringers in Lake County received the organization's first gold coin of the season worth $1,200 Thursday evening.
The Salvation Army's Red Kettle campaign dates back to 1891 in San Francisco.
Gold and silver coins donated to The Salvation Army Red Kettles have become a much-anticipated holiday tradition of giving.
The coin is a South African 1/2 Krugerrand. It was dropped inside a kettle outside the Jewel-Osco, 1300 South Milwaukee Avenue.
To read the complete article, see:
'We are so grateful': The Salvation Army receives first gold coin of season worth $1.2K in Lake County (https://www.lakemchenryscanner.com/2023/11/18/salvation-army-receives-first-gold-coin-of-season-worth-1-2k-in-lake-county/)
This week's Featured Web Site is Books on Coins by Peter Jones. Great domain name! Check it out. Peter's books are excellent in hardcopy, well worth having on the shelf for ready reference.