About Us
The Numismatic Bibliomania Society is a non-profit organization devoted to the study and enjoyment of numismatic literature. For more information please see our web site at coinbooks.org
Subscriptions
Those wishing to become new E-Sylum subscribers (or wishing to Unsubscribe) can go to the following web page link
Membership
There is a membership application available on the web site Membership Application
To join, print the application and return it with your check to the address printed on the application. Print/Digital membership is $40 to addresses in the U.S., and $60 elsewhere. A digital-only membership is available for $25. For those without web access, write to:
Terry White, Treasurer
Numismatic Bibliomania Society
P. O. Box 634,
Canal Winchester, Ohio
43110
Asylum
For Asylum mailing address changes and other membership questions, contact Terry at this email address: terrywhite5475@yahoo.com
Submissions
To submit items for publication in The E-Sylum, just Reply to this message, or write to the Editor at this address: whomren@gmail.com
BUY THE BOOK BEFORE THE COIN
Sale Calendar
Content presented in The E-Sylum is not necessarily researched or independently fact-checked, and views expressed do not necessarily represent those of the Numismatic Bibliomania Society.
New subscribers this week include: Jim Shucart, courtesy of Andy Newman, Murray Standoddart, and Henry Coalter. Welcome aboard! We now have 3,285 subscribers.
Thank you for reading The E-Sylum. If you enjoy it, please send me the email addresses of friends you think may enjoy it as well and I'll send them a subscription with your compliments. Contact me at whomren@gmail.com anytime regarding your subscription, or questions, comments or suggestions about our content.
This week we open with more highlights from Kolbe & Fanning's Sale #147, three new books, and a new feature and content for the Newman Numismatic Portal.
Other topics this week include that "1894-S Dime" reported in the media last week, German dealer Adolph Cahn, the Virginia Numismatic Association, Arabian coins in the American colonies, Nazi counterstamps, nanoscale printing, and the origins of paper money.
To learn more about fips and fipenny bits, our travel quiz answers, Evergreen House, the William Seward assassination attempt, Vooruit Cooperative tokens, the Pope quarter, and Marlene Dietrich's massive short snorter, read on. Have a great week, everyone!
Wayne Homren
Editor, The E-Sylum


Maria Fanning submitted more highlights from the Kolbe & Fanning Sale #147, closing October 7, 2017. Thanks. -Editor
MORE HIGHLIGHTS FROM KOLBE & FANNING'S OCTOBER 7 BOOK AUCTION
Kolbe & Fanning Numismatic Booksellers will be holding our Sale 147 on Saturday, October 7, 2017. The 500-lot sale includes material from the libraries of William A. Burd and Q. David Bowers and covers ancient, foreign and U.S. numismatics.
Some highlights of the sale include:

Lots 42, 91

Lot 42: Gallatin's beautiful volume on Syracusan decadrachms

Lot 91: Oisel's finely illustrated 1677 work on Roman imperial coins

Lot 98

Lots 98, 125
Lot 98: the reprint of Rizzo's magnificent Monete Greche della Sicilia
Lot 125: the rare second edition of Waddington on Pontus & Paphlagonia

Lots 172,288
Lot 172: a 1724 arrêt of Louis XV lowering the value of the Louis d'or
Lot 288: a rare interleaved and priced edition of the 1863 Benjamin Haines sale

Lot 289

Lots 289,339
Lot 289: Greville & Dorothy Bathe's scarce work on Jacob Perkins
Lot 339: the 1838 edition of Dr. Feuchtwanger's Treatise on Gems

Lots 370, 487
Lot 370: a bound volume of 16 Hobby Shop auction catalogues, including the rare 1928 and 1930 ANA sales
Lot 487: a very nice first edition, first printing Red Book.
Bids may be placed via post, email, fax or phone, as well as online. Kolbe & Fanning uses Auction Mobility as our third-party online bidding platform. Auction Mobility is an app-based platform allowing users the ability to participate in the sale through phones, tablets and computers. To register for the sale, bidders must go to bid.numislit.com and sign up. Once you have set up an account, you may browse lots, place advance bids, or participate in the live sale online. Those wishing to participate on their devices can download the Kolbe & Fanning app through the Apple or Google Play Store.
The printed catalogue of Sale 147 has been mailed to active customers. A PDF of the printed catalogue has also been posted to our main website at numislit.com for those who prefer that format (the online catalogue may be truncated). Bids placed via post, email, fax or phone must be received by October 6, the day before the sale, in order for them to be processed. Advance absentee bids may also be placed online at bid.numislit.com; live internet bidding will be available during the sale itself through the same platform.
Kolbe & Fanning Numismatic Booksellers LLC is a licensed and bonded auction firm in the State of Ohio. For more information, please see the Kolbe & Fanning website at numislit.com or email David Fanning at df@numislit.com. To register for the sale, go to bid.numislit.com. We look forward to your participation.
Dennis Tucker of Whitman Publishing submitted this article about Dave Bowers' latest book. Thanks! -Editor
A New Book for the Serious Coin Collector: Inside the Rare Coin Marketplace
by Dennis Tucker
"Buy the book before the coin" is good, solid, often-quoted advice for newcomers to the hobby. Frankly, it's guidance for a lifetime of collecting; we should all heed it well beyond the beginner stage. And fortunately for today's hobbyist, this advice has never been easier to follow—thanks in large part to one incredibly productive author, Q. David Bowers.
Numismatic publishing has experienced a renaissance, an exciting boom, over the past 15 years. Dave Bowers joined forces with Whitman Publishing in 2003 as the company's numismatic director and as research editor of the Guide Book of United States Coins (the hobby's best-selling annual price guide and reference, known everywhere as the "Red Book"). He had been a Red Book contributor for years before that, and had helped with other Whitman projects. But it was in 2003 that the relationship was formalized—if a handshake agreement can be called "formal"—and things really took off.
I joined Whitman Publishing myself the following year, as the company's publisher. I've been a coin collector since around age seven, and like any good collector I owned a number of well-read Bowers books, most of them bought directly from his company (at the time, Bowers and Merena Galleries) when I was in my teens and early twenties. Among the Bowers books that traveled with me from my little hometown of Phoenix, New York, to college in Rochester, and later to Atlanta, were his 1987 monograph The Strange Career of Dr. Wilkins: A Numismatic Inquiry; the 1988 reprint of his 1964 classic, Coins and Collectors; and the 13th (!) edition of High Profits From Rare Coin Investment (1991).
Working With Mr. Bowers
By the time I started working for Whitman Publishing, Q. David Bowers was a world-famous numismatist with decades of experience. Several hugely successful companies had his good name attached to them as a founder and officer. He had served as president of the Professional Numismatists Guild and of the American Numismatic Association. His track record as a dealer and auctioneer included selling many of the finest, most valuable, and most historic coin collections ever assembled. For years I (and many other fans) had read his Coin World column, "The Joys of Collecting." He'd been named as one of only six living people in a roster of eighteen "Numismatists of the Century" in a 1999 poll conducted by COINage magazine. And as a book author he had a long shelf of numismatic titles to his credit, many of them best sellers.
I remember my first conversation with "Mr. Bowers" (as I addressed him a couple times), made by phone because he was in New Hampshire and I was in Georgia. Finally he said, "If you keep calling me 'Mr. Bowers,' I'll have to call you 'Mr. Tucker.'" From that point on it was "Dave," as he prefers it, as relaxed and down-to-earth as can be.
Since then I've emailed Dave or spoken with him on the phone nearly every day, and we've published dozens of new "QDB" books ranging from 96-page monographs to 900-page encyclopedias (plus several editions of the 1,504-page Mega Red, for which he serves as research editor).
Here are some thoughts on the development of his latest book, Inside the Rare Coin Marketplace, which will debut in October 2017, and where it stands in the Bowers oeuvre.
The Expert's Guide
In 1999 Whitman Publishing had released an excellent new book by Kenneth Bressett, longtime editor of the Red Book. His Whitman Guide to Coin Collecting quickly established itself as a popular introduction to the world of numismatics. In my first year at Whitman, one of my big projects with Dave Bowers was another new book that might be placed on the other end of the hobby spectrum. Its title is The Expert's Guide to Collecting and Investing in Rare Coins. Because of its sheer size (688 pages) it's tempting to characterize the Expert's Guide as a book reserved for advanced collectors. In reality, this was (and is) a volume for everyone with a serious interest in the hobby, whether new or old. As Dave wrote in his introduction:
"It is never too early or too late to discover coins and the other delights that make up the world of collecting. If you are a preteen, welcome! Similarly, if you are in retirement, welcome! Numismatics knows no restrictions of age, race, religion, politics, or anything else."
The Expert's Guide was a monumental undertaking, compiling Dave's 50-plus years of hobby/industry experience in 34 chapters of engaging prose with more than 1,300 illustrations. We released it in October of 2005 with much fanfare, including mainstream publicity in the Wall Street Journal. Collectors immediately fell in love with the book, and it earned strong reviews:
"Dave Bowers is uniquely qualified to write this book," said Clifford Mishler, retired chairman of Krause Publications. "He brings proper balance to the interplay of collecting and investing in our hobby community."
Ken Bressett, who wrote its foreword, asked rhetorically, "Are there really 'secrets' to successful coin buying? You bet! And Dave Bowers reveals them. His style is entertaining, informative, and motivating. The profits you will accrue from reading this book extend far beyond the monetary."
Bill Fivaz, coauthor of the Cherrypickers' Guide to Rare Die Varieties of United States Coins, said, "If there's a single person who could write this book, it's Dave Bowers"—and he jokingly opined that the prolific author's next book would be The History of the World!
Dave tells me that of all his books, the Expert's Guide is the one that generates the most enthusiastic letters and emails from readers. He likens reading it and absorbing its lessons to getting a master's degree in numismatics. Sales numbers confirm its popularity: Whitman has sold tens of thousands of copies since 2005.
Inside the Rare Coin Marketplace
About 10 years later we were planning on updating Ken Bressett's Whitman Guide to Coin Collecting, by then well established and popularly known as the "Yellow Book." It had been reprinted several times over the years and was ready for a new edition. As I studied our publishing list and talked with our sales team (who interact every day with collectors nationwide), I noted that we have the Yellow Book as a beginner's introduction to coin collecting, and the 688-page Expert's Guide for more advanced students of numismatics. Was there an opportunity for a companion to these two titles—specifically, a book for intermediate collectors who have devoured the Yellow Book and the Red Book, and want to continue expanding their knowledge?
Knowing the hobby community and the needs and interests of collectors, I strongly believed the answer was "yes."
To that end, this year's harvest of new Whitman books includes:
for hobby newcomers, the freshly revised, updated, and expanded new edition of the Whitman Guide to Coin Collecting, which debuted in July 2017, and
for continuing students of the art and science of numismatics, Inside the Rare Coin Marketplace: Secrets to Being a Smart Buyer will be available in October.
With each book you get more and more information to add to your storehouse of numismatic knowledge.
In Bressett's Whitman Guide to Coin Collecting, a newcomer will learn about coin collecting as a hobby; reasons people collect coins; coins as historical documents; how coins are made; where to find them; what factors affect their value; and the basics of grading coins, studying them, storage and display, maintaining a collection, and other points of interest.
Bowers's Inside the Rare Coin Marketplace tells you how to successfully navigate the numismatic marketplace and find high-quality coins; how to build a great collection; and ways to explore new highways and byways of the hobby. Dave shares wit and wisdom from his experiences as a professional coin dealer, today adding up to 60-plus years in numismatics.
Bressett's Yellow Book offers, among other resources, an illustrated catalog of all U.S. coins by type. Chapter 3 of Bowers's Inside the Rare Coin Marketplace does as well, but with a more in-depth approach, and many more photographs. The information is compiled with the goal of making you a smarter buyer of high-quality coins, no matter which series you collect.
In chapter 4 Dave shares stories about colonial and early American coins and tokens, treasure-ship coins, commemoratives, private and territorial gold pieces, numismatic books, historical medals, counterstamps, and other specialties. Many of these subjects are introduced on a basic level in the Yellow Book; in Inside the Rare Coin Marketplace they're given more analysis, with case studies; and in the Expert's Guide most of them get even deeper coverage in their own individual full-length chapters.
Chapter 5 introduces dozens of numismatic personalities from yesterday and today, many of whom Dave knew personally, and gives a history of the rare-coin market and its historical cycles. Chapter 6 offers a guided tour down memory lane, with the author sharing his recollections of the marketplace in a "personal scrapbook."
My hope for Inside the Rare Coin Marketplace is that, whether you're a fresh face in the hobby or have been around a while, you'll learn something new, you'll pick up a few good "coin stories" to share with friends and family, you'll discover ways to sharpen and hone your collecting habits and strategies, and—of course, because this is a Dave Bowers book—you'll be thoroughly entertained along the way.
For more information, or to order, see:
Inside the Rare Coin Market: Secrets to Being a Smart Buyer (https://www.whitman.com/store/Inventory/Detail/Inside-the-Rare-Coin-Market-Secrets-to-Being-a-Smart-Buyer+0794845258)
I was pleased to meet Darren Burgess of Australia at last year's American Numismatic Association convention in Anaheim, CA. -Editor
Darren writes:
Respected Australian Numismatist, Peter Lane, is to launch his new book, The Coin Cabinet: A cultural history of the numismatic collection in the Art Gallery of South Australia at the forthcoming NAAC2017 in Melbourne. Peter is Honorary Numismatist at the AGSA in Adelaide and has been working on this book for many years. Edited by Walter Bloom, Honorary Numismatist at the WA Museum in Perth, it's great to see this work finally published. It's a hardcover 215 page publication of A4 size, with over 200 colour illustrations. As the title suggests it is a publication on numismatic cultural history and not a catalogue. The book will be available for viewing at the NAAC2017 Reception, to be held at the RACV Club on the evening of Friday 20 October. Registration for NAAC2017 is open until the 30th September.
It sounds like a wonderful book. The history of collectors and collecting is fascinating, and really helps bring collections and institutions to life. We'll look forward to the book's publication. -Editor
To read the complete article, see:
New Australian Numismatic Publication to be launched at NAAC2017 (https://www.navic.org.au/conference/new-australian-numismatic-publication-to-be-launched-at-naac2017/)
For more information on the conference, see:
Numismatic Association of Australia Conference NAAC2017 Melbourne (http://www.numismatics.org.au/naac2017/)
David Tripp writes:
Serious numismatists are aware of Evergreen and the fabulous Garrett numismatic collection it once housed. This looks like a great companion to the Garrett collection book and auction catalogs. -Editor
Evergreen—the long-time home of the Garrett family in north Baltimore—offers a preeminent example of antebellum-American Italianate architecture. It also houses a remarkably diverse collection of over 50,000 objects, including paintings, furniture, sculpture, ceramics, and rare books. Acquired by two generations of the prominent Garrett family, self-described "collectors by instinct and by education," the assemblage of fine and decorative arts is remarkable in scope and inventiveness. Now part of the Johns Hopkins University, the mansion endures as a rare visual encyclopedia, representative of nearly all major architectural and design movements indicative of America's transition from a predominantly agrarian society to a world industrial power.
This meticulously researched and handsomely illustrated volume honors the distinct and richly layered collections that characterize Evergreen. The book opens with a history of the philanthropic family itself, which helped run the Baltimore & Ohio Railroad and develop many of the Monument City's most important civic and cultural institutions. Tracing their evolution as collectors and philanthropists, the book charts the family's artistic tastes and aesthetic sensibilities from the Gilded Age to the World Wars while also describing the physical landscape and architecture of Evergreen.
Hardback, 272 pages
164 color photos, 31 halftones, 3 line drawings
ISBN: 9781421421698
May 2017
$44.95
For more information, or to order, see:
Evergreen The Garrett Family, Collectors and Connoisseurs (https://jhupbooks.press.jhu.edu/content/evergreen)
Newman Portal (NNP) Presents Alan V. Weinberg Collections, Formerly on NeoCollect.com
NeoCollect.com, created by John Sallay, served as a virtual platform for exhibition of numismatic collections. Closed earlier this year, Sallay graciously made available to NNP a portion of the site content. With the permission of John Sallay and Alan Weinberg, NNP adopted this content and now exhibits a number of Weinberg collections. These focus on early American coinage (Massachusetts silver, 1792 patterns, early large cents) and American medals in a number of specialized areas including Agricultural and Mechanical societies, lifesaving medals, Civil War, and others.

George F. Robinson medal in silver, 1871, from the Weinberg collection
All of these pieces tell a story. The 1871 George F. Robinson medal was awarded by Congress to Robinson for his heroism in saving the life of William Seward, Secretary of State, on the night of April 14, 1865. The assassination of Abraham Lincoln, the same evening, was actually a conspiracy – the President, the Vice President Andrew Johnson, and Seward were all targeted. John Wilkes Booth alone achieved the aim of the conspirators. Today, Robinson's gold medal is in the Smithsonian. Weinberg knows of only two in silver, while the copper examples are more plentiful. Still, the Newman Portal identifies only 30 auction appearances in total since the 1850s – indicating an "availability" of once every 5-6 years. A single collection held two pieces, the identity of which is no surprise – John J. Ford had both a silver and copper example.
Link to Weinberg collections on Newman Portal:
https://nnp.wustl.edu/library/imagecollections
Link to George F. Robinson medal:
https://nnp.wustl.edu/library/imagedetail/510892?col=510054
Alan V. Weinberg writes:
Author Peter Bertram submitted this note reminding us about his booklet on the Fantasy Confederate ID Tags. Thanks! -Editor
I wrote a little 13-page booklet about these bad boys back in 2002, complete with illustrations and diagnostics of eight specimens I'd encountered (I think I've still got 'em around here somewhere). They were all castings, possibly coin silver, and all had differences in their vertical and horizontal axes, giving them a slightly oval appearance.
Specifically, the half-dollar size fakes were Capt Nathan Boone, 12th Kentucky || Robert F. Bunting, 5th Texas Cavalry || Lt. William M. Forrest, no rgt noted || Thomas Taylor, 5th Louisiana || A.L.P. Vairin, Second Mississippi Vol. || Lt James B. Washington, no rgt noted. The dollar size fakes were Col. Joseph Mayo, 3rd Va. Inf and Lt. Col. Dorsey Pender, 1st North Carolina Regiment. At the time a "General Dorsey Pender" disc was rumored but I could never seem to run one down so I mention the fake but can't confirm it actually existed.
I find it quite interesting that these apparently still not very well known fake Confederate ID Discs are still showing up in the collector marketplace. In addition to Dave Schenkman's TAMs article, my little Fake Confederate ID Discs was sold in booklet form, reviewed in Antique and Collectors Reproduction News, North South Trader's Civil War, The Virginia Numismatist, our esteemed E-Sylum, in a Coin World article, and it's still available at www.ConfederateNumismatica.com for a measly $5.
To order, see: https://confederatenumismatica.com/products/fake-confederate-id-discs
Peter adds:
To read the earlier E-Sylum articles, see:
FAKE CONFEDERATE ID DISCS REVIEWED (http://www.coinbooks.org/esylum_v08n43a04.html)
ON FAKE CONFEDERATE ID DISCS (http://www.coinbooks.org/esylum_v08n44a19.html)
WAYNE'S NUMISMATIC DIARY: SEPTEMBER 17, 2017 (http://www.coinbooks.org/v20/esylum_v20n38a29.html)
A FANTASY CONFEDERATE ID TAG (http://www.coinbooks.org/v20/esylum_v20n38a30.html)
Regarding the 1921 Belgium Socialist Newspaper token, Ken Spindler of San Diego shares these notes and images. -Editor
I do indeed know someone who collects these tokens. I do. One of my favorite areas of numismatic specialization is token coinage & paper money of Ghent, Belgium, 16th-20th centuries, especially Vooruit Cooperative. Vooruit (Flemish for "forward") was not only, or even primarily, a socialist newspaper, but a large workers' collective meeting hall, bakery, restaurant, and cultural center. It was centered in Ghent, Belgium, and extant 1880 to the late 1970s. It had various other business offshoots, and both affiliates and socialist cooperative copycats in nearby cities. It was a prominent symbol of European socialism between the World Wars. The large building that housed it since 1914 is now an arts center.


Just this year I gave an illustrated presentation on the subject to San Diego's International Numismatic Society, and I created a two-case exhibit of the 27+ different metallic and card stock varieties of Vooruit token "money" that I've discovered and obtained, so far.
The tokens and chits are variously denominated in terms of Belgian money, numbers with no monetary unit named, loaves or kilos of bread, or weights of coal. Some of the tokens were sold to workers, but some represented a distribution of profit. They were only good for Vooruit products or services. Attached are photographs of my example of the same token shown in the illustration (the worst I've ever seen, and an extremely common token), one different token, and a "bread card." And the Ghent Vooruit building. Also attached are photographs of my exhibit, in its latest iteration.
Ken adds:
To read the complete article, see:
NUMISMATIC NUGGETS: SEPTEMBER 17, 2017 : 1921 Belgium Socialist Newspaper Token (http://www.coinbooks.org/v20/esylum_v20n38a27.html)
John Feigenbaum of Coin Dealer Newsletter writes:
Ginger Rapsus writes:
Joel Orosz of Kalamazoo, MI writes:
I was kind with my earlier remarks, but the whole story reeked of B.S. I had to check the calendar to make sure it wasn't April 1st. By the time I rechecked Monday evening the article had been removed from the site. On Thursday evening the paper published this follow-up. -Editor
Local and national coin experts have raised questions about the rare coin featured in a story published in the Sept. 17 Journal about a local man who claimed to have sold a dime for $2.4 million.
The story detailed the 64-year-old Black Hills man's assertions that his father had given him the 1894-S Barber dime, among the rarest U.S. coins in existence, when he was a young man. He claimed to have re-discovered the dime in August, at which time he said he posted it for sale on a website favored by numismatists, and subsequently sold it to a Florida buyer.
The story quickly caught the attention of local and national numismatists, who questioned the local man's account, and stated that they find it unlikely the coin he sold was one of [the] rare dimes, and instead believe the coin may be a replica worth less than $30.
"Coin World (magazine) became aware of the original article after subscribers began emailing links to the article to us," William T. Gibbs, managing editor of the numismatic publication, told the Journal in an email this week. "The article was also highlighted in the Sept. 17 edition of the 'E-Sylum' e-newsletter, published by the Numismatic Bibliomania Society, and it became the subject of a discussion at an online forum sponsored by one of the coin hobby's major grading and authentication services.
"The discovery was met with widespread skepticism, in part because the coin illustrated with the article appears to be a modern reproduction and not an original item," Gibbs continued. "Such replicas can be purchased from the private mints that strike them for less than $30."
However, the coin in the photo that accompanied the article was not purported to be the actual dime that was sold. And yet, because only 24 of the rare dimes were ever struck by the San Francisco Mint, and only nine are known to still exist, Gibbs said if another 1894-S dime were to be discovered, it would be a significant find deserving major coverage in the hobby's news publications.
"However, the numismatic community traditionally remains cautious about such discoveries until recognized experts have examined the coin, compared its diagnostics with other known pieces, and publicly declared it genuine," he wrote. "At the current time, no one in the numismatic community has come forward to announce such a discovery."
Repeated attempts by the Journal to contact the Black Hills man — who told the newspaper he signed a confidentiality agreement with the buyer of the coin — for comment and further substantiation of his claims were unsuccessful.
To read the thread on the PCGS Collectors Forum, see:
1894-S dime in Coin World slab sells for $2.4 million (https://forums.collectors.com/discussion/comment/11803637)
To see an ebay listing referenced by one of the participants: barber s 1894 one dime coin (http://www.ebay.com/itm/barber-s-1894-one-dime-coin-/322644163269)
To read the complete article, see Numismatists question rare dime story (http://rapidcityjournal.com/news/local/numismatists-question-rare-dime-story/article_dc5d6a9c-3f5d-5aba-8de4-282066751423.html)
To read the Coin world article, see: Numismatic community voices skepticism over 1894-S dime article (http://www.coinworld.com/news/us-coins/2017/09/skepticism-over-1894-s-dime-article.all.html#)
To read the earlier E-Sylum article, see:
ARTICLE REPORTS 1894-S DIME DISCOVERY (http://www.coinbooks.org/v20/esylum_v20n38a15.html)
On the Origin of the Continental Dollars
Tony Terranova writes:
I asked Bill Eckberg, who writes:
To read the earlier E-Sylum article, see:
NOTES FROM E-SYLUM READERS: SEPTEMBER 17, 2017 : On 'Continental Dollar' Origins (http://www.coinbooks.org/v20/esylum_v20n38a16.html)
Moe Berg Medal At Spy Museum
Last week's item about the "Suicide Silver Dollar" prompted Mel Wacks to write:
The International Spy Museum is one of those places I haven't managed to visit yet. I'll look forward to seeing the coin and medal there someday. -Editor
To read the earlier E-Sylum articles, see:
SPY MUSEUM ACQUIRES SUICIDE SILVER DOLLAR (http://www.coinbooks.org/v20/esylum_v20n38a25.html)
March-April 1973 Rag Picker Issue Sought

Regarding The Rag Picker, the official publication of the Paper Money Collectors of Michigan, Newman Numismatic Portal project coordinator Len Augsburger writes:
To read the earlier E-Sylum article, see:
NEWMAN NUMISMATIC PORTAL ADDS THE RAG PICKER (http://www.coinbooks.org/v20/esylum_v20n34a12.html)
The Problem With Modern Coin Replicas
An E-Sylum reader writes:
To read the earlier E-Sylum article, see:
NOTES FROM E-SYLUM READERS: SEPTEMBER 10, 2017 : Teaching Young Rascals to Become Amateur Counterfeiters (http://www.coinbooks.org/v20/esylum_v20n37a14.html)
The Pope Quarter

John Phipps of Atlanta, GA writes:
Thanks to Dick Johnson for noting the existence of this piece, and John for providing an illustration. I'd never seen one of these before. Has anyone else come across one, and perhaps not realized what it was? -Editor
To read the earlier E-Sylum articles, see:
NUMISMATIC NUGGETS: AUGUST 27, 2017 : Bashlow Kennedy Pope Satire Medal (http://www.coinbooks.org/v20/esylum_v20n35a23.html)
MORE ON THE BASHLOW KENNEDY POPE SATIRE MEDAL (http://www.coinbooks.org/v20/esylum_v20n36a11.html)
Harassment of the Numismatist

Ron Haller-Williams writes:
Roosevelt's order carved out exceptions for numismatic gold coins and I don't recall a big outcry. There was much more bashing of coin collectors in the silver shortage of the 1960s. But we have no smoking gun. Would anyone have an example of the token or medal struck from this die (shown here in a mirror image)? Any clues on what Executive Order is referenced? -Editor
Ron adds:
To read the earlier E-Sylum article, see:
QUERY: HARASSMENT OF THE NUMISMATIST MEDAL (http://www.coinbooks.org/v20/esylum_v20n37a27.html)
Jim Lyons of Mountain View, CA is a retired dealer in historical newspapers. I bought a number of numismatic-themed items from him over the years. He brought my attention to this item of his web site. Thanks! -Editor
Taken from the Boston Daily Transcript, Sept 4, 1845.
Note: in 1845 the copper cent was about the size of today's half dollar and thicker. Apparently the "fip" was a half dime. (The "nickel" we know today wasn't introduced until 1866. Before that there existed a silver half dime, which was, obviously, smaller and thinner than a dime.)
Jim adds:
Both sites are worth a look. The first organizes articles into several broad topics including Animal Stories, American Indians, Civil War, Detecting Reprints, and Preservation of newspapers and other paper items. -Editor
To read the complete article, see:
#2 - Newspapers & Photo Quiz,June 4, 2016. : Taken from the Boston Daily Transcript, Sept 4, 1845. (http://jimlyons.weebly.com/blogs-1-to-7.html)
To read the complete article, see:
https://nnp.wustl.edu/library/book/513849?page=11
Sculpture. The art of three-dimensional images and objects, carved, modeled or molded into reliefs or art in-the-round. Sculpture had but a small application to numismatics prior to the development of the die-engraving pantograph. Only infrequently had sculptors aided coin designers by providing a model from which hand engravers would copy by hand cutting the dies. (This would be indicated by two signatures, one followed by MOD, or SC, which specified the artist who furnished the bas-relief model.) But with the widespread use of the die-engraving pantograph (beginning in the late 19th century and worldwide by 1920) the majority of coin and medal creating passed from the hand die engraver to the sculptor. It is the sculptor who creates oversize models in relief – one obverse and one reverse – which would be reduced mechanically on the pantograph to the desired size dies. Thus sculpture and sculptors have a very strong influence and active participation in the numismatic and medallic fields.
With the advent of computer engraving early in the 21st century the involvement of the sculptor has been reduced. While the computer engraver creates modulated relief, as does the sculptor, his designs may not equal those of the sculptor. This is but one of the criticisms attributed to computer engraving.
Also the abbreviation SC, SCULP or similar term often appears in the signature of a print or engraving on paper..This applies to the carving of the flat printing plate (outside the scope of this work); it does not imply any carving of modulated relief on these plates. These are created by a different artist (only the rare artist exists who could do both flat engraving and actual sculpture in-the-round – one is two-dimensional graphic, the other is three-dimensional glyptic.)
References: All works listed in Class A in Bibliography.
CLASS 03.2
Looking for the meaning of a numismatic word, or the description of a term? Try the Newman Numismatic Portal's Numismatic Dictionary at: https://nnp.wustl.edu/library/dictionary
John Lupia submitted the following information from the online draft of his book of numismatic biographies for this week's installment of his series. Thanks! As always, this is an excerpt with the full article and bibliography available online. This week's subject is German dealer Adolph E. Cahn. -Editor
Adolph Emil Cahn (1839-1918), was born on the 26 May, 1839, the son of Isaak and Martha Seligmann Cahn. He married Bertha Baer, the daughter of Leopold Joseph Baer and Helena Toeplitz Baer on April 28, 1871 at Frankfurt am Main, Hesse, Germany. They had three children Anna Hedwig Cahn, Ludwig Theodor Cahn, and Julius Alfred Cahn. He established the coin dealer house of Adolph E. Cahn in 1874. By 1890 he was established at Niedenau 55, Frankfurt am Main, Germany.
After his death on June 5, 1918 the business was succeeded by his son Ludwig Theodor Cahn (1877-1924), and his wife Johanna (1881-1963). After the death of Ludwig his brother Julius Alfred Cahn (1872-1935) managed the business along with his sister Emmy Cahn (1882-1969), and two employees : Hartmann and Arthur König (1883-1973).
During the strife in Germany during WWII, especially the pogrom against the Jewish people the grandsons of Adolph Emil Cahn, Herbert Adolph Cahn (1915-), and Erich Bernhard Cahn (1913-1993) were forced to migrate to Switzerland and there in 1933 they established Münzhandlung Basel AG. In 1942, the firm was renamed as Münzen und Medaillen AG Basel.
The firm of Adolph E. Cahn during the period of Julius Alfred Cahn's management correspondence with Henry Chapman, Jr., postmarked 4 August 1926, Frankfurt am Main, Germany, franked with Scott #331 5 pfennige green, Mi #342 50 pfennige red.
To read the complete article, see:
CAHN, ADOLPH EMIL (https://sites.google.com/a/numismaticmall.com/www/numismaticmall-com/cahn-adolph-erich)
* * * * *
The entire inventory of the Lupia Numismatic Library is for sale. Since neither the Chapman Family Correspondence Archive as a whole nor that of Hiram Edmond Deats could find an institutional or private buyer they shall, unfortunately, be broken up into parcels and sold from the NumismaticMall.com.
Every item in the Deats and Chapman Archives will be sold to anyone bidding a fair market price. Individual items will be available before the remaining archives are broken up into parcels sold at philatelic auctions in the U. S. and Hong Kong.
Check NumismaticMall.com frequently as dozens of new items with estimates will be posted daily beginning August 21, 2017 until everything is sold lock stock and barrel. Many treasures and surprises will be found, so keep looking.
All inquiries will be given prompt and courteous attention. Write to: john@numismaticmall.com .
2017-09-24 UPDATE: John Lupia reports that
Harvey Stack has begun a new series in his Stack's Bowers blog. This time his focus is on growing up in a numismatic family. Part 1 was published on September 20, 2017. With permission, we're republishing it here. -Editor
For close to 10 years, I have had the pleasure of writing some of my thoughts and having them published. I am now 89 years old and love to tell stories about growing up at Stack's, and my experiences working there for over 70 years as a full time professional numismatist.
I was born in 1928 into a numismatic family, the Stack family. My father, Morton, and my uncle, Joseph, were brothers who formed a business in the early 1930s that became primarily devoted to numismatics. They established Stack's in what was a midtown location in New York City, after originally being located in the Bowery section in lower Manhattan. Also on the Stack's staff was Shirley Stack, Morton and Joe's sister, who was the bookkeeper and stock filler. It was a difficult period as the Great Depression was still going strong.
Morton and Joseph saw that businesses were moving uptown, and they found a great location at 690 Sixth Ave, near 23rd Street -- a growing retail area. A major elevated train was overhead and there was a stop at 23rd Street, making it easy for collectors to visit our new Midtown location. (For anyone who does not remember 6th Avenue, it is just west of 5th Avenue, and is now called the Avenue of the Americas.)
So the move took place when I was five years old, but I do remember it well. Stack's was the first New York coin storefront to have sit down counters for visitors to come in, make themselves comfortable and discuss buying or selling coins. Most, if not all, coin shops around New York had "jeweler type" stand up cases, which were not as comfortable for visitors.
The showcases were made of wood with glass tops, so the displays could be easily seen. The show windows were always filled with coins from ancient to modern times. People would stop outside and look at what was in the windows, and many times they would come in to buy a coin or two. Sometimes it was just for the fun of it, other times they were working on collections. The displays also let people who wanted to sell their coins know that this was the place to visit.
New York at that time, 1933, had a number of dealers, however most were upstairs in offices, not down by the street. For many people it was preferable to not have to climb stairs or use dark elevators to take their valuables to the experts. So with its enticing displays and convenient "right on the street" location, Stack's attracted many to the store.
As a member of the Stack family, even as a child I was part of the business. Of course, I had to go to school and do my homework, as well as other "kid activities." But, on Saturdays and holidays it was pretty typical to find me in the store, doing chores assigned to me by my father. In my next article I will give my memories of my earliest days in the New York numismatic scene, when I was just a kid in the 1930s.
To read the complete article, see:
Growing up in a Numismatic Family, Part 1 (http://www.stacksbowers.com/News/Pages/Blogs.aspx?ArticleID=2687)
BOOK UPDATES Surprisingly, there have been no new varieties reported since CBN #43, but I did learn more about a board that was illustrated in my book as one of the "mavericks"---boards of unknown origin. During June's ANA Summer Seminar, in which I taught my usual class on USA Type Coins, I had an opportunity to poke around former ANA President Ken Hallenbeck's "man cave." I came across several examples of the bright yellow board for World War II OPA Tokens and purchased two of them.
One proved to be slightly different from the piece in my book, and it's illustrated here. A different example is included in the accompanying list of boards for sale. I've had a number of persons ask me whether I had a duplicate for sale, and now I do. In talking to Ken, he informed me that this board was produced by Joe Lawonde of North Plainfield, New Jersey in the early 1970s.
Dave adds:
READY FOR MY CLOSE-UP The Denver ANA Convention was a whirl for me, with numerous after-hours commitments and two video segments in which I was featured. The one of interest to readers of Coin Board News was done for Coin Week (www.coinweek.com). I sat down at the NGC booth for an interview conducted by CW Editor Charles Morgan, who wanted to know what this coin board hobby was all about. I brought along some of my rarest boards to display, including the unique Oberwise board for half dollars. This segment may be found at:
http://coinweek.com/video-news/coinweek-iq/coinweek-iq-collecting-coin-boards/ .
For more information, see Dave's web site:
http://coincollectingboards.com/
A couple weeks back, Pablo Hoffman challenged E-Sylum readers to...
I wasn't able to put much time into it, and only came up with two. But our readers did much, much better. Here are their responses. -Editor
Martin Purdy
QUETZAL
REAL
LIRA
LIRE
LIVRE
QUART
VATU
RIEL
LI
ZAIRE
TAEL
TALER
AUREI
LARI
RIAL
Kind of pleased I got the longest of these first :-)
Pablo Hoffman

Pablo had this set of 22 in mind. -Editor
At
Lari
Lat
Lati
Latu
Lei
Lev
Leva
Leu
Lira
Lire
Litu
Livre
Quetzal
Rai
Real
Rial
Riel
Tael
Tal
Taler
Vatu
To read the earlier E-Sylum article, see:
NUMISMATIC TRAVEL QUIZ (http://www.coinbooks.org/v20/esylum_v20n37a35.html)
Ron Haller-Williams

Our over-achiever is Ron Haller-Williams, who managed to find 46. -Editor
I claim 46 because the rules say "singular and/or plural"– but otherwise it would at least 10 fewer.
AS ---- ancient Rome (bronze coin)
AUREI ---- ancient Rome (plural of AUREUS)
EIRA ---- Latvian, singular, with alternatives EIRO and
EURO
EUR ---- Czech and Slovak, plural (5+) of EURO
EURA ---- Croatian, plural (10+) of EURO; Czech, plural (2-4) of EURO; EURÁ = Slovak, plural (2-4) of EURO
EURAI ---- Plural of EURAS, Lithuanian form of EURO
EURI ---- Croatian, plural (2-9) of EURO; Dutch plural (slang); Italian plural (joke, unofficial, also in early versions of official documents)
LARI ---- Georgia, some other parts of Asia; Maldives
LAT ---- Latvia – more usually LATS
LATI ---- Latvia – plural of LAT or LATS, if fewer than 10
LATU ---- Latvia – plural of LAT or LATS, if more than 9
LEI ---- Romania – plural of LEU
LEU ---- Moldova, Romania
LEV ---- Bulgaria
LEVA ---- Bulgaria – plural of LEV
LI ---- China; Manchukuo c.1934 (also called CASH: 0.001 of a LIANG or TAEL)
LIRA ---- Italy, Vatican, Turkey etc.
LIRE ---- Italy, Vatican – plural of LIRA
LITRA ---- ancient Sicily
LIT ---- Lithuania – more usually LITAS
LITU ---- Lithuania – plural of LIT or LITAS
LIVRE ---- France (medieval); also French-language use for POUND, including in Turkey
QUART ---- Gibraltar (also Switzerland Cantons; French for "quarter")
QUETZAL ---- Guatemala
QUEZAL ---- Guatemala – variant form of QUETZAL
REA ---- singular or plural, though the plural is sometimes
REAS: "At Bombay it [the RUPEE] is divided into four quarters, and each quarter into 100 REA" (Auber, 1826); Dickinson (1818) states that this is a money of account rather than a coin.
REAL ---- Portugal & colonies pre c.1900; Spain & colonies c.1500-1800; modern Brazil
REALI ---- Sardinia, c.1818, plural of REAL: "The LIRA is also divided into 4 REALI ..."
REUL ---- Ireland 1928-1970 (sixpence)
RIAL ---- Iran, Oman, Yemen (RIYAL or RIAL in Qatar, and
RIYAL in Saudi Arabia, but it's a matter of transcription)
RIEL ---- Cambodia
TAEL ---- China (from Portuguese, from Malay TAHIL = weight; the Mandarin Chinese word is LIANG)
TALE ---- China, c.1818: "10 cash =1 candarine, and 10 candarines = 1 mace; 10 maces = 1 TALE" (Dickinson, p.64 – though I suspect this may be a typo for TAEL)
TALER ---- various – alternative form of THALER
TALERI ---- Ethiopia, from THALER/TALER
TARÌ ---- a coin minted in Sicily, Malta and South Italy from about 913 to 1859
VATU ---- Vanuatu
ZAIRE ---- Zaire (equal to 100 MAKUTA)
My claim of 46 includes the above 38, plus 8 of the following 9 ISO 4217 currency codes – I really think the ISO 4217 encoding should be considered a "language"!
EUR ---- Euro (current)
QAR ---- Qatar Riyal (current)
ZAR ---- South African rand (current)
ITL ---- Italian lira (historical)
VAL ---- Vatican lira (historical)
ARL ---- Argentine peso ley (historical)
ILR ---- Israeli shekel (historical)
TRL ----Turkish lira A/05 (historical)
ZAL ---- South African financial rand (funds code) (historical)
However, I don't think any of these 13 would count:
ALZ ---- the in-game currency of the video game "Cabal Online" (presumably singular and plural)
AURI ---- (presumably plural) is the in-game currency of "Crea"; also AURI COINS in "Aurimentic"
AURI ---- (presumably plural) is the transactional currency proposed by Goudsmit (2004)
ERI ---- with the currency of "KonoSuba" being ERIS, I presume the singular would be ERI.
FRANGA ARI ----- Albania ("golden francs"?)
TAURI ---- Translates from Latin as "bulls", and cattle were used as a measure of wealth & for payment.
EQUI ---- Translates from Latin as "horses", which "enjoyed" a similar usage
TEA ---- This was used as currency sometimes, but not a specific amount
VAL ---- with the currency of "Familia Myth" being VALS, I presume the singular is VAL.
VAL ---- example of "any unit of local trade credit" in Greco (2001): he attributes this to E. C. Riegel, who however had used VALUNS, from "VALue UNitS"
VALUE ---- not a specific amount
VEIL ---- collector's shorthand for U.K. Victorian penny (also 1/2 & 1/4) of 1895-1901
URA ---- "hours of labour" based serious proposal, from the United People Foundation, in Amsterdam (Netherlands) see https://bofjoy.net/products/fixed-value-ura.html (Watch this space for validity – but don't hold your breath!) Somewhat like the Labour Notes of Robert Owen (v20n01a31), Ithaca Hours, and Local Exchange Trading System/s?
RAI ---- (or FEI) stone money of the South Pacific island of YAP; although these apparently have well-defined values, the value does vary from one stone to another.
TIRE ---- as in CANADIAN TIRE MONEY, see https://en.wikipedia.org/wiki/Canadian_Tire_money but it is a category (like e.g. NOTGELD) rather than specific amount, and not endorsed by any governing body.
A QUAVER is a small note – though not a banknote. (It's a shame that this does not seem to have been used as a slang word for a low-value banknote!)
This TRIAL takes us through a QUITE interesting TRAIL, but I don't think it can be called a RITE of passage, no matter how much ZEAL is involved, or how highly one would RATE it, or how much we might RAVE about it. Although we might QUAIL or QUIVER at the thought of it, and even be tempted to QUIT, we ought really to be EQUAL to the task. And I hope I won't be labelled a VARLET because, on the QUIET, I "cheated" by using the internet. Will a QUIRE of paper be needed to print all the entries? I wonder how close will be the winner's nearest RIVAL – and whether there will be any LATE entries. I'm all AQUIVER to see the results. Will there be a prize, such as maybe a bottle of TEQUILA?
It would, however, get too open-ended if the phrase "any language" could be applied to the text "TRAVEL QUIZ": "questionário de viagem" (Portuguese); "matka-tietokilpailu" (Finnish), etc.
My references are to:
* Peter Auber, "An Analysis of the Constitution of the East-India Company, and of the Laws Passed by Parliament for the Government of Their Affairs, at Home and Abroad: To which is Prefixed, A Brief History of the Company, and of the Rise and Progress of the British Power in India" (1826)
* William Dickinson, "Universal Commerce, Or, The Commerce of All the Mercantile Cities and Towns of the World ...: With Proforma Sales of Merchandize from Antwerp, Bremen, Hamburg ..." (1818)
* Simon Goudsmit, "The Limits of Money: Three Perceptions of Our Most Comprehensive Value System" (2004)
* Thomas Greco, "Money: Understanding and Creating Alternatives to Legal Tender" (2001)
Mel Wacks writes:
For those who cannot place the name Colin Bruce, whenever you pick up a copy of one of the Krause catalogs of world coins or a volume of Pick on world bank notes, they were done by him. They are in existence because Colin edited them and made them happen.
The late Chet Krause had the courage to invest the time and money in backing them, but Colin made them happen. They worked well together and were close friends for many years, although Colin was a much better driver than Chet.
I remember when the first catalog of world coins was just being put together. Colin and the crew would go around coin shows borrowing world coins to be photographed back in their hotel room. It was an incredible amount of work to even attempt. But when the first "phone book," as it was known, came out, the coin collecting fraternity looked on in amazement, wonderment and admiration. Over the years, he greatly improved it and expanded it going back to cover world coins as early as the 17th century.
Pick on bank notes was greatly improved and enlarged; again multiple volumes were issued with Colin at the helm. Even if at times it was frustratingly slow, it finally got done.
Without these important catalogs, our industry would be a far less knowledgeable place and no doubt there would be fewer collectors and dealers in existence. They are books that everyone uses even today.
To read the complete article, see:
Viewpoint: Many friends remember Colin Bruce (http://www.numismaticnews.net/article/viewpoint-many-friends-remember-colin-bruce)
To read the earlier E-Sylum article, see:
MORE ON COLIN R. BRUCE II (http://www.coinbooks.org/v20/esylum_v20n38a17.html)
Other than working on The E-Sylum, I didn't do much numismatically this week until Saturday, when I visited the Virginia Numismatic Association show in Fredericksburg, VA. I arrived about 12:30 Saturday. I wasn't sure if I was at a coin show or a dog show - the Fredericksburg Expo & Convention Center was running both, and the lobby was full of people and pets.
I registered for the show with Doug Harms at the front table and made my way to the back of the hall where I met VNA Education Director John Phillips. He was preparing to host their 1pm Boy Scouts Coin Collecting Merit Badge program. Later I went back up to the front and signed up as a VNA member, meeting VNA webmaster Judy Merz in the process.

VNA board member Billy Hoovler.
My Nummis Nova buddy Jon Radel was there as well, helping to get kids registered and explaining some of the coins to kids and their parents.
I next wandered the bourse a bit, speaking with Karin and Wayne Herndon, and Bob Hurst and his wife. I was surprised to see a Florida dealer this far north, but they have done the show in the past. Luckily their home was unharmed by all the recent weather events in that state.

Bob Hurst and his stock of ancient coins
John Phillips kindly lent me the key to his room at the Hampton Inn, and I went over there to set up my computer and work a while on The E-Sylum. I'd spent time each night this week preparing a presentation for my talk at the evening's VNA banquet, and was glad to have a block of time to catch up.
The banquet began at 7pm over in the Hilton Garden Inn just across the way. In attendance were Nummis Nova members Tom Kays and Jon Radel. I got to meet a number of the VNA officers and members.
Paying It Forward I'd been asked to touch on my work on The E-Sylum and the Newman Numismatic Portal, but was free to discuss related topics. My theme was "Paying it Forward".
When I thought about the longer arc of my numismatic career I realized that so much of what I do involves paying back to the hobby the kindnesses I was afforded by my numismatic mentors. Had it not been for their support and encouragement I doubt I would ever have become so involved in the hobby. And today I struggle to think what my numismatic experience would be without it. I might have simply left the hobby like so many others who lost interest for one reason or another.
Like so many other collectors my age, I began by pushing Lincoln cents into Whitman folders. I discovered foreign coins through a gift from my step grandfather. I found coins through circulation and searched rolls and the tills of friendly local shopkeepers.
I grew up in Pittsburgh and enrolled in the University of Pittsburgh. One day the local newspaper carried a story about the Carnegie Museum of Pittsburgh's planned deacquisition of its coin collection. I had never known it had one. I knew nothing of local clubs or even publications like Coin World.
Interviewed in the article was Glenn Mooney, a Westinghouse engineer and a part-time curator of the now-closing collection. I picked up the phone book and looked up his phone number. I called and told him of my interest in coins. I was a complete stranger to him, but he invited me to his home to talk.
So it was that I drove over to meet the man who would become my primary numismatic mentor. Here I am with him when the Western Pennsylvania Numismatic Society celebrated its 75th year of American Numismatic Association membership at the Pittsburgh ANA convention in 1989. I'll show this picture to me kids to prove that yes, I once was skinny.

WPNS members Glenn Mooney, Wayne Homren, Armor Murdoch, Larry Korchnak
Photo courtesy Pat McBride
Glenn introduced me to WPNS, and their members introduced me to even more numismatic topics, including siege coins and counterstamps. I ended up holding every office in the club and writing a history of the organization from 1878 through 1889.
Through the University of Pittsburgh coin club I met John Burns. who introduced me to the world of numismatic literature. John introduced me to Armand Champa, and through Armand I met a who's who of U.S. numismatic luminaries who all became mentors and role models in various ways. In the years to come I would regularly consult or meet with the likes of Jules Reiver, John J. Ford Jr. and Eric P. Newman.
As an NBS member I'd also gotten to know luminaries in the numismatic literature and research fields, including all the literature dealers (including George Kolbe, Ken Lowe, Myron Xenos, Frank Katen, John Bergman) and writers like Jack Collins and John W. Adams.
I've been "paying it forward" ever since by giving back to the hobby in several ways. I helped start the Coins4Kids events at the PAN shows in Pittsburgh, and when I moved to Virginia I started my club Nummis Nova and our kids events at the Annandale shows.
In 1998 I had started The E-Sylum, promoting the Numismatic Bibliomania Society and numismatics in general to what has become a worldwide audience. And my work with the Newman Numismatic Portal has helped bring numismatic literature and research to a whole new level, preserving and making available millions of pages of great numismatic information to collectors and researchers around the world.
I had no idea where my life would lead that day when I met Glenn Mooney. But I hope to provide a similar spark to a few numismatists of the future. All of us should work to find ways big and small to pay those favors forward to the next generation.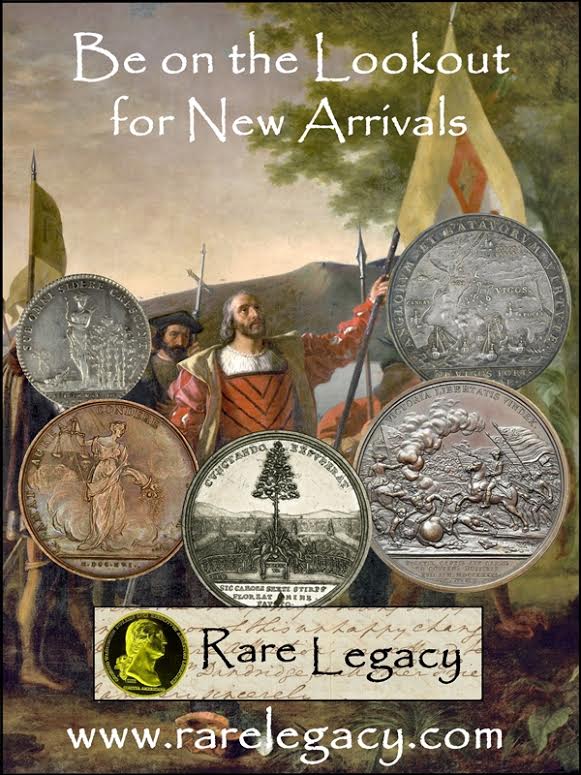 This article offers a detailed study of Arabian silver coins that briefly circulated in the American Colonies at the close of the 17th century. The substance of the article is unprecedented in several respects. It advances the study of a subject matter hardly considered until now. Oliver Hoover's "The Real Forgotten Coins of North America" is the only past contribution of note, examining in part a detectorist's discovery of an unusual coin fragment of Arabian silver from the late 17th century found in Newport, RI. Hoover's study concludes in pondering the possibility of recovering other such coins on North American soil. The possibility comes to fruition in this article reporting on the discovery of a second specimen of Arabian silver – an intact, sharply detailed coin dating from 1693. It was eventually identified as a comassee coin from Yemen.
The coin was found at a colonial period site by this author while metal detecting in Rhode Island - a mere five miles away from where the first fragmented specimen was recovered. The first ever documented recovery of a complete coin provided in this study helps mitigate reasonable concerns with solitary finds, which can be dismissed as inexplicable anomalies. In addition, other hard evidence has been found. This author's ongoing interest in the recovered coin and numerous contacts with other detectorists in Southern New England led to the knowledge of other such coin recoveries presently totaling nine known specimens - four whole coins and five fragments.
The recovery of several such coins from one small region calls for investigation. This article answers the call reviewing a wealth of primary source documents relating to the origin of the coins from a distant part of the world, their unconventional conveyance to the American Colonies, and their illicit, brief circulation on the Atlantic seaboard. Examination of these coins offers unique insight into a subject matter previously limited to the study of historical records alone.
Hoover's contribution notes a number of possible sources for Islamic coins of gold and silver circulating in the American Colonies – piracy, the coffee trade, and the East African slave trade. Similarly, a study of Dutch leeuwendaalders (lion dollars) by John Kleeberg considers piracy and the East African slave trade in particular as sources for these coins that circulated in the colonies. This study advances a singular premise: the recovered coins detailed in this article are a small sampling of riches brought back to American Colonies by pirates who preyed upon the rich shipping lanes of the Red Sea and the Indian Ocean.
This specific study of pirate plunder in the American Colonies offers an intriguing look at local economies benefitting from piracy at the expense of emerging world trade. The steady drain of gold and silver specie from the colonies to England is a well-known though narrowly viewed subject in colonial numismatics. England was not a final stop but more of a way station particularly for silver, which went further eastward to finance the cost of doing business for the British East Indies Company in its dealing with the Mughal Empire (modern day India).
The Mughal Empire had other trade partners, and they as well paid out in gold and silver coins, but some of this wealth never made it to the roadsteads of the mighty Mughal Empire. It was instead taken in brazen attacks by pirates from the American Colonies. In 1696 King William the III contended with the problem of piracy by issuing a proclamation for the capture of pirates "who may be probably known and discovered by the great quantity of Persian and Indian gold and silver which they have with them." It is this author's opinion and the purpose of this article to prove that the subject coins in this study were part of the foreign silver that King William referred to in his 1696 proclamation.
Pirate attacks that occurred throughout the 1690's would in short time pose a real threat to England's trade in the East Indies. Yet all was happy in the American Colonies. Pirate crews returning home from a successful voyage were welcomed with open arms as they returned with gold and silver that helped alleviate the economic strain caused by England's heavy draining of precious metals from the American Colonies. The much needed infusion of gold and silver helped fuel the local economy of select seaports, benefitting ship owners and prosperous merchants in particular, as well as shop owners, tavern keepers, tradesmen, and others as the money changed hands. Most must have known the illicit source for the foreign coins, but the money came and went in day-to-day transactions with few questions or concerns. There was little fear of consequences for those trying to scrape a living on the outer reaches of a rising British Empire.
Identification of nine Red Sea trade coins, consisting almost entirely of Arabian silver comassee coins dating no later than 1695. All the coins were recovered by detectorists in Southern New England.
History of the Pirate Round based in the American Colonies in the late 17th century.
Evidence connecting the recovered coins to one of the greatest robberies in the history of piracy - Henry Every's capture of the Mughal ship Gunsway in 1695.
First time publication of evidence for Henry Every coming to the American Colonies (Newport, RI) during his flight from justice.
First time publication of evidence that rewrites the early history of the African slave trade in the colony of Rhode Island, as Every and his crew came to Newport under the pretense of trading for slaves.
For more information on the Colonial Newsletter, see:
http://numismatics.org/store/cnl/


At the suggestion of Andy Singer, Chris Webb of Dix Noonan Webb in London submitted this lot description from their recent sale of a beautiful Myddelton token. Thanks! -Editor
Kentucky, Philip Myddelton, Halfpenny, 1796, in bright copper, standing figure of Liberty welcoming standing figure of Hope with infant genii, anchor and cornucopia in background, rev. Britannia seated left in forlorn pose, regarding a cap of Liberty on the ground, edge plain, 11.34g/6h (Whitman 8900; Breen 1074). Virtually as struck with full reflective original colour, extremely rare
Provenance: From a Distinguished UK private collection.
Philip Parry Price, later Myddelton, "a thin man, about 5 feet 10 inches high, with high cheek bones, of rather genteel appearance, has a little of the Yankee dialect" was an English entrepreneur and merchant living in Bloomsbury square, London, at the beginning of 1796. He had returned to England from Philadelphia, where he is recorded as being in practice as a medical doctor in 1794, the previous autumn following the death of a relative, adding the name Myddelton at that time.
Over the winter of 1795-6 he advertised in the Reading Mercury, Staffordshire Advertiser, Derby Mercury and many other provincial English newspapers, claiming to own large tracts of land in Northern Kentucky bordering the Ohio river and promising a new life for settlers and artisans to emigrate thither. To give credence to his plan he instructed Matthew Boulton, with whom he had engaged in correspondence over the previous month, on 24 January 1796, to strike a coinage for him which included the legends british settlement kentucky and payable by p.p.p. myddelton.
Dies were executed (almost certainly by C.H. Küchler) and the first silver pieces, thought to total 53 specimens, delivered to Myddelton on 8 March 1796. He returned most of them as it would appear that Boulton misinterpreted his order, the demand being for a ton of copper which Myddelton wanted to take with him to America. Boulton struck a few bronzed-copper pieces, said to total 11 specimens in all, but Myddelton's scheme had been attracting attention from the authorities who, on 4 March 1796 and only days before he was due to set sail to Nantucket, saw fit to indict him with trying to entice talented English artisans to emigrate to the United States, violating a 1783 statute prohibiting such acts.
Temporarily obtaining bail, Myddelton was back in Newgate prison by 6 April, pending trial, at which he was defended by Thomas Erskine, the attorney commemorated on a number of tokens and medals. Pleading not guilty, Myddelton was convicted on 9 June and sentenced by the Chief Justice, Sir James Mansfield, to a year in prison, at the end of which he was to pay a £500 fine. An appeal to Rufus King, the American Minister at the Court of St James, came to nothing; declared bankrupt in January 1797 and unable to pay the fine, Myddelton was kept in prison until November 1799 when the fine was paid.
Subsequently styled as a doctor, Myddelton was appointed the principal medical superintendent at the Hanover Park mental asylum in Carlow. He took a lease on Carlow Castle from Hans Hamilton, MP for Dublin, but in modifying parts of the original Norman edifice by dynamiting part of the structure Myddelton only succeeded in destroying over half the building in 1814. In later life he is recorded as living in Bath in 1827. The few extant bright copper specimens were almost certainly struck for collectors some time shortly after 1796; one in a slightly lower state of preservation was in the Fairchild collection (Goldberg, May 2001, $18,975 including premium)
Great piece, in beautiful condition. Congratulations to the buyer. Chris reports that it sold for £18,000 = approx. £22,500, including premium." At an exchange rate of about $1.35 per pound, that amounts to $30,375. -Editor
Many of us came to know Chris DeFlorentis through the OHNS Facebook page. As an active participant on the site, DeFlorentis also served as an admin for a time. He also felt there should be a website devoted to documenting modern carvers and began a Pinterest hobo nickel registry under the name Chris DeChristo. However it was not until he retired from his job and moved to Tennessee that he made the trek to the FUN show where face to face contact was made by those attending.
Prior to getting involved with hobo nickels, DeFlorentis was an error coin collector. He started that journey when his father had passed away and left him some error coins. While searching for error coins he stumbled on hobo nickels and found them interesting. DeFlorentis said that a Bill Zach carving was the first real quality coin that he added to his collection and has been a fan of his work ever since. He was impressed with the fine finish work and ultra-smooth fields which gave the carvings a "minted look". DeFlorentis was similarly enamored with the work of Steve Adams, Ron Landis, Aleksey Saburov, and Paolo Curcio.
Once DeFlorentis decided that he wanted to go beyond collecting and start carving coins himself, he strove for the high quality that he appreciated in Zach's carvings. It was challenging and DeFlorentis was very critical. He admits to being obsessive compulsive and he strove for an ideal of quality he felt was possible…..a level he saw in other great carver's work. As a novice carver it was at times an emotional challenge as well.
DeFlorentis started carving with exacto knives, screwdrivers, and various chemicals until he got a care package from Larry Foster that included a "V" graver and a flat graver. To this day he uses the flat graver on every coin he carves. He calls that graver his "Lucky Larry" graver and is very sentimental about it.
His next aid came from Steve Cox who lived near him. DeFlorentis purchased a Cox carving on eBay and asked if he could stop by the studio to pick it up. The two chatted and DeFlorentis was shown around. He got to try out a Lindsay, engraving ball, and microscope for the first time and made a hobo nickel with Cox jointly doing some carving instruction/demonstrating on the nickel. It was not long before DeFlorentis purchased his own engraving ball, air graver, and scope. Coincidentally the scope came from Cox and joined the Lucky Larry graver in his sentimental tools collection.

Check out some of the details!
DeFlorentis says that he spends equal time between his Lindsay graver and hand push gravers. He also uses a rotary for smoothing out, undercutting, removing bulk, and burnishing. He says of the undercuts that he likes how they add shadow and dimension. Commissioned subjects have also pushed DeFlorentis to carve more complex designs. One of his favorite carvings was a samurai requested by Don Berry. These days DeFlorentis is retired and regularly carves however, one coin carving can take him up to four months to finish as excellence is a driving force in his art. To date he has finished twenty- five or so carvings and has exceeded that number in friendships with fellow carvers and collectors.
To read the complete article, see:
VOCABULARY TERM: ENGRAVERS' BALL (http://www.coinbooks.org/v20/esylum_v20n29a15.html)
For more information on the Original Hobo Nickel Society, see:
http://www.hobonickels.org/
An unsettling mystery is unfolding as a number of British coins have been found with Nazi symbols stamped on them.
A horrified shopper spotted a swastika on Queen Elizabeth's head on a 50p, in an odd wave of findings the Royal Mint says it is aware of.
Some people believe a Second World War enthusiast is stamping the coins at home and then putting them back into circulation.
Others have found similar offensive motifs on £2 and 50p coins.
A 1997 coin was adorned with the Nazi Party's eagle symbol, known as a Reichsadler and used between 1935 and 1945.
Another 50p discovered in July 2015 was stamped with a bird carrying a Swastika and on the other side the initials SS – representing the Nazi paramilitary Schutzstaffel group.
The Mint's currency security technical expert, Scott Kuperus, said: "The Royal Mint strongly disapproves of the defacing of coins in this way, as such action could bring into question the integrity of the United Kingdom coinage.
"Doing so is often counterproductive as the defaced coins are quickly removed from circulation."
Similar coins have been found in Germany, where Nazi symbols are illegal.
Earlier this year, a €2 coin was discovered at a restaurant in the city of Neuss stamped with banned imperial eagles and a swastika.
To read the complete article, see:
GOLD MEIN Mystery as Nazi symbols and swastikas found stamped onto British £2 and 50p coins (https://www.thesun.co.uk/money/4445364/nazi-symbols-swastikas-british-2-50p-coins/)


Almost 750 years ago, a young Venetian merchant named Marco Polo wrote a remarkable book chronicling his travels in China.
The Book of the Marvels of the World was full of strange foreign customs that Marco claimed to have seen.
But there was one that was so extraordinary, Marco Polo could barely contain himself: "Tell it how I might," he wrote, "you never would be satisfied that I was keeping within truth and reason."
What had excited Marco so much? He was one of the first Europeans to witness an invention that remains at the foundation of the modern economy: paper money.
Of course, the paper itself isn't the point. Modern paper money isn't made of paper - it's made of cotton fibres or plastic.
And the Chinese money that so fascinated Marco Polo wasn't quite paper either.
It was made from a black sheet derived from the bark of mulberry trees, signed by multiple officials and, with a seal smothered in bright red vermilion, authenticated by the Chinese emperor Kublai Khan himself.
The chapter of Marco Polo's book was titled, somewhat breathlessly: "How the great Khan Causes the Bark of Trees, Made into Something Like Paper, to Pass for Money All over His Country".
The point is, that whatever these notes were made of, their value didn't come from the preciousness of the substance, as with a gold or silver coin.
Instead, the value was created purely by the authority of the government.
The genius of this system amazed Marco Polo, who explained that the paper money circulated as though it were gold or silver itself. Where was all the gold that wasn't circulating? Well, the emperor kept a tight hold of that.
The Mulberry money itself wasn't new when Marco Polo heard about it. It had emerged nearly three centuries earlier, around the year 1000 in Sichuan, China.
Sichuan was a frontier province, bordered by foreign and sometimes hostile states. China's rulers didn't want valuable gold and silver currency to leak into foreign lands, and so they imposed a bizarre rule. Sichuan had to use coins made of iron.
Sichuan merchants had a problem, as William Goetzmann explains in his book Money Changes Everything. It was illegal to use gold and silver coins, and impractical to use iron coins. It's no surprise that they began to experiment with an alternative.
That alternative was called "jiaozi", or "exchange bills". Instead of carrying around a wagonload of iron coins, a well-known and trusted merchant would write an IOU, and promise to pay his bill later when it was more convenient for everyone.
That was a simple enough idea. But then there was a twist, a kind of economic magic. These "jiaozi", or IOUs, started to trade freely.
Initially, the government-issued jiaozi could be redeemed for coins on demand, exactly as the private jiaozi had been. This was logical: it treated the paper notes as a placeholder for something of real value.
But the government soon moved stealthily to a fiat system, maintaining the principle but abandoning the practice of redeeming jiaozi for metal. Bring an old jiaozi in to the government treasury to be redeemed, and you would receive a crisp new jiaozi.
That was a very modern step. The money we use today all over the world is created by central banks and it's backed by nothing in particular except the promises to replace old notes with fresh ones.

Oldest known British Banknote: 1699
To read the complete article, see:
http://www.bbc.com/news/business-40879028 (http://www.bbc.com/news/business-40879028)
And here's one on (perhaps) the future of paper money. Periodically new printing and encoding techniques appear and are touted as a solution to the banknote counterfeiting problem. One of the latest is a nanoscale printing technique published by Glasgow University. -Editor
A nanoscale printing technique developed by engineers at Glasgow University could have wide-ranging applications in data storage, digital imaging and anti-counterfeiting measures, it has been claimed.
The breakthrough, detailed in a paper published in the Journal of Advanced Functional Materials, represents an advance in the field of structural colour printing, whereby structured nanomaterials are used to render colours.
The Glasgow technique allows the 'printing' of two entirely different, but highly detailed, full-colour images within the same surface area, something which the group claims has never been done before using 'structural colour' techniques. This has been achieved by the development of special nano-scale plasmonic colour filters that display different colours depending on the orientation of the light which hits it.
According to the team, the process enables the creation of far-higher resolution prints than is possible with conventional printing techniques. For instance, whilst a typical printed image in a magazine might consist of around 300 coloured dots per inch of page, a page 'printed' with structural colour techniques could reach a resolution of 100,000 DPI or more.
Clark said that the technology has a number of potential applications, including the development of new anti-counterfeiting materials for banknotes. "A very good example of where we see a technology like this being used is anti-counterfeiting whereby you can create incredibly high-resolution images of over 100,000 dpi, embed those on a surface like a bank note and you would have this incredibly difficult to forge hi-res image that when you shine different polarisation of life at the surface you would get different images back," he said.
What's more, because the colours don't fade even when exposed to the harshest sunlight the process also holds great promise for long-term data archival. "We've worked out that we could store 1.46 Gb per square centimetre, so a single A4 sheet could hold more than 900 Gb of data," added Clark.
To read the complete article, see:
Nano-structure printing process could thwart bank-note fakers (https://www.theengineer.co.uk/nano-structure-printing-process/)
A short-snorter roll made up of 83 notes is being promoted as one of the featured items in a sale of autographs being held by Swann Galleries in New York City on Nov. 7. Its estimated price of $3,500 to $5,000 stretches the limits at which these are usually sold, but when you look at its pedigree, and some of the signatures on it, the figure becomes understandable.
It was assembled by actress and singer Marlene Dietrich. A German national, she became a U.S. citizen in the 1930s, and during World War II she toured so widely over a span of four years to entertain troops for the United Service Organizations that she was awarded the U.S. War Department's Medal of Freedom, in 1947, for her service and her stand against Nazism.
Dietrich's short-snorter roll features notes from an assortment of countries and has over 1,000 signatures by military & entertainment figures. Among them are Ernest Hemingway, George S. Patton, and Irving Berlin.
To read the complete article, see:
Famed actress Marlene Dietrich's massive short snorter for sale (http://www.coinworld.com/news/paper-money/2017/09/marlene-dietrichs-massive-short-snorter-goes-to-auction.html)
The U.S. government agency that prints currency notes hasn't been instructed to take Harriet Tubman's picture off the $20 note redesign project and is proceeding with the Obama administration's plan.
Treasury Secretary Steven Mnuchin said last month he would review the Obama-era initiative, adding that it's not a high priority amid a heavy policy agenda that includes the first major tax overhaul in three decades. The department's Bureau of Engraving and Printing said it has not received any orders to slow or halt the redesign.
The bureau "is still following current guidance," spokeswoman Lydia Washington said in an emailed reply to questions. "The redesign of the next currency series is still in the early stages and the Secretary of the Treasury approves all final currency designs."
To read the complete article, see:
Tubman still part of $20 bill redesign as Mnuchin focuses elsewhere and other news in brief (http://www.heralddemocrat.com/news/20170920/tubman-still-part-of-20-bill-redesign-as-mnuchin-focuses-elsewhere-and-other-news-in-brief)
To read the earlier E-Sylum article, see:
MNUCHIN MAY RECONSIDER HARRIET TUBMAN $20 BILL (http://www.coinbooks.org/v20/esylum_v20n36a18.html)
Talk about money down the drain.
Swiss prosecutors are trying to figure out why someone apparently attempted to flush tens of thousands of euros down the toilet at a Geneva branch of UBS Group AG.
The first 500-euro ($597) bills were discovered several months ago in a bathroom close to a bank vault containing hundreds of safe deposit boxes, according to a report in Tribune de Geneve confirmed by the city prosecutor's office. A few days later, more banknotes turned up in toilets at three nearby restaurants, requiring thousands of francs in plumbing repairs to unclog the pipes.
In all, police have extracted tens of thousands of euros in soiled bills, many of which appear to have been cut with scissors.
While destroying banknotes isn't a crime in Switzerland, "there must be something behind this story," said Henri Della Casa, a spokesman for the Geneva Prosecutor's Office. "That's why we started an investigation."
He declined to discuss the case further. UBS also declined to comment on the incident at its branch on the Rue de la Corraterie in downtown Geneva.
To read the complete article, see:
Geneva Police Confiscate Euro Bills Clogging Up Toilets (https://www.bloomberg.com/news/articles/2017-09-18/geneva-police-confiscate-euro-bills-clogging-up-toilets)
The public prosecutor's office in Geneva said that the money appeared to have been disposed of by two Spanish citizens, whom it declined to identify, and that unless there was evidence that the cash had been obtained illegally or was destined for criminal activity, no charges could be brought.
"The fact that you put the money into toilets is weird, but not criminal," said Vincent Derouand, a spokesman for the public prosecutor's office.
"The only thing you have to check is if it's of legal provenance or not," he said, adding that investigators had yet to find evidence of links to criminality.
According to investigators, the money was found in four locations in May and June: in a toilet at the Rue de la Corraterie branch of the Swiss bank UBS, and in the bathrooms of three restaurants on Place du Molard, a square in the heart of the city's historic center.
The Geneva police said the investigation was focused on damage to the toilets of the restaurants where the money had been found. The prosecutor's office said a lawyer for the two Spanish suspects had paid for damage to the restaurants' plumbing, but added it could not provide further information because it was a private arrangement.
The lawyer could not immediately be contacted, and the restaurants declined to comment on the damage.
To read the complete article, see:
In Geneva, 'Dirty Money' of Another Kind — Flushed Down the Toilet (https://www.nytimes.com/2017/09/19/business/swiss-money-toilets.html)
The large-denomination 500 Euro note is being discontinued, but has not been demonetized. -Editor
NEW plastic £10 notes are now selling for less than a tenner on eBay as money-hungry sellers forget to set a reserve price.
Dozens of note have sold for £8, including some which had a starting price of just 99p.
Although some buyers have factored in a £2 delivery fee, taking the total price to £10, the seller would then have to stump up the cost of posting the note to the buyer.
Sellers on eBay are supposed to set a reserve price of at least the value of the note to ensure that they don't make a loss when selling it.
But some seem to have forgotten to do this, meaning they are paying customers to buy the notes off them.
There are also scores of notes listed on the auction website, which are yet to be sold, with a starting price of just 1p.
Many sellers had planned to queue up at the Bank of England to secure a low serial number when they entered circulation last Thursday.
They offered eBay buyers the chance to pre-order a note under these terms.
But their plans were thwarted when the BoE distributed notes with the serial number AH, not the more sought-after AA ones.
But the new polymer £10 notes, which carry the portrait of author Jane Austen, have failed to whip collectors into a similar frenzy.
While the serial numbers JA01 and JA75 (Jane Austen's birth year) and JA17 (the year of Jane Austen's death) may be popular too, but it could take many years before the notes enter circulation.
And there hasn't been a rush to find the AK47 or James Bond 007 notes.
To read the complete article, see:
QUIDS IN New plastic £10 notes selling for LESS than a tenner on eBay (https://www.thesun.co.uk/money/4499805/new-plastic-10-notes-selling-for-less-than-a-tenner-on-ebay/)
To read the earlier E-Sylum articles, see:
COLLECTORS QUEUE UP FOR NEW £10 NOTES (http://www.coinbooks.org/v20/esylum_v20n38a34.html)
JANE AUSTEN BANKNOTE DESIRABLE SERIAL NUMBERS (http://www.coinbooks.org/v20/esylum_v20n38a35.html)
Sweden is the most cashless society on the planet, with barely 1% of the value of all payments made using coins or notes last year. So how did the Nordic nation get so far ahead of the rest of us?

Warm cinnamon buns are stacked next to mounds of freshly-baked sourdough bread at a neighbourhood coffee shop in Kungsholmen, just west of Stockholm city centre.

Amongst the other typically Scandinavian touches - minimalist white tiles and exposed filament light bulbs - is another increasingly common sight in the Swedish capital: a "We don't accept cash" sign.

"We wanted to minimise the risk of robberies and it's quicker with the customers when they pay by card," says Victoria Nilsson, who manages two of the bakery chain's 16 stores across the city.

"It's been mainly positive reactions. We love to use our cards here in Stockholm."

Across the country, cash is now used in less than 20% of transactions in stores - half the number five years ago, according to the Riksbank, Sweden's central bank.

Smaller retailers are jumping on the bandwagon, too, making use of home-grown technologies such as iZettle, the Swedish start-up behind Europe's first mobile credit card reader.

Such portable technologies have enabled market traders - and even homeless people promoting charity magazines - to take card payments easily.

"I took my kids to the funfair and there was a guy selling balloons and he had a card machine with him," remarks Senobar Johnsen, one of the Swedish customers back at the bakery.

We're still a long way from a cashless society in the U.S. This afternoon I was happy to take a break and go buy some lunch, but when I arrived at my destination I realized I'd forgotten my wallet. Well, time to try paying with my phone. My bank had given me an app for mobile payments and I was ready to see if it worked. No dice - the place only accepted cards and cash. I went back home and returned with my wallet and son Tyler, and we bought a nice lunch. With cash. -Editor

To read the complete article, see:
Why Sweden is close to becoming a cashless economy (http://www.bbc.com/news/business-41095004)

This week's Featured Web Site is the U.S. Mexican Numismatic Association.