Visit our NBS Sponsors
About Us
The Numismatic Bibliomania Society is a non-profit association devoted to the study and enjoyment of numismatic literature. For more information please see our web site at coinbooks.org
Subscriptions
Those wishing to become new E-Sylum subscribers (or wishing to Unsubscribe) can go to the following web page link
Membership
There is a membership application available on the web site Membership Application
To join, print the application and return it with your check to the address printed on the application. Print/Digital membership is $40 to addresses in the U.S., and $60 elsewhere. A digital-only membership is available for $25. For those without web access, write to:
Charles Heck, Treasurer
Numismatic Bibliomania Society
P. O. Box 2058,
Bluffton, SC
29910-2058
Asylum
For Asylum mailing address changes and other membership questions, contact Chuck at this email address: treasurer@coinbooks.org
Submissions
To submit items for publication in The E-Sylum, write to the Editor at this address: whomren@gmail.com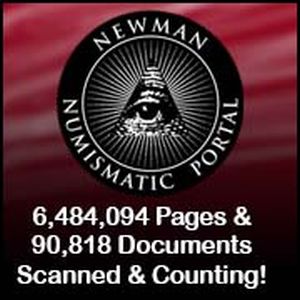 BUY THE BOOK BEFORE THE COIN
Sale Calendar
Content presented in The E-Sylum is not necessarily researched or independently fact-checked, and views expressed do not necessarily represent those of the Numismatic Bibliomania Society.
New subscribers this week include: Alexander Udwari of Münzen Gut-Lynt GmbH, and Joey Lamonte. Welcome aboard!
Thank you for reading The E-Sylum. If you enjoy it, please send me the email addresses of friends you think may enjoy it as well and I'll send them a subscription. Contact me at whomren@gmail.com anytime regarding your subscription, or questions, comments or suggestions about our content.
This week we open with a numismatic literature sale, one new book, IAPN book prize winners, updates from the Newman Numismatic Portal, Hermon MacNeil's Peace Dollar design, and more.
Other topics this week include the 1923 American Sculpture exhibition in New York City, T. James Clarke coin storage boxes, Indian Peace Medals, Mehl's Star Coin Book Junior, NLG, ANA and ANS awards, multipart medals, U.S. women coin dealers, auction sale highlights, my Baltimore Expo diary, physical cryptocurrency, and the million-penny hoard.
To learn more about the Caprara Forgeries, Chopmarked Coins, Betts medals, Steve Bobbitt, Wendell Wolka, Multi-Spectral Imaging, Counterfeit Detection, the Hickory Bank of the U.S., the the Glyn, Mills hoard, a bag of 1933 $10 gold pieces, Liar's Poker, the Erie Canal medal, the Eccleston 1805 Washington medal, the the Penny Plunderer and Batman's Giant Penny, read on. Have a great week, everyone!
Wayne Homren
Editor, The E-Sylum


Lot 919: BEGER, L. (1653-1705). Observationes et conjecturae in numismata quaedam antiqua, Parergon Laurentii Begeri, ab Antiquitatibus & Bibliotheca.
Lot 928: VAILLANT, J. Numismata Imperatorum Romanorum Praestantiora. A Julio Caesare ad Postumum usque.
Lot 932: HOBERMAN, G. The Art Of Coins And Their Photography. New York, 1982. 397 Seiten zahlreichen farbigen und schwarz-weißen Abbildungen. Ganzleinen. II
Lot 935: KLUGE, B. / ALRAM, M. Gold Giganten. Berlin 2010. 384 Seiten mit zahlreichen Abbildungen. I-
Lot 971: KINNS, P. The Caprara Forgeries. RNS Special Publication 16 = IANP Special Publication 10. London/Basel 1984. 59 S., 8 Tfn. Ganzleinen. II
Lot 1023: MATTINGLY, H. Coins of the Roman Empire in the British Museum. Band II: Vespasian to Domitian. Nachdruck London 1966.
Lot 998: BANTI, A./ SIMONETTI, L. Corpus Nummorum Romanorum. 18 Bände, Firenze 1972-1979.
Lot 1103: DAVENPORT, J.S. German Talers 1500-1600. Frankfurt 1979.
Lot 1209: DIETIKER, H. A. Böhmen. Katalog der Habsburger Münzen 1526 bis 1887. Einleitung und Zwischentexte Herbert Rittmann. München 1979
To view the numismatic literature lots, see:
https://auktionen.gut-lynt.de/en-us/auctions/lots?
$page=1&$maxpagesize=20&$sortby=lot_number&$sortdir=asc&s=
numismatische%20literatur&part_id=103#19479
By Weight, Not by Coyne - An Introduction to Chopmarked Coins
W. Taylor Leverage
As the world opened up in the Age of Discovery, new trade routes were drawn across oceans, establishing the first truly global commercial networks. Luxury goods from China, European governments, and new trading powerhouses came together to lay the foundations for modern-day corporations and international politics. At the heart of this commercial revolution was silver, the only means of exchange that found acceptance at every port - massive quantities of the metal, taken from the Spanish American colonies and ports across the world, became the lifeblood of commerce around the globe, particularly in China itself.
Much of the silver that made its way to Southeast Asia bears marks of its time spent there - chop marks, private countermarks indicating acceptable silver content. Long dismissed by many collectors as simple damage, chop marks have since gained a much more consistent following as artifacts of trade, and both the diverse range of host types and the unique histories associated with them - both of which are found in this book - make them a fascinating area for collectors.
Featuring more than 300 images, By Weight, Not by Coyne explores the history of foreign silver in China and the coins that were actually used in trade, covering more than 35 countries and hundreds of types. The commercial and political context of each type is paired with rarity ratings and auction appearances, which makes the book a useful tool to both the researcher and the collector in this traditionally overlooked area of trading history.
269 pages
Paperback
ISBN: 9798378776290
For more information, or to order, see:
By Weight, Not by Coyne: An Introduction to Chopmarked Coins (https://www.amazon.com/dp/B0C79L8GCT)
There were 24 books entered for the competition, which was decided by vote of the membership of the IAPN at its 71st General Assembly in Marseille on 4 June.
The winner of the 2023 IAPN Book Prize is Prashant Kulkarni, a numismatist and dealer from Nagpur, India, for his Archaic Coinage of Godavari Valley and the Deccan, published by Eternal Arts and Coins LLP, Nagpur, worldwide distribution of which is via Spink in London.
Second prize went to Stéphan Sombart, senior numismatist at MDC in Monte Carlo, Monaco, for his Monnaies Royales Françaises de Louis XI à Henri IV, published by Éditions Victor Gadoury in Monaco.
Third prize went to Christopher McDowell, a lawyer from Cincinnati, OH, the editor of JEAN and president of C4, for his The Early Betts Medal Companion, published by the ANS in New York.
The value of the Prize is 1,000 CHF. The winner also receives a diploma and an IAPN medal, and it is hoped that these can be presented to him at a future IAPN function.
For more information on IAPN, see:
https://iapn-coins.org/
To read the earlier E-Sylum articles, see:
NEW BOOK: ARCHAIC COINAGE OF GODAVARI VALLEY (https://www.coinbooks.org/v25/esylum_v25n42a09.html)
NEW BOOK: THE EARLY BETTS MEDAL COMPANION (https://www.coinbooks.org/v25/esylum_v25n48a04.html)
IAPN 2023 BOOK PRIZE NOMINATIONS (https://www.coinbooks.org/v26/esylum_v26n13a14.html)
A third-generation Colorado Springs native, Stephen Leslie Bobbitt was born at Glockner-Penrose Hospital on February 15, 1950, to Harry and Madeleine Bobbitt. His parents had served in the U.S. Navy during World War II and met at the Naval Air Station in Norman, Oklahoma. They married in 1944 and began a family not long after, soon settling in Colorado Springs. Steve was especially proud of his parents' WWII service, which later inspired him to explore the history of the period—especially military battles and personalities—through books, documentaries, film and museums.
Steve attended Wasson High School in Colorado Springs, where he played French horn in the orchestra and marching band. His father opened an auto repair shop, Bobbitt's Car Clinic at 530 E. Kiowa St., in 1965, and Steve often helped out after school and on Saturdays. In his senior year, Steve accompanied his mother's sister, who was a French teacher in White Plains, New York, and her students to France, where he was enthralled by the magic of Paris and the bigger world that existed outside Colorado Springs.
He graduated from Wasson in 1968, and at age 19 enrolled in Western State College in Gunnison, Colorado. He earned a Bachelor of Arts degree in English in 1972, and in December of that year married Jacqueline Haines, whom he had known in high school and become closely acquainted with at Western.
The couple returned to Colorado Springs, where, in August 1980, they welcomed the birth of their daughter, Samantha Hope. Steve established himself as a trusted and well-regarded journalist. He began as a reporter for the Colorado Springs Gazette-Telegraph, then served the Colorado Springs Sun as city editor. Following the 1986 closure of the latter, he was a reporter for the Rocky Mountain News and a correspondent for Colorado Business Magazine.
... Steve joined the staff of the American Numismatic Association (ANA) in October 1988 as public relations director, a position he held for 15 years.
In 1999, Steve and his wife parted, and in 2002 he married Barbara J. Gregory, a magazine editor with whom he worked at the ANA. Their careers at the nonprofit, educational organization enabled them to travel to a variety of inspiring U.S. destinations, from Seattle to Boston, Chicago to New Orleans, making new friends along the way. Always high-energy and personable, Steve had a quirky sense of humor, and loved getting to know people and their stories.
Although Steve enjoyed traveling and discovering new places, he never regretted making his home in Colorado Springs. He often said that the decision was fortuitous, for it was there that he married his first wife, Jackie, and shared many fun times; raised a lovely daughter; cherished his son-in-law and three wonderful grandsons; succeeded in the newspaper and public-relations business; and experienced 20 years of joy and adventure with his second partner, Barbara.
No funeral service is planned; however, a celebration of life—in true Steve style—will be held on Thursday, June 29, in Colorado Springs. Friends, family, and former co-workers who benefitted from his knowledge and example, are invited to attend. For location, time and RSVPs, phone or text 719-321-2516.
Dennis Tucker writes:
To read the complete obituary, see:
Stephen Leslie Bobbitt 1950 - 2023 (https://www.coinworld.com/news/us-coins/former-ana-public-relations-official-steve-bobbitt-dies)
To read a Coin World article, see:
Former ANA public relations official Steve Bobbitt dies (https://www.coinworld.com/news/us-coins/former-ana-public-relations-official-steve-bobbitt-dies)
Multi-Spectral Imaging at Newman Portal
The digitization lab at Washington University in St. Louis currently has access to a multi-spectral imaging system that we are making available to interested researchers. This technology allows for the recovery of obscured or illegible text in historical documents, which are scanned under lighting of varying wavelengths. Open access software (Hoku) is used to analyze the captured data. We've identified a copy of Frank Stewart's History of the First United States Mint (1924), which bears an effaced inscription, for our initial testing. For further information, contact Len Augsburger, Newman Portal Project Coordinator, at leonard.augsburger@wustl.edu.
Counterfeits continue to plague the hobby. How can you protect yourself from these bogus items? "Mr. Numismatic Education," Bill Fivaz, has the answers! He provides diagnostics for the genuine coins as well as describing resource books and counterfeit detection materials that are available. Investors, collectors and dealers will find this information invaluable. This lecture with slides seminar includes:
the problem of counterfeit coins
examples of genuine coins and their identification diagnostics including
cents; Flying Eagle 1856, Indian 1877, Lincoln 1909-S VDB, 1914-D, 1922 "no D", 1931-S, 1943 copper, 1955 double die
nickels; Buffalo 1916 double die, 1918/7-D, 1937-D 3 legged, Jefferson 1943/2-P
dimes; Mercury 1916-D, 1921-P&D, 1942/1-P, 1942/41-D
quarters; Standing Liberty 1918/7-S, Washington 1932-D&S
dollars; Morgan 1889-CC, 1893-S, 1894-P, Peace 1928
gold $20 1907 "Omega" High Relief
Speaker(s): Bill Fivaz.
To watch the complete video, see:
https://nnp.wustl.edu/library/book/560272
Roger Burdette writes:
I saw the U.S. Coins Signature Summer Fun Auction notice featuring the Peace Dollar. While MacNeil submitted a design that I included in the catalogue of his works in my book, because it was not chosen, I wrote nothing about it. Since I was unfamiliar with events surrounding the coin, I did a bit of research and learned a lot.
According to articles published in late December 1921, eight sculptors had been invited to submit models for the Peace Dollar. Slated to go into circulation in January 1922, the artists were Hermon Atkins MacNeil, Chester Beach, Victor David Brenner, Anthony de Francisci, John Flanagan, Henry Hering, and Adolph Alexander Weinman. They had but a few weeks to draw or to model their designs. Anthony De Francisci, who was awarded the commission, submitted his within two weeks. As winner of the contest, De Francisci was awarded $1,500; the other seven participants were awarded $100 for their entries.
The two sets of photos show separate iterations MacNeil's standing liberty on the obverse and eagle on the reverse. Based solely on its detail I believe the standing liberty with unsheathed sword was his initial offering. Adhering to established guidelines, the new coin had to have a representation of Miss Liberty that reflected post-war thinking and be different from the Morgan portrait. The unsheathed sword symbolic of bravery and leadership, the olive branch denoting peace and the liberty cap symbolic of freedom were all legitimate post-war metaphors. The second design, perhaps supplied upon request, has the figure wearing the same liberty cap. Swathed in acanthus, an ancient symbol of mourning, she holds a scepter, emblematic of authority and sovereignty. While the dove is more often associated with peace, both MacNeil's Eagle and that of De Francisci perched on olive branches beneath which is the word Peace, look like the same American Eagle that had long adorned American currency.
Newspaper articles seem to indicate the new coin was not well received, and its launch not as well-planned as it might have been. De Francisci's original design had been reworked, but original descriptions were still being used in reportage. Bankers complained that the coin would not stack, while others thought the coin to be unartistic. All things considered most were happy that any sort of a coin that would command a dollar's worth in exchange was beautiful. The Harding Peace dollar, unlike any previous dollar contained exactly one dollar's worth of silver.
The second set of images are the only ones I was able to locate. I am certain that Roger Burdette's book contains significantly more information.
It was a good design, a rework of the 1909 Architectural League of New York medal, and a preview of the 1926 NYC Tricentennial medal. As you know, Mac used figures striding forth in other medal submissions.
I've mentioned before that I was working on an article covering his medallic wins, losses and rebirths. That idiosyncrasy was also present in a number of his sculptural efforts about which I might also write something.
In one of the articles I found there was a sentence or two referencing the lack of artistry and lamenting the rush to complete the project.
To read the earlier E-Sylum article, see:
NEW BOOK: HERMON ATKINS MACNEIL (https://www.coinbooks.org/v25/esylum_v25n43a02.html)
Needless to say, I especially enjoyed the article on the reopening of the Hispanic Society building. Of course, there's a MacNeil connection.
Hermon Atkins MacNeil was elected to a second term as president of the National Sculpture Society in January 1922. In that role it was his distinct pleasure a year later to write the catalogue introduction for the organization's first major event since Buffalo Fine Arts Exhibition held in 1916. In that introduction MacNeil said the Society's aim was to make the exhibition thoroughly national in scope bringing together the best work from all parts of the country as well as that of Americans living abroad.
Set to open in mid-April, the Exhibition of American Sculpture would be held in a number of locations situated between 155th and 156th Streets. Called the American Acropolis, the multi-block area was home to the Hispanic Museum, the American Numismatic Society, the American Geographical Society, the American Academy of Arts and Letters, and the Museum of the American Indian.
A year earlier, sculptor Adolph Weinman, designer of the 1916 dime, and others had tried to stage an exhibit on a lawn in Central Park, but protests were made and the effort went for naught. Aware of the Society's need, millionaire art patron Archer M. Huntington, president and founder of the Hispanic Society of America, offered the use of his property, the plaza and adjoining galleries at 155th Street. The only condition he made was that all sculpture selected for display should be the best that American artists could produce. The Society concurred, and happily accepted Huntington's offer. Seven months later, he married MacNeil's former student, Anna Vaughan Hyatt.
In addition to the outdoor displays of larger scale works, among them MacNeil's two-ton Into the Unknown and models of his pylons destined for his Soldiers and Sailors Memorial for Philadelphia, the exhibition included smaller sculptures, one of the galleries devoted exclusively to plaques and medals. In all about eight hundred works were displayed during the exhibition that opened on April 14th and continued until August 1st, giving ample time for the people of New York to visit at will, and as often as they might wish.
I am fortunate to have a copy of the 372-page exhibition catalogue and am attaching a number of photos of selected medals among them pieces by Anna Hyatt, James Earle Fraser, John Flanagan, Adolph A. Weinman, Baltimore's J. Maxwell Miller and College Point's Frederick E. Treibel (MacNeil's neighbor - they were not friends).
MacNeil displayed his Pan-American and Architectural League Medals along with the obverse and reverse of his Quarter. Beneath the photo of Into the Unknown was written "Figure for the Seal of the National Sculpture Society by Hermon MacNeil.
Following MacNeil's death in 1947, Into the Unknown was donated to Brookgreen Gardens in Murrell's Inlet, South Carolina founded by Archer and Anna Hyatt Huntington in 1931.
To read the earlier E-Sylum article, see:
ANS OLD NEIGHBOR HISPANIC SOCIETY REOPENS (https://www.coinbooks.org/v26/esylum_v26n23a27.html)
Mark Borckardt writes:
Tony Terranova agrees:
..as does George Cuhaj, who writes:
Len Augsburger of the Newman Numismatic Portal writes:
Thanks to all who responded to my question, especially Pete Smith who submitted the all important Clarke brochure and the Green letter.
I was able to send the Green letter and Clarke box electronically to a handwriting expert who was pretty certain that they did not match, though the sample size was too small to be definitive. She was quite insistent on the need of a much larger sample. I even tried to contact his alma mater, Fordham University, for any of his writings, but have yet to hear back.
I pulled this Eric Newman envelope from the Newman Portal and it doesn't seem to match very well to the box handwriting, though I haven't had it professionally analyzed. If there is a better handwritten note out there, that might be helpful.
Another knowledgeable collector speculated that Eric Newman's secretary may have written on the boxes as well. Any information or writing of hers would be appreciated as well.
Though the style of the Newcomer cardboard boxes appears quite similar, these colonial boxes are all typewritten making me wonder if he typed all of his coin boxes. In addition, I have not been able to find any example of Newcomers handwriting, making this connection very difficult. If there is a handwritten Newcomer letter or a written coin box out there, I would love to see it.
So, if anyone out there has any copies of Green's, Newman's, Newcomer's or Newman's secretary handwriting it would be greatly appreciated.
Thank you everyone for your input. With your help, this mystery might just be solved.
Len adds:
Bob adds:
To read the earlier E-Sylum articles, see:
THOMAS JAMES CLARKE (1875-1952) (https://www.coinbooks.org/v22/esylum_v22n37a17.html)
NOTES FROM E-SYLUM READERS: MAY 28, 2023 : Bechtler $5 Wooden Box Owner Sought (https://www.coinbooks.org/v26/esylum_v26n22a14.html)
You missed the May Pook and Pook PA antique auction containing several silver IPMs which recently sold. Many consigned by descendants of the Mabel Garvan family who donated many rare numismatic items to Yale University, but apparently not all. The auction house labeled many of the medals as "20th century replicas" which scared many potential bidders off. They weren't replicas.
The premier item was a 152mm oval 1793 engraved IPM in ext fine condition for which I was prepared to bid a solid 6 figures. I won it on the phone for $6500 hammer. The buy of a lifetime, and a duplicate for me.
I also won a well worn but genuine silver 1757 Duffield Geo II IPM overstruck, as are all, for $500 hammer, one of fewer than 15 known. Both were called modern replicas by the auction house.
Other silver IPMs in same Pook & Pook auction included Lincoln, Tyler and Polk originals plus a Lincoln Magniadas 1865 bronze.
The Garvan Family collection of Presidential Indian Peace medals, along with the George Washington medal from a U.K. collection, tell the story of westward expansion and European and Native American relations. Diplomatic gifts, Indian peace medals were intended to promote peace and friendship between European settlers and Native Americans. They were presented to Native American chiefs and dignitaries on significant occasions. While also struck by European governments and fur companies, the largest number were issued by the United States government between 1789 and 1889.
The first medals created during George Washington's term of office were engraved with figures of a Native American and Minerva, representing America. Later medals were struck by the United States Mint in Philadelphia, including the Jefferson medals Lewis and Clark famously took along on their 1804 expedition to the Pacific Ocean. These were the first to bear the image of an American president, with symbolic decoration on the reverse of clasped hands and a crossed tomahawk and peace pipe, with the words Peace and Friendship.
The medals provide material evidence of the rhetoric of a succession of government administrations as they sought to appear to be dealing fairly with the Native Americans. As European settlers expanded across North America, in the full belief that their dominion was destined by God, harmony and equality were hollow words. With successive years of Westward movement, the Presidential Indian Peace medals depict the progressive terms of peace through their iconography, as artists made decisions how best to portray the ideal of peace. In looking at the medals, the story is told in the background scenes on the reverse.
As noted by Klaus Lubbers, the compositional rhetoric of the medals changed along two paths. First, the previously symmetrical depictions of Native American and white subjects became imbalanced, the European American figure moving towards a central position and the Native American pushed to the periphery. Secondly, representations of European ideas of civilization and commerce began to crowd the background, denoting that the terms of peace had evolved from agreement between parties to capitulation to European ways. On only the second Presidential medal issued by George Washington, the symbolism begins on the Native American half of the background. Formerly blank, Beatrice Garvan notes Here the Indian is now on the white man's ground… as seen by the team of oxen plowing in neat furrows, showing a further step in the white man's taming of lands and people.
By: Cynthia Beech Lawrence
Sources:
Garvan, Beatrice, Philadelphia: Three Centuries of American Art, Philadelphia Museum of Art, 1976.
Lubbers, Klaus, Strategies of Appropriating the West: The Evidence of Indian Peace Medals, American Art, Vol. 8, 1994.
Nash, Stephen, Were Peace Medals the Price of Loyalty?, 5 October, 2017, SAPIENS.org
Indian Peace Medals Lot numbers: 389 and Garvan collection Lots 480A-480O
To read the complete article, see:
Indian Peace Medals (https://pookandpook.com/indian-peace-medals/)
On Slabbing and Coin Thefts
Alan V Weinberg writes:
To read the earlier E-Sylum articles, see:
JULIAN LEIDMAN INTERVIEW, PART FOUR (https://www.coinbooks.org/v26/esylum_v26n22a17.html)
JULIAN LEIDMAN INTERVIEW, PART FIVE (https://www.coinbooks.org/v26/esylum_v26n22a18.html)
Melvin Roland and the Catholic Commemorative Medal Society

Regarding his NNP contribution of the Catholic Commemorative Medal Society material from Melvin Roland, Ken Berger adds:
To read the earlier E-Sylum article, see:
NNP ADDS CATHOLIC MEDAL SOCIETY NEWSLETTER (https://www.coinbooks.org/v26/esylum_v26n23a09.html)
Query: Hickory Bank of the U.S. Hard Times Satirical Note

Ernie Nagy writes:
Mutilated Counterfeit Clad U.S. Coins
John Byars Jr. writes:
'Preliminary testing of the materials submitted by the Portland Mint has identified technical anomalies that have required additional, detailed testing to ensure they are appropriate for redemption. That testing is ongoing.' The response to Senator Wyden is not included in the public record before the court. In its second amended complaint, plaintiff indicates that Mr. Croft's answer to Senator Wyden is demonstrably false because plaintiff's entire shipment was accepted processed, and melted by the [U.S.] Mint, such that [t]here was nothing for the [U.S.] Mint to test, because there were no anomalies in the Portland Mint's shipment, and because [i]f the Portland Mint's shipment was determined to be counterfeit or in any way problematic, it would not have been melted at Olin Brass. (alterations added).
To read the complete legal filing, see:
THE PORTLAND MINT, Plaintiff, v. THE UNITED STATES, Defendant. (https://ecf.cofc.uscourts.gov/cgi-bin/show_public_doc?2020cv0518-77-0)
To read the earlier E-Sylum article, see:
COUNTERFEIT KENNEDY HALF DOLLARS (https://www.coinbooks.org/v26/esylum_v26n22a25.html)
Wheelchair Segways

Kavan Ratnatunga of Sri Lanka writes:
To read the earlier E-Sylum article, see:
THE NUMISMATOURIST IS BACK HOME (https://www.coinbooks.org/v23/esylum_v23n12a13.html)
1966 Kann Book Receipt
Michael Zachary writes:
To read the earlier E-Sylum article, see:
NEW BOOK: THE TWENTY CASH COMMENTARY (https://www.coinbooks.org/v25/esylum_v25n36a06.html)
Bruce Burton writes:
To read the earlier E-Sylum articles, see:
THE STAR COIN BOOK JUNIOR (https://www.coinbooks.org/esylum_v06n29a10.html)
WAYNE'S NUMISMATIC DIARY: JUNE 19, 2016 (https://www.coinbooks.org/esylum_v19n25a22.html)
Late last week we had an issue with the Guild's website hosting service. While it took longer than we would have liked to resolve the issue, the website is now restored. As a result of this minor hiccup, we have taken the decision to extend the deadline for awards submissions to Monday, June 19. We will be switching hosting companies in the near future to avoid any potential problems in the future.
Two additional clarifications:
The submissions do not need a category number. The category title is sufficient for the entry form. The rules document has been updated accordingly.
The Guild Paypal address is info@nlgonline.org. It was previously sent as .com
Also, as a result of cleaning up the website hosting issues we discovered that the current hosting company's webmail allowance is extraordinarily small. Thus, the mailbox was full and new incoming messages would bounce. The info@nlgonline.org email is now accepting new messages.
Thank you for your continued support of the Numismatic Literary Guild!
To read the earlier E-Sylum article, see:
NLG 2023 AWARDS COMPETITION ANNOUNCED (https://www.coinbooks.org/v26/esylum_v26n18a19.html)
Every year, the American Numismatic Association (ANA) recognizes members who go above and beyond with their service and dedication to numismatics. The following awards, which are presented at the World's Fair of Money®, will be awarded during the Member & Awards Celebration, Thursday, Aug. 10 from 3-4:30 p.m. in Ballroom B at the David L. Lawrence Convention Center in Pittsburgh, PA and during the 132nd Anniversary Awards Banquet, Friday, Aug. 11 from 7-10 p.m. in the Allegheny Ballroom at The Westin Pittsburgh.
In honor of his extraordinary numismatic accomplishments, the ANA has bestowed its 2023 Lifetime Achievement Award on Wendell Wolka. Wolka has distinguished himself as an expert in the field of obsolete U.S. paper money. A member of the Society of Paper Money Collectors for more than 50 years, he has served the organization for about half of that time as an officer in several capacities, including four years as president. In the early 2000s, he (with Bill Kamb) revived the Ohio State Numismatic Association after a decades-long dormancy.
His principal contributions to the field have been his comprehensive catalogs of Ohio and Indiana obsolete notes and scrip, which have become the standard references for paper money issued by those states. He also writes columns for Coin World and The Numismatist and has cataloged non-federally issued U.S. paper money for Heritage Auctions since 2013.
Wolka has taught Summer Seminar classes for over 10 years on subjects such as obsolete U.S. paper money, Civil War numismatics, and a general paper-money overview. He has provided widespread numismatic education outreach as an exhibitor, speaker, teacher, and writer. Wolka is a prior recipient of the ANA's Glenn Smedley Memorial Award (2013) and has earned numerous first-place exhibit honors.
The Adna G. Wilde Jr. Memorial Award for Exemplary Service recognizes hobbyists who are active at the regional and/or national level and work to advance numismatic knowledge among the general public. This year's recipients are Kathy Freeland, David M. Hunsicker, and Charles Heck.
A retired educator, Kathy Freeland has spent 32 years serving a variety of clubs, including 8 years as president of the Flint Flying Eagle Coin Club. As an ANA exhibitor, she has won more than 30 awards. In 2014 BNR Press published Freeland's book, American Red Cross in World War II Collectors' Guide, which she co-wrote with three other authors.
David M. Hunsicker has collected coins for more than 65 years. He spent 30 years working with his local Boy Scouts merit badge program and served as the editor of the Kettle Moraine Coin Club's journal for two decades. Hunsicker was named a Numismatic Ambassador in 1989.
Charles Heck previously served as vice president and treasurer of Early American Coppers and is currently treasurer of the National Bibliomania Society. His book, Die States of 1794 United States Large Cents, has become the standard reference on the subject.
The Trustees of the American Numismatic Society have awarded the 2022 Archer M. Huntington Medal Award to Dr. Wolfgang Fischer-Bossert in recognition of his outstanding contributions to numismatic scholarship.
The award ceremony will be held on July 11, 2023 at 5:30 PM ET at the ANS headquarters at 75 Varick Street, Floor 11, in New York City. Following the ceremony, the event will feature the Silvia Mani Hurter Memorial Lecture by Dr. Fischer-Bossert, entitled Displaced People and Numismatics: Greek Exile Coinages, and a reception.
A renowned scholar in ancient numismatics and archaeology, Dr. Fischer-Bossert has published on a wide variety of subjects. He is well known for his studies of Sicilian and South Italian coinages, and his monographs, Chronologie der Didrachmenprägung von Tarent 510 – 280 v. Chr. (1999) and The Athenian Decadrachm (2008). Other recent monographs include Coins, Artists, and Tyrants: Syracuse in the Time of the Peloponnesian War (2017) and Bemerkungen zum griechischen Münzrelief (2020). In more recent years, he has turned his attention to early electrum coinage, where he has published several important articles. His current major project, Early Lydian Coinage and Chronology, will present a full study of early Lydian coinage and examine the historical and archaeological context of the earliest coins.
Dr. Fischer-Bossert earned his PhD at the University of Bonn in 1994, and his master's from the University of Tübingen in 1990. He has served as Research Fellow at the Austrian Academy of Sciences in the Institute for the Study of Ancient Culture since 2015. Previously, Dr. Fischer-Bossert worked at the German Archaeological Institute at Athens, and taught classics and ancient numismatics at the Free University of Berlin and at Vienna University. He is a regular speaker at conferences across Europe.
On the award, ANS President Ute Wartenberg said, Dr. Fischer-Bossert is a scholar who does not shy away from the big subjects in our field, and his attention to detail and ability to handle mass data make his publications invaluable for other numismatic scholars. At the same time, his work is embedded in archaeological evidence and historical sources, which makes it critical to a wide group of disciplines.
The Archer M. Huntington Award is conferred annually in honor of the late Archer M. Huntington, President of the ANS from 1905–1910, and was first presented to Edward T. Newell in 1918. A complete list of past Huntington Award recipients can be found at numismatics.org/huntingtonwinners .
The event is free and open to the public; guests can register online here.
To read the complete article, see:
The ANS Announces 2022 Huntington Medal Award to Wolfgang Fischer-Bossert (https://numismatics.org/2022-huntington-wfb/)
The American Numismatic Society (ANS) is pleased to announce that the Archer M. Huntington Medal Award for Excellence in Numismatic Scholarship will feature a new medal designed by Eugene L. Daub.
The Huntington Award is conferred annually in honor of the late Archer M. Huntington, benefactor and President of the American Numismatic Society from 1905–1910. The original medal was designed by Emil Fuchs, and commemorated Huntington's gift of a building to the Society which coincided with the Society's 50th anniversary in 1908. The award was first presented to Edward T. Newell in 1918, and silver medals have been awarded to recipients up until 2021.
In 2022, as stocks of the original medal were exhausted, the Society commissioned a new piece from Eugene L. Daub for future recipients. An accomplished sculptor, Daub received the 1991 J. Sanford Saltus Medal Award. His work is found in the permanent collections of the Smithsonian Institute, the British Museum, and the Ellis Island Museum, among others, and with many public-sculpture installations across the United States. His design for the Huntington Award features an open book symbolizing scholarship on the obverse and the outline of coins on the reverse.
The ANS announced that Dr. Wolfgang Fischer-Bossert will be the recipient of the 2022 Huntington Award in a recent press release. Dr. Fischer-Bossert will be the first to receive the new medal created by Daub.
To read the complete articles, see:
New Medal for the Archer M. Huntington Award (https://numismatics.org/pr-new-huntington-medal/)
The Huntington Medal Award (https://numismatics.org/huntingtonwinners/)
Multipart. A medallic or numismatic item designed to be made in several parts which fit together to form a complete object. The separate parts can be attached (as hinged) or lie loose – often fitting together in an intricate way much like a puzzle. While it might be thought this would be impossible for coins, these were first issued in 1999, three decades following the first multipart medal.
Multipart medals. Created in 1969, the first multipart medal was in two parts, Jonah in the Whale, by Finish medalist Kiko Rasanen, who developed multipart medals to distinct art form within the class of medallic objects. Obverse and reverse of his first such medal depict the whale, but the medal breaks apart in two horizontal halves to reveal a design of Jonah on the two inside surfaces. From this two-part medal it was a logical step, then, for artists, including Rasanen, to create medals of three or more parts or of joining the parts, often in intricate ways.
Modeling for multipart medals requires planning and thought. The inner sides, called interface surfaces, may be mirror images of each other; in such case the two interface dies may be made from the same model, one in cameo and one intaglio. In other instances the two interface surfaces are not congruent, but two different designs, then extensive planning must be done by the designer, to effect cavities in one surface where relief exists in the corresponding congruent areas.
Also there must be some form of KEYING – other than the design – the keying aids in positioning the parts back together again. Such keying may be notches at the edge of both interface surfaces, edge lettering or distinctive relief of the border. Ideally the two halves should easily seat together and remain so while lying flat.
Multipart medals are usually struck from dies to maintain the close tolerances necessary for the separate parts to fit together. However, The American Numismatic Society issued a multipart cast medal in 1989; one part symbolized two fingers holding the Society's seal as a small circular object, this fit into a base of no obvious symbolism. These were cast in silver with close tolerances, buffed and polished for the final finish.
In 1999 appeared a ring medal, a medal inside ring, which were supported by pins at top and bottom. The pins allowed the separate pieces to swivel, even in opposite directions. This innovation in medallic art was first created for the millennium by the Medallic Art Company.
Panel medals. Multipart medals may also take the form of panels, two or more, often of equal size or creating a newly formed shape when all the parts are correctly arranged or assembled. Chagal did a set of 12 panel medals that formed a stained glass window replica.
The total medallic work composed of a number of panel components side-by-side is called by the same terms as in painting (as a tryptych on an altar). When two such panels exist for a single medallic item it is called a dyptych, three are a tryptych, more are a polyptych. See the entry panel which contains a box which lists the names up to ten such panels.
Multipart coins. The first multipart coins were issued in 1999. They showed the Pacific basin, commemorated the year 2000 millennium, and were divided vertically at the International date line. Obviously these coins were not intended to circulate, but did bear a denomination and were a class of noncirculating legal tender.
In English the word multipart is not hyphenated, while those terms with the number prefix are hyphenated, like two-part.
To read the complete entry on the Newman Numismatic Portal, see:
Multipart (https://nnp.wustl.edu/library/dictionarydetail/516368)
To read the earlier E-Sylum article, see:
SOVEREIGN RARITIES AUCTION 9 MEDALS (https://www.coinbooks.org/v26/esylum_v26n23a18.html)
This is a listing of fourteen women of some prominence as coin dealers. They include three women who continued a business after the death of their husbands and two secretaries who continued after the death of their boss.
Catherine Bullowa-Moore (1919-2017) was the widow of David Bullowa. She was profiled in the June 4 issue of The E-Sylum.
Helen Chapman (1873-1958) was born as Helen Collins. Her engagement to Henry Chapman was announced in The Numismatist in 1906. She married Henry Chapman and regularly attended ANA conventions with him. With Ella B. Wright, they ran the Chapman business after his death until Helen closed the shop in 1948. Although Helen was the owner, Ella was more of a dealer. Helen is buried with Henry at the Friends Southwest Burial Ground at Upper Darby, Pennsylvania.
Mary Ellen Ferguson was born in Dallas as Mary Ellen Berry. She was married to Portwood Young Ferguson (1890-1963) and divorced. She was Executive Secretary to B. Max Mehl (1957- 1961) for forty years and continued in business after his death. She joined the ANA in 1958 as member # 30203.
Dorothy Gershenson (1917-2010) was the sister of dealer Bernard Gimelson. She joined the ANA in 1961 as member #43327 while living in Philadelphia. She was affiliated with Coins & Currency Inc, until 1977 when she began under the name of Dorothy Gershenson, Inc. of Bala Cynwyd, Pennsylvania. She was honored as an ANA 50-year member a year after her death.
Ruth Green (1898-1979) was born as Ruth Scrivner. She married Charles Elmore Green (1894- 1955) in 1926. She joined the ANA in 1938.They did business under the name of R. Green leading some to believe she was the dealer. After the 1955 death of Charles, she continued the business until 1959.
Charmy Harker is married with two sons. Her interest in coins was sparked when she inherited a collection from an aunt. She does business as The Penny Lady from Irvine, California. She is known for an exhibit she prepared, Penny Potpourri - a Collection of Penny Creations with unusual items made from one-cent coins. She joined the ANA in 2000 and served as president of WIN from 2013 to 2022.
Cynthia Lee Mohon was a partner in P&M Rare Coins after 1986. She joined the ANA in 1988, sponsored by Gloria Peters and was a 1992 member of WIN. She was a co-author with Gloria Peters of The Complete Guide to Liberty Shield Nickels. She is living at South Redlands, California.
Ingrid O'Neal has been proprietor of Ingrid O'Neal Sports and Olympic Memorabilia since 1986. In the same time, she has conducted Ingrid O'Neal Auctions, Inc. She is not technically a coin dealer but deals in Olympic medals and all types of Olympic memorabilia.
Gloria Elizabeth Peters (1929-2004) joined the ANA in 1980 as member #102942. She was a partner in P&M Rare Coins after 1986. A founding member of WIN in 1992, she served as editor of their newsletter for ten years. She and Cindy Mohon wrote The Complete Guide to Liberty Shield Nickels which may be the only numismatic book with women co-authors.
Mary E. Sauvain was born as Mary Ellen Foutch. She married Richard Sauvain in 1964. She was employed with Kagin's in 1979 to 1984 and joined the ANA in 1982. An authenticater/grader with the original ANACS from 1984 to 1990, this was followed by a period of self-employment 1990 to 1995. She was employed with various companies including Numismatic Services, Inc, Mary was one of the founders of Women in Numismatics (WIN) in 1992. She has taught grading and authentication at coin shows and the ANA summer Seminars.
Shanna Schmidt is the daughter of Chicago dealer Harlan J. Berk. She is married with children and has worked as a dealer since 2005. She served on the board of International Association of Professional Numismatists (IAPN) and on the board of the American Numismatic Association (ANA) 2019 to 2013. She is not running for re-election. She is ANA member #3130326.
Christina M. Smith is the daughter of Canadian dealer Ingrid Smith. She joined the ANA in 1986 while living in Toronto. She was originally a Canadian Dollar specialist. She was a member of WIN in 1992 listed in Winter Park, Florida.
Laura Sperber joined the ANA in 1974 as a junior member #J77671 and is currently life member LM 4366. Her first firm was LSS RCI Inc. around 1990. She was a 1992 member of WIN affiliated with Keystone Rare Coin Gallery. Later she was a partner with Bruce Morlan in Legend Numismatics specializing in high end numismatics. She served one term on the ANA Board 2013 to 2015. She was named by Coin World as one of the most influential people in numismatics three times.
Ella B. Wright (1877-1952) served as Henry Chapman's secretary. She and Helen Chapman ran the Chapman business after the January 4, 1935, death of Henry Chapman and continued until 1948. On January 28, 1941, three armed men came into the Chapman store. and took $20,000 in coins. She died of pneumonia on July 13, 1952, and is buried in the Philadelphia Northwood Cemetery.
Auctions are an important part of the numismatic market. Several women have held important positions with auction firms.
Catherine Bullowa-Moore ran Coinhunter auctions. Dorothy Gersenson ran sales under the name of Coins & Currency Inc. Ingrid O'Neal conducts auctions of Olympic memorabilia.
Julie Abrams was president of Legend Rare Coin Auctions until 2022. She made the Coin World list of the most influential people in numismatic in 2020.
Jessica Berkman succeeded Julia Abrams as President of Legend Rare Coin Auctions. She also rose to the Coin World list of most influential people in numismatics in 2023.
Christine Karstedt is executive vice president for Stack's Bowers Galleries. She was on the 2022 and 2023 Coin World list of most influential people in numismatics.
I am aware of women who were part-time dealers in my local market. There are probably many others. There is not much information on dealers who have not made it into the Newman Numismatic Portal.
To read the earlier E-Sylum article, see:
CATHERINE ELIAS BULLOWA-MOORE (1919-2017) (https://www.coinbooks.org/v26/esylum_v26n23a15.html)
Greg Bennick: Fantastic. Now tell me about the Phoenix because I know that I've received the Phoenix in the past. I was on your mailing list.
Richard Lobel: We sent you two copies of the Phoenix of two issues, and two issues of the Blue Card Flyer, which in some place, the post office are bad here and its worst in America.
Greg Bennick: Well, I look forward to receiving them.
Richard Lobel: Yeah. We published the Phoenix well, and the Blue Card Flyer, which the Blue Card Flyer only goes out to about 1,500 most active clients and it's every three weeks. So, every three weeks, we do two publications. It is a treadmill and it's -- I just had a fight with -- because I'm a week late in delivering, I said leave me alone. I own the company. Leave me alone. But the client who's in today -- he said he loves it because it's very personal in some ways. We tell it what it's like. We may tell you that it's the ugliest coin we've ever sold. But we've got it. We have two pages of rare British coins. We have four pages of banknotes. We have two pages of ancient coins, and then we have other interesting things. For instance, we're selling at the moment the new king, I want to say Prince Charles because I grew up my whole life, it was Prince Charles, but it's King Charles is gold sovereign and it's selling very well, and also the silver one ounce. And it's the first one with his portrait. And we're selling those. And we're not the cheapest, but those, unfortunately, the silver ones have 20% VAT on them. And there's nothing you can do about that. So, it's a killer. But we're selling what we think people will be interested in.
For instance, I mentioned to you that I did a medallion for the investiture of Prince Charles. Well, we've done them again silver plated and gold plated. And we put them in a nice case and we give you a first day cover of the five stamps for his investiture and the five mid stamps. And we put the whole thing together and we sell it for 18.95. So, we're not trying to screw anyone. We're trying to give you…we'd like to think we're giving you value for money. Certain things the cheaper items, we have to be much more expensive because it's cost of handling them.
Greg Bennick: Of course. Of course. That makes sense.
Richard Lobel: But we handle somewhere between 35,000 and 40,000 orders a year.
Greg Bennick: Wow. Wow. There must be a staff of dozens or hundreds behind the scenes making this machine happen and --
Richard Lobel: We've got 20 staff. There's 20 people full-time. I think they're the best staff around, and they're happy doing it. And we all, you know, we work at it. I went to the warehouse today, because I hadn't been well for a while. And we were talking and two of the girls and one of the guys said they'd never been to Las Vegas. It's the eighth wonder of the world. I love Las Vegas. So, I've been going there for 60 years. So, we all sat and talked about it, and they said, what hotels should I stay at? And I said, I've stayed at a lot of them because a friend of mine used to own three of them. But we stay at the Golden Nugget Downtown because you're right on Fremont Street and at night it is the wildest place in the world. I'm still wild.
Greg Bennick: I can tell.
Richard Lobel: Older but wild. And so we sat down and we must have chatted for half an hour. But that's okay. You know, that's what the -- it's a family business. It's run like a family business should be run.
Greg Bennick: So, you mentioned before, people being reluctant to spend money, coin dealers being reluctant to spend money on advertising, and you said they're doing all -- they're not doing all the things you should be doing as a coin dealer. In your opinion, what should people be doing as coin dealers? And what should people not be doing as coin dealers? What advice would you…
Richard Lobel: Well, I think the first thing they should do is try and to get more people interested in collecting. Too many of them are selling investments. It's investment, look how it's gone up. You can pay £95 pounds for a new £5 pound piece from the Royal Mint. Or you can buy from us and Edward I penny which ruled from 1272 to 1307 in nice condition for £60 pounds. Now, which would you rather have? I'd rather have a penny.
Greg Bennick: Yeah. For sure.
Richard Lobel: You know, this is a real -- because when Edward I reigned, the penny was the largest denomination struck. And it's got a portrait on it. I mean, all right. It's a bit you know, I think it was engraved with a paperclip. But okay. But that's the way -- but that's what they are, except for the type one C, which comes through beautifully. But the Phoenix wants you to be interested. I had one, he's unfortunately dead now. He was an American ambassador to Egypt during the Six Day War, American. And he was wonderful. And he would buy very expensive coins. And then he said, oh, you've got this Bolivian coin at 3.95, I want one of those too. You know, that was a collector. That is a collect-- You buy what you enjoy, you buy what you want. I would say that we've been successful enough as I say, do we have this huge -- I mean, if you ever come over to London, please, I will show you. I mean, I can't believe what we have. I really can't.
Greg Bennick: I would love to see the shop and the warehouse and everything, and I'll make a point…
Richard Lobel: The shop is very nice. It's very attractive. But the warehouse is unbelievable.
Greg Bennick: That's amazing.
Richard Lobel: Row after row of shelving full of boxes and things. A friend of mine from Johannesburg -- do you know Gary Levitan?
Greg Bennick: I know the name. I'm pretty sure.
Richard Lobel: Yeah. And he was over. And he had never been so I took him to the warehouse. He just went. It's row of silver sets and all the -- We love to own. And I mean, I've just bought 20 or 25,000 farthings. Well, they haven't been made since 1956, and mostly the George V and George VI. I just think that I could -- I bought them for six pence each. I think they're so cheap that they're fantastic, they're history.
Greg Bennick: I love it. I think that you might have just given me the title with your permission, I might use it of my book on collecting someday. We love to own: an exploration of the mind of the collector…
Richard Lobel: But it's true. I mean, if you look at the firms in America that have been in business for a while, if you look at Stacks before it was bought out, because years ago, I used to date a cousin of Stacks, and I would fly down from Boston to New York. I was so clever. They never had prices on them. I would always be able to buy US coins and make enough for the trip. And funny when I stopped dating, my brilliance went. Like Samson with the hair. It was gone. But the Stacks they told me a story once, was really wonderful that a guy had come in for 1796 quarter. So, they showed him and he said, um, so…they went downstairs and they took a wrench and they hit a pipe, they kept hitting it like they would strike it, and they came up and said here it is, but careful it's still hot because they just had struck the coin. I mean, in the old days, the dealers had inventory. Today, they -- and as for slabbing, well, that is the worst thing in the world.
Greg Bennick: Yeah. It's been a challenging ride. It's made a lot of people a lot of money. It has most definitely shifted the hobby in the last bunch of decades. So, your opinion on slabbing is that it's not something that you enjoy.
Richard Lobel: Funny, we just broke a beautiful George II crown out of plastic -- out of slab. Because it was just such a pretty coin. It just shouldn't be in plastic so we broke it out. Yeah. I mean, I've been in coins since 1955. I know how to grade. Slabbing people don't know how to grade. We find that they tend to over grade. They tend to be loose in the grading. I hate to say it. And is a 64 really worth four times what a 63 is worth? No. You know, I look at a coin, let's say, a William III 6 pence of 1697, which is a common coin because it was part of the Glyn, Mills hoard. I don't know if you ever heard of the Glyn, Mills hoard.
Greg Bennick: No.
Richard Lobel: Glyn, Mills was a big bank in this country, one of the bigger banks. And in the old days you had to keep so much money in cash on hand, well, they kept it in coins except the coins were William III, Queen Anne and George I. And in the 1930s when the depression was on, they decided they wanted to cash it in because it was no longer legal tender because the Currency Reform Act of 1816 made everything earlier no longer legal tender. So, they walked into Spink and they sold the hoard to Spink. Douglas Liddell, who used to be the managing director, told me once laughingly, we're having a drink or two, lemonade or something like that. He told me that they bought the William III crowns uncirculated. Now they're five shillings face. They paid them four and six pence each for them because they were no longer legal tender. And, I mean, this hoard was -- if you see a 1723 SSC shilling, it probably came to the Glyn, Mills hoard. If you see the 1708 Queen Anne shilling, it came from the Glyn, Mills -- 1697 6 pence, 1697 shilling or -- they had bags of these things. Bags of them. Because of the depression, Spink was the only one who had money to buy them. Well, them and Baldwins. But there've been more hoards come out of this country that I know somebody who bought a hoard of 1933 $10 gold piece, not the 20s, but the 10. They had a bag, an original bag of them. This was years ago. Now it would be worth many, many times that. They bought it from a Coutts bank because that's one of my bankers. And after they -- Coutts started to complain, and the guy who had bought them said, fine. Let's talk to the police because it was illegal for you to have them. Which was true in this country. And that shut them up. That was enough to shut them up. But no -- there've been incredible hoard. I mean, we have been lucky enough to buy a lot of banknote hoards here and some coin hoards. We have a philosophy when we buy a hoard, we sell what we can and we don't dump the rest. We just -- it's like an annuity. You can take it out every 6 months or a year, and that's how Baldwin's made its money originally. They were smart. They had some money, and they were smart enough to put stuff aside.
Greg Bennick: So, just by putting stuff aside, you can always tap into that resource, basically.
Richard Lobel: Right. But I think the coins, if you buy the right coin, they're like fine wine. They're going to increase. You know, I buy these farthings. Well, George VI, the last -- was 1952 and the George V go back to 1911 for 6 pence each. You know, it was the smallest denomination issued at the time. They're wonderful. You know, they're incredibly good value for money. That's why I bought all those 1953 crowns because I could buy them at 3 or £3.50 pounds each. And I did sell 24,000 of them for £8.50 each. But then again, the people who bought them were charging £30 pounds. So, you know, good luck to them.
Greg Bennick: Yeah. Exactly.
Richard Lobel: Don't ever object to somebody buying something from you and making a profit.
Greg Bennick: Yeah. For sure. That's good advice too. So, you mentioned currency, of course, but I wanted to touch on before we close, I wanted to touch on your other area of interest, antiquities. What sort of antiquities do you…
Richard Lobel: No. We stopped that. My daughter's an archaeologist. She wrote a fantastic book on the Elgin marbles. It sold 20,000 copies, which I thought wasn't very good. But now I understand it's an academic book. There's too many problems with antiquities now. We've stopped that. One, are they real? And we got stuck with a lot of them. Are they stolen? You know, are they from the country? So, we've decided that it just -- It's not something we have the expertise -- We deal with ancient coins. Don't get me wrong. Josh does a fantastic job. We have a large inventory. I've got Constantine the Great, I think I have 10,000 pieces in stock of his alone. Again, because it's good value for money. I like value. If I buy value for money, I can sell you value for money.
Greg Bennick: That's right. That's right.
Richard Lobel: But no, we don't deal in antiquities anymore because my daughter wouldn't talk to me so I figured that was a good -- But she was right. We don't have the expertise. And when I sell you something, I give you a lifetime guarantee as to its authenticity. Not that it's going down, but it's real. So, if I can't say it's real, I don't want to sell it to you.
Greg Bennick: That's right. I was going to say from a coin's perspective -- from a coin's perspective, you know that it's authentic or it's not. From an antiquities perspective, it's more difficult. And that's why I was so curious about it. It just seems -- it's close, antiquities, coins, and whatnot, but it's different enough that I found it interesting.
Richard Lobel: We used to have somebody who dealt in them and he had a reasonable knowledge, but not good enough because when he left, we had three very expensive antiquities sent back from Sweden which were not real. We gave them money immediately. We don't want any hassle. You know, if we made a mistake, we admit it.
Greg Bennick: Sure. Sure.
Richard Lobel: Not everyone does that.
Greg Bennick: Well, Richard, this has been incredible as an interview. I mean, just entertaining, enlightening. I love the idea of a young Richard just running wild through the city of London and then forming this incredible store with Coincraft and having that embody the values that you've brought not only to your own life, but to your own hobby. Just everything has come together and you've lived an incredible life thus far, and I look forward to many more years of stories from you. This is just tremendous.
Richard Lobel: Thank you. Some might have to wait for the statute of limitations to expire.
Greg Bennick: Well, then we'll have to do another interview a few years out, and we'll see if the statute is….
Richard Lobel: I love what I do. I can't think of anything worse than hating going to work every day. I love it. What can I say?
Greg Bennick: Amazing. All right. Well, let's stay on for a few moments. I'll sign off here for us and say to everybody that on behalf of the Newman Numismatic Portal, my name is Greg Bennick. I hope you've enjoyed this interview today. There are other interviews, and you can search my name and interviews under the Newman Numismatic Portal, and you'll find a list of the interviewees I've spoken to. And Richard, thanks so much for your time today, and I look forward to hearing more stories in the future.
Richard Lobel: My pleasure. And you'll see the Phoenix and the Blue Cart Flyer. Eventually, the post office will deliver it.
Greg Bennick: Great
About the Interviewer
Greg Bennick (www.gregbennick.com) is a keynote speaker and long time coin collector with a focus on major mint error coins. Have ideas for other interviewees? Contact him anytime on the web or via instagram @minterrors.
To watch the complete video, see:
Richard Lobel of Coincraft Interviewed for the NNP by Greg Bennick (https://nnp.wustl.edu/library/book/626832)
To read the complete transcript, see:
Richard Lobel of Coincraft Interviewed for the NNP by Greg Bennick (Transcript) (https://nnp.wustl.edu/library/book/626831)
To read the earlier E-Sylum articles, see:
RICHARD LOBEL INTERVIEW, PART ONE (https://www.coinbooks.org/v26/esylum_v26n21a08.html)
RICHARD LOBEL INTERVIEW PART TWO (https://www.coinbooks.org/v26/esylum_v26n21a09.html)
RICHARD LOBEL INTERVIEW PART THREE (https://www.coinbooks.org/v26/esylum_v26n22a19.html)
RICHARD LOBEL INTERVIEW PART FOUR (https://www.coinbooks.org/v26/esylum_v26n22a20.html)
RICHARD LOBEL INTERVIEW PART FIVE (https://www.coinbooks.org/v26/esylum_v26n23a16.html)
Lot 4216. Reno National Bank National Currency Note Signed by Geo. Wingfield, CH. 8424
Lot 4221. Liar's Poker U.S. Currency
Liar's poker is an American bar game that is played with the eight digits of the serial number on U.S. currency. This collection of U.S. currency will give you an advantage as each note has at least five of a kind in its serial number.
Lot 4314. 1882-CC Morgan Dollar
Lot 4429. Custom House Saloon Token, Tahoe City, c.1880s, Extra Rare
This choice token dates from 1882, when Joseph B. Campbell took sole ownership of the saloon and billiard parlors. Built in 1872 on a pier opposite the Grand Central pier in Tahoe City, it was originally owned by Campbell and James O. Forbes. It was the fourth saloon built at Tahoe City, and soon became the "custom" to go there and all who came to town aboard the steamers, such as the Gov. Stanford, went through the swinging doors, including perhaps every major San Francisco financier, as Tahoe City is the closest point to the Central Pacific Railroad at Truckee.
Lot 4265. Coins, Coinage and Bullion Hardcover by Eckfeldt
Lot 4283. Popular Illustrated Guide to Canadian Coins Etc by Breton
Lot 4401. Erie Canal HK-1 in Original Box
For more information, see:
https://www.holabirdamericana.com/
Münzen Gut-Lynt, Auction 12 on June 24th and 25th 2023, 10 a.m. Berlin Time
The Gut-Lynt Auction 12 offers you more than 3000 lots to be auctioned over two days. The first part on Saturday, 24.06.2023 at the usual hour from 10 a.m., includes a significant special section of banknotes as well as an offer of numismatic literature. On Sunday, 25.06.2023, also at 10 a.m., the second part, coins and medals from antiquity, Germany and all over the world, will continue.
This large number of lots promises an extensive offer from the broad spectrum of numismatics, notaphily as well as the related and still important literature.
The start of this weekend auction will be marked by approx. 900 lots of banknotes with numerous rarities. Among them is one of the rarest banknotes of the German Empire. In addition to paper money from Germany, there are many samples and numerous cash-fresh and sought-after notes from abroad.
- Lot 29 : Belgian Congo, 100 Francs 7.02.1896, cancelled, rusty staple mark, IV
- Lot 91 : Germany, 50 Mark Reichskassenschein 11.07.1874, Series V, Fol. 22, Lit.A. No 109844. This series unknown in the literature so far! Ros. 3. pick 3. grave. DEU-47. II / Extremely fine
- Lot 106: Germany, occupation money of WW1, occupation Belgium, 20 Francs 10.07.1918, several small pinholes, I-
- Lot 124: Germany, World War 1 occupation money, occupation France, 100 Francs o. D. (1915), Deichmann-Bon, I-
- Lot 155: Germany, Bayerische Notenbank, 100 Reichsmark 11.10.1924, undervalued, I
- Lot 158: Germany, Württembergische Notenbank, 100 Reichsmark 11.10.1924, hand-signature, undervalued, slight middle bow, II+, Starting price 4800 Euro
- Lot 258, 274, 276, 281, 287 Germany, Western Occupation Zone, series of 5, 10, 20, 50 and 100 DM 1948&1949, each with red overprint "MUSTER", zero number resp. from current series, I resp. I-II
- Lot 295, 296, 298, 300, 301, 302, 303, 304: Series from 10 DM to 1000 DM 1993/96 with serial number 1! Mostly nearly uncirculated
- Lot 10: Australia, 1 Pound n. D. (1932), PMG 25 Very fine
- Lot 482: Hong Kong, Hong Kong & Shanghai Banking Corporation, 50 Dollars 1.10.1930, Pick 175b, III-IV
- Lot 536 Cameroon, 50 centimes n. D. (1922), pinholes, II-III
- Lot 582 Luxembourg, 20 marks 1.07.1900, repaired, Pick 4, IV-V
- Lot 667 Dutch India, De Javasche Bank, 25 guilders 7.11.1938, I
- Lot 730 Qatar, Qatar & Dubai Curreny Board, 10 Riyals n.D. Pick 3, I
- Lot 846 Sudan, 500 Piastres 1884, Belgaerung of Khartoum, I-II
- Lot 900: USA, 1 Dollar 1969, original signature John Lennon, with expertise of Tracks Ltd, Chorley, Lancashire, GB, III
Immediately following the banknotes is the literature auction with around 500 lots.
- Lot 1029: Monographs, ROBERTSON, A.S. Roman Imperial Coins in the Hunter Coin Cabinet, University of Glasgow. 5 volumes, Oxford a.o. 1962-1982. cloth, Starting price 500 Euro
- Lot 1067: Monographs, METCALF, D. M. Coinage of the Crusades and the Latin East in the Ashmolean Museum Oxford. London 1983, full cloth, Starting price 250 Euro
- Lot 1133: Monographs, KIENAST, G. W. The Medals of Karl Goetz. Cleveland, 1st edition 1967. 284 pp. No 171 of only 500 copies with signature. Archival stamps. Full cloth with gold print. Starting price 300 Euro
The second day starts with about 300 lots of Antique Coins with exciting, rare pieces or good qualities. Most of the coins come from an old stock and this is already the third part we are allowed to offer.
- Lot 1417: Roman Republic, didrachm ca. 225-214 BC, very nice, Starting price 50 Euro
- Lot 1439 Roman Empire, Caligula, drachm, undetermined mint on Crete (Gortyn?), with Divus Augustus, fine patina, small scratches, very fine-excellent, Starting price 250 Euro
- Lot 1454 Roman Empire, Otho, denarius, almost very fine, Starting price 250 Euro
- Lot 1464 Roman Empire, Domitian, Cistophor, undetermined mint in Asia Minor, Rv. Temple of the Capitoline Triad, Very fine, Starting price 200 Euro
- Lot 1512 Roman Empire, Pescennius Niger, Denarius, Antioch, Rv. standing Minerva with shield at her feet (!), Rich 61 var., good very fine, Starting price 1000 Euro
- Lot 1600 Roman Empire, Uranius Antoninus, Billon tetradrachm, Emesa, unknown reverse stamp, very fine, Starting price 500 Euro
- Lot 1653 Byzantium, Constantinos IX Monomacho, Histamenon 1046/49, Excellent, Reserve price 250 Euro
It is difficult to name a focal point for the large number of German coins and medals. There are medieval pennies and bracteates, small coins of numerous states, especially thalers from 1500-1800, an attractive series of Prussia and Westphalia from the time before the foundation of the German Empire in a wide selection. And this time, too, friends of Nuremberg numismatics will find interesting coins and medals from the 16th century onwards.
- Lot 1830 Bremen, Taler 1864, On the opening of the New Stock Exchange, slightly rubbed, tiny marginal defects, excellent, Starting price 200 Euro
- Lot 1715 Brandenburg-Prussia, ½ Taler 1751 C Kleve, Nearly very fine, Starting price 200 Euro
- Lot 1714 Brandenburg-Prussia, Taler 1751 C Kleve, Very fine, Starting price 280 Euro
- Lot 1721 Brandenburg-Prussia, Taler 1764 C Kleve, Small reddish defect on the rim, Very nice, Starting price 250 Euro
- Lot 1755 Brandenburg-Prussia, 1/3 Taler 1809 A, Small crocket flaw and scratch, fine patina, Good excellent, Starting price 200 Euro
- Lot 1761 Brandenburg-Prussia, Taler 1816 A, Kammerherrentaler, Very nice, Starting price 250 Euro
- Lot 1777: Brandenburg-Prussia: Double taler 1859 A, Old cleaned, Starting price 600 Euro
- Lot 1783 Brandenburg-Prussia, Double taler 1867 C, very fine-excellent, Starting price 400 Euro
- Lot 1778 Brandenburg-Prussia, Double haler 1861 A, perforated at the rim, very fine- excellent, Starting price 180 Euro
- Lot 1851 Hamburg, Taler 1730, 200th anniversary of the handing over of the Augsburg Confession, mint, Reserve price 500 Euro
- Lot 1853 Hamburg, 2 ducats 1806, slight weakness of minting, small marginal faults, Very fine, Reserve price 800 Euro
- Lot 1890 Cologne, archbishopric, Hildolf 1076-1079, Denarius, rare, ex collection Benrhard Schulten, Starting price 500 Euro
- Lot 1901 Cologne, city, Goldgulden o. J. (1475-1511), good very fine, Starting price 350 Euro
- Lot 2004 Saxony, Taler 1535, fine patina, good very fine, Starting price 350 Euro
- Lot 2060 Saxony, ½ Gesamttaler 1666, handle mark, fields slightly worked, almost excellent, very rare, Starting price 500 Euro
- Lot 2135 Westphalia, ½ Franc 1808, slightly adjusted, good excellent, Starting price 250 Euro
- Lot 2134 Westphalia, 2 Francs 1808, slightly adjusted, almost very fine, Starting price 150 Euro
- Lot 2133 Westphalia, 2/3 Taler 1808, scratch, excellent, Starting price 100 Euro
- Lot 2142 Westphalia, Ausbeutegulden 1811, Glück Auf! Clausthal, slightly cleaned, almost excellent, Starting price 200 Euro
- Lot 2140 Westphalia, Taler 1811, Mansfeld loot, very fine-excellent, Starting price 400 Euro
- Lot 2141 Westphalia, Taler 1811, slightly adjusted, almost excellent, Starting price 200 Euro
This is followed by a section of Imperial coins and the German medals:
- Lot 2250 Prussia, 5 Mark Wilhelm II 1888, very fine-mint, Starting price 350 Euro.
- Lot 2274 Prussia, 3 Mark 1915 Mansfeld, mint, Starting price 450 Euro
- Lot 2303 Saxe-Weimar-Eisenach, 20 Mark 1896, small dents, excellent, Starting price 2500 Euro
- Lot 2390 German East Africa, 15 Rupees 1916, NGC MS 61, Starting price 4000 Euro
- Lot 2380 German East Africa, 2 Rupien 1894, very nice, Starting price 200 Euro
- Lot 2370 Danzig, 5 Gulden 1923, Very nice, Tax 180 Euro
- Lot 2373 Gdansk, 5 florins 1935, cog, scratch, edge flaw, very nice, Starting price 200 Euro
The spectrum of foreign coins and medals ranges from Ethiopia to the USA, including an attractive series of Swiss coins, Habsburg coinage and some nice gold coins.
- Lot 2457: China, 450 Yuan 1979, Year of the Child, proof, Starting price 1000 Euro.
- Lot 2517 France, ¼ Ecu aux huit L 1691 K, Bordeaux, unmarked mint!, good very fine, Starting price 100 Euro
- Lot 2831 Mexico, Juana y Carlos, 4 Reales o. J. (1542-1548), good very fine, Starting price 150 Euro
- Lot 2945 RDR / Austria, Bronze medal 1892. 25.52 g. On the Gschnas-Fest / - Gschnasball "Gross- Peking" of the Genossenschaft der bildenden Künstler in the Künstlerhaus in Vienna on 29 February 1892, Excellent, Reserve price 120 Euro
- Lot 2955 RDR / Austria, Olmütz, Taler 1725, almost excellent, Starting price 250 Euro
- Lot 3000 Switzerland, Bern, 2 Ducats 1727, waved, handle mark, very fine, Starting price 700 Euro
- Lot 3092 Hungary, Sigismund, Gold florin o. J. (1431-1437), Chamber Count Johannes Siebenlinder, very fine, Starting price 300 Euro
The auction day is rounded off with collections and lots.
You will find all lots of the auction Münzen Gut-Lynt 12 from the end of May on our well-known auction platform www.auktionen.gut-lynt.de. Register in good time at www.gut-lynt.de. We wish you good luck.
If you have any questions about the Münzen Gut-Lynt Auction 12, please feel free to send us an email info@gut-lynt.de or call us: (+49) 2156 4874819.
Münzen Gut-Lynt is a joint venture of SINCONA Zurich, Switzerland and Dr. Busso Peus, Frankfurt, Germany. Our philosophy is to offer world class coins at affordable prices.
Would you also like to benefit from our expertise and international network? We are always looking for consignments - entire collections or individual items that no longer fit into your collection. We offer fair conditions and personal service, from consignment to payment. In addition, a direct purchase or an advance payment on the expected proceeds is possible at any time. We look forward to hearing from you.
This year you can expect many more exciting Gut-Lynt auctions in September and November, including another banknote auction, a order/decoration auction and more numismatic literature from an dealer's library.
With the Gut-Lynt Newsletter you can stay informed about the upcoming Gut-Lynt auctions. Sign up at: www.gut-lynt.de/newsletter. We also recommend the exclusive Instagram Gut-Lynt previews of selected pieces from each upcoming Gut-Lynt auction.
Münzen Gut-Lynt GmbH, Kehner Weg 144, 47918 Toenisvorst, Germany; info@gut-lynt.de Phone: (+49) 2156 4874819, www.gut-lynt.de
I spent Thursday afternoon and evening in Baltimore at the Whitman Coin Expo. The summer event is smaller than the fall and spring shows, but there were still plenty of people and activity.
I took a number of photos, starting with a display at the Stack's Bowers table of upcoming lots from the Syd Martin collection. Sorry for the glare from overhead lighting.
Great medals!
While walking the floor I visited with E-Sylum advertisers Tom Caldwell and Chris Clements of Northeast Numismatics, Dave and Melissa Kahn, and Julian Leidman. Others like Wayne Herndon of Wizard Coin Supply and Harry Laibstain were busy with customers when I passed by their tables.
The Whitman booth always had customers, too. I took some photos of the displays after running into Ray Williams of the Colonial Coin Collectors Club and talking for a bit.
At the Mid-American table I spoke with Mary Lynn and Jeff Garrett, who told me about the newly discovered Great Kentucky Hoard. Great find!
Here's some nice paper money at Julian Leidman's table.
I had some time to kill midafternoon so I walked over to the Inner Harbor. I thought I might even try visiting the National Aquarium, which I hadn't seen since we took our kids there once many years ago. Then I saw the ticket prices.
Plan B was much cheaper. I'd never been to the observatory atop Baltimore's World Trade Center building. Called Top of the World, it has great views of the Inner Harbor, Fort McHenry and the Baltimore skyline. Adult admission was $8 or $6 for seniors 60+. To my chagrin I qualify for the senior rate, and handed over a $20 bill at the ticket booth. I'm still scratching my head over why I was handed back $17 in change, but I wonder if anyone under 40 even knows how to count cash anymore.
Anyway, the experience was worth it despite it being a hazy day due to the lingering Canadian forest fire smoke blanketing the city that day. The views are impressive, and there are nice exhibits commemorating the 9/11 terrorist attacks and famous Baltimore natives.
Back at the show I stopped to check out the numismatic ephemera at the lobby handout table. It's election season for the American Numismatic Association, and there were three different candidate flyers. members: don't forget to vote!
John "JD" Dannreuther had a copy of his new book on proof nickels at his table, and he explained to me a bibliophile conundrum he's pondering. His work on proofs is being published in multiple volumes over several years. The books are numbered and bibliophiles purchasing complete sets naturally prefer having the same number across all volumes. But what if the volumes are produced in different quantities? The gold book was a big seller and the silver one likely will be, too. But fewer individual buyers are opting for the nickel volume and as shown in the large printout of the numbering plate, it will be limited to 150 copies.
So here's the problem - What if someone assembling a set was say, the 175th to order the gold books? What sense would it make for the nickel book to say that it's number 175 of 150 copies? Have publishers run into this situation before? How did they handle it?
At the West Coast Coins table I saw this notice for a new edition of Joe Cronin's book on error coins.
I didn't get to speak with Tom Reynolds, but I took photos of two great trays of early copper at his table. Click on the images to see larger versions on our Flickr archive.
At 5:30 the show switched to one-way traffic. I met up with Newman Numismatic Portal Project Coordinator Len Augsburger at Gerry Fortin's table and we headed out to dinner. We ended up at the nearby Kona Grill. I'd never been there, but had a nice meal and glass of wine.
We had a nice long conversation about mostly NNP topics, including the NNP Symposia, web archiving, software development status, and the Newman Grants. It was relaxing to just sit and chat for a couple hours. Len had to head off to another appointment, and I pointed my car back home to Virginia. I'm looking forward to my next convention, the August ANA World's Fair of Money® in Pittsburgh.
To read the earlier E-Sylum article, see:
NEW BOOK: MINT ERRORS TO DIE FOR, 2ND EDITION (https://www.coinbooks.org/v24/esylum_v24n39a04.html)
Police recovered dozens of ancient coins that were allegedly illegally excavated — among them a rare coin from the time of the last Hasmonean king of Judea over 2,000 years ago — during a search in East Jerusalem overnight, the Israel Antiquities Authority said Wednesday.
The currency was recovered from the suspect's home in the Silwan neighborhood and includes bronze coins ranging from the Roman period until the Muslim period. The IAA said in a statement that coins from the reign of Antigonus Mattathias II (40 BCE – 37 BCE) are the rarest finds among those minted from the Hasmonean period.
Police questioned a man in his 30s, suspected of robbing the artifacts — likely by searching for them with a metal detector around Jerusalem — illegal possession of artifacts, and attempting to sell the items.
IAA Director Eli Escusido said that finding the coins at their original site would have been more useful to their study.
The removal of the coin from its archaeological site harms the ability to understand our historical puzzle, he said.
Gabriela Bichovsky, a coin expert at the IAA, said a cornucopia is displayed on the coin, with a Hebrew inscription reading, Mattia Kohen Gadol, a reference to the Hasmonean king as a member of the Jewish priestly class. The opposite side of the coin was minted with a Greek inscription surrounded by a wreath, she said.
Mattathias minted bronze coins in three denominations: large, medium, and small. The coin that was recovered is of the medium denomination and is rarer than the large, on which a pair of cornucopias appear instead of one, Bichovsky added.
To read the complete articles, see:
Looted rare coin from last Hasmonean king seized in raid on suspected thief (https://www.timesofisrael.com/looted-rare-coin-from-last-hasmonean-king-seized-in-raid-on-suspected-thief/)
Ancient Israeli coins recovered from Jerusalem archaeology thief (https://www.jpost.com/archaeology/article-745520)
Stack's Bowers Galleries is proud to announce the Physical Cryptocurrency session of their June 2023 Showcase Auction—the firm's seventh such offering since first entering this market in 2021. Presented is a thrilling selection of the most formidable crypto rarities, as well as collector-favorites that are making their live auction debut.
Noteworthy is a 2013 Casascius Gold Rim 1 Bitcoin in silver that is tied for the finest known at PCGS with a grade of Proof-69 Deep Cameo. Also presented is its counterpart from the Lealana series: a 2013 Lealana Gold B 1 Bitcoin graded Proof-69 Deep Cameo (PCGS). An example sold in Stack's Bowers Galleries' April 2022 auction and set the company record for a 1 Bitcoin at $108,000. Perhaps a new record will be established by the end of the June sale.
Other highlights from the Casascius series include a 2013 0.1 BTC in silver, MS-65 (PCGS) and MS-63 (PCGS) examples of the scarce 2013 0.5 BTC in brass, and a phenomenal selection of brass 1 BTC including virtually every major variety. The prized 2011 Casacius Error 1 BTC is represented by a gorgeous MS-67 (ANACS), followed by a trio of the underrated 2012 1 BTC, and a pair of Gem 2013 1 BTC coins including a MS-67 (PCGS) and a MS-65 (ANACS).
The Lealana series is represented by a formidable four-coin set including the 0.1, 0.25, 0.5 and aforementioned Gold B 1 Bitcoin, as well as a three-coin set of the rare Buyer Funded, Black Address variety including the 0.1, 0.25, and 0.5 Bitcoin.
Among the collector-favorite BTCC series, there are several poker chip types as well as the rare 0.1 Bitcoin struck in Titanium.
Satori coinage is represented by a great mix of Pre-Fork and Post-Fork types, and an original 50-coin roll with consecutive serial numbers that will be featured across several lots. Stack's Bowers Galleries is also proud to present the first PCGS-graded examples from the Crypto Imperator series to be offered publicly.
In addition to Bitcoin, there are significant rarities from the Litecoin currency including issues by Lealana, Cryptovest, and Genesis.
The Non-Loaded category is marked by an extremely rare Redeemed 2011 Casascius Bitcoin Storage Bar and a Redeemed Casascius 5 Bitcoin. Non-Loaded Lealana highlights include a silver Unfunded 2013 Lealana 0.5 Bitcoin and several different varieties of the silver Unfunded 2021 Bitcoin Cent 0.01 Bitcoins.
For questions on the Stack's Bowers Galleries June 2023 Physical Cryptocurrency session or to consign your coins to a future sale, contact specialist James McCartney at JMcCartney@StacksBowers.com or call (800) 566-2580.
To read the complete lot descriptions, see:
https://auctions.stacksbowers.com/auctions/3-134QG6/june-2023-auction-session-4-physical-cryptocurrency-lots-4001-4168?limit=36
Among numismatically popular early medals associated with the life of George Washington, the Eccleston medal of 1805, from dies cut by Thomas Webb, is certainly the largest (76 millimeters), and it is among the most interesting.
At first glance, this seems to be a satirical medal. Washington is encased in a heavy suit of armor, a singular conceit, noted W.S. Baker in his 1875 book on Washingtoniana. At the center of the reverse is an Indian (Native American) with the surrounding inscription, THE LAND WAS OURS. It seems that Eccleston, a highly eccentric Englishman, meant the medal as a tribute.
According to his own account, Eccleston spent time in America in the late 18th century and was Washington's guest at Mount Vernon. No confirmation of this has been found.
Eccleston wrote to Thomas Jefferson in May 1807, and he enclosed a specimen of the Eccleston medal, which is in the collection of the Thomas Jefferson Foundation and is on display at Monticello:
To read the complete article, see:
Bowers on Collecting: American medals to the fore — the 1805 Eccleston medal (https://news.coinupdate.com/bowers-on-collecting-american-medals-to-the-fore-the-1805-eccleston-medal/)
This reproduction Victoria Cross is made from lead-free pewter. It is supplied with ribbon in a clear medal wallet and colour header card.
Please note these full size replica medals will not have the same weight, exact finish or detailing as original medals and are suitable for educational purposes, as souvenirs or as basic replacements for missing medals in a set.
The VC was instituted by Royal Warrant on 29 January 1856 to acknowledge the bravery displayed by many soldiers and sailors during the Crimean War. Unlike its predecessors, the new award was open to all ranks and would only be presented for acts of supreme gallantry in the face of the enemy. The decoration takes the form of a cross pattée, bearing a crown surmounted by a lion, with the inscription 'FOR VALOUR'. This was originally to have been 'FOR BRAVERY'. But it was changed on the recommendation of Queen Victoria, who thought that some might mistakenly assume that only the recipients of the VC were brave in battle.
The VC is Britain's joint-highest award for gallantry. It was only equalled in status in 1940, when the George Cross (GC) was instituted for acts of conspicuous bravery not in the enemy's presence. There is no barrier of colour, creed, sex or rank. Indeed, VC recipients have come from all social backgrounds and from all over the British Empire and Commonwealth.
The manufacturer of this item makes a donation from its sale to The Veteran Charities Consortium. The proceeds from this item made by The National Archives go towards supporting the work of The National Archives in preserving the nation's history including the preservation of military records.
To read the complete sale listing, see:
Victoria Cross: Full Size Replica Medal (https://shop.nationalarchives.gov.uk/products/victoria-cross-full-size-replica-medal)
Throughout an unusually sunny Fall in 1970, hundreds of students and faculty at Syracuse University sat one at a time before a printing computer terminal (similar to an electric typewriter) connected to an IBM 360 mainframe located across campus in New York state. Almost none of them had ever used a computer before, let alone a computer-based information retrieval system. Their hands trembled as they touched the keyboard; several later reported that they had been afraid of breaking the entire system as they typed.
The participants were performing their first online searches, entering carefully chosen words to find relevant psychology abstracts in a brand-new database. They typed one key term or instruction per line, like 'Motivation' in line 1, 'Esteem' in line 2, and 'L1 and L2' in line 3 in order to search for papers that included both terms. After running the query, the terminal produced a printout indicating how many documents matched each search; users could then narrow down or expand that search before generating a list of article citations. Many users burst into laughter upon seeing the response from a computer so far away.
As part of a telephone survey afterwards, participants were asked to provide two or three words describing the experience. Of the 78 total words provided, 21 were the same adjective: 'frustrating'. Participants had trouble signing on to the system and experienced unpredictable failures, 'irrelevant output' and, most of all, not knowing 'what words to use in a search'. Yet they also found the system intriguing and exciting ('fun', 'thorough', 'I dig computers'), and 94 per cent said they would use SUPARS (the Syracuse University Psychological Abstracts Retrieval Service) again if it were available. Several offered to keep the experiment running past its deadline by asking their departments to contribute funding to the project.
This group of academic guinea pigs, mostly graduate students in education, psychology and librarianship, were part of a radical online search experiment run by the Syracuse University School of Library Science. SUPARS was one of many ambitious information-retrieval studies that took place between the late 1960s and mid-1970s on US university campuses. A number of factors led to the surge in this research. Developments in computer-processing capability for speed and storage had allowed academic databases and catalogues to be digitised and moved online. Computer terminals were newly modular and could be placed around campuses for decentralised access to mainframes. And military and industry funding for computer-based research was more abundant than it had ever been. Given the opportunity, academic librarians took advantage of the chance to explore this expensive new technology. In turn, universities offered unclassified environments for collaborations with corporate technology firms and military groups; SUPARS was sponsored by the Rome Air Development Center, the laboratory arm of the US Air Force.
It's easy to see why librarians of the 1970s set out to revolutionise search. Work across the academy was expanding to such a degree that, soon, there would not be enough human librarians to support all of it. Yet, to get the information they needed, researchers would face a time-consuming, physically involved process that required librarian intervention. While academic researchers could browse new issues of journals in their field, for a focused search of all that had come before they still had to consult with a reference librarian to look up the correct Library of Congress subject headings within a multivolume manual. Armed with a set of subject headings, the researcher would then search across the library catalogue for books and in citation indexes for journal articles, including subscription databases such as the Science Citation Index as well as hand-built bibliographies created by their university's subject librarians. Finally, they would physically track down the correct books and bound periodicals that included articles they thought might be relevant – if the volumes happened to be on the library shelves.
It's no wonder that SUPARS participants found the system compelling, despite its limitations. And given how familiar university librarians were with the challenges of search, it makes sense that the system they designed bypassed subject headings and citation indexes. What's more surprising is that, of all the online search experiments that took place during this period – including commercially focused search systems like Lockheed's Dialog, which has since become an enterprise product – SUPARS mimicked contemporary web search more closely than any other, prefiguring several primary features of web-search protocols we rely on more than 50 years later.
SUPARS and other largely forgotten systems were the forerunners of the contemporary search engines we have today. While the popular history of the internet valorises Silicon Valley coders – or, sometimes, the former US vice president Al Gore – many of the original concepts for search emerged from library scientists focused on the accessibility of documents in time and space. Working with research and development funding from the military and industry, their advances can be seen everywhere in the current online information landscape – from general approaches to ingesting and indexing full-text documents, to free-text searching and a sophisticated algorithm utilising previous saved searches of others, a foundational building block for contemporary query expansion and autocomplete. Indeed, these and many other approaches developed by campus pioneers are still used by the multibillion-dollar businesses of web search and commercial library databases from Google to WorldCat today.
To read the complete article, see:
Ingenious librarians (https://aeon.co/essays/the-1970s-librarians-who-revolutionised-the-challenge-of-search)
The Road to Germany's Common Currency
In the years between 1800 and 1914, Germany developed from an agricultural patchwork of countless separate territories into a unified industrial nation. If you are interested in German history, you will be familiar with the major steps of this development: from the student protests after the Congress of Vienna to the failed revolution of 1848, Prussia's three wars of unification and the founding of the German Empire.
So, was the German nation-state the result of patriotic sentiment combined with Prussia's high ambitions as a military power? That would be too much of a simplification, after all, economic factors also played into this. Customs barriers and the different currencies that circulated in a myriad of small states hampered trade and were increasingly considered medieval by citizens. Countries such as France and Great Britain had long become unified economic areas and were discussing free trade agreements. Germany still had a long way to go.
Therefore, German politicians in the 19th century endeavored to facilitate the exchange of goods and to harmonize currencies. Coinage treaties gradually paved the way for the common currency that was introduced in the new German Empire. We will illustrate this development with the coins of the Double Duchy of Saxe-Coburg and Gotha, of which some rare and outstandingly preserved pieces can be found in Künker's auction 388. The sale will be held on 22 June 2023 and present a North German private collection under the title Taler and Mark.
To read the complete article, see:
From Taler to Mark: The Long Road to a Common Currency (https://www.kuenker.de/en/information/presseinformationen/aktuelle-mitteilungen/491)
Batman's Giant Penny
When a criminal who called himself Penny Plunderer started operating in Gotham City, Batman deduced that he would strike at the local coin exhibition. The Plunderer was obsessed with Pennies and in the exhibition, there was a giant-sized penny, which was the Plunderer's target along with the first one-cent stamp in history. Batman confronted the Plunderer and used the giant penny to defeat the criminal and his henchmen. It is yet unrevealed how exactly Batman acquired the Penny, but after his victory over the Plunderer, Batman took the giant coin to the Trophy Room of the Batcave, where it has become one of the main features of the place.
To read the complete article, see:
Giant Penny (https://dc.fandom.com/wiki/Giant_Penny)
The Joan Rivers Card Catalog
When Joan Rivers died in 2014, ending one of the greatest careers in modern comedy, several groups were interested in acquiring her archives, which included a meticulously organized collection of 65,000 typewritten jokes.
Her daughter, Melissa Rivers, recalled a conversation with a representative from the Smithsonian Institution who wanted the catalog of jokes but said it would not be on permanent display. Her mind instantly went to the final tracking shot of Raiders of the Lost Ark, in which the golden Ark of the Covenant is locked inside a crate and placed in a vast warehouse with hundreds of other crates.
Instead, Rivers is donating the extensive collection to the National Comedy Center, the high-tech museum in Jamestown, N.Y., joining the archives of A-list comics like George Carlin and Carl Reiner.
Rivers, who wrote gags at all hours, paid close attention to setups and punchlines, typing them up and cross-referencing them by categories like Parents hated me or Las Vegas or No sex appeal. The largest subject area is Tramp, which includes 1,756 jokes.
To read the complete article, see:
A 'Crown Jewel of Comedy': The Joan Rivers Card Catalog of Jokes Finds a Home (https://www.nytimes.com/2023/06/08/arts/television/joan-rivers-archive.html)
Having more money than you know what to do with is usually a good thing, but for one California family, it's a little bit more complicated than that.
John Reyes, a realtor from the Inland Empire area, is trying to figure out what to do with more than 1 million pennies he and his wife discovered in her father's former home in the Pico-Union neighborhood of Los Angeles.
The pennies were found in a crawlspace way back in the basement of the home last year while the family was cleaning out the home that once belonged to John's father-in-law, Fritz.
Fritz and his brother, both German immigrants, lived in the home for decades until Fritz passed and his brother moved away.
In the years since, John, his wife, Elizabeth, her sister, her cousin and their spouses, have been cleaning out the historic home with plans to renovate it for the next generation.
They kept everything, Reyes told KTLA, adding that it's taken several years with their busy schedules to get the place clean and ready for renovations.
He says their cleaning job became a rescue mission one day last year while cleaning out the home's basement. The crawlspace was tight, literally requiring members of the family to get on their knees to reach the deepest corners.
At first, they stumbled upon some loose pennies, the paper rolls disintegrated from years of basement dwelling. Loose pennies led to crates, which led to boxes, which eventually led to the discovery of dozens of bank bags filled with an undetermined amount of pennies from decades ago.
Some of the banks don't even exist anymore, Reyes said.
The discovery was exciting, but also led to the realization that they were stuck with hundreds of thousands of pennies, each bag weighing several pounds and needing to be pulled from the crawlspace and brought into the light for the first time in years.
They did some rough mathematics, weighing the bags of pennies and determining how much each bag held, and then stopped once they felt comfortable with an estimate: at least 1 million.
Next came the question that still rings true for Reyes and his wife's family: what exactly do you do with a million pennies?
The immediate thought was cash out and be done with it.
'We've got to take these to Coinstar,' Reyes recalled thinking at the time, but they quickly changed their minds. We didn't want to pay 8%, and there's no way we can take these all the way [home] to Ontario.
They began calling around banks in L.A. to see if any of them were interested.
One Wells Fargo branch said it was just too many pennies for them to take in. 'I don't even have the room in my vault,' Reyes recalled a bank manager telling him. 'Don't bring them here.'
Their local bank didn't want to take the pennies either, urging Reyes and his extended family to go through them and search for any rarities.
Reyes begrudgingly agreed. You see all these stories of people finding pennies worth $2 million, he said. It only takes one rare coin to change everything, and they had ample opportunity to get lucky.
But they've already invested years into cleaning out Fritz and his brother's old home and they've spent months dealing with the pennies. The family is ready for someone else to finish the journey, but they want to get a fair value for the possibility the pennies promise.
Reyes listed the coins on OfferUp, a popular resale app and website, asking for $25,000. If their estimate of 1 million pennies is accurate, that's more than double the $10,000 value in normal currency.
They've received piecemeal offers from people interested in a portion of what treasures may be found in the depths of the bank bags, but no offers to take them completely out of their hands. One person offered the copper value, but that proved to be impractical and resource-heavy.
If you have the means, the desire, and an optimistic spirit, Reyes and his family are listening to offers. Although, you'll probably have to figure out how to transport them yourself.
Aidan writes:
To read the complete articles, see:
Family finds 1 million copper pennies while cleaning out Los Angeles home (https://www.abc27.com/national/family-finds-1-million-copper-pennies-while-cleaning-out-los-angeles-home/)
Family finds 1 million copper pennies while cleaning out Los Angeles home (https://wgntv.com/news/family-finds-1-million-copper-pennies-while-cleaning-out-los-angeles-home/)
Family finds 1 million copper pennies while cleaning LA home (https://www.newsnationnow.com/us-news/family-finds-1-million-copper-pennies-while-cleaning-out-los-angeles-home/)
Family finds 1 million copper pennies while cleaning out Los Angeles home (https://pix11.com/news/family-finds-1-million-copper-pennies-while-cleaning-out-los-angeles-home/)
US couple struggle to bank huge haul of pennies (https://www.bbc.com/news/world-us-canada-65839799)
To read the earlier E-Sylum article, see:
TWO MILLION DIMES STOLEN (https://www.coinbooks.org/v26/esylum_v26n16a34.html)