Visit our NBS Sponsors
About Us
The Numismatic Bibliomania Society is a non-profit association devoted to the study and enjoyment of numismatic literature. For more information please see our web site at coinbooks.org
Subscriptions
Those wishing to become new E-Sylum subscribers (or wishing to Unsubscribe) can go to the following web page link
Membership
There is a membership application available on the web site Membership Application
To join, print the application and return it with your check to the address printed on the application. Print/Digital membership is $40 to addresses in the U.S., and $60 elsewhere. A digital-only membership is available for $25. For those without web access, write to:
Charles Heck, Treasurer
Numismatic Bibliomania Society
P. O. Box 2058,
Bluffton, SC
29910-2058
Asylum
For Asylum mailing address changes and other membership questions, contact Chuck at this email address: treasurer@coinbooks.org
Submissions
To submit items for publication in The E-Sylum, write to the Editor at this address: whomren@gmail.com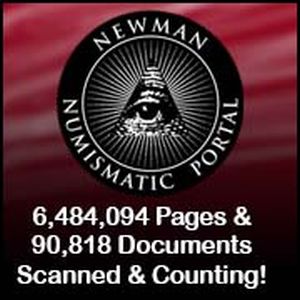 BUY THE BOOK BEFORE THE COIN
Sale Calendar
Content presented in The E-Sylum is not necessarily researched or independently fact-checked, and views expressed do not necessarily represent those of the Numismatic Bibliomania Society.
New subscribers this week include: Alexander Udwari of Münzen Gut-Lynt GmbH, and Joey Lamonte. Welcome aboard!
Thank you for reading The E-Sylum. If you enjoy it, please send me the email addresses of friends you think may enjoy it as well and I'll send them a subscription. Contact me at whomren@gmail.com anytime regarding your subscription, or questions, comments or suggestions about our content.
This week we open with a numismatic literature sale, one new book, IAPN book prize winners, updates from the Newman Numismatic Portal, Hermon MacNeil's Peace Dollar design, and more.
Other topics this week include the 1923 American Sculpture exhibition in New York City, T. James Clarke coin storage boxes, Indian Peace Medals, Mehl's Star Coin Book Junior, NLG, ANA and ANS awards, multipart medals, U.S. women coin dealers, auction sale highlights, my Baltimore Expo diary, physical cryptocurrency, and the million-penny hoard.
To learn more about the Caprara Forgeries, Chopmarked Coins, Betts medals, Steve Bobbitt, Wendell Wolka, Multi-Spectral Imaging, Counterfeit Detection, the Hickory Bank of the U.S., the the Glyn, Mills hoard, a bag of 1933 $10 gold pieces, Liar's Poker, the Erie Canal medal, the Eccleston 1805 Washington medal, the the Penny Plunderer and Batman's Giant Penny, read on. Have a great week, everyone!
Wayne Homren
Editor, The E-Sylum


Lot 919: BEGER, L. (1653-1705). Observationes et conjecturae in numismata quaedam antiqua, Parergon Laurentii Begeri, ab Antiquitatibus & Bibliotheca.
Lot 928: VAILLANT, J. Numismata Imperatorum Romanorum Praestantiora. A Julio Caesare ad Postumum usque.
By Weight, Not by Coyne - An Introduction to Chopmarked Coins
W. Taylor Leverage
As the world opened up in the Age of Discovery, new trade routes were drawn across oceans, establishing the first truly global commercial networks. Luxury goods from China, European governments, and new trading powerhouses came together to lay the foundations for modern-day corporations and international politics. At the heart of this commercial revolution was silver, the only means of exchange that found acceptance at every port - massive quantities of the metal, taken from the Spanish American colonies and ports across the world, became the lifeblood of commerce around the globe, particularly in China itself.
Much of the silver that made its way to Southeast Asia bears marks of its time spent there - chop marks, private countermarks indicating acceptable silver content. Long dismissed by many collectors as simple damage, chop marks have since gained a much more consistent following as artifacts of trade, and both the diverse range of host types and the unique histories associated with them - both of which are found in this book - make them a fascinating area for collectors.
There were 24 books entered for the competition, which was decided by vote of the membership of the IAPN at its 71st General Assembly in Marseille on 4 June.
The winner of the 2023 IAPN Book Prize is Prashant Kulkarni, a numismatist and dealer from Nagpur, India, for his Archaic Coinage of Godavari Valley and the Deccan, published by Eternal Arts and Coins LLP, Nagpur, worldwide distribution of which is via Spink in London.
Second prize went to Stéphan Sombart, senior numismatist at MDC in Monte Carlo, Monaco, for his Monnaies Royales Françaises de Louis XI à Henri IV, published by Éditions Victor Gadoury in Monaco.
A third-generation Colorado Springs native, Stephen Leslie Bobbitt was born at Glockner-Penrose Hospital on February 15, 1950, to Harry and Madeleine Bobbitt. His parents had served in the U.S. Navy during World War II and met at the Naval Air Station in Norman, Oklahoma. They married in 1944 and began a family not long after, soon settling in Colorado Springs. Steve was especially proud of his parents' WWII service, which later inspired him to explore the history of the period—especially military battles and personalities—through books, documentaries, film and museums.
Multi-Spectral Imaging at Newman Portal
The digitization lab at Washington University in St. Louis currently has access to a multi-spectral imaging system that we are making available to interested researchers. This technology allows for the recovery of obscured or illegible text in historical documents, which are scanned under lighting of varying wavelengths. Open access software (Hoku) is used to analyze the captured data. We've identified a copy of Frank Stewart's History of the First United States Mint (1924), which bears an effaced inscription, for our initial testing. For further information, contact Len Augsburger, Newman Portal Project Coordinator, at leonard.augsburger@wustl.edu.
Roger Burdette writes:
I saw the U.S. Coins Signature Summer Fun Auction notice featuring the Peace Dollar. While MacNeil submitted a design that I included in the catalogue of his works in my book, because it was not chosen, I wrote nothing about it. Since I was unfamiliar with events surrounding the coin, I did a bit of research and learned a lot.
According to articles published in late December 1921, eight sculptors had been invited to submit models for the Peace Dollar. Slated to go into circulation in January 1922, the artists were Hermon Atkins MacNeil, Chester Beach, Victor David Brenner, Anthony de Francisci, John Flanagan, Henry Hering, and Adolph Alexander Weinman. They had but a few weeks to draw or to model their designs. Anthony De Francisci, who was awarded the commission, submitted his within two weeks. As winner of the contest, De Francisci was awarded $1,500; the other seven participants were awarded $100 for their entries.
Needless to say, I especially enjoyed the article on the reopening of the Hispanic Society building. Of course, there's a MacNeil connection.
Hermon Atkins MacNeil was elected to a second term as president of the National Sculpture Society in January 1922. In that role it was his distinct pleasure a year later to write the catalogue introduction for the organization's first major event since Buffalo Fine Arts Exhibition held in 1916. In that introduction MacNeil said the Society's aim was to make the exhibition thoroughly national in scope bringing together the best work from all parts of the country as well as that of Americans living abroad.
You missed the May Pook and Pook PA antique auction containing several silver IPMs which recently sold. Many consigned by descendants of the Mabel Garvan family who donated many rare numismatic items to Yale University, but apparently not all. The auction house labeled many of the medals as "20th century replicas" which scared many potential bidders off. They weren't replicas.
The premier item was a 152mm oval 1793 engraved IPM in ext fine condition for which I was prepared to bid a solid 6 figures. I won it on the phone for $6500 hammer. The buy of a lifetime, and a duplicate for me.
On Slabbing and Coin Thefts
Alan V Weinberg writes:
To read the earlier E-Sylum articles, see:
JULIAN LEIDMAN INTERVIEW, PART FOUR (https://www.coinbooks.org/v26/esylum_v26n22a17.html)
JULIAN LEIDMAN INTERVIEW, PART FIVE (https://www.coinbooks.org/v26/esylum_v26n22a18.html)
Bruce Burton writes:
To read the earlier E-Sylum articles, see:
THE STAR COIN BOOK JUNIOR (https://www.coinbooks.org/esylum_v06n29a10.html)
WAYNE'S NUMISMATIC DIARY: JUNE 19, 2016 (https://www.coinbooks.org/esylum_v19n25a22.html)
Late last week we had an issue with the Guild's website hosting service. While it took longer than we would have liked to resolve the issue, the website is now restored. As a result of this minor hiccup, we have taken the decision to extend the deadline for awards submissions to Monday, June 19. We will be switching hosting companies in the near future to avoid any potential problems in the future.
Every year, the American Numismatic Association (ANA) recognizes members who go above and beyond with their service and dedication to numismatics. The following awards, which are presented at the World's Fair of Money®, will be awarded during the Member & Awards Celebration, Thursday, Aug. 10 from 3-4:30 p.m. in Ballroom B at the David L. Lawrence Convention Center in Pittsburgh, PA and during the 132nd Anniversary Awards Banquet, Friday, Aug. 11 from 7-10 p.m. in the Allegheny Ballroom at The Westin Pittsburgh.
The Trustees of the American Numismatic Society have awarded the 2022 Archer M. Huntington Medal Award to Dr. Wolfgang Fischer-Bossert in recognition of his outstanding contributions to numismatic scholarship.
The award ceremony will be held on July 11, 2023 at 5:30 PM ET at the ANS headquarters at 75 Varick Street, Floor 11, in New York City. Following the ceremony, the event will feature the Silvia Mani Hurter Memorial Lecture by Dr. Fischer-Bossert, entitled Displaced People and Numismatics: Greek Exile Coinages, and a reception.
A renowned scholar in ancient numismatics and archaeology, Dr. Fischer-Bossert has published on a wide variety of subjects. He is well known for his studies of Sicilian and South Italian coinages, and his monographs, Chronologie der Didrachmenprägung von Tarent 510 – 280 v. Chr. (1999) and The Athenian Decadrachm (2008). Other recent monographs include Coins, Artists, and Tyrants: Syracuse in the Time of the Peloponnesian War (2017) and Bemerkungen zum griechischen Münzrelief (2020). In more recent years, he has turned his attention to early electrum coinage, where he has published several important articles. His current major project, Early Lydian Coinage and Chronology, will present a full study of early Lydian coinage and examine the historical and archaeological context of the earliest coins.
The American Numismatic Society (ANS) is pleased to announce that the Archer M. Huntington Medal Award for Excellence in Numismatic Scholarship will feature a new medal designed by Eugene L. Daub.
The Huntington Award is conferred annually in honor of the late Archer M. Huntington, benefactor and President of the American Numismatic Society from 1905–1910. The original medal was designed by Emil Fuchs, and commemorated Huntington's gift of a building to the Society which coincided with the Society's 50th anniversary in 1908. The award was first presented to Edward T. Newell in 1918, and silver medals have been awarded to recipients up until 2021.
This is a listing of fourteen women of some prominence as coin dealers. They include three women who continued a business after the death of their husbands and two secretaries who continued after the death of their boss.
Catherine Bullowa-Moore (1919-2017) was the widow of David Bullowa. She was profiled in the June 4 issue of The E-Sylum.
Greg Bennick: Fantastic. Now tell me about the Phoenix because I know that I've received the Phoenix in the past. I was on your mailing list.
Richard Lobel: We sent you two copies of the Phoenix of two issues, and two issues of the Blue Card Flyer, which in some place, the post office are bad here and its worst in America.
Greg Bennick: Well, I look forward to receiving them.
Richard Lobel: Yeah. We published the Phoenix well, and the Blue Card Flyer, which the Blue Card Flyer only goes out to about 1,500 most active clients and it's every three weeks. So, every three weeks, we do two publications. It is a treadmill and it's -- I just had a fight with -- because I'm a week late in delivering, I said leave me alone. I own the company. Leave me alone. But the client who's in today -- he said he loves it because it's very personal in some ways. We tell it what it's like. We may tell you that it's the ugliest coin we've ever sold. But we've got it. We have two pages of rare British coins. We have four pages of banknotes. We have two pages of ancient coins, and then we have other interesting things. For instance, we're selling at the moment the new king, I want to say Prince Charles because I grew up my whole life, it was Prince Charles, but it's King Charles is gold sovereign and it's selling very well, and also the silver one ounce. And it's the first one with his portrait. And we're selling those. And we're not the cheapest, but those, unfortunately, the silver ones have 20% VAT on them. And there's nothing you can do about that. So, it's a killer. But we're selling what we think people will be interested in.
For instance, I mentioned to you that I did a medallion for the investiture of Prince Charles. Well, we've done them again silver plated and gold plated. And we put them in a nice case and we give you a first day cover of the five stamps for his investiture and the five mid stamps. And we put the whole thing together and we sell it for 18.95. So, we're not trying to screw anyone. We're trying to give you…we'd like to think we're giving you value for money. Certain things the cheaper items, we have to be much more expensive because it's cost of handling them.
Lot 4216. Reno National Bank National Currency Note Signed by Geo. Wingfield, CH. 8424
Münzen Gut-Lynt, Auction 12 on June 24th and 25th 2023, 10 a.m. Berlin Time
The Gut-Lynt Auction 12 offers you more than 3000 lots to be auctioned over two days. The first part on Saturday, 24.06.2023 at the usual hour from 10 a.m., includes a significant special section of banknotes as well as an offer of numismatic literature. On Sunday, 25.06.2023, also at 10 a.m., the second part, coins and medals from antiquity, Germany and all over the world, will continue.
This large number of lots promises an extensive offer from the broad spectrum of numismatics, notaphily as well as the related and still important literature.
The start of this weekend auction will be marked by approx. 900 lots of banknotes with numerous rarities. Among them is one of the rarest banknotes of the German Empire. In addition to paper money from Germany, there are many samples and numerous cash-fresh and sought-after notes from abroad.
I spent Thursday afternoon and evening in Baltimore at the Whitman Coin Expo. The summer event is smaller than the fall and spring shows, but there were still plenty of people and activity.
I took a number of photos, starting with a display at the Stack's Bowers table of upcoming lots from the Syd Martin collection. Sorry for the glare from overhead lighting.
Police recovered dozens of ancient coins that were allegedly illegally excavated — among them a rare coin from the time of the last Hasmonean king of Judea over 2,000 years ago — during a search in East Jerusalem overnight, the Israel Antiquities Authority said Wednesday.
The currency was recovered from the suspect's home in the Silwan neighborhood and includes bronze coins ranging from the Roman period until the Muslim period. The IAA said in a statement that coins from the reign of Antigonus Mattathias II (40 BCE – 37 BCE) are the rarest finds among those minted from the Hasmonean period.
Stack's Bowers Galleries is proud to announce the Physical Cryptocurrency session of their June 2023 Showcase Auction—the firm's seventh such offering since first entering this market in 2021. Presented is a thrilling selection of the most formidable crypto rarities, as well as collector-favorites that are making their live auction debut.
Noteworthy is a 2013 Casascius Gold Rim 1 Bitcoin in silver that is tied for the finest known at PCGS with a grade of Proof-69 Deep Cameo. Also presented is its counterpart from the Lealana series: a 2013 Lealana Gold B 1 Bitcoin graded Proof-69 Deep Cameo (PCGS). An example sold in Stack's Bowers Galleries' April 2022 auction and set the company record for a 1 Bitcoin at $108,000. Perhaps a new record will be established by the end of the June sale.
Among numismatically popular early medals associated with the life of George Washington, the Eccleston medal of 1805, from dies cut by Thomas Webb, is certainly the largest (76 millimeters), and it is among the most interesting.
At first glance, this seems to be a satirical medal. Washington is encased in a heavy suit of armor, a singular conceit, noted W.S. Baker in his 1875 book on Washingtoniana. At the center of the reverse is an Indian (Native American) with the surrounding inscription, THE LAND WAS OURS. It seems that Eccleston, a highly eccentric Englishman, meant the medal as a tribute.
According to his own account, Eccleston spent time in America in the late 18th century and was Washington's guest at Mount Vernon. No confirmation of this has been found.
This reproduction Victoria Cross is made from lead-free pewter. It is supplied with ribbon in a clear medal wallet and colour header card.
Throughout an unusually sunny Fall in 1970, hundreds of students and faculty at Syracuse University sat one at a time before a printing computer terminal (similar to an electric typewriter) connected to an IBM 360 mainframe located across campus in New York state. Almost none of them had ever used a computer before, let alone a computer-based information retrieval system. Their hands trembled as they touched the keyboard; several later reported that they had been afraid of breaking the entire system as they typed.
The participants were performing their first online searches, entering carefully chosen words to find relevant psychology abstracts in a brand-new database. They typed one key term or instruction per line, like 'Motivation' in line 1, 'Esteem' in line 2, and 'L1 and L2' in line 3 in order to search for papers that included both terms. After running the query, the terminal produced a printout indicating how many documents matched each search; users could then narrow down or expand that search before generating a list of article citations. Many users burst into laughter upon seeing the response from a computer so far away.
The Road to Germany's Common Currency
In the years between 1800 and 1914, Germany developed from an agricultural patchwork of countless separate territories into a unified industrial nation. If you are interested in German history, you will be familiar with the major steps of this development: from the student protests after the Congress of Vienna to the failed revolution of 1848, Prussia's three wars of unification and the founding of the German Empire.
So, was the German nation-state the result of patriotic sentiment combined with Prussia's high ambitions as a military power? That would be too much of a simplification, after all, economic factors also played into this. Customs barriers and the different currencies that circulated in a myriad of small states hampered trade and were increasingly considered medieval by citizens. Countries such as France and Great Britain had long become unified economic areas and were discussing free trade agreements. Germany still had a long way to go.
Therefore, German politicians in the 19th century endeavored to facilitate the exchange of goods and to harmonize currencies. Coinage treaties gradually paved the way for the common currency that was introduced in the new German Empire. We will illustrate this development with the coins of the Double Duchy of Saxe-Coburg and Gotha, of which some rare and outstandingly preserved pieces can be found in Künker's auction 388. The sale will be held on 22 June 2023 and present a North German private collection under the title Taler and Mark.
To read the complete article, see:
From Taler to Mark: The Long Road to a Common Currency (https://www.kuenker.de/en/information/presseinformationen/aktuelle-mitteilungen/491)
Having more money than you know what to do with is usually a good thing, but for one California family, it's a little bit more complicated than that.
John Reyes, a realtor from the Inland Empire area, is trying to figure out what to do with more than 1 million pennies he and his wife discovered in her father's former home in the Pico-Union neighborhood of Los Angeles.