Visit our NBS Sponsors



About Us
The Numismatic Bibliomania Society is a non-profit association devoted to the study and enjoyment of numismatic literature. For more information please see our web site at coinbooks.org
Subscriptions
Those wishing to become new E-Sylum subscribers (or wishing to Unsubscribe) can go to the following web page link
Membership
There is a membership application available on the web site Membership Application
To join, print the application and return it with your check to the address printed on the application. Print/Digital membership is $40 to addresses in the U.S., and $60 elsewhere. A digital-only membership is available for $25. For those without web access, write to:
Jeff Dickerson, Treasurer
Numismatic Bibliomania Society
P. O. Box 578,
Weatherford, TX 76086

Asylum
For Asylum mailing address changes and other membership questions, contact Jeff at this email address: treasurer@coinbooks.org
Submissions
To submit items for publication in The E-Sylum, write to the Editor at this address: whomren@gmail.com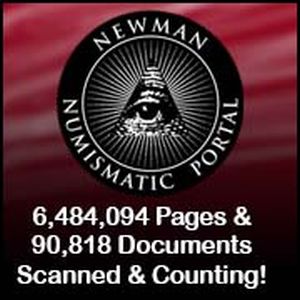 BUY THE BOOK BEFORE THE COIN
Sale Calendar
Content presented in The E-Sylum is not necessarily researched or independently fact-checked, and views expressed do not necessarily represent those of the Numismatic Bibliomania Society.
New subscribers this week include: Harold Fears. Welcome aboard!
Thank you for reading The E-Sylum. If you enjoy it, please send me the email addresses of friends you think may enjoy it as well and I'll send them a subscription. Contact me at whomren@gmail.com anytime regarding your subscription, or questions, comments or suggestions about our content.
On this date in 1863, Abraham Lincoln delivered the Gettysburg Address at the dedication of the Soldiers' National Cemetery in Gettysburg, Pennsylvania.
This week we open with a signed Red Book offering, four new books, a review, updates from the ANA and Newman Numismatic Portal, and more.
Other topics this week include Barber coins, a coin identification and grading app, Taylor Swift's great-grandfather banker, the Money Museum of the National Bank of Detroit, oroide, Coin-A-Rama City, fixed price and auction offerings, ancient coin hoards, the Inverted Jenny, and a 1624 bond that still pays interest.
To learn more about the Alpha Bank Collection, paper money dealers, the Reading Room, the Susan B. Anthony Dollar, counterfeit coins in fake PCGS holders, semiquincentennial quarter design ideas, Sprague and Blodgett's Georgia Minstrels, another numismatic Titanic relic, the Abundance medal, the Kingdom of Pomona, the Pedley Ryan dollar, mutoscopes, scrip payable in salt, John Dannreuther and I-shoulda-bought-that-when-it-was-cheap remorse, read on. Have a great week, everyone!
Wayne Homren
Editor, The E-Sylum


For the complete story and text of the Gettysburg Address, see:
The Writer's Almanac from Sunday, November 19, 2017 (https://thewritersalmanac.substack.com/p/the-writers-almanac-from-sunday-november-cb8)
George Cuhaj writes:
For more information, or to bid, see:
https://www.ebay.com/sch/i.html?item=115978169393&rt=nc&_trksid=p4429486.m3561.l2562&_ssn=cuhaj
Monnaies Françaises, 1789-2023
Author: Pastrone
Publisher: Editions V. Gadoury
Year: 2023
Language: French
Price: € 39.00
This year Gadoury is celebrating its fiftieth anniversary of the edition of the red book 1973-2023:
TRADITIONAL NUMBERING We have integrated all the essays and pieforts into the book according to the numbering of the famous 1989 special edition.
NEW CHAPTERS Numerous essays, pieforts and Convention, Constitution, Louis Philippe, Henri V, 1st Republic and Government of National Defense tests added in this new edition.
MANY NEW PHOTOS The most beautiful coins sold in the best auctions around the world.
UNPUBLISHED COINS As in each new edition, our experts have pointed out coins and variants not listed in previous editions.
CISALPINE REPUBLIC The 6 Lire and 30 Soldi coins of the Cisalpine Republic 1800 - 1802 not listed in previous editions.
We had to adapt to the global rise in prices and, after more than 20 years of unchanged prices, the price of this new 2023/24 edition increases to 39 euros.
For a video look at the book (narrated in French), see:
50ème anniversaire du Livre Rouge des Monnaies Françaises 1789-2023 (https://www.youtube.com/watch?v=pBt8Vvr985c)
For more information, or to order, see:
FRENCH COINS 2023 FIFTY YEARS (https://www.gadoury.com/en/books/monnaies-francaises-2023-cinquantenaire)
To celebrate the 50th anniversary of the creation of its world-famous Numismatic Collection, Alpha Bank recently organized two major retrospective exhibitions, one in Athens and one Bucharest, Romania.
The first exhibition under the title "The Other Side of the Coin" took place at Goulandres Museum, Athens, Greece. The catalogue presents 150 rare coins from this collection, today one of the most important of its kind.
The second exhibition under the title "Two Sides of the Same Coin" took place at the Museum of the National Bank of Romania. The catalogue presents 100 of the most important coins from the Alpha Bank Numismatic Collection, which travelled to Romania for the exhibition and explores coins as both a means of transactions and a work of art that narrates stories and captures moments from the era in which they circulated.
To remind to those interesting for Greek coins that the pioneer who organized this great collection was the Greek numismatist A. Tzamalis, who seems to have been forgotten from today's curators.
THE OTHER SIDE OF THE COIN: Persons - Images - Moments
by D. Tsangaris (ed,)
Athens, 2023. In English. Soft cover, 30 cm, 276 pp., ill.; net weight 1680 gr. ISBN: 978-618-5072-50-6.
Orders at: https://www.biblio.com/book/other-side-coin-d-tsangaris-ed/d/526197814
TWO SIDES OF THE SAME COIN - Means of Transactions: Masterpieces of Art
by D. Tsangaris (ed.)
Athens, 2023. In English. Hard cover, 30 cm, 192 pp.; rich illustration; net weight 1250 gr. ISBN: 9786185072520.
Orders at: https://www.biblio.com/book/two-sides-same-coin-means-transactions/d/1570426334
For more information on the Alpha Bank numismatic collection, see:
https://www.alphapolitismos.gr/en/numismatic-collection/
Paper Money dealers have all the fun as noted in Len Glazer's long-awaited new work. This book of 164 pages tells how Paper Money dealers enjoy themselves at shows. If you have a favorite dealer, you will find him or her in the pages that abound with pictures and illustration which tell of our way to enjoy life.
Soft Bound Book $50.00 postpaid
Hard Bound Book $80.00 postpaid
You will love this book!
Author
Len Glazer, a co-founder, and president of Currency Auctions of America, is widely recognized as one of the country's foremost authorities on paper money. Still in high school, he entered the market as a coin dealer at local trade shows and continued to buy and sell coins throughout his years at St. John's University. Before graduating, he became a recognized dealer of - and authority on - Fractional Currency. In 1975, Len founded Fractional Currency Incorporated.. In 1990, Len helped start Currency Auctions of America, Inc. Today, Len Glazer is recognized as the country's foremost authority on Fractional Currency, as well as one of the most respected figures in the entire paper money community.
Denly's of Boston
P.O. Box 29
Dedham, MA 02027
(781) 326-9481
tom@denlys.com
For more information, or to order, see:
https://www.denlys.com/
https://www.google.com/books/edition/Paper_Tigers/KEfDzwEACAAJ?hl=en
Like previous editions, Bowers begins his look at the three Charles E. Barber silver series by establishing the historical context within which the new coins appeared. He recounts the work of three judges to choose the best entry from a group of submissions. In the end, the three concluded that none of the submissions were decided improvements over the then-circulating Liberty Seated design.
Of course, one of the judges was Mint Chief Engraver Charles E. Barber, and in the end, Mint Director Edward O. Leech chose Barber for the design. Unfortunately, his creations did not meet with universal acclaim. One writer began his critique with the following sentence: The mountain has labored and brought forth a mouse.
In one of the book's many interesting chapters, Bowers gives the reader a look at what was happening in current events and on the numismatic scene in each of the years that Barber silver coins were produced. Having a personal interest in a few of the years, I looked at what Bowers had to say about 1905, the year my late father-in-law was born.
To read the complete article, see:
Review of Third 'Guide Book of Barber Silver Coins' (https://www.numismaticnews.net/collecting-101/review-of-third-guide-book-of-barber-silver-coins)
To read the earlier E-Sylum article, see:
NEW BOOK: GUIDE BOOK BARBER SILVER COINS 3RD ED. (https://www.coinbooks.org/v26/esylum_v26n26a04.html)
The team behind the American Numismatic Association's (ANA) official publication, The Numismatist, has launched the Reading Room - a brand new ANA member benefit. This online publication allows members the opportunity to stay on top of breaking industry news, access exclusive articles, read fan-favorite columns from The Numismatist, and listen to audio versions of articles on the go.
Through December 15, you can access the Reading Room, even if you aren't an ANA member.
This virtual portal, accessible from mobile devices, tablets, and desktop computers, offers:
News articles delivered weekly, including stories not appearing in the magazine.
A weekly "Notable News" article covering numismatic headlines.
Two monthly "Reading Room Exclusive" articles covering various topics.
Access to "U.S. Coins," "Paper Money," "Tokens & Medals," and "Counterfeit Detection" two weeks before the digital edition of The Numismatist is published.
Exclusive feature articles published throughout the year.
A monthly eBlast to members and subscribers, "Reading Room Rundown," will include links to the editor's top five stories, a relevant article from the archive (with audio), and notable news from the world of numismatics.
To visit the ANA Reading Room, see:
https://readingroom.money.org/
Eric Brothers on the Susan B. Anthony Dollar
The Fall 2023 issue of Financial History, recently published by the Museum of American Finance, includes an article by Eric Brothers on the Susan B. Anthony dollar. This journal often contains well-written numismatic content and deserves to be more recognized among coin and paper money collectors.
Brothers explores the related legislation, artistic development, and public reception of this well-intentioned but failed coin. In 2022, Newman Portal scanned the Frank Gasparro papers at the American Numismatic Association, which includes additional background information on the Anthony dollar, including Gasparro's clip file, drawings, and concept renderings of Liberty.
Image: Gasparro sketch for Susan B. Anthony dollar, courtesy of the National Museum of American History
Link to Financial History on Newman Portal:
https://nnp.wustl.edu/library/publisherdetail/519588
Link to Frank Gasparro papers on Newman Portal:
https://nnp.wustl.edu/library/archivedetail/801
Mr. Gilkes, the senior staff writer for Coin World, covers the U.S. Mint beat and has extensive knowledge of U.S Mint products. Today he will discuss certain mint items of particular interest to a large segment of modern coin lovers. Classic coin collectors, too, will gain some real insights from one of the very best numismatic reporters in the land, the one and only Paul Gilkes! Speaker: Paul Gilkes. Running time: 34:55.
To watch the complete video, see:
https://nnp.wustl.edu/library/book/540312
Do you remember a few weeks ago when I brought up how OpenAI's artificial intelligence models were making major strides in generating realistic images of coins? Well, OpenAI just made another massive update with the release of GPTs. GPTs are a way to create highly customized ChatGPT apps.
I got access to it and in less than 10 hours I was able to create the initial alpha build of Numi, a fine-tuned version of ChatGPT4 specifically made to provide objective grading estimates and coin identification.
You can upload up to 10 photos of a coin and the AI will run a combined analysis. You will get back info such as:
Short Description
Coin Type
Year
Mint Mark
Estimated Grade
What's cool is that you can continue the conversation with the AI to learn more about your coin.
Want to know who designed the coin?
Want to know why a certain symbol was used?
Just follow up and ask!
In order to access it, you will need to have a ChatGPT Plus subscription [paid]. But here is a video demo of the app in action in case you don't have a subscription.
AI is making massive gains and numismatists can now create any app they want. It's amazing how in less than I day I created an app to help automate grading. I'm excited to see what others have in store.
I don't make any money from this free app as I consider it a project to help out the community. I would welcome any feedback from readers. I'm looking for ways to improve the AI model and user experience. Readers can contact me via my email justintsn10@gmail.com .
To watch the video demo, see:
https://i.imgur.com/5rZzOVa.mp4
I have significantly revamped Numi to be more accurate and concise. I have also integrated Numi to have access to Numista's database. Users can now just not only use Numi to identify and grade their coins, but they can also follow up and ask Numi for additional facts about their coins. Facts such as:
Mintage figures
Coin values
Coin details such as composition, diameter, weight, etc
One of the main parts of building Numi was giving it highly custom instructions and grading criteria. I've been actively testing Numi with my local coin shop and at coin club meetings. It has been honestly thrilling (and a little scary) when I pull out Numi and test it live out in the field. Some collectors were blown away. Others simply scoffed and brought up memories of Compugrade back in the 1990s.
Numi's grading is still not perfect, and there are still inconsistencies. But they are decreasing by the day with more testing and fine-tuning. Readers should consider that Numi is still in the alpha stage. It's very much a proof of concept right now to validate if AI models have gotten so good that AI grading is now truly viable.
AskNumi.com
I also got a web domain for Numi. Readers can use AskNumi.com for easier access to the AI chatbot. Much easier than remembering https://chat.openai.com/g/g-A6VlWyUDW-numi
Ancient Coins
I updated Numi to handle identifying and grading ancient coins. Here are some results.
Denarius - Julius Caesar (CAESAR; Elephant)
AI Grade: Choice Very Fine (Ch VF)
Full AI Response
Video
Denarius - Sextus Pompeius
AI Grade: Choice Very Fine (Ch VF)
Full AI Response
If I could relay one message to readers, it would be this. The full force of Artificial Intelligence is coming to numismatics very soon. It won't impact just grading, but everything. If ChatGPT4 is this powerful, just wait until we see the release of ChatGPT5 next year.
Insights
An online collector asked me why I built Numi. Below is a copy of what I sent to them:
Additional Materials
Here is a video of Numi in action
To Keep In Mind
In order to access Numi or any of the thousands of custom GPTs being made right now, users will need to have a ChatGPT Plus subscription to OpenAI [$20 a month].
If I can validate that Numi is viable, I will work on a more open and free version of Numi so everyone can have access. A heads up though, demand for GPTs got so high that OpenAI has temporary paused ChatGPT Plus signups. Hopefully they will allow signups again soon.
Request to the community
There are two requests I have for the community/readers. My first request is for high-quality photos of lower graded slabbed coins. I do not have any graded slabs between Poor (PO) and About Uncirculated (AU). I would need at least 8 high-quality photos [4 on each side]. I will provide the reader with a copy of the results and Numi's response.
My second request is for readers who consider themselves advanced/expert coin graders. Here is a link to a google word doc outlining the exact grading standards that Numi uses to grade coins. These grading standards were made using a combination of the top third-party grader's standards, as well as feedback I have gotten from experienced graders in the hobby. I am turning to the wisdom of the crowds to get their thoughts on the wording of these standards. If you would like to leave your thoughts to help make Numi more accurate, please consider leaving a comment in this google doc. Your feedback will be invaluable in making Numi more accurate for the hobby.
for more about Justin Hinh, see:
https://justinhinh.webflow.io/
Here's a brief overview of the development process:
Creation Effort: It took about 10 hours to develop an alpha build. The key task was fine-tuning the AI with detailed custom instructions [all written in English] and background documents [also in English] about coin grading, particularly the Sheldon scale.
Here are some of the custom instructions I used:
Example Challenge and Solution: Initially, Numi struggled with identifying 's' mint marks on US coins. I updated the instructions to give it context about proof coins, and now it can better identify proof coins and give a PR grade rather than an MS grade.
Interface and Back-end: The app uses OpenAI's existing chat interface. There was no work done, or needed, to update the front-end user interface. The back-end customization involved only instructing the AI in natural language, without coding. It is possible to link the app to 3rd party APIs so the AI can interact with outside websites. One feature I will build is eBay integration so that users can pull up recently sold listing and see how much their coins [with the estimated grade] is worth.
Field Testing: I went to my local coin shop yesterday and tested the app with the shop owner. Results were mixed, with some estimates being in the ballpark while other estimates were off by as much as 20 points. I'm working on improving this by experimenting with lighting conditions and additional instructions.
The AI is not consistent at the moment. I am testing out various lighting conditions, adding new custom instructions, etc. I'm excited when OpenAI allows videos to be uploaded instead of just photos. Videos have a lot more info and may be the key to successful grading estimates.
Ability to follow up on conversations
One of the best things about Numi is it does much more than identify and grade coins. Users can ask follow-up questions to learn more about their coins. Users can follow up with questions such as:
Who designed this coin?
What are the mintage figures?
Tell me more about the history of this coin
Example Results
Jefferson Nickel - 1980 S Proof
Lincoln Wheat Cent - 1948 D
AI Grade Given: VF 20 - VF 25
Mexico One Peso - 1971
Another collector asked me how I built Numi and what I think is next. Below was my response:
I'd appreciate it if readers could send photos of their slabbed coins (8-10 photos, 4-5 per side, with the grade out of view for testing. Once I run the analysis, I'll report back to the reader and then they can give me the grade of the coin [if they know].
I would also love to get feedback from advanced/expert coin graders on Numi's current grading criteria. You can see the exact criteria in this Google word doc and leave comments there.
Readers can contact me at justintsn10@gmail.com. I am also actively updating the app and posting results on my Instagram page for those who would like to follow my progress.
For more information on GPTs, see:
Introducing GPTs (https://openai.com/blog/introducing-gpts)
To read some related articles, see:
GPT is a New Type of Computer (https://embracingenigmas.substack.com/p/gpt-is-a-new-type-of-computer)
Opinion How AI could revolutionize banking and eliminate much of the risk (https://www.washingtonpost.com/opinions/2023/11/17/ai-big-banks-risks/)
for more about Justin Hinh, see:
https://justinhinh.webflow.io/
To read the earlier E-Sylum articles, see:
THE HISTORY OF THE COIN LIBRARY (https://www.coinbooks.org/esylum_v17n51a09.html)
NOTES FROM E-SYLUM READERS: OCTOBER 8, 2023 : AI-Generated Numismatic Images (https://www.coinbooks.org/v26/esylum_v26n41a14.html)
Jim Haas writes:
Dave Schenkman writes:
Loren Gatch writes:
Loren adds:
To read the complete article, see:
WAYNE'S NUMISMATIC DIARY: NOVEMBER 12, 2023, PART 2 : Taylor Swift (https://www.coinbooks.org/v26/esylum_v26n46a24.html)
More on the Ames Monument
Regarding the Ames Monument, Steve Mengler writes:
To read the earlier E-Sylum article, see:
SAINT-GAUDENS' GREAT PYRAMID PORTRAITS (https://www.coinbooks.org/v26/esylum_v26n45a21.html)
Counterfeits in Fake PCGS Holders
Jack D. Young writes:
To watch the complete video, see:
Fake PCGS Slabs!? Learn how to spot them! (https://www.youtube.com/watch?v=1YIM3yIAfhE)
On That Unusual Star Note

Jim Haas writes:
To read the earlier E-Sylum article, see:
WAYNE'S NUMISMATIC DIARY: NOVEMBER 12, 2023, PART 2 : An Unusual Star Note (https://www.coinbooks.org/v26/esylum_v26n46a24.html)
On Those Morgan Dollar Bells
Michael Wehner writes:
Michael adds:
To watch the video, see:
Making a Coin Bell from two half dollars (https://www.youtube.com/watch?v=3Zkaty-mEBc)
To read the earlier E-Sylum article, see:
NUMISMATIC NUGGETS: NOVEMBER 12, 2023 : Morgan Dollar Bell (https://www.coinbooks.org/v26/esylum_v26n46a22.html)
John Regitko of Toronto, Canada writes:
During one of my visits to see friends in Michigan in the 1990s, I stumbled across the Money Museum of the National Bank of Detroit. Other than errors & varieties, I owned quite a collection of primitive forms of money. So when I entered the museum, it was like a kid entering a candy store, since the majority of the displays were taken up by unusual forms of money from around the world, as these photos attest to.
The National Bank of Detroit (NBD) was founded in 1933 in the midst of widespread bank failures during the Great Depression. Spurred by the Reconstruction Finance Corporation (RFC) to help stabilize the nation's banking system, NBD's shares were initially equally owned by General Motors and by the U.S. government under the RFC. The bank opened for business on March 24, 1933. By 1945, GM had divested of its ownership in NBD and by 1947 the RFC had ended its involvement.
The National Bank of Detroit (NBD) was a bank that operated mostly in the Midwestern United States. It also had overseas branches in England (London), Canada (Toronto and Windsor) and Japan (Tokyo).
NBD merged with the First National Bank of Chicago in the mid-1990s; the combined bank was called First Chicago NBD. Branches in some states (e.g. Michigan) retained the NBD name, while branches in others (e.g. Illinois) changed to First Chicago. It was at the time of this merger that the numismatic museum was closed.
First Chicago NBD later merged with Bank One, which eliminated the NBD name. Bank One was itself purchased by JPMorgan Chase & Co. As of March 2006, all former NBD branches carry the Chase name.
The museum, which used to reside in the formerly-named National Bank of Detroit Building (later renamed Chase Tower) has, unfortunately, disappeared.
While the one cent, five cent, dime, and half dollar are not specifically mentioned, they are referred to in the '(D) paragraph, when they specifically mention the half dollar, heretofore NOT mentioned by denomination.
In 1976, we used the Kennedy half and the Eisenhower dollar to honor bicentennial. Neither were there in 1776-but it didn't matter. We honored the concept of 1776 on the coins and not the person. Due to the incumbency of the six principal designs gracing our coins, with no term limits, many people have been overlooked.
2026 would be the perfect time to use some of these overlooked people. In 1776, the three races living in the 13 colonies were the Native Americans, the Black or African Americans. And the White Americans. Representing these three races, on the coins in 2026, some of the overlooked.
For the one cent coin-Chief Red Cloud, with a 1776 reverse design.
For the five-cent coin-Ronald Reagan, with a 1776 reverse design.
For the dime-Eleanor Roosevelt, with a 1776 reverse design.
For the half dollar-Martin Luther King Jr., with a 1776 reverse design.
And for the dollar coin-Theodore Roosevelt, with a 1776 reverse design.
One of the quarter dollar designs must be emblematic of a woman's or women's contribution to the birth of the Nation or the Declaration of Independence or any other monumental moments in American History.
* The Legislation is vague and does not specify-obverse or reverse for the quarter, therefore, I contend that it can apply to either the obverse, or the reverse, or even both, as is the case in my presentation. And since the secretary can change any designs and this legislation does not specify that the quarter must carry a likeness of George Washington for the 2026 coins, I am offering FIVE different semiquincentennial faces for the quarters.
. . . designs must be emblematic of a woman's or women's contribution to the birth of the Nation or the Declaration of Independence or any other monumental moments in American History. This design represents another version of Independence, in 1865-Juneteenth.
REFERENCES
George Washington Quarter
https://commonplace.online/article/face-value/?print=print
Minuteman
https://news.coinupdate.com/army-commemorative-coin-designs-0574/
Jefferson Quarter
https://www.nga.gov/collection/art-object-page.215299.html
https://coinappraiser.com/coins/1782-libertas-americana-medal/
https://www.apmex.com/product/88901/1926-gold-2-50-america-sesquicentennial-bu
https://www.coinnews.net/2015/01/22/2015-75-high-relief-gold-coin-design-candidates/
Ben Franklin Quarter
https://www.lookandlearn.com/history-images/YW002035VEL/Benjamin-Franklin
https://www.pcgs.com/coinfacts/coin/1992-p-50c-olympic/9920
Martha Washington Quarter
http://coinsblog.ws/2016/01/your-change-is-not-changing.html/martha-5c-test-strike-cpz_merged
https://www.irenebrination.com/irenebrination_notes_on_a/2010/11/american-flag-and-fashion-betsy-ross.html
Harriet Tubman Quarter
https://www.marylandmatters.org/2020/02/11/sculptures-of-harriet-tubman-frederick-douglass-officially-unveiled-in-the-state-house/
License plate reverse based on the Texas License plate
https://en.wikipedia.org/wiki/Vehicle_registration_plates_of_Texas
To read the earlier E-Sylum article, see:
SEMIQUINCENTENNIAL DOLLAR DESIGN IDEAS (https://www.coinbooks.org/v26/esylum_v26n43a12.html)
We (the Fairbanks Coin Club, Alaska 4H Clubs and the Alaska State Legislature) tried to get the Elizabeth Peratrovich Dollar released to circulation. The US Mint grudgingly made them available to banks with stringent limitations, pretty much ignoring the wishes of the State of Alaska.
BYW, only 4,000 of the Peratrovich dollars were issued to banks in Alaska: 3,000 to Mt. McKinley Bank in Fairbanks (ordered for us to put into circulation), and 1,000 to the Tongass Federal Credit Union - far cry from the 5,000,000 requested by the Alaska State Legislature.
These were the first dollar coins released to circulation since... 2011?
I was getting low, so tried to order more after the first of the year and the bank was told the program had ended. At that point, I stopped handing them out as change.
Here's a thought - legislation to require any non precious metal commemorative coin minted by the U.S. Mint would be released into circulation at face value.
It would not have to be in huge numbers, but in some way that is better than what they did for us on the Peratrovich dollar. Even ordering them from the Mint website (at face value, plus surcharge for credit cards and shipping) would be preferable and more successful than what they did with the Peratrovich dollars.
In any case, The E-Sylum is a good place to plant a thought and perhaps someone with more influence than I could whisper in the right person's ear and maybe something could happen.
To read the earlier E-Sylum articles, see:
NATIVE AMERICAN COIN FIGURE PERATROVICH (https://www.coinbooks.org/v22/esylum_v22n42a16.html)
PERATROVICH DOLLAR RELEASE LOBBIED IN ALASKA (https://www.coinbooks.org/v22/esylum_v22n46a09.html)
PERATROVICH DOLLAR RELEASE BILL GAINS GROUND (https://www.coinbooks.org/v23/esylum_v23n05a21.html)
PERATROVICH DOLLAR MAY CIRCULATE IN ALASKA (https://www.coinbooks.org/v23/esylum_v23n08a27.html)
Oroide. A brass alloy resembling gold in color and brilliancy widely used in striking low-cost coin-like and token-like medals. A typical alloy of oroide (pronounced
O-row-ide) is 85% copper, 15% zinc or tin. It is malleable, easy to strike, and does not readily corrode or tarnish. It is sometimes known as artificial gold, golden bronze, or goldene; and often mistaken for bronze gilt. Infrequently spelled oreide in England. Items struck in oroide can be electroplated quite successfully, and – like brass – such an electroplated item would bleed yellow should the plated metal wear thin.
The first use of oroide in America was in 1862 by John Adams Bolen for his George Washington Avoid the Extremes of Party Spirit Medal. Many low-cost storecards, and medals (particularly for expositions) were struck in this composition as well as tokens and give-away coins – always issued in coin finish to preserve its gold-like color. U. S. Mint Superintendent Oliver C. Bosbyshell once called a Grover Cleveland Columbian Expo Medal (Eglit 1) struck in oroide as cheap brass.
The use of this alloy grew in the 19th century and into the 20th century. It is still used in the 21st century for an inexpensive composition in simple imitation of gold. See composition (2).
To read the complete entry on the Newman Numismatic Portal, see:
Oroide (https://nnp.wustl.edu/library/dictionarydetail/516436)
To read the complete lot description, see:
Undated (ca. 1862) Avoid The Extremes of Party Spirit Medal. By John Adams Bolen. Musante GW-563, Baker-258A, Musante JAB-6. Oreide. MS-... (https://auctions.stacksbowers.com/lots/view/3-PDMVV/undated-ca-1862-avoid-the-extremes-of-party-spirit-medal-by-john-adams-bolen-musante-gw-563-baker-258a-musante-jab-6-oreide-ms-)
Coin-A-Rama City was an incubator for numismatics in the Los Angeles area. It opened on Saturday, March 2, 1963, in Hawthorne, California, with more than 3000 square feet of space. On opening day, they claimed more than 2000 visitors.
The location hosted three to eight permanent dealers in separate booths. George Ray was listed as owner and operator. Others included at various times were Anlyn Coins, Dick Barlow d/b/a National Coin Broker, Ronnie Downing (1943-1997), Eddie Doyle, (Volney) Allen Harriman (1933-1985), Dan Long, James Miladin (1908-1969) and Pauline Miladin (1923-2014), Orvil L. Payne (1920-2001), Bill Rayburn, Leroy Schmidt and Bill Simpson.
Their schedule changed over the years. At one time Tuesday evenings had coin auctions. At other times there was a free coin show on Tuesdays.
On Wednesday evening they were open for Swap-a-Rama where anyone could rent a table for $2.00. Initially entrance fee was 50 cents.
Coin-A-Rama City claimed to have the world's largest bid board. Dealers and collectors could post coins with each sale ending on Friday evening. The venue got a small percent of the sales price.
This message was posted on the Collectors Universe U. S. Coin Forum:
They hosted three day shows on weekends so the location had activity seven days a week including evenings. Table cost for three days was $7.50.
A one-ounce silver bar was produced for the tenth anniversary of Coin-A-Rama City. These were issued by the Mother Lode Mint. I suspect this does not represent an accurate image of the coin shop. Likewise, it was not intended to show a typical customer.
In the early 1960's, there was a dealer emphasis on trading BU rolls of coins. This was an investor market but overlapped into the collector market as collectors set aside new coins as they were issued.
One of the original dealers was Orvil L. Payne. He saw a need for a dealer price guide and began publication out of a back room at Coin-A-Rama City. The first four-page issue was called The National Coin Brokers Bulletin with a publication date of Friday, June 14. 1963. That issue stated, The National Coin Brokers Bulletin is an up-to-the-minute statistical analysis of the BU roll market business as transacted on the United States Coin Exchange Teletype Service.
For the second issue, the name was changed to Coin Dealer Newsletter. It was published by Clearmark Company in Gardena, California. Early issues showed Orvil L. Payne as editor, Eileen Lawson as associate editor and James D. Miladin as market analyst.
In August of 1969, there was an announcement that the newsletter had been acquired by Prosper-Way, Inc. They quickly changed their name to World Mint, Inc. Allen Harriman was then the editor. He bought half interest in 1969 and full interest in 1973.
Ronnie D. Downing bought the newsletter in 1984 and ran it until his death in 1997. In 1985, Dennis R. Baker was editor with Allen Harriman consulting editor. Later Edward Judd was consulting editor. In 1997 management was then taken over by his son, Shane Downing (1968-2015) until his death in 2015.
Whatever happened to George Ray? His name last appears in Coin World in 1970. In November of 1986, they advertised the grand opening of the new Coin-A-Rama City at the same location.
A recent photo shows the building probably unchanged since it was the location for Coin-A-Rama City. The entry door would be second from the right. Today this is the location for a barber shop.
I don't know what happened to Coin-A-Rama City. Their regular advertising stopped in the summer of 1987. Perhaps some of our readers have memories of visiting there.
To read the complete Greysheet company history, see:
Company History (https://www.greysheet.com/about/aboutus)
Greg Bennick: Are the people who are discovering or connecting these counterstamps to historical sources, are they typically researchers, scholars and academics and coin experts? Or are they the average person who happens upon, say a token and says, You know what, my grandfather's uncle's cousin's sister owned that store and then making those connections that way?
David Schenkman: There's probably a little of that. But I think that collectors, if they have that collector instinct, no matter whether it's coins or tokens or paper money, when they get something that asks a question to them when they look at it, they want to find the answer. And that's how researchers are born.
Greg Bennick: Yeah, that totally makes sense. Okay, so along these lines, we've mentioned them in reference them a few times: counterstamps. I've become fascinated by counterstamps in the last year or so, and I actually purchased two really cool ones from you recently. But I wanted to talk about counterstamps a bit and pose the same question to you as I did just in case somebody didn't listen to the Bill Groom interview. And they're just coming into this for the first time and they don't have a sense of what counterstamps were or are. Could you tell us a little bit about counterstamps and then maybe we'll talk about some specific ones using the examples that I bought from you recently as examples for our conversation.
David Schenkman: Sure, to make a counterstamp, you take a coin, whatever the coin is, the host coin we call it, and you stamp something on it with a punch. That can be somebody's initial, it can be a name, or in the case of the desirable ones, they're stamped with what we call a logo type punch, which would be a single punch that will have the whole inscription on it. And the inscription might be Sprague and Blodgett's Georgia Minstrels Admit One which is on the half dollar, and that inscription was on a single punch. So when they punched it, it got on the coin. So merchants would issue counterstamps. They would get the punches, they could punch any coin that came through their till, and then circulate the coin back out into the world. And as it circulated, it served as an advertisement for that firm.
Greg Bennick: Pretty remarkable. And I know that the two pieces that I bought from you recently were fascinating because they could be connected directly to historical events and people from history who have biographical information available online and available out in the world. So, it's really different. And by different I mean people all the time will say, I wish this coin could tell a story as they hold say a seated quarter of some kind. I wish this coin could tell a story. Well, all of a sudden, with that counterstamp, the story begins to be told, meaning you mentioned Sprague and Blodgett's Georgia Minstrels. So one of the coins that I purchased from you was a half dollar, as you said counterstamped, Sprague and Blodgett's Georgia Minstrels. And I'll give you the opportunity first if you'd like to fill in the gaps for us, if you'd like to tell us maybe a little bit about Sprague and Blodgett, I've done some research recently. I'm happy to do it if you run out of facts for us, but I'll put that in your hands if you'd like to share a little bit about that.
David Schenkman: You go ahead because you just researched it. And I will say that I just completed an article for The Numismatist, the ANA's publication on numismatics of 19th century entertainers, and that includes counterstamps like that because those were both shows, minstrel shows, circuses that traveled from town to town and performed and hopefully made money. And there are a lot of counterstamps that were issued by these companies and there are a lot of other types of tokens. So the article I just finished, which is too large to run in one issue, so they're going to run it over two issues - I don't know when - but it'll talk about those counterstamps, other counterstamps and a variety of other types of medals and tokens relating to the same topic.
Greg Bennick: So what I found out after I purchased the counterstamp from you was that Sprague and Blodgett's was a Georgia minstrel show and by Georgia Minstrel that signified that it was an all-black cast doing a minstrel show, singing, dancing, vaudevillian type skits and whatnot that performed seemingly in Missouri in 1876 and 1877. And the coin that I purchased from you, as you mentioned, is stamped on the obverse around the periphery: Sprague and Blodgett's Georgia Minstrels, and then in the center Admit One. And that this was a piece that was used in order to have somebody gain access to the show.
Well, what I found fascinating was that if you do a deep dive into Sprague and Blodgett's show, you can actually find the names of performers that are assumed to have performed or known to have performed in the show. And then if you go a step further, some of these folks after the minstrel show was done and after the minstrel shows lost maybe the height of their appeal, they turned to film and other performing avenues. One of them in particular starred in a silent film that I watched the other night. So, I'm sitting there the other night and talk about if a coin could speak. I'm sitting there with the coin in my hand, which in 1876, 1877 would have gained me access to see a performer on stage singing. And as I'm holding that coin in my hand, I'm watching that same man now on screen in a silent film acting. I'm watching the actual man that I would have gained access to see by the coin that I held in my hand. That might have been the coolest numismatic experience I've ever had, and I've had some cool ones. That was pretty remarkable. So thank you for that opportunity. That was pretty amazing.
David Schenkman: Well, that's interesting, Sprague and Blodgett's were two men, Z. W Sprague and Wash Blodgett, and their partnership only lasted for three years from 1877 to early 1880. And then after they severed the relationship, Sprague continued to tour with his group as Sprague Georgia Minstrels. And the reason you always find that counterstamp on a half dollar is because it says admit one. Well, admission to the show was $0.50, so you could get in with any 50 cent piece. But somebody finding this might think that they had gotten something with a premium.
About the Interviewer
Greg Bennick (www.gregbennick.com) is a keynote speaker and long time coin collector with a focus on major mint error coins. Have ideas for other interviewees? Contact him anytime on the web or via instagram @minterrors.
To watch the complete video, see:
David Schenkman Interview (https://nnp.wustl.edu/library/book/632911)
To read the complete transcript, see:
David Schenkman Interview (Transcript) (https://nnp.wustl.edu/library/book/632910)
To read the earlier E-Sylum articles, see:
DAVID SCHENKMAN INTERVIEW, PART ONE (https://www.coinbooks.org/v26/esylum_v26n45a12.html)
DAVID SCHENKMAN INTERVIEW, PART TWO (https://www.coinbooks.org/v26/esylum_v26n46a16.html)
R.M.S. TITANIC/NUMISMATICS- RARE SILVER DOLLAR COIN RECOVERED FROM TITANIC VICTIM JOHN GILL'S POCKET: John William Gill was a Second-Class Titanic passenger travelling to America to seek his fortune as well as a new home for himself and his newlywed wife who remained in England. Gill died in the sinking. His body was the 155th to be recovered by the cable laying ship Mackay-Bennett. Though there was some initial confusion regarding its disposition, Gill's body was buried at sea.
Numerous objects were recovered from his body and catalogued before they were returned to his widow. One of the items returned was this 1889 U.S. silver dollar coin which Gill had acquired to spend in America. Gill's widow could not spend it in England and retained it along with Gill's other effects which remained in the family for some time. The coin was included in the list of recovered body effects prepared by the provincial coroner of Nova Scotia. The items returned to Gill's widow, along with various correspondence and related items, constituted the most complete archive of personal items relating to any Titanic victim known to exist.
Henry Aldridge and Son was pleased to be able to offer the entire archive for sale in its April 2002 Titanic and White Star Line auction. It tells a very real story not only of the Gills but of the hopes and dreams shattered by the tragedy that befell so many on the ship that night. That a coin belonging to Gill survived the disaster while Gill, himself, did not is poignant. This may be the last opportunity to acquire this important piece of Titanic's story.
Provenance Lot 288 Henry Aldridge and Son April 2002.
To read the complete Encyclopedia Titanica entry, see:
John Gill (https://www.encyclopedia-titanica.org/titanic-victim/john-william-gill.html)
To read the complete lot description, see:
R.M.S. TITANIC/NUMISMATICS- RARE SILVER DOLLAR COIN RECOVERED FROM TITANIC VICTIM JOHN GILL'S (https://bid.henryaldridge.com/past-auctions/henry-10046/lot-details/9f3607a5-3f29-4ab3-93e3-b09900b1e563)
To read the earlier E-Sylum articles, see:
A GLIMPSE OF PAPER MONEY FROM THE TITANIC (https://www.coinbooks.org/esylum_v13n33a20.html)
NOTES FROM E-SYLUM READERS: OCTOBER 29, 2023 : Query: The Astor Cash Stash (https://www.coinbooks.org/v26/esylum_v26n44a09.html) (https://www.coinbooks.org/esylum_v13n33a20.html)
WHAT WAS IN ASTOR'S POCKET? (https://www.coinbooks.org/v26/esylum_v26n45a14.html)
The Madison County Coin Club of Huntsville, Alabama, has decided to have Daniel Carr, proprietor of the Moonlight Mint of Loveland, Colorado, produce silver and copper medals for their club. The issue price will be $100 for the silver and $15 for the copper with a limit of 5 silver medals per household. The number minted will be determined by the number of pre-orders along with a possible small additional quantity for sale. If you are interested in acquiring these medals, send an email to madisoncountycoinclub2020@gmail.com.
Deadline for ordering is 30 November 2023. For more information about the club and this medal, visit the club's website. You do not have to be a member of the club to purchase a medal.
For more information, or to order, see:
http://mccc.anaclubs.org/
Jamie Franki Art Work brings $1,400 at the PAN Fall Banquet Auction
Numismatic coin and medal artist / designer Jamie Franki created and donated an original piece of art depicting PAN's Living American History performers to support and fundraise for PAN's Living American History Program that continues to be a very popular addition at major coin shows across the country. Coin dealer David Siebert owner of The Coin Collector was the winning bidder at $1,400 that took place on Thursday evening October 19th during the PAN Banquet held at the iconic LeMont Restaurant overlooking the City Pittsburgh skyline.
The piece features living history portrayers Dennis Boggs as Abraham Lincoln, Patrick McBride as Benjamin Franklin, and Curt Radabaugh as George Washington. In Jamie's words, Those of you who frequent coin shows will likely recognize these three fine fellows, who bring American history to life for kids of all ages. I made this mixed-media artwork as a donation to the Pennsylvania Association of Numismatists' Living History educational program. A one of a kind 16x20 framed canvas print of my artwork will be auctioned by PAN at their upcoming Fall Coin Show. I wanted the image to be educational so each of their alter egos has a quintessential idea we associate with them, Lincoln has his Gettysburg address, Franklin has his electricity experiment, Washington has his Colonial Battle Flag and falling Christmas snow from his Delaware crossing.
The art medium and technique as described by Jamie is XX large! The tools are client supplied photos and Photoshop to build and compose references, then Prismacolor pencils, then scan, more Photoshop and adding in the graphic elements.
Smaller matted prints are available for sale at $50 each with all the proceeds going to support the Living American History Program. The smaller print image is 8x10 with a 12x14 black beveled mat. The goal is to continue to have these actors appear at future coin shows and to be able to bring their message of our country's past to the present. Prints can be purchased through the PAN website.
For more information, or to order, see:
https://pancoins.org/
https://pancoins.org/product/living-history-print/
102575 | GREAT BRITAIN. England. Archbishop William Sancroft cast silver Medal. Issued 1688. Sancroft and the Seven Bishops (49mm, 12h). By G. Bower. GVIL · SANCROFT · ARCHIEPISC · CANTVAR · 1688 ·, bust right, wearing camauro and canonical robes // Seven medallions of the Bishops committed to the Tower of London: Bishops Henry Compton (middle – London), Francis Turner (upper right, proceeding clockwise – Ely), Thomas Ken (Bath), Sir John Trelawney (Bristol), Thomas White (Peterborough), John Lake (Chichester), and William Lloyd (St. Asaph); twelve stars around. Cf. MI 622/37; Eimer 288b. NGC AU Details—Tooled. Despite the noted tooling and details designation by NGC, it should be mentioned that this type always displays some evidence of tooling and chasing in the fields, it being an aspect of manufacture following the casting process; as such, it can be discounted and expected and as issued. $465.
Following the exclusion crisis in the late 1670s over the fear of the rise of Catholicism, James II proposed the Declaration of Indulgence in 1687–the first step in establishing the freedom of religion in England. The ensuing protest, however, concerned the bill's lack of guarantee that the Anglican Church would remain as the established church, with many leaders within the clergy refusing to read the declaration. This act against the crown was led by the Archbishop of Canterbury, William Sancroft, along with six other bishops (Bishop Henry Compton being included on this medal on account of his earlier dissent to Catholicism and removal from office by James), and resulted in their imprisonment in the Tower of London. Brought to trial before the Court of the King's Bench, the bishops were acquitted, serving as a precursor to James' deposition shortly thereafter by his nephew, the Protestant William III of Orange, in the Glorious Revolution.
To read the complete item description, see:
102575 | GREAT BRITAIN. England. Archbishop William Sancroft cast silver Medal (https://www.numismagram.com/product-page/102575)
102609 | SWEDEN. Oscar II silver Award Medal. Issued circa 1905-1907. Presented for Horse Breeding (43mm, 39.51 g, 12h). By A. Lindberg & L. Ahlborn. OSCAR II SVERIGES GÖT O VEND KONUNG, bare head left // FÖR HÄSTAFVELNS FRÄMJANDE (for horse breeding), horse standing left; PRISBELÖNING (award). Edge: Plain. Mint State. Highly brilliant and lustrous, with deep peripheral iridescent toning on the obverse and a mostly cobalt-toned reverse. $165.
Awarded annually by the Stuteri Öfverstyrelsen (stud farm executive board), these medals were a continuation of the ideals originally promoted in the 17th century in order to foster a strong supply of horses for the Swedish cavalry. Enacted by decree in 1872, and officially instituted by 1875, these hästmedaljer ("horse medals") were presented, in silver and bronze, to the owners of deceased young horses that were considered by the board to be worthy of such honor and distinction.
To read the complete item description, see:
102609 | SWEDEN. Oscar II/Horse Breeding silver Award Medal. (https://www.numismagram.com/product-page/102609)
102607 | FRANCE. Art Deco uniface bronze Plaque. Issued circa 1923. "Au soldat inconnu" (53x72mm, 180.04 g). By A. H. Lavrillier. Laureate angel facing, cradling upper body of fallen soldier right // Blank. Edge: «cornucopia» BRONZE. Maier –. Choice Mint State. Olive-brown surfaces, with a bit of a darker nature further highlighting them. A wondrous Art Deco design. $435.
An exceptional interwar piece paying homage to the countless lives lost during World War I, this artistic plaque portrays an angel receiving the body of an unnamed soldier, his name lost to time, but his sacrifice nevertheless remembered through this imagery.
To read the complete item description, see:
102607 | FRANCE. Art Deco uniface bronze Plaque. (https://www.numismagram.com/product-page/102607)
102594 | UNITED STATES. "Abundance" bronze Medal Issued 1934. Society of Medalists series (73mm, 173.16 g, 12h). By A. Laessle. AMERICA, male turkey strutting left // ABUNDANCE, ear of corn, with husk coming undone in a uniform fashion. Edge: THE SOCIETY OF MEDALISTS TENTH ISSUE MEDALLIC ART CO. NY. Alexander SOM-10.1; Marqusee 234. Mint State. Olive-light brown surfaces, with a charming matte nature. Mintage: 1,021 (reported). $175.
Laessle, in the brochure that accompanied the medal, said this of his creation: "Wishing to symbolize the abundance of America, I have chosen for my medal two truly American subjects, the turkey and the corn." Despite the country being in the depths of the Great Depression at the time of this medal's issuance, it is hard to overlook the concept of giving thanks and valuing whatever one may have.
To read the complete item description, see:
102594 | UNITED STATES. "Abundance" Society of Medalists bronze Medal. (https://www.numismagram.com/product-page/102594)
Lot 2418: Unknown Kingdom of Pomona One Nothing Note Fantasy/humorous note titled The Unknown Kingdom of Pomona and Other Places, created to look like currency. Denomination: One Nothing. Includes Profile w/signature of Abraham Cosby with inscription around profile reading Golf Balls Make Hagen Lots of Money.
To read the complete lot description, see:
Fantasy/Humorous Currency Note [173843] (https://holabirdamericana.liveauctiongroup.com/Fantasy-Humorous-Currency-Note-173843_i50916800)
Lot 2438: 1851 International Exposition Medal Obv.: Crowned medallion of Victoria & Albert below the Expo building , 3 lines curved above: "THE BUILDING AT LONDON, FOR THE INTERNATIONAL EXHIBITION 1851" ; Rev.: 16 lines: "THE MATERIALS ARE IRON AND GLASS; IT IS IN SHAPE A PARALLELOGRAM, 1848 FT LONG BY 408 FT BROAD, AND 66 FT HIGH; IT IS CROSSED MIDWAY BY A TRANSEPT 108 FT HIGH; ON THE NORTH SIDE IS AN ADDITIONAL 936 FT IN LENGTH BY 48 FT IN BREADTH; TOTAL AREA OF SPACE 855,360 CUBIC FT ; OR NEARLY 21 ACRES; ESTIMATED VALUE £ 150,000." Wm, rd., 45 mm. EF-AU. The Great Exhibition or the Crystal Palace Exhibition, took place in Hyde Park, London from May to October 1851.
To read the complete lot description, see:
International Exposition Medal 1851 [175844] (https://holabirdamericana.liveauctiongroup.com/International-Exposition-Medal-1851-175844_i50916820)
Lot 2443: Rambler Bicycle Columbian Expo Medal Obv.: World's Columbian Exposition / Chicago / 1893 / Administration Building; Rev.: Rambler Bicycles / Compliments Of / Gormully & Jeffery / Mfg. Co. / Chicago / Boston Washington New York Coventry, Eng. Bronze, rd., 70 mm, rim nick. Chicago Illinois
To read the complete lot description, see:
Rambler Bicycle Columbian Expo Medal 1893 [175801] (https://holabirdamericana.liveauctiongroup.com/Rambler-Bicycle-Columbian-Expo-Medal-1893-175801_i50916825)
Lot 2474: Pedley Ryan Dollar Type four: Obv. Pedley-Ryan & Co. / Denver // Rev. 1933 / Silver / 430 Grains; HK-825 Silver. 38mm.
To read the complete lot description, see:
So Called Dollar: HK 825: Pedley Ryan Dollar [175800] (https://holabirdamericana.liveauctiongroup.com/So-Called-Dollar-HK-825-Pedley-Ryan-Dollar-175800_i50916856)
Lot 2492: Mutoscope Animated Pictures Tokens "The Mutoscope was an early motion picture device, patented by Herman Casler on November 21, 1894. It stood on the floor and used rapidly flipping picture cards. 1900-1903 City Directories: Pacific Coast Mutoscope Co, Thomas J. Wattson, secretary, 51 Flood Building." tokencatalog.com. Lot of two: 1) PACIFIC COAST / MUTOSCOPE / CO. // ANIMATED PICTURES / AT / 1030 / MARKET / ST. S.F.; Br., rd., 21 mm. 2) Mutoscope / 25 / Test Token; Br., rd., 24 mm. San Francisco California
To read the complete lot description, see:
Mutoscope Animated Pictures Tokens [175857] (https://holabirdamericana.liveauctiongroup.com/Mutoscope-Animated-Pictures-Tokens-175857_i50916874)
Lot 3: Carrollton, Arkansas Scrip Note Carrollton, Arkansas. August 5, 1862, Bishop & Snell. $2, Unlisted in Rothert, Issued obsolete scrip note, Dated August 5th, 1862, Printed text on face "Payable in Confederate Notes, Arkansas War Bonds, or Treasury Warrants", Black text, Denomination at top center, Signature at bottom right, S/N 60, VG to Fine to Choice Fine condition with some rough margins and toning. Only 1 other Carrollton issued note has appeared at auction.
To read the complete lot description, see:
Carrollton, Arkansas. Bishop & Snell. 1862, $2, Obsolete Scrip Note (https://auction.archivesinternational.com/Carrollton-Arkansas-Bishop-Snell-1862-2-Obsolete-Scrip-Note_i50593620)
Lot 9: Huntsville, Arkansas Scrip Note Huntsville, Arkansas. March 21, 1862, J.C. Smith. $1.00, Unlisted denomination in Rothert, (Rothert 316-?), Issued obsolete scrip note, Printed on blue paper with light black ink, Dated March 21st, 1862, Black text on face "Payable in Confederate Notes when $10, $20 or $50 is presented at my shop in Huntsville", Signature in black ink on back, S/N 452?, Choice Fine to VF condition. Previous unknown denomination that is sure to attract serious interest.
John Calvin Smith was born October 13, 1830 in TN and died January 29, 1901 in Tarrant County, Texas. He married Elizabeth Caroline Fagan on January 28, 1849 in Cannon County, TN. J.C. Smith was a minister in the Methodist Episcopal Church, South and moved to Huntsville Arkansas in about 1853. he operated a general store on the Huntsville square and thus the reason for issuing this note. This note is dated June 24, 1862 before the Civil War really came home to Huntsville. From late 1862 through 1864, the war would ravage Huntsville as it did most of north west Arkansas.
To read the complete lot description, see:
Huntsville, Arkansas. J.C. Smith, 1862, $1, Obsolete Scrip Note (https://auction.archivesinternational.com/Huntsville-Arkansas-J-C-Smith-1862-1-Obsolete-Scrip-Note_i50593626)
Lot 24: Fort Gibson, Arkansas Scrip Note Fort Gibson, Cherokee Nation, Indian Territory (Oklahoma). ND (Mar. 27) ca.1854 to 1862, Extremely desirable and rare 37 1/2 cent denomination. Black printing on off-white paper, seated allegorical woman holding cornucopia in middle between Roman Numeral and Arabic numeral "37 1/2 Cent counters on top and vertical versions on the left and right counterfoils, Black text in middle "In Trade or Current Bank Bills", S/N 88, Signed by F.H. Nash on the lower right, No date or place name on face, back with circular "Fort Gibson - Ark. - Mar. 25" handstamp. Fine to Choice Fine Condition. E.P. Waites (Printer), F.H. Nash operated as a sutler in this fort that had been abandoned by the Federals (Union Forces) in 1857 (named after Col. George Gibson), but was reactivated in 1861 by "The Grays" (Confederate Forces). F. H. Nash, the largest general merchant in Fort Gibson, was born in Louisiana in 1837, and received his education in New Orleans. His father, N. H. Nash, was a native of Massachusetts, who came to Louisiana when a young man.
The family emigrated from England in the seventeenth century and settle in Massachusetts, and the grandfather of F. H. Nash served in the war of the Revolution. F. H. Nash removed to Van Buren, Arkansas, in 1853, having completed his education, and in August of the same year removed to Fort Gibson, of which city he is now the oldest white inhabitant. On his arrival the place was one of the most quiet country towns he had ever visited, and he was first employed by the sutler of the army post. He had a personal acquaintance with every commander of the post from the time of his arrival until the post was removed in 1858; it was returned eight years later and re-established.
Among the most prominent of his acquaintances before the Civil war were: H. M. Black, now United State quartermaster; General William L. Coble, of Dallas, Texas; Colonel Pitcairn Morrison; Captain Henry Little; Colonel Ed Brooks, who afterwards served in the Confederate army; Lieutenant Henry, who was cashiered in 1856 and afterward went to Nicaragua in the Walker Expedition; and many others whose names he cannot now recall, but among whom was General Baxton Bragg, who afterward joined the Confederate army. Conditions in the community during the war were exceedingly disturbing, and Mr. Nash says a person was not safe outside the garrison. The Cherokee Indians divided, the half-bloods going into the Confederate army and full blood Indians into the Union army, thus causing much discord and strife.
Mr. Nash served a short time in the Confederate army as aide de camp to Colonel Cooper, and arrived at the battle of Pea Ridge too late to participate. An extremely rare and desirable Cherokee Nation Scrip note with an extremely desirable denomination. Very possibly unique
To read the complete lot description, see:
Fort Gibson, Arkansas. F.H. Nash, 37 1/2 Cents ca.1854 to 1862 Obsolete Scrip Note (https://auction.archivesinternational.com/Fort-Gibson-Arkansas-F-H-Nash-37-1-2-Cents-ca-1854-to-1862-Obsolete-Scrip-Note_i50593641)
Lot 27: Tahlequah, Cherokee Nation Scrip Note Tahlequah, Cherokee Nation (Oklahoma). June 11, 1862, Office of the Treasurer. $1, Cr. CHR N-2, Burgett-6, Durand IT-95, Issued obsolete scrip note, Dated June 11th, 1862, Black text with black border, Signed by Lewis Ross as Treasurer, Issued by authority of Law in lieu of Notes of the Confederate States, S/N 116, Choice Fine to VF condition. A desirable May 2, 1862 Act series that evolved from the Cherokee treaty with Brigadier Confederate General Albert Pike, against the advice of Paramount Chief John Ross.
The notes were signed by two Ross family members: Lewis Ross, brother of Chief John Ross and uncle of Clerk Joshua Ross, who was a wealthy slaveholder. The notes did not circulate long and most were seized and destroyed in July 1862. Printed on very thin, translucent rag paper. Without imprint, but now attributed to John Candy in the Shull-Criswell reference. End panels at left and right, composed of linked oval ornaments, enclose the denomination ONE DOLLAR in English at the left and translated into the Sequoyah (named for the Cherokee innovator) alphabet at the right. The interesting use of both language styles helped prevent raising the notes' denominations.
The additional obligation at the top, "Issued by authority of Law in lieu of Notes of the Confederate States," is continued along the bottom margin, "which are retained in the Treasury for the redemption hereof." Signed by Joshua Ross as clerk and Lewis Ross as treasurer. The foxed Ford XX note realized $8,625 in October 2007. The Burgett-Schingoethe note sold in July 2006 by Smythe had a rounded top left edge and realized a strong $10,350, a record price for the issue.
To read the complete lot description, see:
(https://auction.archivesinternational.com/Tahlequah-C-N-Office-of-the-Treasurer-1862-1-Obsolete-Scrip-Note-with-Lewis-Ross-Signature_i50593644)
Lot 28: Wilson's Salt Works Indian Territory Scrip Wilson's Salt Works, Illinois River, Indian Territory. August 25, 1862. A.M. Wilson & Bro. $1, Unlisted in Rothert, August 25th, 1862, Very Low S/N 3. "Payable in Confederate Notes or Salt". Black text with black border, small print on he lower left states "Redeemed by Mayers & Bros., Fort Smith, Ark.", Signature at bottom right, Signature on back slightly covered by archival repair. Choice VG with archival tape repair where note had separated on back. Wilson's Salt Works was probably located in Indian Territory and may be directly related to the Cherokee Nation. Extremely rare note that is an unlisted location in Rothert. Possibly unique.
To read the complete lot description, see:
Wilson's Salt Works, Illinois River, Indian Territory. A.M. Wilson & Bro, 1862, $1, Obsolete Scrip (https://auction.archivesinternational.com/Wilson-s-Salt-Works-Illinois-River-Indian-Territory-A-M-Wilson-Bro-1862-1-Obsolete-Scrip_i50593645)
Lot 60: Harrisonville, Missouri Confederate Sutler Note Harrisonville, Missouri. September 24, 1862, Holloway & Whalon. 25 Cents, Unlisted, Issued obsolete scrip note, Dated September 24th, 1862, Apparently Holloway & Whalon was a sutler attached to Confederate forces operating in the Harrisonville area in 1862. Black text with "Payable in Confederate Notes or Missouri State Defense Bonds, when the sum of $10, $20, or $50 is presented to me at Col. Hunter's Headquarters.", with black border, Faded signatures on back, S/N 14, Fine condition with a large tear at left, split at right and toning, especially at center. Extremely rare note, A lower condition with $1 denomination was auctioned at Heritage in 2016 and sold for $1292. Rare note and very possibly unique with this denomination,
To read the complete lot description, see:
Harrisonville, Missouri. Holloway & Whalon, Sutler Note, 1862, 25 Cents, Obsolete Scrip Note (https://auction.archivesinternational.com/Harrisonville-Missouri-Holloway-Whalon-Sutler-Note-1862-25-Cents-Obsolete-Scrip-Note_i50593677)
Lot 27: Millions For Contractors Civil War token 27 - 97/389 a R2 PCGS MS63 BN Well struck and nicely toned. Millions For Contractors Fort Lafayette Not One Cent For The Widows. A nice NGC MS62 BN realized $154.37 in our June 2023 eBay auction. (200-300)
To read the complete lot description, see:
27 - 97/389 a R2 PCGS MS63 BN Patriotic Civil War token (https://www.civilwartokens.com/Event/LotDetails/3703526/27-97389-a-R2-PCGS-MS63-BN-Patriotic-Civil-War-token)
Lot 85: Dakota Territory Civil War Sutler token 85 - DT-FL-10C R9 NGC XF40 BN S. E. Ward Sutler, Fort Laramie Dakota Territory. While the 25 and 50 Cent denominations are somewhat available this 10 Cent is exceedingly rare. From the Western collection, earlier from Stack's Bowers March 2020 sale where it brought $1,320. (1500-2000)
To read the complete lot description, see:
85 - DT-FL-10C R9 NGC XF40 BN Dakota Territory Civil War Sutler token (https://www.civilwartokens.com/Event/LotDetails/3709384/85-DTFL10C-R9-NGC-XF40-BN-Dakota-Territory-Civil-War-Sutler-token)
Lot 93: Aaron White Perpetual Calendar 93 - CT280A-1b R7 NGC MS64 PL 90% Bright and Proof Like and much more attractive than the photo of the obverse in particular would indicate. Aaron White, New Boston Connecticut January 1st, 1863 patriotic perpetual calendar with famous dates and people in United States history. The most relevant to the token's date of issue was the signing of the Emancipation Proclamation on January 1st, 1863, the theoretical date the token was issued. The Emancipation Proclamation had been announced months earlier giving White plenty of time to plan a fitting remembrance. We sold an MS64 example on eBay for $889.99 in September 2019. From the Lumberton collection. (1000-1500)
To read the complete lot description, see:
93 - CT280A-1b R7 NGC MS64 PL New Boston Connecticut Civil War token (https://www.civilwartokens.com/Event/LotDetails/3710200/93-CT280A1b-R7-NGC-MS64-PL-New-Boston-Connecticut-Civil-War-token)
Lot 153: J. B. SCHILLER counterstamp 153 - LA670A-1do R7 NGC F12 The counterstamp is bold and even while the coin is FINE. J. B. SCHILLER counterstamped on obverse and X above Cent on the reverse of an 1860 Indian Cent. J. B. Schiller, New Orleans Louisiana. Issued as a ten-cent piece during the Union's Naval blockade of New Orleans before it fell on May 1, 1862 thus becoming the only known United States siege money. Schiller, who was a liquor importer and coffee house proprietor, also issued scrip notes dated April 3, 1862 in twenty-five and fifty cent denominations and it is probable this token was issued at the same time. Rare single variety state, we sold a Raw VF stamp on an AG coin that brought $1,800 in our December 2019 sale. (3000-4000)
To read the complete lot description, see:
153 - LA670A-1do R7 NGC F12 New Orleans Louisiana Civil War token (https://www.civilwartokens.com/Event/LotDetails/3716320/153-LA670A1do-R7-NGC-F12-New-Orleans-Louisiana-Civil-War-token)
Lot 271: Western Union Telegraph Company Counterstamp 271 - OH175Ra-1d R9 NGC XF45 Counterstamped on a Flying Eagle cent though only the reverse is visible. Western Union Telegraph Company, Cleveland Ohio 1862. Exceedingly rare merchant, likely its first public appearance. From the Lumberton, Steve Tanenbaum and Herman Aqua collections. Acquired by Steve Tanenbaum in January 1989 after it had been recovered by Herman Aqua many years after loss by theft. This is the current Fuld Plate specimen obverse and reverse. (6000-8000)
To read the complete lot description, see:
271 - OH175Ra-1d R9 NGC XF45 Cleveland Ohio Civil War token (https://www.civilwartokens.com/Event/LotDetails/3728356/271-OH175Ra1d-R9-NGC-XF45-Cleveland-Ohio-Civil-War-token)
Lot 387: Planters Bank New Orleans Louisiana counterstamp 387 - HT-126 / Low 83C R8 NGC XF45 A well and evenly struck counterstamp on a nice host coin. Planters Bank New Orleans Louisiana counterstamp on a counterfeit Spanish 8 Real. Actually, rarer struck on a counterfeit, a Raw Choice EF sold for $5,750 in Stack's Bowers July 2008 sale. From the Lumberton collection, earlier from Bowers & Merena's March 1996 auction then Raw, called AU50 and HT-125, still earlier from Tony Terranova. (6000-8000)
To read the complete lot description, see:
387 - HT-126 / Low 83C R8 NGC XF45 New Orleans Louisiana Hard Times token (https://www.civilwartokens.com/Event/LotDetails/3740164/387-HT126-Low-83C-R8-NGC-XF45-New-Orleans-Louisiana-Hard-Times-token)
In my haste to complete last week's issue, I missed this great photo of John Dannreuther. So here's an addendum.
It was nice to have a sit-down with JD at his table. Our conversation included multiple topics, including how artificial intelligence will affect the hobby. We also talked about seller's remorse (and I-shoulda-bought-that-when-it-was-cheap remorse), remembering great coins and deals we passed on, and other great coins that passed through our hands and went on to sell later for far more than we imagined at the time.
I'm sure everyone in the hobby has these regrets from time to time. I invite our readers to share their stories for future issues of "the ones that got away."
To read the earlier E-Sylum articles, see:
WAYNE'S NUMISMATIC DIARY: NOVEMBER 12, 2023, PART 1 (https://www.coinbooks.org/v26/esylum_v26n46a23.html)
WAYNE'S NUMISMATIC DIARY: NOVEMBER 12, 2023, PART 2 (https://www.coinbooks.org/v26/esylum_v26n46a24.html)
The massive finding was made during ongoing excavations at Claterna (also spelled Claternae), a Roman town located near modern-day Bologna, according to a translated statement from the Italian Ministry of Culture.
Previously, archaeologists at Claterna had found a forum, streets, a dwelling with multicolored mosaics and Roman baths. The latest excavations at this "magical place" unearthed thousands of coins, which were mainly cast of silver and bronze, according to the statement. While sifting through the currency, the researchers found one that was particularly notable: a quinarius, a rare silver coin minted in 97 B.C. by the Roman Republic. Archaeologists spotted it hidden in the remains of a corridor in a former theater.
The coin not only helped them confirm that the structure was built sometime near the end of the first century B.C. but also that Claterna was likely a "center of commerce" for ancient Romans and not simply a pilgrimage site, according to the statement.
"It was a trading center with direct contacts with Rome," Borgonzoni said.
To read the complete article, see:
More than 3,000 Roman coins and gems unearthed at 'magical place' in northern Italy (https://www.livescience.com/archaeology/romans/more-than-3000-roman-coins-and-gems-unearthed-at-magical-place-in-northern-italy)
In an excavation at the Sosha Village East 03 archaeological site in Maebashi City, Japan, archaeologists stumbled upon a remarkable discovery – a cache of over 100,000 ancient coins, some of which are of Chinese origin and are more than 2,000 years old.
These coins include the Ban Liang,(coin from 175 B.C.) China's first unified currency, as well as others dating from the seventh to the thirteenth centuries. What's more, they were bundled in groups of around 100 coins and secured with straw cords known as sashi.
The coins were probably buried quickly because the location was close to opulent homes belonging to influential people in medieval Japan, maybe as a precaution against impending war.
The unearthed coins were found in an area approximately 60 centimeters high and one meter wide, with a staggering 1,060 bundles of these sashi clusters. Some bundles contained evidence of 10 sashi, equivalent to roughly a thousand coins, all arranged with traces of rice straw mats.
A thorough examination of 334 coins from the haul revealed an astounding variety of 44 different currency types. These coins originated from as far back as China's Western Han Dynasty, extending to the Southern Song Dynasty.
To read the complete article, see:
Archaeologists uncovered over 100,000 ancient coins, some more than 2,000 years old (https://arkeonews.net/archaeologists-uncovered-an-estimated-100000-ancient-coins-some-more-than-2000-years-old/)
A pot full of copper coins was discovered from a stupa (a dome-shaped building erected as a Buddhist shrine) at the UNESCO World Heritage Site of Mohenjo Daro during conservation work in Pakistan's Sindh province.
Mohenjo Daro, or Mound of the Dead is an ancient Indus Valley Civilization city that flourished between 2600 and 1900 BCE. The ruins of the huge city of Moenjodaro – built entirely of unbaked brick lie in the Indus Valley. The site was discovered in the 1920s.
Director of Archaeology Mohenjodaro, Dr Syed Shakir Shah, who led the team comprising archaeological conservator Ghulam Shabir Joyo, had confirmed that the staff busy with preservation work had stumbled upon the pot of coins on Wednesday.
Sheikh Javed Sindhi, who was engaged in research at the site, said that previously, 4,348 copper coins were excavated by R.D. Banerji, Sir John Marshall, and Mackay from 1922 to 1931. These coins belonged to the Kushan Period dating back to the 2 to 5 Century AD, he said. The present discovery is remarkable after 93 years and its credit goes to the Mohenjodaro team, he said.
Though we have shifted the coins to the laboratory [for the time being] we will definitely hire experts to confirm the period which could be revealed from the inscriptions on the coins. We have to look for which dynasties of the Kushan Period the coins belong to, he said.
Rustam Bhutto, in-charge of the soil and water testing laboratory, said the treatment process for separating the amalgamated coins would take at least a month to make the figures and language on coins visible.
Ali Haidar Gadhi, senior conservationist at said that Mr Banerji discovered nearly 2,000 coins, 338 of which were of the period of Kushan ruler Vasudeva-1 with standing royal figure on obverse and Shiva on the reverse and the bulk comprising 1,823 un-inscribed cast copper coins. Another nine had fire altar on the obverse and a crude figure on reverse, he said.
While evidence from coins and inscriptions at Rabatak and Surkh Kotal clearly shows that the Kushans maintained Iranian religious beliefs and practices, other inscriptions show that Kushan officials under Kaniska and his successors patronized Buddhists. The fire altar on previously discovered coins has Iranian influences.
To read the complete article, see:
Archaeologists unearthed a pot of copper coins in first major discovery at Mohenjo Daro in Pakistan, in 93 years (https://arkeonews.net/archaeologists-unearthed-a-pot-of-copper-coins-in-first-major-discovery-at-mohenjo-daro-in-pakistan-in-93-years/)
With only pocket change to spend in the 1950s, collector Charles Hack focused on acquiring stamps that few wanted: overprints churned out in Eastern Europe during World War I. As a boy building a stamp collection, first in Brooklyn and later in Long Island, he could only gaze longingly at advertisements announcing the auction of an Inverted Jenny — one of the rarest and most coveted stamps in the world.
Even then, he knew it was the holy grail of postage.
At the time, they sold for more money than God, in my mind — $7,500 each, Hack told The Washington Post.
On Wednesday, Hack, 76, spent just over $2 million to buy the stamp that was so far out of his reach when he was a child. The Inverted Jenny was a misprint of a stamp created in 1918 to commemorate the start of regular airmail service. In a scramble to make the stamps in time for the inaugural flight, the printers made a batch with the Curtiss Jenny biplane flying upside down. Although postal officials quickly discovered and stopped circulation of nearly all misprints, a sheet of 100 was sold to the public. Over the years, those 100 Inverted Jennys have become the most famous and sought-after treasures in the stamp-collecting world.
When he was around 11, Hack gave up stamp collecting in favor of pursuing girls. But in the early 2000s, amid a successful career in real estate development and investing, he picked it up again when a Jenny stamp went up for auction. This time, he had the money. He bought it for about $300,000, which started my rebirth in the field of philately at a whole different level.
In 2007, a better-quality Jenny hit the auction block. This time, Hack shelled out nearly $1 million for Position 57, so named because of its original orientation in the sheet of 100 purchased by William Robey on May 14, 1918, at a post office on New York Avenue in the District.
To read the complete article, see:
A stamp just sold for more than $2 million. Meet the 'Inverted Jenny.' (https://www.washingtonpost.com/nation/2023/11/13/inverted-jenny-sale-auction-2-million/)
For the reconstructed 'Inverted Jenny' sheet, see:
https://invertedjenny.com/salerecords
Hidden deep in an archive in New Jersey is the world's oldest living bond. Originally issued to fund a dike in the Netherlands after a big flood, these days, it's gearing up for its 400th birthday and still paying interest. Today on the show, we visit this elder bond and hear its story.
To read the complete article, see:
Bond. World's oldest living bond. (https://www.npr.org/2023/11/08/1197956741/bond-worlds-oldest-living-bond)
To read the earlier E-Sylum articles, see:
THE BOND THAT STILL PAYS, 280 YEARS LATER (https://www.coinbooks.org/v22/esylum_v22n01a31.html)
1648 PERPETUAL DUTCH BOND STILL PAYS INTEREST (https://www.coinbooks.org/v26/esylum_v26n10a27.html)
Media reports about wrecks this man has found or recovered have described him variously as an anonymous London financier, the unknown salvor and the Originator. He's marshaled a high-tech operation to recover the lost treasures of history, spanning centuries and entire civilizations and covering most of the blue portion of the planet. And he's managed to keep this remarkable enterprise secret—until now.
To piece it all together, Bloomberg Businessweek investigated the financier's operations across 11 months, interviewing more than 40 current and former employees of his companies, as well as contractors, archaeologists, government officials, law enforcement officers and attorneys. Many of them requested anonymity, concerned about possible legal consequences from discussing what the financier considers his private business. The research also drew on corporate and legal filings, government records and satellite ship location data to confirm previously unreported expeditions.
The glitter of deep-sea treasure has lured adventurers since time immemorial, and most have ended up poorer instead of richer. There are about 3 million wrecks in the ocean, an unharvested bounty worth untold billions of dollars, but getting to them can be dangerous, difficult and ruinously expensive. Recently, though, advances in underwater technology have opened up swaths of the ocean floor to exploration. Beyond gems and cultural treasures are rare minerals, oil, gas, battery metals and creatures unknown to science—all outside the reach of any state regulator that might constrain an eager entrepreneur. In the deep-sea gold rush that's resulted, what matters most is getting there first.
Right now, the only ones with the resources to join in are corporate interests and wealthy individuals whose goals may or may not be aligned with the rest of humanity. The Originator is the most prolific of them all—the most successful shipwreck hunter in modern times, perhaps in all of history. His name is Anthony Clake, and he's a 43-year-old hedge fund executive who rarely leaves dry land.
The Financial Times reported in a story about the hedge fund that, in 2002, fresh from his studies at the University of Oxford, Clake developed a successful portfolio system that reviewed stock recommendations from 1,000 or so analysts to generate trading ideas. Those who've worked with him say his passion lay there—with technology and data. But he took a particular interest in shipwrecks, according to several people interviewed for this article who asked not to be identified, citing nondisclosure agreements. (A Marshall Wace spokesman says the investments were made in a personal capacity, unconnected to the hedge fund's business.)
In 2015-16 he ordered a half-dozen autonomous underwater vehicles (AUVs) from a Norwegian manufacturer. These free-swimming robots resemble bright orange torpedoes and can descend as far as 6,000 meters, without the risk of a disaster like the one that befell the Titan submersible, which imploded while diving to view the Titanic, killing all five passengers. Each would normally cost several million dollars, but Clake got a bargain because the offshore energy industry was in a slump and wasn't buying as many as usual, according to two people familiar with the deals.
Clake's innovation was to put all the AUVs on one ship and deploy them in formation like a bomber squadron, carpeting vast areas of seabed with sonar. Multiple AUVs could search more ground and get better-quality scans while reducing time spent at sea and the costs of fuel and labor. Clake and the other investors in his companies also acquired businesses in Louisiana and Texas whose employees had experience operating the robots for the oil and gas industry.
His employees and contractors describe him as a demanding boss who seemed to have access to almost unlimited funds.
In deciding where to start searching, Clake drew in part on records from Lloyd's of London, the shipping world's economic engine since the 18th century. His researchers discovered the insurance market was digitizing its records, including manifests, ship designs, letters and safety certificates—a compelling dataset, from a hedge fund analyst's perspective.
It wasn't long before his AUV squadron started finding targets, or hard returns in radar operator's jargon.
To make matters more confusing for anyone trying to keep track, Clake's crews sometimes moved material from a wreck to another location on the seafloor for later collection, a practice called wet storage. Such methods helped Clake keep his prospecting private from governments that might've seized the treasure, and from rivals who might've been tracking his ships via satellite. But the tactics weren't without risk. On one occasion a salvage expert who felt he'd been unfairly treated returned to a wet storage site without Clake's knowledge and helped himself to several tons of silver coins, according to several sources with firsthand knowledge of the incident. Clake's team was told the salvor had taken them to South Africa and smelted them into cups to disguise their origin.
To read the complete article, see:
LORD OF THE DEEP (https://www.bloomberg.com/features/2023-deep-sea-treasure-hunter-hedge-funds/)
Salvation Army Receives Gold Coin
The Salvation Army announced one of their bell ringers in Lake County received the organization's first gold coin of the season worth $1,200 Thursday evening.
The Salvation Army's Red Kettle campaign dates back to 1891 in San Francisco.
Gold and silver coins donated to The Salvation Army Red Kettles have become a much-anticipated holiday tradition of giving.
The coin is a South African 1/2 Krugerrand. It was dropped inside a kettle outside the Jewel-Osco, 1300 South Milwaukee Avenue.
To read the complete article, see:
'We are so grateful': The Salvation Army receives first gold coin of season worth $1.2K in Lake County (https://www.lakemchenryscanner.com/2023/11/18/salvation-army-receives-first-gold-coin-of-season-worth-1-2k-in-lake-county/)
18th Century English Gold Coin Hoard Sold
While renovating their home, a couple from the United Kingdom discovered an unexpected cache of rare gold coins.
The couple found an unusual cup under the kitchen floor, hidden between old floorboards. Initially thought to be a trivial find, it turned out to be a pot of unimaginable value. The hoard consisted of about 260 gold coins dating from 1610 to 1727, with an estimated value of more than $800,000.
The auctioneer, Gregory Edmund, expressed the uniqueness of the sale, citing the captivating narrative of the coins, unexpected method of discovery, and rare opportunity for collectors in acquiring them.
What added even more value to the coins in the eyes of collectors were the unusual errors that made them unique. Thus, among the coins, a Charles II guinea stood out with a mint error, in which CRAOLVS replaced the expected CAROLVS.
To read the complete article, see:
UK Couple Finds Rare Gold Coins Worth $850,000 Under Kitchen (https://greekreporter.com/2023/11/15/uk-couple-gold-coins-kitchen/)
To read the earlier E-Sylum article, see:
18TH CENTURY ENGLISH GOLD COIN HOARD FOUND (https://www.coinbooks.org/v25/esylum_v25n37a27.html)
Buying Ancient Coins Online
It is one thing to identify ancient coins and another to bid successfully on them whether raw or holdered on eBay or in online estate auctions on Hibid.com and other venues. And by success, I do not mean winning the coins but placing reasonable bids so as not to lose money on a fake or common lot.
I have seen outrageous bids on common ancient coins. That tells me the bidder didn't know about the genre and lost hobbyist dollars.
To read the complete article, see:
Estimating value of ancient coins (https://news.coinupdate.com/estimating-value-of-ancient-coins/)
This week's Featured Web Site is Books on Coins by Peter Jones. Great domain name! Check it out. Peter's books are excellent in hardcopy, well worth having on the shelf for ready reference.