Visit our NBS Sponsors
About Us
The Numismatic Bibliomania Society is a non-profit association devoted to the study and enjoyment of numismatic literature. For more information please see our web site at coinbooks.org
Subscriptions
Those wishing to become new E-Sylum subscribers (or wishing to Unsubscribe) can go to the following web page link
Membership
There is a membership application available on the web site Membership Application
To join, print the application and return it with your check to the address printed on the application. Print/Digital membership is $40 to addresses in the U.S., and $60 elsewhere. A digital-only membership is available for $25. For those without web access, write to:
Charles Heck, Treasurer
Numismatic Bibliomania Society
P. O. Box 2058,
Bluffton, SC
29910-2058
Asylum
For Asylum mailing address changes and other membership questions, contact Chuck at this email address: treasurer@coinbooks.org
Submissions
To submit items for publication in The E-Sylum, write to the Editor at this address: whomren@gmail.com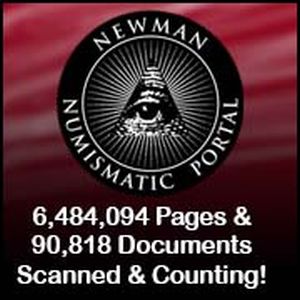 BUY THE BOOK BEFORE THE COIN
Sale Calendar
Watch here for updates!
Content presented in The E-Sylum is not necessarily researched or independently fact-checked, and views expressed do not necessarily represent those of the Numismatic Bibliomania Society.
New subscribers this week include: Richard Ormandy, Phil Soditch, and Jack Tu. Welcome aboard!
A number of these new subscribers came from a nice post by OAKSTAR on the PCGS Coin forum. Thank you!
Thank You's Are Always Welcome (https://forums.collectors.com/categories/u-s-coin-forum)
Thank you for reading The E-Sylum. If you enjoy it, please send me the email addresses of friends you think may enjoy it as well and I'll send them a subscription. Contact me at whomren@gmail.com anytime regarding your subscription, or questions, comments or suggestions about our content.
This week we open with four new books, one review, a new collector organization, updates from the Newman Numismatic Portal and the ANA, and more.
Other topics this week include Half Cents, New Zealand coinage, Orders, Decorations and Medals, the Medallic Art Company, proof set packaging, coin radius, digital images, really big coins and really big coin bags, subscriber profiles, auction previews, Animals in War and Peace, Texas currency, ink-stained banknotes, and bank failures.
To learn more about Polish coins, Phaleristics, Derek Pobjoy, Thomas Jefferson's 1790 report to the House of Representatives on proposed weights, measures and coins, Harvey Stack, Victor Dubreuil, Pat McBride, Ed Fuhrman, ancient coin collections in Canada, modeling clay, ballistic coin bags, and my nine-year-old shirt, read on. Have a great week, everyone!
Wayne Homren
Editor, The E-Sylum


The Half Cent Handbook: The Ultimate Grading Guide
I am pleased to announce the release of my fifth book in the Half Cent Handbook series; The Ultimate Grading Guide.
This new book has a soft cover with a spiral binding. It is designed as an affordable and lightweight pocket sized guide (6"X9" format) that collectors can carry. It will help collectors of all levels quickly and easily grade any Half Cent they come across using the EAC (Early American Coppers) method of grading. The guide uses photos from the grading sections in the Handbook series and takes you step by step through the process how to arrive at a proper grade for any Half Cent. The book contains over 500 clear full color photos to assist you in learning to grade. This is the first of two new books containing supplementary material related to the Half Cent Handbook series. This is a limited print run so don't delay in ordering. Copies are $35 shipped.
First English edition of the most accurate Polish coins catalog of 1917-1918 era. The only one with all varieties and variants of these coins identified so far. All illustrated with detailed photographs.
In addition, descriptions and photos of counterfeits to the detriment of both the issuer and the collectors, and mint errors. A must-have in the library of every advanced collector of 20th century Polish coins.
Coins of Hyderabad Mint
Coins and Notes of Hyderabad State & Circulation Coins of India Catalogue & Valuation 1948 to 2023
Dilip Rajgor (Author)
Coins of Hyderabad Mint is in the form of a catalogue of coins minted from 1948 to 2023. The book includes details about all coins and currency notes of Hyderabad State minted after its annexation to the Union of India in 1948 till 1955. Circulation coins of Repubic of India minted by Hyderabad Mint since 1953 are catalogued in detail. These coins are catalogued with years in which they were issued: their Mintage figures; edge varieties' their release dates, rarity and current valuation of every coin.
Also included is a catalogue of Canteen Tokens minted by Hyderabad Mint. The book includes may unpublished coins that are not known to numismatists. Similarly, Mintage figures of hundreds of coins are reported here for the first timek. This kind of comprehensive data is not published till now.
The John Bertrand New Zealand Coin and Banknote Catalogue 2023
$23.95
The 2023 catalogue features important information regarding all New Zealand coins issued from 1933 and includes updated values with retail prices given in five grades for the pre-decimal issues. A full listing of decimal issues is also included.
New Zealand Coin and Banknote Catalogue features information about all New Zealand legal tender coins that have been minted since 1933. It includes the maximum and actual mintages produced. Prices given in five grades.
The 2023 edition is edited by Jared H. Thornton and has a hugely expanded Checks, Discount & Special Purpose Tokens section, previously four pages and now expanded to eleven pages, courtesy of Martin Purdy FRNSNZ, and again includes five pages of information on all the major coin varieties, also compiled by Martin Purdy, all being shown with values in the category pages. New Zealand banknotes are covered from 1934 with prices given in up to six grades, including first and last prefixes in the decimal section.
The year 1692 is infamous in Massachusetts history. It was then that, in Salem, hundreds of women—and men too—were accused of witchcraft, and 20 were tried and executed for an imaginary crime. In the same year, another momentous event took place in the colony, though it has nothing of the same notoriety: The Puritan leadership that had overseen the Salem Witch Trials—responding to some of the same social pressures that had fueled the witch craze—perfected a financial instrument that would prove to be the template for modern currency. In brief, they reimagined money primarily as legal tender for taxes, a conceptual revolution that makes the government's authority the only source of a currency's value. This is the basis of the monetary system that prevails throughout the world today under the reign of the Almighty Dollar.
Who We Are
The International Phaleristics Association (IPA) is a non-profit organization founded in 2020 that is dedicated to the study and promotion of the history, art, and culture of orders, decorations, and medals.
Our Mission
The International Phaleristics Association is dedicated to the preservation and research of world Orders, Decorations, Medals, and Awards.
Newman Portal Reaches Five Million Page Milestone
In March 2023, the Newman Numismatic Portal reached the five-million-page threshold. Among auction sales, we host 12,888 catalogs, comprising 1,136,784 pages, or 23% of our collection by page count. The largest contributors are not hard to guess, with Heritage Auctions at 5.1% of our overall total and Stack's Bowers at 2.1%.
A large portion of the NNP collection is formed by periodicals, coming in at 35,419 items (2,329,172 pages), or 46% of the total size. High runners in the periodical group include Coin World (6.6% of our entire collection), The Numismatist (3.7%), Numismatic News (3.1%), and the Numismatic Scrapbook (1.5%).
Newman Portal User Shares MACO Photographs
A Newman Portal user forwarded this October 1971 photograph from the groundbreaking ceremonies for the Medallic Art Company (MACO) facility in Danbury, Connecticut. Left to right are MACO officials Dick Johnson (research director), Ray Ruete (production director), Julius Lauth (vice president and art director), Frances K. Trees (vice president), and William T. Louth (president). In the photograph, MACO officials pour plaster into the mold for the first medal to be produced at the new facility.
One of only six known surviving copies of Thomas Jefferson's 1790 report to the House of Representatives on proposed weights, measures and coins for the young United States has been donated to the American Numismatic Association (money.org) by collector and long-time ANA benefactor Dwight Manley of California.
"Thomas Jefferson was the Secretary of State in 1790 and his report to Congress is of extraordinary importance to U.S. numismatics as it led the way to the adoption of our uniform decimal system of money. The provenance of this copy dates back to a Maryland Revolutionary War veteran who later was a member of the U.S. House of Representatives, and the book is hand-signed by him," explained Manley.
Expand your numismatic knowledge with free webinars presented by top industry experts.
Join us twice a month—on the second and fourth Thursday from 12pm-1pm MT–for live webinars on all things numismatic. These free hour-long presentations are sure to appeal to a wide variety of collecting interests. Plus, all presentations are recorded. So if you can't join us for the live presentations, you'll be able to enjoy them later at your convenience.
Christopher Fuccione writes:
Ancient Roman Coin Slabs
David Pickup writes:
I've been reading the early chapters of Roger Burdette's excellent book on 1909-1915 coinage. In the development of the Lincoln cent there were back-and-forth discussions between the designer and the mint about the "radius of the die." This radius apparently establishes how convex or concave the coin becomes during mintage.
Not knowing anything about this, I decided to see what more I could learn. I discovered David Lange's 7-1-2006 NGC posting on "What is Meant by Die Radius?" Mr. Lange noted that, "In short, die radius refers to the curvature of the die face." Starting with the 1936-40 Gobrech designs, noted Lange, U.S. designs started to show (a not always apparent) concavity on the doin, a result, of course, from convex die faces. Experimenting with different degrees of curvature, "would ultimately determine the best standard of filling the dies in a single blow from the press."
[I'm going to do some observation using some well worn Large Cents from 1830s and 1840s--perhaps if I use a 20-power to view the edges this can be discerned, and another way might be to use a micrometer. I suspect this might be too hard to observe with these techniques]
Pretty neat stuff--so I thought I'd try to find out more. Perhaps this is relevant to computer algorithms used in identifying and grading coins?
There is an article in "Stanford Stacks" (the university, not the coin auctioneer) about "Automated Coin Detection on Android Phones" by Mihir Pendse and Yiki Wang.
As an integral part of world coin collections, ancient coins of the West (Greek, Roman, and Byzantine coins specifically) have been most widely researched and collected in Europe and the United States for centuries. Canadian universities and museums also hold systematic collections, though they remain on smaller scales.
One of the best ancient coin collections in Canada belongs to the Nickle Galleries of the University of Calgary. Under the leadership of Marina Fischer, the collection specialist for numismatics, the galleries cooperate with the university enabling students to access the collections in class.
2023 Theme: The Numismatics of Nation Building; Money, Medals, Tokens and National Identity
Symposium Overview:

The theme for this year focuses on how coinage, paper currency, medals and tokens have been used to create, record and/or modify national identity since the ancient Greeks used their money to announce the creation of new states, a phenomenon which continues to this day wherever new nations appear. Presenters should focus on how numismatic objects record the ideals, events and art of a nation which form national identity and illustrate the evolution of that identity over time. An example topic could include: the production of a national coinage by the fledgling United States in order to create a national identity, generate support for the new republic and to affirm its ideals.
Modeling Clay. A soft material used by sculptors to form the model of an intended numismatic or medallic item. It is more than the substance found in nature, although natural clay has been used for three-dimension modeling since ancient times. Modern modeling clay has beeswax or paraffin and oils added to it in formulas closely guarded by the sculptors who originally prepared it (or the companies who now manufacture it). When clay is formulated for professional use by artists it is called plasteline.
The E-Sylum has had several recent articles about cloth coin bags. This will be a discussion of the bags that are used by the Mint today.
During 2000 to 2002, the Mint began the transition to large ballistic bags to ship coins. The name suggests that they are bullet proof. They are made of mylar that is tear resistant. Perhaps a couple of used bags could be made into a suit that would be bulletproof.
The bags are part of a system that includes a steel pallet for shipping. These create a package that is 31.5 inches high, 41.5 inches wide and 27.5 inches deep. Coins are run through counting machines as they come from the presses. These counting machines have some ability to screen out clipped planchet coins and other error coins.
Patrick McBride is most recognized as Living American History interpreter, Dr. Benjamin Franklin. He has collected U.S. Coins since 1962. He joined the Pennsylvania Association of Numismatists (PAN) in 1984 and is currently the association Secretary, PAN Coin Show and Convention Coordinator, Social Media director, and PAN Website Administrator. He is keenly aware of all aspects involved in producing a major coin show.
Pat is a regular member of the American Numismatic Association (1203161). His Military Payment Certificates (WFOM 1989) and Byzantine Coins (NMS 2019) exhibits have received American Numismatic Association first place awards. He received the ANA Presidential Award (2015), Glenn Smedley Award (2019), Good Fellow Award as 2019 National Money Show Chairman and the Adna G. Wilde, Jr. Memorial Award for Exemplary Service on August 2022. He contributed the rare early issues of The Numismatist to help complete the ANA's Numismatist digital archive. Pat is a charter member #19 of the recently created George F. Heath Society. He currently chairs the ANA Fund Development Committee.
I started collecting coins at a very early age. When I was only five years old, I found a box of old coins that my grandfather used to keep on his desk. It was filled with a mixture of old foreign and U.S. coins. In the box I found an 1895 Indian Head Cent. For some reason, this coin caught my eye, and I asked my grandfather if I could keep it. He laughed and said that I could keep the whole box! So that night I took the box of coins home with me. I spilled them all out on the table, but the only one that interested me was that old copper Indian Cent. I asked my father if I could get a book on coins so I could learn more about this cool-looking copper coin. This is what started my lifelong passion (some might say obsession) for coin collecting.
At the age of ten, I discovered my love of music and began studying the guitar. I started my own business teaching guitar at age fifteen while I was still in high school. When I was eighteen, I joined a heavy metal group called Hades. The band got signed to a record label and we did a number of albums. We were also able to do some touring of America and Europe. Yet even during the years with the band, I never lost interest in coin collecting. In fact, sometimes when we were on tour, if I saw a local coin shop near any venues where we were performing, I'd try to stop in to see if they had anything of interest.
Up until this point I had been focusing on Indian Cents and Lincoln Cents. In 1995, I found myself losing interest in these coins, so my favorite local coin dealer suggested I try a new series to collect. Half Cents! I knew nothing about them, but the coin dealer had a friend who was an avid collector, so he set up a meeting. A few days later I got a private lesson on Half Cents. I was fascinated! This was exactly what I was looking for. Something new, exciting, and challenging. And so my journey into the wonderful world of Half Cent collecting began….
MPC Fest celebrates record number of first-time attendees; announces winners of its two major awards
MPC Fest #24 was held in person after a three year hiatus necessitated by the Covid virus. Approximately 40 festers, including seven first-time attendees, gathered in cold and blustery Camp Leo May [Port Clinton, OH] to celebrate numismatic scholarship, competition, and fun. One of those new festers, Tom C., expressed the opinion of all in attendance – "It was so educational! I took away so many things from the briefings/presentation, plus folks helping with collecting ideas and the comradery was unbelievable."
Keynote speaker Tom Sparks spoke about the tradition of short snorters, and displayed the Bissel short snorter, 64 feet long and 141 notes, including Allied Military Currency sets. It was signed by over 100 Allied flag officers and senior political figures of the WWII era; an excellent slide presentation allowed the audience to see the famous and less famous signatures.
ARCHIVES INTERNATIONAL AUCTIONS OFFERS HISTORIC U.S., CHINESE & WORLD BANKNOTE & HISTORIC EPHEMERA COLLECTION ON APRIL 4, 2023.
The auction will be held by Archives International Auctions at their offices in River Edge, N.J.
Stephen Album Rare Coins will hold its Internet Auction 20 at its offices in Santa Rosa, California on April 10-11, 2023. Internet pre-bidding has already begun and can be accessed through the auction house's website. The Auction is made up of 1,800 lots of coins from all categories and time periods. Every lot in this sale is graded by a third-party grading company (i.e. PCGS, NGC, ANACS).
The starting prices for items in the sale range from $20 USD up to $2000 USD. The largest offerings are from the category of World Coins – Europe with more than 750 lots in that section. More than 400 of the lots in the sale are from the Joe Sedillot Collection of World Coins, a collection that has featured prominently in recent SARC auctions and has set many record prices. The auction schedule itself is as follows:
World Banknote Auctions US Currency Sale 2 is set to take place on April 14 at 10 AM on www.worldbanknoteauctions.com. This auction is an excellent opportunity for collectors and enthusiasts to acquire rare and unique US currency from a variety of eras and denominations. World Banknote Auctions is known for its high-quality auctions, and this event is no exception. The sale includes a diverse selection of US currency notes, including Federal Reserve Notes, Silver Certificates, National Bank Notes, and more. Whether you're a seasoned collector or a new enthusiast, World Banknote Auctions US Currency Sale 2 offers something for everyone. With a variety of denominations and eras represented, bidders are sure to find the perfect addition to their collection. We have posted some highlights below, but the entire catalog can be found on www.worldbanknoteauctions.com.
GFRC Announces Payroll Protection Program and Other Innovations
Beginning today, GFRC will accept enrollments in its new Payroll Protection Program. Many GFRC clients have frequently complained that their income goes to expenses other than coins, and GFRC is launching an innovative solution to resolve this pesky problem once and for all. Effective immediately, GFRC customers can sign up to have their entire paychecks automatically deposited with GFRC in exchange for GFRC Trading Desk credits.
BORN IN THE year 958, Basil II was the son of Emperor Romanos II and the beautiful and ruthless Empress Theophano. At the age of two, Basil was crowned co-emperor with his father. Of the 93 rulers of the Byzantine Empire, he had the longest reign, dying of natural causes at the age of 67. Considered one of the greatest rulers, Basil is remembered as the Bulgar Slayer (Bulgaroktonos) for his conquest of the First Bulgarian Empire. The coinage of this long reign illuminates a glorious era that many historians have considered the peak of the Byzantine Empire.
The archives the ANS purchased included not just the paper records, but also ca. 50,000 objects including medals, die shells, and the hubs and dies used to produce the medals. Over the last several years, all of this material has slowly been making its way to New York City, truck load after truck load, both to the ANS headquarters and to a warehouse the ANS has now rented in Brooklyn, as detailed in a number of previous blog posts and ANS Magazine articles.
Getting the hubs and dies to New York City, however, has proven more difficult, because of their tremendous weight and the associated storage complications. The hubs and dies currently are stored on wooden pallets each of which weighs between 1,000 and 1,600 pounds. While we've been sorting these issues, Jerry Moran, owner of Medalcraft Mint, located in Green Bay, Wisconsin, has graciously stored the 225 pallets for us free of charge.
The Third Annual Animals in War & Peace Medal Ceremony recognized and honored six unsung U.S. animal heroes for their accomplishments in both war and peace in Washington, DC on March 8, 2023 at the Rayburn House Office Building with five U.S. Members of Congress.
Since 1943, the United Kingdom has been the only country in the world to honor animals with its international PDSA Dickin Medal, also known as the Victoria Cross for Animals.
U.S. House of Representatives Julia Brownley (CA) introduced and welcomed guests. U.S House of Representatives Gus Bilirakis (FL), Don Bacon (NB), Maxwell Frost (FL) and Mike Quigley (IL) presented medals to America's six animal heroes for either the Animals in War & Peace Medal of Bravery or Distinguished Service Medal which are both commensurate with the British PDSA Dickin Medal. U.S. House of Representative Chaplain, Reverend Dr. Margaret Grun Kibben offered the invocation and participated with medal presentations and a blessing of the animals
Overview
The Rowe-Barr Collection of Texas Currency at the DeGolyer Library is the most comprehensive in the United States, representing thousands of notes, scrip, bonds, and other financial obligations, issued in Texas between the 1820s and 1935.
Ink-stained banknotes
Pablo writes:
Most coins can be struck with a hydraulic press, but there was no machine large enough, or powerful enough, to strike a coin this size. Li and his colleagues would have to turn to casting, a process not unlike pouring batter into a cake mold. The problem with that was the need to create a custom mold that could produce the needed thickness. It would also have to be a mold strong enough to withstand so much hot molten gold, while flexible enough to let the coin pop out after. Precision also had to be considered. Because the coin was to be sold at 100 kilograms, if it ended up weighing 101 kilograms, that additional gold would be an expensive loss for the RCM. If the coin came out of the cast under 100 kilograms, the team would have to scrap the entire coin and start again. The process could also risk contamination, turning five nine gold into four nines.
U.S. Semiquincentennial Commission Rebooted
President Biden's choice to head the nation's coming 250th anniversary commemorations is planning to relaunch the project on July 4, promising to get beyond the internal squabbles, mismanagement allegations and mushrooming litigation that have paralyzed the project for years.
At a closed-door meeting Monday, Rosie Rios, chair of the U.S. Semiquincentennial Commission, secured members' approval for her plans, which include gathering suggestions from the public about how the anniversary should be observed. She also intends to ask Congress for a significant increase in the commission's annual appropriation.
Ms. Rios, who was U.S. treasurer in the Obama administration, said her new initiative, America's Invitation, would encourage the American public to suggest their own ideas, tell their own stories, share interesting narratives about their own experiences, about their own communities. Those suggestions would lead to a multiyear planning effort for 2026, she said...
To read the complete article (subscription required), see:
Commission Planning America's 250th Anniversary Attempts Reset (https://www.wsj.com/articles/commission-planning-americas-250th-anniversary-attempts-reset-323cd063)
To read the earlier E-Sylum articles, see:
2026 INDEPENDENCE COMMEMORATIVE IDEAS (https://www.coinbooks.org/v24/esylum_v24n34a14.html)
MORE 2026 INDEPENDENCE COMMEMORATIVE IDEAS (https://www.coinbooks.org/v25/esylum_v25n37a13.html)
The recent failures of Silicon Valley Bank and Signature Bank were shocking, but shouldn't surprise. Even a quick look at banking history reveals that failures are as American as apple pie. Some 565 banks have closed since 2000, according to the FDIC, and over a thousand saving and loans failed during the crisis of the 1980s and early 1990s.
In 2018, Congress removed bank regulations that were put in place in the wake of the financial crisis of 2007-8. These regulations had required banks to undergo annual stress tests to assess their resiliency in scenarios such as rising interest rates, to maintain adequate levels of capital and liquidity to meet obligations in the event of unforeseen circumstances.