Visit our NBS Sponsors
About Us
The Numismatic Bibliomania Society is a non-profit association devoted to the study and enjoyment of numismatic literature. For more information please see our web site at coinbooks.org
Subscriptions
Those wishing to become new E-Sylum subscribers (or wishing to Unsubscribe) can go to the following web page link
Membership
There is a membership application available on the web site Membership Application
To join, print the application and return it with your check to the address printed on the application. Print/Digital membership is $40 to addresses in the U.S., and $60 elsewhere. A digital-only membership is available for $25. For those without web access, write to:
Charles Heck, Treasurer
Numismatic Bibliomania Society
P. O. Box 2058,
Bluffton, SC
29910-2058
Asylum
For Asylum mailing address changes and other membership questions, contact Chuck at this email address: treasurer@coinbooks.org
Submissions
To submit items for publication in The E-Sylum, write to the Editor at this address: whomren@gmail.com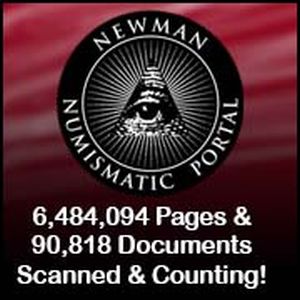 BUY THE BOOK BEFORE THE COIN
Sale Calendar
Watch here for updates!
Content presented in The E-Sylum is not necessarily researched or independently fact-checked, and views expressed do not necessarily represent those of the Numismatic Bibliomania Society.
New subscribers this week include: Roberto Ganganelli. Welcome aboard!
Thank you for reading The E-Sylum. If you enjoy it, please send me the email addresses of friends you think may enjoy it as well and I'll send them a subscription. Contact me at whomren@gmail.com anytime regarding your subscription, or questions, comments or suggestions about our content.
This week we open with a deluxe edition offering, five new books, the loss of a good friend and author, updates from the Newman Numismatic Portal, the ANA, and more.
Other topics this week include error coins, the McMaster Museum Collection, the Osborne Coinage company, manillas and the Benin Bronzes, fixed price offerings, the EID MAR denarius, baby gods on coins, the Hoxne Treasure, the 1860 Japanese visit to the U.S. Mint, King Charles' new banknotes, and the Tufts Coin Club.
To learn more about Henry Voigt, Ron Guth, Fred Holabird, the CoinHub, Hundis scrip notes, the NNP Symposium, ANA Money Talks, the Girl on the Quarter, modeling, the Graf Zeppelin, 'faux-engraved' counters, Patterson Du Bois, Maundy money, David Lisot Hulking out, and the secret of magnetic moolah, read on. Have a great week, everyone!
Wayne Homren
Editor, The E-Sylum


Deluxe Edition of Karl Moulton's Book on Henry Voigt
Kolbe & Fanning are distributing the deluxe edition of the late Karl Moulton's book on Henry Voigt, the chief coiner of the first United States Mint at Philadelphia. While this deluxe edition of Moulton's 2007 book was planned from the beginning, it was never distributed until now.
Bound in full processed white leather, the deluxe edition is printed on large paper (quarto format rather than the octavo format of the regular edition). They are gilt-stamped on the front cover, which is decorated with color roundels depicting the 1792 half disme, and come with a variety of colors of marbled endpapers.
We are happy to be finally getting these special editions into the hands of collectors, and at the very reasonable price of $100. Quantities are limited, so order today!
Looking for an engaging and informative pocket guide to the world of U.S. coin errors? Look no further than The CoinHub by Blake Alma, the coin pundit behind the social media page CoinHub, with over 1.5 million followers.
In this comprehensive book, Blake provides readers with a closer look at the history, value, and beauty of rare and unique coin errors, highlighting the many ways in which they can be flawed. From blank planchets to double dies and more, The CoinHub offers detailed descriptions and stunning photographs of some of the most famous and sought-after examples of coin errors.
But The CoinHub is more than just a book about coin errors. With an accessible writing style and a wealth of knowledge, Blake provides a valuable resource for anyone interested in the fascinating world of numismatics. Whether you are an experienced collector or simply have an interest in coins, The CoinHub will deepen your understanding of the complexity and value of error coins.
Chris Poissant writes:
COINS IN THE MCMASTER MUSEUM OF ART: THE GREEK AND ROMAN COLLECTIONS
Text by Spencer Pope, Introduction by Carol Podedworny.
$35
Ancient Greek and Roman coinage represents the intersection of politics, economics, and art; no other medium in the ancient world more closely reflects the decisions of administrations, the expectations of civic bodies, and detailed craftspersonship. Coins are among the most ubiquitous artifacts from Classical antiquity and despite their small size, are among the most instructive for dating, discerning portraiture, and reconstructing political control.
Long-time Ontario numismatist Lorne Barnes has released what he has billed as the most up-to-date reference on Ontario trade tokens.
Barnes' 808-page reference book Trade Tokens of Ontario, released this February, uses the iconic numbering system created by late numismatist Fred Bowman, of Lachine, Qué. Bowman, the first recipient of the J. Douglas Ferguson Award – today considered the highest distinction in Canadian numismatics – developed the numbering system for the second edition of his book Trade Tokens of Ontario in 1972.
A coloured version of the Bowman reference was needed, and after discussions with several interested parties, I decided to start work on the project, Barnes told CCN this March. This 2022 reference would not have been possible without the effort of the late Fred Bowman, who introduced a numbering system still used by collectors today. There was no need to introduce a new layout and numbering system when collectors are using a system that already works.
The "North American Printers Promotional Sheets & Test Notes" from 2020 is sold out and I've released an updated version for 2023. A LOT of new finds in two years! Here are some of the statistics:
280 pages, spiral bound book with 70# white laser glossy paper cover to allow laying book on flat surface. (198 pages last issue) That's 41% more pages!
All 179 ABNC test, advertising, color sample, promotional, salesman's sample notes, with 372 varieties. (151/251 last issue)
All notes from 26 known printer firms producing test notes that were predecessors or were acquired by ABNC from 1850 forward.
129 known printer firms producing test notes in all North America from 1820 forward. (6 new firms added)
Total notes attributed 951, with 1,713 varieties. (655/1071 last issue)
All COLOR NOTE IMAGES, totaling 1,338. (1014 last issue)
Catalog of Hundis Used in India
This is the first book ever to exclusively focus on Hundis, which were a form of scrip used in India for quite a long time.
While collecting and studying Hundis, it becomes very clear that Indian bankers were using a variety of innovative financial and credit instruments to facilitate trade and the movement of large sums of money across the subcontinent in a most secure and efficient manner, hundreds of years before the Western banking system using Hundis.
Howard A. Daniel III passed away at the age of 81 on April 5. 2023 after battling advanced melanoma cancer for 6 months. Howard was born in New York City and was the eldest of seven children produced by Howard A. Daniel, Jr. and Anita Lawler. He is survived by his wife of fifty years, Phung Daniel, and four younger siblings, his two sisters, Joan Ellis and Anne Moble, and two brothers, Michael Lawler and James Miolla.
Howard served in the United States Army, enlisting in 1957 and retiring in 1981 achieving the rank of Master Sergeant. He was recalled to active duty in 1991 in support of the Desert Storm campaign and later retired in the same year. Howard's service included assignments in France, Okinawa, Japan, Germany and Viet Nam where he met and married his wife.
2023 Newman Grant Application Deadline Nears
Newman Grant applications for the year 2023 are due by April 15. As previously noted in the E-Sylum, grants are awarded by the Eric P. Newman Numismatic Education Society for original research in numismatics and are intended to defray the direct costs of research such as travel, photography, graphics arts services, and database access fees. Applications may be found on the Newman Numismatic Portal at https://nnp.wustl.edu/library/archivedetail/530553?Year=2023 and should be submitted to NNPCurator@wustl.edu. Awards for 2023 will be announced on May 25, coincident with the late Eric P. Newman's birthday
To read the earlier E-Sylum article, see:
2023 NEWMAN GRANT PROGRAM ANNOUNCED (https://www.coinbooks.org/v26/esylum_v26n06a08.html)
Greg Bennick: Hi everybody, my name is Greg Bennick, I'm with the Newman Numismatic Portal, and I'm here today with Ron Guth of the Numismatic Detective Agency. You can find out more at numismaticdetectives.com. Ron has been active in the coin hobby for fifty-five years as a collector, researcher, auctioneer, professional dealer. He's the author of a number of coin books, including Coin Collecting for Dummies, The 100 Greatest U.S. Coins, which he wrote with Jeff Garrett and also The Encyclopedia of United States Gold Coins, which he also worked on with Jeff. In 1999, he created Coin Facts, which is now PCGS Coin Facts. And in 2014, he was named American Numismatic Association Numismatist of the Year. Ron, did I miss anything important in that introduction?
The next NNP Symposium is happening later this month, April 27-29. The full schedule is available on our website now - take a look!
All of the presentations will be available to watch live and in-person at the Central States Convention in Schaumburg, or you can livestream them like normal! You'll still be able to ask questions and interact over Zoom just like past Symposia. If you do plan to tune in virtually, you need to register.
Money Talks Speakers Wanted for Pittsburgh World's Fair of Money®
American Numismatic Association (ANA) members are encouraged to share their ideas and research with fellow hobbyists by delivering a Money Talks presentation at the 2023 World's Fair of Money in Pittsburgh, Aug. 8-12 at the David L. Lawrence Convention Center.
Those interested in giving a Money Talks presentation should submit an online proposal at money.org/numismatic-events/money-talks. Proposals are due no later than Friday, April 14. The talks will take place Thursday Aug. 10 and Friday Aug. 11.
More on Die Radius or 'Basin'
Roger Burdette writes:
To read earlier E-Sylum articles, see:
NEW BOOK: FROM MINE TO MINT (https://www.coinbooks.org/esylum_v16n12a04.html)
BOOK REVIEW: FROM MINE TO MINT (https://www.coinbooks.org/esylum_v16n17a06.html)
COMPUTERS AND CALCULATING COIN RADIUS (https://www.coinbooks.org/v26/esylum_v26n14a16.html)
Michael Merrill writes:
The Belgian company Royal United Mint from the municipality of Westerlo in the Antwerp province, has acquired the oldest private mint in the United States, Osborne Coinage.
Royal United Mint is part of the Belgian holding company Groep Heylen, and is also the parent company of the Royal Dutch Mint and Mauquoy Token Company from Westerlo – the largest producer of metal coins and tokens in Europe.
Modeling. Preparing the three-dimension relief of a new coin or medal design in some permanent form, usually of hard substance as plaster of Paris. The artist or modeler may first work in a more pliable substance – as clay, plastecine or wax – then cast this in plaster. Or the modeler may work in plaster alone. The coin or medal design is modeled oversize, from three to nine times or more the size of the intended piece. The final model must be a somewhat permanent substance to pass along to the mint or medalmaker: plaster is ideal for this.
When I worked for a coin dealer, we often bought current coins with no premium value that came included with collections. We called these spendies and dropped them into a plastic pail. When a few pails had accumulated, it was my job to take them to our bank.
We did business with a commercial bank that had a coin counting machine. I poured coins into a hopper and the machine sorted them, counted them and dropped them into clear plastic bags. Usually, one of the bags would get full and the machine stopped so the bag could be replaced. I think there were two bags for each denomination in the machine and a bank clerk would take out the full bags and replace them with new empty bags.
The machine had bags for the current small sized dollars. Larger Eisenhower dollars were rejected and dropped into a box inside the door of the machine. I learned to ask the clerk to check for these because these were not included in the tally. The Eisenhower dollars were an annoyance for the bank because they just accumulated and did not circulate.
The Benin Bronzes — some roughly 3,000 stunning bronze artworks sculpted by African metalsmiths between the 16th and 19th centuries — were crafted from metal mined from Germany's Rhineland region, a new study finds.
Researchers had long suspected that the masterfully crafted sculptures — created by the Edo people of the Kingdom of Benin, now part of modern-day Nigeria — were made from melted-down brass rings used as a currency during the trans-Atlantic slave trade, but confirmation proved elusive.
It really was closer to fifty-five years ago. I grew up in a house full of history. By the time I was 15, I wanted to collect. So off to Humboldt State, where I'd sell rocks, bottles and silver dollars on the weekends to pay for school. During this time, on the way to and from Humboldt, I'd stop in Old Sacramento where I met Wendall Hammon, Ron Lerch, Ken Prag and a few other notables. While I was the youngest, Wendall had gotten a great start. He came from a mining family – the big gold dredges near Oroville. His friends Bob Greenwood and John Howell In San Francisco were very experienced Americana dealers, and we all became friends. Wendall had a way with words, and when he visited Virginia City where he owned property, he'd get on his marketing hat and uncovered huge Comstock collections. Then I met Ed Kalin in Verdi, who also was great at getting good material.
The American Numismatic Association (ANA) is pleased to announce that Christian Strayhorn will soon join the Association's team as its new Education Director.
Born and raised in North Carolina, Strayhorn has 17 years of experience in the education sector with community colleges, and public, private, charter and international schools (El Salvador, Brazil and China). She began her career as a history teacher and school administrator after receiving a Bachelor of Arts, History from North Carolina State University, graduating Summa Cum Laude. She later went on to receive a Masters of Arts, History from the University of Nebraska-Kearney. She has been honored with numerous fellowships – including a Transatlantic Outreach Program (TOP) fellowship to Germany and a National Endowment for the Humanities (NEH) at UC Berkeley – and has earned Certificates in Global Education Entrepreneurship from UPENN and in School Management and Leadership from Harvard Business School.
102158 | GERMANY. Dr. Hugo Eckener/LZ 127 silver Medal. Issued 1930. Commemorating the First South American Flight of the Airship LZ 127 Graf Zeppelin (36mm, 24.76 g, 12h). By O. Glöckler in Berlin. DEM GENIALEN DEUTSCHEN LUFTSCHIFF-FÜHRER / HUGO ECKENER, bust left / FRIEDRICHSHAFEN • SEVILLA • PERNAMBUCO • RIO DE JANEIRO • LAKEHURST, airship downward left over the flightpath from Europe to South America; ERSTE / SÜDAMERIKA / AEQUATORFAHRT / »GRAF ZEPPELIN« in four lines across field. Edge: 835 PR. MÜNZE. BERLIN. Hans Kaiser 542; Button 263. PCGS SP-65. Highly brilliant and prooflike, with a light frosting to the devices and a charming mirrored nature to the fields; some subtle toning augments the eye appeal of the reverse. An attractive aviation type; surpassed in the PCGS census by just one example. $465.
Zeppelin was a German general and aircraft manufacturer, who later founded the airship company Luftschiffbau Zeppelin. Following Zeppelin's death in 1917, Dr. Hugo Eckener became the head of this company and oversaw post-war fundraising to expand upon its production, even serving as commander for the LZ 127 on numerous occasions. When this airship first entered use, it was the first commercial passenger transatlantic flight service in the world, eventually making 590 flights over nearly a decade. In 1940, she was scrapped for metal for the German efforts in World War II.
To read the complete lot description, see:
102158 | GERMANY. Dr. Hugo Eckener/LZ 127 silver Medal. (https://www.numismagram.com/product-page/102158)
The Scott Douglas Collection of Canadian Medals and Tokens
Geoffrey Bell Auctions Ltd. is excited to be offering the Scott Douglas Collection of Canadian medals and tokens in our Toronto Coin Expo 2023 Spring Sale this May. The collection, sure to attract a lot of enthusiastic bidders, will kick off session two of the auction. Scott's name has been synonymous with Canadian medals and tokens for decades, thanks to his exhaustive research on the subject, and now the fruits of his labours are available to the public.
For more than 30 years, Scott Douglas has specialized in tirelessly researching and collecting Canadian tokens and medals and has unselfishly shared his knowledge with interested parties. He's served as president or on the executive of many Canadian and American numismatic organizations, receiving many awards and honours, including becoming Grand Knight of the Saint Eligius Brotherhood of Numismatists of Canada and in 2018 receiving the highest prize in Canadian numismatics, the J. Douglas Ferguson Foundation Award.
Demetrios I Poliorketes Tetradrachm

The 'White Rose' Collection | Kingdom of Macedon, Demetrios I Poliorketes, (306-283BC) AR Tetradrachm, Salamis, c.300-295BC, Nike, blowing trumpet and holding stylis, standing left on prow of galley left rev. Poseidon Pelagaios standing left, preparing to throw trident, monograms flanking, 11h, 17.09g, (Newell, 18 (unlisted dies); HGC 3, 1012a) detailed and imposing strikes, lustrous with light cabinet toning, some softening to higher points but otherwise good very fine, rare
To read the complete item description, see:
THE 'WHITE ROSE' COLLECTION | KINGDOM OF MACEDON, DEMETRIOS I POLIORKETES, (306-283BC) AR TETRA... (https://live.spink.com/lots/view/4-9E59G7/the-white-rose-collection-kingdom-of-macedon-demetrios-i-poliorketes-306-283bc-ar-tetra)
One of the elite coins from the prestigious Hunt Collection, a coin considered the most historically important of all ancient coins, will find a new home when it is sold in Heritage Auctions' CSNS World Coins Platinum and Signature® Auction May 3-5. The Marcus Junius Brutus, Assassin of Caesar and Imperator (44-42 BC), with L. Plaetorius Cestianus, as Magistrate. AR denarius (19mm, 3.72 gm, 12h). NGC XF 5/5 - 4/5, Fine Style (estimate: $450,000+) is the only certified example ever to come to auction that has received a Fine Style designation from NGC.
Infanthood is one of the few universal conditions that every adult has once experienced, which they—other than subconsciously—cannot explicitly recall. Within this known ignorance, there is a fascinating projection of humanity onto the divine, in terms of religious sentiment and human psychology. If the gods look and act like people, with their unique personalities and eccentricities, then, according to some ancient accounts, they must also share in infancy and childhood. Across the ancient Mediterranean, there were a number of anthropomorphic divinities who appeared on coins and on other visual media in the form of very young humans as their conventional iconography. Other gods manifested in this way in only certain instances, usually engaging a particular type of myth comparable to comic book origin stories, either portraying scenes from a divine childhood or, in some cases, a pre-apotheosis mortal childhood.
The exploits of child-gods often exhibited the realms of their authorities; visual representations provide a snapshot of these stories. Such evocative narratives and images demonstrate various ancient conceptions of the divine and what issuing authorities sought to evoke with such figures on their coinages. To survey these ideas, let us turn to three examples, reviewing infant representations of the gods known as Zeus, Herakles, and Eros in Greek, or in Latin as Jupiter, Hercules, and Cupid.
When Eric Lawes set off for a field in Hoxne village, Suffolk on November 16, 1992, it wasn't on a treasure hunt. The metal detector he'd received as a retirement gift was meant to find a hammer lost on the farmland. But the detector picked up a strong signal in the earth, leading Lawes to start digging, and it quickly became apparent that he had indeed found treasure.
After bringing up only a few shovelfuls of silver spoons and gold coins, Lawes quickly retreated and called the police and the local archaeological society. The very next day, as covertly as possible, the archaeologists excavated a chunk of earth with the treasure still contained within. This way, they could remove the objects under laboratory conditions, which would help determine the age and storage method of the cache. By the time everything had been removed from the dirt, the archaeologists had nearly 60 pounds of gold and silver objects, including 15,234 Roman coins, dozens of silver spoons and 200 gold objects.
Visit of the Japanese to the Philadelphia Mint, June 13th, 1860. A 19th century illustration from Frank Leslie's Illustrated Newspaper.
On Good Friday David Pickup wrote:
King Charles and Camilla, the Queen Consort, waved to crowds as they left the Maundy service at York Minster a short time ago.
The royal couple were in the city for the annual service which takes place at a different cathedral across the country every year.
A rare coin issued in Kilkenny over two hundred years ago is set to be auctioned on May 3, 2023, by US-based coin auctioneer, Heritage Auctions.
The starting price for the coin is $4,000, but it is expected to fetch a higher price, given that other examples of this coin have commanded prices of close to $20,000.
New banknotes featuring the image of King Charles are being printed in their millions but will not enter circulation until the middle of next year.
The BBC was given exclusive access to the highly-secure site where notes are being produced for the Bank of England.
Today's topic is money.
It buys us goods and services, but there is a little, scientific secret that the bills in your wallet hold.
So what is the secret?
Ben Alsop, curator of the Citi Money Gallery at the British Museum, and Mieka Harris, education manager for the gallery, offer a snapshot of this rich history - with the help of five objects from the gallery's collection.
This coin made from electrum - a natural alloy of gold and silver found in riverbeds - is one of the earliest examples of coins, and the beginnings of the Western tradition of coinage that is still going strong.
It was minted in Lydia, in modern day western Turkey, in the 7th Century BC, making it more than 2,500 years old.
Students compare coins at a meeting of the Tufts Coin Club Collective at Tufts University in Medford on Feb. 15, 2023.
Coin books filled with pennies from all the states were spread across the table. Next to them, the Red Book — a.k.a. the coin bible, or the definitive, annually updated price guide for US coins — sat open, ready to be read. By 8:05 p.m., devoted and novice coin collectors alike enthusiastically came in ready to learn about the world of numismatics. Soon, members would arrive at the February meeting, ready to sort through $25 worth of pennies, looking for something new to add to their collection.
There is something weirdly soothing about it, and there's also a chance of finding something exciting, said Tufts sophomore Sam Lippman about the coin sorting. It's also fun when we find a random currency like Canadian or British.