Visit our NBS Sponsors
About Us
The Numismatic Bibliomania Society is a non-profit association devoted to the study and enjoyment of numismatic literature. For more information please see our web site at coinbooks.org
Subscriptions
Those wishing to become new E-Sylum subscribers (or wishing to Unsubscribe) can go to the following web page link
Membership
There is a membership application available on the web site Membership Application
To join, print the application and return it with your check to the address printed on the application. Print/Digital membership is $40 to addresses in the U.S., and $60 elsewhere. A digital-only membership is available for $25. For those without web access, write to:
Charles Heck, Treasurer
Numismatic Bibliomania Society
P. O. Box 2058,
Bluffton, SC
29910-2058
Asylum
For Asylum mailing address changes and other membership questions, contact Chuck at this email address: treasurer@coinbooks.org
Submissions
To submit items for publication in The E-Sylum, write to the Editor at this address: whomren@gmail.com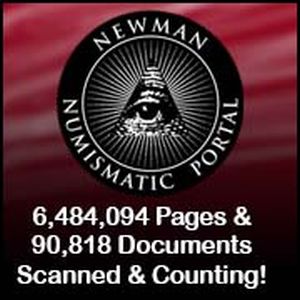 BUY THE BOOK BEFORE THE COIN
Sale Calendar
Watch here for updates!
Content presented in The E-Sylum is not necessarily researched or independently fact-checked, and views expressed do not necessarily represent those of the Numismatic Bibliomania Society.
New subscribers this week include: Ryan Baum of Davis, CA. Welcome aboard!
Thank you for reading The E-Sylum. If you enjoy it, please send me the email addresses of friends you think may enjoy it as well and I'll send them a subscription. Contact me at whomren@gmail.com anytime regarding your subscription, or questions, comments or suggestions about our content.
This week we open with the NBS Charity Auction, one new book, a beautiful deluxe edition, one book review, updates from the Newman Numismatic Portal, and more.
Other topics this week include notgeld, David Lisot, Howard Daniel, the Baldwin Vaquero design, modulated relief, the ANA Summer Seminar and National Coin Week lectures, Yap stone money, auction previews, error coins, new banknote designs, and Heritage Auctions.
To learn more about Canada's Ships, Colonies, and Commerce tokens, the Numismatic Wayback Machine, Henry Voigt, C. Wyllys Betts, Bruce Banner, Ron Guth, the Golden Gate coin, a rare mated pair of errors, scorched banknotes, and the Case of the Stolen Dimes, read on. Have a great week, everyone!
Wayne Homren
Editor, The E-Sylum


NBS 2023 Charity Auction
It's not too early to start planning for the NBS book sale at this year's ANA convention, and David Fanning has again graciously agreed to collect lots and catalog the sale. Literature donations may be sent to David at Kolbe & Fanning, 141 W. Johnstown Rd., Gahanna, OH 43230. Please contact David before sending material, so that he can ensure a stimulating mix of literature at varying price points.
Donations should be received by June 30. This event always contains something of interest for just about everyone, and, thanks to the active participation of contributors and bidders, the proceeds typically cover a substantial portion of the club's operating expenses.
Nathaniel Butler writes:
Notgeld: German Series Notes, 1918-1922 is the first catalog written primarily in English on the topic of German Serienscheine (Series Notes).
These Notgeld (German for Emergency Money), many of which are now over 100 years old, would combine visually striking imagery with the rich local histories, folklore, historical figures, architecture, scenery, politics and humor to capture the attention of collectors throughout the world.
Building off of the indispensable work of German collectors and researchers like Dr. Arnold Keller, Kai Lindman, Manfred Mehl, Hans L. Grabowski, Reinhard Tieste, Manfred Müller and many others, this book aims to provide an updated resource for experienced and beginner collectors alike.
Eagle Poised on a Bank of Clouds: The United States Silver Dollars of 1795-1798
The new Standard Work on the series. With historical background and contemporary context, comprehensive discussion of each die marriage, enlarged high-resolution images of each die state, the first attempt at a true Condition Census, and tips on putting together a decent collection of these inherently expensive coins by focusing on nuances of strike, die wear, and variations in depth of design hubbing from one variety to the next.
Available in a sewn hardcover binding in blue cloth, with dust jacket, for $145 postpaid. Also produced in a limited edition of 10 copies hand-bound by the Harcourt Bindery, Boston, in green half morocco, marbled boards, spine decorated in gilt with five raised bands. Only five copies remain available, at $750 postpaid.
My Dad used to say that "comparisons are always odious." Good advice when talking about people in your life, but it's a maxim that doesn't apply to the numismatist. Comparisons hone and refine differences--especially tiny ones--between coins and their historical milieu. Some modern educational theories place "comparison" within the realm of higher thinking.
It can be especially fruitful to compare coins from different countries when there are many numismatic similarities.
The book "Imperial Designs: Canadian Ships, Colonies, and Commerce Tokens" by Christopher Faulkner is a 429+ page book published by Spink with precise and luscious design, two qualities rarely seen together in book-making. I find this important to note in a venue sponsored by the Numismatic Bibliomania Society. It opens a new vista into Canadian and United States numismatics as it brings into our careful focus the Breton 997 token--famous for its obverse of the sailing ship. I should say, "sailing shipS."
On the tokens I've first observed all the ships looked the same, and maybe they were, based on my limited sample of coins. But the ships differ! It may be how the flag is flying, a cut-know, the spiritsail or the foresail, or the looping of the hanging lines. (I will leave readers to look up and learn more about these terms.) In learning about these coins one also develops expertise about ships, and the author includes a neat table-line-drawing of the ships in miniature that helps the reader identify the coins. The ships were majestic. By the 1850s they were approaching 1,000 tons and by 1864 there was one launched that weighed over 33,000 tons.
Old Bag Lovers Unite
The inaugural issue of the Journal of the Old Bag Collectors Club was published by Pete Smith on April 15. According to the Journal, the club is focused on coin storage bags imprinted with the name of the U.S. Mint, Federal Reserve, commercial banks, and coin dealers. Included in this issue is a notice of a rare Carson City bag appearing in an upcoming Heritage auction. The study of coin bags is a natural evolution for similar collector groups that have pursued coin boards, sample slabs, and related items for some time.
Image: Carson City bag, likely related to the GSA offering, from an upcoming Heritage Auctions offering.
The Wayback Machine (http://web.archive.org/) is an archive of the World Wide Web, launched by Internet Archive in 1996. It allows users to go back in time and view old versions of web pages in addition to copies of web pages that no longer exist. It is by no means exhaustive, but, with a current size of 806 billion archived pages, it is unique and indispensable. Originally, the Wayback Machine was the only function of Internet Archive. Later, Internet Archive added scanning, digitization, and other services.
The power of the tool is immediately obvious. The media often reports on content that was removed from websites, and such verifications are made using the Wayback Machine. Related law is evolving, but Wayback Machine screenshots have been allowed as evidence in some courts. For sites that have been removed from the web, the Wayback Machine may represent the only copy that exists, and certainly the only one publicly accessible.
Howard A. Daniel III passed away at the age of 81 on April 5, 2023 after battling advanced melanoma cancer for 6 months. Howard was born in New York City and was the eldest of seven children produced by Howard A. Daniel, Jr. and Anita Lawler. He is survived by his wife of fifty years, Phung Daniel, and four younger siblings, his two sisters, Joan Ellis and Anne Moble, and two brothers, Michael Lawler and James Miolla.
Howard served in the United States Army, enlisting in 1957 and retiring in 1981 achieving the rank of Master Sergeant. He was recalled to active duty in 1991 and retired in the same year in support of the Desert Storm campaign. Howard's service included assignments in France, Okinawa, Japan, Germany and Viet Nam where he met and married his wife.
Jim Haas writes:
More on Henry Voigt
Bill Eckberg writes:
To read Elias Boudinot's report, see:
A Century of Lawmaking for a New Nation: U.S. Congressional Documents and Debates, 1774 - 1875 (https://memory.loc.gov/cgi-bin/ampage?collId=llsp&fileName=009/llsp009.db&Page=352)
To read the earlier E-Sylum articles, see:
REVIEW: HENRY VOIGT AND OTHERS INVOLVED WITH AMERICA'S EARLY COINAGE (https://www.coinbooks.org/esylum_v10n49a06.html)
DELUXE EDITION OF MOULTON'S HENRY VOIGT BOOK (https://www.coinbooks.org/v26/esylum_v26n15a02.html)
In the Issue #2 July 2003 of the fixed price list Numismatic Perspective issued by American Numismatic Galleries, LLC, the lead article, titled The Inspiration of the Baldwin Vaquero $10 of 1850, the author (at the time of publication, Q. David Bowers was associated with American Numismatic Galleries, LLC) asserts that the inspiration for Albert Kuner's design of the coin's obverse originated from a print titled "Californians Throwing the Lasso" credited to Wm. Smyth, which was first contained in F.W. Beechey's book Narrative of a Voyage to the Pacific and Beering's Strait to Cooperate with the Polar Expeditions... published in 1831 by Colburn and Bentley in London. In this article, the author states that the print "while famous in the 19th century, is but little known today".
Modulated Relief. The rise and fall of three-dimension sculptural surface; the total surface planes and curvatures forming a coin or medal design. Modulated relief is created during the step of modeling a design. It is formed by adding material, or carving it away, the function of modeling. The purpose of the model – irrespective of its media, clay, wax, plaster, wood, whatever, or its size – is to convey a surface to a manufacturer who will render this surface, usually by reduction, into a die or mold which to reproduce the coin or medal.
Don't believe everything you may read about C. Wyllys Betts. In the June 2000 issue of The Numismatist, an inexperienced researcher wrote this about Betts. The two-faced Janus might be a good choice to represent Charles Wyllys Betts who began his numismatic career as a scoundrel and ended as a scholar. Today a more experienced researcher might be more forgiving of his youthful indiscretions.
Charles Wyllys Betts was born at Newburg on the Hudson, New York, on August 13, 1845. His father was Judge Frederick Joel Betts (1802-1879). His mother was Mary Ward Scoville (1812-1868). Judge Betts moved the family to New Haven, Connecticut, in 1855 so his sons could be educated at Yale.
Greg Bennick: Very cool. So how did you start down the path of being a researcher and a writer? How did that come about?
Ron Guth: I guess it came about when I started the auction company with Jeff Garrett in 1983 ish. Then, of course I became a cataloger and a photographer. Back then, there was no digital photography. So I actually took a course at Transylvania University to the really odd name in Lexington, Kentucky and I learned how to do photography. And I actually did the processing in our bathtub at home, which of course drove my wife crazy because I had pictures of coins all over the bathroom, but that's what you did. So I became a writer and then years later, I went to California, which is where I am now and I started working with Dana Linett at Early American History auctions. I started out as a numismatic cataloger for him, but then I got into historical documents, so basically, I became a writer. You know, people can describe things as basically just looking at a coin and saying what are the positives or the negatives? Of course, you try to play at the positives, but it's basically just putting into words what you see with your eyes.
The Professional Numismatists Guild (www.PNGdealers.org) is giving two scholarships this year instead of one so that two young numismatists can attend the American Numismatic Association's 2023 Summer Seminar in Colorado Springs, Colorado.
In recognition of the recent passing of long-time PNG member John N. Rowe III, another member-dealer who wants to remain anonymous has graciously funded a scholarship in John's name. So, we are awarding ANA Summer Seminar scholarships to two YNs this year, explained PNG Executive Director Robert Brueggeman.
National Coin Week was established to encourage the enjoyable hobby of coin collecting through fun activities, contests, quizzes, educational content and more. This year's 100th annual event will take place April 16-22 and feature free, live educational webinars focused on the theme "Our Money, Our Heritage, Our America." All courses start at 5 p.m. MT.
Extremely Rare and Large Currency Disc, Yap Islands, Caroline Islands
rai
Stone (probably calcite)
Diameter (widest) 26in (66cm)
Provenance
Dr. John Henry Felix, Honolulu, presented to him by the Yap government for his more than thirty years of service in Micronesia as Head of the Red Cross
American Private Collection
Exhibited
Red Cross Headquarters, Honolulu, Hawai'i
Two great companies are joining forces, using their combined 75 years of exceptional experience to present to you an auction of some of the Finest Known Treasure and Numismatic rarities! This one-day special auction presents an excellent sample of rarities in various treasure classes: SS Central America; SS Republic; Private Territorial gold coins; treasured Morgan dollars; ancient coins and more.
Both of our companies specialize in treasures. Everyone is fascinated by treasure – whether it is a gold coin found in your own backyard; in a clay pot full of mint state ancient coins; artifacts and coins from the ocean floor, or in a long-held private collection. It's all treasure!
Alexander oversaw a massive minting program that included a series of beautiful silver drachmai. This particular drachm stuck by Alexander (shown below) is a stunning example of classical Greek numismatic artistry.
Pherai, Alexander tyrant. c. 369-358 BCE. AR Drachm, 5.87g (18mm, 10h). E? – ???? – ?S Laureate head of Ennodia r., wearing pendant earring and pearl necklace / ???? – ???? – ?? Lion's head r., with open jaws. Image: Shanna Schmidt Numismatics. Image: CNG.
Archaeologists found 2,000-year-old Roman coins on the Swedish deserted island of Gotska Sandön.
Previously, ancient Roman coins were discovered on the Swedish island of Gotland. Finding similar ancient items on the deserted island of Gotska Sandön, on the other hand, is unusual. Because of its location, it is a unique discovery.
A Late Roman coin was discovered at the fortress Kale Shirokovo in Ruse, Deyan Dragoev, curator in the Archaeology department at the Ruse Regional Historical Museum told BTA.
The coin was from the period of Roman emperor Constans II. It was minted in 651 AD and is made of bronze. It is one of the latest ancient coins discovered in monern Northern Bulgaria during archaeological research, explained Dragoev.
Two amateur history enthusiasts have been accused of trying to sell ancient coins from a Viking hoard to representatives of a mystery American buyer who were in fact undercover police officers.
Roger Pilling, 74, of Rossendale, Lancashire, and Craig Best, 46, of Bishop Auckland, County Durham, are facing a jury trial at Durham crown court.
ARCHAEOLOGISTS EXCAVATING IN THE POLISH CITY OF WROCLAW HAVE DISCOVERED GOLD COINS DATING FROM THE 18TH CENTURY.
The discovery was made in the historical Przedmiescie Mikolajskie district, located west of the medieval city centre. During the 12th and 13th century, this part of the city was the former location of the villages of Nabitin and Stapin.
Numismatic News reader Greg Bennick has discovered a mated pair of uncirculated 1867 Shield nickels under-described in auction as a lesser error type. The error pair includes planchets intended for both a copper-nickel alloy 3-cent and a Shield nickel 5-cent piece, but neither the original grading service nor auction house mentioned that a 3-cent planchet was involved. This error combination involving the planchets of two different denominations elevated the coin to a far rarer error type than if it was a mated pair of like planchets. Mated pairs are rare on United States coinage but nowhere near that of this multi-denominational mated pair.
Even more unusual – not only were the two pieces struck together, but the 3-cent piece had been struck previously by Shield nickel dies rather than 3-cent dies! Upon entering the press a second time, it landed on top of a Shield nickel planchet and was struck again, imparting a Full Mirror Brockage into the Shield nickel from the first strike. The coin virtually covered the 5-cent planchet on the second strike. The difference was so slight that it was virtually undetectable, but it was enough that it almost completely hid the fact that a smaller planchet was involved.
A 2022 Sally Ride American Women quarter that was mistakenly struck on a Jefferson nickel planchet has been certified by Numismatic Guaranty Company (NGC). Graded Mint Error MS-67, it is being offered by GreatCollections on April 30.
Wrong planchet errors are dramatic because they often involve the truncation of a coin's design. The smaller nickel planchet affected the words LIBERTY on the obverse as well as QUARTER DOLLAR and DR. SALLY RIDE on the reverse.
The Bank of Japan unveiled samples of new high-security banknotes that it will start issuing around the first half of fiscal 2024 to the media on April 14.
The new notes went on display at the Currency Museum in Tokyo's Chuo Ward the same day, and will also be displayed at the Bank of Japan Otaru Museum in Japan's northernmost prefecture of Hokkaido from April 28.
One hundred and eighty 50,000-won bills ($38.50) scorched by the Gangneung fire were replaced by the central bank.
According to a local media outlet Thursday, the owner of a vacation house, which was burned by a wildfire that broke out in the coastal city in Gangwon on Tuesday, found a stack of charred 50,000-wons after the blaze was extinguished.
He took the 9 million won to the Bank of Korea's Gangneung office and requested an exchange.
A damaged banknote can be replaced if more than three-fourths of the note remains intact. If two-fifths of the note remains whole, half the amount of the bill is refunded.
Dented or rusty coins can be replaced with new ones, but not if their authenticity cannot be confirmed.
The chair of British banknote printer De La Rue has resigned after months of attempts to oust him and criticism of the company's leadership by one of its largest shareholders.
De La Rue, which can trace its history back more than 200 years, is responsible for printing about a third of all banknotes in circulation worldwide including the new Charles III design being produced for the Bank of England.
About two-thirds of all U.S. residents who file federal income taxes typically get a refund. Unfortunately, this year I am among the other third who owe the Internal Revenue Service money.
So I tried something I've never done before and few people do: I wanted to pay my tax bill in cash – that is, with real paper currency.
Objects with a bit of history have an obvious attraction in a high-tech world. The current cultural tumult, with its boom in fake images, endless arguments over everything and now the debut of imperious A.I. chatbots, increases the appeal of things that can't be plugged in.
At the same time, advances in technology mean it is ever easier to buy expensive things online. Bids at auctions routinely reach tens, even hundreds, of thousands of dollars.
National Geographic and BBC Studios' Documentary Unit announced the greenlight of LOST GOLD, a three-part limited series that traces the rise and fall of maverick scientist and explorer Tommy Thompson — from his life-changing discovery of the wreck of the S.S. Central America to the turmoil that led to his prison sentence.
In 1989, Tommy Thompson stunned the world by recovering three tons of gold and historically priceless artifacts. Despite this staggering achievement, Tommy would be caught in a maelstrom of litigation, deception and personal turmoil for the next three decades as he tried to hold onto his find. Facing serious allegations, accused of defrauding his 161 investors, he went from ship deck to courtroom to prison cell. How — and why — did Tommy's extraordinary success unravel?
The Legacy of Jewish Coinage
Brushing aside negative portrayals of the ancient rebels, the Zionists made an ideological connection to them because they had bequeathed an important legacy. During their brief independence (five years in the First Revolt and three in the Second Revolt), the rebels revived and repurposed key political concepts from the earlier periods of Jewish sovereignty, reinforcing these concepts and keeping their memory alive for a people about to enter a long period of forced exile.
Among these concepts, all recorded on the rebel coins, are the name of the sovereign Jewish state (Israel), the title of a secular political leader (nasi), the use of the Hebrew language to the exclusion of other languages, and even the goal of political independence (herut, freedom).
After the Romans quashed the revolts, Jews kept the coins. Finds occasionally surface in places like old Cairo. Maimonides and Nahmanides wrote about these Shekels of Israel, the Renaissance rabbi Azariah dei Rossi studied them. Their ideas entered the Jewish cultural bloodstream, aided by a medieval Hebrew paraphrase of Josephus's work, called Sefer Josippon, which emphasized national resistance.
The Jewish rebels struck coins in silver and bronze, both to replace the Roman coins in circulation and to spread political messages. The inscriptions Shekel of Israel, Jerusalem the Holy, Shimon the Prince, Year 2 of the Independence of Israel, Year 4 of the Redemption of Zion are the equivalent of ancient tweets, real-time slogans from the revolts.
These ancient tweets are virtually the only surviving writing from the rebels.
Anyone who has been to Israel has seen the pictorial symbols on these revolt coins – national symbols like a palm tree and citron fruit or lulav and etrog, reminders of the Temple like its musical instruments and the high priest's staff. The modern State of Israel adopted them for today's coins.
To read the complete article, see:
The debt to the Jewish rebels against Rome - opinion (https://www.jpost.com/opinion/article-739061)
To read earlier E-Sylum articles, see:
BOOK PREVIEW: GUIDE TO BIBLICAL COINS 6TH ED. (https://www.coinbooks.org/v24/esylum_v24n47a04.html)
HALF-SHEKEL FROM THE GREAT REVOLT DISCOVERED (https://www.coinbooks.org/v25/esylum_v25n51a23.html)
Police are investigating after someone broke into a trailer containing hundreds of thousands of dollars worth of dimes in Philadelphia.
The discovery was made around 6 a.m. Thursday in a Walmart parking lot.
Police said an estimated two million dimes, worth $200,000, were stolen.
A total of $750,000 worth of dimes were in the truck, police said.
Dimes were found scattered from the parking lot to a nearby road.