Visit our NBS Sponsors
About Us
The Numismatic Bibliomania Society is a non-profit association devoted to the study and enjoyment of numismatic literature. For more information please see our web site at coinbooks.org
Subscriptions
Those wishing to become new E-Sylum subscribers (or wishing to Unsubscribe) can go to the following web page link
Membership
There is a membership application available on the web site Membership Application
To join, print the application and return it with your check to the address printed on the application. Print/Digital membership is $40 to addresses in the U.S., and $60 elsewhere. A digital-only membership is available for $25. For those without web access, write to:
Charles Heck, Treasurer
Numismatic Bibliomania Society
P. O. Box 2058,
Bluffton, SC
29910-2058
Asylum
For Asylum mailing address changes and other membership questions, contact Chuck at this email address: treasurer@coinbooks.org
Submissions
To submit items for publication in The E-Sylum, write to the Editor at this address: whomren@gmail.com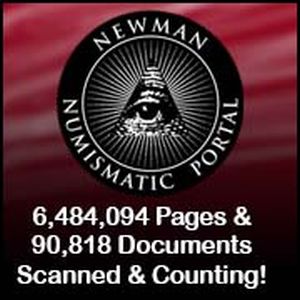 BUY THE BOOK BEFORE THE COIN
Sale Calendar
Watch here for updates!
Content presented in The E-Sylum is not necessarily researched or independently fact-checked, and views expressed do not necessarily represent those of the Numismatic Bibliomania Society.
New subscribers this week include: Bill Anderson. Welcome aboard!
Thank you for reading The E-Sylum. If you enjoy it, please send me the email addresses of friends you think may enjoy it as well and I'll send them a subscription. Contact me at whomren@gmail.com anytime regarding your subscription, or questions, comments or suggestions about our content.
This week we open with a library purchase, four new books, two obituaries, updates from the Newman Numismatic Portal, and more.
Other topics this week include proof nickels, cardboard coins, an original Confederate cent, the 1848 Mint Report, Dave Noble, Oscar Schilke, Blake Alma, the Walton 1913 Liberty Head nickel, the PNG and NLG awards, physical bitcoins, iron ingot currency, the George I 'Dump' Farthing, and the Toronto Airport gold heist.
To learn more about the Alpha Bank collection, coins and banknotes of the eurozone, Norm Peters, Daniel Groux, and the Great Canadian Maple Syrup Heist, read on. Have a great week, everyone!
Wayne Homren
Editor, The E-Sylum


As a man true to his word, Scott E. Douglas, FONA, FRCNA, FCNRS, & The Grand Knight of the St Eligius Brotherhood of Numismatists of Canada, packed up and tied down 41 boxes of books (mostly of the standard banker's box size) containing some 2,484 items for delivery on Mon. Apr. 10 to complete Richard Stockley Books' purchase of the initial part of his numismatic library that he made available for sale just prior to the RCNA Convention last July. This was about twice as much material as he originally estimated because, upon reflection he decided to include umpteen boxes of auction catalogues that he's accumulated for research purposes over the past few decades of his active numismatic life.
Dannreuther's United States Proof Coins Volume II: Nickel Released
United States Proof Coins Volume II: Nickel, the eagerly anticipated second in a series of four important reference books on U.S. proof coins authored by acclaimed numismatic researcher John W. Dannreuther, is now available.
The 374-page book with hundreds of full-color illustrations covers the proof varieties of Three Cent, Shield, Liberty Head (V), and Indian Head (Buffalo) nickels. High resolution photographs show every variety with either a full obverse and reverse image or micro close-up photographs of the date positions for the obverse dies as well as diagnostic characteristics of the reverse dies when paired with the same obverse.
Exhibition catalogue. In English (also available in Greek). Soft cover, 29 cm, 276 pp., ill. ISBN: 978-618-5072-50-6.
To celebrate the 50th anniversary of the creation of its world-famous Numismatic Collection, Alpha Bank organized the major retrospective exhibition "THE OTHER SIDE OF THE COIN" at Goulandres Museum. The book presents 150 most rare coins from this collection, today one of the most important of its kind.
Euro Catalogue for coins and banknotes 2023 English
Comprehensive presentation of all coins, banknotes, and official circulation coin sets since the introduction of the euro.
Summary of all European 2-euro commemorative coins
Detailed compilation of euro banknotes.
Short historical overview of the introduction of the euro.
With colourful illustrations and many technical details (e.g. year of issue, mintage, material, weight, diameter / size, value in euro)
Scope: 868 pages
Brückner describes the methods of payment in different countries. He predicts that Sweden and Finland could become cashless in a few years.
Anything paid for with bills or coins remains anonymous. Germany and Austria are the few European countries where the majority of citizens still pay with cash. But that is about to change, an alliance has set itself the goal.
CARDBOARD COINS OF GREAT BRITAIN 1947-1990
Now available on-line at the Newman Numismatic Portal the fully revised book on British Cardboard coins by Thomas Engelen. These cardboard coins were used in Great Britain to help children to learn the many different coins in circulation including their value. Cardboard was used as an inexpensive material to teach children on Farthings, Pennies, Sixpences, Shillings, Florins and Crowns to name a few. Included in the book are also the school banknotes, mostly of 10 Shillings and 1 pound denomination. Also included are toy games in which these cardboard coins were used with the oldest play set dated 1905.
Profusely illustrated, many of the items listed are pictured for easy recognition and identification.
A summary of cardboard coins used in former British overseas territories are listed as well, including for Australia, East- and West Africa, India and New Zealand to name a few.
A list on Rarity and Prices completes the work.
Norman G. Peters 1940-2023
It saddens me to report the passing of Norm Peters of Lancaster, NY on April 5. He is survived by three sons. A private, family service was held.
Norm was an avid numismatist, collecting all manner of exonumia and coins. He loved studying about the history of pieces and those who issued them. Colonial coins were among his favorites. Norm relished sharing his knowledge, and I was one of many collectors who benefited from knowing him. I was particularly impressed with his research on Ben Rathbun, issuer of Buffalo area obsolete currency. Norm also published an extensive study on Pan-American Expo tokens. He was a member of many organizations, the ANA, BNA, CWTS, NTCA, EAC, among others.
David "Dave" Dudley Noble of Rockwall, Texas passed away in his home on the morning of April 15, 2023, at the age of 67 years old. If you talked to Dave longer than 5 minutes, likely he would have referred to you as "Bud" and told you his entire life story. I'm sure we won't be able to bring the tale nearly as much color or with nearly as much humor as Dave, a natural born storyteller, would have, but herein lies our attempt (as Dave would say: "Believe it! Achieve it!").
Well Bud, Dave was born on November 25, 1955, in Iowa City, Iowa to Dr. Dudley and Norinne (Fenner) Noble. As Dave would say, he was just a "dumb guy" from Iowa who grew up swimming, fishing, and hunting (deer, pheasant, butterflies, mushrooms, you name it) and fondly looked back on the times he had with his parents, younger brother Jeff, and youngest sister Julie.
Mint Director Cannot Acquire the Mint Report
During a recent tour of the Wayne Homren library, Wayne shared an original copy of a January 25, 1849 letter from Mint Director Robert M. Patterson to Representative Charles Brown (D-PA). Patterson wrote
Regarding the first ChatGPT-generated summary of Joel Orosz's Asylum articles, Bob Leonard writes:
GROUX: FROM COURTIER TO KITCHEN HAND
The article is about the life of Edouard Daniel Jacques Groux, who was born in 1807 in the Free and Hanseatic City of Hamburg. He was well-educated and learned the trade of pastry chef from his father after his family fell from favor with the Emperor. Groux inherited a cabinet of around five thousand coins and medals from General Jan Pieter van Suchtelen and purchased a second cabinet of 2,800 coins and medals in 1839. Groux attempted to monetize his collection in Marseille but failed. In 1841, the American Consul in Marseille advised Groux to take his collection to the United States and sell it to the government, but he entered a market with many eager sellers and only one unmotivated buyer.
GROUX: COMING TO AMERICA
The article talks about D.E. Groux, a numismatist who opened a museum in Boston in 1864 after his failed museum in Marseilles. He tried to sell his collection to Harvard College but was declined. Later, he attempted to sell his collection to the National Institute in Washington, D.C. but was rejected. He then tried to sell some of his coins to Charles Francis Adams, a notable coin collector, and also asked for a loan to redeem his pawned pieces. Adams made a series of loans, but Groux did not repay the loans by the agreed time, leaving Adams in possession of many of his coins and medals.
RETIREE Cheryl Myers has revealed that a coin her family kept secure for years sold for $3.17million in 2013.
The now 71-year-old, who lives in Winchester Virginia, got the rare nickel from her parents, who created a collection for her and their son, Ryan Givens.
A young Ohio entrepreneur is turning a hobby into a successful online business. Blake Alma's passion for coin collecting has spawned Coin Hub, a booming business that's getting noticed all over the country, especially on social media.
Alma, 22, got inspired to collect coins when he was 9-years-old. It happened in a most unlikely place: Sunday church. Alma sang in the children's choir and he would sit next to an older gentleman in the front row.
KKK Token Book Printing Confirmed
Rex Stark writes:
To read the earlier E-Sylum article, see:
QUERY: KU KLUX KLAN TOKENS 2ND ED, 1ST PRINTING (https://www.coinbooks.org/v26/esylum_v26n17a12.html)
Darla Jackson

The United States Mint (Mint) announces the appointment of Darla Jackson to a four-year term as the member of the Citizens Coinage Advisory Committee (CCAC) Specially Qualified in Sculpture or Medallic Arts. She replaces Robin Salmon, who has served on the CCAC since 2018.
A sculptor residing in Philadelphia, Ms. Jackson received a BFA in Sculpture from Moore College of Art in 2003. After receiving a John S. and James L. Knight Arts Challenge Grant in both 2011 and 2013, she founded the Philadelphia Sculpture Gym, a membership based community sculpture studio.
The Professional Numismatists Guild (www.PNGdealers.org) has honored Robert Brueggeman, the organization's soon-to-retire Executive Director, with its 2023 Harvey G. Stack Lifetime Achievement Award. The prestigious award is presented to someone who has shown extraordinary devotion to numismatics and significantly contributed to the hobby or profession.
Bob has been PNG's Executive Director since 1995. Under his guidance and leadership over the past 28 years, the PNG has helped support the industry, its member dealers, and the general public. The PNG has also been helpful in providing scholarships to young numismatists to help advance the professional side of the business and continue the legacy of the Professional Numismatists Guild, said PNG Board member James Sego who co-chaired the Lifetime Achievement Award selection with PNG Board member John Brush.
Business executive and lifelong numismatist John Feigenbaum will succeed Brueggeman as the next PNG Executive Director this summer.
Much has occurred over the past eight months in the background of the NLG. This message is to officially announce the opening of the 2023 NLG Awards submission period. The Board has made some minor updates to the awards this year.
We sadly lost our previous Awards Coordinator, David W. Lange in January and we thought it appropriate, due to David's outstanding reputation as a researcher and numismatic scholar, to rename the Book of the Year Award to the David W. Lange Memorial Book of the Year Award.
Molded Border. A border with many elements, of curves, arcs, angles and planes in one single design that continues around the entire circumference at the edge of a round coin or medal. Molded borders are made with a template and used with clay, wax or plasteline and are almost always made oversize; thus they are ideal for use on oversize patterns that are later pantographically reduced to cut the necessary die.
I have written a lot of biographical sketches and developed some favorites among the subjects. One of those is Charles McCormick Reeve. Perhaps that is because of his connections to Minneapolis.
Reeve first came to my attention as I was doing pedigree research on U. S. large cents. The Elder sale of November 5, 1937, was titled, The General McC. Reeve Collection and Others. Who, I wondered, was McC. Reeve. Once I learned the name, I remembered it.
The catalog had this description: SPLENDID COLLECTION OF U. S. CENTS. The Property of Brigadier General C. MCC. Reeve of Minnesota. Lot 683 was a 1794 Cent, Hays 8, a piece that interested me.
Ron Guth: I started specializing in German coins in 1988. I sort of got into that accidentally, but I really like the German coin series. It's a huge, vast series that covers centuries. The designs are incredible, the denominations are incredible. But my favorite is the Bavarian thalers from 1753 to about 1800. They have the portrait of the king on the front and on the back, they have Madonna and child, the Madonna child of the patron…she's a patroness of Bavaria. And so they're beautiful coins and they're silver dollar size. The thaler, of course, is the early ancestor of the dollar. I started collecting those. At the time they were like $50 a piece, and they're not much more today. They are $100 to $150. But if they were U.S. coins from the 1700's or even the 1800's, they would be thousands of dollars a piece. So, I started to put a date set of those together, and once I accumulated that I said, I wonder if there are many different varieties? So, I started looking for as many different varieties as I could. I ended up getting over three hundred different varieties and some interesting ones. They were marriages of reverses from one year to another; really interesting finds there. I never wrote a book about them. I wish I had. I ended up selling the collection intact. I wish I had that back. My only other favorite coin that I really like is the 1894 German New Guinea coins. They have the bird of paradise on the front and they made a five mark, which is again the size of a silver dollar and is just probably the most beautiful coin in the world. It is just absolutely gorgeous. The bird of paradise fills the whole front of the coin and to me is just beautiful. And in high grade they're really rare, valuable, and I think they're very collectible and just beautiful.
Stack's Bowers Galleries is excited to announce their attendance at the Bitcoin 2023 Conference, taking place May 18-20 in Miami Beach, Florida. The Miami Bitcoin Conference is the world's largest event dedicated to the Bitcoin cryptocurrency, with over 25,000 attendees expected to participate this year. The conference will be held at the Miami Beach Convention Center located at 1901 Convention Center Drive, Miami Beach, FL 33139.
Belize, 1990. $1, P-51, Issued Banknote, Light green and peach on m/c underprint, Portrait of Queen Elizabeth II at right, S/N AA936096 Printer: TDLR, PMG graded Superb Gem Uncirculated 67 EPQ.
To read the complete lot description, see:
Central Bank of Belize, 1990, Issued Banknote (https://auction.archivesinternational.com/Central-Bank-of-Belize-1990-Issued-Banknote_i48607002)
A rare stash of 1,000-year-old ironwork, which sat for 40 years in a family's basement in Norway, is now seeing the light of day after a woman discovered the hoard during some spring cleaning.
The hoard consists of 32 iron ingots that look like small spatulas and date back to the Viking Age (A.D. 793 to 1066) or high Middle Ages (1066 to 1350). The rods are identical and weigh about 1.8 ounces (50 grams) each, prompting archeologists to think they may have been used as a form of currency and that someone probably buried them with the intention of coming back for the treasure later.
The gold coin is a forceful assertion of power despite being only three-quarters of an inch in diameter and a sixth of an ounce in weight. Struck around A.D. 800 in Constantinople, the Byzantine empress Irene appears on both sides wearing a crown topped with a cross and holding a crucifer in one hand and an orb and cross in the other.
A few years earlier, a similar image of Irene appeared on a gold coin whose other face showed her son and co-regent Constantine VI. But in 797, Irene had her son seized, blinded, and imprisoned in order to become the empire's sole ruler, said Teresa Shawcross, an associate professor of history and Hellenic studies at Princeton.
Ed Hohertz writes:
As part of the re-opening of the Museum of Islamic Art (MIA) following extensive renovations, Qatar Museums and Years of Culture are delighted to launch the Coin Project - an innovative way to experience one of the largest and most impressive coin collections in the world.
A rare gold coin from the reign of Charles I could fetch up to £2,500 after being discovered in a pile of loose change. The 400-year-old coin was found by the owner at the back of a dressing table drawer at her late aunt's home in Tunbridge Wells, Kent.
The historic gold Unite (20 shillings) piece could potentially had been hidden away for decades along with around 200 old coins and bank notes left over from foreign holidays. It is now going under the hammer at Hansons Royal Tunbridge Wells on May 23, where it is set to fetch between £1,500 and £2,500.
The coin presented below is a dump farthing that was minted during the reign of George I of Great Britain. This particular coin was produced in 1717, just three years into George I's reign.
Twenty members of Congress, foreign ambassadors and others lunched on April 27 at the U.S. Capitol, in part to celebrate 75 years of the U.S.-Israel relationship and partly to launch a bipartisan congressional effort for the U.S. Mint to strike a coin commemorating Israel's fourth prime minister, who grew up in Milwaukee.
Bobby Rechnitz, a real estate developer, is chairing the initiative, which would require the support of two-thirds of both the House of Representatives and Senate. Ezra Friedlander, CEO of the Friedlander Group, also played an important role.
Rechnitz previously lobbied for Iron Dome funding and pushed for a congressional gold medal for former Israeli Prime Minister Shimon Peres in 2014 to honor his 90th birthday.
The American Numismatic Association's (ANA) World's Fair of Money® (WorldsFairOfMoney.com) is being hosted at the David L. Lawrence Convention Center in Pittsburgh, PA, August 8-12. The show brings coin collectors together from all over the world, featuring hundreds of dealers, auctions, displays of rare treasures, educational opportunities and more.
To commemorate this year's show, medallic artist Jamie Franki has designed a medal with the theme "The City of Bridges." Situated at the confluence of the Allegheny, Monongahela, and Ohio Rivers, Pittsburgh's unique geographic location earned it the distinction of having more bridges than any other city in the world – 446 to be exact.
Noel Ngwenya, 44, from Chivi District of Masvingo Province spends his working days in downtown Bulawayo, the country's second largest city, with a loudhailer advertising a unique service.
He collects torn or soiled foreign currency notes that have been rejected by supermarkets and other traders - mostly US dollars or South African rand, which are both legal tender in Zimbabwe.
Mr Ngwenya pays his clients 50% of the value of whichever note they bring - so they get $1 for a torn $2 note or 100 rand for a torn 200 rand note.
Introducing the King Charles III Coronation Britannia Pound Banknote: A Commemorative Collector's Masterpiece Celebrating a Historic Moment
Tuesday, April 25, 2023, Rijswijk, The Netherlands
After meticulous planning and development, the Coronation King Charles III Britannia Pound souvenir banknotes are set to become the latest addition to the esteemed series of the Britannia Pound. OneBanknote is proud to unveil this limited-edition commemorative banknote honoring the historic coronation of King Charles III.
As far as archaeological discoveries go, finding a mummified hand of a tiny baby clutching at a late medieval coin is already Indiana Jones territory. But in 2005, a team opened up a pot at an abandoned cemetery in Nyarlorinc, Hungary, and found just that. Also, the hand was green, pushing the whole find well onto Indiana Jones 4 turf.
Croatian Coin Captures the Cravat
The Croatian National Bank has released its first numismatic or collector coin denominated in euros since the country adopted the single currency in January of this year. The uniquely-shaped coin is in tribute to the humble necktie, which began its existence as an integral part of Croatian culture and has had a rich and fascinating history.
The coins are produced by the Mint of Croatia at their facilities in Sveta Nedelja, on behalf of the National Bank of Croatia. Designed by Nikola Vudrag, the concept includes a two-piece strike with the gold necktie itself designed and struck separately to the outer round silver coin with a specific cut-out to accommodate the necktie. The reverse side depicts Croatian soldiers who fought under the French flag in the Thirty Years' War during the 17th century. Around their necks is a scarf, better known today as a cravat, which immediately attracted the attention of the French. The scarf caught the attention of young King Louis XIV, who started wearing the cravat, and speaks volumes about its acceptance. As with the king, all the French quickly embraced it and wore scarves around their necks à la create, meaning, in the Croatian way. The inscription À LA CROATE is included as part of the design and an homage to this iconic fashion and cultural item. Below the primary design is the text REPUBLIKA HRVATSKA 6 EURO 2023. The obverse side depicts the tie as it is worn today with a gentleman's jacket and a button-down shirt. The text which is shown on the tie itself in a diagonal direction, reads REPUBLIKA HRVATSKA 100 EURO 2023.
To read the complete article, see:
Croatia: First euro gold and silver coin celebrates the iconic necktie with unique shape (https://news.coinupdate.com/croatia-first-euro-gold-and-silver-coin-celebrates-the-iconic-necktie-with-unique-shape/)
The Commonwealth of Virginia traces its roots to the perennial quest for gold. England's King James I chartered what would become the Virginia Company in 1606 in a colonizing pursuit of gold, spices and land. While land was abundant, there were no discoveries of spices or gold.
Renewed buzz about prospects for Virginia gold was prompted by a future U.S. president, Thomas Jefferson, publicizing in 1782 the discovery of a 1.8-kilogram gold-bearing rock on the north side of the Rappahannock River. But the precious metal was not found in abundance within the borders of Virginia until the early 19th century.