Visit our NBS Sponsors
About Us
The Numismatic Bibliomania Society is a non-profit association devoted to the study and enjoyment of numismatic literature. For more information please see our web site at coinbooks.org
Subscriptions
Those wishing to become new E-Sylum subscribers (or wishing to Unsubscribe) can go to the following web page link
Membership
There is a membership application available on the web site Membership Application
To join, print the application and return it with your check to the address printed on the application. Print/Digital membership is $40 to addresses in the U.S., and $60 elsewhere. A digital-only membership is available for $25. For those without web access, write to:
Charles Heck, Treasurer
Numismatic Bibliomania Society
P. O. Box 2058,
Bluffton, SC
29910-2058
Asylum
For Asylum mailing address changes and other membership questions, contact Chuck at this email address: treasurer@coinbooks.org
Submissions
To submit items for publication in The E-Sylum, write to the Editor at this address: whomren@gmail.com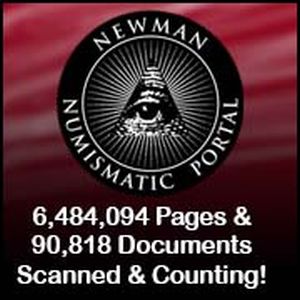 BUY THE BOOK BEFORE THE COIN
Sale Calendar
Watch here for updates!
Content presented in The E-Sylum is not necessarily researched or independently fact-checked, and views expressed do not necessarily represent those of the Numismatic Bibliomania Society.
New subscribers this week include: Dan Marrin. Welcome aboard!
Thank you for reading The E-Sylum. If you enjoy it, please send me the email addresses of friends you think may enjoy it as well and I'll send them a subscription. Contact me at whomren@gmail.com anytime regarding your subscription, or questions, comments or suggestions about our content.
This week we open with no new books. What gives? But of course we have updates from the Newman Numismatic Portal, notes from readers, and more.
Other topics this week include Don Taxay, Charles Bushnell, C. Wyllys Betts, ISIS coins, the U.S. Mint archives, fixed price and auction offerings, multiple coin hoards, siege coins, coronation medals, error notes, and panning for gold.
To learn more about Jere L. Bacharach, Rhonda Guess, Pierre Flandin, the NNP Symposium, the Future of Money, the Philadelphia dime heist, Ku Klux Klan tokens, molds, the Scarcity of Living Space medal, the Carson City Mint payroll, Nummis Nova, the American Plantations token, the John Chalmers threepence, and flood gold, read on. Have a great week, everyone!
Wayne Homren
Editor, The E-Sylum


The ANS Mourns the Loss of Jere L. Bacharach
The American Numismatic Society is deeply saddened to learn of the passing of Dr. Jere L. Bacharach on April 9, 2023. Dr. Bacharach was a long-time member of the Board of Trustees, and an invaluable scholar of the numismatic community and Middle Eastern studies.
Sponsored by the Eric P. Newman Numismatic Education Society (EPNNES), the entire event remains free and virtual, open to anyone to attend. New this spring, you can also attend in person at Central States.
Whether virtual or in person, join us on April 27-29 for a great group of numismatic presentations.
If you won't be attending the Central States show in Schaumburg, IL, nothing will change! Every presentation will be livestreamed on Zoom, and you'll be able to ask questions during the Q&A portion. We won't have any overlapping presentations this time, but nothing else will be different from past Symposia.
Don Taxay Correspondence on Newman Portal
The Newman papers are ever stimulating, and the latest addition to the Newman Portal is the Don Taxay correspondence file, running over 200 pages. The file opens in 1961 as Taxay is working on Counterfeit Mis-Struck and Unofficial U.S. Coins (published in 1963), and the two numismatists get into it quickly, discussing the origin of the Continental dollar and the "sixth" 1913 Liberty nickel. Newman must have liked Taxay's work, as he wrote an enthusiastic review of the book that appeared in the November 1963 Numismatist.
Reports on Jacques Luben, Ronald Gillio, Christen Winterstein, Diane Wolf, Art Fields, Murray Church, Brian Williams, Richard Lubbock, David Owen, Singapore International Coin Convention, ANA.
The next article in this issue opens a new multi-part series with an interesting and remarkable backstory. It started out as a series of articles by Joel Orosz in our print journal, The Asylum. That's interesting to many of us and worth remarking on, but the really interesting part is the journey from there to here.
I initially suggested the idea to Joel as an excerpt from the articles, in order to give readers of The E-Sylum a taste of the great product they're missing out on if they're not members of the Numismatic Bibliomania Society. Joel was on board, but there was a parallel effort that would eventually combine with this one.
INTRODUCTION
Michael S. Fey writes:
Ray writes:
Discovering the Inspiration for the Baldwin Vaquero $10

To read the earlier E-Sylum article, see:
THE INSPIRATION FOR THE BALDWIN VAQUERO $10 (https://www.coinbooks.org/v26/esylum_v26n16a12.html)
Last 28 February 2023 was auctioned on eBay the "Ku Klux Klan Tokens" 2nd Edition (1981) by D. E. Birdsell (1920-1998). but the eBay's lot also contained a letter signed by D. E. Birdsell requesting his buyers of the second edition of his catalog to destroy the first printing of his publication. Here is a portion of D. E. Birdsell's letter to his customers:
The National Archives and Records Administration – NARA for short – holds millions of pages of letters, accounts, orders, design information and daily records, yet out of this mass of material, modern books only scrape the surface.
Mold, Molding. The matrix containing the cavities to form a cast piece, and the process of producing that piece. The material to form the casting must be molten, the mold must be capable of sustaining heat and holding the form until the molten material solidifies. There are several kinds of molds, they differ in what they are made of and what they produce. Also molds can be used for only a single cast, these differ from production run casting, where a permanent mold is made often of two or more metal parts for repeated use. The use of molds for medallic production is rather limited, many types of molds have little concern to this field.
When he graduated from Yale in 1867, Charles Wyllys Betts had no way of knowing that his productive life would be cut short in less than twenty years. His unfinished works were left for others to complete. Such efforts are continuing in 2023.
While at Yale, Betts was a member of Skull and Key, a society so secret I can't mention it. After graduating with a B.A. from Yale College, he went on to law school at Columbia in New York, graduating with LL.B. in 1869 and was admitted to the bar. He then did post-graduate study at Yale College until receiving an M.A. in 1871.
Greg Bennick: Have there been any specific coins that you've been most excited about finding or connecting to their history? And the reason I ask that is because about ten years ago or so, I was thumbing through a Heritage catalog and I found an error coin in a Heritage catalog, a photo of it, and my mind immediately jumped to a book on error coins, which had come out in the early seventies and a photo in that book of a coin that I'd coveted when I was a kid. And I went, "Wait a minute, that's not only like the coin, that is the coin from the early seventies in that book," and I ended up bidding on and buying the coin. And whether anyone else in the world would care, I'm not sure, but I was so excited about it that that's the coin…can't you see this everybody?! (laughs) So are there any victories like that along the way that you've experienced and made connections that you're really excited about?
A rare silver stater from the birthplace of the Olympic Games in Greece, a spectacular bronze medallion of the Roman Emperor Maximian, an extremely rare silver piece struck by the last Byzantine Emperor, and a high-grade gold sovereign of Queen Elizabeth I highlight a star-studded offering of more than 1,100 exceptional ancient Greek, Roman, Byzantine, World and British coins in Classical Numismatic Group's Feature Auction 123, to be held live an online May 23-34.
Lot 99, the Olympia stater, was struck between 268 and 252 BC at the ancient site of the Olympic games in Elis, a region of central Greece, depicts a bold portrait of Zeus, king of the Greek pantheon of deities, on the obverse and an eagle clutching a serpent in its talons on the reverse. "This wonderful coin is one of only three known specimens of its type, and has an outstanding pedigree to the famous Robert Jameson and Clarence Bement collections, with an original auction sale date in 1910," said Gasvoda.
Most collections have "odds-and-ends" that have been acquired along the way—early acquisitions, impulse buys, exploring different collecting directions. One of the great appeals of coin collecting is the almost limitless variety that is available. There are many different reasons why most coin collections include runs or groups of less expensive material after all the main items have been accounted for.
Some of this catalog reflects this. Nearly a third of the sale is from the Pat Zabel collection that anchored our major March sale. Several gold pieces, Greek and Roman coins, Saxon material along with more Spanish American material, coins of Guatemala, a few scarce Mexican Revolutionary pieces and more. All of these are coins that he chose carefully acquiring high quality examples of pieces that have moderate catalog values. There are condition rarities here—low value coins can be particularly difficult for collectors to find simply because they don't command the attention that major rarities enjoy.
Greek coins from several well put-together collections that we introduced in the March sale anchor the ancient section of the sale. Day-to-day base metal coins of the ancient eras are also represented with appealing examples from other consignments, most notably the special Roman Republic denarii.
Library Mini-Fest
April's been a busy month. Last Saturday I hosted Jonas Denenberg and Kellen Hoard for a visit to see my numismatic library. In preparation I'd worked to organize a few last boxes of unsorted ephemera. The pair arrived at the recently opened Metro station after 11am and we went to a local Indian restaurant for a nice lunch.
Here's a photo taken prior to the visit, before we started pulling books and binders from the shelves for show-and-tell.
A hoard of 175 silver coins unearthed in a forest in Italy may have been buried for safe keeping during a Roman civil war.
The coins seem to date from 82 B.C., the year the Roman general Lucius Cornelius Sulla fought a bloody war across Italy against his enemies among the leaders of the Roman Republic, which resulted in Sulla's victory and his ascension as dictator of the Roman state.
A perfectly-preserved Roman coin celebrating Emperor Claudius's conquest of Britain has sold at auction for £18,000 after being discovered from the ashes of Pompeii. The gold aureus celebrating the conquest in AD 43 was uncovered among the ruins of a suburb five kilometres north of the archaeological site in southern Italy's Campania region.
Experts say they are hardly surprised the coin, born from two of the most dramatic events of the Ancient World, fetched such an eye-watering price at auction. The "breathtaking" history of the small coin saw it contested over by collectors and museums across Europe.
Dennis Tucker writes:
Nearly 300 silver coins believed to be more than 1,000 years old have been discovered near a Viking fortress site in northwestern Denmark, a museum said Thursday.
The rare trove -- lying in two spots not far apart -- was unearthed by a young girl who was metal detecting in a cornfield last autumn.
"A hoard like this is very rare," Lars Christian Norbach, director of the North Jutland museum where the artefacts will go on display, told AFP.
THE LATIN WORD for "siege" is obsidium, so numismatists use the term "obsidional" to describe emergency coins improvised by authorities in cities under siege. Cut off from normal monetary circulation, these towns needed to pay the troops manning the walls, as they struggled to maintain normal commercial activity. Siege coins are highly collectible pieces of the past, although they present many challenges to collectors.
King Charles is said to be furious that some members of the Armed Forces and the police may miss out on special commemorative Coronation medals.
Details of the medal were expected to have been announced by now, but a row over Government funding is said to be holding up plans.
There are fears that the cost of decorating hundreds of thousands of uniformed personnel could run to £35million – and that there is not enough metal to do it.
Coronation Medal of Charles – but 1953
Ahead of the King's Coronation on 6th May, the Department of Coins and Medals at the British Museum has purchased from numismatic consultant Daniel Fearon, a bronzed galvano of a medal of the King that was intended to be a speculative issue by Messrs John Pinches at the time of his mother's Coronation in 1953. The company used several portraits of the Queen on the various medals they had been commissioned to strike but, it would seem, there was little commercial interest in a medal of Prince Charles.
Paper Money Guaranty® (PMG®) is the world's leading authority on banknote errors, a popular segment of numismatics. In Error Note Chronicles, we take an in-depth look at different errors. This month's topic is the Multiple Impression Error. Banknotes are printed in sheets in several stages, with ink being applied to one side at a time. Sometimes, more than one print is applied to a particular side of a sheet; for instance, the serial numbers on US currency are printed on the sheet separately from the main design.
An amateur gold seeker, Mr. Fausel used his gloved fingers to sweep aside the sand and gravel at the bottom of the creek and then, still under water, let out a cry that was audible through the tube of his snorkel: "Woooo-hoo-hoooo!"
He emerged with what gold seekers call a picker — not quite a nugget, but big enough to pinch in your fingers — and he delicately handed the glinting object to his fellow prospector, a friend with a long white beard who goes by Uncle Fuzzy. In just 20 minutes of rooting around the creek bed, Mr. Fausel had found about $100 worth of gold.