Visit our NBS Sponsors
About Us
The Numismatic Bibliomania Society is a non-profit association devoted to the study and enjoyment of numismatic literature. For more information please see our web site at coinbooks.org
Subscriptions
Those wishing to become new E-Sylum subscribers (or wishing to Unsubscribe) can go to the following web page link
Membership
There is a membership application available on the web site Membership Application
To join, print the application and return it with your check to the address printed on the application. Print/Digital membership is $40 to addresses in the U.S., and $60 elsewhere. A digital-only membership is available for $25. For those without web access, write to:
Charles Heck, Treasurer
Numismatic Bibliomania Society
P. O. Box 2058,
Bluffton, SC
29910-2058
Asylum
For Asylum mailing address changes and other membership questions, contact Chuck at this email address: treasurer@coinbooks.org
Submissions
To submit items for publication in The E-Sylum, write to the Editor at this address: whomren@gmail.com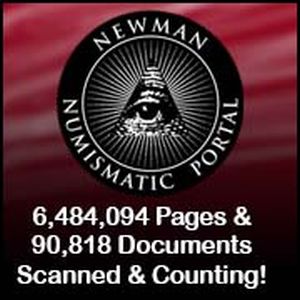 BUY THE BOOK BEFORE THE COIN
Sale Calendar
Kolbe & Fanning sale on May 16, 2023
Content presented in The E-Sylum is not necessarily researched or independently fact-checked, and views expressed do not necessarily represent those of the Numismatic Bibliomania Society.
New subscribers this week include: Richard Kelly & Nancy Oliver. Welcome aboard!
Thank you for reading The E-Sylum. If you enjoy it, please send me the email addresses of friends you think may enjoy it as well and I'll send them a subscription. Contact me at whomren@gmail.com anytime regarding your subscription, or questions, comments or suggestions about our content.
This week we open with eight new and updated books, NNP Symposium videos, a new interview, notes from E-Sylum readers, and more.
Other topics this week include circulating coins in Cuba, rare coins and the law, digital images, colonial coin metal detecting finds, Julian Leidman, Dale Birdsell, the Misters Red Book, auction previews, bathhouse finds, the Badge of Military Merit, Charles III medals and money, and Baby Bonds.
To learn more about San Francisco Mint history, 1839 Philadelphia Half Dollars, slave quarters, the Byron Reed collection, cryptocurrency, Mega Red, Moneyers, Swiss Shooting Medals, the Pavilion Dollar, and how U.S. coin dies got their numbers, read on. Have a great week, everyone!
Wayne Homren
Editor, The E-Sylum


Nancy Oliver and Richard Kelly, co-authors of the Numismatic Chronicles column in The Numismatist, have revised and reprinted all six of their books. They lost their home and all of their belongings to the 2018 Paradise, Ca, fire. However, a recently discovered USB drive containing all the book files (found in a surviving safe deposit box) has made recovery, revision, and reprinting possible. The following books have been updated and limited copies are available for purchase:
At right is the cover page of my new book on 1839 Half Dollars. To the best of my knowledge this new book is the only complete collection of all 15 die marriages for the year 1839. This book has all 8 known die marriages of 1839 Capped Bust Reeded Edge Half Dollars including the highest graded certified specimen of 1839 GR-1 in NGC AU50. It also includes all 7 Liberty Seated Half Dollar die marriages.
I have been a member of John Reich Collectors Society (JRCS) since June of 1986 and a member of Liberty Seated Coin Club (LSCC) since November 2020. I bought my first Reeded Edge Half Dollar in November 2009 and by November 2017 I had 53 of the 56 known die marriages. Since then, I have become a very serious die stage collector and believe my collection of Reeded Edge Halve is the most complete in the world.
In August 2022, I purchased my first 1839 Liberty Seated Half Dollar, an 1839 WB-6 in PCGS XF45 in a Heritage Auction and hoped to find the remaining 6 die marriages in the same grade. That didn't happen. However, eight months later, I did find them in reasonable grades and they are now shown in my new book.
My new book HISTORY OF THE COIN CIRCULATION IN CUBA (Roberto Menchaca García, Editorial Punto Rojo Libros, 2023) has just been published.
The book is the continuation of an earlier work published in 2013, "La moneda cubana en circulación" (The Cuban coins in circulation; see also E-Sylum, vol. 16, nr. 33, Aug. 10, 2013), and delves into the study of the historical context in which the various types of coins have been produced in the country. To this aim, an extensive bibliographic research was carried out, covering inter alia numerous newspapers and magazines, official reports and the information contained in the archives of the Numismatic Museum of Havana.
The first chapter is devoted to the general study of the coinage made in each of the periods, that the Cuban history can be divided. The following chapters detail the characteristics of the various coins produced since 1915 till present. The coinage produced on behalf of the National Institute of Tourism and the convertible currency are discussed in a subsequent chapter.
Recordings from the NNP Symposium are now available on the Newman Numismatic Portal! You can go back to watch any talks that you missed and share them with others.
If you want to search through past presentations, we have an Excel spreadsheet on our website that will help you filter through all 170+ past recordings!
Armen is an attorney who specializes in numismatics. Speaker(s): Armen R. Vartian.
Greg Bennick: Hi, everybody. I'm Greg Bennick with the Newman Numismatic Portal, and this is another interview. And not just another interview, it's a great interview in a series of interviews that I'm doing for the NMP. Today, I'm with Julian Leidman. Julian is from Bonanza Coins in Silver Springs, Maryland. Julian is a lifetime member of the ANA. He also received a Lifetime Achievement Award from the Professional Numismatist Guild, PNG, and also from the ANA. So, this is a special interview, and I'm very excited about it. Julian, thanks for taking some time and being with me today.
Julian Leidman: Happy to do it, Greg. Thank you.
Greg Bennick: Awesome. Well, let's get started with the basics, because I always love the basics and everyone's background story. Tell me, how did you get started in coin collecting? Where did it all begin?
Julian Leidman: It began in the 1950s. We had just gotten a television in the house, and my parents decided they had to get me out from the television. So, they said, 'Why don't you try a hobby?' And the first thing I tried was stamps, and it didn't go very well. And then my mother showed me some coins, and that was more interesting. And that went well.
More on the Weimar White Seated Dollar Books
Ken Berger writes:
To read the earlier E-Sylum article, see:
NOTES FROM E-SYLUM READERS: MAY 7, 2023 : Query: Weimar White Liberty Seated Dollar Book Signature (https://www.coinbooks.org/v26/esylum_v26n19a14.html)
Bob writes:
Tom writes:
Moneyer. An early coiner; a person who made coins before minting plants were established, during the Industrial Revolution. Moneyers were granted authority by a king or some municipal official to strike coins for a specified area. Their pay was typically one coin for every twelve produced, called brassage. Moneyers faced two problems: a supply of blanks –sometimes cast or cut from beaten plates of metal (see blanking) – and engraving the dies for the moneyer to strike (see dies and diemaking). They would strike coins between the dies with a heavy blow from a hammer, one die secured in an anvil, the other held by the coiner. In numismatics this is known as hammered coinage. As technology advanced, the manufacture of coins moved from the workroom of a moneyer to a building specifically intended for the production of coins, a mint, and from a moneyer with an assistant or two, to craftsmen with specialized tasks (see mints and minting).
Recently I wrote about one of my favorite numismatic heroes, Charles McCormick Reeve. This week I take up one of my favorite numismatic villains, Dale Birdsell. I will relate two versions of his story that are as different as black and white.
Dale Estin Birdsell was born on June 4, 1920, in Hillsboro, Oregon. His father was Curtis John Birdsell (1876-1942). In the 1930 Census, he was listed as a real estate agent. In 1940 as the county assessor. Dale's mother was Elizabeth Manning Simon (1893- ).
Birdsell was discharged from the Army in 1941 for swindling. He enlisted in the Army again on July 24, 1943 and served overseas during World War II. His registration papers indicate he had two years of college and was employed as an office clerk. He was listed as single with dependents. He was examined by an Army psychiatrist in 1944 who found him to be psychopathic and he was discharged.
Two Whitman book series, the Handbook of United States Coins and A Guide Book of United States Coins, both truly numismatic institutions, were the inspiration and dedication of two men, who first established, then refined these series for decades. One, Richard Yeo, was the founder, consummate salesman, and ambassador; the other, Kenneth Bressett, was the scholar and developer. The story of their joint achievement, annually renewed, is worthy of note and remembrance.
Richard Yeo was a son of the Badger State, blessed with a flair for design and a knack for making friends. Whitman Publishing of Racine, Wisconsin, hired Yeo in 1932 and soon put him to work selling coin boards and, later, the celebrated blue coin folders beloved by generations of young collectors. Although new to numismatics initially, he wasn't afraid to ask specialists for guidance.
As R.S. Yeoman, Yeo continued as editor of the Red Book for nearly a quarter century, making it into the most trusted guide for retail prices and earning him the title Mr. Red Book. Throughout the 1960s, he frequently appeared as a brand ambassador for his many publications at coin shows, conventions, and clubs, where he autographed books and charmed collectors with his modest demeanor and engaging personality. By the time of his retirement in 1970, he had proven his pen name truly apt, for his yeoman's service benefitted not only Whitman Publishing, but all of numismatics.
The American Numismatic Society (ANS) is pleased to announce that Melissa Ludke has been selected as the inaugural recipient for the Chairman's Fellowship for Numismatic Research. The fellowship will go toward funding her dissertation research and planned book project: Cosa and Socio-Economic Interactions among Middle Republican Cities in Central and South Etruria.
Ludke is a doctoral candidate in Classical Archaeology at Florida State University, where she earned her MA in Classical Archaeology; she received her BA in Anthropology from Grand Valley State University. Ludke has worked on the Cosa excavations in Ansedonia, Italy since 2016, and the Excavation Coins Inventory Project with the Soprintendenza Archeologica della Toscana since 2022. Her dissertation will investigate the interactions between Cosa and neighboring cities in the third century BCE by reexamining materials from the site, including coin assemblages of regional, foreign, and Roman origin, to determine overlapping circulation patterns and how those inform an interpretation of those relationships. Ludke will present her research at a future Long Table lecture, hosted by the ANS and open to members of the Society.
Early American History Auctions is proud to announce its outstanding upcoming May 27th, 2023 Saturday of the Memorial Day Weekend American Patriot Auction focusing on the Historical Collections of Ambassador J. William Middendorf II
This exceptional auction of 264 lots will feature many highly important Early American Historical Prints, Paintings, Autographs, Documents and Americana, many consigned from the Collection of Ambassador J. William Middendorf II, one of America's foremost historical collectors, specializing in American Military history from Colonial though Revolutionary War and beyond, recording various Naval Engagements and important Commanders. This auction contains numerous highlights from the Middendorf collection, including our featured Highlight:
Stephen Album Rare Coins will hold its Auction 46 on May 18-21, 2023 at their new offices in Santa Rosa, California. The auction is made up of 2800 lots of Ancient, Islamic, Indian, Chinese, and World Coins. The first two days offer floor bidding in addition to internet bidding, while the third and fourth days will be internet-only sessions. Featured in this auction will be the Charles W. Lueders Collection of Indian & Asian Coins and the Butalia Collection of Sikh Empire Coins.
The coin featured on the cover of the printed catalog is certain to create a buzz of excitement on the bidding floor when it comes up for auction. It is a Chinese pavilion dollar engraved for Dr. R.M. Pearce. Only a handful of these officially hand-engraved dollars have surfaced, and this is the first piece to be auctioned with the original award letter from the Office of the President of China!
Some highlights from the sale follow:
1799 New York Associate Church Communion Token

New York--New York. 1799 Associate Church Communion Token. Lead or Pewter, Cast. Plain Edge. Very Fine.
23.5 mm x 17.5 mm, oval. Obv: Inscription ASSOCIATE / CHURCH within plain border. Rev: Inscription N. YORK with date 1799 below. Dominant pewter-gray coloration with a few splashes of deeper steel-russet on the obverse. A casting flaw at 12 o'clock on the reverse is as made, as is another shallower flaw in the left field on that side. An appealing token and quite rare.
To read the complete lot description, see:
New York--New York. 1799 Associate Church Communion Token. Lead or Pewter, Cast. Plain Edge. Very Fine. (https://auctions.stacksbowers.com/lots/view/3-13799T/new-york-new-york-1799-associate-church-communion-token-lead-or-pewter-cast-plain-edge-very-fine)
Paul Horner writes:
Nowadays, you likely secure your valuable jewelry before a trip to the spa. But ancient Romans may not have taken that extra step before enjoying a hot bath.
Following Russia's invasion of Ukraine in February 2022, the Royal Canadian Mint made the decision to donate all net cash proceeds from the sale of its Pysanka-themed collector coins to humanitarian relief for Ukrainians impacted by the war. Later that year, the Government of Canada asked the Mint to also direct net cash proceeds from the sale of its 2022 50th Anniversary of the Summit Series and the 2023 Pysanka collectibles to the same cause. In alignment with the Government of Canada's efforts to support the people of Ukraine, the Mint has so far raised over $1 million for relief efforts led by the Red Cross Ukraine Humanitarian Crisis Appeal and the Ukrainian Humanitarian Appeal.
"When Putin launched his illegal and full-scale invasion of Ukraine, Canada immediately responded, alongside our allies, by sanctioning Russia and Belarus and providing Ukraine with the economic, military and humanitarian support it needs to defend its sovereignty and democracy," said The Honorable Chrystia Freeland, Deputy Prime Minister and Minister of Finance. "Across Canada, citizens, community groups, and businesses have supported Canada's efforts to help the people of Ukraine in their fight for their lives, their country, and democracy."
Politically Defaced?
The road to glory in a patriot army and a free country is thus opened to all. So said George Washington when he created the Badge of Military Merit, which he first awarded today in 1783, to two brave enlisted Connecticut soldiers at the Continental Army headquarters in Newburgh, New York.
Prior to this, awards for military distinction had been granted almost exclusively by Congress to military officers: Washington, for forcing the British to evacuate Boston; Horacio Gates's victory at Saratoga; Nathaniel Greene's victories in the Southern campaign. The only non-officers awarded medals were the three enlisted men who had captured the spy John Andre, which exposed the British plan to take over West Point and execute Washington, with the help of the traitor Benedict Arnold.
The King's Coronation Medal was unveiled over the weekend by the government, as was the list of people who would receive it.
More than 400,000 Coronation Medals will be distributed, according to the Culture Secretary, including everyone involved in the 6 May ceremony.
To mark the coronation of King Charles III, Prime Minister Justin Trudeau confirmed on Saturday that Canadian coins and the $20 banknote will be updated with the new monarch's image, replacing that of his late mother, Queen Elizabeth.
Trudeau said he has asked the Royal Canadian Mint to create an effigy of His Majesty to appear on the obverse, or "heads," side of Canadian coins in circulation. He also confirmed that he has asked the Bank of Canada to update the $20 bill — the only Canadian banknote left bearing a royal's face — during its next design process.
A new investment program being tested in some states makes the case: what if the poorest children started life with some money in the bank.
That is the premise of a program catching on among Democratic leaders around the country. So-called baby bonds have been discussed in at least eight states and lawmakers have approved programs in Washington, D.C., Connecticut and California.
The new R100 banknote that was launched by the South African Reserve Bank (SARB) last week has an apparent spelling error in the Xitsonga translation of 'Reserve bank'.
This was realised when the release of the new note caused a stir amongst some Xitsonga-speaking communities who noticed the spelling change.
The old banknotes denoted the Xitsonga spelling of Reserve Bank as 'Bangi-Nkulu'. However, on the new R100 note, the Xitsonga translation of the Reserve Bank was changed, with the second 'N' in Bangi-Nkulu dropped. The word now reads as Bangi Kulu.
How Coin Dies Got Their Numbers
The earliest United States Mint dies were anonymous lumps of steel. Except for the design faces and size, there was little to distinguish one from another. That began to change when branch mints were opened in New Orleans, Charlotte, and Dahlonega. Sometimes the Coining Department in Philadelphia, where working dies were made, marked the shank (the cylindrical part of a die) to show which mint it was intended for – but sometimes this was omitted.
Engraver James B. Longacre was the first to officially imply that dies be numbered or otherwise marked so that a record could be kept. The basic purpose was to ensure that all dies got to the correct mint, and that the engraver had a list of dies made from his hubs and master dies. At the end of the calendar year, each mint reported the quantity of dies destroyed by denomination. This was supposed to match production and distribution records kept by the Engraving Department.
By 1878, coinage dies were being numbered – likely consecutively as they were completed and ready for use, although at present we don't have explicit documentation.
In September 1880, Mint director Horatio Burchard wrote to Philadelphia Mint Superintendent Snowden with suggestions for tighter control of dies. It's not obvious why this change was made, but a possible reason is to keep better track of the large quantities of silver dollar dies being sent to all the branch mints each year. Adding numbers to dies by order of production for each facility would have made data recording easier, and simplified reporting.
To read the complete article, see:
How Coin Dies Got Their Numbers (https://coinweek.com/how-coin-dies-got-their-numbers/)
To read the earlier E-Sylum article, see:
MINING MINT ARCHIVES FOR RESEARCH GOLD (https://www.coinbooks.org/v26/esylum_v26n17a13.html)
This week's Featured Web Site is that of engraver and medal maker Nicolas Salagnac.