Visit our NBS Sponsors
About Us
The Numismatic Bibliomania Society is a non-profit association devoted to the study and enjoyment of numismatic literature. For more information please see our web site at coinbooks.org
Subscriptions
Those wishing to become new E-Sylum subscribers (or wishing to Unsubscribe) can go to the following web page link
Membership
There is a membership application available on the web site Membership Application
To join, print the application and return it with your check to the address printed on the application. Print/Digital membership is $40 to addresses in the U.S., and $60 elsewhere. A digital-only membership is available for $25. For those without web access, write to:
Charles Heck, Treasurer
Numismatic Bibliomania Society
P. O. Box 2058,
Bluffton, SC
29910-2058
Asylum
For Asylum mailing address changes and other membership questions, contact Chuck at this email address: treasurer@coinbooks.org
Submissions
To submit items for publication in The E-Sylum, write to the Editor at this address: whomren@gmail.com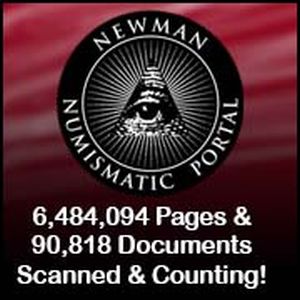 BUY THE BOOK BEFORE THE COIN
Sale Calendar
Content presented in The E-Sylum is not necessarily researched or independently fact-checked, and views expressed do not necessarily represent those of the Numismatic Bibliomania Society.
Thank you for reading The E-Sylum. If you enjoy it, please send me the email addresses of friends you think may enjoy it as well and I'll send them a subscription. Contact me at whomren@gmail.com anytime regarding your subscription, or questions, comments or suggestions about our content.
NOTE: I'm travelling this week, and our next issue may be delayed.
This week we open with a numismatic literature sale, three new books, updates from the Newman Numismatic Portal, notes from readers, and more.
Other topics this week include paper money of Poland and Mexico, dealer Richard Lobel, ANA convention events, monograms, fixed price and auction offerings, fake toonies, British tokens, and Irish internment camp tokens.
To learn more about early U.S. quarter dollars, U.S. gold coin varieties, the Clapp Family collection, Mexican Coin News, Byron Reed, the Gothic Crown, the Battle of the Nile medal, and Lady Godiva, read on. Have a great week, everyone!
Wayne Homren
Editor, The E-Sylum


Kolbe & Fanning Numismatic Booksellers are pleased to announce that we will be holding our next auction sale on Saturday, June 10, 2023. The sale includes an impressive array of rare and out-of-print works on coins, medals, and paper money from antiquity to the present, including selections from the libraries of Louis E. Eliasberg, Sr., and Richard A. Eliasberg. Some highlights of the sale include:
Lot 10: a complete set of Max Bahrfeldt's classic revision of Babelon on Roman Republican coins
Whitman Publishing announces the release of the 2024 (77th edition) Guide Book of United States Coins, popularly known as the Red Book. The newest edition of the hobby's best-selling reference is available from bookstores and hobby shops nationwide, and from online booksellers. The 472-page book comes in several formats including the classic red hardcover, two spiralbound versions (softcover and hardcover), and Large Print.
The Red Book prices nearly 8,000 coins and coin sets in up to 9 grades each, with more than 32,000 retail valuations in total. It has many new features and updated research, plus additions to the book's 2,000-plus color photographs, which include enlarged close-ups of rare and valuable die varieties.
Coin collectors have used the Red Book to value their collections since the 1st edition was published in 1946. Today, Senior Editor Jeff Garrett coordinates the book's advisory network of more than 120 professional coin dealers and researchers. Q. David Bowers serves as research editor, and Kenneth Bressett, who has worked on the Red Book since the 1950s, is editor emeritus.
The 18th edition of the catalog of Polish banknotes, which is usually only revised and supplemented every two years, was published in April 2023. In the Internet age, when publishers have to make wise decisions about new and subsequent editions, there must be good reasons for shortening the edition of the book in this way. It will be easy to find an explanation for this, because the prices are already slightly higher on the first page with price markings (No. 13), but are greatly increased on page 14, often by 100% and more. Furthermore, if most expenses are 10-30% more expensive, this of course also has something to do with the inflation rate, which is higher in Poland than here.
Friends of Polish banknotes know that the banknotes from the 19th century are so rare that you can almost only state "ca", i.e. collector's prices, because even in the usual grade IV or even V they often cost a small fortune. Chapter IV includes the certificates of the German occupation of the First World War. Here there are higher and lower prices than in 2022, but sometimes higher prices are listed for grades III and II, not for the top grades. The reason for this is simple: interest in paper money has increased so much in Poland that in the absence of good quality offers one has to be more willing to compromise even to purchase even III rated qualities for which more is charged. But quality still has its price.
The US Mexican Numismatic Association is developing a comprehensive online history of Mexican currency, from the earliest necessity issue at the time of the War of Independence through to other emergency issues caused by the silver shortage in 1943. It includes the various national and state banks of issue, and all the private and factional issues, but not the issues of the Banco de México.
The information is presented in the "The History" section by state and in roughly chronological order. National issues and events can usually be found in the Federal District section.
Newman Portal Adds Andrew Pollock's United States Gold Coinage Die Varieties 1795-1834
With the kind permission of Andrew W. Pollock III, Newman Portal has scanned and posted his volume United States Gold Coinage Die Varieties 1795-1834 (privately published, 1995). While the standard reference for die variety attributions is now the 2006 work Early U.S. Gold Coin Varieties, 1795-1834, by John Dannreuther and Harry W. Bass, Jr., specialists will find the Pollock work useful for the condition censes that are provided on a per variety basis. Pollock notes a 1,000+ catalogue survey, not surprising given the extensive listings.
Images: 1796 $2.50, BD-1 (R.7) , PCGS AU55, ex. Bass Core Collection I (Heritage Auctions, 9/29/2022), lot 11004, realized $312,000. TrueView images courtesy of Collectors Universe.
Link to United States Gold Coinage Die Varieties 1795-1834 on Newman Portal:
https://nnp.wustl.edu/library/book/626540
Greg Bennick: Hi, everybody. My name is Greg Bennick. I'm with the Newman Numismatic Portal. And I'm doing a series of interviews with important numismatists from around the world. Today, I've got Richard Lobel with me. And Richard and I are going to be discussing Coincraft, his store and his history in coins. Richard, it's so nice to see you today.
Richard Lobel: Nice seeing you. I'm glad I've actually got this damn thing working. (laughs)
Greg Bennick: Well, I'm really glad too. It's great to see your face and to hear your voice. Well, let's just dive in. Tell me about Coincraft. My understanding is that you started Coincraft, which is your store now, but that you started it as a store in 1955 in --
Richard Lobel: Well, I started -- No. I was in collecting coins before 1955, but I date my starting in the coin business and the rest from my first paid subscription to a coin publication in 1955, still the world's greatest coin publication, the Numismatic Scrapbook magazine
Greg Bennick: That's fantastic. Well, were certainly kindred spirits. I was asked to leave university as well and then worked out an agreement with the university and stayed. So, that's good to know that we're in good company today. Now, how did you move from Boston to England? How did that come about, and when was that?
Richard Lobel: Well, I graduated university finally. Instead of taking four years, it took six years because of dropping out and all the rest. And I got -- I have a degree in international business and macroeconomics. And I was supposed to go to Harvard Business school for my MBA. And I thought about it and I said, no. I don't really want to study. I love coins. And I thought, and this was the big mistake. I thought I spoke the language in England. It is totally different. It's a bit risqué In America, a woman's fanny is her bum, her backside. In this country, it's the other side of her anatomy. And I was with a group of guys, and I said, oh, she was really cute and I pinched her on her fanny. And they looked at me like, what have I done? I moved here October 2nd, 1968. It was the end of the 60s. It was still a swinging place. I had $5,000 but I owed the bank and my aunt $8,000. So, basically, I was broke when I moved here. But I didn't care. I loved it. The moment -- I'd been to England once before in 1964, I loved it. There's something about it. It's the age, and it's -- you can walk down the same street every day for a year, and every day you'll see something different. And it's....
Greg Bennick: I just said it's so wonderful.
Richard Lobel: It's a beautiful life over here. In America, the people you work with, the people who live next door to you are your friends. Well, they're not really. Are they? They're people you know. Over here, it took me seven years before someone called me a friend. But I knew that they really were your friend. If you were in a fight, you didn't have to look around, that person would be there with you. And I can appreciate the honesty of this country, and they don't call you your friend because you work with them or you live next to them. If you are a friend, they really are your friend. I've had some friends here for more than 50 years and I'm still friendly with them.
Len Augsburger writes:
Query: Counterfeit 1801 Peru 2 Reales

Stu Jones writes:
To read the earlier E-Sylum article, see:
NOTES FROM E-SYLUM READERS: FEBRUARY 5, 2023 : Contemporary Circulating Counterfeits Group Formed (https://www.coinbooks.org/v26/esylum_v26n06a12.html)
To mark the 35th anniversary of the historic 1988 discovery of the greatest treasure ever found, a $15 million Ship of Gold sunken treasure exhibit will begin a nationwide educational tour with its first port-of-call at the Long Beach Expo (www.LongBeachExpo.com) collectibles show in Long Beach, California, June 22–24, 2023.
The display of recovered California Gold Rush treasures from the 1857 sinking of the fabled S.S. Central America will feature gold coins, assayer's ingots, gold nuggets, and gold dust. There will also be a bank treasure shipment box, items from the ship, and recovered passengers' artifacts including 166-year-old Cuban cigars and the world's most valuable jeans – gold prospector's heavy-duty work pants that sold at auction for $114,000 this past December.
A rare example of a reduced-size early 20th-century New York City landmark statue, created by acclaimed sculptor Augustus Saint-Gaudens, will be publicly displayed at the American Numismatic Association 2023 Pittsburgh World's Fair of Money®.
Entitled Victory, the statue is reminiscent of the great artist's renowned 1907-1933 U.S. Double Eagle gold coins design. The same female model posed for Saint-Gaudens for both of those projects.
Previously in a private collection for decades, the stunning statue was purchased for $1,168,400 at a Sotheby's auction by Kevin Lipton of Kevin Lipton Rare Coins in Beverly Hills, California this past April. He now will exhibit it for the public to see at the ANA Pittsburgh convention, August 8-12.
Display an Exhibit at an ANA Convention
The Collector Exhibits at ANA Conventions is one of the best attended and most interesting parts of the show. There are educational displays on every area of numismatics from ancient coins and artifacts, tokens and medals, world coins, to modern United States coins and paper money.
The individual creativity is rivaled only by the quality and variety of the items on display. Each display invites the viewer to Discover and Explore the World of Money. Members are invited to share their knowledge, research, creativity and collections with other members and the general public at ANA's annual conventions by preparing and displaying a numismatic exhibit.
Present Numismatic Knowledge During the Pittsburgh World's Fair of Money®
Submissions are being accepted for the Sundman Lecture Symposium, taking place during the American Numismatic Association's (ANA) Pittsburgh World's Fair of Money, August 8-12. The theme this year is "The Numismatics of Nation Building; Money, Medals, Tokens and National Identity," which focuses on how coinage, paper currency, medals and tokens have been used to create, record and/or modify national identity since the ancient Greeks used their money to announce the creation of new states.
Presenters should focus on how numismatic objects record the ideals, events and art of a nation which form national identity and illustrate the evolution of that identity over time. The Symposium will be held at the David L. Lawrence Convention Center on Wednesday, August 9, 10 am to 4:15 pm.
Monogram. A letter, combination of letters, or symbol forming the designer's, engraver's, or sculptor's signature on a numismatic item, sometimes in artistic arrangement. Monograms often have the last name's initial in the center if three or more letters are present (particularly if a center letter is larger), so the sequence of letters is not always certain. Other monograms may appear on a coin or medal as well; the issuer's initials, or the initials of the subject, as the Pan Pacific Exposition used a monogram of back-to-back Ps with an overlaid X. Monograms are indexed in the order the initials appear, or sometimes by all initials in the symbol.
Smarty-Pants question of the week: What do Norman Bateman, Frank Collins and Frank Howe have in common? No need to wait until next week to learn the answer. It is revealed in the article to follow.
But I guess my favorite coin is what I'm always going to call Judd 1776, which is the Indian Head Double Eagle designed by Saint-Gaudens, and unique. I was fortunate enough to be exposed to the pictures of that collection of coins, I think in St. Louis in 1970, at the ANA convention. Armand Champa came up to me. Armand, at the time, was a really big pattern collector. Of course, I enjoy patterns. I kind of picked that up from one of my other mentors back in the day.
That was Steve Rudell, who was a local dealer here, but he and a national following, and he was interested primarily in silver dollars. I know, at times, promoting the '93-S and the '94 P. But he was also interested in patterns, and that's where my interest in that came. But anyhow, Armand showed me this book, and in this book were all the gold patterns, pictures of them. And I said, 'Wow.' And he told me a little bit about it. He said he had met the owner of the collection, and had these pictures. And I said, 'Wow, that's absolutely incredible.' And so, fast-forward to 1973 in Boston, I'm on the bourse floor at the ANA convention, and I'm walking down the aisle, and I see the same book in a dealer's case. And I said, whoa. So, I asked what the deal was, and they said, well, Dr. Wilkison had retained them to market the collection.
So, I said, 'Hmm,' and I went and talked with another one of my long-time colleagues, Mike Brownley from Dallas, and I told him about this. And we went back over to the dealer that had it. It was the Tennessee Exchange. Tennessee Exchange was four numismatists that had gotten together and formed a company. And of course, they knew Dr. Wilkison. Dr. Wilkison was in Springfield, Tennessee, and they were in Nashville, which is about an hour away. So, I had a little bit of experience in Nashville. I had experimental surgery done at Vanderbilt University in 1971, so I had met Tennessee Exchange there, and I had met them at coin shows. They were very active. Let me see - Ty Buckston, Gentry Hale, John Powers... I just can't remember the fourth right now. They were all very nice people.
So, Mike and I made arrangements to go to Tennessee after the ANA. And we went to Tennessee, we met up with three of them, I think. Pete- Pete was the fourth guy's name, I just can't remember his last name. But either two or three of them took Mike and I to Springfield, and we met Dr. Wilkison, who was a surgeon in Springfield, Tennessee. And it was very enjoyable. He took us and showed us the collection... And I'm overwhelmed again. Here they are in front of me. And I say, 'Wow, this is absolutely incredible.' So, we talked a little bit, and we asked if we could market it for him, and he said yes for a month. You can do that. So, we then went to a nice lunch at his favorite restaurant, which is a little diner in Springfield. Not a diner, but a small restaurant that he probably went to every day. And we had a nice lunch there, and we left.
Now, Mike was officing at the time with Harry W. Bass Jr., and Harry was an advanced numismatist, collecting gold coins by die varieties, and US patterns. Harry was also wealthy. And we said, well, this is the perfect place. Now, this collection had a few duplicates in it, so we decided, well we'd be happy to just take the duplicates as our commission, and we approached Harry with it. Mike really approached him, because he saw him every day. And Harry said he'd been offered the collection previously, I think by John Ford, and he just couldn't bring himself to spending... What we were gonna have to get was $750,000 net. So, Harry said he just didn't think the value was there. We really felt he was making a mistake, but that was that. I mean, it was his money, his collection.
And I had been doing business with Harry for several years, and of course, Mike was now officing with him, so we stepped back a few feet and we said, well, we'll go to some of our own clients. And so, pattern collectors, over the years, have been very enthusiastic numismatists. So, I had a couple of very good people that I've been working with. One was Rogers M. Fred Jr. Rogers was in Washington DC, he was in business with his father in a coffee company, Browning and Baines. I met him through a dealer I was working with in 1965, Larry Camp and Jim Studley at Washington Rare Coins. And I met him at his office there. But fast-forward to 1973, I called Rogers up, and I said, 'Rogers, we've got an incredible opportunity here. I know what you've collected in coins, I know what you've enjoyed your patterns with. This is gonna be a spectacular addition.'
Rogers was well-off. They had money. But, he just said it was too much money for him to consider. I said we'll take the duplicates as a commission, and he just said it wasn't gonna work. And then, I went to Rudy Sieck out in Iowa. Rudy was also a very enthusiastic collector, and he was a farmer. He was well-off, but he said the same thing. He just couldn't spend that much money on the collection. So, step back a few feet again... I don't think I offered it to anybody else myself, but Mike called up Max Humbert at Paramount International, and said, 'Max, what do you think?' And Max said, 'I'd like to have an opportunity to do something with this. Let's go look at it.' So, Max and David Akers from Paramount met us in... Excuse me just a second.
Greg Bennick: Sure.
Julian Leidman: Met us in Nashville again. And we went up to Springfield, and met with Dr. Wilkison. I'm not sure if one of the partners at Tennessee Exchange was with us or not, because they had an arrangement with Dr. Wilkison where they were gonna get a commission as well. So, we explained it to Max. 'Listen, Max, you can either buy this outright, and we'll take a few duplicates as our commission, or you can pass the 10% commission.' And they - mostly Max, because Max was the president - decided that that's what they were going to do. And they made a deal with Dr. Wilkison, I think, that they would pay him within a month or something like that, and Paramount was gonna pay us our commission separately. And as it turned out, they gave us each five percent that we could take in trade from Paramount directly, or in their auctions.
So, that was fine, we were happy with that. And they took possession of the collection. This was... It had to be still in 1973, yeah. And they took it back to Ohio, and David worked on a catalog, he produced a spectacular catalog of all the coins in the collection, and went forward with it. I think in 1975, they traded A-Mark in California, the entire collection, for Redfield Dollars. Steve Markoff, who was A-Mark, had purchased the Redfield hoard of dollars, and they traded the collection for Redfield Dollars. And then, Paramount went on to market the Redfield Dollars over the years. And now, Steve had this collection of patterns. I don't know that he necessarily knew what to do with them, but he marketed them somehow, various people got different coins, but the Indian Head 20 and the Amazonian Gold Set both remained.
And in 1979, I acquired the Amazonian Gold Set and the Judd 1776 in a deal with them, and they were now mine. And here I have my favorite coin, the Judd 1776, and the unique gold proof set Amazonians. And I tried to market them. 1979 came and went, and the interest rate- I had done it all with borrowed money now. Steve had extended me the credit for what was... I believe it was $1,100,000 for the Gold Set and the Judd 1776. So, I tried to market them, and the interest rates kept going up, and up, and up. 1980 was the high watermark for interest rates, and it was strangling me. So, eventually, not being able to properly market the coins- I had talked to individual people. I had talked to Ed Trompeter, who put together a spectacular collection of gold proofs. I had talked to him about maybe buying some of the coins.
He was in a business where he serviced the various defense businesses, and so he would come to Washington at least once a year to exhibit at the convention. And I went and picked him up on his next trip, brought him up to the bank where the coins were, and he sat and looked at them, but I couldn't convince him to buy either. So, in 1981, I had to market the coins through Bowers and Merena, I think. Was it Bowers and Merena or Bowers and Ruddy at the time?
Greg Bennick: It was one of the two, certainly.
Julian Leidman: It might have been Bowers and Ruddy, I'm not 100% sure. And we marketed the coins that way. I was gonna get a minimum amount. And the coins ended up selling. I actually lost money on all of those coins. It's just one of those things. But still, to this day, it's still my favorite coin. I still have an autograph photo of the Judd 1776 that was given out by A-Mark at the 1976 ANA convention, autographed by Dr. Wilkison. And I don't remember how many of them there were, but there aren't very many left, I'm sure of that. Because that's almost 50 years ago, a long, long time. But I always enjoyed the beautiful coins, and over the years I bought and sold patterns, I bought and sold beautiful coins, I bought and sold rare coins. It was great. I mean, I had- I really enjoyed my numismatic career.
Greg Bennick: Well, I love that story for many reasons. First and foremost, you make my job as an interviewer very easy. I was going to ask you about your relationship with Harry Bass, I was going to ask you about the 1872 Amazonian Set, and you covered those. But, what I love also about your story - and I love this more than anything else - is that it gives people a background of what happens to a coin, or rare coins, for that matter, in between seeing it, and maybe seeing it again sometime. I have a huge collection of auction catalogs, and I'll look at a coin in a catalog and say, 'Oh, I've seen that coin in a different catalog.' Fast-forward a few years, there it is again. But we don't get the backstory very often, other than maybe just a bit of writing in the catalog by the expert catalogers that are out there, about what happens behind the scenes.
And you've just given us such a great vision of what happens behind the scenes in that era, between those dates, with those specific coins. And when you multiply that times all the rare coins out there, it creates this amazing fabric of what's going on in the industry with rare coins, beyond what we see at face value. That was very, very fascinating.
Julian Leidman: Yeah. It was really the... I guess the high watermark of my career, starting in 1973, but the coins still remain very near and dear to my heart. My relationship with Harry continued really up through his death in the 90s. There were three of us that were kinda close to him. Of course, Mike, myself, and Stan Kesselman, who was a New York dealer in gold coins. He and Harry had built up a relationship. So, there was the three of us, we would sometimes look at coins for him at auction and stuff. And Harry had a very unique way of bidding. He said, 'Well, I gotta have this, and I gotta have this absolutely, and I gotta have this triple-must.' He had degrees of how much he had to have something. And when you come across something that's triple- absolute-must, you know you had to buy it, or you had some real explaining to do.
So, you know, over the years I did that, and Stanley did, and Mike did, but as I remember, Stanley got married in... I guess it was... 1969 or 1970 in Toronto. And Mike, Harry and me, we all went to the wedding in Toronto. So, we had a nice, very special relationship. I remember acting once for Harry at an auction in California. There was the Amazonian Silver Quarter that he wanted, and he said, 'I've got to have it. Well, Rudy Sieck also called me up and said, 'I've got to have this.' He wanted the Amazonian Silver Quarter too. So, I made both of them give me their absolute limits, and I said, I'm gonna represent you both, I want your absolute limits, that's it. And Rudy gave me $12,000 to bid on it, and Harry had given me $12,500 to bid on it.
Greg Bennick: Unbeknownst to one another?
Julian Leidman: Unbeknownst to one another. I never told them what the other one had given me. I bought the coin at the auction for $7500. And at the time - I think this was in... It may have been in 1975, I don't remember. But at the time, I interrupted the auctioneer. I said, We have to raise the bid to $12,500 for that, and award it to whatever it was, and they were stunned. They didn't have- and I explained. I had two top bids, and I always felt that the consignor of the coin was entitled to both those bids. And that was the way it went. And Harry got the coin for $12,500, and the consignor was paid based on the $12,500. Rudy was disappointed, but not mad. And that was that. I was very lucky that Rogers didn't want it also, because that would have really put me into a bind. But Rogers, his Amazonian coins were in aluminum.
So, as far as he was concerned, he only needed the designs in one metal, he didn't need them in all the metals. And I had sold him, I think, the Amazonian Dollar, and maybe some other coins from a collection that was offered to me in Washington here. It was put together by a fellow I never met. His name was Tommy Mueller. My later friend and colleague, Tony Pisciotta was marketing the coins, and he was marketing through another friend, Al Weber, who had a coin store in Chevy Chase. And I was able to get those patterns there, and that's where Rogers Aluminum Dollar came from. Definitely some other coins, but he never had to have the silver. So, that was the reason that he didn't get involved in that. You know, I had lots of very fine relationships.
About the Interviewer
Greg Bennick (www.gregbennick.com) is a keynote speaker and long time coin collector with a focus on major mint error coins. Have ideas for other interviewees? Contact him anytime on the web or via instagram @minterrors.
To watch the complete video, see:
Julian Leidman Interview (https://nnp.wustl.edu/library/book/626691)
To read the complete transcript, see:
Julian Leidman Interview (Transcript) (https://nnp.wustl.edu/library/book/626692)
To read the earlier E-Sylum article, see:
JULIAN LEIDMAN INTERVIEW, PART ONE (https://www.coinbooks.org/v26/esylum_v26n20a07.html)
Greg Bennick: That's great. I love the backstory on the bidder representation, because that was something I was going to ask you about as well, because I know that you've been doing that for quite a long time, and I was going to ask you how the process works. We just got some insight into that. And then also, I was going to ask - and you gave us insight into this too - about what happens when you're representing multiple bidders at once, how you keep everyone's bids straight in your mind, and what happens if you have conflicting bids. And you just gave us a perfect example of what happens in those situations.
Julian Leidman: Yeah. At one point, I think it was the Eliasberg Gold Sale in 1982, I was bidding for almost 30 different people. And there were occasions where there was more than one person interested in a coin, and I made them give me prices. Almost everybody would give me prices to bid, recognizing that I'm going to examine the coin for them, and report back to them what I thought about the coin, and we'd come up with a price. Harry was, of course, at the Eliasberg sale, along with Mike and many others. It was a very, very crowded room.
Greg Bennick: I was going to ask, what was the room like? What was that like?
Julian Leidman: Unbelievable is what it was. I mean, it was absolutely packed, totally unlike auctions today. Auctions today are on the internet, and the last people that have really held live auctions have sometimes only had half a dozen people in the audience. Which is very disappointing to me as a long-time aficionado of auctions, and enjoying that, being able to see who's buying what, etc. Also at the Eliasberg sale, were Brent Pogue and his father Mack. They bought coins there too. They had been buying, really, since the late 70s. Mack was putting up all the money, Brent was just a teenager. But he had his mind on what he wanted, and it was very... as it turned out, in that sale, Harry got the 70 S three-dollar piece for $687,500, and Brent got the 1822 Half Eagle also for the same price.
So, these are both- Harry and Mack were both part of the Dallas fixture of numismatics. Of course, they knew each other, but they dealt with each other just fine. Mack was involved in real estate, and Harry was involved with oil, so they didn't have business conflicts or anything like that. But that auction in New York city for the Eliasberg gold was really something.
Greg Bennick: I'm glad you were there, I'm glad you could share a little bit about that. I just imagine a spirited room with bid cards going up, and people yelling and screaming.
Julian Leidman: Exactly. You know, when I had all those people, I didn't bother with the bid cards. I'd just bid, and then I'd look up what the number of that bidder was. I had to look up who was who. And I got coins for, I'm sure at least half a dozen or a dozen people. They all didn't get something, but that was another interesting auction in that, after the fact, I learned that there was kind of a minimum on every coin, and the Eliasberg family got back some coins after that.
Greg Bennick: Because they didn't meet the reserve...?
Julian Leidman: They were actually in the hotel watching by closed circuit, so they knew what was going on also. Many years later, I met one of Eliasberg's sons, Richard, and became pretty friendly with him. He would come to coin shows in Baltimore, because that's where his business was. But I met him there, and I did business with him subsequently. You know, I got some of the small collection of currency he had, and different things like that. But they had a subsequent sale along with Stack's Bowers in the late 90s, where they sold the non-gold coins.
Greg Bennick: Were there other auctions? I didn't plan to ask you about auctions, it's great that we're talking about it. I planned to ask about bidding for people, but not the spirit of the room, and some of these auctions. For example, I've got a set of Eliasberg catalogs - well, hurray. The energy isn't in the catalog, the energy is in your story about the catalog. Are there any auctions that you remember attending over the years, years ago, that exist now only in catalog form, that you remember as being spirited, or energetic, or exciting, or ones where there were sales that were just so memorable that they stuck in your mind?
Julian Leidman: Oh, yeah. I'd go back even to... I guess it was 1970 in St. Louis. RARCOA had the auction- I think it must have been the Central States Show, or maybe not, I don't quite remember. They had some beautiful large cents. And I remember this one large cent, 1824 over 2 large cent in uncirculated condition, went just crazy, crazy, crazy. And of course, I learned later that Ted Naftzger got that coin, and he wasn't gonna be beat out either. You remember certain auctions. Of course, over the years, I attended virtually all the Stack's auctions that were in Manhattan. I would go to New York once a month for auctions for Stack's. Lester Merkin had some gorgeous sales there. And it was just- it was part of my routine. Attending the Bowers and Ruddy sales in California, there were maybe 50 people in the room or something like that. I was a continuous buyer there.
I remember buying the 1793 half-cent because it was the first lot in every auction. I bought it two or three times because it was the first one. I'd often have pages on an invoice and stuff. Of course, the auction houses at the time, you built up your experience with them, and they would extend you a little bit of credit, and so you could work it out. But it was never really more than a month, because they normally had to settle in 45 days. And so, you could get a little bit of credit from them, and that helped me a lot at that time. There's no question about it.
About the Interviewer
Greg Bennick (www.gregbennick.com) is a keynote speaker and long time coin collector with a focus on major mint error coins. Have ideas for other interviewees? Contact him anytime on the web or via instagram @minterrors.
To watch the complete video, see:
Julian Leidman Interview (https://nnp.wustl.edu/library/book/626691)
To read the complete transcript, see:
Julian Leidman Interview (Transcript) (https://nnp.wustl.edu/library/book/626692)
To read the earlier E-Sylum article, see:
JULIAN LEIDMAN INTERVIEW, PART ONE (https://www.coinbooks.org/v26/esylum_v26n20a07.html)
Choice Mint State 4 Ducats of Salzburg
102413 | AUSTRIA. Silver Rabbit Breeders' Club bronze Award Medal. Issued circa 1920 for special merits (36mm, 20.18 g, 12h). SILBER–KANINCHEN / RAMMLER, rabbit right / ÖSTERREICHISCHER SILBER KANINCHENZUCHT VEREIN / WEIN, FÜR / BESONDERE / VERDIENSTE in three lines within wreath. Edge: Plain. Choice Mint State. Rich red-brown surfaces, with a darker nature upon the devices that imparts a somewhat cameo aspect. $195.
A type of rabbit believed to have been introduced to England by Sir Walter Raleigh in the late 16th century, the silver rabbit has since been bred for meat and its pelt, and also for show. Along the lines of breeding for shows, clubs emerged for such showings, like the Silver Rabbit Breeders' Club in Vienna as with this award medal.
To read the complete lot description, see:
102413 | AUSTRIA. Silver Rabbit Breeders' Club bronze Award Medal. (https://www.numismagram.com/product-page/102413)
ARCHIVES INTERNATIONAL AUCTIONS OFFERS HISTORIC U.S., CHINESE & WORLD BANKNOTE & EPHEMERA COLLECTION ON MAY 23, 2023
The auction will be held by Archives International Auctions at their offices in River Edge, N.J.
The May 23rd, 2023, Auction by Archives International Auctions consists of 693 lots of rare and desirable U.S., Chinese & World Banknotes, Scripophily, World Coins, Historic Ephemera, and Security Printing Ephemera. The auction includes 301 lots of World banknotes highlighted by 97 lots of rare and desirable Chinese banknotes and 25 lots of Canada banknotes. Also included are over 100 lot of historic U.S. Colonial banknotes, Colonial fiscal documents, U.S. Obsolete banknotes, Small and Large Type Notes, National Banknotes, and miscellaneous U.S. fiscal documents. Historic and Security Printing Ephemera includes 68 lots of rare and seldom seen items highlighted by an 1815 first account about the Battle of Orleans during the War of 1812 that is signed by Colonel Dyer as well as dozens of historic and interesting documents. The auction ends with 193 lots of U.S. and World scripophily.
Nummis Nova luminaries after a bit of musical chairs, from the left, are Mike Markowitz, Lorne LaVertu, Dave Schenkman, Eric Schena, Wayne Homren, Chris Neuzil, Mike Packard, Jonas Denenberg, and Tom Kays. Not pictured is Steve Bishop.
A rare penny that depicts a 12th century Scottish king will be put on display in honour of King Charles III's coronation.
Discovered by an amateur detectorist, the silver coin features Malcolm IV, who ruled Scotland from 1153 until his death in 1165. It will be exhibited in Dunfermline, which was bestowed city status by Charles in 2022.
There is no arrangement in any institution for teaching numismatics and paleography like vital sources of history. The ancient history of Jammu and Kashmir which is taught in colleges and universities has been relying mostly on the traditional sources of folklore, or on already written records. There has been hardly any effort on institutional level to look for other sources as well.
For example the paleography and numismatic like material sources have not been taken so seriously. 'If we talk of only coins, these have perhaps been least exploited source and numismatics has remained a rather sequestered discipline in terms of the incorporation of its insights into mainstream works.
Vintage Games N Junque owner Mike Turcotte came across a suspicious 2012 toonie in Sault Ste. Marie while sorting through his cash register earlier this month. Upon closer inspection, Turcotte noticed irregularities in its design, including rough edges, recessed designs, and a dollar symbol instead of the number two on the tails side. He also observed a portrait of Queen Elizabeth II that did not resemble her usual image. Turcotte shared photos of the counterfeit coins on social media to raise awareness of their circulation.
Counterfeit coins can have significant repercussions for businesses, leading to financial losses. Rory Ring, CEO of the Sault Ste. Marie Chamber of Commerce, emphasized the negative impact of fraud on businesses, stating that they must absorb the cash loss and fulfill their financial obligations to employees and suppliers involved in the transactions. Criminals producing counterfeit money are becoming more sophisticated by employing new technologies in their schemes. In a previous case, the Royal Canadian Mounted Police (RCMP) seized approximately 10,000 counterfeit toonies and arrested an individual on charges of uttering counterfeit money and possession of counterfeit money.
William Peckham was a general shopkeeper in Appledore in southern Kent and issued his own 'Halfpenny' in order that he could give change in the shop. He produced a marvellous coin with one side showing a lamb sleeping with a lion and a legend proclaiming PEACE, INNOCENSE AND PLENTY which is probably a sentiment based on Britain's continuing war with France and the deprivations and hardships it caused. On the other side a windmill is portrayed which would have been a common feature on the landscape at that time. The coin is copper and about 30mm wide.
Henry Biggs was an innkeeper in Birmingham, the 'General Elliot' in Moore Street and issued his own 'Halfpenny' in 1792 in order that he could give change in the tavern where he was also a licensed victualler. Not unsurprisingly, the design for his halfpenny featured the bust of General Elliot who had so valiantly defended Gibraltar against the French and Spanish some twelve years previously. The coin is copper and about 30mm wide.
In the aftermath of Bloody Sunday, 21 November 1920, the British authorities arrested hundreds of republicans and opened several internment camps throughout Ireland.
The first internment camp to be opened was at Ballykinlar, in Co Down
The volume of arrests was so great that additional camps had to be established at Gormanstown, Co Dublin, Bere Island and Spike Island, Co Cork, and at The Curragh, Co Kildare.
Opened in December 1920, Ballykinlar Camp was situated on the Co. Down coast at the mouth of Dundrum Bay, about three miles from Dundrum village between Downpatrick and Newcastle.
In the 1790s, New York City suffered a yellow fever outbreak basically every year. The mechanism of disease outbreaks (cholera was another common one in cities) wasn't understood, but somehow people realized that having stagnant wastewater sitting in gutters wasn't great, and that clean drinking water would be nice. So the city's Common Council proposed a publicly constructed water system.
Enter former New York attorney general; former U.S senator from New York; former (unsuccessful) vice-presidential candidate; and newly minted head of the New York State Assembly: Aaron Burr — part of a group of newly elected anti-Federalists.