Visit our NBS Sponsors
About Us
The Numismatic Bibliomania Society is a non-profit association devoted to the study and enjoyment of numismatic literature. For more information please see our web site at coinbooks.org
Subscriptions
Those wishing to become new E-Sylum subscribers (or wishing to Unsubscribe) can go to the following web page link
Membership
There is a membership application available on the web site Membership Application
To join, print the application and return it with your check to the address printed on the application. Print/Digital membership is $40 to addresses in the U.S., and $60 elsewhere. A digital-only membership is available for $25. For those without web access, write to:
Charles Heck, Treasurer
Numismatic Bibliomania Society
P. O. Box 2058,
Bluffton, SC
29910-2058
Asylum
For Asylum mailing address changes and other membership questions, contact Chuck at this email address: treasurer@coinbooks.org
Submissions
To submit items for publication in The E-Sylum, write to the Editor at this address: whomren@gmail.com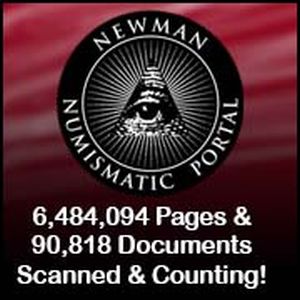 BUY THE BOOK BEFORE THE COIN
Content presented in The E-Sylum is not necessarily researched or independently fact-checked, and views expressed do not necessarily represent those of the Numismatic Bibliomania Society.
New subscribers this week include: Michael Lang. Welcome aboard!
Thank you for reading The E-Sylum. If you enjoy it, please send me the email addresses of friends you think may enjoy it as well and I'll send them a subscription. Contact me at whomren@gmail.com anytime regarding your subscription, or questions, comments or suggestions about our content.
This week we open with two NBS updates, two numismatic literature sales, two new books, two updates from the Newman Numismatic Portal, and more.
Other topics this week include the Cherrypicker's Guide, Australian decimal banknotes, Catholic medals, the Ohio Rare Coin Fund, mules, tons of fixed price and auction previews, trade dollars, bastard coins, bundles of edelweiss, trillion-dollar coins and money skulls.
To learn more about the NBS Board of Trustees election, highlights of Dan Hamelberg's library, scripophily, Gilroy Roberts, Tom Noe, Bernie Sanders, Catherine Bullowa, the Government Stock Bank, the Swiss Gratitude to America medal, sutler tokens, the Long-Whiskered Dragon Dollar, and quasi-janiform images, read on. Have a great week, everyone!
Wayne Homren
Editor, The E-Sylum


The Asylum Summer 2023 Issue
In this issue:
A Bookbinder's Journey, Part 1: Jumping In By Jeff Dickerson
Howard A. Daniel III (1941–2023) By Roger Urce
ASSOCIATIONS: Autographs • Annotations • Inscriptions Charles Ira Bushnell's Flandin's Catalogue of Coins and Medals: Part IV, Installment 2: The Winslow J. Howard Sale, May 17, 1856 By Joel J. Orosz
My First Red Book By Mike Costanzo
On Whether to Buy New Coin Catalogues or How to Grow Old Gracefully By David Pickup
NBS Podcast Features Dan Hamelberg
The latest episode of the NBS Bibliotalk podcast, Collection Highlights, with Dan Hamelberg is now available on the NBS website and other popular podcasting platforms such as Buzzsprout. In this episode, Dan Hamelberg speaks about a number of favorite items in his library, including Henry Phillips' Historical Sketches with colonial currency examples, Breen's working copy of Walter Breen's Encyclopedia, Crosby's copy of Early Coins of America, and many more.
In between Dan adds any number of revealing stories, such as being stuck with a restaurant check by Walter Breen, visiting Eric Newman's vault at the Mercantile Bank in St. Louis, and how Jack Collins missed an important plate in a Chapman catalog. The NBS podcast is produced every other month by Lianna Spurrier of Numismatic Marketing.
June 10 Kolbe & Fanning Auction
Kolbe & Fanning Numismatic Booksellers Sale 167 will be held on Saturday, June 10, 2023, and it promises to be a notable event. Featuring important offerings from the libraries of Louis E. Eliasberg, Sr., and Richard A. Eliasberg, along with other properties, the sale includes rare and out-of-print works on coins, medals, and paper money from antiquity to the present.
Some highlights of the sale include:
1852 3rd Edition New Varieties of Gold and Silver Coins by Eckfeldt & Du Bois
Leather Bound 1936 Medals Awarded to North America Indian Chiefs by Jamieson
Whitman Publishing announces the upcoming release of the newest Cherrypickers' Guide to Rare Die Varieties. The sixth edition, volume II, will debut in August 2023 at the American Numismatic Association World's Fair of Money in Pittsburgh, Pennsylvania. In the meantime, the 320-page spiralbound-hardcover book can be preordered for $39.95 online, including at Whitman.com. After the ANA show the Cherrypickers' Guide will be available from booksellers nationwide.
To cherrypick is to examine coins that appear normal at first glance, seeking those with unusual characteristics—overdates, repunched mintmarks, doubled and tripled dies, and similar features—that reveal them to be rare and valuable. The Cherrypickers' Guide uses close-up photographs and text descriptions to show collectors what to look for. It includes rarity ratings and retail values in multiple grades.
For the latest volume, Cherrypickers' Guide coauthor Bill Fivaz and professional numismatist Larry Briggs coordinated edits and updates. They reached out to the hobby community for advice, recommendations, research, market analysis, and photographs. The new volume features more than 440 die varieties, including nearly 80 new additions. The book covers Capped Bust and Liberty Seated half dimes, dimes, and quarters; Barber dimes and quarters; Mercury dimes; Roosevelt dimes; twenty-cent pieces; Standing Liberty quarters; and Washington quarters, including the State, D.C., Territorial, and National Park series.
AUSTRALIAN DECIMAL BANKNOTES AND DESIGNS
35 years since the last general decimal banknotes book, with 330 A-4 pages IN COLOUR (first after 163 previous publications). Over 800 colour images and 75 black and white images with many banknote designs privately published for the very first time.
The International Bond & Share Society (AKA IBSS ) is an association of people interested in Scripophily. The society was founded in 1978 as a non-profit organization with the goal to promote, encourage and develop all aspects of scripophily. The IBSS has members all over the world and is funded exclusively by the members. The society publishes a Scripophily Magazine three times a year.
The Society is led by volunteers for the benefit of its Members, who have a mutual interest in educating, collecting and sharing information of bond, stock and share certificates and company histories. The Society provide a platform to interact with the academic community, museums, members and the general public to share the knowledge and history of these financial documents. The Society welcomes new and old collectors in its efforts to promote the hobby to current and future generations.
Scripophily is the study and collection of stocks and bonds. Some people refer to scripophily as a specialized field of numismatics. Scripophily is an interesting area of collecting due to both the inherent beauty of some historical documents as well as the interesting historical context of each document.
Newman Portal adds Catholic Commemorative Medal Society Newsletter
Loaned by Ken Berger, Newman Portal recently scanned a 7-year run (1967-1973) of the Catholic Commemorative Medal Society Newsletter. The precise organization of the Society is not clear; it may have been affiliated with the Franklin Mint. In any case, the first issue of the newsletter noted 1,800 charter members, who received series medals as a membership benefit.
The strength of the newsletter is the engraver biographies that appear throughout the series. The first issue includes a piece on Gilroy Roberts and includes a list of his principal works.
In addition to the newsletters, Ken Berger also forwarded correspondence with Society member Melvin Roland, which includes a prospectus for forthcoming medals, a membership certificate, and other marketing material.
Image: Gilroy Roberts, from the April 1967 Catholic Commemorative Medal Society Newsletter
Link to Catholic Commemorative Medal Society membership correspondence on Newman Portal:
https://nnp.wustl.edu/library/book/627172
Link to Catholic Commemorative Medal Society Newsletter on Newman Portal:
https://nnp.wustl.edu/library/publisherdetail/549933
A Similar Design to the Great Americans Medal
Wayne Pearson writes:
The platinum coin image came from this article:
2018-2020 Proof American Platinum Eagle Candidate Designs Unveiled (Updated) (https://www.coinnews.net/2016/09/15/2018-2020-proof-american-platinum-eagle-candidate-designs/)
To read the earlier E-Sylum article, see:
GREAT AMERICANS MEDAL AWARDED TO YO-YO MA (https://www.coinbooks.org/v26/esylum_v26n22a29.html)
Nancy and I have been searching, for several years now, for an image (photo or drawing) of a Mr. Robert Julius Stevens (who also went by Major, and sometimes Colonel R. J. Stevens). We have enough material to write a book about him, but lack the image. He was born in Rhode Island on Feb 18, 1824 and died on Christmas Day, 1889 in Seattle. We are perplexed on finding one since he held several important Federal positions, and have searched the internet, libraries, mint records, newspapers of the time, etc. to no avail. The following were his positions.
A wonderful time was had by all who attended our May 11th grand opening event in the new Boston Gallery. The local crew of Store Manager Stanley Chu, Head Numismatist Kevin Vinton, Chris Bulfinch and Asher Zelson were joined by Brian Kendrella, Christine Karstedt, and Mark Schimel to greet dozens of guests throughout the day.
The ribbon cutting ceremony was hosted by Stan. Additional welcoming comments were provided by Abigail Furey, Senior Neighborhood Business Manager from the Boston Mayor's office and Jim Glickman, Vice President of the C4 organization prior to Brian and Abigail cutting the ribbon.
The gallery is located at 84 State Street facing onto Merchant's Row, a stone's throw from Faneuil Hall and in the heart of a historically important and very numismatic city. Whether you live in New England or are just visiting the area, please add the new Stack's Bowers Galleries Boston location to your must-see list!
Mule, Muling. An obverse die mated with a reverse not originally intended. Also called hybrid. Muling takes place usually where a number of similar items are made at the same place and time. Obviously the diameters of both dies must be the same, and both dies suitable for the same press. Coins, medals and tokens have all been muled, some by accident (where the wrong die was inadvertently used). More often, however, it is done by later intent. In some instances a stock die, say the obverse, is used and a custom reverse die is made to mate with this obverse. (Two dies with original intent to be used together are called mated dies).
This week I asked myself a question, who was the first American woman coin dealer? I do not know the answer so I asked another question. Who was the first woman member of the Professional Numismatists Guild (PNG)? That one I could answer.
Greg Bennick: Amazing. So, what you don't need to do is you don't need to take investor money and compromise your ideals is basically what you're saying.
Richard Lobel: No. Because if I take the money -- if I sell you coins for £1,000 pounds as a collector, and you go and sell them back a few years later, and maybe you get £700 pounds. All right. But you still enjoyed them. That's fine. I haven't promised you anything. You may get £1,200 pounds, but more likely you're going to get £700 pounds. Let's be honest about that. Because if you want to start talking about Royal Mint and US Mint material, right…. We deal in Royal Mint material, and we're probably one of the largest dealers in the secondary market. When you, as a wholesaler, are tired of what you bought from the mint and got screwed royally, because today for a crown, a £5 pound piece, 38 millimeters struck in sterling silver, not pure silver, they now charge £95 pounds for that. I mean, it's an outrageous price. It is just, you know. So, I'll wait until I can buy them for £30 pounds and I can sell them for £50 pounds. And that's why the Mint and I have a love-hate relationship because they know I cut their prices.
Greg Bennick: Yeah. I was going to ask you about this because in the United States, one of the, and there's certainly a few measurable and numberable elements in the coin market, which have completely sapped collector dollars away over the years, in my opinion, is the Mint because they offer a consistent thread of products that the second they leave the proverbial lot, they lose value.
102197 | UNITED STATES & NETHERLANDS. Treaty of Commerce silver Medal. Issued 1782 (34mm, 13.90 g, 12h). By J. G. Holtzhey. FAVTISSIMO FOEDERE JVNCTÆ / DIE VII OCTOB MDCCLXXXII (by a most auspicious treaty), Fama (Rumor) seated right upon a cloud, trumpeting and cradling crowned coats-of-arms representing the Dutch Republic and the United States; club and lion skin of Hercules to left // JVSTITIAM ET NON TEMNERE DIVOS (learn justice and not to despise the gods), garlanded pyramidal statue with shield and crossed fasces, which a flying Mercury crowns to upper right; to lower right, basket of fruit set upon anchor; in background, French cock standing right, head left, crowing over the treaty; in two lines in exergue, S. P. Q. AMST. / SACRVM. Edge: Plain. Betts 605. PCGS SP-62. Attractively toned, with some hues of olive-argent and cobalt, along with a great deal of brilliance. Undoubtedly one of the finest examples of the type extant, and extremely rare as such. Far superior to the specimens in the Ford and LaRiviere collections, and much more difficult to find than the similar larger module of the design. $1,985.
There's a lot of important numismatics out there, and some of it's expensive. On the other hand there are some rare, interesting and undervalued commemorative medals which don't always attract a crowd. Readers might consider looking at the modern art medals in our forthcoming auction. There are medals by Thérèse Dufresne, who's considered important in this area. There are medals by Kauko Rasanen, for example the three-part medal in the banner above, and other artists, which are genuinely sculptural. Some of these modern artists have large commissions in public spaces in their own country.
One of the Finest and Most Extensive Collections Ever Offered
More than 140 different varieties of unusually nice quality
More than 40 Rarity-9 Tokens
From Taler to Mark and Beyond
In June, Künker will hold four auction sales. This preview is dedicated to the public auctions 387-388 from 20 to 22 June. Among other things, auction 387 includes Swedish rarities from the Ekström Collection, another part of the Popken Collection with lösers as well as a small series on Mecklenburg. Auction 388 covers German coins from 1800 to 1918.
Catalog 388: From Taler to Mark
Collectors of German coins must also study catalog 388, which presents another collection of coins that were minted between 1800 and 1914. Künker dubbed this catalog From Taler to Mark, and the contents were compiled by a North German private collector.
The period between the turn of the century and the end of the First World War is one of the most fascinating episodes of the German past, both from the point of numismatics and history. This era saw the development of what we call the Federal Republic of Germany today. Many coins were created in the presence of the ruling prince at the time. They are a testament to the fact that rulers were highly interested in having an efficient monetary system. The credo of the economists of the time was that a German state without customs barriers be set up that had a currency that could be converted as easily as possible. They hoped that this would lead to progress following the British model. This required a shift from the self-sufficient subsistence economy of a peasant society to an industrial nation based on the division of labor. At the time, no one bothered about the collateral damage that would ensue from this progress, i.e., the destruction of livelihoods and the starving unemployed people. They also did not care about the fact that the trade war could turn into a real war at any time.
Vila Rica Moedas (www.vilaricamoedas.com) is a Numismatic company based in São Paulo, Brazil, and it is run by its two partners David André Levy and Hilton Lúcio, both authors of reference catalogs and accomplished numismatists.
Vila Rica will hold its Auction 16 on June 20-22. The auction is internet-only and split over three sessions. It will offer a vast range of Brazilian coins from Colonial to Republican issues, in all metals, with a fine selection of gold coins including a few rarities such as 6400 Réis 1731 from Minas Gerais mint and the extremely rare and key date 1862 of the 20.000 Réis series. Featured in this auction will be a collection of military decorations of the Paraguay and Cisplatine Wars, a collection of 960 Réis overstrikes including a rare combination of 960 Réis struck over a Mexico pillar 8 Reales that has been used as host, and a fine set of coins of the Weimar Republic.
The War of Paraguay was the deadliest and bloodiest inter-state war in Latin American history and lasted from 1864 to 1870. The war began because of a conflict between Paraguay and Brazil caused by the previous Uruguayan War. Argentina and Uruguay entered the war against Paraguay in 1865, and it then became known as the "War of the Triple Alliance. As a result of the war, Paraguay was forced to cede disputed territory to Argentina and Brazil.
Elite selections from ancient China through the Qing, Republic and People's Republic eras make Heritage Auctions' June 21-23 HKINF World Coins Platinum Session and Signature® Auction - Hong Kong one of the strongest and most comprehensive ever assembled by the world's leading auctioneer of coins and currency.
Banknote collectors and enthusiasts have a unique opportunity to acquire rare specimens from the Imperial Bank of Persia in the upcoming World Currency Sale 43 of World Banknote Auctions. These classic rarities, known for their impressive size, original design, and historical significance, are highly sought after by collectors worldwide. The auction presents a chance to own a piece of Iran's financial history and add a valuable item to one's banknote collection.
Despite being created for international circulation, United States trade dollars circulated within the borders of the United States in the 19th century, causing such problems that they were demonetized three years after their introduction. Their lack of legal tender status after 1876 failed to dissuade employers and merchants from circulating the coins.
Introduced in 1873 to compete with heavier world silver coins like the Mexican peso popular with merchants in China and throughout Asia, trade dollars initially enjoyed legal tender status in the United States in sums up to $5. As silver prices fell after 1873, the trade dollar's intrinsic value fell below one dollar and workers and consumers were soon inundated with the coins. Merchants could make a profit having their silver coined into trade dollars (even if they had no intention of sending the coins overseas) and began circulating them domestically.
It's a big year for the Coin of the Year Awards. Not only will the program celebrate 40 years, but it will also conduct an in-person awards ceremony after a three-year hiatus due to the pandemic. In partnership with the American Numismatic Association, the ceremony will be held during the 2023 World's Fair of Money® in Pittsburgh, Pa. The event is set for 3:30-4:30 p.m. on Wednesday, Aug. 9, at the David L. Lawrence Convention Center.
The Coin of the Year program is an internationally conducted competition presented by World Coin News to recognize and encourage outstanding coin design and innovation in coin production worldwide. This 40th program will honor coins dated 2022 in 10 categories of competition and one overall winner as decided by an international panel of judges
The partial reopening of the Hispanic Society Museum & Library last week as part of a continuing renovation was an auspicious event. With one of the finest collections of its kind in the country, it offers both superb Old Master paintings and an innovative interpretation of literary and visual culture that was unique at the institution's founding and remains impressive today.
The Hispanic Society, established in 1904 by the American scholar and collector Archer M. Huntington as a center for the study of Spanish, Portuguese and Latin American art and culture, is a little-known jewel located in New York's Washington Heights. It is currently in the midst of an ambitious project to upgrade its three landmark buildings and restore Audubon Terrace, where it sits.
It's definitely not the Denver Mint, but inside a Colorado warehouse, workers handle things like coins and bills that feature Donald Trump's image.
NBC News investigated the Trump Bucks marketing ploy in which companies use the warehouse in Aurora to distribute items like a $10,000 Trump Diamond Banknote that people can buy in bulk for hundreds of dollars.
About a dozen years ago, a pseudonymous commenter on a financial website, writing under the name Beowulf, presented an unusual solution for a debt-ceiling standoff: If the federal government was at risk of default, and Congress couldn't agree to either cut spending or raise the borrowing limit cleanly, couldn't it simply mint a trillion-dollar coin?
Beowulf had come across a 1997 law that, in response to requests from coin collectors, gave the Treasury the power to mint platinum coins of any denomination. (Collectors had complained that even coins available at the time with the smallest face values were still too expensive to afford.) The law started as a way to make collectible coins cheaper, but unlike every other law regulating new coins, this one did not establish a specific face value or limit the number of coins produced.
[T]he trillion-dollar coin may fade from memory. But the debt ceiling still exists, and Congress will be negotiating over it again in a few years. It's likely the idea will reemerge as a possible work-around, picking up a new group of adherents.
Because what really matters now is that the trillion-dollar coin has gone from the esoteric corners of finance-based internet to become a mythical beast imprinted in the minds of all policymakers. But given that it's still just a figment of the populace's imagination, there are as many different mental images of the coin as there are minds in the country.
The British artist Imbue has shredded more than £1 million ($1.3 million) in cash to create a collection of money skulls as a form of protest against the cost of living crisis and the money power structure in the U.K. The skulls feature in an exhibition that opens today next to the Bank of England in the City of London, at a pop-up space at 5 Royal Exchange, as part of London Gallery Weekend.
Taking its title from the two subjects said to be unavoidable, Death + Taxes features a new body of money-themed work by the pseudonymous artist, who often creates wry comments on aspects of contemporary society, from capitalism to religion.