Visit our NBS Sponsors
About Us
The Numismatic Bibliomania Society is a non-profit association devoted to the study and enjoyment of numismatic literature. For more information please see our web site at coinbooks.org
Subscriptions
Those wishing to become new E-Sylum subscribers (or wishing to Unsubscribe) can go to the following web page link
Membership
There is a membership application available on the web site Membership Application
To join, print the application and return it with your check to the address printed on the application. Print/Digital membership is $40 to addresses in the U.S., and $60 elsewhere. A digital-only membership is available for $25. For those without web access, write to:
Charles Heck, Treasurer
Numismatic Bibliomania Society
P. O. Box 2058,
Bluffton, SC
29910-2058
Asylum
For Asylum mailing address changes and other membership questions, contact Chuck at this email address: treasurer@coinbooks.org
Submissions
To submit items for publication in The E-Sylum, write to the Editor at this address: whomren@gmail.com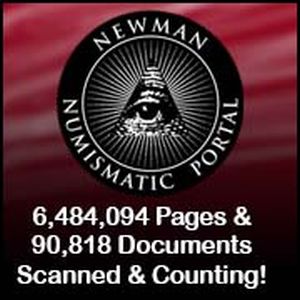 BUY THE BOOK BEFORE THE COIN
Sale Calendar
Content presented in The E-Sylum is not necessarily researched or independently fact-checked, and views expressed do not necessarily represent those of the Numismatic Bibliomania Society.
We have no new subscribers this week; our current total is 8,079.
Thank you for reading The E-Sylum. If you enjoy it, please send me the email addresses of friends you think may enjoy it as well and I'll send them a subscription. Contact me at whomren@gmail.com anytime regarding your subscription, or questions, comments or suggestions about our content.
This week we open with an NBS convention update, one new book, five obituaries, updates from the Newman Numismatic Portal, notes from readers, and more.
Other topics this week include test notes, color on coins, the Anthony Wayne Comitia Americana gold medal, models for the Standing Liberty Quarter, coin designs and the CCAC, the Coin School, bank bags, NFTs and coin designed Sandra Deiana.
To learn more about Donna Pope, Doris Dorscher Baum, Beate Rauch, Roman slave tags, the Blind Coin Collector, the Coin Harvey House, the Pattern Halfcrown by David Ramage, and the Trinity College Dublin gold medal, read on. Have a great week, everyone!
Wayne Homren
Editor, The E-Sylum


Bookbinders Unite at the ANA Convention
Our bookbinding term of the week is quarto. This refers to a sheet of paper folded twice, so as to create eight pages in a bound book. Note, the two top edges require trimming, after folding. Quarto also refers to a book size of approximately 9.5 x 12. Traditional book sizes were based on a standard sheet size of 19 x 24. Folding twice led to the quarto dimensions of 9.5 x 12, while a third fold in half created the octavo or 9.5 x 6 format. Modern printing and binding technology support both larger construction sheets and perfect binding (using clean-cut sheets), so the traditional linkage between the number of folds and final book size is today less defined. Our bookbinding demo at the ANA will use folio (single fold) format with an initial sheet size of 8.5 x 11.
The Catalog of Printers Promotional Sheets & Test Notes – 18th Edition was released June 2023. The eBook catalog covers all test, advertising, promotional, color samples, house notes, titled vignette sheets, stock samples, greeting cards, and calendars for firms involved in the production of bank notes.
The catalog is available on Adobe Acrobat pdf file - 120 MB! With 1,292 pages and 7,249 color images, the cost to print the book would be prohibitive. Since it is a pdf, I've added bookmarks for all 285 firms known to have issued test notes. Of course the search feature makes it easy to look up a note by theme or security feature, such as Lord Nelson or Pushkin theme or Spark or Motion security feature. There are 3,479 test notes attributed with 6,031 varieties.
Donna Pope, 91, died peacefully at her home in Colorado on June 23rd, 2023, with her daughter at her side.
Pope, originally from the Cleveland area, was the 33rd Director of the U.S. Mint, being appointed twice by Ronald Reagan, for whom she was an unwavering champion. Pope was instrumental in the renewal of the U.S. Commemorative Coins and the creation of the American Eagle Gold and Silver investment coins. Prior to moving to Washington D.C., Pope was a five-term member of the Ohio House of Representatives, rising to the position of Minority Whip, where she fought for law and order and criminal justice issues.
Besides being a diligent public servant, Pope was also a wife, mother, and grandmother, who had a fun loving and creative side. Disney World was one of her absolute favorite places! She loved to garden, ballroom dance, and elaborately decorate for most every holiday.
Richard F. "Dick" Buckley passed peacefully Saturday, June 10, 2023, with his family by his side. He was born Nov. 18, 1935, in Boston, Mass. He is survived by his wife, Wanda (Campbell) Buckley; and his children, Jayne Leather, Rachel (David) Buckley, Kristen Maureen Hanlin and Richard E. (Tracey) Buckley. He is also survived by 10 grandchildren, Ashley, Jessica, Danielle, Jennifer, Ian, Seth, Daniel Lee, Kathleen, Vivian and Connor. He also has six great-grandchildren, with one more expected to arrive later in 2023.
Dick was a 30-year employee of Bechtel and Westinghouse as a start-up manager for nuclear power plants. His work took him all over the world and he lived in Korea, Japan, Spain, Brazil and the Philippines, to name a few. He was a proud member of Mensa, where he served as historian well into his later years in life. He was a passionate coin collector.
Dick was an avid sports fan. Growing up in Boston, he loved the Red Sox, Bruins and Celtics. However, after moving to Pittsburgh in 1980, he became a Steelers season ticket holder, and his sports loyalty changed to all teams Pittsburgh. He continued to attend Steelers games well into his 80s and developed strong friendships with other fans in his section. He was also a big Penguins and Penn State football fan. A private family ceremony will be held at a later date.
The Buenos Aires Numismatic Center expresses its deepest condolences on the death of its former president and friend MIGUEL MORUCCI and conveys its solidarity for this unfortunate loss to his family and friends.
Bob Steinberg writes:
Greg Lyon grew up in Jackson Heights, Queens, NY and attended Hunter College High School and later Washington University in St. Louis, where he would eventually reside with his partner Patrick Mooney.
I met him as a scout first, as our respective troops were in the same district and we attended camporees together. He was a staff member in the nature lodge in 1987 in Camp Aquehonga, Ten Mile River Scout Camps, Greater New York Council.
I gained a numismatic friendship with him when he started to attend the YN programs offered at most of the NYC shows of the mid 1980s; eventually I would select him to be a youth staff member at the 1989 National Scout Jamboree Merit Badge Midway Coin Collecting display / information booth sponsored by the ANA.
Peter Jones Contributes Eight Titles to Newman Portal
The works of author Peter D. Jones, MD are now available with full-view on Newman Portal, courtesy of the author. Peter casts a wide net, with subjects ranging from early American numismatics to French paper money and U.S. commemorative issues. Ken Bressett's remarks from the Foreword of Commemorative Coin Tales (2018) are equally applicable to all of Jones' works: What you are about to see is one man's journey into the fascinating world of numismatics. His passion for the subject is obvious, and likely infectious. His intent in writing this account is to inspire and pass on to his family some of the reasons he has dedicated part of his busy life to the study and collecting of these very special coins.
Image: front cover of Peter Jones' First Medals of America (2020)
Mike Hodder writes:
Since I don't even qualify for the Boy Scout rank of Tenderfoot when it comes to the various iterations and design variations of MacNeil's quarter, I have no quibble with the technical observations offered by Ray Herz in his 2016 video presentation, and I'll always defer to Roger Burdette on these matters. That being said, I offer here some additional information based on more than a decade's worth of MacNeil research that I believe will broaden E-sylum readers' knowledge as regards the famous Quarter.
Designing medals was not something unfamiliar to MacNeil as he was well-versed in the art. His uncle was Henry Mitchell, an acknowledged master engraver, medalist and friend to Saint-Gaudens. He had studied with Henri-Michel-Antoine-Chapu, another master medalist, in Paris and prior to 1916, had designed not only the 1901 Pan-American Medal of Award, but also the 1909 Architectural League of New York Medal. In 1912 he submitted two designs for the National Academy of Science Medal neither of which was selected. Simultaneous with the 1916 Quarter, he had also modeled the Conrad Poppenhusen Medal.
Indeed, and regrettably, his Indian themed works were fewer, but they were never far from his heart returning to them in modeling the 1926 Hopi Prayer for Rain medal. As for the American Bison appearing in both MacNeil's medal and James Earle Fraser's Nickel, it is recorded that Black Diamond, the American Bison, was Fraser's model. The animal was born in the Central Park Zoo in 1893 and died there in 1915. In 1900, MacNeil was living on the upper west side of Manhattan. The zoo being very near to where he lived, I'd wager a bet Black Diamond was his model as well.
1976 Gold Libertas Americana Restrikes
Regarding the 1976 Libertas Americana restrike medals, Julian Leidman writes:
To read the complete item description, see:
(1776) Medal Libertas Americana Gold 2000 Restrike 64g. Au, DCAM (Proof) (https://www.pcgs.com/coinfacts/coin/1776-medal-libertas-americana-gold-2000-restrike-64g-au-dcam/511938)
To read the earlier E-Sylum article, see:
NNP: THE 1976 LIBERTAS AMERICANA RESTRIKE (https://www.coinbooks.org/v26/esylum_v26n27a13.html)
According to PL 116-330 for the year 2027,
That means in 2027, our coin designs revert back to what they were, the same old tired designs we have been using for years.
The United States Mint (Mint) announces the appointment of Dr. Christopher Capozzola to a four-year term on the Citizens Coinage Advisory Committee (CCAC) as the member Specially Qualified in American history. He replaces Dr. Dean Kotlowski, who has served on the CCAC since 2018.
Deputy Treasury Secretary Adeyemo appointed Dr. Capozzola on May 29, 2023, and he will be formally sworn in at the next public CCAC meeting.
It's been exactly ten years that I have started this blog. It has been transformed a few times, and it has also changed my life in many ways.
Originally, I started to discuss the possibilities of collecting coins without vision. This gave me a couple of years worth of content, but let's face it, there is only so much to write about the topic, and I have mostly exhausted it.
Just about when I started to run out of ideas, I got an assignment that required me to travel, so the opportunity presented itself for the next few years, I got to visit several coin museums and coin shows that I wrote about while I continued writing on blindness related issues.
National Identification. Lettering on a diestruck item that identifies the country of origin. Coins do not require such identification since they usually bear the country's name or national emblem (and circulate within that country). However, medals and tokens which are struck in one country for use in another are sometimes required by the recipient country to identify where they were made. The term made in must appear on every item with the country name. Made in America, or Made in U.S.A., or Made in France, or Made in England are some terms that have been observed on numismatic items to meet this legal requirement. Those made in Italy bear only the name Italy.
The Coin School, Iowa
Steve Rye of Mesa, Az. (formerly from one of Iowa's small towns—there are 900 of them) writes:
Julia Casey writes:
The collecting of various bank and mint bags is popular with some collectors. Most commonly collected are the cloth or canvas bags issued to a banks depositors from the 1930's to the 1960's. Most modern banks now use vinyl or plastic bags of which few are collected. Other bags commonly collected are those canvas and cloth bags used by the U.S. mint to distribute large quantities of coins from cents to dollars and even pre 1933 gold coins. The latter are presently quite rare and often valuable.
In addition to the above mentioned bags there are several other categories most of which are scarce and which I have pictured here in this article. These include leather bags usually issued by individual banks of which the larger ones were very likely intended for heavier coins or gold with the small ones probably used as a coin purse. Leather bank bags are seldomly encountered.
102449 | UNITED STATES. Louisiana Purchase/St. Louis International Exposition silvered bronze "so-called" Dollar. Issued 1904 (40mm, 24.21 g, 12h). By the Holy Brothers. LOUISIANA PURCHASE / 1803, oval medallions of Thomas Jefferson, facing slightly left, and of Napoléon, facing left; between them, shield bearing stars and stripes, and surmounted by an eagle, with wings spread and head left, perched facing // WORLD'S FAIR ST LOUIS 1904, three allegorical figures (one male, two female) facing left among the clouds; the male figure trumpets and holds a torch, while one female clasps his shoulder and another, nude, holds an oval shield; at a distance to lower left, aerial view of the expo grounds. Edge: Plain. socalleddollar[.]com unlisted-66; Krueger 225, Hendershott 30-260. Choice About Uncirculated. A good deal of brilliance and original silvering remaining. A very rare and seldom encountered type, with the alluring Art Nouveau artistry that is typically seen from the Holy Frères (brothers), who are more commonly known numismatically for their Swiss shooting medals from the same time period. $545.
Billed as the Louisiana Purchase Exposition, as it commemorated the 100th anniversary of the massive land transaction between the United States and France, the fair covered an enormous area, taking visitors nearly a week to explore its offerings.
To read the complete lot description, see:
102449 | UNITED STATES. St. Louis Expo silvered bronze "so-called" Dollar. (https://www.numismagram.com/product-page/102449)
An important collection of early milled coins, with many dating from the reign of Elizabeth I, will offered by Noonans Mayfair on Wednesday, July 19, 2023. It was started by Peter Sanders in the 1940s and later added to by his son Robin. Robin passed away last year, and the collection is being sold by the family. Comprised of around 350 coins, the Sanders Collection is expected to fetch in the region of £500,000.
It is not known what prompted Peter Sanders to start collecting coins, but his father owned a chain of jewellery shops (James Walker Ltd) so perhaps he would have met coin dealers through the business. His initial focus was on the milled coinage of Elizabeth I, progressing on to Nicholas Briot's milled coinage of Charles I, the Civil War coinage of the York mint, and the Scottish coinage of Charles I. Peter Sanders bought extensively from the three main London dealers and from many of the important auctions of the 1950s.
It was on the 6th of January 2023 that Rob Turrell, and his friend Jono had planned a day's detecting on one of their regular pasture fields near Diss in Norfolk. Over the last two years they had found a mix of Celtic and early Roman artefacts and Rob sensed that something exciting was going to happen that day. He discovered a rare gold aureus which will be offered at Noonans Mayfair on Tuesday, July 18, 2023, in a sale of Ancient Coins and Antiquities with an estimate of £4,000-5,000.
Trinity College Dublin Gold Medal

Gold medal, Trinity College Dublin, possibly 15ct, 31g.
To read the complete lot description, see:
Gold medal, Trinity College Dublin, possibly 15ct, 31g. (https://www.easyliveauction.com/catalogue/lot/
b0cb754afe1ec7e7db307a45332ca5e3/0af8d24542e81eb9357e7ef448a6646f/
carlisle-fine-art-antique-sale-of-ceramics-jewelle-lot-106/)
The fact that silver service was used to strike Newark siege coins can be seen on some coins by the hallmarks and traces of designs from the original silver plate. Others were struck on planchets that were produced by melting the silver service into sheets and cutting the sheets into the desired shape and weight.
In the late eighteenth and early nineteenth centuries, the United States Mint struggled to produce coinage adequate to the demands of commerce in the new republic. Production of early coinage, particularly cents and half cents, was stymied by, among other factors, difficulty finding a consistent source of copper. One of the main suppliers in this period was Boulton, Watt & Company, an English firm that manufactured a wide range of metal goods over its more than century-long history.
What do you get when you cross a 1,100-year-old coin mint with the future of digital art?
France's la Monnaie de Paris, the world's oldest active monetary institution—known for its centuries-old tradition of minting physical coins—has opened its doors to the very technology that seeks to disrupt its existence
Founded in 864 by the King of France with the mission to mint French coins, La Monnaie de Paris is now responsible for minting euros for France.
Robert Higgins Precious Metals Fraud Revealed
Hundreds of depositors who handed millions to a silver dealer in exchange for precious minted coins were told their vaults were actually empty following an investigation by the U.S. Commodity Futures Trading Commission (CFTC).
Two firms run by precious metals dealer Robert Higgins have been ordered to pay out $112.7 million to the victims of an alleged complex fraudulent scheme, and $33 million in a civil monetary penalty.
The investigation into Higgins and two connected companies began last year.
According to a statement from the CFTC, between 2014 and 2022 Higgins conducted a fraudulent silver leasing scheme via two companies: Argent Asset Group LLC (Argent) and First State Depository Company, LLC.
To read the complete article, see:
Silver coins, promised profits, and an empty vault: How a silver dealer's slow theft of investors' precious American Eagle coins ended in a $146m fine (https://fortune.com/2023/07/04/silver-dealer-robert-higgins-alleged-fraud-scheme-argent-first-state-american-eagle-coins/)
This week's Featured Web Site is the home of the Italian coin and medal designer Sandra Deiana.