Visit our NBS Sponsors
About Us
The Numismatic Bibliomania Society is a non-profit association devoted to the study and enjoyment of numismatic literature. For more information please see our web site at coinbooks.org
Subscriptions
Those wishing to become new E-Sylum subscribers (or wishing to Unsubscribe) can go to the following web page link
Membership
There is a membership application available on the web site Membership Application
To join, print the application and return it with your check to the address printed on the application. Print/Digital membership is $40 to addresses in the U.S., and $60 elsewhere. A digital-only membership is available for $25. For those without web access, write to:
Charles Heck, Treasurer
Numismatic Bibliomania Society
P. O. Box 2058,
Bluffton, SC
29910-2058
Asylum
For Asylum mailing address changes and other membership questions, contact Chuck at this email address: treasurer@coinbooks.org
Submissions
To submit items for publication in The E-Sylum, write to the Editor at this address: whomren@gmail.com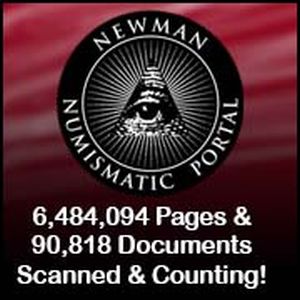 BUY THE BOOK BEFORE THE COIN
Sale Calendar
Content presented in The E-Sylum is not necessarily researched or independently fact-checked, and views expressed do not necessarily represent those of the Numismatic Bibliomania Society.
New subscribers this week include: Fred Peterson, courtesy Fred Liberatore. Welcome aboard! We now have 8,067 subscribers.
Thank you for reading The E-Sylum. If you enjoy it, please send me the email addresses of friends you think may enjoy it as well and I'll send them a subscription. Contact me at whomren@gmail.com anytime regarding your subscription, or questions, comments or suggestions about our content.
This week we open with NBS events at the Pittsburgh ANA, four new books, two obituaries, updates from the Newman Numismatic Portal, and more.
Other topics this week include Half Dimes, U.S. Treasury Notes, Coal Mine scrip, numismatics on the radio, VAMs, National Medals, auction previews, Trinity College Dublin gold medals, Limerick Soviet notes, and Duchamp's Monte Carlo bonds.
To learn more about buckram bindings, Ed Fritz, "Miles" Standish, Spanish and South American Eight Reale coins, the Museum Plantin-Moretus, Wizard Coin Supply, the MyCollect social network, the Speared Bison Nickel, the founder of the Higgins National Bank Note Museum and The Man Who Makes the Money at the Mint, read on. Have a great week, everyone!
Wayne Homren
Editor, The E-Sylum


NBS Bookbinding at the ANA Convention
This week's bookbinding term is buckram. While sometimes not appearing as cloth, buckram covering is indeed cloth-based and has been soaked in a glue or starch solution in order to reinforce the overall binding. This makes the book more durable, and buckram binding is typically employed in public libraries, where usage may be higher than within a private library.
Illustrated here are examples of buckram cloth, with two different finishes. We'll be using a simpler treatment in our bookbinding demo at the ANA, with plain boards covered in marbled paper. In Tom Harrison's announcement of NBS events at the ANA, the identity of the book we are binding is revealed.
With the 2023 ANA World's Fair of Money in Pittsburgh only weeks away I wanted to share some highlights of the Numismatic Bibliomania Society's events. From Tuesday through Friday the NBS will host our club table (#433) located near literature dealers Charles Davis and Kolbe & Fanning. The table will provide an opportunity to receive a commemorative NBS coffee mug with a $25 donation and view highlights from Friday's charity auction. Please be sure to stop by on Wednesday, August 9th for a special book binding demonstration. Members will be able to make their own updated The Asylum index for vols. 31-40 (2013-2022) that will take about 45 minutes. Copies of the book will be made available to all NBS members at a future date. Like all of our gatherings, the table is a great chance to connect with old friends and meet new literature enthusiasts.
Proudly presented to you is the 7th publication of a series of variety identification guides covering Early U.S. Coins. This book covers all of the currently known die marriages of the U.S. Half Dimes series from 1792-1837, including the newly discovered marriages not covered by any other guide. A complete list of all of the author's previous publications to date are below, which are highly recommended:
1. U.S. Large Cents 1793-1814 (Early Date Large Cents)
2. U.S. Large Cents 1816-1839 (Middle Date Large Cents)
3. U.S. Half Cents 1793-1857 (Complete Series)
4. U.S. Half Dollars 1794-1807 (Flowing Hair and Draped Bust)
5. U.S. Half Dollars 1807-1826 (Capped Bust Halves, Vol. 1)
6. U.S. Half Dollars 1827-1836 (Capped Bust Halves, Vol. 2)
7. U.S. Half Dimes 1792-1837 (Flowing Hair, Draped, and Capped Bust)
The primary focus of this guide is to have you quickly and efficiently attributing your Flowing Hair, Draped Bust, and Capped Bust Half Dimes. That used to be no easy task, but we've made it far easier than ever before with our down-to-Earth system focusing on naked eye observations (photo memory recall), dentil alignments, close-up photos, as well as clearly illustrated die cracks which we have augmented with lines drawn in order to make them easy to see. The large, full color, modern, ultra-high resolution photos found within were carefully selected for these purposes.
U.S. Treasury Notes, 1812-1865: An Illustrated History
by Nicholas J. Bruyer
In U.S. Treasury Notes 1812-1865 we are presented for the first time with a coherent and chronologically ordered book on early United States paper money, featuring an abundance of high-quality illustrations of notes from this era, alongside their historical correlations. It provides an in-depth understanding of why many of these banknotes were initially issued, whether to finance wars or to salvage the United States from imminent collapse. The lack of information concerning Treasury notes has long been acknowledged, but now collectors can approach them with confidence, armed with newfound knowledge of their history and significance to our nation's monetary system.
This isn't just an important reference; it's also written in a concise and enjoyable way that fills a gap in the numismatic library. Tracing these issues from the First Bank of the United States to the War of 1812, the Panics of 1837 and 1857, and Interest Bearing Treasury Notes during the Civil War, Nick's chronicle provides historical context through a good story, solid research, and representative images.
Coal Mine Company Obsolete Notes and Scrip
by David E. Schenkman
Binding: Hardcover
Edition: 1st
Publication Date: August 2023
Size: 8.5x11
Pages: 160
ISBN 13: 9798218956301
Price: $39.95

Charlton 2023-2024 Canadian Collector Coins catalogue — Royal Canadian Mint issues
$49.95
Canadian Collector Coins, Royal Canadian Mint Issues, Volume 2, 12th Edition, 2023-2024. Available in English and French
The 12th edition, Volume Two is the leading authoritative catalogue on the Royal Canadian Mint collector issues on the market today.
Edward E. "Ed" Fritz, Jr. age 74 of Lebanon, it is with deep sadness that we inform you of the passing of Edward E. Fritz, the founder of Centerville Coin & Jewelry. Ed was a remarkable individual known for his integrity and genuine character. His passion for collecting and numismatics was only surpassed by his unwavering care and concern for others. Ed's impact on the hobby and the people involved in it cannot be overstated. For over 50 years, Ed dedicated himself to educating consumers and collectors, playing a vital role in expanding the hobby. Many owe their professional success to the support and selfless advice he generously provided. Ed was a trusted friend in the numismatic industry, and his absence will be deeply felt.
Michael Miles Standish, a renowned American businessman, author, numismatic specialist, and philanthropist, passed away unexpectedly at the age of 58 on Tuesday, July 11, 2023. His tragic passing has left his community and loved ones heartbroken, as they mourn the loss of a remarkable individual who made a lasting impact during his lifetime.
Michael Miles Standish was a highly respected figure in the world of rare coins, sports memorabilia, and philanthropy. He was a co-founder of Collectors Universe and served as the vice president of the Numismatic Guaranty Corporation at the time of his passing.
A Pair of 1939 Radio Presentations
If someone talked about numismatics over the airwaves in 1939, what did they discuss? Remarkably, we can answer that question, at least in a couple cases. Recently located in the Eric P. Newman papers are scripts for two presentations delivered by Newman in 1939 over St. Louis radio station WIL (the call letters predated the standard K-format now used west of the Mississippi). The June 11, 1939 script provided an overview of colonial numismatics, while the August 13 presentation related to Newman's recently acquired 1861 St. Louis $10 demand note.
Adrián González-Salinas of Monterrey, México writes:
Beate Rauch: Still With Us

Daniel Demeo writes:
Phil writes:
To read the earlier E-Sylum article, see:
NOTES FROM E-SYLUM READERS: JULY 9, 2023 : Beate Rauch (https://www.coinbooks.org/v26/esylum_v26n28a13.html)
MyCollect™, a new social network for coin collectors has launched. Founded and operated by collectors and for collectors, it combines the best interactive features of the hobby and trade, such as informative message boards and set registries, but eliminates the algorithm problems often encountered with such platforms as Facebook.
The website (www.mycollect.com) is free of charge. Among the many features are competitive sets of all U.S. coin series, the ability to post publicly or only privately to selected friends, and TheftCheck™, the most extensive and timely searchable database of stolen certified coins, explained Ian Russell, founder of MyCollect and president of GreatCollections in Irvine, California.
National Medal. A medal of national character or interest; a medal struck by a national mint. In the United States national medals is a loose term for all the medals produced by the United States Mint at present, but only about half of those of the past. It includes all the medals authorized by U.S. Congress (congressional medals) plus all those sold to the public by the United States Mint (list medals). The term excludes private issue medals (once widely manufactured by the U.S. Mint but which have not been struck since 1956).
The term national medal has legal meaning in that it is mentioned in the United States Code (section 31, paragraph 368). This states that dies for national medals can be executed and the medals struck at the Mint with the approval of the Director, provided production of the medals do not interfere with the production of coins; further, no private dies can be made at the Mint, nor can the machinery in the Mint be used for private purpose.
The origins of Bill Higgins are a bit cloudy, but still interesting. Although various records indicate he was adopted, the reason for the adoption is part of the mystery.
I will start the story with grandfather Hiram Higgins (1834-1906). He made a fortune as a grain dealer in Chicago and Burlington, Iowa, before retiring to Los Angeles. When he died, he left a complex will and trust with an estate worth about a half million dollars. He provided well for his widow, daughter and three grandchildren. He left a token amount to his son, William Robert Higgins (1862-1943) who had a strained relationship with his father. There were allegations of alcohol and drug abuse. William contested the will and the claim was settled by negotiations out of court.
1918 1C MS68 Red PCGS. The 1918 Lincoln cent is common in most grades and boasts a mintage of more than 288 million coins. To the perception of most collectors, there is nothing remarkable about this issue. However, for the advanced Registry collector, the 1918 presents a significant challenge. Red Superb Gem examples -- all but essential for a high-ranking Registry Set -- are rare. Yet, for the most advanced and ambitious collectors, even most Superb Gems will not do. For the fortunate few, the finest examples of this date known are three MS68 Red coins certified by PCGS (6/23).
This coin represents the first appearance of an MS68 Red specimen in our auctions. Comparisons with even MS67 Red pieces that have come before is moot, since, in the world of Lincoln cents, there is a great expanse of rarity, value, and desirability between the two numerical points of MS67 and MS68. For collectors seeking the absolute finest quality, the 1918 is not a coin with a mintage of 288 million pieces; it is not a coin with a survivorship of tens of thousands; it is, rather, a coin with a population of three specimens.
RR Auction, a leading auction house specializing in collectibles and historical artifacts, is announced its highly anticipated Semi-Annual Olympic Sale, featuring nearly 400 exceptional lots. Practically every Olympiad is represented in the auction—from the first Modern Games in 1896 to the recent Beijing 2022 Winter Olympics.
This Olympic sale presents a remarkable opportunity for enthusiasts to acquire a diverse assortment of items, including winner's medals, relay torches, pins, badges, and rare ephemera, showcasing the rich history of the Olympic movement. Among the standout highlights are several exceptional pieces that are certain to attract considerable attention.
The Telford Premium Medal

The Portland Collection, Commemorative Medals, Engineering: Bridges, Thomas Telford, the Telford Premium medal, struck in gold, of the Institute of Civil Engineers, instituted 1835, by J. S. & A. B. Wyon after William Wyon, awarded 1919-1920.
Bust of Thomas Telford l., rev. view of the Menai suspension bridge, shipping below on the Menai Straits, edge named, 'JOHN KERR ROBERTSON, M. INST. C. E.', wt. 113.91gms.; 57.5mm. (BHM.1328; Eimer 1206), a superb medal, certified and graded by NGC as Mint State 63 (NGC 5878352-003).
Thomas Telford (1757-1834), FRS, FRSE, Scottish civil engineer, architect and road, bridge and canal builder.
Lt-Col. John Kerr Robertson (1878-1962) served his apprenticeship under Messrs Forman and McCall from 1896-1901. He worked on railways before, in 1902, becoming Assistant Engineer to the Clyde Navigation Trust. In 1904 he was appointed Assistant Engineer to the Railway Department of the Government of India, working there until 1914 when he moved to the Uganda Railways. In 1915 he received a temporary Commission as a Captain in the Royal Engineers, serving in the Adriatic, and Baltic Provinces. He remained in the army up to 1921 with, by then, the rank of Lt-Colonel. After receiving the medal, he continued his work on many overseas projects including Kenya, India and the Haifa-Baghdad Railway harbour works in Turkey.
To read the complete item description, see:
THE TELFORD PREMIUM MEDAL, INSTITUTE OF CIVIL ENGINEERS, GOLD PRIZE MEDAL 1919/20 (https://www.baldwin.co.uk/product/the-telford-premium-medal-institute-of-civil-engineers-gold-prize-medal-1919-20/)
A man in Kentucky hit the jackpot after he discovered over 700 coins from the Civil War era on his rural farm.
The findings have been nicknamed the Great Kentucky Hoard and include a group of 1863 Double Eagles and hundreds of US gold dollars dated from 1850 to 1862, as well as a few silver coins, per Numismatic Guaranty Company, which certified the pieces.
In a YouTube video posted by GovMint, one of the biggest collectible coin marketers in the United States, the unidentified man is seen digging up the pieces of treasure — potentially worth millions — from the dirt.
Ronan Fitzpatrick of the Numismatic Society of Ireland writes:
An Afghan veteran and former Royal Marine is set to sell a medal he earned for bravery in London later this month in a bid to help fund a retreat for soldiers in the Scottish Highlands.
The Conspicuous Gallantry Cross (CGC) was presented to Brad 'Bugsy' Malone when he was part of the elite 45 Commando Royal Marines. Only 60 soldiers have ever received the rare honour.
A BANK note from the days of the Limerick Soviet has been uncovered during a review of archive material in one of Ireland's oldest banks.
As part of its 240th anniversary celebrations, Bank of Ireland has been conducting a review of its archive materials, and found among them an uncirculated Limerick Soviet bank note dating from 1919.
What was one of the most radical artists of the 20th century doing playing roulette in the casinos of Monte Carlo? And why did he insist, as he honed his complex gambling system, armed with capital from a risky financial scheme, that I haven't stopped being a painter, now I draw on chance? This article is drawn from my book on the importance of the poet Stéphane Mallarmé for debates among European avant-garde artists about chance, the nature of language, and the hazards of communication. While the full chapter argues that Duchamp had Mallarmé's impossible dream of abolishing chance in mind as he confronted the incipient financialization of art, this excerpt lays out Duchamp's strategy to break the bank in Monte Carlo and his quixotic hope to render roulette into a game of chess.
Coin Variety Names
There's a wide variety of terms in the world of coin collecting that catch some people off guard. Surely, there's the array of technical-sounding nomenclature, like doubled die, counting machine mark, mottled toning, and transitional issue – all terms, by the way, that are explained on PCGS Lingo Full Listing. Then there are phrases such as Speared Bison Nickel, Bugs Bunny Half Dollar, and Hot Lips Dollar that are so comical in nature that it might make some wonder if a witty jokester discovered these popular (if funnily named) variety coins.
2005-D Speared Bison Nickel

The Westward Journey Nickel series that was struck from 2004 through 2005 and launched a series of four special designs honoring the 200th anniversary of the Lewis and Clark Expedition created at least one notable variety. The 2005-D Speared Bison variety features a significant die crack that formed a raised line that resembles a spike protruding through the back of the bison. The 2005-D Speared Bison Nickel is not just popular, but it's also quite scarce, resulting in robust prices for this coin even in circulated grades, where values hover above $50 – Mint State specimens generally cost over $150.
To read the complete article, see:
Where Did That Coin Variety Name Come From? (https://www.pcgs.com/news/where-did-that-coin-variety-name-come-from)