Visit our NBS Sponsors
About Us
The Numismatic Bibliomania Society is a non-profit association devoted to the study and enjoyment of numismatic literature. For more information please see our web site at coinbooks.org
Subscriptions
Those wishing to become new E-Sylum subscribers (or wishing to Unsubscribe) can go to the following web page link
Membership
There is a membership application available on the web site Membership Application
To join, print the application and return it with your check to the address printed on the application. Print/Digital membership is $40 to addresses in the U.S., and $60 elsewhere. A digital-only membership is available for $25. For those without web access, write to:
Charles Heck, Treasurer
Numismatic Bibliomania Society
P. O. Box 2058,
Bluffton, SC
29910-2058
Asylum
For Asylum mailing address changes and other membership questions, contact Chuck at this email address: treasurer@coinbooks.org
Submissions
To submit items for publication in The E-Sylum, write to the Editor at this address: whomren@gmail.com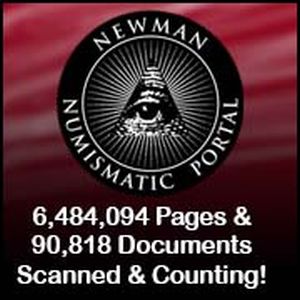 BUY THE BOOK BEFORE THE COIN
Content presented in The E-Sylum is not necessarily researched or independently fact-checked, and views expressed do not necessarily represent those of the Numismatic Bibliomania Society.
New subscribers this week include: Rich Nesbit (a.k.a. Richie Rich), courtesy John Mutch; Dan Roberts and Greg Roberts, courtesy Ron Gillio; Robert Julian, Jr., and Dave Lewis. Welcome aboard! We now have 8,689 subscribers.
Thank you for reading The E-Sylum. If you enjoy it, please send me the email addresses of friends you think may enjoy it as well and I'll send them a subscription. Contact me at whomren@gmail.com anytime regarding your subscription, or questions, comments or suggestions about our content.
This week we open with numismatic literature awards, a literature sale, one new book, updates from the Newman Numismatic Portal, notes from E-Sylum readers, and more.
Other topics this week include Euro coinage, chopmarks, The Franklin Mint, the Oldest Living Pioneer, Labor Exchange scrip, nonsense dies, numismatic art, Mark Lighterman, Cindy Wibker, fixed price and auction offerings, 1804 Dollar electrotypes, and Indonesian magic money.
To learn more about Emperors Carausius and Allectus, the Citizens Coinage Advisory Committee, the Hunterian Museum in Glasgow, the world's tallest man-made structures, the Pittsburgh Christmas coin toss, the Counterfeit King, Bookophile, the War of 1812 Upper Canada Preserved Medal, Moneta Patriottica, the Lampsakos gold stater, private restrikes of large cents, and the new Charles Coronation 50 pence coin, read on. Have a great week, everyone!
Wayne Homren
Editor, The E-Sylum


The Jack Collins Award for Best Article by a First-Time Author goes to Douglas Ward for Enigmatic Numismystique: The Numismatist Purchase of 1908—Labor and Love
David W. Lange Memorial Book of the Year
Eagle Poised on a Bank of Clouds: The United States Silver Dollars of 1795-1798
Harry A. Salyards
Kolbe & Fanning Numismatic Booksellers have announced our latest Buy or Bid Sale, which begins now and will close on Tuesday, August 29 2023. With hundreds of new additions, the sale focuses on modestly priced books, giving collectors an opportunity to add to their libraries at minimal cost.
The sale includes over 1400 works on ancient, medieval and modern coins, as well as general works, periodicals and sale catalogues. Buy prices have been kept low to promote sales. To further encourage participation, the firm is offering free domestic shipping to bidders spending at least $300; there is also no packing and processing fee for this sale. Again, please read the Terms of Sale before participating.
2 Euro Coin Catalogue - The guide to one of Europe's largest coin collecting areas.
The introduction of the euro has created a cross-border collecting area with many millions of enthusiastic collectors - and since 2004, the whole of Europe has been in two-euro collecting fever: the euro states can adapt the national side of their two-euro coins to commemorate significant events, buildings or personalities So far, more than 400 different motifs have been minted - and many a rarity slumbers in the change.
This catalogue is the indispensable companion for two-euro treasure hunters and all those who want to became one.
In this issue we meet our youngest member, Hong Chan Ui, from South Korea. Hong joined the CCC when he was in high school and is currently a college student showing there are young, enthusiastic collectors joining the hobby.
Eric Brothers is writing a series of articles for a variety of journals and magazines and we are reprinting his first one from the ANS magazine in this issue. There will be plenty more to come from Eric.
Howard Daniel sent me an old Hong Kong dealer's fixed price list. It's a fascinating glimpse into the past.
I visited New York City last summer and had the good fortune to meet with and interview Mr. David Hill, the head librarian of the ANS. We also get to see some of the chopmarked coins held in the ANS's collection.
We are delighted to announce that we have a new article LIVE on our Studia Nummorum E-Journal. 'An Introduction to Carausius and Allectus' by Ken Elks.
This article provides a broad overview of the fascinating story and coinage of these two rebel emperors who ruled Britain and parts of the northern Gaul for a period of ten years. Elks discusses a variety of reverse types and inscriptions which allude to Virgilian and other literary references, as well as claims to Imperial legitimacy and propaganda.
The 60 Minutes Report on the Franklin Mint
In 1978, the CBS news magazine 60 Minutes aired a report on private mint issues manufactured by the Franklin Mint and others, focusing on the resale value of their products. Morley Safer interviewed purchasers of Franklin Mint issues and visited New York City coin dealers to ascertain aftermarket values.
This segment includes footage from the 1978 American Numismatic Association convention in Houston. Charles L. Andes, Franklin Mint Chairman of the Board, also appears. While it seems obvious that mass-marketed collectibles by definition must generate substantial margins to cover advertising and marketing costs, the public continues to have some appetite for such products.
The United States Mint is seeking applicants for an appointment to the Citizens Coinage Advisory Committee (CCAC) as a member representing the interests of the general public. The deadline to email submissions is no later than 5 p.m. (EDT) on Monday, September 11, 2023. The United States Mint will review all applications and will forward recommendations to the Secretary of the Treasury for consideration.
The CCAC is composed of 11 members — one specially qualified in numismatic collection curation; one specially qualified in the medallic arts or sculpture; one specially qualified in American history; one specially qualified in numismatics; three individuals representing the interests of the general public; and four individuals recommended by the Leadership of both the United States House of Representatives and the United States Senate.
In May of this year (2023) I was in Scotland on a family trip and was fortunate to meet for an hour with the Curator of the Numismatic Collection at the Hunterian Museum in Glasgow. As stated on the museum website, The Hunterian was built as an Enlightenment Museum, reflecting the spirit of a time when Scotland's great thinkers - philosophers, artists, writers, and scientists - sought to understand the natural world and the human mind.
The Hunterian owns one of the most extensive numismatic collections in the world. It was initially formed by Dr. William Hunter (1718-1783), who collected in several areas and donated his collections to establish this museum at the University of Glasgow, his alma mater.
Dr. Hunter was a pioneer in Obstetrics & Gynecology, eventually being appointed Physician Extraordinary to Queen Charlotte, consort of George III. He is recognized for his important research with a bio on the website of the National Institutes of Health in the US:
https://www.ncbi.nlm.nih.gov/pmc/articles/
PMC7960833/
In his later years Hunter turned his attention to collecting coins and medals, sending agents all over Europe to acquire items (when you have money, you can hire people to build your collection!).
The Atlas Numismatics list shows an Eiffel Tower medal, quite common, one of which (pictured) I just received in the mail last week! These were sold during the 1889 Universal Exposition in Paris when the Eiffel Tower opened.
Why is the medal interesting? It shows an 1889 picture of the world's tallest man-made structures and lists their height in meters below. The Atlas Numismatic listing erroneously states it is a city view of Paris! But the Great Pyramid of Giza is not located in Paris!
Not unexpectedly several buildings are simply Parisian landmarks like the Paris Opera, Invalides, and Arc de Triomphe.
The August 6, 2023 E-Sylum had a short article titled "U.S. Mint Struck Pesos, Junk Dollars" along with a link to the Stack's Bowers website article.
I became interested in the 1949 Mexico 1898 Peso restrikes in 2004 and wrote a short article about them which is on my personal hobby website at https://www.brianrxm.com.
Some of my article was researched from a 1968 numismatic magazine article by the numismatist Dr. Alberto Francisco Pradeau titled "The San Francisco, California, Mexican Pesos of 1898", for the Azteca Numismatic Society's newsletter "Plus Ultra", September 27, 1968.
I received a letter from Mr. Rex Stark (Gardner, MA) containing a catalog of Ku Klux Klan Tokens 2nd Edition 1981 by D. E. Birdsell. I compared page by page of the catalog of Mr. Rex Stark against my personal copy and both copies have the same content.
According to the Memorandum of D. E. Birdsell Publisher to All Recipients of Ku Klux Klan Tokens 1981:
Zach Filis writes:
On Emil Weigand and Friedrich Wilhelm Kullrich
Terry Hess writes:
To read the earlier E-Sylum article, see:
NOTES FROM E-SYLUM READERS: AUGUST 6, 2023 : Emil Weigand and Friedrich Wilhelm Kullrich (https://www.coinbooks.org/v26/esylum_v26n32a18.html)
Dave Lewis writes:
The sixth edition, volume II, of the Cherrypickers' Guide to Rare Die Varieties was officially launched at the American Numismatic Association World's Fair of Money in Pittsburgh, August 8–12, 2023. Whitman Publishing has announced that the final volume of the sixth edition will debut in 2024, and the book's editors are seeking input on U.S./Philippine coins from collectors, coin dealers, and researchers.
The upcoming sixth edition, volume III, will cover die varieties among Capped Bust, Liberty Seated, and Barber half dollars, plus Liberty Walking, Franklin, and Kennedy half dollars, trade dollars, Morgan and Peace silver dollars, modern dollar coins, gold coins (dollars through double eagles), classic commemoratives, and silver, gold, and platinum bullion. Among several brand-new chapters, volume III will also include die varieties of coins struck for the Philippines under U.S. sovereignty.
The United States acquired the Philippine Islands in 1899 as part of a treaty with Spain that ended the Spanish-American War of the previous year. In 1901 the colony's American military government was replaced with a civil administration. One of its first tasks was to sponsor a new coinage that was compatible with older Spanish issues, while being legally exchangeable for U.S. money at the rate of two Philippine pesos to one dollar. U.S./Philippine coins were produced from 1903 to 1945.
While attending the recent ANA World's Fair of Money, I noticed a booth in the back corner with the name banner, The Numismatic Art of Robert Julian. I returned later to learn this was not Robert W. Julian, the writer, but rather Robert Julian, Jr., the artist. I was intrigued and sat down for an interview.
He told me he was born on June 10, 1957, in Oak Park, Illinois, the son of Robert Julian and Mary Ayers-Julian.
Bookophile in New Splendour – the Redesigned Website for Book Lovers
Bookophile, the Zurich MoneyMuseum's website for book enthusiasts, has been relaunched and spruced up with a fresh look and new features. One thing, however, stays the same: it is all about the love of old books. A major emphasis – how could it be otherwise for a MoneyMuseum – is on the subject of money and society.
Stack's Bowers Galleries is excited to announce the launch of their Coin Resource Center, an online reference guide for all United States coins that places the firm's unrivaled knowledge at the fingertips of every collector. For over 90 years, Stack's Bowers Galleries has been a leading source of expertise for collectors around the world, and the firm is proud to now offer another valuable tool to empower passionate numismatists.
Mark Lighterman, long-time ANA Board member, devoted hobbyist and collector and recipient of multiple numismatic awards, has been elected to the office of Vice President of the American Numismatic Association.
Mr. Lighterman is focusing on education and service for his tenure in office. He is an expert at service in the hobby, fulfilling multiple roles for different organizations simultaneously.
About the election and his upcoming tasks Mr. Lighterman said, Throughout the years I have participated in small to medium size organizations serving the membership. To be elected to the position of VP of the largest numismatic organization is an honor and, though it will be a lot more work on my part, I will continue to serve all those clubs I was involved prior to being elected as well as fulfilling my duties to the membership of the ANA.
The Central States Numismatic Society (www.CSNS.org) has hired well-known show coordinator Cindy Wibker as the organization's new convention manager. She previously served for over 30 years as coordinator of the Florida United Numismatists (FUN) conventions.
Although she retired from FUN earlier this year, Cindy assisted at our 2023 convention this past Spring and now has agreed to be the CSNS convention manager for a three-year transition period. She is one of the most respected people in the hobby, and the CSNS Board of Directors members are delighted Cindy is taking on these important responsibilities for our expanded annual show, said CSNS President Mitch Ernst.
Wibker explained: I appreciate the many positive, innovative changes made by former Convention Manager Larry Shepherd and I want to keep the show moving forward. I believe in the mission of the Central States club, and I thoroughly enjoyed working with the CSNS board and volunteers last April. I consider Central States one of the top clubs in the country, along with the American Numismatic Association, FUN, and the Pennsylvania Association of Numismatists.
UNITED STATES & ITALY. Christopher Columbus & George Washington bronze Medal. Issued 1892 for the World's Fair/Columbian Exposition in Chicago (91mm, 12h). By C. Orsini & G. B. Millefiori in Rome. Medallions containing the busts of Columbus and Washington facing one another; above, eagle with banner reading E PLURIBUS UNUM and union shield; below, laurel branch with three arrows // COLUMBIAN EXPOSITION CHICAGO / MDCCCXCII–III, draped figure of Liberty standing slightly right, holding branch and extending arm toward expo grounds under a radiant cross. Eglit 102; Rulau X14; Baker K378. PCGS SP-63. Rich red-brown surfaces, with a great glossy nature and some green deposits in some of the protected areas. Far superior to most others generally encountered, such as an NGC MS-64 Brown, that realized a total of $840 in the June 2020 Stack's Bowers Auction (18 June 2020), lot 9. An impressive large format issue which has appeal to not only the Columbiana crowd, but to the Washingtoniana crowd as well. $865.
During the lead-up to the quadricentennial of Columbus's initial contact with the New World, numerous medals were designed and struck, both in the United States—in conjunction with the 1893 Columbian Exposition in Chicago—and abroad—sometimes for this event or for similar others.
To read the complete item description, see:
102540 | UNITED STATES & ITALY. Columbus & Washington bronze Medal. (https://www.numismagram.com/product-page/102540)
1814 George III Indian Peace Medal, Large Size in Silver With Original Hanger. AU. McLachlan-CCXCVIII, Leroux-838, Breton-19, Jamieson-24, Eimer-1061b, Adams 12.1. 76mm. 121.12g. Indian Peace (or Chief) medals are arguably the most important historical artifacts in the Canadian series. Peace medals were awarded by the French as early as 1693, and the gifting of medals to Indigenous chiefs continued to be implemented by the British and Canadian governments through at least the 1920s. IPMs served as important diplomatic objects representative of ties between the awarding government and the Indigenous group receiving it. With respect to the peace medals of George III, of which several types exist, John Adams (1999) writes, they must have been sponsored at the highest levels of His Majesty's government.
The present is an example of the largest-size 1814 peace medal. Again, according to Adams: During the War of 1812, there was no equivocation: Indians made up a material portion of British forces at almost all engagements. … By the time word got back to London on how the war was being fought, authorities designed the most substantial medal of the series and issued it in profusion. Although many of these medals were awarded (in three sizes: large, medium, small), it is likely that only 50 or so exist in this 76mm format. Adams' 1999 Census shows at least 17 of them permanently impounded in institutional collections.
Of the handful of large-size 1814 medals I have seen, this piece surely ranks among the most impressive for its originality. The surfaces show a few minor nicks and a trace of rub, but they are entirely natural and expected of a medal that would have been awarded. Blue, violet, and gold patina is old and eye-appealing. The original hanger is present at 12 o'clock.
It is my pleasure to offer this remarkable War of 1812 relic, the strongest evidence we have of the importance of Colonial-Indigenous relations during that period. It deserves a place of utmost importance in an advanced collection, private or public. CA$27,000.00
To read the complete item description, see:
1814 George III Indian Peace Medal, Large Size in Silver With Original Hanger. AU. (https://www.jacoblipsonrarecoins.com/inventory/1814-george-iii-indian-peace-medal-large-size-in-silver-with-original-hanger-au)
Stockton, CA 1873 Fr. 1146 First National Gold Bank CH# 2077 PMG Very Good 10 10 Dollars
1. California was the only state to have National Gold Banknotes issued. One chartered in Boston but did not issue notes. Here is a Stockton note:
To read the complete item description, see:
Stockton, CA 1873 Fr. 1146 First National Gold Bank CH# 2077 PMG Very Good 10 10 Dollars (https://bid.worldbanknoteauctions.com/lots/view/4-AIZKC4/stockton-ca-1873-fr-1146-first-national-gold-bank-ch-2077-pmg-very-good-10-10-dollars)
Discover the true and amazing story behind these notes of our online auction of August 31st. Live bidding will take place on August 31st at 3 p.m. on biddr.
Great Rarities from All Over the World
Gadoury will hold its auction sale on 14 October 2023. A special focus is on ancient coins, France, Italy and the USA. But even if your collecting interests lie elsewhere, do not miss out on studying this catalogue – it contains rarities from many countries across the globe.
Once again, Francesco and Federico Pastrone invite coin enthusiasts to the elegant Hôtel Méridien Beach Plaza in Monaco. On 14 October 2023, they will hold their autumn auction sales. As usual, the auction house offers a wealth of high-calibre rarities in the five- and six-digit range. However, there is also an exciting offer of coins and medals in the mid-price segment, especially for collectors of gold issues.
Roberts and his friend Peter Cockton were searching a field in Anglesey in July 2021 when they stumbled on buried treasure, the Amgueddfa Cymru National Museum Wales said in an Aug. 9 news release shared with McClatchy News.
Having been searching for history for over 14 years, finding a gold stater — a type of gold coin from the Iron Age — was always number one on my wish list, Roberts said in the release.
Private restrikes of three large cent dates, 1804, 1810, and 1823, were produced in the mid-to-late 19th century, a dynamic time in U.S. coin collecting. Though the circumstances surrounding their production remain murky, these restrikes have passed through the hands of many prominent coin collectors and have been studied by some of the most accomplished researchers in U.S. numismatics. Stack's Bowers Galleries will offer a notable 1823 large cent private restrike in silver as lot 5012 in Rarities Night of our August 2023 Global Showcase Auction.
It is thought that the first of these restrikes were produced starting in the late 1850s or early 1860s through possibly as late as the turn of century; a terminal bookend is hard to establish as the dies used to produce the 1823 restrikes survive today. The start of this period was a seminal moment in American numismatics as the hobby caught on and private and U.S. Mint-produced restrikes and other oddities appeared in the burgeoning U.S. marketplace. Auction catalogs and numismatic publications of the era offer an incomplete account of the large cent restrikes and their origins. The first auction catalog appearances and media reports date to the 1860s.
Given the profusion of (often low-quality) reproductions and forgeries of 1804 dollars, many collectors are wary of any numismatic item resembling the King of American Coins. There are, however, numismatically significant reproductions, one of which, an electrotype recreation of the Class II 1804 dollar, is featured as lot 5070 in Stack's Bowers Galleries' Global Showcase Auction Rarities Night session.
Around 1860, the U.S. Mint produced a wide variety of restrikes, fantasy pieces, and other numismatic curiosities for the burgeoning collector market, pieces that were often traded for medals to include in the Mint's cabinet.
A special 50 pence coin marking the Coronation of King Charles is going into circulation this week.
The Royal Mint is issuing five million of the coins, with a design based on Westminster Abbey, where the Coronation was held in May.
It will allow the public to "find a piece of history in their change", said the Royal Mint's Rebecca Morgan.
While walking around the streets of New York City, I find myself constantly scouring the ground for lost change in order to buy my favorite budget lunch, dollar pizza! I rarely find much, but it slowly adds up. When I visited Indonesia for the first time in 2022, I attempted to continue my habit of picking money off the ground. I immediately stopped after being met with the horrified look on my girlfriend's face. Seeing that I had no idea what the problem was, she explained to me that in Indonesia, the money on the ground could be cursed! She further explained that it is common practice in her country for people to place curses on currency, whereby their misfortunes will be transferred to the person who picks up the money. I was fascinated by the idea of money serving magical purposes in Indonesian culture, and I planned to research the topic further upon returning home.
Sergio Guillermo Diaz paints actors, film characters and football players on Argentine peso banknotes.
He does it because the money itself is essentially worthless.
Sergio started by painting on 20 peso notes, but now, he paints on 1,000 peso notes.
"Nowadays, it's sometimes better for me to paint on the biggest banknote in Argentina," he said.
"I paint on it and I can sell it for a lot more than what I could spend with it."
An artist's hyperrealistic drawing of Indian banknotes has gone viral on Instagram and prompted many to do a double-take.
Rahil Jindran, an incredibly talented hyperrealistic artist, has stunned audiences with his awe-inspiring creations. From lifelike drawings of various subjects to his recent masterpiece of Indian banknotes, his work has left people in amazement.
George Washington Coppers, Part II
1792 ROMAN HEAD CENTS
The famous sculptor Horatio Greenough created a huge statue of George Washington, depicting him as a Roman emperor on a throne. Portraying revered persons as Roman emperors was a very popular pursuit in the 18th and early 19th centuries. Greenough's statue was displayed on the U.S. Capitol grounds for many years.
At Obediah Westwood's private minting facility in Birmingham, England, a new Washington copper coin was struck in 1792. The obverse depicted George Washington, with a laurel wreath on his head and facing right. Washington was made to look as much like a Roman leader as possible. The words "WASHINGTON," and "PRESIDENT," flank the portrait on either side and the date "1792," is below.
The reverse depicts a very scrawny Small Eagle, with six five-pointed stars between its upraised wings, arrows and an olive branch in its talons and the word "CENT" at the upper periphery.
To read the complete article, see:
The Copper Coinage of Our First President, Part II (https://www.greysheet.com/news/story/the-copper-coinage-of-our-first-president-part-ii)
To read the earlier E-Sylum article, see:
GEORGE WASHINGTON COPPERS (https://www.coinbooks.org/v26/esylum_v26n25a31.html)
A visit to Dick Hanscom's Minœr Mint inspired Liza Claar to try her hand at minting tokens. This week's Featured Web Site is her Tundra Tokens site.