Visit our NBS Sponsors
About Us
The Numismatic Bibliomania Society is a non-profit association devoted to the study and enjoyment of numismatic literature. For more information please see our web site at coinbooks.org
Subscriptions
Those wishing to become new E-Sylum subscribers (or wishing to Unsubscribe) can go to the following web page link
Membership
There is a membership application available on the web site Membership Application
To join, print the application and return it with your check to the address printed on the application. Print/Digital membership is $40 to addresses in the U.S., and $60 elsewhere. A digital-only membership is available for $25. For those without web access, write to:
Charles Heck, Treasurer
Numismatic Bibliomania Society
P. O. Box 2058,
Bluffton, SC
29910-2058
Asylum
For Asylum mailing address changes and other membership questions, contact Chuck at this email address: treasurer@coinbooks.org
Submissions
To submit items for publication in The E-Sylum, write to the Editor at this address: whomren@gmail.com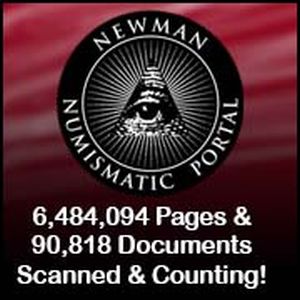 BUY THE BOOK BEFORE THE COIN
Content presented in The E-Sylum is not necessarily researched or independently fact-checked, and views expressed do not necessarily represent those of the Numismatic Bibliomania Society.
New subscribers this week include: John Ambrose, courtesy Bill Liatys; Welcome aboard! We now have 7,619 subscribers.
Thank you for reading The E-Sylum. If you enjoy it, please send me the email addresses of friends you think may enjoy it as well and I'll send them a subscription. Contact me at whomren@gmail.com anytime regarding your subscription, or questions, comments or suggestions about our content.
Many thanks to everyone who sent birthday wishes this week via email or social media. It was great to hear from everyone. My favorite exchange was with Donn Pearlman. After getting the publicity maven's Happy Birthday note, I channeled John Gielgud's character from the 1981 film Arthur and replied "Alert the media!". Later in the day Donn sent this:
This week we open with the loss of another hobby giant, updates from the Newman Numismatic Portal, reports from the Pittsburgh ANA, and more.
Other topics this week include counterstamps, Ben Franklin, nails as money, catalog numbering systems, falsifying coin provenances, auction previews, Numismatic Nuggets, gravesite coin finds, and the British Museum thefts.
To learn more about nexGen, Whatnot, shrunken dollar bills, Roman portrait coins, coins with multiple portraits, the Nichols find, the Bank of Virginia, the Walton 1913 Liberty Nickel, and the coin art of French artist Xavier Casalta, read on. Have a great week, everyone!
Wayne Homren
Editor, The E-Sylum


Lyn Knight Currency Auctions published this emailed notice:
Born in Chicago, Illinois. Married Edith Oelsner June 7, 1964. They had two sons and a daughter. Received B.A. from Arizona State College in 1955. Shafer served in the U. S. Air Force 1955 to 1959 and played in the Air Force Band. He served as assistant conductor of the Racine Symphony Orchestra 1963 to 1972.
The numismatic community has lost one of its most stalwart proponents with the death of Neil Shafer. The news of his passing came to me this morning, and although it was not unexpected for those who knew of his critical illness, it was shocking and bursting with sadness.
Neil and I have been close friends for the past 60 years, and worked side-by-side at Whitman Publishing for over 20 years. He was one of the finest people I have ever known, and a consummate numismatist in every way. Perhaps best known for his encyclopedic knowledge of Philippine coins and paper money, he was equally renowned for his interest in all numismatic collectibles, and especially for his amusing puns.
In 1961 I was working with R. S. Yeoman as Coordinating Editor for Whitman publications, and needed an assistant to help with a growing work load. Shafer, who was already well known for his numismatic expertise, was my first choice and after some hesitation he accepted the position. At that time, he was in his first semester at Georgetown University studying law and was also teaching instrumental music in a local public school. In August of 1962, he moved from Washington to Racine, Wisconsin, to begin his new position at Whitman, and quickly adopted to an equally busy schedule in the publishing industry.
"Every collector, dealer, and researcher in the field of U.S./Philippine numismatics owes Neil Shafer a debt of gratitude. Beyond that realm his influence stretched into tokens and medals; the entirety of U.S. and world paper currency; and, using a term he coined, exographica (the paper version of exonumia). At the time of his passing Neil was wrapping up work, assisted by Matthias Voigt, on an impressive update of his 1974 masterwork, Philippine Emergency and Guerrilla Currency of World War II. Neil recounted to me how the first edition came to be. He'd been doing research in Washington DC in the 1950s. At the Smithsonian he met Stuart Mosher and, later, Vladimir and Elvira Clain-Stefanelli, who curated the National Numismatic Collection. The latter became good personal friends of his, and helped him with his research whenever they could. He recalled them showing him some small, crude paper notes issued in 1944 in the Philippines, Province of Iloilo. He'd never seen this kind of money before, and at first he assumed they were Japanese occupation notes of some sort. They were actually the first Philippine guerrilla currency notes Neil ever saw, and they were his introduction to that important field of World War II numismatics.
"Neil was fascinated by what he called the intrigue and heartbreak of wartime emergency and guerrilla currency, and he started to seriously research it. Maurice Gould of Boston had been studying the Allan Forbes Collection of Philippine guerrilla notes, which Neil later described as extensive but quite incomplete (many years later, around 2002, Neil would catalog it for an R.M Smythe auction). Gould planned to publish a book on this wartime money, and he asked Neil to assist him—but when he saw the extent of Neil's research, Gould ended up assisting him! Western Publishing Company released his book in 1974. In recent years Neil slowly updated and revised the book's contents in columns published in Bank Note Reporter. We talked about the project from time to time, and starting shortly before the COVID pandemic he kept me updated on his revisions with Matt Voigt. The new publication deserves wide distribution and study, and I hope to assist however I can.
Bill Groom Speaks on Counterstamps
In Greg Bennick's continuing interview series for the Newman Numismatic Portal, Bill Groom speaks on the history of counterstamps, particularly those associated with 19th century American merchants. Groom's database includes over 2,700 counterstamp issues, and he notes that thousands more remain to be attributed. Bill speaks about his early collecting experiences in Jamestown, NY, including a rare Civil War token cherrypicked from a Gimbel's department store. This interview further touches on Bill's research on Civil War tokens.
The video version of this interview incorporates images of several hundred pieces from Groom's database. Illustrated here is a counterstamp of the Ford Motor Company logo, on a 1902 Barber dime. Gregory Brunk, in American and Canadian Countermarked Coins, quotes the March 1958 Numismatist: The tale of the Ford Motor Company offering a new car in return for certain specified coins is an old one that crops up periodically….
Max Hensley writes:
A new generation of rare coin dealers has arrived
After years of handwringing by hobby leaders about the aging demographics of numismatics, an explosion of new young talent has appeared on the bourse floor. There are at least 50 to 100 young people who have discovered numismatics as a potential career option. These energetic young dealers are combing the show armed with the latest high-tech pricing information on their phones. They trade among themselves and other dealers. The energy and excitement of this new generation of dealers is heartwarming for the future of the hobby.
Award Reactions
Darryl Atchison writes:
Harry Cabluck of Austin, Texas writes:
Allan Julius Behul of Canada writes:
To read the earlier E-Sylum article, see:
2023 NUMISMATIC BIBLIOMANIA SOCIETY AWARDS (https://www.coinbooks.org/v26/esylum_v26n34a02.html)
Were iron nails really used as a medium of exchange in Colonial America, or is that story a numismatic urban legend? This is the challenge that Gary Beals posed to Len Augsberger of the Newman Numismatic Portal in February of this year. Len referred Gary to me, and I began investigating.
Gary remarked, We can't find a collector who has not heard that somewhere, sometime long ago in the United States, nails were so hard to come by that they were as valuable as coins...nails were sometimes used as a medium of exchange in America's colonial and pioneer period. Every American coin collector has heard of that.
Numbering System. A plan by which numismatic items are assigned a catalog number once they have been identified and arranged. A variety of systems have been used in numismatic literature including such number systems as straight numerical, open numerical, outline, straight decimal, consecutive decimal, letter-number combination, numerical coding for data processing (often with zeros in front of integral numbers), or a variety of alpha-numeric combinations of these. The choice of the number system is always that of the cataloger (who should chose the best system to accommodate the numismatic items being cataloged). Numismatic items with a lot of varieties require a different system, for example, from that with a run of one-of-a-kind items.
Problems for all number systems exist by the appearance of newly found items which should be included in the number scheme. These can be inserted if numbers were left unassigned (called open numeric), or by adding a suffix of some kind. Those that appear at the end can easily be added (called open ended).
A British auctioneer who was at the centre of a BBC investigation has pleaded guilty at a New York court to a series of charges in connection with unlawful sales of rare ancient coins.
Richard Beale, director of London-based auction house Roma Numismatics, admitted two counts of conspiracy and three counts of criminal possession of stolen property, court documents show.
He was accused of falsifying the provenance of the most expensive coin ever auctioned - the gold Eid Mar, which fetched $4.19m (£3.29m) in 2020 - and an ancient silver Sicily Naxos Coin, which sold at the same time for $292,000.
E-Auction 47 closes in just under two weeks, on Wednesday, September 6th!
The collection of fine Roman portraits featured in our ancient section was carefully assembled by a long-time collector and client, with an eye for artistry and quality. With examples from nearly every Augustus and Augusta between Vespasian and Maximinus I, and some select additions from other consignors, it is a particularly fine offering. A few examples are pictured below, but to survey the entire offering of great portraits be sure to peruse the entire Roman offering.
Look also for a significant collection of coins from the Severan dynasty – Septimius Severus and his family issued a wide range of both imperial issues and coins in the provinces. The Roman section concludes with several high grade late issues, and some carefully selected large lots at the end of the sale.
Hesse, Trier, France, the Netherlands and Multiple Portraits: Some Remarks on the Upcoming Künker Sales
From 25 to 29 September 2023, Künker will hold four auction sales. Collectors can look forward to several special collections. Some catalogs focus on coins from Hesse and the Netherlands. In addition, there is a large section with European gold coins, a collection of Trier issues and a special collection focusing on multiple portraits .
Four catalogs with more than 4,000 lot numbers – that is what you can expect from Künker's Fall Auction Sales, which will be held from 25 to 29 September 2023 at the Vienna House Remarque in Osnabrück. As always, experts will find an interesting mix of selected individual pieces and extensive special collections. Two collections were honored with a separate catalog: catalog 392 contains the second part of the Dr. Hans-Jürgen Loos Collection with coins from Hesse and the Hesse region. Catalog 393 presents the first part of the Lodewijk S. Beuth Collection with coins from the Netherlands and the Dutch overseas territories minted after 1795. Catalogs 391 and 394 include many outstanding individual pieces and more special collections. At this point, we limit this list to the comprehensive collection of rare European gold coins of excellent quality from the estate of the Luxembourg notary Robert Schuman, the Trier special collection assembled by Prof. Dr. Alois Memmesheimer and – last but not least – an outstanding collection of Multiple Portraits from a private collection in Westphalia.
Hesse and the Hessian Territory: The Dr. Hans-Jürgen Loos Collection
On the afternoon of 26 September 2023, the second part of the extensive collection of Dr. Hans-Jürgen Loos will be on offer. It contains coins from Hesse and the Hessian territory. The Loos Collection includes a total of about 1,400 pieces, the first part of which has already been sold rather successfully last year as auction catalog 374. At the time, a broad double reichstaler from the Landgraviate of Hesse-Marburg fetched a hammer price of 65,000 euros. The reason for this was its great rarity. Only a single other specimen is known of. Since the second part of the collection also contains many extremely rare pieces, we are looking forward to many interested collectors.
Dr. Hans-Jürgen Loos was actually an economist. He was responsible for the accounting of the large business group Metallgesellschaft AG. To wind down in his free time, he studied Hessian history and numismatics. He was so enthusiastic about the topic that he returned to university as a retiree and started studying history. This passion is also evident from his collection. He wanted to document the historical development of the Hessian territories. Therefore, he paid particular attention to expressive pieces with unusual depictions. That is why his collection is so attractive.
Are you interested in Hesse? Then you should look forward to the second and last part of the Loos Collection with issues from the Landgraviate of Hesse-Darmstadt, the Landgraviate of Hesse-Homburg, the County of Erbach, the City of Frankfurt am Main, the Imperial Castle of Friedberg, the County of Isenburg as well as the Nassau and Stolberg territories.
Coins and Medals from Trier: The Prof. Alois Matthias Memmesheimer Collection
From the Netherlands we travel to Trier, the old archbishopric on the Moselle River. Prof. Alois Matthias Memmesheimer has also assembled a collection of almost 100 lots on the subject of Trier. After Künker auctioned off the Memmesheimer Collection of Mainz issues in March 2023, now it is Trier's turn in Künker's auction 394. The time frame ranges from the 11th to the late 18th centuries. In addition, there are a few ancient coins.
No. 5227: Trier. Eberhard, 1047-1066. Pfennig. Very rare. Very fine. Estimate: 1,000 euros
At MDC Monaco, we have the pleasure to announce our next numismatic auction n°13, which will take place at the Metropole Hôtel in Monaco, on Thursday the 12th and Friday the 13th of October 2023.
First session, Thursday 12th of October – 9:30am – 12am Lots n°1001 to n°1300
Second session, Thursday 12th of October – 1:30pm – 7pm Lots n°1301 to n°2000
Third session, Friday 13th of October – 9:30am – 12am Lots n°2001 to n°2300
Fourth session, Friday 13th of October – 1:30pm – 3:30pm Lots n°2301 to n°2500
Fifth session, Friday 13th of October – 3:45pm – 7pm Lots n°3001 to n°3400
Charles I Halfcrown

Charles I (1625-49), silver Halfcrown, Tower under Parliament Mint, group 3a, armoured King on horseback left, with sword and cloak, beaded borders with abbreviated Latin legend surrounding, initial mark R in brackets (1644-45), .CAROLVS D: G: MAG: BRI: FRA: ET HIB: REX, rev. oval quartered shield of arms, beaded borders with abbreviated Latin legend surrounding, initial mark tun, .CHRISTO. AVSPICE. REGNO. weight 14.75g (Bull 500h/35 (a-4-39); Brooker 357; N.2213; S.2778). Weakly struck in parts with a light hoard tone and considerable brilliance, has been slabbed and graded by NGC as AU58 the finest so far graded.
NGC certification 6318175-012 - as of June 2023 this coin is the second finest graded at NGC with two more graded lower. There are four inferior pieces graded at PCGS.
The Latin legends translates on obverse as "Charles by the Grace of God, King of Great Britain, France and Ireland" and on the reverse "I reign under the auspice of Christ."
To read the complete item description, see:
Charles I Halfcrown AU58, mm (R) Tower under Parliament issue, NGC finest (https://www.sovr.co.uk/products/charles-i-halfcrown-au58-mm-r-tower-under-parliament-issue-ngc-finest-fm20488)
Archaeologists have uncovered five 2,300-year-old gold coins, as well as the remains of young children, at the site of an ancient burial ground.
Researchers made the discovery during excavation works in the North African nation of Tunisia, in an area that once formed part of the territory of ancient Carthage, the country's Ministry of Cultural Affairs has announced in a statement.
Two $1 U.S. gold coins were found in one of the graves. (Image credit: Colonial Williamsburg Foundation)
Graves containing the skeletal remains of four Civil War soldiers and three amputated human legs are the latest discoveries to come out of an archaeological excavation at a 161-year-old battle site in Virginia.
The Powder Magazine was also the site of the Battle of Williamsburg, which took place on May 5, 1862, during the Union army's unsuccessful attempt to seize Richmond, the Confederate capital at the time.
The first major bank in the southern United States was the Bank of Virginia, chartered in 1804. Although the southern politicians among our nation's founding fathers, the so-called Jeffersonian Republicans, were opposed to banks and the granting of any corporate privilege, businessmen in the South came to understand clearly that economic growth would benefit from the establishment of a bank:
Last week, the British Museum said in a news release that it had fired an unnamed staff member on suspicion of looting jewels from the collection, and had begun a review of its security practices. London's police force said it was investigating.
A museum spokeswoman declined at that time to say how many items were involved while the police investigation was ongoing, but the news release said that the stolen or damaged items included gold jewelry and gems of semiprecious stones and glass, some dating as far back as the 15th century B.C.
Close observers of the antiquities market tend to be a cynical bunch, having witnessed any number of scams, dubious practices and illicit trading. Yet there was a collective expression of shock among them last week when news emerged of the unexplained absence of a reported around 2,000 items from the British Museum's priceless collection of ancient and historical artefacts, leading to the resignation of director Hartwig Fischer.
The volume of missing objects is huge, says Christos Tsirogiannis, a forensic archaeologist who works with Trafficking Culture, which researches global traffic in looted cultural objects. No experts were expecting this to happen in one of the world's biggest museums.
Christopher Marinello agrees. The CEO of Art Recovery International, which specialises in recovering stolen art, he says: Our organisation gets reports of theft every single day from various museums, cultural institutions, churches around the world. What surprised us was the fact that it was the British Museum, one of the most important museums in the world and a benchmark in security.
A long-forgotten time capsule at West Point recently discovered inside the base of a monument and believed to have been left by cadets in the late 1820s is expected to be pried open Monday.
The contents of the small lead box could possibly provide a window into the early, more Spartan days of the storied U.S. Military Academy.
It's not certain exactly when the box was placed in the monument's marble base or who chose any items inside, though a committee of five cadets that may have been involved with the time capsule included 1829 graduate Robert E. Lee, the future Confederate general.
The box will be opened during a livestreamed event.
Jeff Garrett and the Walton 1913 Liberty Nickel
This week's 2023 ANA convention marks the 20th anniversary of the rediscovery of the missing Walton 1913 Liberty Nickel. I was asked to be part of the team that authenticated the coin for the Walton heirs who had come forward with the coin. Ten years later, in 2013, my company purchased the coin at auction. My purchase of the 1913 Liberty Nickel was one of the most exciting experiences of my numismatic career. The following is a detailed account of what happened that night.
Over the years, when asked about the most expensive coin I have ever sold, my mind quickly races with memories of April 25, 2013. Our team was attending the Central States Convention in Rosemont, Illinois, and the show had just concluded for the day. An important auction was being held that night at the convention, with the star lot being one of the legendary 1913 Liberty Nickels. Only five examples are known of this classic rarity, and for decades it has been one of the most coveted United States coins. The example being offered that night had been missing since the 1960s, until its rediscovery in 2003. The Walton family decided to part with the coin, and a room of about 300 people were waiting anxiously for it to cross the auction block.
I was on the way to dinner with my son, Ben, when my cell phone rang. One of my closest dealer friends, Larry Lee, was calling back about an inquiry I had made days earlier. Larry had several important retail clients who I thought might be interested in owning a 1913 Liberty Nickel. In actuality, Larry had decided he wanted to own the "holy grail" of numismatics himself. Larry agreed to split the coin with me, with him owning the majority interest.
To read the complete article, see:
Jeff Garrett: The Most Exciting Moment of My Career (https://www.ngccoin.com/news/article/12001/)
It took Xavier Casalta a phenomenal 2,300 hours over the course of 15 months to complete his largest work to date. Featuring numerous blooms surrounding a marble bust of Marcus Aurelius—one of ancient Rome's most celebrated emperors and philosophers—the artist (previously) estimates that the illustration contains about 48 million dots of meticulously stippled black ink.