Visit our NBS Sponsors
About Us
The Numismatic Bibliomania Society is a non-profit association devoted to the study and enjoyment of numismatic literature. For more information please see our web site at coinbooks.org
Subscriptions
Those wishing to become new E-Sylum subscribers (or wishing to Unsubscribe) can go to the following web page link
Membership
There is a membership application available on the web site Membership Application
To join, print the application and return it with your check to the address printed on the application. Print/Digital membership is $40 to addresses in the U.S., and $60 elsewhere. A digital-only membership is available for $25. For those without web access, write to:
Charles Heck, Treasurer
Numismatic Bibliomania Society
P. O. Box 2058,
Bluffton, SC
29910-2058
Asylum
For Asylum mailing address changes and other membership questions, contact Chuck at this email address: treasurer@coinbooks.org
Submissions
To submit items for publication in The E-Sylum, write to the Editor at this address: whomren@gmail.com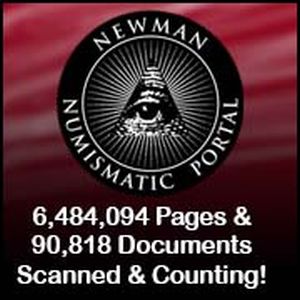 BUY THE BOOK BEFORE THE COIN
Content presented in The E-Sylum is not necessarily researched or independently fact-checked, and views expressed do not necessarily represent those of the Numismatic Bibliomania Society.
New subscribers this week include: Rich Nesbit (a.k.a. Richie Rich), courtesy John Mutch; Dan Roberts and Greg Roberts, courtesy Ron Gillio; Robert Julian, Jr., and Dave Lewis. Welcome aboard! We now have 8,689 subscribers.
Thank you for reading The E-Sylum. If you enjoy it, please send me the email addresses of friends you think may enjoy it as well and I'll send them a subscription. Contact me at whomren@gmail.com anytime regarding your subscription, or questions, comments or suggestions about our content.
This week we open with numismatic literature awards, a literature sale, one new book, updates from the Newman Numismatic Portal, notes from E-Sylum readers, and more.
Other topics this week include Euro coinage, chopmarks, The Franklin Mint, the Oldest Living Pioneer, Labor Exchange scrip, nonsense dies, numismatic art, Mark Lighterman, Cindy Wibker, fixed price and auction offerings, 1804 Dollar electrotypes, and Indonesian magic money.
To learn more about Emperors Carausius and Allectus, the Citizens Coinage Advisory Committee, the Hunterian Museum in Glasgow, the world's tallest man-made structures, the Pittsburgh Christmas coin toss, the Counterfeit King, Bookophile, the War of 1812 Upper Canada Preserved Medal, Moneta Patriottica, the Lampsakos gold stater, private restrikes of large cents, and the new Charles Coronation 50 pence coin, read on. Have a great week, everyone!
Wayne Homren
Editor, The E-Sylum


The Jack Collins Award for Best Article by a First-Time Author goes to Douglas Ward for Enigmatic Numismystique: The Numismatist Purchase of 1908—Labor and Love
The Joel Orosz Award for Best Article of 2022 goes to Darryl A. Atchison for The Lunatics Are Running the Asylum
To read the complete list of past awards, see:
https://www.coinbooks.org/about/awards.html
To read the earlier E-Sylum article, see:
NEW BOOK: DIE STATES OF 1794 LARGE CENTS (https://www.coinbooks.org/v25/esylum_v25n22a04.html)
David W. Lange Memorial Book of the Year
Eagle Poised on a Bank of Clouds: The United States Silver Dollars of 1795-1798
Harry A. Salyards
Best Specialized Book: U.S. Coins
United States Proof Coins, Volume 2: Nickel
John W. Dannreuther
Best Specialized Book: World Coins
2 Euro Coin Catalog
Leuchtturm Editorial Staff
Best Specialized Book: U.S. Paper Money
Comprehensive Catalog of Military Payment Certificates
Fred Schwan
Best Specialized Book: World Paper Money
Forging Secrets: Faces and Facts Inside the Nazi Operation Bernhard Scheme
Spungen Family Foundation
Best Specialized Book: Tokens & Medals
The Early Betts Medal Companion: Medals of America's Discovery and Colonization (1492-1737)
Christopher R. McDowell
Best Specialized Book: Numismatic Investments
Type Three Double Eagles 1877-1907, 3rd Edition
Michael Ray Fuljenz
Best Specialized Book: Numismatic History or Personalities
Numismatic Antiquarianism through Correspondence (16th-18th c.): In the Margins of the Project Fontes Numismaticae Antiquae (FINA)
Francois de Callatay, Ed.
Best Column or Article: U.S. Coins to 1900
"Why Were Arrows Removed From Silver Coins by 1856?"
Greg Reynolds
Best Column or Article: U.S. Coins 1901 to Date
"Pratt's Portrait: An American in Gold"
Steve Roach
Best Column or Article: World Coins to 1500
"The Prince of Youth"
Michael A. Kodysz
Best Column or Article: World Coins 1501 to Date
"Immortalizing the Imperial Majesty of Queen Victoria and the Genius of William Wyon"
Bob Bair
Best Column or Article: U.S. Paper Money
"Vitriolic Acid, Geometry, and the Early Technology of Bank Note Engraving"
Neil Musante
Best Column or Article: World Paper Money
PMG eNews
Paper Money Guaranty
Best Column or Article: Tokens & Medals
"A Medal for the 1893 Exposition of Puerto Rico"
Emilio Cortes
Best Column or Article: Numismatic Marketplace News & Analysis
Column in CoinAGE Magazine
Michael Ray Fuljenz
Best Column or Article: Numismatic History or Personalities
Benjamin Dudley: Maker of the Nova Constellatio Patterns
Julia Casey
Ed Reiter Memorial Award (Best Column/Series)
A Series of Articles on the Auctions of the Bass Collection
Greg Reynolds
James L. Miller Award (Article/Story of the Year)
"The 'Wild Scheme' of Sydney P. Noe: The 1942 Exhibition of Massachusetts Bay Silver at the American Numismatic Society"
Dr. Jesse Kraft
Best Periodical: Investment Newsletter
The Rosen Numismatic Advisory
Maurice Rosen
Best Periodical: Professional Periodical
CAC Rare Coin Market Review
CDN Publishing
Best Periodical: Club/Non-Profit Periodical
Journal of Early American Numismatics
American Numismatic Society
Websites: Dealer/Industry Website
GreatCollections.com
Ian Russell
Websites: Non-Trade (Club or Non-Profit)
www.numismatics.org
American Numismatic Society
Websites: Numismatic Social Media Platform
Stack's Bowers Instagram (www.instagram.com/stacksbowers)
Stack's Bowers Galleries
Websites: Blog
"Pocket Change"
American Numismatic Society
Auction Catalog: U.S. Coins
The Sydney F. Martin Collection, Part I
Stack's Bowers Galleries
Auction Catalog: World Coins
The April 2023 Hong Kong Auction
Stack's Bowers Galleries
Auction Catalog: Paper Money
The Ibrahim Salem Collection of Islamic Countries, Part 1
Heritage Auctions
Auction Catalog: Books/Exonumia
The Sydney F. Martin Collection, Part II
Stack's Bowers Galleries
David Lisot Memorial Award (Best Overall Video)
"United States Coins in the American Numismatic Society Cabinet"
Lianna Spurrier
Audio/Visual: Podcast
The Coin World Podcast
Jeff Starck & Larry Jewett
Audio/Visual: Software or Application
HA Live!
Heritage Auctions
Lee Martin Founder's Award (All Around Portfolio)
Greg Reynolds
The Ribbit
David Schenkman
The Clemy
Don Kagin
Extraordinary Merit Award
Gerard Van Loon Medallic History of the Low Countries
John Saunders & Hugo Vanhoudt
For more information on the Numismatic Literary Guild , see:
https://www.nlgonline.org/
To read earlier E-Sylum articles, see:
NEW BOOK: EAGLE POISED ON A BANK OF CLOUDS (https://www.coinbooks.org/v26/esylum_v26n06a03.html)
NEW BOOK: U.S. PROOF COINS VOL II: NICKEL (https://www.coinbooks.org/v26/esylum_v26n18a03.html)
NEW BOOK: MILITARY PAYMENT CERTIFICATES, 5TH ED. (https://www.coinbooks.org/v26/esylum_v26n13a05.html)
NEW BOOK: FORGING SECRETS (https://www.coinbooks.org/v25/esylum_v25n31a05.html)
NEW BOOK: THE EARLY BETTS MEDAL COMPANION (https://www.coinbooks.org/v25/esylum_v25n48a04.html)
NEW BOOK: NUMISMATIC ANTIQUARIANISM (https://www.coinbooks.org/v26/esylum_v26n10a03.html)
Kolbe & Fanning Numismatic Booksellers have announced our latest Buy or Bid Sale, which begins now and will close on Tuesday, August 29 2023. With hundreds of new additions, the sale focuses on modestly priced books, giving collectors an opportunity to add to their libraries at minimal cost.
The sale includes over 1400 works on ancient, medieval and modern coins, as well as general works, periodicals and sale catalogues. Buy prices have been kept low to promote sales. To further encourage participation, the firm is offering free domestic shipping to bidders spending at least $300; there is also no packing and processing fee for this sale. Again, please read the Terms of Sale before participating.
As the name of the sale suggests, customers may bid on items they wish to acquire or buy them outright at the published price. The Terms of Sale will give full instructions on how to participate: please read it carefully.
There is no printed catalogue. The PDF catalogue is available now for downloading from the Kolbe & Fanning website at numislit.com. Please send all bids to orders@numislit.com or use the bid sheet included at the end of the PDF catalogue.
To read the complete catalog, see:
https://numislit.cdn.bibliopolis.com/images/upload/kolbefanningbob22.pdf
2 Euro Coin Catalogue - The guide to one of Europe's largest coin collecting areas.
The introduction of the euro has created a cross-border collecting area with many millions of enthusiastic collectors - and since 2004, the whole of Europe has been in two-euro collecting fever: the euro states can adapt the national side of their two-euro coins to commemorate significant events, buildings or personalities So far, more than 400 different motifs have been minted - and many a rarity slumbers in the change.
This catalogue is the indispensable companion for two-euro treasure hunters and all those who want to became one.
2-Euro coins of all countries since 1999
Current valuations of all coins
Lots of background information on all euro countries and coins
Annual update
9,95 €
incl. VAT and exclusive of shipping
For more information, or to order, see:
2-Euro Coin Catalogue 2023 English (https://www.leuchtturm.com/2-euro-coin-catalogue-2023-english.html)
In this issue we meet our youngest member, Hong Chan Ui, from South Korea. Hong joined the CCC when he was in high school and is currently a college student showing there are young, enthusiastic collectors joining the hobby.
Eric Brothers is writing a series of articles for a variety of journals and magazines and we are reprinting his first one from the ANS magazine in this issue. There will be plenty more to come from Eric.
Howard Daniel sent me an old Hong Kong dealer's fixed price list. It's a fascinating glimpse into the past.
I visited New York City last summer and had the good fortune to meet with and interview Mr. David Hill, the head librarian of the ANS. We also get to see some of the chopmarked coins held in the ANS's collection.
I'm also very excited to announce the publication of Taylor Leverage's new book on chopmarked coins, By Weight, Not by Coyne: An Introduction to Chopmarked Coins Please see the last page for more details.
In 2023, we will have the usual two issues of 100 pages of content. Just for an update, The Chopmark News has been publishing since 1992—30 years now! And we're closing in on 2,000 printed pages of content on a very niche area of numismatics. I would like to thank everyone for their support and contributions over this period.
I would also like to alert members that I am always in need of content, no matter how small. A photo of one of your coins, a report from a show, or a self-introduction are valuable pieces of information to understanding this special area of coin collecting we all love.
From the Editor
New Members Donations, Show News
Meet our Members: Hong Chan Ui
Coins from the Hong Chan Ui Collection
Coins from Our Members' Collections
Sales from the distant past — Chen Cho-wei
Recent Sales — Spink
Article — The Sham of American Bimetallism By E. Brothers
From The Reddit Page By: T. Leverage
Recent Sales — Champion Auctions
The Interview — David Hill
Coins from The ANS Collection
Subscription rates:
$10 per year for the e-edition
$25 for combined e- and paper editions.
PayPal account:
chopmarknews@gmail.com
The e-edition is free to members who supply usable content.
We are delighted to announce that we have a new article LIVE on our Studia Nummorum E-Journal. 'An Introduction to Carausius and Allectus' by Ken Elks.
This article provides a broad overview of the fascinating story and coinage of these two rebel emperors who ruled Britain and parts of the northern Gaul for a period of ten years. Elks discusses a variety of reverse types and inscriptions which allude to Virgilian and other literary references, as well as claims to Imperial legitimacy and propaganda.
Any articles from Studia Nummorum can be referenced by using the unique publication code on the home page of the e-journal for each piece.
If you are interested in submitting your work for publication on Studia Nummorum. please do get in touch through the contact button at the bottom of the e-journal home page. Alternatively we are happy to discuss your ideas over the phone or by appointment at our office.
To read the complete article, see:
An Introduction to Carausius and Allectus (https://www.romanumismatics.com/ejournal?lang=en)
The 60 Minutes Report on the Franklin Mint
In 1978, the CBS news magazine 60 Minutes aired a report on private mint issues manufactured by the Franklin Mint and others, focusing on the resale value of their products. Morley Safer interviewed purchasers of Franklin Mint issues and visited New York City coin dealers to ascertain aftermarket values.
This segment includes footage from the 1978 American Numismatic Association convention in Houston. Charles L. Andes, Franklin Mint Chairman of the Board, also appears. While it seems obvious that mass-marketed collectibles by definition must generate substantial margins to cover advertising and marketing costs, the public continues to have some appetite for such products.
Link to Limited Edition on Newman Portal:
https://nnp.wustl.edu/library/multimediadetail/551004
On 4-20-07 at the Georgia Numismatic Association, Dalton, Georgia Coin Show Don Kagin delivered his legendary presentation about a prospector who finds gold telling America's gold rush story. Speaker(s): Don Kagin.
To watch the complete video, see:
https://nnp.wustl.edu/library/book/578906
The United States Mint is seeking applicants for an appointment to the Citizens Coinage Advisory Committee (CCAC) as a member representing the interests of the general public. The deadline to email submissions is no later than 5 p.m. (EDT) on Monday, September 11, 2023. The United States Mint will review all applications and will forward recommendations to the Secretary of the Treasury for consideration.
The CCAC is composed of 11 members — one specially qualified in numismatic collection curation; one specially qualified in the medallic arts or sculpture; one specially qualified in American history; one specially qualified in numismatics; three individuals representing the interests of the general public; and four individuals recommended by the Leadership of both the United States House of Representatives and the United States Senate.
Members are appointed for a term of four years. No individual may be appointed to the CCAC while serving as an officer or employee of the Federal Government, and all applicants must be United States citizens. CCAC members are Special Government Employees and are therefore subject to various applicable conflict of interest laws and ethics regulations.
Individuals wishing to be considered for appointment to the CCAC should submit a resume or curriculum vitae along with a cover letter describing their reasons for seeking appointment, and detailing their specific skills, talents, and experience by email to info@ccac.gov, Attn: Jennifer Warren. The deadline to email submissions is no later than 5 p.m. (EDT) on Monday, September 11, 2023.
About the CCAC
The CCAC was established by an Act of Congress in 2003. It advises the Secretary of the Treasury on theme or design proposals relating to circulating coinage, bullion coinage, Congressional Gold Medals, and other medals produced by the United States Mint. The CCAC also makes commemorative coin recommendations to the Secretary and advises on the events, persons, or places to be commemorated, as well as on the mintage levels and proposed designs.
The CCAC is subject to the authority of the Secretary of the Treasury. The United States Mint is responsible for providing necessary and appropriate administrative support, technical services, and advice.
The CCAC submits an annual report to Congress and the Secretary of the Treasury, describing its activities and providing recommendations.
To read the complete article, see:
Opportunity to Apply for Appointment to the Citizens Coinage Advisory Committee (https://www.globenewswire.com/news-release/2023/07/25/2710820/0/en/Opportunity-to-Apply-for-Appointment-to-the-Citizens-Coinage-Advisory-Committee.html)
In May of this year (2023) I was in Scotland on a family trip and was fortunate to meet for an hour with the Curator of the Numismatic Collection at the Hunterian Museum in Glasgow. As stated on the museum website, The Hunterian was built as an Enlightenment Museum, reflecting the spirit of a time when Scotland's great thinkers - philosophers, artists, writers, and scientists - sought to understand the natural world and the human mind.
The Hunterian owns one of the most extensive numismatic collections in the world. It was initially formed by Dr. William Hunter (1718-1783), who collected in several areas and donated his collections to establish this museum at the University of Glasgow, his alma mater.
Dr. Hunter was a pioneer in Obstetrics & Gynecology, eventually being appointed Physician Extraordinary to Queen Charlotte, consort of George III. He is recognized for his important research with a bio on the website of the National Institutes of Health in the US:
https://www.ncbi.nlm.nih.gov/pmc/articles/
PMC7960833/
In his later years Hunter turned his attention to collecting coins and medals, sending agents all over Europe to acquire items (when you have money, you can hire people to build your collection!).
An article by Robert W. Hoge in the American Journal of Numismatics (ANS) on US colonials in the collection includes a history of the collection as a whole:
Other collections have been added over the years. One major gift came from the estate of Thomas Coats (1809-1883), a Scottish industrialist. Another gift came from J.R. Lockie, an expert on Scottish communion tokens.
The current Curator of Numismatics at The Hunterian is Jesper Ericsson, who welcomed me to Kelvin Hall on a sunny Wednesday morning (May 17, 2023). I had expressed interest in Scottish and British trade tokens, as well as US colonials, and trays were waiting for me upon arrival.
(The US Colonial representation is small but mighty, including especially fine examples from Massachusetts and Maryland!)
Jesper himself is warm and friendly. Born in Sweden, he grew up in the UK and studied History at the University of Edinburgh. Jesper worked in military museums for a decade before joining The Hunterian in 2015 as a Curatorial Assistant, working under Dr Donal Bateson. His first role was to catalogue William Hunter's extensive collection of British historical medals and curate the accompanying exhibition 'Moments in History'. After Dr Bateson's retirement in 2019, Jesper took over as Curator of Numismatics.
Sources
Hunterian Museum website:
https://www.gla.ac.uk/hunterian/collections/collectionssummaries/coinsandmedals/
Seventeenth-Century American Coins in the Hunterian Museum
Author(s): Robert W. Hoge
Source: American Journal of Numismatics (1989-) , 2011, Vol. 23 (2011), pp. 229-256 Published by: American Numismatic Society
Stable URL: https://www.jstor.org/stable/43619981
Numismatic Collections in Scotland from HISTOIRE DES COLLECTIONS NUMISMATIQUES ET DES INSTITUTIONS VOUÉES À LA NUMISMATIQUE https://inc-cin.org/wp-content/uploads/2022/11/collections-scotland.pdf
The Atlas Numismatics list shows an Eiffel Tower medal, quite common, one of which (pictured) I just received in the mail last week! These were sold during the 1889 Universal Exposition in Paris when the Eiffel Tower opened.
Why is the medal interesting? It shows an 1889 picture of the world's tallest man-made structures and lists their height in meters below. The Atlas Numismatic listing erroneously states it is a city view of Paris! But the Great Pyramid of Giza is not located in Paris!
Not unexpectedly several buildings are simply Parisian landmarks like the Paris Opera, Invalides, and Arc de Triomphe.
The history of the world's tallest man-made structures starts with the pyramids, next come cathedrals, the Eiffel tower, and finally skyscrapers.
A series of ever taller pyramids from ca. 2650 BCE culminated with the Great Pyramid of Giza, finished ca. 2570 BCE, at 481 feet (147 m). This remained the world's tallest structure until the Lincoln Cathedral in England was finished in 1311, measuring 525 feet (160m), but the spire collapsed in a storm in 1549. Several other churches followed but collapsed.
By 1647, the top of the Great Pyramid of Giza had eroded to 456 feet, and Strasbourg Cathedral (finished in 1439) was 10 feet higher at 466 feet. Rouen's Notre Dame finished in 1876 was 495 feet, and Cologne Cathedral, finished in 1880 was 515 feet.
In 1884, the Washington Monument was completed in Washington, D.C., at 555 feet, still the tallest masonry structure in the world. I show a lithograph of the tallest buildings in the world published that year, from Cram's Unrivaled Family Atlas of the World (courtesy of Wikipedia). It contains several errors.
Five years later the Eiffel Tower blasted the record at 1024 feet (300m), remaining the tallest structure until the Chrysler Building in New York City in 1930.
Many of these structures are pictured and listed with their height on the Eiffel Tower medal.
The Burj Khalifa, in Dubai, is the world's tallest building today at 2,717 feet, but other taller buildings are under construction.
To read the earlier E-Sylum article, see:
ATLAS NUMISMATICS SELECTIONS: JULY 30, 2023 (https://www.coinbooks.org/v26/esylum_v26n31a25.html)
The August 6, 2023 E-Sylum had a short article titled "U.S. Mint Struck Pesos, Junk Dollars" along with a link to the Stack's Bowers website article.
I became interested in the 1949 Mexico 1898 Peso restrikes in 2004 and wrote a short article about them which is on my personal hobby website at https://www.brianrxm.com.
Some of my article was researched from a 1968 numismatic magazine article by the numismatist Dr. Alberto Francisco Pradeau titled "The San Francisco, California, Mexican Pesos of 1898", for the Azteca Numismatic Society's newsletter "Plus Ultra", September 27, 1968.
Dr. Pradeau mentions that some people who attended the American Numismatic Association (ANA) Convention in San Francisco in August 1949 and toured the San Francisco Mint witnessed pesos being struck.
The San Francisco Mint struck a total of 2,000,000 Mexico 1898 pesos, 1,250,000 in fiscal year 1949 and 750,000 pesos in fiscal year 1950.This is according to the "Annual Report of the Director of the Mint" for 1949 and 1950. Both reports are available on the Newman Numismatic Portal
I do not believe that any of the 2,000,000 San Francisco Mint pesos have survived.
All of the pesos struck at the San Francisco Mint were taken to the vaults of the nearby Bank of America and then sent back to the mint for melting.
The 1898 restrike pesos available to collectors are from the 8,250,000 pesos struck at the Mexico City Mint. As all of the coin dies were prepared in Mexico it would be impossible to tell if a peso was struck at Mexico City or San Francisco.
To read Brian's complete article, see:
The 1949 San Francisco Mexico Peso Restrikes BrianRxm Coins struck by the San Francisco and Mexico City Mints For the Nationalist Republic of China (https://www.brianrxm.com/comdir/cnsmain_mexicopesochina.htm)
To read the Mint Reports on the Newman Portal, see:
Annual Report of the Director of the Mint for the Fiscal Year Ended June 30, 1949 (https://nnp.wustl.edu/library/book/340/)
Annual Report of the Director of the Mint for the Fiscal Year Ended June 30, 1950 (https://nnp.wustl.edu/library/book/341/)
To read the earlier E-Sylum article, see:
U.S. MINT STRUCK PESOS, JUNK DOLLARS (https://www.coinbooks.org/v26/esylum_v26n32a29.html)
I received a letter from Mr. Rex Stark (Gardner, MA) containing a catalog of Ku Klux Klan Tokens 2nd Edition 1981 by D. E. Birdsell. I compared page by page of the catalog of Mr. Rex Stark against my personal copy and both copies have the same content.
According to the Memorandum of D. E. Birdsell Publisher to All Recipients of Ku Klux Klan Tokens 1981:
Again, I compared the photos of the tokens noted above and both catalogs have the same quality of photographs, so both catalogs are of the first printing.
I believe that the second printing of Ku Klux Klan Tokens 1981 2nd edition is rarer than the first printing of this same edition.
I have attached some pictures (covers and tokens mentioned above) comparing the catalog of Mr. Rex Stark and mine.
To read the earlier E-Sylum articles, see:
KU KLUX KLAN TOKEN BOOK, 2ND EDITION (https://www.coinbooks.org/v20/esylum_v20n26a31.html)
NOTES FROM E-SYLUM READERS: APRIL 30, 2023 : KKK Token Book Printing Confirmed (https://www.coinbooks.org/v26/esylum_v26n18a16.html)
DALE ESTIN BIRDSELL (1920-1998) (https://www.coinbooks.org/v26/esylum_v26n20a12.html)
QUERY: KU KLUX KLAN TOKENS 2ND ED, 1ST PRINTING (https://www.coinbooks.org/v26/esylum_v26n17a12.html)
Zach Filis writes:
Harry Cabluck of Austin, TX writes:
Julia Casey writes:
To read the earlier E-Sylum article, see:
WAYNE'S NUMISMATIC DIARY: PITTSBURGH WALKING TOUR (https://www.coinbooks.org/v26/esylum_v26n33a21.html)
On Emil Weigand and Friedrich Wilhelm Kullrich
Terry Hess writes:
To read the earlier E-Sylum article, see:
NOTES FROM E-SYLUM READERS: AUGUST 6, 2023 : Emil Weigand and Friedrich Wilhelm Kullrich (https://www.coinbooks.org/v26/esylum_v26n32a18.html)
Breen Quote on Browning Book Sought
David Fanning writes:
Coinage and Currency of Italy under Mussolini
Brad Porter writes:
Breaking Vegas - Counterfeit King
Wayne Pearson writes:
Counterfeiting coins isn't easy--it's an art form! Diameter, thickness, magnetism, weight, design, even the precise mix of alloys--every element of the coin must be perfectly replicated. That means taking on the craftsmanship that the U.S. Mint took years to develop, including anti-counterfeiting marks like "hidden grooves" and uniquely serrated edges. Most wannabe counterfeiters quickly realize they're no match for the U.S. Mint--and often satisfy themselves with crude tokens that might stretch their winnings by a buck or two. But not Louis Colavecchio...not by a long shot!
To watch the episode on Internet Archive, see:
Breaking Vegas S1E06 - Counterfeit King (https://archive.org/details/breaking-vegas-s-1-e-06-counterfeit-king)
Dave Lewis writes:
'Bit of History' is brought to you by Jeff Edwards. All photos are from the collection of Jeff Edwards courtesy of the Edwards Gallery, 248 N. Main St., Porterville.
Travelers to the mountains generally stopped by Springville on the way. It was the survey of the east-side railroad in 1886 that spurred action in the hills. The Frazier Mill was built in Mountain Home and also the cattle industry got a boost. The Daunt family had a little store and bar in the Springville area and the chimney of the building can be found on the Museum grounds in Springville.
The four men shown above are the Daunt Brothers, who worked in the area and also in the store and bar. The town was originally named Daunt, but many people called it Springville after the soda spring by the Tule River. In 1911, a town near Ventura was also called Springville. That town gave up its claim to the name, and Daunt officially became Springville.
To read earlier E-Sylum articles, see:
THE LABOR EXCHANGE NOTES OF GIOVANNI DEBERNARDI (https://www.coinbooks.org/esylum_v15n51a15.html)
MORE ON LABOR EXCHANGE NOTES (https://www.coinbooks.org/esylum_v15n52a12.html)
BOOK REVIEW: PANIC SCRIP OF 1893, 1907 AND 1914 (https://www.coinbooks.org/esylum_v17n28a07.html)
The sixth edition, volume II, of the Cherrypickers' Guide to Rare Die Varieties was officially launched at the American Numismatic Association World's Fair of Money in Pittsburgh, August 8–12, 2023. Whitman Publishing has announced that the final volume of the sixth edition will debut in 2024, and the book's editors are seeking input on U.S./Philippine coins from collectors, coin dealers, and researchers.
The upcoming sixth edition, volume III, will cover die varieties among Capped Bust, Liberty Seated, and Barber half dollars, plus Liberty Walking, Franklin, and Kennedy half dollars, trade dollars, Morgan and Peace silver dollars, modern dollar coins, gold coins (dollars through double eagles), classic commemoratives, and silver, gold, and platinum bullion. Among several brand-new chapters, volume III will also include die varieties of coins struck for the Philippines under U.S. sovereignty.
The United States acquired the Philippine Islands in 1899 as part of a treaty with Spain that ended the Spanish-American War of the previous year. In 1901 the colony's American military government was replaced with a civil administration. One of its first tasks was to sponsor a new coinage that was compatible with older Spanish issues, while being legally exchangeable for U.S. money at the rate of two Philippine pesos to one dollar. U.S./Philippine coins were produced from 1903 to 1945.
At various times the coins were minted at the Philadelphia, San Francisco, and Denver Mints, as well as at the Mint of the Philippine Islands (in Manila). They ranged from bronze half centavos to silver pesos and also included a set of commemoratives issued in 1936.
The Guide Book of United States Coins (the hobby's popular Red Book) has long included coverage of U.S./Philippine coins as an important part of America's numismatic history. The 77th edition includes popular die varieties including the 1917-S, 7 Over 6, one-centavo overdate; the 1909-S, S Over S, silver peso repunched mintmark; the 1934-M, Recut 1, five-centavos; and the 1928-M twenty-centavos muled with the reverse of a 1928 five-centavos.
Collectors, dealers, and researchers who would like to recommend U.S./Philippine die varieties for inclusion in the Cherrypickers' Guide may email cherrypickers@whitman.com. The book's editors ask that these suggestions include as much information as possible, and they advise that good, clear photographs are always helpful.
The deadline for recommendations is October 1, 2023.
Nonsense Die.
A die, with design purposely of no particular meaning, used to test production equipment where the use of any other die would not be feasible. Nonsense dies used at the Philadelphia Mint bear a girl's portrait and lettering from the center of the alphabet. They are employed, for example, during set-up of a new press run, eliminating the possibility of ruining production run dies, or of creating mint errors of regular coins. Nonsense dies are occasionally used to make test coins. A similar instance is the Martha Washington Test Coin created at the Philadelphia Mint in 1965 by mint engraver Edward R. Grove. It was used in similar cases.
To read the earlier E-Sylum articles, see:
U.S. MINT 2012 ALTERNATIVE METALS STUDY (https://www.coinbooks.org/esylum_v15n53a12.html)
MARTHA WASHINGTON PATTERNS OFFERED (https://www.coinbooks.org/esylum_v17n20a23.html)
To read the complete entry on the Newman Numismatic Portal, see:
Nonsense Die (https://nnp.wustl.edu/library/dictionarydetail/516402)
While attending the recent ANA World's Fair of Money, I noticed a booth in the back corner with the name banner, The Numismatic Art of Robert Julian. I returned later to learn this was not Robert W. Julian, the writer, but rather Robert Julian, Jr., the artist. I was intrigued and sat down for an interview.
He told me he was born on June 10, 1957, in Oak Park, Illinois, the son of Robert Julian and Mary Ayers-Julian.
He was a music major and studied art at the College of DuPage. He spent his time painting and playing in a local bar band. The promise of future earnings was unfulfilled.
He and Therese Trudeau were married on May 17, 1980. The desire to get out of his parents' basement forced him to go out and get a real job.
He became a contract draftsman for Salem Engineering. His first assignment was with AFL (a water treatment company). After that he was sent to Molex (an electrical component manufacturer) in Lisle. Illinois, and stayed there for five years. 1979 to 1985. He spent his day creating technical drawings but was also involved in every aspect of product development and project management.
He started a company, Design Concepts as a drafting/design and technical illustration service. This operated from1983 to 1986.
His next job was with Great Lakes Environment, maker of waste water treatment equipment. He stayed there in Glen Ellyn, Illinois for five years, 1985 to 1990.
He founded another company, Hydro-Flo Technologies that operated 1990 to 2018. He said that his interest in numismatics returned after the sale of Hydro-Flo in 2019.
He started Julian's Industrial Design in 2020 doing technical illustrations and design.
It was about eighteen months ago that he saw a drawing of a Seated Liberty Dollar. After a ten-year break from drawing, he returned to try to draw a coin. His first attempt was a 1909 Lincoln matte proof.
His goal is to create a set of drawings of all 20th Century U.S. coinage. He expects this to take about three years.
He creates his drawings with the tools he utilized as both a technical illustrator and as an artist. A light table, a scanner, his camera, several photographs, an archive quality printer and lots of colored pencils. At a distance, these could be mistaken for high-quality photographs. Examples may be seen on his website, RobertJulianNA.com.
For more information, or to order, see:
https://www.robertjulianna.com/
Bookophile in New Splendour – the Redesigned Website for Book Lovers
Bookophile, the Zurich MoneyMuseum's website for book enthusiasts, has been relaunched and spruced up with a fresh look and new features. One thing, however, stays the same: it is all about the love of old books. A major emphasis – how could it be otherwise for a MoneyMuseum – is on the subject of money and society.
Bookophile, the online platform for book lovers is back after a relaunch. Having received a thorough redesign, Bookophile presents itself with a fresh look and offers numerous new features that enable users to delve even deeper into the bibliophile world.
What Is Bookophile?
Bookophile is the digital window to the book collection of the MoneyMuseum in Zurich. Created in 2019, our website is the brainchild of Dr. Jürg Conzett and Dr. Ursula Kampmann. They thought about how to convey their love of bibliophile books to others.
Worlds of Books – Our Articles
And that is exactly what the articles do, in which we present books from the MoneyMuseum's extensive collection. They are at the heart of the website. Through these works, we want to tell the stories of books and illustrate the contexts in which they were created. We want to convey why a book was so exciting / important / scandalous / modern / progressive during its time. We pack this information into short, bite-sized appetizers that whet the appetite for more, and spur the desire to plunge headlong into the great adventure that is reading. In addition to articles on antiquarian books, we also provide you with a fresh perspective on literary classics published in the German-language Manesse library of world literature. After the relaunch, a total of more than 220 articles are now available on the website, with more to follow regularly.
A Focus on Money and Society
One of Bookophile's main topics is the subject of money and society. We particularly enjoy to turn classics inside out and ask ourselves what these well-known texts have to say about money. After all, the website is about the MoneyMuseum's book collection! Bookophile also presents articles on the great monetary theorists. From Luther to Adam Smith and Simmel. Would you like to know what they had to say about money and economics? Bookophile provides you with easy explanations to intricate topics. It goes without saying that numismatics is not neglected either. As mentioned above, it is the MoneyMuseum's website.
New Features
Given the number of articles we have written by now, our main goal was to optimise navigation on the new website. Thanks to the new features, users can now filter articles by topics, epochs, and countries – for example – and thus search specifically for content that is in line with their interests. More features to guide readers through the world of books are in the pipeline – stay tuned!
What Else Is Going on
In the Time Travel section, readers will find digital versions of book exhibitions that were on display at the MoneyMuseum in Zurich. Through historical works from the MoneyMuseum's collection, we approach fascinating topics in history – and sometimes from a completely different perspective than textbooks do.
In order to keep bibliophiles up to date regarding current offers in the book trade, we will continue to present the catalogues of antiquarian book dealers and auction houses on Bookophile.
Subscribe to Our Newsletter
Our newsletter informs you about everything that is new in the world of books. Of course, it is free of charge.
If you have not already subscribed to our newsletter, click here to do so for free.
https://www.bookophile.com/en/newsletter-en
Click here to go directly to our website.
https://www.bookophile.com/en/home
This is the website of the MoneyMuseum.
https://www.moneymuseum.com/en/intent
And here you can find out more about Ursula Kampmann's Fama GmbH.
https://www.fama-numismatics.com/en/home
Stack's Bowers Galleries is excited to announce the launch of their Coin Resource Center, an online reference guide for all United States coins that places the firm's unrivaled knowledge at the fingertips of every collector. For over 90 years, Stack's Bowers Galleries has been a leading source of expertise for collectors around the world, and the firm is proud to now offer another valuable tool to empower passionate numismatists.
The Coin Resource Center, available on the Stack's Bowers Galleries website, is an in-depth digital archive of numismatic research including a detailed reference guide for all U.S. coins, historical backgrounds of each U.S. Mint, insightful Collector Guides explaining a variety of approaches to this fascinating hobby, and convenient tools for calculating the precious metal melt value of popular gold and silver coins.
Through the Coin Resource Center, collectors will also have convenient access to Stack's Bowers Galleries' world-class team of numismatic experts who can provide guidance on your specific coin or collection to help you attain the maximum level of enjoyment or value out of your collecting.
"I am extremely proud to introduce the Coin Resource Center," said Brian Kendrella, president of Stack's Bowers Galleries. It is an intuitive and user-friendly platform organizing our firm's authoritative research featured in auction catalogs, periodicals, and series-defining publications over nearly a century. This archive of scholarly data will be presented alongside new and original content that can be regularly updated to reflect the latest research and collecting trends.
The U.S. Coin Guide in the Coin Resource Center provides a hierarchical overview of all federal U.S. coins, allowing collectors to navigate through a trove of information starting with outlines of the overall denominations and design types and narrowing down to specific coin issues by date and mintmark.
The denominations are presented with discussions of their historic significance and summaries of the key-date issues that collectors should be looking out for. Collectors will also find technical information for each major design type such as the designer, dates of issue, metal composition, diameter and weight, and mintage information as well as high resolution images.
The individual issues are organized by date and mintmark and feature high resolution images, mintage data, expert commentary, and, where relevant, examples of the firm's patented Coins In Motion animations. Direct links to past sales in the Stack's Bowers Galleries Auction Archives are also provided as convenient pricing references.
Nearly 250 individual coins are already listed in the Coin Resource Center including the complete Walking half dollar and Morgan dollar series, as well as the majority of major U.S. coin rarities such as the 1913 Liberty Head nickel, 1804 Draped Bust silver dollar, 1879 $4 Gold Stella, and 1933 Saint-Gaudens double eagle. Additional original and archival content will be added weekly including the eventual expansion into World and Ancient coins and paper money. Already available alongside the U.S coin information is an informative guide for Physical Bitcoin and Cryptocurrency, which offers a detailed and insightful overview of this new and exciting collectible category. Stack's Bowers Galleries welcomes feedback from collectors about features and coin types they would like to see included as part of the Coin Resource Center.
For more information on the Stack's Bowers Galleries Coin Resource Center or to consign your collection to one of the firm's upcoming auctions, contact Stack's Bowers Galleries at (800) 458-4646 or email info@stacksbowers.com.
To visit the Stack's Bowers Galleries Coin Resource Center, see:
STACK'S BOWERS GALLERIES COIN RESOURCE CENTER (https://stacksbowers.com/coin-resource-center/)
Mark Lighterman, long-time ANA Board member, devoted hobbyist and collector and recipient of multiple numismatic awards, has been elected to the office of Vice President of the American Numismatic Association.
Mr. Lighterman is focusing on education and service for his tenure in office. He is an expert at service in the hobby, fulfilling multiple roles for different organizations simultaneously.
About the election and his upcoming tasks Mr. Lighterman said, Throughout the years I have participated in small to medium size organizations serving the membership. To be elected to the position of VP of the largest numismatic organization is an honor and, though it will be a lot more work on my part, I will continue to serve all those clubs I was involved prior to being elected as well as fulfilling my duties to the membership of the ANA.
Mark is the recipient of multiple ANA awards including the Lifetime Achievement Award, amongst many others. His other accolades include awards of merit from TAMS and additional specialty clubs of which he is a member and, in the case of TAMS, for which he has served as an officer.
James Motley, current President of error and variety club CONECA (for which Lighterman currently sits as a board member and serves as its Vice President) said about the election, We at CONECA are so proud that Mark Lighterman is continuing his commitment to the ANA and taking on the VP Position. As president of CONECA, I work with Mark on almost a daily basis as our VP. He is very detailed and always gives 100%. I congratulate the ANA on this addition.
CONECA has a booming membership base. Its name stands for Combined Organizations of Numismatic Error Collectors of America, and it is the largest coin specialty club in the United States. It has actively been educating collectors about mint error and variety coins for the last five decades. Mark Lighterman is a long-time member and has been an actively engaged official for the club. He is a Hall of Fame recipient from CONECA, an immense honor.
Mr. Lighterman is available for interviews to discuss his term with the ANA and his plans for his time in office. For more information he can be reached directly via email at: mlighter@bellsouth.net
The Central States Numismatic Society (www.CSNS.org) has hired well-known show coordinator Cindy Wibker as the organization's new convention manager. She previously served for over 30 years as coordinator of the Florida United Numismatists (FUN) conventions.
Although she retired from FUN earlier this year, Cindy assisted at our 2023 convention this past Spring and now has agreed to be the CSNS convention manager for a three-year transition period. She is one of the most respected people in the hobby, and the CSNS Board of Directors members are delighted Cindy is taking on these important responsibilities for our expanded annual show, said CSNS President Mitch Ernst.
Wibker explained: I appreciate the many positive, innovative changes made by former Convention Manager Larry Shepherd and I want to keep the show moving forward. I believe in the mission of the Central States club, and I thoroughly enjoyed working with the CSNS board and volunteers last April. I consider Central States one of the top clubs in the country, along with the American Numismatic Association, FUN, and the Pennsylvania Association of Numismatists.
I remember my first CSNS convention in the mid-1990s, and especially the 'warm and fuzzy' feeling I felt while there. I joined as a life member before I left the convention because I was so impressed. My goal is to keep that inviting feeling while I fill in until a permanent convention planner is found, she stated.
The CSNS 85th anniversary convention will be held May 1-4, 2024 at the Renaissance Schaumburg Convention Center in the Chicago suburb of Schaumburg, Illinois, the site of previous CSNS conventions in recent years.
Cindy has agreed to assist us for three years. In this first year, she'll be establishing an operational model for the show, training a replacement during the second year, and advising and guiding a new convention manager during the third year. We are all looking forward to years of great shows for collectors, dealers, and the public as one of the leading coin and currency collecting events in the United States, said Ernst.
Heritage Auctions (www.HA.com) is the official auctioneer of the CSNS convention and Professional Coin Grading Service (www.PCGS.com) is the convention's Grand Sponsor and the official authentication and certification service for the Central States Numismatic Society.
UNITED STATES & ITALY. Christopher Columbus & George Washington bronze Medal. Issued 1892 for the World's Fair/Columbian Exposition in Chicago (91mm, 12h). By C. Orsini & G. B. Millefiori in Rome. Medallions containing the busts of Columbus and Washington facing one another; above, eagle with banner reading E PLURIBUS UNUM and union shield; below, laurel branch with three arrows // COLUMBIAN EXPOSITION CHICAGO / MDCCCXCII–III, draped figure of Liberty standing slightly right, holding branch and extending arm toward expo grounds under a radiant cross. Eglit 102; Rulau X14; Baker K378. PCGS SP-63. Rich red-brown surfaces, with a great glossy nature and some green deposits in some of the protected areas. Far superior to most others generally encountered, such as an NGC MS-64 Brown, that realized a total of $840 in the June 2020 Stack's Bowers Auction (18 June 2020), lot 9. An impressive large format issue which has appeal to not only the Columbiana crowd, but to the Washingtoniana crowd as well. $865.
During the lead-up to the quadricentennial of Columbus's initial contact with the New World, numerous medals were designed and struck, both in the United States—in conjunction with the 1893 Columbian Exposition in Chicago—and abroad—sometimes for this event or for similar others.
To read the complete item description, see:
102540 | UNITED STATES & ITALY. Columbus & Washington bronze Medal. (https://www.numismagram.com/product-page/102540)
102510 | FRANCE. Agriculture Art Deco silver Award Medal. Issued circa 1920-1940 [unawarded] (67mm, 184.16 g, 12h). By M. Thénot at the Paris mint. AGRICVLTVRE, upper body of a nude female (representing France) emerging from wheat field; two hands rise up, nourishing the field with her breasts; in three lines in exergue, LABOURAGE ET PÂTURAGE / SONT LES DEUX MAMELLES / DE LA FRANCE ("plowing and grazing are the two teats of France," a quote from Maximilien de Béthune, the Duke of Sully) // Central band left blank for engraving; above and below, diptych featuring plowing scene with two horses and grazing scene with three bovines. Edge: «cornucopia» 2 ARGENT. MdP III, 371A. Choice Mint State. Light argent-gray surfaces, with some darker toning around the devices; a few inconsequential marks on the reverse are noted. Already a difficult and rare type in bronze, this medal is extremely rare in silver, with an edge notation dating it to the interwar period. Compare to a bronze example that realized a total of $456 in the Stack's Bowers fall CCO (12 October 2021), lot 70633. $1,195.
Featuring a fairly bold and provocative design on the obverse, this imagery alludes to a famous 1638 quote by the Duke of Sully, Maximilien de Béthune, who was also a minister in the court of King Henri IV. He proposed the freedom of the grain trade through abolishing the many tolls that served as barriers between the French provinces, thus promoting what he considered most important to France–agriculture.
To read the complete item description, see:
102510 | FRANCE. Agriculture Art Deco silver Award Medal. (https://www.numismagram.com/product-page/102510)
102514 | FINLAND & SWEDEN. Lars Magnus Ericsson/Telefonaktiebolaget LM Ericsson three-piece bronze and silvered bronze Medal. Issued 1976 for the firm's 100th anniversary (69mm, 720.5 g, 12h). By K. Räsänen for Sporrong in Norrtälje. Top piece, obverse: Two profiles, male and female, overlapping one another and speaking into the other's ear // Top piece, reverse: L M ERICSSON 1876–1976, facing male head, talking on telephone and within oval incuse. /// Middle piece, obverse: The same facing male head, talking on telephone and in relief // Middle piece, reverse: Nude female in a crouched position as if on a bed, holding phone close to her head; all in relief /// Bottom piece, obverse: Two figures seated slightly facing one another, talking on the phone; the male figure seated to left with an abdomen representing a switchboard; the female figure seated to right with an abdomen representing a dial pad // Bottom piece, reverse: Nude female in a crouched position as if on a bed, holding phone close to her head, and within oval incuse; stylized moon above, stylized satellite below. Edge: SPORRONG. Hackl & Klose 76. Essentially as Made. The two outer "shells" featuring deep brown surfaces, and the silvered bronze inner piece displaying an argent-gray tone and light antiquing. Highly impressive and interesting, and four times as rare as the Michelangelo medal—a similar three-piece composite medal. $795.
A piece commissioned by the firm L. M. Ericsson, this medal celebrates telecommunications in Räsänen's ultra-modern fashion. The firm itself was founded in 1876 by Lars Magnus Ericsson, who advanced from his work in the telegraph industry by moving into the growing technology of the telephone. By the late 1870s, the firm was supplying telephoning technology within Sweden and, shortly thereafter, was then exporting its prowess throughout the world, such as Russia ,the UK, Australasia, South Africa, Mexico, and even China. It has continued to be an industry trend-setter, even since this medal was made, capitalizing upon the internet and smart phone eras, with the firm spinning off its mobile phones exploits in a joint venture with Sony, as Sony Ericsson, in 2001.
To read the complete item description, see:
102514 | FINLAND & SWEDEN. L. M. Ericsson 3-piece bronze and silvered Medal. (https://www.numismagram.com/product-page/102514)
102538 | FINLAND & ITALY. Michelangelo three-piece bronze Medal. Issued 1977. Commemorating the Renaissance polymath (59mm, 522.5 g, 12h). By K. Räsänen for Sporrong in Norrtälje. Top piece, obverse: MICHELANGELO, bare head facing slightly right—adapted from Jacopino del Conte's painting; all set over incuse central area // Top piece, reverse: Helpless nude male falling; all set over incuse central area. /// Middle piece, obverse: Nude male, with back facing, chiseling, with radiant flames emanating from left, right, and above; all set over raised central area // Middle piece, reverse: Nude male, reclining left, drawing sketches, as if inscribing upon the interior of the Sistine Chapel; all set over raised central area /// Bottom piece, obverse: Three nude falling figures, two male, one female—an allusion to Michelangelo's Last Judgment; all set over incuse central area; half skull to right // Bottom piece, reverse: Nude male (Michelangelo) seated facing on low stool, acting as puppet master, controlling figures of the pope, a military commander, and a king—the last of whom has toppled; all set over incuse central area. Edge: SPORRONG. Hackl & Klose 87. Essentially as Made. Attractive brown surfaces, with some deeper hues accentuating all of the devices. An extraordinary work of modern medallic art in triplicate. $325.
Regarded as one of the greatest—if not the greatest—artists of all time, Michaelangelo was born in 1475 in the Republic of Florence. During his 88 years, he would become an extraordinarily accomplished sculptor, painter, architect, and poet, with some of his most well-known works being the sculptures David and the Pietà, as well as his frescoes in the Sistine Chapel, such as The Last Judgment and The Creation of Adam. This ambitious, ultra-modern creation of Räsänen samples some of the most important aspects associated with the great Michelangelo, with the bottom reverse featuring a nude Michelangelo as a puppet master, quite appropriately showing how influential he was, in that, among his patrons, were the Medici, seven popes, and King François of France—all of whom he was able to direct with his mastery. Despite the impressive majesty of this piece, it was not well received within the American market, with nearly all examples remaining in Scandinavia—an aspect that perplexed Räsänen at the time, though may be linked to its heavy use of nudity and it not playing well within the more puritan-minded American audience.
To read the complete item description, see:
102538 | FINLAND & ITALY. Michelangelo 3-piece bronze Medal. (https://www.numismagram.com/product-page/102538)
1814 George III Indian Peace Medal, Large Size in Silver With Original Hanger. AU. McLachlan-CCXCVIII, Leroux-838, Breton-19, Jamieson-24, Eimer-1061b, Adams 12.1. 76mm. 121.12g. Indian Peace (or Chief) medals are arguably the most important historical artifacts in the Canadian series. Peace medals were awarded by the French as early as 1693, and the gifting of medals to Indigenous chiefs continued to be implemented by the British and Canadian governments through at least the 1920s. IPMs served as important diplomatic objects representative of ties between the awarding government and the Indigenous group receiving it. With respect to the peace medals of George III, of which several types exist, John Adams (1999) writes, they must have been sponsored at the highest levels of His Majesty's government.
The present is an example of the largest-size 1814 peace medal. Again, according to Adams: During the War of 1812, there was no equivocation: Indians made up a material portion of British forces at almost all engagements. … By the time word got back to London on how the war was being fought, authorities designed the most substantial medal of the series and issued it in profusion. Although many of these medals were awarded (in three sizes: large, medium, small), it is likely that only 50 or so exist in this 76mm format. Adams' 1999 Census shows at least 17 of them permanently impounded in institutional collections.
Of the handful of large-size 1814 medals I have seen, this piece surely ranks among the most impressive for its originality. The surfaces show a few minor nicks and a trace of rub, but they are entirely natural and expected of a medal that would have been awarded. Blue, violet, and gold patina is old and eye-appealing. The original hanger is present at 12 o'clock.
It is my pleasure to offer this remarkable War of 1812 relic, the strongest evidence we have of the importance of Colonial-Indigenous relations during that period. It deserves a place of utmost importance in an advanced collection, private or public. CA$27,000.00
To read the complete item description, see:
1814 George III Indian Peace Medal, Large Size in Silver With Original Hanger. AU. (https://www.jacoblipsonrarecoins.com/inventory/1814-george-iii-indian-peace-medal-large-size-in-silver-with-original-hanger-au)
War of 1812 Upper Canada Preserved Medal, Leroux-866, Breton-57, McLachlan-CCLIX. "67" on Edge. Gem Mint State. Silver. 51mm. 67.08 grams. 67 stamped on edge. The Upper Canada Preserved medal celebrates the British victories over the Americans during the War of 1812 and was intended for distribution to those exhibiting extraordinary instances of personal courage and fidelity in defence of the Province. The medals were originally commissioned by the Loyal and Patriotic Society, with the dies cut by Thomas Wyon, Jr., chief engraver at the Royal Mint.
The original design, as here, was first rejected, with the directors of the Society arguing that the viewer should be looking upstream rather than downstream. In other words, the lion and beaver should be on the right side of the bank, not the left. That design, which was produced in 1814, was replaced in 1817 with a modified, slightly less elegant design with the suggested changes and the addition of names of places in the Niagara region. The reverse of that revised design (Leroux-866a) was also slightly different and featured the date 1815 at centre below FOR MERIT.
Although the desired changes had been made, once received the Society could not decide how to equitably distribute their limited supply of medals to all those deemed deserving. A resolution was passed in 1820 stating that the medals should sold as bullion and the funds directed toward other charitable endeavours. However, they remained in storage until 1840. At that time, they were defaced and sold for scrap.
The Upper Canada Preserved medals on the market today are all either restrikes or reproductions. Restrikes began to appear on the market in the 1870s. These are all with plain edges. According to Warren Baker, writing in his Canadian Tokens & Medals, List 21: Later restrikes in silver, with numbered edges were struck in a quantity of 100 for W.S. Coutts by Messrs Wyon. These were likely produced sometime around the centenary of the War of 1812, so 1912 to 1915.
The obverse depicts a bird's eye view of the Niagara region with a lion, representing Great Britain, and a beaver, representing Canada on the left side of the river bank with an eagle, representing the United States right. UPPER CANADA above and PRESERVED in the exergue. T. WYON JU. F. (Thomas Wyon Junior Fecit) appears at lower right. The reverse reads PRESENTED BY A GRATEFUL COUNTRY around and FOR MERIT within a central wreath of laurel. The edge is stamped 67. A die break occurs southeast of the lion, as on all silver examples seen, including those with and without the numbered edge. Condition is superb. Each side is completely original with natural shades of blue, violet, and golden-orange toning. CA$6,800.00
To read the complete item description, see:
War of 1812 Upper Canada Preserved Medal, Leroux-866, Breton-57, McLachlan-CCLIX. "67" on Edge. Gem Mint State. (https://www.jacoblipsonrarecoins.com/inventory/war-of-1812-upper-canada-preserved-medal-leroux-866-breton-57-mclachlan-cclix-numbered-restrike-au)
1690-Dated Quebec Liberated Paris Mint Restrike. Leroux-307, Breton-36, Betts-70. Copper. 41mm. 35.63 grams. Pointing hand and CUIVRE on edge, confirming a production date between June 1845 and October 1860. This is a gorgeous 19th-century restrike of the always-popular Kebeca Liberata medal. Deep chocolate-brown surfaces are super glossy with accents of blue and violet. Even better in hand than the pictures show.
Signed R below the bust, this appears to be one of the more challenging of the four or five different restrikes that exist. CA$500.00
To read the complete item description, see:
1690-Dated Quebec Liberated Paris Mint Restrike. Leroux-307, Breton-36, Betts-70. (https://www.jacoblipsonrarecoins.com/inventory/1690-dated-quebec-liberated-paris-mint-restrike-leroux-307-breton-36)
Canada 1947 Maple Leaf 25 Cents. MS65+ PCGS. Beautifully toned and original. This Gem quarter is only fractionally shy of joining the finest examples at PCGS, where it serves as one of three plate coins. Eye appeal is terrific. CA$850.00
To read the complete item description, see:
Canada 1947 Maple Leaf 25 Cents. MS65+ PCGS. (https://www.jacoblipsonrarecoins.com/inventory/c0ptkvi796o2of8qrpvrq0qsh460oo)
Canada 1911 Cent. MS66 Red and Brown NGC. This nearly flawless Premium Gem is toned in magnificent rainbow hues — a rarity among Canadian large cents. Boldly struck with full cartwheel lustre. The NGC Census shows seven 1911 cents in MS66 RB with only one MS67 RB finer (8/23). Eye appeal would be virtually impossible to improve upon. CA$975.00
To read the complete item description, see:
Canada 1911 Cent. MS66 Red and Brown NGC. (https://www.jacoblipsonrarecoins.com/inventory/canada-1911-cent-ms66-red-and-brown-ngc)
Stockton, CA 1873 Fr. 1146 First National Gold Bank CH# 2077 PMG Very Good 10 10 Dollars
1. California was the only state to have National Gold Banknotes issued. One chartered in Boston but did not issue notes. Here is a Stockton note:
To read the complete item description, see:
Stockton, CA 1873 Fr. 1146 First National Gold Bank CH# 2077 PMG Very Good 10 10 Dollars (https://bid.worldbanknoteauctions.com/lots/view/4-AIZKC4/stockton-ca-1873-fr-1146-first-national-gold-bank-ch-2077-pmg-very-good-10-10-dollars)
Crows Landing, CA 1929 Ty. 1 Fr. 1800-1 First NB CH# 9765 PMG Very Fine 25 5 Dollars
2. Many collectors enjoy interesting names of banks. This collection has two named for Crows Landing, one of the most popular California names:
To read the complete item description, see:
Crows Landing, CA 1929 Ty. 1 Fr. 1800-1 First NB CH# 9765 PMG Very Fine 25 5 Dollars (https://bid.worldbanknoteauctions.com/lots/view/4-AIZK5N/crows-landing-ca-1929-ty-1-fr-1800-1-first-nb-ch-9765-pmg-very-fine-25-5-dollars)
Los Angeles, CA 1902 Red Seal Fr. 639 The Commercial NB CH# 6864 PMG Choice Fine 15 20 Dollars
3. One of the most appreciated types of the 20th century national banknotes are the Red Seals. This bank from Los Angeles has only this single Red Seal currently known:
To read the complete item description, see:
Los Angeles, CA 1902 Red Seal Fr. 639 The Commercial NB CH# 6864 PMG Choice Fine 15 20 Dollars (https://bid.worldbanknoteauctions.com/lots/view/4-AIZK78/los-angeles-ca-1902-red-seal-fr-639-the-commercial-nb-ch-6864-pmg-choice-fine-15-20-dollars)
Ogden, UT 1929 Ty. 2 Fr. 1801-2 First Security Bank of Utah CH# 2597 PMG Choice VF 35 EPQ 10 Dollars
4. Many banks changed their titles during their issuing era. Few, however, had five different names like this bank. What became their primary name that lasted through the 21st Century was adopted late in the Type 2 era so only a few notes are known with their final issuing name:
To read the complete item description, see:
Ogden, UT 1929 Ty. 2 Fr. 1801-2 First Security Bank of Utah CH# 2597 PMG Choice VF 35 EPQ 10 Dollars (https://bid.worldbanknoteauctions.com/lots/view/4-AIZKKM/ogden-ut-1929-ty-2-fr-1801-2-first-security-bank-of-utah-ch-2597-pmg-choice-vf-35-epq-10-dollars)
Philadelphia, PA 1875 Fr. 401 The Bank of North America CH# 602 PMG Very Fine 20 5 Dollars
5. While many collectors are familiar with "star" notes as replacement notes, during the early NBN era, retouched plates received a star. This is a lovely note also on the only bank that did not need to have "national" in its name:
To read the complete item description, see:
Philadelphia, PA 1875 Fr. 401 The Bank of North America CH# 602 PMG Very Fine 20 5 Dollars (https://bid.worldbanknoteauctions.com/lots/view/4-AIZKHW/philadelphia-pa-1875-fr-401-the-bank-of-north-america-ch-602-pmg-very-fine-20-5-dollars)
Philadelphia, PA 1862 Bank of North America PA-465-G84a PMG Choice Fine 15 1 Dollar
6. Following on the earlier Bank of North America note, collectors of NBNs are now starting to appreciate the linkage to the obsolete notes of the same institution from the period before converting to a national charter. Here is a BoNA note from their state charter period yet referencing their Congressional charter from the 1790s:
To read the complete item description, see:
Philadelphia, PA 1862 Bank of North America PA-465-G84a PMG Choice Fine 15 1 Dollar (https://bid.worldbanknoteauctions.com/lots/view/4-AIZKI4/philadelphia-pa-1862-bank-of-north-america-pa-465-g84a-pmg-choice-fine-15-1-dollar)
XBaker, OR 1902 Plain Back Fr. 698 The First NB CH# 2865 PMG Very Fine 30 100 DollarsXX
7. For Lucky Seven, here is a high denomination from Eastern Oregon's mining and cattle hub of Baker (City). Despite its rural location, it opted to issue only large denomination notes and was the only bank in the entire state to issue 1902 PB 100s:
To read the complete item description, see:
Baker, OR 1902 Plain Back Fr. 698 The First NB CH# 2865 PMG Very Fine 30 100 Dollars (https://bid.worldbanknoteauctions.com/lots/view/4-AIZKFK/baker-or-1902-plain-back-fr-698-the-first-nb-ch-2865-pmg-very-fine-30-100-dollars)
Discover the true and amazing story behind these notes of our online auction of August 31st. Live bidding will take place on August 31st at 3 p.m. on biddr.
In May 1793, Monaco printed some playing cards with values 1, 2, 3, and 5 sols for a total amount of 433 livres 7 sols.
They were withdrawn from circulation shortly after, 2/3 being counted in return.
Of the last third, no specimen has been found to date. This voucher was given to soldiers who were part of the garrison stationed in Monaco, which became Fort d'Hercule after the forced annexation of the Principality to France decided by the Convention in February 1793.
The garrison in December 1793 was made up of more or less 700 men.
The German occupation of Belgium of World War I was a military occupation by the forces of the German Empire between 1914 and 1918. At the start of the war, the Belgian government hurriedly removed silver coins from circulation and replaced them with banknotes.
Once it was clear that the war would continue, the Germans had to acknowledge a lack of money, needed for the troop provisions and military operations. Printing new banknotes was impossible. The Belgian population did not accept German Marks for political as well as economic reasons. There was a risk that banknotes would be printed without taking the gold coverage rules into account. A bank delegation therefore travelled to Le Havre and London to convince the Belgian government to transfer gold and the blocks back to Belgium. Once the option of creating Reichsbank branches in Belgium was rejected, at the beginning of November 1914, private banks and politicians still in Belgium lobbied to give the right to issue banknotes to one of the private banks and The Société Générale was awarded the right to print money.
In this online auction we list a very rare series of these banknotes of 1 - 2 - 5 - 20 and the extremely rare 100 Francs.
On 25 July 1848, the day of the battle of Custoza, the provisional government presided decreed the establishment of a discount bank, deposits and current accounts in the form of an anonymous company, with the primary aim of supporting the defense of the city from Venice.
In the notice, the paper is described as "of fine, white, machine-made quality" (subsequently the more resistant linen paper was used), the tickets of "quadrlong shape, printed only in black", diversified in the designs on the basis of their nominal value.
All the notes would have been characterized by the presence of the coats of arms of the city of Milan and Venice. The writings would have been rendered with Egyptian characters (born around the early nineteenth century) and/or lapidary, therefore heavy and legible even from a distance. On the reverse, all the specimens would have carried the controllership stamp.
To read the complete article, see:
https://h0e5h.mailupclient.com/f/rnl.aspx/?mmg=y2_wz/dami=s3em&=ry_w/9e8ca=l.ggg9f&x=pp&x4&b8af47ge5-8k=xy_wNCLM
Great Rarities from All Over the World
Gadoury will hold its auction sale on 14 October 2023. A special focus is on ancient coins, France, Italy and the USA. But even if your collecting interests lie elsewhere, do not miss out on studying this catalogue – it contains rarities from many countries across the globe.
Once again, Francesco and Federico Pastrone invite coin enthusiasts to the elegant Hôtel Méridien Beach Plaza in Monaco. On 14 October 2023, they will hold their autumn auction sales. As usual, the auction house offers a wealth of high-calibre rarities in the five- and six-digit range. However, there is also an exciting offer of coins and medals in the mid-price segment, especially for collectors of gold issues.
Lot 12: Lampsakos (Mysia). Gold stater, around 350 BC. From Feuardent-Leman auction (1921), No. 57; from the Engel-Gros and J. J. Grano Collections. From NGSA auction 1 (2000), No. 97 (cover piece) and NGSA 8 (2014), No. 46. NGC AU 5/5 4/5 Fine Style. Estimate: 80,000 euros. Diameter: 18 mm
Lot 13: Rhodes (Caria). Tetradrachm, around 404-385. NGC AU* 5/5 5/5 Fine Style. Estimate: 60,000 euros. Diameter: 21 Width 25 Altitude mm
Lot 14: Akanthos (Macedonia). Tetradrachm, 480-470. NGC MS* 5/5 4/5 Fine Style. Estimate: 60,000 euros. Diameter: 27,5 mm
Lot 18: Panticapaeum (Bosporus). Gold stater, ca. 340-325. From NGSA auction 8 (2014), No. 32. NGC Choice XF* 5/5 4/5 Fine Style. Estimate: 90,000 euros. Diameter: 22 mm
Greek Coins
Collectors of Greek coinage should take a close look because this Gadoury auction starts with some masterful works of art by Greek engravers. If you prefer Archaic coinage, be prepared to be spoilt for choice. A tetradrachm of Leontinoi, the dies of which were created by the 'Demareteion Master'? Or rather the iconic fight between lion and bull on a wonderful tetradrachm from Macedon Akanthos, created between 480 and 470. Those interested in the Classical period will be amazed by a tetradrachm from Rhodes, which shows Helios with untamed hair almost from the front. The excellent grade reveals the level of artistry that went into this coin design. NGC graded the piece AU*5/5 5/5 Fine Style.
Fans of outstanding provenances will be tempted by the gold stater from Lampsacus. It first entered the market in 1921, in a sale of the French Feuardent-Leman auction house.
An extremely fine and fully centred stater from Panticapaeum of the finest style is the Greek coin with the highest estimate in this sale.
Lot 40: Cleopatra VII and Marcus Antonius. Tetradrachm, Antioch on the Orontes or unknown mint in Phoenicia, around 36 BC. From UBS auction 78 (2008), No. 1203. Rare. Estimate: 30,000 euros. Diameter: 26 mm
Roman Coins
If you are interested in the transition period between the Republic and the Empire, this Gadoury auction will provide you with a wealth of historically interesting denarii and aurei of excellent quality. They include an extremely fine denarius by L. Plaetorius Cestianus on behalf of Brutus Imperator. Even more remarkable is a tetradrachm, probably from Antioch on the Orontes, created around 36 BC. It shows outstanding portraits of Marcus Antonius and Queen Cleopatra.
Lot 52: Constantine I 307-337. Multiple issue of 1 1/2 solidi, Siscia, 324-325. From Hirsch auction 24 (1909), No. 3634 (Consul E. Weber Coll.); from Schulman auction (1923), No. 641 (Vierordt Coll.); from Leu auction 72 (1998), No. 509 and from SINCONA auction 4 (2011), No. 4131. Extremely rare. NGC Choice AU* 5/5 4/5. Estimate: 100,000 euros. Diameter: 29 Width 22 Altitude mm
The highlight among the about two dozen Roman coins are the issues of the late third and early fourth centuries. For example, an aureus of Constantius Chlorus minted in Trier in 305/6 is from the Hoard of Beaurains; a 1 1/2 solidus issue by Constantine, created in 324/5 in Siscia, is from the Consul E. Weber and Vierordt Collections.
There are also rarities from the Migration Period and the Eastern Roman Empire, for example a half hyperpyron of John V Palaeologus, the emperor who hoped to buy the help of the West against the Ottomans by converting to the Roman Catholic Church.
Lot 159: Cambodia. Norodom I, 1860-1904. Pattern of 4 francs, 1860. NGC MS65. Estimate: 7,000 euros. Diameter: 34 mm
Lot 162: Chile. Ferdinando VII, 1808-1833. 8 escudos, 1819. From the Dr. Moore Collection. NGC MS65. Estimate: 25,000 euros. Diameter: 37 mm
World Coins
From A like Allemagne to Y as in Yugoslavie – no matter what you collect, you should take a look at the Gadoury catalogue. It might contain the very rarity you have been looking for for decades. Take the example of Cambodia: Gadoury is able to offer a gold off-metal strike of a coin by Norodom I, which was probably distributed to ecclesiastic dignitaries on the occasion of the cremation of Queen Mother Meac Meneang in 1899. Only very few patterns were created for this coin.
Or are you interested in Chile? In that case, Gadoury's autumn auction sale provides you with the opportunity to add an extremely rare 1819 eightfold gold escudo to your collection, which has previously been part of the Dr. Moore Collection.
Lot 167: China. Yunnan. Dollar pattern, year 18 (1929). PCGS SP63+. Estimate: 20,000 euros. Diameter: 38 mm
There are eleven lots from China. The highlight is a 1929 pattern that was created in Birmingham. In that year, the Chinese Ministry of Finance decided to have new dies with new motifs created for the coins with the portrait of Dr Sun Yat-Sen. Mints in Italy, Great Britain, the United States, Austria and Japan were commissioned to hand in patterns. However, not a single one was met with the Ministry's approval, and none of the designs were adopted. One of the rejected patters was this Birmingham issue with the depiction of a wonderful junk sailing ship.
If you are interested in modern Chinese coinage, you should also take a close look. Gadoury presents two extremely rare pieces, both of 5 ounces, one of them had a mintage figure of 1,900 and was created in 1993, the second one was created one year later with a mintage figure of 1,100 specimens.
Lot 209: France. Philip VI, 1328-1350. Couronne d'or, undated (29 January 1340). NGC MS63. Estimate: 45,000 euros. Diameter: 30 mm
Lot 233: France. Louis XIII, 1610-1643. 40 livres = 4 louis d'or, 1640. Extremely rare. NGC XF45. Estimate: 70,000 euros. Diameter: 35 mm
A Major Series of French Coins
As always, Gadoury is able to offer an extensive series of French coins, a total of almost 200 lots. A first highlight is from 1340. Three years after the start of the Hundred Years' War, Philip VI issued a particularly heavy gold coin – for the first and last time. While the reverse is in line with the design of the gold coins that were already circulating at the time, the obverse conveys an impressively clear message: the so-called Crown of Charlemagne – which actually was not created until later – points out that Philip VI, on whose head it rests, is the one whose claim to the French throne is legitimate.
We also know about the historical background of a second rarity of French numismatics that is on offer at Gadoury's autumn sale. Jean Warin and Louis de la Croix, the engraver of the Monnaie de Paris, faced each other in a contest to find the most impressive design. In this context, Warin created multiple pieces of the louis d'or, and one of these pieces is the coin offered by Gadoury.
Lot 330: France. Louis-Philip I, 1830-1848. Proof gold pattern for the 5-franc silver piece, Paris 1834. Gadoury 678 (this specimen). From Sotheby auction (1954), King Farouk Collection, No. 547. PCGS SP66 (PROOF ULTRA CAMEO). Estimate: 200,000 euros. Diameter: 37 mm
The most expensive piece of the sale has a spectacular provenance: King Farouk of Egypt was the proud owner of this Proof pattern for the French 5-franc silver piece, created in 1834 by the Paris Mint. Is it even necessary to mention that this precious pattern is of the finest quality? PCGS graded it SP66 (PROOF ULTRA CAMEO).
Those who cannot or do not want to afford such an expensive piece can look forward to the small collection of French 20-franc gold pieces, assembled by an avid collector. The time frame ranges from Napoleon to the Franco-German War of 1871. Estimates start at 300 euros.
Lot 451: Greece. George I, 1863-1913. 100 drachms, Paris 1876. Only 76 specimens minted. NGC AU58. Estimate: 70,000 euros. Diameter: 35 mm
A Greek Rarity
Collectors of coins from the Latin Monetary Union know that, on the one hand, there are very common pieces that can be purchased at the price of their gold value and, on the other hand, that there are very rare pieces. One reason for this phenomenon is that the number of coins the individual countries produced differed greatly based on their population; secondly, countries could pay a dear price for minting coins of a certain metal at the wrong time due to the constant fluctuations of the gold and silver prices. Therefore, Greece produced as few as 76 specimens of its 100-drachm gold piece. Gadoury offers one of them. Those who do not want to participate given the estimate of 70,000 euros can try their hand at the silver 5-drachm piece. It has a moderate estimate of only 500 euros and was graded MS63 by NGC.
Lot 536: Italy / Kingdom of Sicily. Carlo VI, 1685-1740, King of Sicily, 1720-1734. Gold medal commemorating the Senate of Palermo paying homage to him when he took over the rule in 1720. Extremely rare. Minor perforation. About FDC. Estimate: 40,000 euros. Diameter: 44,5 mm
Extensive Ensemble of Italian Issues
Just like France, Italy is one of Gadoury's specialities. And once again the auction house is in a position to offer an extensive series including almost 150 lots. We will present two pieces that represent the ensemble. The first example is a medal that was minted on the occasion of the homage paid to Charles VI of Bourbon as King of Sicily and Jerusalem in 1720. Although Jerusalem had long been under Ottoman rule at this point, the monarch of Sicily still used this title. Emperor Frederick II had married the heiress to the Kingdom of Jerusalem in 1225. Since then, the titles of King of Sicily and King of Jerusalem had been tied to each other.
Lot 540: Italy / Parma. Odoardo Farnese, 1622-1646. 6 doppie, n.d. Extremely rare. NGC AU58. Estimate: 100,000 euros. Diameter: 45 mm
100,000 euros is the estimate of a sixfold doppie by Odoardo Farnese, Duke of Parma, which was minted between 1622 and 1646. Its reverse depicts the mother of God with a circumscription taken from the Song of Songs 4:4. The Song compares the neck of a beloved to a strong tower with thousand shields on it. This means that Odoardo begged for Mary's protection to be bestowed on him – and he would have well needed that support: against the backdrop of the conflicts of the Thirty Years' War, his attempts at expanding his sphere of power were unsuccessful.
Lot 623: Italy / Casa Savoia. Vittorio Amedeo, 1630-1637. 10 scudi d'oro, II Tipo, Turin, 1633. Extremely rare. NGC AU53. Estimate: 180,000 euros. Diameter: 44 mm
Lot 665: Italy / Casa Savoia. Vittorio Emanuele II. Pattern for the 100-lira piece, Stabilimento Johnson, Milan, 1903. NGC PROOF 63 MATTE. Extremely rare. Estimate: 70,000 euros. Diameter: 35 mm
Collezione Real Casa Savoia
In the autumn of 2023, another part of the Collezione Real Casa Savoia will be on sale. The undisputed highlight is the extremely rare 10-fold scudi d'oro of 1633. It is an unpublished variety! NGC graded it AU53. Another extremely rare and coveted piece is a pattern for the 100-lira piece featuring the portrait of Vittorio Emanuele III from 1903. The design was created by Stabilimento Johnson, a private institute for medal production in Milan.
Lot 765: Russia. Nicholas II, 1894-1917. 25 roubles – 2 1/2 imperials, St. Petersburg, 1908. Only 175 specimens minted. Estimate: 40,000 euros. Diameter: 33,5 mm
Small Series of Russian Issues
25 roubles or 2 1/2 imperials, minted in 1908 in St. Petersburg: only 175 specimens were created of this issue. This is a good reason to assume that they were minted to be used as gifts on the occasion of the celebrations of the 40th birthday of Tsar Nicholas II. This piece is one of about two dozen lots with Russian coins and medals, including other rarities such as a gold medal for the Imperial Academy for Medicine and Surgery in St. Petersburg.
Lot 781: Switzerland / Bern. 10 ducats, undated. Extremely rare. NGC MS61. Estimate: 110,000 euros. Diameter: 41 mm
Tenfold Ducat from Bern
As mentioned above, even if there are sometimes only a few pieces on offer for a certain field, they often contain exciting issues and great rarities. One example for this is the section with Swiss coins, comprising three lots: a 1571 gulden taler from Basel, a 1857 shooting taler from Bern, graded MS62 by NGC and – the highlight – an extremely rare ten-fold ducat from Bern of extremely fine (MS61) quality.
Lot 832: USA. 20 dollars, Carson City 1871 CC. PCGS XF45. Estimate: 30,000 euros. Diameter: 34 mm USA
Once again, Gadoury is able to present a rich selection of US gold coins, including numerous rare years and mints. At this point we limit our list to:
20 dollars, New Orleans (1858). NGC AU55 (estimate: 10,000 euros)
20 dollars, Carson City (1871). PCGS XF45 (estimate: 30,000 euros)
20 dollars, Carson City (1873). PCGS AU55 (estimate: 10,000 euros)
20 dollars, Philadelphia (1927). NGC MS67* (estimate: 10,000 euros)
You can order the catalogue at Éditions Victor Gadoury, 57, rue Grimaldi, 98000 Monaco; phone: +377 93 25 12 96; fax: +377 93 50 13 39; email: contact@gadoury.com.
You can find the catalogue online at auction.gadoury.com, www.sixbid.com and www.numisbids.com. Of course, it is also possible to bid live on your computer at home via www.biddr.ch!
Roberts and his friend Peter Cockton were searching a field in Anglesey in July 2021 when they stumbled on buried treasure, the Amgueddfa Cymru National Museum Wales said in an Aug. 9 news release shared with McClatchy News.
Having been searching for history for over 14 years, finding a gold stater — a type of gold coin from the Iron Age — was always number one on my wish list, Roberts said in the release.
And that day his wish came true. He found a well-preserved 2,000-year-old gold coin. The still-shiny coin has a relatively abstract design with swirls and rectangular markings, a photo shows.
Can you imagine my shock, delight and surprise… having dug up a beautiful full gold stater in mint condition?! he said in the release. That one coin alone would have made my year, but I went on to find another.
Cockton also uncovered three ancient gold coins scattered around the field, the release said.
But that was just the beginning. Another metal detectorist, Tim Watson, decided to search the same field.
Returning to the field with a better metal detector, I proceeded to find another nine coins in the same area in the following weeks, Watson said.
Archaeologists identified the collection of 15 coins as the first hoard of Iron Age gold coins to have been discovered in Wales, the release said. The rare coins were minted between 60 B.C. and 20 B.C. by the Corieltavi tribe.
To read the complete article, see:
Metal detectorist 'never expected' to find ancient gold treasure — then he found two (https://www.miamiherald.com/news/nation-world/world/article278131107.html)
To read the additional articles, see:
2,000-year-old gold treasure from Iron Age tribe unearthed by metal detectorists in Wales (https://www.livescience.com/archaeology/2000-year-old-gold-treasure-from-iron-age-tribe-unearthed-by-metal-detectorists-in-wales)
Private restrikes of three large cent dates, 1804, 1810, and 1823, were produced in the mid-to-late 19th century, a dynamic time in U.S. coin collecting. Though the circumstances surrounding their production remain murky, these restrikes have passed through the hands of many prominent coin collectors and have been studied by some of the most accomplished researchers in U.S. numismatics. Stack's Bowers Galleries will offer a notable 1823 large cent private restrike in silver as lot 5012 in Rarities Night of our August 2023 Global Showcase Auction.
It is thought that the first of these restrikes were produced starting in the late 1850s or early 1860s through possibly as late as the turn of century; a terminal bookend is hard to establish as the dies used to produce the 1823 restrikes survive today. The start of this period was a seminal moment in American numismatics as the hobby caught on and private and U.S. Mint-produced restrikes and other oddities appeared in the burgeoning U.S. marketplace. Auction catalogs and numismatic publications of the era offer an incomplete account of the large cent restrikes and their origins. The first auction catalog appearances and media reports date to the 1860s.
The dies used to produce these restrikes were likely purchased as scrap from the Mint in the early 19th century. Joseph Mickley is often pointed to as the source for the 1804 dies. Mickley was a Philadelphia numismatist known for, among other things, helping to establish the Numismatic and Antiquarian Society of Philadelphia and authoring Dates of United States Coins and their Degrees of Rarity, one of the first collector reference books on U.S. coins. These dies, however, were not among the hubs and dies sold after Mickley's death in 1878.
The obverse die used to produce the 1804 restrikes was actually dated 1803 (cataloged as Sheldon-261); the last date digit was modified. The reverse die was used for cents dated 1820 (Newcomb-12) which sported the Matron Head design on their obverses, the successor to the Draped Bust motif. The 1804 restrikes were produced in copper and white metal. They were first reported in 1869 in Mason's Coin & Stamp Collector's Magazine, which prompted numismatic researcher Mark Borckardt to place its production date as 1868 in a paper given at the November 1996 Coinage of the Americas Conference. This paper was the main source for this blog and is highly recommended reading.
The origins of the dies used to strike the 1823-dated restrikes are less clear. Some catalogers and writers of the period connect Mickley to these dies too. The dies changed hands a number of times and multiple emissions were produced, with experts estimating production dates as late as 1879. The 1823 restrikes were produced in two metals, copper and silver, and the obverse die cracked after the initial emission; Edward Cogan claimed that he struck 49 examples from the dies on behalf of the dies' owner. Cogan then sold the dies to Montroville Dickeson who in turn sold them to John W. Haseltine. Both Dickeson and Haseltine are thought to have been involved in the production of these restrikes in later die states (likely produced in the 1870s), which sport a tripartite die crack across Liberty's face. The reverse die was used to produce cents in 1813.
The 1823-dated restrikes were first reported by W. Elliot Woodward in his November 1862 catalog of the Finotti Collection, suggesting a production date in the early 1860s.
A handful of tin restrikes dated 1810 are known, with that obverse die paired with the 1820 reverse die used for the 1804 restrikes.
To read the complete article, see:
DID YOU KNOW THAT NUMISMATISTS RESTRUCK LARGE CENTS IN THE MID-19TH CENTURY? (https://stacksbowers.com/dyk-large-cent-restrikes/)
Given the profusion of (often low-quality) reproductions and forgeries of 1804 dollars, many collectors are wary of any numismatic item resembling the King of American Coins. There are, however, numismatically significant reproductions, one of which, an electrotype recreation of the Class II 1804 dollar, is featured as lot 5070 in Stack's Bowers Galleries' Global Showcase Auction Rarities Night session.
Around 1860, the U.S. Mint produced a wide variety of restrikes, fantasy pieces, and other numismatic curiosities for the burgeoning collector market, pieces that were often traded for medals to include in the Mint's cabinet.
The process was described by Mark Ferguson in an October 2020 article in CoinWeek:
Mint-produced electrotypes stand as a class all their own. Our cataloger explains: this one is very different from most seen as it was made at the Philadelphia Mint. It is therefore an official product, to a degree, though certainly not intended as circulating coin or even within the normal boundaries of expected official Mint business.
The only known Class II 1804 dollar, itself a fantasy piece, resided in the Mint's Cabinet for many years before transfer to the Smithsonian in 1923. It was struck in the late 1850s over a Swiss Shooting Thaler (some parts of this undertype are visible on both the original Class II and this electrotype – look inside the rims). Four electrotypes, including the one offered in the August Global Showcase auction were produced around 1860. This particular piece sold shortly after its production to a California collector identified as Dr. Spiers. According to the catalog description from its first auction appearance in 1959, Spiers bequeathed his collection around 1877 to the Society of California Pioneers. Around 1906, the collection was broken up and Waldo C. Newcomer, a legendary collector and owner of a genuine 1804 silver dollar, purchased this electrotype, which first appeared at auction in New Netherlands Coin Company's 53rd Sale. In the 21st century, the piece has come up for auction a number of times, most recently in Heritage Auctions' May 2022 Central States Numismatic Society sale; we had the pleasure of handling it in August 2019, in our American Numismatic Association sale.
Our cataloger describes the electrotype's appearance as: Mostly light silver-gray on both sides, though the recesses and field areas most protected by the design features have toned deep gray. A few specks of similar toning are noted in the fields and there is some loss of the silvering on the highest points of the design where traces of the underlying copper show through. A few trivial hairlines are noted, and an old scratch passes through the letter U in UNITED, extending to the rim at the lower right of the eagle's tail feathers. The reverse is stamped COPY beneath the eagle's talon holding the olive branch. We assigned it a grade of Choice Extremely Fine.
To read the complete article, see:
STACK'S BOWERS GALLERIES TO OFFER ONE OF FOUR KNOWN U.S. MINT-PRODUCED 1804 DOLLAR ELECTROTYPES IN AUGUST 2023 RARITIES NIGHT SESSION (https://stacksbowers.com/electrotype-1804-class-ii-draped-bust-silver-dollar/)
To read the complete lot description, see:
Electrotype 1804 Draped Bust Silver Dollar. Joined Copper Shells, Silvered. Class II. Type as BB-305. Choice Extremely Fine (Uncertified). (https://auctions.stacksbowers.com/lots/view/3-13VL9D/electrotype-1804-draped-bust-silver-dollar-joined-copper-shells-silvered-class-ii-type-as-bb-305-choice-extremely-fine-uncertified)
A special 50 pence coin marking the Coronation of King Charles is going into circulation this week.
The Royal Mint is issuing five million of the coins, with a design based on Westminster Abbey, where the Coronation was held in May.
It will allow the public to "find a piece of history in their change", said the Royal Mint's Rebecca Morgan.
But the new King's coins will be outnumbered by 27 billion from the late Queen's reign, still in circulation.
So far the 50 pence piece has been the most visible sign of change in the coinage. This new Coronation coin follows an earlier 50 pence, released in December, which was the first mass-circulation coin to show the King's head.
There has been no timetable announced yet for other new coins to be issued, although the first King Charles banknotes are expected to appear next year.
To read the complete article, see:
Special King Charles Coronation 50p coins issued (https://www.bbc.com/news/uk-66441188)
While walking around the streets of New York City, I find myself constantly scouring the ground for lost change in order to buy my favorite budget lunch, dollar pizza! I rarely find much, but it slowly adds up. When I visited Indonesia for the first time in 2022, I attempted to continue my habit of picking money off the ground. I immediately stopped after being met with the horrified look on my girlfriend's face. Seeing that I had no idea what the problem was, she explained to me that in Indonesia, the money on the ground could be cursed! She further explained that it is common practice in her country for people to place curses on currency, whereby their misfortunes will be transferred to the person who picks up the money. I was fascinated by the idea of money serving magical purposes in Indonesian culture, and I planned to research the topic further upon returning home.
Regarding the idea that money is used as a medium for transferring curses and misfortune, I found very little information aside from that the custom stems from local superstitions and folklore. For example, I found several popular news articles with roughly translated titles such as, Recognize Basangan Money that is Deliberately Spread to Seek Sacrifices, Mr. Romdoni: Don't Take It (Kenali Uang Basangan yang Sengaja Ditebar untuk Mencari Tumbal, Abah Romdoni: Jangan Diambil), and Beware, This is how to Distinguish Real Money and Cursed Money on the Road. You take, you die! (Waspada, Ini Cara Membedakan Uang Asli Dan Uang Tumbal Pesugihan Di Jalan. Salah Ambil Bisa Mati!). These articles explain that by picking up random money from the street, especially large sums (Fig. 1), you could become a victim of some wicked person's pesugihan ritual. Pesugihan is generally seen as a complicated, evil magic ritual whereby the practitioner will call upon the aid of a medium who can rally the aid of spirits. Unfortunately, for the ritual to work it requires a sacrificial victim, and this is where the money comes in. The money serves as bait, and upon taking the money, the person becomes the practitioner's sacrifice. This is believed to result in horrible misfortune and ultimately death for the victim.
Scary folklore aside, I did find information on a real, historical tradition of magic money on Java dating to the Majapahit period (13th-16th century). The earliest mentions what are now referred to as magic coins appeared in Thomas Stamford Raffles' 1817 work, The History of Java (?vol. 1, p. 376), where they were described as bearing traditional Javanese wayang shadow puppet characters (Fig. 2). Raffles' contemporary, William Marsden, added that they appeared to be Chinese in nature (Cribb, 22). That being said, their non-monetary functions were not clear to Raffles and Marsden at the time (Cribb, 69). More recently, the task of explaining Indonesia's magic coins (Fig. 3) was undertaken by Joe Cribb in his 1999 publication, Magic Coins of Java, Bali, and the Malay Peninsula: Thirteenth to Twentieth Centuries.
Figure 3. Examples of Indonesian gobog magic coins. (top) ANS 1911.105.497. (bottom) ANS 1916.69.35. Photos: Alan Roche, ANS.
According to Cribb, the earliest magic coins in Indonesia most likely date to the 13th century (early Majapahit period) and would have been made from the recast metal of Chinese cash coins that had become abundant in the region by then (Cribb, 54). Following the arrival of Europeans in the region in the 17th century, Spanish and British coins became additional bases for magic coins, which were still being made well into the 1990s when Cribb completed his book (Cribb, 53) (Fig. 4).
To read the complete article, see:
Indonesia's Magic Money (https://numismatics.org/pocketchange/indonesias-magic-money/)
Sergio Guillermo Diaz paints actors, film characters and football players on Argentine peso banknotes.
He does it because the money itself is essentially worthless.
Sergio started by painting on 20 peso notes, but now, he paints on 1,000 peso notes.
"Nowadays, it's sometimes better for me to paint on the biggest banknote in Argentina," he said.
"I paint on it and I can sell it for a lot more than what I could spend with it."
Why not whack Lionel Messi holding the World Cup on your banknote — a small, beautiful portrait of him is worth way more than the 1,000 peso note it's painted on.
The money is worthless because Argentina is dealing with 100 per cent inflation.
To read the complete article, see:
Argentina and Australia once had eerily similar economies. How did one end up with 100 per cent inflation? (https://www.abc.net.au/news/2023-08-13/how-did-argentina-end-up-with-100-per-cent-inflation-/102707204)
To read the earlier E-Sylum article, see:
ARGENTINE ARTIST PAINTS ON BANK NOTES (https://www.coinbooks.org/v26/esylum_v26n02a29.html)
An artist's hyperrealistic drawing of Indian banknotes has gone viral on Instagram and prompted many to do a double-take.
Rahil Jindran, an incredibly talented hyperrealistic artist, has stunned audiences with his awe-inspiring creations. From lifelike drawings of various subjects to his recent masterpiece of Indian banknotes, his work has left people in amazement.
In a now-viral video, Jindran showcased his exceptional skills by meticulously making hyperrealistic art of Indian banknotes using pencil colours. His level of precision and attention to detail, capturing the textures, light, and shadows, is truly mesmerizing.
Did his artwork prompt you to do a double-take? If yes, you are not alone who found the banknotes drawn by him almost indistinguishable from real ones. Many in the comments section echoed similar sentiments and were in complete awe of his artistic prowess.
The video was shared on March 1 on Instagram. It has since accumulated more than 12.8 million views and over 1.6 million likes.
For more on Instagram, see:
https://www.instagram.com/rahiljindran/
To read the complete article, see:
This artist's hyperrealistic artwork of Indian banknotes stuns netizens (https://www.hindustantimes.com/trending/this-artist-s-hyperrealistic-artwork-of-indian-banknotes-stuns-netizens-101691051739414.html)
George Washington Coppers, Part II
1792 ROMAN HEAD CENTS
The famous sculptor Horatio Greenough created a huge statue of George Washington, depicting him as a Roman emperor on a throne. Portraying revered persons as Roman emperors was a very popular pursuit in the 18th and early 19th centuries. Greenough's statue was displayed on the U.S. Capitol grounds for many years.
At Obediah Westwood's private minting facility in Birmingham, England, a new Washington copper coin was struck in 1792. The obverse depicted George Washington, with a laurel wreath on his head and facing right. Washington was made to look as much like a Roman leader as possible. The words "WASHINGTON," and "PRESIDENT," flank the portrait on either side and the date "1792," is below.
The reverse depicts a very scrawny Small Eagle, with six five-pointed stars between its upraised wings, arrows and an olive branch in its talons and the word "CENT" at the upper periphery.
To read the complete article, see:
The Copper Coinage of Our First President, Part II (https://www.greysheet.com/news/story/the-copper-coinage-of-our-first-president-part-ii)
To read the earlier E-Sylum article, see:
GEORGE WASHINGTON COPPERS (https://www.coinbooks.org/v26/esylum_v26n25a31.html)
Tommy Thompson's Vero Beach Hideaway
The Gracewood Mansion, a historic six-bedroom estate located on 5 acres of land off Route 60 just west of the Twin Pairs, will put Vero Beach on the world map once more in a major documentary about millions of dollars in missing gold shot by the National Geographic in cooperation with the BBC.
The documentary, which is scheduled to be aired on the National Geographic cable channel as well as on the BBC in about a year, focuses mainly on Gracewood's most infamous recent resident, treasure hunter Tommy Thompson, who managed to hide out in plain sight in Vero Beach for almost a decade in a case still shrouded in mystery and intrigue.
Thompson left Vero Beach hurriedly in 2012 after a federal bench warrant was issued for him in connection with numerous civil suits, and he was arrested about a year later, along with his companion, Alison Antekeier, at a Boca Raton hotel where he had holed up.
While he lived with Antekeier in Vero Beach at the Gracewood Mansion, Thompson kept his name off all real estate documents and utility services contracts, instead paying a local real estate agent, Vance Brinkerhoff of Coldwell Banker Paradise, in cash to provide those services for him.
Brinkerhoff recalls that Thompson paid his monthly $3,000 rent in smelly, musty $100 bills. Otherwise, Thompson moved about Vero Beach openly, always paying cash for whatever he bought – he loved shopping at Walmart.
To read the complete article, see:
Historic local mansion 'stars' in documentary (https://veronews.com/2023/08/13/historic-local-mansion-stars-in-documentary/amp/)
Obsolete Denominations
In an increasingly cashless society, all physical currency has become comparatively rare: It's never been easier for most people to simply use their debit card, Venmo, or saved payment information to complete most of their purchases. Even so, approximately $1.87 trillion in physical U.S. currency is still in circulation — the vast majority of which naturally consists of the six most common notes ($1, $5, $10, $20, $50, $100). They weren't always the most common, however, as America has produced many now-rare forms of currency throughout its financial history. Here are six of them.
To read the complete article, see:
6 Forgotten Pieces of U.S. Currency (https://www.interestingfacts.com/forgotten-u-s-currency/YxfAAkKJ8wAItd2p)
1874 Assay Commission Medals
The Mint Act of 1792 established the United States Assay Commission to test and verify weight and purity of the country's coins. Reports went directly to the president and were an integral part of maintaining and promoting the reliability of the new nation's gold and silver coins. The Commission met once annually and was composed of two senior government officials plus several private experts from academic or business fields. Members were reimbursed for their travel and lodging expenses, but there was no honorarium or other payment.
In 1860, United States Mint Director James Ross Snowden decided to give each Commission member a half-dollar size silver medal.
Correspondence between Pollock and current Mint Director Henry Linderman in 1874 presents an unusually detailed look at the inside workings of these rare and interesting pieces.
The obverse shows the Greek philosopher Archimedes contemplating the displacement of water by an object, resulting in his discovery of specific gravity. The reverse presents a catafalque (raised funeral bier) honoring Dr. John Torrey as the central device. Because of the medal's association with Torrey, several employees of the New York Assay Office wanted copies and asked Superintendent Thomas C. Acton to obtain some.
To read the complete article, see:
Assay Commission Medals – Insights Into the 1874 Issue (https://coinweek.com/assay-commission-medals-insights-into-the-1874-issue/)
A visit to Dick Hanscom's Minœr Mint inspired Liza Claar to try her hand at minting tokens. This week's Featured Web Site is her Tundra Tokens site.