Visit our NBS Sponsors
About Us
The Numismatic Bibliomania Society is a non-profit association devoted to the study and enjoyment of numismatic literature. For more information please see our web site at coinbooks.org
Subscriptions
Those wishing to become new E-Sylum subscribers (or wishing to Unsubscribe) can go to the following web page link
Membership
There is a membership application available on the web site Membership Application
To join, print the application and return it with your check to the address printed on the application. Print/Digital membership is $40 to addresses in the U.S., and $60 elsewhere. A digital-only membership is available for $25. For those without web access, write to:
Charles Heck, Treasurer
Numismatic Bibliomania Society
P. O. Box 2058,
Bluffton, SC
29910-2058
Asylum
For Asylum mailing address changes and other membership questions, contact Chuck at this email address: treasurer@coinbooks.org
Submissions
To submit items for publication in The E-Sylum, write to the Editor at this address: whomren@gmail.com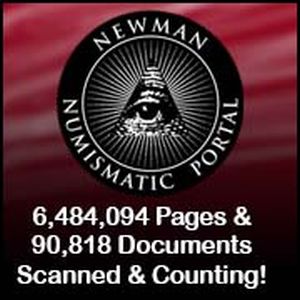 BUY THE BOOK BEFORE THE COIN
Content presented in The E-Sylum is not necessarily researched or independently fact-checked, and views expressed do not necessarily represent those of the Numismatic Bibliomania Society.
New subscribers this week include: John Ambrose, courtesy Bill Liatys; Welcome aboard! We now have 7,619 subscribers.
Thank you for reading The E-Sylum. If you enjoy it, please send me the email addresses of friends you think may enjoy it as well and I'll send them a subscription. Contact me at whomren@gmail.com anytime regarding your subscription, or questions, comments or suggestions about our content.
Many thanks to everyone who sent birthday wishes this week via email or social media. It was great to hear from everyone. My favorite exchange was with Donn Pearlman. After getting the publicity maven's Happy Birthday note, I channeled John Gielgud's character from the 1981 film Arthur and replied "Alert the media!". Later in the day Donn sent this:
This week we open with the loss of another hobby giant, updates from the Newman Numismatic Portal, reports from the Pittsburgh ANA, and more.
Other topics this week include counterstamps, Ben Franklin, nails as money, catalog numbering systems, falsifying coin provenances, auction previews, Numismatic Nuggets, gravesite coin finds, and the British Museum thefts.
To learn more about nexGen, Whatnot, shrunken dollar bills, Roman portrait coins, coins with multiple portraits, the Nichols find, the Bank of Virginia, the Walton 1913 Liberty Nickel, and the coin art of French artist Xavier Casalta, read on. Have a great week, everyone!
Wayne Homren
Editor, The E-Sylum


Lyn Knight Currency Auctions published this emailed notice:
Born in Chicago, Illinois. Married Edith Oelsner June 7, 1964. They had two sons and a daughter. Received B.A. from Arizona State College in 1955. Shafer served in the U. S. Air Force 1955 to 1959 and played in the Air Force Band. He served as assistant conductor of the Racine Symphony Orchestra 1963 to 1972.
Employed as an elementary school teacher 1959 to 1962. Employed with Western Publishing Co. Inc. 1962 to 1975 as numismatic editor and senior editor 1976 to 1981. Worked for Krause Publications 1981 to 1985.
Author of A Guide Book of Modern United States Currency in 1965.There were eight editions to 1979. Author of Let's Collect Paper Money in 1976 at $1. In 1967 he received the Nathan Gold Memorial Award. Shafer was associate editor of the Middle Atlantic Numismatic Association Journal in 1957. Later he was associate editor of the Whitman Numismatic Journal 1964-1968. In 1986 he was appointed editor-in-chief of the short lived New England Journal of Numismatics. Co-Author with R. A. Mitchell of the Standard Catalog of Depression Scrip of the United States published in 1985. Author of Banknotes, Scrip and Paper Ephemera of Milwaukee in 1990. In 1990 he received the ANA Medal of Merit. He contributed the "Paper Money News and Views" column to the BNR. Contributed Paper Views to Numismatic News after January 30, 1996.
He was named a Numismatic News Numismatic Ambassador in 1992. He received the ANA Medal of Merit in 1990, Adult Advisor of the Year in 1993 and Lifetime Achievement Award in 2007. In 2008 he was inducted into the ANA Hall of Fame. He was inducted into the IBNS Hall of Fame in 2010 and the SPMC Hall of Fame in 2018.
Ken Berger writes:
Ray Czahor writes:
Throughout recorded history, civilizations have invented ways of being able to carry on normal business relationships through the use of an agreed upon means of value exchange. In most cases this value exchange has been through a medium we call money. There is always barter as well, but equalization of value can become difficult. Money, on the other hand, has the same value to all participants in whatever transactions are taking place.
The world has had many periods of local and global turbulence. One often seen result of such activity is a lack of a consistent supply of money, with the resultant difficulties of maintaining social as well as economic balance. When a currency imbalance occurs, quite often some local authority will step in and attempt to alleviate the monetary situation with some sort of locally sponsored issue in the form of a token coinage and/or an interim printing of a substitute paper currency. More often than not, this interim issue will be paper since it is a lot easier and faster to print a note than prepare a die to strike a coin or token.
The axiom I have often promulgated is a simple statement of fact: whenever a government fails to provide enough money to allow normal business activity to proceed, the people will step in and make their own. It seems that in every corner of the world there was some sort of circumstance that has brought out the need for an issue of privately sponsored paper money. A number of countries have had dozens, hundreds, and even thousands of such notes, according to the situations involved.
Issues made under circumstances as outlined above are truly Money of the People, and that has been the primary focus of my interest and involvement with the subject. Such locally produced issues would of necessity be accepted only by businesses or individuals in the affected areas. These are the pieces whose issuers say to the officials, 'We need these notes and we will use them regardless of the current state of affairs within the government. Issues falling into this category are at the very core of my interest just because they stem from the common people who need to do business irrespective of conditions surrounding them.
To read the complete ANB entry on NNP, see:
Neil Shafer (https://nnp.wustl.edu/Library/PersonDetail/1762)
To read the earlier E-Sylum articles, see:
NEIL SHAFER'S 'MONEY OF THE PEOPLE' COLLECTION (https://www.coinbooks.org/esylum_v17n20a32.html)
A BOOK ABOUT NUMISMATIC PUBLISHING (https://www.coinbooks.org/v24/esylum_v24n35a07.html)
The numismatic community has lost one of its most stalwart proponents with the death of Neil Shafer. The news of his passing came to me this morning, and although it was not unexpected for those who knew of his critical illness, it was shocking and bursting with sadness.
Neil and I have been close friends for the past 60 years, and worked side-by-side at Whitman Publishing for over 20 years. He was one of the finest people I have ever known, and a consummate numismatist in every way. Perhaps best known for his encyclopedic knowledge of Philippine coins and paper money, he was equally renowned for his interest in all numismatic collectibles, and especially for his amusing puns.
In 1961 I was working with R. S. Yeoman as Coordinating Editor for Whitman publications, and needed an assistant to help with a growing work load. Shafer, who was already well known for his numismatic expertise, was my first choice and after some hesitation he accepted the position. At that time, he was in his first semester at Georgetown University studying law and was also teaching instrumental music in a local public school. In August of 1962, he moved from Washington to Racine, Wisconsin, to begin his new position at Whitman, and quickly adopted to an equally busy schedule in the publishing industry.
With Neil's help we managed to keep up with an ever-growing workload during a period of accelerated interest in coin products, although we often joked about our challenges of doing yeoman work, which included merchandising programs, and a monthly magazine that we edited and published for a full five years from 1964-1968. In an effort to make our miniscule staff seem larger than it was, we sometimes used pseudonyms for the articles we wrote, or occasionally used our spouses' maiden names.
Throughout the years, Neil Shafer and I have always been more like brothers than just good friends. Our favorite pastime was playing chess, where we were quite equally matched and must have played at least several thousand games. When not engaged in that, we dabbled in trading coins with each other where our only rules were that each ended up being happy with the transaction, or whomever really needed the piece most for their collection could have it.
Many will likely remember Neil for many of his other outstanding talents. As an accomplished viola player, he played or conducted music throughout his lifetime. He was a master comic, and could rarely be topped with his clever puns and jokes. His published works on paper money, Philippine currency, and Military notes are classics. His many well-deserved awards and honors reflect his dedicated labors, and reasons for being elected to the ANA Hall of Fame in 2008. May his memory live forever.
"Every collector, dealer, and researcher in the field of U.S./Philippine numismatics owes Neil Shafer a debt of gratitude. Beyond that realm his influence stretched into tokens and medals; the entirety of U.S. and world paper currency; and, using a term he coined, exographica (the paper version of exonumia). At the time of his passing Neil was wrapping up work, assisted by Matthias Voigt, on an impressive update of his 1974 masterwork, Philippine Emergency and Guerrilla Currency of World War II. Neil recounted to me how the first edition came to be. He'd been doing research in Washington DC in the 1950s. At the Smithsonian he met Stuart Mosher and, later, Vladimir and Elvira Clain-Stefanelli, who curated the National Numismatic Collection. The latter became good personal friends of his, and helped him with his research whenever they could. He recalled them showing him some small, crude paper notes issued in 1944 in the Philippines, Province of Iloilo. He'd never seen this kind of money before, and at first he assumed they were Japanese occupation notes of some sort. They were actually the first Philippine guerrilla currency notes Neil ever saw, and they were his introduction to that important field of World War II numismatics.
"Neil was fascinated by what he called the intrigue and heartbreak of wartime emergency and guerrilla currency, and he started to seriously research it. Maurice Gould of Boston had been studying the Allan Forbes Collection of Philippine guerrilla notes, which Neil later described as extensive but quite incomplete (many years later, around 2002, Neil would catalog it for an R.M Smythe auction). Gould planned to publish a book on this wartime money, and he asked Neil to assist him—but when he saw the extent of Neil's research, Gould ended up assisting him! Western Publishing Company released his book in 1974. In recent years Neil slowly updated and revised the book's contents in columns published in Bank Note Reporter. We talked about the project from time to time, and starting shortly before the COVID pandemic he kept me updated on his revisions with Matt Voigt. The new publication deserves wide distribution and study, and I hope to assist however I can.
"Even though Neil's formal employment with Whitman Publishing ended in the early 1980s, he continued to be a presence and, in my mind, something of a minister without portfolio and a connection to the company's rich and storied past. We talked about various book projects over the years. He was always happy to share advice and ideas. He gave me insight on U.S./Philippine die varieties, and advised me when I expanded the Red Book and Mega Red coverage of Philippine coins. He never stopped working, thinking, researching, writing, sharing knowledge. Neil Shafer was the living embodiment of a good numismatist, and he's left us a treasure trove to learn from and enjoy.
"I'm attaching a photo from the Philippine Collectors Forum meeting, August 17, 2018, at the ANA World's Fair of Money in Philadelphia. I'd shown Neil the recently issued Congressional Gold Medal for Filipino veterans of World War II. At the annual PCF meetings he was always treated like a celebrity and elder statesman (and rightly so!), but he didn't just show up to be applauded. He was an active contributor to the group, answering questions, reporting on his latest research, and encouraging others in their work. We should all strive to match his legacy if we can."
Bill Groom Speaks on Counterstamps
In Greg Bennick's continuing interview series for the Newman Numismatic Portal, Bill Groom speaks on the history of counterstamps, particularly those associated with 19th century American merchants. Groom's database includes over 2,700 counterstamp issues, and he notes that thousands more remain to be attributed. Bill speaks about his early collecting experiences in Jamestown, NY, including a rare Civil War token cherrypicked from a Gimbel's department store. This interview further touches on Bill's research on Civil War tokens.
The video version of this interview incorporates images of several hundred pieces from Groom's database. Illustrated here is a counterstamp of the Ford Motor Company logo, on a 1902 Barber dime. Gregory Brunk, in American and Canadian Countermarked Coins, quotes the March 1958 Numismatist: The tale of the Ford Motor Company offering a new car in return for certain specified coins is an old one that crops up periodically….
Link to Greg Bennick's interview of Bill Groom on Newman Portal:
https://archive.org/details/billgroominterview
Transcripts of Greg Bennick interviews on Newman Portal:
https://nnp.wustl.edu/library/booksbyauthor/548964
Link to the Civil War Token Society home page:
http://cwtsociety.com/
One of the most interesting and influential men during the United States Colonial times was Benjamin Franklin. His contributions include the area of inventions, diplomacy, statesmanship and as well as numismatics. In this video you will see and learn the:
story of Benjamin Franklin's life and death
his role as a printer of Continental currency
the contributions to coinage design and the development of the images used
letters and documentation relating to the different issues including currency, the Fugio cent, the Continental dollar, and the Libertas Americana medal
use of Liberty on coinage and her evolution over the years
Speaker(s): Franklin Noel.
To watch the complete video, see:
https://nnp.wustl.edu/library/book/560157
Max Hensley writes:
Joel Orosz writes:
Joe Spoor's enthusiasm for this year's World's Fair of Money®, August 8-12, was palpable. The Toledo, Ohio, resident traveled to the Pittsburgh event with his wife and three sons, ages 16, 13 and 11 to experience the greatest numismatic show on earth. Oh boy, the exhibits, the number of vendors and the variety of vendors! And I love that the grading services are here so that I can just drop off coins to have graded. Daniel Wallace of Pittsburgh concurred. I'm a paper money collector and my son Jonah, 6, likes coins. I took off work to bring my family. You guys do a great job with all the free stuff for kids; the scavenger hunt was the best!
Feedback from attendees of the American Numismatic Association's (ANA) World's Fair of Money in Pittsburgh was effusive, and many indicated it was one of the best shows ever. The five-day event welcomed thousands of people at the David L. Lawrence Convention Center. An exciting bourse with more than 1,300 dealers and mints from around the world, spectacular rarities – many of which have never before been seen by the public, amazing displays and educational programming, auction lot viewing and two live auctions, abundant opportunities for social activities and events, a beautiful convention hall and a welcoming city all made for a perfect week.
The 460-table bourse was pulsating with activity. The atmosphere was a buzz, said newly-elected ANA President Tom Uram. Dealers and the world mints were especially pleased and couldn't say enough positive things. Everyone loved the light, airy convention center, and the ability to access outdoor space next to the river. The bourse floor also showcased amazing exhibits. GreatCollections, the ANA's Official Auctioneer, displayed the Elite Collection of Saint-Gaudens Double Eagles, a $20 million collection of 61 never-before-seen coins from 1907 to 1932 – the finest of the series ever assembled.
The Tyrants of the Thames 2.0 exhibit featured a complete type set of British coins with tens of millions of dollars in improvements and additions to the collection since its last showing in 2018. The showstopper was the 1937 King Edward VIII pattern proof set, the only complete set of its kind in private hands. The famous Victory statue designed by Augustus Saint-Gaudens, which was the inspiration for the design of Liberty's image on the Saint-Gaudens Double Eagle, was displayed courtesy of Kevin Lipton Rare Coins. The Collector Exhibits area featured 58 competitive displays covering every conceivable numismatic interest.
United States Mint Director Ventris C. Gibson participated in the official ribbon-cutting ceremony, and was visible and accessible throughout the show at events and the U.S. Mint booth, where she conducted a daily drawing and shared information about the Mint's products and programs. Nearly a dozen world mints were in attendance.
ANA Event Auctioneer Partners Stack's Bowers Galleries and Heritage Auctions held lot viewings and sales throughout the week. And George Washington, Abraham Lincoln and Ben Franklin reenactors posed with attendees for hundreds of photos.
The bourse floor may have been the star attraction, but the educational offerings didn't disappoint. The ANA offered 15 Money Talks presentations, during which attendees learned about colonial coins, exciting new ANA programs, money from Russian America, and much more. The Maynard Sundman/Littleton Coin Company Lecture Series focused on "Numismatics of Nation Building; Money, Medals, Tokens and National Identity," gathering a crowd of nearly 100. Activities drawing families were popular, with 165 kids taking part in the ANA's Treasure Trivia game, in which children could learn about numismatics and earn prizes as they explored the bourse floor in search of answers. The Young Collectors Corner offered information about coin collecting with a special guest appearance by U.S. Mint Director Gibson.
The abundance of events and social activities set this year's World's Fair of Money apart from previous shows, kicking off on Monday, August 7 with an event at The Rooftop at PNC Park with a Pittsburgh Pirates vs. Atlanta Braves baseball game and mixer. The Pennsylvania Association of Numismatists (PAN), the show's host organization, hosted a Welcome to Pittsburgh dinner buffet on Tuesday evening at the elegant LeMont Restaurant, overlooking the dynamic Pittsburgh skyline.
World Coin News presented its Coin of the Year's (COTY) awards ceremony at the World's Fair of Money, on Wednesday, August 9. Sponsored by the ANA and The Journal of East Asian Numismatics, this annual competition, now in its 40th year, recognizes outstanding coin designs from around the world. Later that day, the Citizens Coinage Advisory Committee held an open forum on the topic Coins and Medals of the United States: Role of the CCAC, Congress, and the United States Mint.
Also on Wednesday, 44 members of the Dr. George F. Heath Society attended an exclusive breakfast at the convention center, during which Larry Goldberg and Vera (Kan) Liu gave a brief presentation on The Tyrant Collection display. ANA member awards and exhibit recognition events were held on Thursday and Friday, where 35 members and 10 member clubs accepted longevity membership pins. The 132nd ANA Anniversary Convention Banquet was held on Friday evening, and included the induction of the newly-elected Board of Governors by special guest U.S. Mint Director Gibson. ANA President Thomas J. Uram ran unopposed. Voting members of the Association chose a new vice president, Mark Lighterman; and Governors John S. Brush, Mary Lynn Garrett, David G. Heinrich, Lori H. Kraft, Henry Mitchell, Phyllis A. Ross, and Kenny Sammut for the 2023-25 term.
Many deserving members received service awards and notable accolades during the banquet, including Michael Fuljenz (Chester L. Krause Memorial Distinguished Service Award), Wendell Wolka (Lifetime Achievement Award), and Barbara Gregory (Elvira Clain-Stefanelli Memorial Award for Achievement in Numismatics). Top exhibit prizes—the Charles H. Wolfe Sr. Memorial Award for YN Best-of-Show Exhibit; the Radford Stearns Memorial Award for Achievement in Exhibiting; and the Howland Wood Memorial Award for Best-of-Show Exhibit—also were presented at the event. Joseph E. Boling, who served as the ANA's vice president for the 2021-23 term, was inducted into the Hall of Fame. Five legendary benefactors—Michael Fuljenz, David W. Lange, David Rickard, and John and Nancy Wilson—were recognized with the ANA's Philanthropy Award honoring their decades of financial and educational support.
Numismatic Guaranty Company (NGC) sold special sample slabs to raise funds for the ANA's Young Numismatist (YN) Scholarship Fund, and NGC and Whatnot presented a check to the ANA for $8,740. During the show, NGC also held a grade-off challenge with some of Whatnot's influencers that was livestreamed during the convention. This raised an additional $16,000 for YN scholarships.
For the third year in a row, the ANA offered livestreams on its Facebook page so viewers at home could get a taste of the show. Events included the opening ceremonies; tours of the Tyrants of the Thames 2.0 exhibit with numismatist Ira Goldberg and the Saint-Gaudens double eagle display with Great Collections president Ian Russell; Kevin Lipton Rare Coins' donation to the ANA of four artworks by artists Emily Damstra, Miley Frost, Michael Gaudioso, and John Mercanti inspired by Augustus Saint-Gaudens' famous Victory statue; and the Coin of the Year ceremony. Visit bit.ly/wfm-gallery to view the videos and photos from the show.
The next ANA convention is the 2024 National Money Show®, to be held March 14-16 at The Broadmoor resort in Colorado Springs, Colorado. (Visit NationalMoneyShow.com for up-to-date information about this convention.)
To read the earlier E-Sylum articles, see:
WAYNE'S NUMISMATIC DIARY: 2023 ANA, PART ONE (https://www.coinbooks.org/v26/
esylum_v26n33a17.html)
WAYNE'S NUMISMATIC DIARY: 2023 ANA, PART TWO (https://www.coinbooks.org/v26/
esylum_v26n33a18.html)
WAYNE'S NUMISMATIC DIARY: 2023 ANA, PART THREE (https://www.coinbooks.org/v26/
esylum_v26n33a19.html)
WAYNE'S NUMISMATIC DIARY: 2023 ANA, PART FOUR (https://www.coinbooks.org/v26/
esylum_v26n33a20.html)
WAYNE'S NUMISMATIC DIARY: PITTSBURGH WALKING TOUR (https://www.coinbooks.org/v26/esylum_v26n33a21.html)
A new generation of rare coin dealers has arrived
After years of handwringing by hobby leaders about the aging demographics of numismatics, an explosion of new young talent has appeared on the bourse floor. There are at least 50 to 100 young people who have discovered numismatics as a potential career option. These energetic young dealers are combing the show armed with the latest high-tech pricing information on their phones. They trade among themselves and other dealers. The energy and excitement of this new generation of dealers is heartwarming for the future of the hobby.
Most credit the explosion of social media with this latest development. The Professional Numismatist Guild (PNG) hosted a networking dinner one night for 15 to 20 young dealers along with around 10 veterans of the hobby. Along with myself, other veterans included Jim Halperin, John Dannreuther and Mark Salzberg (who funded the event). The PNG has started a program called nexGen to encourage and engage this new crop of professionals. You would have to go back to the 1970s to find such a large group of young individuals entering the ranks as professionals all at once.
What is Whatnot?
One of the great things that makes the ANA convention so special is the chance for companies to roll out new ideas, concepts and products. Apparently, one of the hottest venues for online collectible sales is Whatnot — a social marketplace for collectibles and other categories. A few dealers were hosting live sales from the ANA bourse floor and noisily trying to create excitement. They seemed to be having success, and I am sure a lot of dealers are now exploring this new sales method. eBay had a huge bourse presence and was touting a similar sales tool called eBay Live. It's hard to keep up with all the new tech developments being employed to grow numismatic sales. In addition, NGC debuted their new holder with a QR code for a fast authentication check of its holder.
Pittsburgh is a great place for a coin show
The 2023 edition of the ANA World's Fair of Money in Pittsburgh was a makeup for the event that was canceled by COVID-19 in 2020. The ANA World's Fair of Money will return to Pittsburgh in 2026. The city and convention center are beautiful, especially with its downtown riverfront location. The convention center is stunning, with one of the few bourse floors unencumbered by pillars. The open expanse of the bourse floor was incredibly impressive. Pittsburgh is within driving distance of millions on the east coast. The Monday night ANA kickoff event at PNC Park (the Pittsburgh Pirates' stadium) was a great way to start the week.
To read the complete article, see:
Jeff Garrett: Reading the Coin Market's Pulse in Pittsburgh (https://www.ngccoin.com/news/article/12062/)
Award Reactions
Darryl Atchison writes:
Harry Cabluck of Austin, Texas writes:
Allan Julius Behul of Canada writes:
To read the earlier E-Sylum article, see:
2023 NUMISMATIC BIBLIOMANIA SOCIETY AWARDS (https://www.coinbooks.org/v26/esylum_v26n34a02.html)
Query: Buying the 2 Euro Coin Book in the U.S.

Vincent Contessa writes:
To read the earlier E-Sylum article, see:
NEW BOOK: 2-EURO COIN CATALOGUE 2023 (https://www.coinbooks.org/v26/esylum_v26n34a05.html)
Legal Record Website Recommendation Sought
Researcher Pete Smith writes:
Review: Stack's Bowers Galleries Resource Center

To read the earlier E-Sylum article, see:
STACK'S BOWERS COIN RESOURCE CENTER (https://www.coinbooks.org/v26/esylum_v26n34a22.html)
Sandra Deiana Independence 10oz silver

For more information, or to order, see:
10 oz silver coin Independence, CIT, 2022 (http://www.sandradeiana.com/metals/10-oz-silver-coin-independence-cit-2022/)
2021 10 oz Silver American Virtues Medallion – Antiqued (https://www.herobullion.com/2021-10-oz-silver-american-virtues-medallion-antiqued/)
St. Gaudens Victory and Weinman's Walking Liberty

To read the earlier E-Sylum article, see:
SAINT-GAUDENS STATUE AT 2023 PITTSBURGH ANA (https://www.coinbooks.org/v26/esylum_v26n21a14.html)
Harriet Tubman $2 and $200 Designs
Wayne Pearson writes:
Were iron nails really used as a medium of exchange in Colonial America, or is that story a numismatic urban legend? This is the challenge that Gary Beals posed to Len Augsberger of the Newman Numismatic Portal in February of this year. Len referred Gary to me, and I began investigating.
Gary remarked, We can't find a collector who has not heard that somewhere, sometime long ago in the United States, nails were so hard to come by that they were as valuable as coins...nails were sometimes used as a medium of exchange in America's colonial and pioneer period. Every American coin collector has heard of that.
I think I have found a numismatic urban legend… There are no specific examples documented in (the) period of iron nails being traded as money. Somehow no one has found reference to any monetary value being placed on nails—which obviously would have been only in a specific location during a specific period of time. How many nails per coin? What size were the nails? Where did the iron come from?
These are good questions. The standard account of Colonial American nail money can be found in J. Earl Massey's chapter, Early Money Substitutes, in Studies on Money in Early America by Eric P. Newman and Richard G. Doty (The American Numismatic Society, New York, 1976), p. 17: Important among strange money substitutes were nails. Before nail-cutting and-heading machines were invented in the late 1700's, nails were forged by the hand of the blacksmith, and they were valued in terms of English pence…
Numbering System. A plan by which numismatic items are assigned a catalog number once they have been identified and arranged. A variety of systems have been used in numismatic literature including such number systems as straight numerical, open numerical, outline, straight decimal, consecutive decimal, letter-number combination, numerical coding for data processing (often with zeros in front of integral numbers), or a variety of alpha-numeric combinations of these. The choice of the number system is always that of the cataloger (who should chose the best system to accommodate the numismatic items being cataloged). Numismatic items with a lot of varieties require a different system, for example, from that with a run of one-of-a-kind items.
Problems for all number systems exist by the appearance of newly found items which should be included in the number scheme. These can be inserted if numbers were left unassigned (called open numeric), or by adding a suffix of some kind. Those that appear at the end can easily be added (called open ended).
Because of the two-sided nature of numismatic items and the ease of muling, some numbering systems have more than one element. Multiple-element numbers can incorporate obverse and reverse designations or other sets of data. A tip for multiple-element numbers: no spaces between the elements. Connect the elements with a dash, slash, or even periods. Museums use accession numbers to identify objects in their collections. These are a type of numbering system. They often incorporate the last two digits of the year when the item was received but creates a problem when the institution becomes over 100 years old.
Citing Catalog Numbers: Using the numbers assigned by numismatic authors to specific catalog varieties – with or without their name or initials attached – is not a violation of their copyright. It is not necessary to obtain the author's or publisher's permission to cite these reference numbers in any numismatic writing.
Copyright technically is the arrangement of wording. In common usage these catalog numbers are a single word and no one can copyright a single word. They are in the public domain and can be used by anyone at any time.
To read the complete entry on the Newman Numismatic Portal, see:
Numbering System (https://nnp.wustl.edu/library/dictionarydetail/516406)
A British auctioneer who was at the centre of a BBC investigation has pleaded guilty at a New York court to a series of charges in connection with unlawful sales of rare ancient coins.
Richard Beale, director of London-based auction house Roma Numismatics, admitted two counts of conspiracy and three counts of criminal possession of stolen property, court documents show.
He was accused of falsifying the provenance of the most expensive coin ever auctioned - the gold Eid Mar, which fetched $4.19m (£3.29m) in 2020 - and an ancient silver Sicily Naxos Coin, which sold at the same time for $292,000.
He has also admitted to falsifying the provenance of a number of silver Alexander the Great decadrachms from the "Gaza Hoard", which were sold by Roma Numismatics and whose suspicious origin was brought to light by a BBC News Arabic documentary in 2020.
The investigation documented how, three years earlier, fishermen in the Palestinian territory had discovered dozens of the coins, which date back to the 4th Century BC. Soon after the coins were found, they disappeared.
In 2019, the BBC approached Beale at his office in London and challenged him directly about the provenances for the decadrachms listed on Roma Numismatics' auction site.
In a statement provided to the BBC by Beale at the time, he said: "We were satisfied that the consignor(s) were known to us, and had an established record of professionalism and trust. Furthermore, we were provided with information that the items had entered the UK from an origin country that raised no concern."
Appearing before the New York Supreme Criminal Court on 14 August, Beale admitted that he had known the provenances of the decadrachms were false when they were sold and meant to disguise the fact that they came from the Gaza Hoard, court documents show.
According to the court documents, Beale also admitted that in 2015 he entered into an agreement with an Italian coin dealer to sell the Eid Mar coin, which was minted in 42BC to commemorate the assassination of Julius Caesar on the Ides of March.
The two men travelled to Munich and paid €450,000 ($490,000; £385,000) in cash for the coin, despite it having no provenance paperwork or any other form of documentation.
In August 2020, Beale shipped the coin to the US to be authenticated and listed its country of origin as "Turkey", because any ancient items from Italy or Greece were more likely to be seized by US Customs for checks.
To read the complete article, see:
Auctioneer exposed by BBC admits illegally selling rare ancient coins (https://www.bbc.com/news/world-middle-east-66594076)
To read the earlier E-Sylum article, see:
GOLD IDES OF MARCH COIN REALISES $4M (https://www.coinbooks.org/v23/esylum_v23n44a22.html)
RICHARD BEALE OF ROMA NUMISMATICS ARRESTED (https://www.coinbooks.org/v26/esylum_v26n11a16.html)
IAPN STATEMENT ON FALSE PROVENANCES (https://www.coinbooks.org/v26/esylum_v26n12a13.html)
IDES OF MARCH COIN RETURNED TO GREECE (https://www.coinbooks.org/v26/esylum_v26n13a27.html)
E-Auction 47 closes in just under two weeks, on Wednesday, September 6th!
The collection of fine Roman portraits featured in our ancient section was carefully assembled by a long-time collector and client, with an eye for artistry and quality. With examples from nearly every Augustus and Augusta between Vespasian and Maximinus I, and some select additions from other consignors, it is a particularly fine offering. A few examples are pictured below, but to survey the entire offering of great portraits be sure to peruse the entire Roman offering.
Look also for a significant collection of coins from the Severan dynasty – Septimius Severus and his family issued a wide range of both imperial issues and coins in the provinces. The Roman section concludes with several high grade late issues, and some carefully selected large lots at the end of the sale.
For more information, or to bid, see:
https://davcoin.com/sale/E-Auction%2047
Hesse, Trier, France, the Netherlands and Multiple Portraits: Some Remarks on the Upcoming Künker Sales
From 25 to 29 September 2023, Künker will hold four auction sales. Collectors can look forward to several special collections. Some catalogs focus on coins from Hesse and the Netherlands. In addition, there is a large section with European gold coins, a collection of Trier issues and a special collection focusing on multiple portraits .
Four catalogs with more than 4,000 lot numbers – that is what you can expect from Künker's Fall Auction Sales, which will be held from 25 to 29 September 2023 at the Vienna House Remarque in Osnabrück. As always, experts will find an interesting mix of selected individual pieces and extensive special collections. Two collections were honored with a separate catalog: catalog 392 contains the second part of the Dr. Hans-Jürgen Loos Collection with coins from Hesse and the Hesse region. Catalog 393 presents the first part of the Lodewijk S. Beuth Collection with coins from the Netherlands and the Dutch overseas territories minted after 1795. Catalogs 391 and 394 include many outstanding individual pieces and more special collections. At this point, we limit this list to the comprehensive collection of rare European gold coins of excellent quality from the estate of the Luxembourg notary Robert Schuman, the Trier special collection assembled by Prof. Dr. Alois Memmesheimer and – last but not least – an outstanding collection of Multiple Portraits from a private collection in Westphalia.
The Maître Robert Schuman Collection
Once again, a coin collection will be auctioned off for a good cause. The Luxembourg notary Robert Schuman (1953-2022) determined in his will, that the proceeds from his collection of rare gold coins of excellent quality will benefit the Luxembourg Red Cross. So, submitting bids for coins from the Schuman Collection is a twofold pleasure: you will not only acquire a magnificent treasure from an exquisite ensemble but also support the Red Cross to fulfill its many humanitarian missions.
Maître Robert Schuman collected for many decades. His main focus was on royal France. His collection of French issues dates from Philippe VI (1328-1350) to Napoleon III and also contains some coins from the following three republics. The last coin was issued in 1986 to honor his name twin.
But the collection also covers other areas. It contains some great rarities, for example the extremely fine and very rare 5-guinea piece from 1692 with the double portrait of the British rulers William III and Mary. By the way, the two pieces from this collection with the highest estimates are not made of gold but of platinum: the extremely rare 12-ruble pieces created for Tsar Nicholas I of Russia in 1830 and 1841.
No. 21: Ghent / Belgium. 1583 Noble. Minted during the city's uprising against Philippe II (1581-1584). Very rare. PCGS MS62 (Top Pop). Extremely fine to FDC. Estimate: 5,000 euros
No. 88: France. Louis XIV, 1643-1715. Double louis d'or à la mèche longue 1648, N, Montpellier. Very rare. Very fine. Estimate: 7,500 euros
No. 264: Great Britain. William III and Mary, 1688-1694. 5 guineas 1692, London. Very rare. Extremely fine. Estimate: 20,000 euros
No. 458: Russia. Nicholas I, 1825-1855. 12 rubles, platinum, 1841, St. Petersburg. Only 75 specimens minted. NGC MS61. Extremely fine to FDC (Prooflike). Estimate: 50,000 euros
Multiple Portraits from a Private Collection in Westphalia
When assembling a collection, there are a myriad of subjects to choose from. A Westphalian collector was fascinated by a particular topic: he focused on coins and medals that not only show the portrait of one but of several rulers. This very special collection is distributed among both catalogs 391 and 394 due to the many countries and territories where such coins and medals were created. Keep your eyes open! It is a rare pleasure to discover so many double portraits in one of our catalogs.
No. 961: Westphalia. Hieronymus Napoleon, 1807-1813. Gold medal of 12 ducats, commemorating the visit of the royal couple to the Clausthal mines in 1811, by W. Körner. Very rare. Extremely fine. Estimate: 7,500 euros
No. 4825: HRE. Leopold I, 1657-1705. Silver pedigree medallion n.d. (1690), commemorating the coronation of his son Joseph as King of Germany in Augsburg, by M. Brunner. Very rare. Extremely fine. Estimate: 4,000 euros
No. 5777: German Empire / Mecklenburg-Schwerin. 1915 pattern of 5 marks. Extremely rare. Proof. Estimate: 5,000 euros
Hesse and the Hessian Territory: The Dr. Hans-Jürgen Loos Collection
On the afternoon of 26 September 2023, the second part of the extensive collection of Dr. Hans-Jürgen Loos will be on offer. It contains coins from Hesse and the Hessian territory. The Loos Collection includes a total of about 1,400 pieces, the first part of which has already been sold rather successfully last year as auction catalog 374. At the time, a broad double reichstaler from the Landgraviate of Hesse-Marburg fetched a hammer price of 65,000 euros. The reason for this was its great rarity. Only a single other specimen is known of. Since the second part of the collection also contains many extremely rare pieces, we are looking forward to many interested collectors.
Dr. Hans-Jürgen Loos was actually an economist. He was responsible for the accounting of the large business group Metallgesellschaft AG. To wind down in his free time, he studied Hessian history and numismatics. He was so enthusiastic about the topic that he returned to university as a retiree and started studying history. This passion is also evident from his collection. He wanted to document the historical development of the Hessian territories. Therefore, he paid particular attention to expressive pieces with unusual depictions. That is why his collection is so attractive.
Are you interested in Hesse? Then you should look forward to the second and last part of the Loos Collection with issues from the Landgraviate of Hesse-Darmstadt, the Landgraviate of Hesse-Homburg, the County of Erbach, the City of Frankfurt am Main, the Imperial Castle of Friedberg, the County of Isenburg as well as the Nassau and Stolberg territories.
No. 2028: Hesse-Darmstadt. Ernest Louis, 1678-1739. 1715 reichstaler, Darmstadt. Extremely rare, probably the only specimen in private possession. About extremely fine. Estimate: 7,500 euros
No. 2171: Erbach. George Louis, 1647-1693. 60 kreuzers (gulden), 1675, Breuberg. Spruchgulden (motto gulden). Extremely rare. Very fine. Estimate: 4,000 euros
No. 2249: Frankfurt. 1620 broad double reichstaler. Extremely rare. Very fine. Estimate: 7,500 euros
No. 2484: Friedberg. Johann Eberhard von Kronberg, 1577-1617. 1593 double reichstaler, Friedberg. Probably unique. Minor traces of mounting. Very fine. Estimate: 20,000 euros
No. 2519: Isenburg. Carl Frederick, 1806-1815. 2 ducats 1811, Frankfurt am Main. Very rare. Extremely fine. Estimate: 7,500 euros
Coins of the Netherlands and the Dutch Overseas Territories since 1795: The Lodewijk S. Beuth Collection, Part 1
Actually, Lodewijk Beuth only wanted to buy a little gold for emergencies when he set foot in Jacques Schulman's coin shop in Amsterdam's Keizersgracht for the first time in 1950. But Schulman convinced him to also purchase a few coins of historical interest. And this is how Lodewijk Beuth was bitten by the numismatic bug. He aimed to assemble the best collection of Dutch coins, both in terms of coin types and quality. And those who page through Künker's auction catalog 393 cannot help but confirm that he achieved this. Beuth was successful in obtaining high-quality specimens from all years of many coin types and, moreover, also found the corresponding patterns. To this end, he participated in outstanding auction sales. To mention just one example, he purchased almost 30 rarities from the collection of the Egyptian King Farouk, auctioned off in 1954! The collector, who passed away in 1982, was lucky enough to collect in an era when many collections that are famous to this day entered the market. His son Hein filled some gaps, which is why it is not a stretch to say that Künker, in collaboration with the Laurens Schulman coin shop, presents in catalog 393 the most extensive and most beautiful collection of Dutch coins that has entered the market since 1988.
Part 1 of the Beuth Collection contains issues minted after the founding of the Batavian Republic in 1795. Particularly remarkable about this part of the collection are the many extremely rare patterns, which can hardly ever be found in the market. They are not only from the Farouk Collection but from the estate of J.C.P.E. Menso, whose impressive collection was sold by Jacques Schulman in 1958. This means that many coins that are depicted in this catalog have not been offered for decades.
If you collect Dutch coins, save the date on 27 and 28 September 2023. This auction will be an outstanding event for Dutch numismatics!
No. 3002: Netherlands / Batavian Republic. 2 ducats 1802, Dordrecht. Extremely rare. About FDC. Estimate: 10,000 euros
No. 3111: Netherlands / Louis Napoleon, 1806-1810. 20 guldens 1808, Utrecht. Extremely rare. About FDC. Estimate: 40,000 euros
No. 3232: Netherlands / William I, 1813-1840. 1815 pattern for the silver ducat (reichstaler), Utrecht, minted for the trade with countries on the Baltic Sea. Silver. Only 12 specimens minted. First strike. About FDC. Estimate: 30,000 euros
No. 3395: Netherlands / William II 1840-1849. 20 guldens 1848, Utrecht Dubbele Negotiepenning. Pattern without denomination but with indication of weight and gold content. Only 94 specimens minted. Proof. Estimate: 25,000 euros
No. 3465: Netherlands / William III 1849-1890. 2 ducats 1867, Utrecht. Only 8 specimens are known of. Proof. Estimate: 40,000 euros
No. 3524: Netherlands / William III 1849-1890. 1 gulden (100 cents) 1867, Utrecht, minted for the world's fair in Paris. Only a few specimens known! Not in the Dutch National Numismatic Collection (NNC). Proof. Estimate: 50,000 euros
No. 3696: Netherlands / Wilhelmina, 1890-1948. 2 ½ guldens 1898, Utrecht. Silver pattern with altered edge inscription. Unique? Proof, minimally worn. Estimate: 50,000 euros
Coins and Medals from Trier: The Prof. Alois Matthias Memmesheimer Collection
From the Netherlands we travel to Trier, the old archbishopric on the Moselle River. Prof. Alois Matthias Memmesheimer has also assembled a collection of almost 100 lots on the subject of Trier. After Künker auctioned off the Memmesheimer Collection of Mainz issues in March 2023, now it is Trier's turn in Künker's auction 394. The time frame ranges from the 11th to the late 18th centuries. In addition, there are a few ancient coins.
No. 5227: Trier. Eberhard, 1047-1066. Pfennig. Very rare. Very fine. Estimate: 1,000 euros
No. 5265: Trier. Richard von Greiffenklau-Vollrads, 1511-1531. 1523 gold medal with the weight of three gold guldens. Extremely rare (just one gold specimen under Vienna in the Habich catalog, Baron L. von Rothschild Coll.). Traces of mounting. Fields chased. Very fine. Estimate: 5,000 euros
No. 5270: Trier. Lothar von Metternich, 1599-1623. 1607 reichstaler, Trier. Extremely rare. Extremely fine. Estimate: 15,000 euros
No. 5307: Trier. Clemens Wenceslaus of Saxony, 1768-1794. 1773 conventionstaler, Koblenz. First strike. About FDC. Estimate: 5,000 euros
Large Series and Individual Pieces
As if this were not enough, experts will discover many spectacular individual pieces and numerous extensive series in auctions 391 and 394. Let us start with a small run of Danish coins, distributed among both catalogs 391 and 394. Lovers of Italian gold coins will also be spoilt for choice: which one of the many rare 100-lire pieces should they add to their collection? The same problem arises for all those interested in US gold coins. About 60 lots are on offer in this section.
Of course, auction 391 will also offer Habsburg tenfold-ducats of the kind that the emperors had produced for diplomatic purposes. Another rarity, however, is only seldomly seen on the market: the portrait denarius of Charlemagne. Only about 40 specimens are known of this historically and numismatically important coin.
What other lots should we mention? There is, for example, the really rare 1707 ruble minted on behalf of Peter the Great at the Moscow Kadashevsky Mint. It is from the Hutten-Czapski Collection, as the conspicuous collector punch proves. Or are you interested in the first Brandenburg taler? Joachim I had it minted in 1521 in Frankfurt an der Oder. Künker offers a very fine specimen of the piece.
Of course, auction catalog 394 also includes numerous coins of the German Empire, for example the rarest type among all imperial gold coins: the 20-mark piece from 1872 with the portrait of Ernest II of Saxe-Coburg and Gotha.
No. 29: Denmark. Christian V, 1670-1699. 1692 ducat, Copenhagen. Very rare, especially in this quality. Extremely fine to FDC. Estimate: 20,000 euros
No. 257: Greece / Corfu. Under Venetian administration. Gold medal of 15 ducats commemorating the defense of Corfu from 25 July to 20 August 1716, by P. H. Müller. Extremely rare. Minimally worked at the edge. Extremely fine. Estimate: 30,000 euros
No. 383: Italy. Victor Emanuel III, 1900-1946. 100 lire 1903, Rome. Only 966 specimens minted. NGC MS62. Extremely fine to FDC. Estimate: 7,500 euros
No. 639: USA. 20 dollars 1907, Philadelphia. NGC MS62. Very rare. Extremely fine to FDC. Estimate: 10,000 euros
No. 683: HRE. Ferdinand III, 1625-1637-1657. 10 ducats 1640, Prague. Very rare. With small incised face value 10 in the field on the obverse. Very fine to extremely fine. Estimate: 60,000 euros
No. 890: German states / Münster. Ferdinand of Bavaria, 1612-1650. 4 ducats n.d., Münster. NGC AU58. Extremely rare. Extremely fine. Estimate: 35,000 euros
No. 959: German states / Schwarzenberg. Johann Nepomuk, 1782-1789. 10 ducats 1783, Vienna. Extremely rare. NGC MS65*. Minor adjustment marks on the obverse. About FDC. Estimate: 175,000 euros
No. 4534: France / Carolingians. Charlemagne, 768-814. Denarius, 813/4 or a little later, Aachen. Of the highest rarity and great historical and numismatic importance. Very fine. Estimate: 40,000 euros
By the way, Künker's auction year does not end with this September sale! From 13 until 15 November 2023, ancient coins as well as orders and decorations from across the world will be on offer in Osnabrück.
To order a catalog contact Künker, Nobbenburger Straße 4a, 49076 Osnabrück; phone: +49 541 / 962020; fax: +49 541 / 9620222; or via e-mail: service@kuenker.de. You can access the auction catalogs online at www.kuenker.de. If you want to submit your bid from your computer at home, please remember to register for this service in good time.
At MDC Monaco, we have the pleasure to announce our next numismatic auction n°13, which will take place at the Metropole Hôtel in Monaco, on Thursday the 12th and Friday the 13th of October 2023.
First session, Thursday 12th of October – 9:30am – 12am Lots n°1001 to n°1300
Second session, Thursday 12th of October – 1:30pm – 7pm Lots n°1301 to n°2000
Third session, Friday 13th of October – 9:30am – 12am Lots n°2001 to n°2300
Fourth session, Friday 13th of October – 1:30pm – 3:30pm Lots n°2301 to n°2500
Fifth session, Friday 13th of October – 3:45pm – 7pm Lots n°3001 to n°3400
Among the many lots that will be auctioned, here are a few exceptional coins and medals:
Lot 1465 – FRANCE / CAPÉTIENS, Philippe VI (1328-1350). Couronne d'or ND (1340). A masterpiece of french medieval art.
Starting price: 80 000€
Lot 2155 – GRANDE-BRETAGNE, Georges III (1760-1820). Essai du dollar [5 shillings 6 deniers], Banque d'Angleterre, Flan bruni (PROOF) 1811 Londres. A high grade for a silver coin from Great Britain. PCGS PR66DCAM.
Starting price: 30 000€
Lot 2170 – GRANDE-BRETAGNE, Victoria (1837-1901). 5 livres (5 pounds) Una and the lion, bandeau à 5 rouleaux et 9 feuilles, Flan bruni (PROOF) 1839 Londres. The highest grade for a Una. PCGS PR67DCAM.
Starting price: 1 000 000€
Lot 2313 – ITALIE, Vatican, Innocent XII (1691-1700). Quadruple écu d'or, à la fontaine de la piazza Santa Maria in Trastevere 1694 Rome. An impressive multiple from the Vatican.
Starting price: 20 000€
Lot 2601 – USA, République fédérale des États-Unis d'Amérique (1776-à nos jours). Médaille d'Or, 400e anniversaire de la découverte de l'Amérique par Christophe Colomb. Top Pop, it is the only graded coin! NGC MS 63 DPL.
Starting price: 50 000€
There is also a large selection of high graded French coins, and a collection from Monaco.
Lot 1010 - GRÈCE ANTIQUE Sicile, Syracuse, Agathoclès (317-289 av. J.-C.). 100 litrai (Double décadrachme d'Or) ND (304-289 av. J.-C.), Syracuse. NGC Ch AU* 5/5 4/5 fine Style.
Starting price: 80 000 €
Lot 1137 - EMPIRE ROMAIN Licinius I (308 – 324). Aureus 316, Siscia. NGC CH MS 5/5 5/5.
Starting price: 15 000 €
Lot 1433 - ESPAGNE Alphonse XIII (1886-1931). Médaille d'Or, inauguration de l'Exposition Universelle de Barcelone, le 20 mai 1888, par E. Arnau et R. Gelabert, d'aspect Flan bruni (PROOFLIKE) 1888, Madrid. NGC MS 60 PL.
Starting price: 60 000 €
Lot 1465 - FRANCE / CAPÉTIENS Philippe VI (1328-1350). Couronne d'or ND (1340). Top Pop: It is the most beautiful graded coin. NGC MS 65.
Starting price: 80 000 €
ÉpreuveÉpreuve
Lot 1533 - FRANCE / CAPÉTIENS Henri II (1547-1559). Piéfort de poids double du demi-henri d'or à la Gallia ND (1552), Paris. NGC AU 55.
Starting price: 50 000 €
Lot 1779 - FRANCE Consulat (1799-1804). de 5 francs Union et Force en Or, tranche lisse, Flan bruni (PROOF) An 10 (1801-1802), A, Paris. NGC PF 62 CAMEO. (PROOF) (CAMEO).
Starting price: 220 000 €
Lot 1920 - FRANCE Second Empire / Napoléon III (1852-1870). Essai-piéfort de 5 francs tête laurée par Bouvet, Flan bruni (PROOF) 1853, Paris.
Starting price: 15 000 €
Lot 2154 - GRANDE-BRETAGNE Georges III (1760-1820). Essai du dollar [5 shillings 6 deniers], Banque d'Angleterre, Flan bruni (PROOF) 1811, Londres. It is the second highest grade! NGC PF 65 CAMEO. (PROOF) (CAMEO).
Starting price: 30 000 €
Lot 2155 - GRANDE-BRETAGNE Georges III (1760-1820). Essai du dollar [5 shillings 6 deniers], Banque d'Angleterre, Flan bruni (PROOF) 1811, Londres. Top Pop: It is the only graded coin! PCGS PR66DCAM. (PROOF) (DCAM).
Starting price: 30 000 €
Lot 2170 - GRANDE-BRETAGNE Victoria (1837-1901). 5 livres (5 pounds) Una and the lion, bandeau à 5 rouleaux et 9 feuilles, Flan bruni (PROOF) 1839, Londres. PCGS PR67DCAM. Flan bruni (PROOF). (DCAM).
Starting price: 1 000 000 €
Lot 2229 - INDES BRITANNIQUES Guillaume IV (1830-1837). 2 mohurs, Flan bruni (PROOF), refrappe 1835, Calcutta. NGC PF 62 ULTRA CAMEO. (PROOF).
Starting price: 15 000 €
Lot 2210 - GRÈCE Constantin Ier (1913-1917 / 1920-1922). Essai de 2 drachmes en Or, par C. Dimitriadis, Flan bruni (PROOF) 1915, Paris. Top Pop : It is the only graded coin! NGC PF 64. (PROOF).
Starting price: 150 000 €
Lot 2313 – ITALIE Vatican, Innocent XII (1691-1700). Quadruple écu d'or, à la fontaine de la piazza Santa Maria in Trastevere 1694 - An IIII, Rome. PCGS MS 62.
Starting price: 20 000 €
Lot 2601 - USA République fédérale des États-Unis d'Amérique (1776-à nos jours). Médaille d'Or, 400e anniversaire de la découverte de l'Amérique par Christophe Colomb, par B. Maura, d'aspect Flan bruni intense (DEEP PROOFLIKE) 1892, Madrid. Top Pop : It is the only graded coin! NGC MS 63 DPL. (DEEP PROOFLIKE).
Starting price: 50 000 €
Lot 2603 - VIÊT-NAM Annam, Thieu Tri (1841-1847). 5 tiên Van thê vinh lai, frappe en Or ND (1841-1847).
Starting price: 10 000 €
For more information, see:
http://www.mdc.mc/
Charles I Halfcrown

Charles I (1625-49), silver Halfcrown, Tower under Parliament Mint, group 3a, armoured King on horseback left, with sword and cloak, beaded borders with abbreviated Latin legend surrounding, initial mark R in brackets (1644-45), .CAROLVS D: G: MAG: BRI: FRA: ET HIB: REX, rev. oval quartered shield of arms, beaded borders with abbreviated Latin legend surrounding, initial mark tun, .CHRISTO. AVSPICE. REGNO. weight 14.75g (Bull 500h/35 (a-4-39); Brooker 357; N.2213; S.2778). Weakly struck in parts with a light hoard tone and considerable brilliance, has been slabbed and graded by NGC as AU58 the finest so far graded.
NGC certification 6318175-012 - as of June 2023 this coin is the second finest graded at NGC with two more graded lower. There are four inferior pieces graded at PCGS.
The Latin legends translates on obverse as "Charles by the Grace of God, King of Great Britain, France and Ireland" and on the reverse "I reign under the auspice of Christ."
To read the complete item description, see:
Charles I Halfcrown AU58, mm (R) Tower under Parliament issue, NGC finest (https://www.sovr.co.uk/products/charles-i-halfcrown-au58-mm-r-tower-under-parliament-issue-ngc-finest-fm20488)
1797 Nichols Find Cent

1797 1C Reverse of 1797, Stems, S-123, B-12, R.4, MS64 Brown PCGS. Breen Die State III with a die break in the dentils between the TA in STATES. The "Nichols Find" was named after David Nichols, who inherited a quantity of Mint State 1796 and 1797 cents from Massachusetts Senator Benjamin Goodwin. S-123 was prevalent within the holding, which was distributed by Nichols circa 1858. Reportedly, Nichols sold the cents for a dollar each. The present near-Gem has a good strike and smooth, satiny powder-blue and golden-brown surfaces. A small toned strike-through within the neck curls provides an identifier.
To read the complete lot description, see:
1797 1C Reverse of 1797, Stems, S-123, B-12, R.4, MS64 Brown PCGS.... (https://coins.ha.com/itm/large-cents/1797-1c-reverse-of-1797-stems-s-123-b-12-r4-ms64-brown-pcgs/a/60334-53194.s)
Victoria Jubilee Medal with 1901 Inlaid Coins

1887 Victoria Jubilee Surbiton bronze commemorative medal 36.96mm. WE 2330A
+ 4 others from Surbiton, Surrey, inlaid with 1901 coins – 6d 3d 1/2d & 1/4d – presumably to commemorate Queen Victoria's death in 1901 – the coins are high grade.
A total of 5 medals / coins in this group.
To read the complete item description, see:
1887 Victoria Jubilee Surbiton bronze medal with 4 similar inlaid with 1901 coins (https://simmonsgallery.co.uk/shop/medals/british-historical-commemorative-medals/1887-1901-victoria-jubilee-surbiton-similar-inlaid-with-coins/)
Burgdorf Shooting Festival Medal

SWITZERLAND. Bern Cantonal Shooting Festival in Burgdorf Silver Medal, 1891. PCGS SPECIMEN-62.
R-215a; Martin-133. By Franz Homberg, Bern. 45mm. Obverse: Winged cherub holding shooting target which is enclosed in a wreath; star above, clouds below, perimeter legend; Reverse: Soldier in period uniform standing right, with the Arms of Bern at his feet; city view and landscape in background, perimeter legend above. An attractive example of this issue with a pleasing luster and color, with minor surface marks indicative of the grade.
To read the complete lot description, see:
SWITZERLAND. Bern Cantonal Shooting Festival in Burgdorf Silver Medal, 1891. PCGS SPECIMEN-62. (https://auctions.stacksbowers.com/lots/view/3-14Z526/switzerland-bern-cantonal-shooting-festival-in-burgdorf-silver-medal-1891-pcgs-specimen-62)
Archaeologists have uncovered five 2,300-year-old gold coins, as well as the remains of young children, at the site of an ancient burial ground.
Researchers made the discovery during excavation works in the North African nation of Tunisia, in an area that once formed part of the territory of ancient Carthage, the country's Ministry of Cultural Affairs has announced in a statement.
Carthage had a sacred site known as a "tophet," which served as a burial ground, particularly for young children.
It is here that archaeologists found the five gold coins dating back to the 3rd century B.C. in August, as well as several urns with the remains of animals, infants and premature babies.
The gold coins reflect "the richness of that historical period and [affirm] the value of the civilization of Carthage," the ministry said in a statement.
The rare gold coins measure around an inch across and have designs showing the face of Tanit—a symbol of motherhood, fertility and growth for the Carthaginians.
Archaeologists believe that the coins were left as offerings to Baal Hammon and Tanit by wealthy worshippers.
To read the complete article, see:
Five 2,300-Year-Old Gold Coins and Infant Remains Found at Ancient Cemetery (https://www.newsweek.com/five-2300-year-old-gold-coins-infant-remains-found-ancient-cemetery-1820893)
Two $1 U.S. gold coins were found in one of the graves. (Image credit: Colonial Williamsburg Foundation)
Graves containing the skeletal remains of four Civil War soldiers and three amputated human legs are the latest discoveries to come out of an archaeological excavation at a 161-year-old battle site in Virginia.
The Powder Magazine was also the site of the Battle of Williamsburg, which took place on May 5, 1862, during the Union army's unsuccessful attempt to seize Richmond, the Confederate capital at the time.
"As we excavated, we weren't expecting to find graves. We discovered what we thought was a posthole for a fence, but instead we found a skull."
Further digging revealed three individual graves: one small burial containing the amputated legs, another housing three Confederate soldiers, and a third with a lone individual.
The examinations revealed that the skeletons were riddled with injuries, some endured during battle and others caused by existing conditions. For example, one skeleton had a minié ball (a conical bullet commonly used during the Civil War) lodged in the spine, and another had a musket ball embedded in the pelvis.
In a separate grave, archaeologists found three amputated legs, with two amputated below the knee and one amputated above the knee. One of the limbs contained a bullet embedded in the foot.
Archaeologists also unearthed several artifacts in the graves, including a toothbrush with a bone handle, a porcelain snuff bottle, a trouser buckle and two $1 U.S. gold coins, according to the statement.
To read the complete article, see:
Remains of 4 Confederate soldiers, amputated legs and gold coins found at a Civil War battlefield in Virginia (https://www.livescience.com/archaeology/remains-of-4-confederate-soldiers-amputated-legs-and-gold-coins-found-at-a-civil-war-battlefield-in-virginia)
The first major bank in the southern United States was the Bank of Virginia, chartered in 1804. Although the southern politicians among our nation's founding fathers, the so-called Jeffersonian Republicans, were opposed to banks and the granting of any corporate privilege, businessmen in the South came to understand clearly that economic growth would benefit from the establishment of a bank:
Contemporary southerners saw a direct correlation between banking and economic growth. Although several of Virginia's prominent political leaders opposed banking, especially state-sponsored, state-chartered banking, on the grounds that it violated Revolution-era republican ideals by creating a financial oligarchy, popular sentiment overcame political philosophy. In 1791, about $2 million in produce was shipped from Maryland ports; Virginia's exports totaled about $3 million. Within a decade, Maryland's exports increased to $12 million but Virginia's increased to just $4 million. Contemporaries did not attribute Maryland's rapid growth solely to its banks, but they did believe that credit was partly responsible. The time had come for Virginia to enter the age of banking.
Legislative debate on a bank charter invited a legion of merchants and planters in every small town along the James River to make a case for why they deserved a bank. Although the legislature accepted the legitimacy of the credit demands, they were convinced that few such places would support a bank. Torn between competing interest groups--merchants and planters clamoring for credit and Jeffersonian Republicans opposed to any grant of corporate privilege--the legislature chartered a bank they thought capable of meeting legitimate credit demands while allaying the worst fears of its critics. The Bank of Virginia (1804) was a compromise, a model later copied throughout the southern and western United States.
With the exception of the Manhattan Company, the Bank of North America, and the Bank of Pennsylvania, the $1.5 million Bank of Virginia was substantially larger than most banks. The state subscribed one-fifth of its shares with the right to appoint one-fifth of its directors so that it could simultaneously profit from it and exercise a measure of control over it. Having mollified concerns over unfettered corporate privilege, legislators met the widely scattered credit needs by establishing five branches.
To read the complete article, see:
THE BANK OF VIRGINIA -- 7/31/23 (https://www.delanceyplace.com/view-archives.php?p=4911)
Last week, the British Museum said in a news release that it had fired an unnamed staff member on suspicion of looting jewels from the collection, and had begun a review of its security practices. London's police force said it was investigating.
A museum spokeswoman declined at that time to say how many items were involved while the police investigation was ongoing, but the news release said that the stolen or damaged items included gold jewelry and gems of semiprecious stones and glass, some dating as far back as the 15th century B.C.
In the week since the news of the thefts broke, the case has been the subject of heated speculation in the British news media, with daily articles conjecturing over how many artifacts had been lost, and who was responsible.
In 2021, British Museum officials were alerted to a potential thief in their ranks.
That year, Ittai Gradel, a Denmark-based dealer in ancient gems, contacted the august London institution with evidence that he said showed that three gems from the museum's collections had been offered for sale on eBay.
Museum officials were already aware that something was up with one of those artifacts. Another dealer, Malcolm Hay, had gotten in touch to say he had bought one of the gems but was concerned it was stolen. He returned the jewel to the museum in May 2021.
The thief must have been someone inside the institution, Mr. Gradel said in an email to the British Museum that has been obtained by The New York Times. He was concerned, he added, that the three gems were only the tip of a much larger iceberg.
The British Museum opened an investigation that reached a swift conclusion, according to correspondence seen by The Times: that nothing untoward had happened.
Now that decision appears to be coming back to haunt the museum.
To read the complete articles, see:
British Museum Fires Worker Accused of Stealing Gold and Gems (https://www.nytimes.com/2023/08/16/arts/design/british-museum-theft.html)
British Museum Was Warned Gems Were Being Sold on eBay, Emails Show (https://www.nytimes.com/2023/08/22/arts/design/british-museum-thefts.html)
The Times reported on Thursday that a freedom of information (FoI) request to the museum had disclosed that a Greek silver coin, a 4th-century Roman coin and a German coin had disappeared from the museum in the year to April 2014.
An early 20th-century ring, a chain made up of round-sectioned silver wire, animal-shaped wooden opium poppy scorers and glazed leaf pendants and beads are also said to be among the items to have gone missing over the past 10 years.
To read the complete articles, see:
Hundreds of items 'missing' from British Museum since 2013 (https://www.theguardian.com/culture/2023/aug/24/hundreds-of-items-missing-from-british-museum-since-2013)
Hundreds of items missing from British Museum since 2013, records show (https://www.independent.co.uk/news/uk/bbc-news-greek-roman-foi-london-b2398591.html)
Just days after the British Museum announced that it had fired an employee who was suspected of looting its storerooms and selling items on eBay, the museum's director announced Friday that he was resigning, effective immediately.
Hartwig Fischer, a German art historian who had led the world renowned institution since 2016, said in a news release that he was leaving the post at a time of the utmost seriousness.
Mr. Fischer, 60, said that it was evident that under his leadership the museum did not adequately respond to warnings that a curator may be stealing items. The responsibility for that failure must ultimately rest with the director, Mr. Fischer said.
A few hours after Mr. Fischer's resignation, the museum announced that its deputy director, Jonathan Williams, had also agreed to voluntarily step back from his normal duties until an investigation into the thefts was complete.
To read the complete article, see:
British Museum Director Resigns After Worker Fired for Theft (https://www.nytimes.com/2023/08/25/arts/design/british-museum-director-resigns.html)
Close observers of the antiquities market tend to be a cynical bunch, having witnessed any number of scams, dubious practices and illicit trading. Yet there was a collective expression of shock among them last week when news emerged of the unexplained absence of a reported around 2,000 items from the British Museum's priceless collection of ancient and historical artefacts, leading to the resignation of director Hartwig Fischer.
The volume of missing objects is huge, says Christos Tsirogiannis, a forensic archaeologist who works with Trafficking Culture, which researches global traffic in looted cultural objects. No experts were expecting this to happen in one of the world's biggest museums.
Christopher Marinello agrees. The CEO of Art Recovery International, which specialises in recovering stolen art, he says: Our organisation gets reports of theft every single day from various museums, cultural institutions, churches around the world. What surprised us was the fact that it was the British Museum, one of the most important museums in the world and a benchmark in security.
It will take decades, says Marinello, outlining the legal and forensic complexities of tracing items, many of which appear not to have been properly, or at least publicly, catalogued.
Marinello, an American lawyer who works out of a London office, says he is responsible for recovering some £475m worth of stolen art over the years, working on behalf of museums, collectors, dealers, artists, governments, cultural and religious institutions and insurance companies from Bolivia to Cambodia, Sweden to Iraq.
That recovery is greatly helped by solid evidence of provenance and speed of reaction, both of which appear lacking in this case. Each item that is sought has to be uniquely identifiable for proof that it is the one in question. If there is a delay in searching for stolen items, there is the possibility that they may change hands several times in a number of different jurisdictions.
If the parties in each transaction claim that they acted in the belief that it was a legal trade, then the reclaimer's job grows significantly more difficult.
There is a lot of myth-making around the illicit trade in antiquities, which is often billed as the world's third-largest illegal trading activity after narcotics and arms. However, as an academic paper published in the journal Antiquity earlier this year argues, there is little statistical evidence to back up that claim, not least because in such a murky market it's very difficult to establish hard facts.
But even if the trade is only worth hundreds of millions of dollars, rather than the multi-billions frequently cited, that's still an awful lot of trade in which it pays not to be too curious about how objects came to be in possession of the seller.
To read the complete article, see:
'Nobody was expecting it': British Museum warned reputation seriously damaged and treasures will take decades to recover (https://www.theguardian.com/culture/2023/aug/26/british-museum-reputation-damaged-treasures-loss)
A long-forgotten time capsule at West Point recently discovered inside the base of a monument and believed to have been left by cadets in the late 1820s is expected to be pried open Monday.
The contents of the small lead box could possibly provide a window into the early, more Spartan days of the storied U.S. Military Academy.
It's not certain exactly when the box was placed in the monument's marble base or who chose any items inside, though a committee of five cadets that may have been involved with the time capsule included 1829 graduate Robert E. Lee, the future Confederate general.
The box will be opened during a livestreamed event.
The container was discovered in May during restoration to a monument honoring the Revolutionary War hero Thaddeus Kosciuszko. A construction manager made the surprise find and carefully pulled out the hefty box, which is about a cubic foot.
Cadets in the 1820s honored Kosciuszko, a Polish military engineer, with a column near where current classes march and play soccer. As an officer of the Continental Army, he designed wartime fortifications at the location along the Hudson River, before the military academy was established there in 1802.
A plaque indicates the monument was erected by the corps of cadets in 1828. Other evidence suggests it wasn't completed until 1829. That includes a July 1828 letter from a committee of cadets involved in the dedication, including Lee, seeking advice on lettering for the monument.
X-rays indicated there is a box inside the container, but there are few clues whether opening it will produce a historical bounty or a bust reminiscent of Geraldo Rivera's televised unsealing of Al Capone's vault in 1986.
To read the complete article, see:
Ten-hut Time Machine? West Point to open time capsule possibly left by cadets in the 1820s (https://news.yahoo.com/ten-hut-time-machine-west-043234969.html)
Jeff Garrett and the Walton 1913 Liberty Nickel
This week's 2023 ANA convention marks the 20th anniversary of the rediscovery of the missing Walton 1913 Liberty Nickel. I was asked to be part of the team that authenticated the coin for the Walton heirs who had come forward with the coin. Ten years later, in 2013, my company purchased the coin at auction. My purchase of the 1913 Liberty Nickel was one of the most exciting experiences of my numismatic career. The following is a detailed account of what happened that night.
Over the years, when asked about the most expensive coin I have ever sold, my mind quickly races with memories of April 25, 2013. Our team was attending the Central States Convention in Rosemont, Illinois, and the show had just concluded for the day. An important auction was being held that night at the convention, with the star lot being one of the legendary 1913 Liberty Nickels. Only five examples are known of this classic rarity, and for decades it has been one of the most coveted United States coins. The example being offered that night had been missing since the 1960s, until its rediscovery in 2003. The Walton family decided to part with the coin, and a room of about 300 people were waiting anxiously for it to cross the auction block.
I was on the way to dinner with my son, Ben, when my cell phone rang. One of my closest dealer friends, Larry Lee, was calling back about an inquiry I had made days earlier. Larry had several important retail clients who I thought might be interested in owning a 1913 Liberty Nickel. In actuality, Larry had decided he wanted to own the "holy grail" of numismatics himself. Larry agreed to split the coin with me, with him owning the majority interest.
To read the complete article, see:
Jeff Garrett: The Most Exciting Moment of My Career (https://www.ngccoin.com/news/article/12001/)
Unraveling an Art Dynasty
Over the course of several years, she would fly around the world to tax havens and free ports, prying open the armored vaults and anonymous accounts that mask many of the high-end transactions in the $68 billion global art market. Multimillion-dollar paintings can anonymously trade hands without, for example, any of the requisite titles or deeds of real estate transactions or the public disclosures required on Wall Street. She would learn that the inscrutability of the trade has made it a leading conduit for sanction-evading oligarchs and other billionaires looking to launder excess capital. The Wildensteins were not just masters of this system — they helped pioneer it.
Over 150 years, the family has amassed an art collection estimated to be worth billions by quietly buying up troves of European masterpieces that would be at home in the Louvre or the Vatican, holding their stock for generations and never revealing what they own.
A trial this September will determine if the family and their associates owe a gargantuan tax bill. The last time prosecutors went after the Wildensteins, several years ago, they sought €866 million — €616 million in back taxes and a €250 million fine, as well as jail time for Guy. The consequences could do more than topple the family's art empire. The case has provided an unusual view of how the ultrawealthy use the art market to evade taxes, and sometimes worse. Agents raiding Wildenstein vaults have turned up artworks long reported as missing, which fueled speculation that the family may have owned Nazi-looted or otherwise stolen art, and spurred a number of other lawsuits against the family in recent years.
To read the complete article, see:
The Inheritance Case That Could Unravel an Art Dynasty (https://www.nytimes.com/2023/08/23/magazine/wildensteins-inheritance-case-art.html)
Why Do Old Books Smell So Good?
Have you ever wandered into an old library or dusty bookshop and paused to breathe in that familiar vanilla-coffee-grassy scent wafting off the aged tomes? That nostalgic olfactory experience is thanks to a bouquet of chemical compounds.
Modern books smell different because of changes in manufacturing, while old books release distinctive volatile organic compounds (VOCs) as they slowly decay. Scientists are sniffing out these VOCs to reveal secrets about a book's age, condition, and history.
An almond scent comes from benzaldehyde in the paper. Vanillin, the main compound in vanilla, is responsible for a sweet vanilla fragrance. Ethylbenzene, used in inks and paints, has a sweet plastic smell. 2-Ethyl hexanol, found in solvents and scents, smells lightly floral.
New books use modern chemicals like hydrogen peroxide and alkyl ketene dimers, so they give off different VOCs. The VOCs can also indicate exposure to smoke, water damage, or other aging factors.
Librarians and historians use VOC analysis to study collections and even match orphaned books with the libraries they came from based on chemical fingerprints. It provides clues to an old tome's origins and secrets as it aged over decades or centuries.
To read the complete article, see:
Why Do Old Books Smell So Good? (https://scienceswitch.com/2023/08/19/why-do-old-books-smell-so-good/)
Sotheby's Renaissance Book Auction
A treasure trove of 16th-century Renaissance books in their original bindings is expected to fetch $25 million when it goes on the auction block at Sotheby's beginning in October, with price estimates ranging from $200 to $600,000.
The books and bindings are culled from the collection of T. Kimball Brooker, an American bibliophile and scholar who amassed more than 1,300 titles over six decades to create one of the most important rare-book libraries to ever reach auction. The library sits at the crux of art, architecture, and knowledge in the Renaissance era, and is considered the finest such collection to exist outside Europe.
One highlight from the sale is an early manuscript of Leonardo da Vinci's Treatise on Painting, containing all of its original 375 chapters and 56 illustrations in ink.
Several of these works from the Brooker collection were sold in Sotheby's auctions as far back as 1817, highlighting the house's origins as a bookseller.
T. Kimball Brooker is an exalted figure in the world of antiquarian book collecting. In 1959, while studying at the Sorbonne in Paris, he came across a book of orations by ancient Roman statesman Cicero in vellum binding. Sure that he had made a great find, he bought it for $10 and took it to a dealer on rue de Seine who told him it was, in fact, worthless. But the experience set Brooker on a bibliophilic path. While studying for his MBA at Harvard, he titled his master thesis Rare Books as a Hedge against Devaluation and Inflation and went on to receive a PhD in art history. He's collected rare books ever since.
Alan writes:
To read the complete article, see:
Leonardo da Vinci's 'Treatise on Painting' and Other Ultra-Rare Renaissance Books Could Fetch $25 Million at Auction (https://news.artnet.com/market/leonardo-da-vinci-treatise-on-painting-sothebys-auction-2349361)
It took Xavier Casalta a phenomenal 2,300 hours over the course of 15 months to complete his largest work to date. Featuring numerous blooms surrounding a marble bust of Marcus Aurelius—one of ancient Rome's most celebrated emperors and philosophers—the artist (previously) estimates that the illustration contains about 48 million dots of meticulously stippled black ink.
Known for his remarkably detailed depictions of flowers, architecture, and antiquities, Casalta applies China ink to paper one speck at a time. Densely clustered areas produce darker features that contrast more minimally inked highlights. He often depicts individual historical objects, like a Penny Black stamp or impressions of people and animals on early coins. He also fills entire sheets of paper with florals or geometry, like an intricate Roman mosaic or his Four Seasons series, created in collaboration with florist Swallows & Damsons.
To read the complete article, see:
Tens of Millions of Ink Dots Fill Xavier Casalta's Remarkably Detailed Stipple Illustrations (https://www.thisiscolossal.com/2023/08/xavier-casalta-stippled-ink/)
For more information, see the artist's website:
Xavier Casalta (https://casaltaxavier.com/)