Visit our NBS Sponsors
About Us
The Numismatic Bibliomania Society is a non-profit association devoted to the study and enjoyment of numismatic literature. For more information please see our web site at coinbooks.org
Subscriptions
Those wishing to become new E-Sylum subscribers (or wishing to Unsubscribe) can go to the following web page link
Membership
There is a membership application available on the web site Membership Application
To join, print the application and return it with your check to the address printed on the application. Print/Digital membership is $40 to addresses in the U.S., and $60 elsewhere. A digital-only membership is available for $25. For those without web access, write to:
Charles Heck, Treasurer
Numismatic Bibliomania Society
P. O. Box 2058,
Bluffton, SC
29910-2058
Asylum
For Asylum mailing address changes and other membership questions, contact Chuck at this email address: treasurer@coinbooks.org
Submissions
To submit items for publication in The E-Sylum, write to the Editor at this address: whomren@gmail.com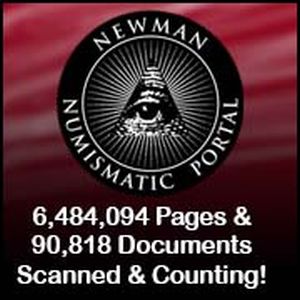 BUY THE BOOK BEFORE THE COIN
Content presented in The E-Sylum is not necessarily researched or independently fact-checked, and views expressed do not necessarily represent those of the Numismatic Bibliomania Society.
New subscribers this week include: Marnie Davisson. Welcome aboard! We now have 7,617 subscribers.
Thank you for reading The E-Sylum. If you enjoy it, please send me the email addresses of friends you think may enjoy it as well and I'll send them a subscription. Contact me at whomren@gmail.com anytime regarding your subscription, or questions, comments or suggestions about our content.
This week we open with a big anniversary, a numismatic literature sale, two new books, a review, updates from the Newman Numismatic Portal, and more.
Other topics this week include Half Cents, shrinking money, my numismatic library, nails as barter, British Museum thefts, obsessive dates, Mark Collet, Joe Pollack, Sammy Whipple, Jr., Mark Jones, Elsie Stevens, numismatic Americana, Karl Goetz medals, patina, and the Trial of the Pyx.
To learn more about E-Sylum history, Canadian numismatics, Scythian coins, Pledges of History, anhydrous ammonia, counterstamps, the Pact of Malice medal, and the West Point time capsule, read on. Have a great week, everyone!
Wayne Homren
Editor, The E-Sylum


Guess what? The E-Sylum is twenty-five years old! On September 4, 1998 the first issue of what we now call The E-Sylum was emailed to a list of members and friends of the Numismatic Bibliomania Society. Now archived on our web site as Volume 1, Number 1, that first message started the ball rolling. That email went to 49 people. As the word spread, subscription requests arrived from around the world and by September 15 there were 90 subscribers.
WHAT'S WITH THE FUNNY NAME? Well, our organization is the Numismatic Bibliomania Society, a group for people who love coin books and are crazy for any and all information about numismatics. Our print journal is The Asylum, so our electronic publication naturally became The E-Sylum. While The E-Sylum is free to all, only paid members of NBS receive The Asylum.
An excerpt from the September 4, 1998 message:
And grow and evolve we did. Each issue now contains 25 to 30 (and sometimes more) articles, and our subscription list includes some 7,000 email addresses. Rather than just a vehicle for announcements about the Numismatic Bibliomania Society, we've become a weekly forum where "numismatic bibliophiles, researchers and just plain collectors" congregate to exchange information and ideas about numismatics and numismatic research. Most of the top numismatic authors, curators and collectors around the U.S. and the world are subscribers and contributors.
Along the way we've won multiple awards including the Burnett Anderson Memorial Award for Excellence in Numismatic Writing and back-to-back-to-back First Place awards in the electronic category of the American Numismatic Association's Barbara J. Gregory Outstanding Club Publications competition in 2021, 2022 and 2023.
Despite the work that goes into each issue, it's always fun to put together. Our readers and fine advertisers are what keep me going - you folks are the best any editor could dream for. It's been a great quarter century, and we're not done growing and evolving. Thanks for all your kind words and support.
For other reader comments, or to read our online archive, see:
http://e-sylum.org/
Kolbe & Fanning September 23 Book Sale
Kolbe & Fanning Numismatic Booksellers are pleased to announce that we will be holding our next auction sale on Saturday, September 23, 2023. The sale includes rare and out-of-print works on ancient, world and U.S. numismatics, and features highlights from the Wayne Homren and Richard Cooper libraries.
The Homren Library focuses on U.S. coins, tokens, medals and paper money, and includes his extensive collection of numismatic ephemera. The Cooper Library is among the finest ever formed on the subject of Canadian numismatics, and includes important manuscripts and correspondence from Robert W. McLachlan.
Some highlights of the sale include:
Lot 31: Leonard Forrer's 1922–1929 Descriptive Catalogue of the Collection of Greek Coins Formed by Sir Hermann Weber
Lot 189: eighty-two handwritten letters from Canadian collection Thomas Wilson to R.W. McLachlan, 1870–1885, part of the extraordinary collection of McLachlan correspondence offered as part of the Richard Cooper Library
Lot 231: a finely bound and entirely complete set of The Canadian Antiquarian and Numismatic Journal, published 1872–1933 by the Numismatic and Antiquarian Society of Montreal
Lot 210: McLachlan's original handwritten manuscript, The First Paper Money, published in 1910 as Canadian Card Money, one of his most important publications and just part of the collection of McLachlan manuscripts offered as part of the Richard Cooper Library
Lot 270: Volumes 3 through 6 (1891–1893) of The Numismatist, published by Dr. George F. Heath, finely bound in one volume
Lot 297: the extremely rare second edition of Charles I. Bushnell's An Historical Account of the First Three Business Tokens Issued in the City of New York
Lot 318: J.N.T. Levick's personal copy of the original manuscript record of Edward Cogan's March 1859 sale of the Charles Foote collection
Lot 397: a large-paper copy, one of 12 printed, of the 1865 sale of J.N.T. Levick's collection, postponed after the assassination of President Lincoln
Lot 453: a wonderful bound volume of American numismatic auction catalogues of the 1850s, including the 1851 Roper sale, from the library of Dr. Mark W. Collet, who was killed in action during the Civil War at age thirty-six
Lot 522: three binders of numismatic Americana, including early American numismatic pamphlets and catalogues, advertising circulars and other publications, part of the extensive collection of numismatic ephemera formed by Wayne Homren and featured in this auction.
Register early to bid online
Bids may be placed via post, email, phone, as well as online. Kolbe & Fanning use Auction Mobility as our third-party online bidding platform. Auction Mobility is an app-based platform allowing users the ability to participate in the sale through phones, tablets and computers. To register for the sale, bidders must go to bid.numislit.com and sign up. Once you have set up an account, you may browse lots, place advance bids, or participate in the live sale online. Those wishing to participate on their devices can download the Kolbe & Fanning app through the Apple or Google Play Store. The sale will also be listed on Biddr and NumisBids in the near future.
The printed catalogue has been mailed to all active customers on our mailing list. As international mail speeds have been inconsistent, we encourage our foreign clients to consult the electronic catalogue in case their printed catalogue does not arrive promptly. A PDF of the printed catalogue has been posted to our main website at numislit.com for those who prefer that format. Bids placed via post, email, fax or phone must be received by September 22, the day before the sale, in order for them to be processed. Advance absentee bids may also be placed at any time online at bid.numislit.com. Live internet bidding will be available during the sale itself through the same platform.
Kolbe & Fanning Numismatic Booksellers LLC is a licensed and bonded auction firm in the State of Ohio, and our sales are conducted by licensed auctioneers. For more information, please see the Kolbe & Fanning website at numislit.com or email David Fanning at df@numislit.com. To register for the sale, go to bid.numislit.com. We look forward to your participation.
To read the Catalogue PDF, see:
https://indd.adobe.com/view/c452ee0d-6dbd-4ca2-bf71-99c2a6441317
The Half Cent Handbook: Ultimate Attribution Guide
I am pleased to announce the release of my sixth and final book in the Half Cent Handbook series; The Ultimate Attribution Guide. This new book has a soft cover with a spiral binding. It is designed as an affordable and lightweight pocket sized guide (6"X9"format) that collectors can carry. It will help collectors of all levels quickly and easily attribute the die variety of any United States Half Cent minted from 1793-1857. Why is attribution important? Very simply it allows you to determine if your coin is a common, scarce, or rare variety. And since rarity is one of the primary factors that will determine the value of your coin, proper attribution is very important!
This book uses photos and specific descriptions to guide you step by step through the process of attributing any Half Cent. The book contains hundreds of clear full color photos to assist you in the attribution process. This is the second of two new books containing supplementary material related to the Half Cent Handbook hardcover series. This is a limited print run so don't delay in ordering. Copies are $50 shipped. At this price they won't last long. For ordering information email Ed Fuhrman at Guitarman68@optonline.net
To read the earlier E-Sylum articles, see:
ARTICLE HIGHLIGHTS AUTHOR ED FUHRMAN (https://www.coinbooks.org/v24/esylum_v24n20a14.html)
NEW BOOKS: HALF CENT HANDBOOK VOLS 2-3 (https://www.coinbooks.org/v25/esylum_v25n15a03.html)
NEW BOOK: THE HALF CENT HANDBOOK, VOL. 4 (https://www.coinbooks.org/v25/esylum_v25n42a05.html)
NEW BOOK: HALF CENT ULTIMATE GRADING GUIDE (https://www.coinbooks.org/v26/esylum_v26n14a02.html)
Scythians and Greeks on the Western Black Sea: The Coinage of the Kings of Scythia Minor in Dobruja, 218/212–110 BCE
Numismatic Studies 47
by Elena S. Stolyarik and John M. Kleeberg
The Scythians have fascinated investigators since the time of Herodotus. This study examines the bronze and silver coinage of the kingdom of Scythia Minor in Dobruja at the mouth of the Danube River, a Scythian successor state that emerged in the second century BCE after the breakup of Scythia Magna. It is based on a corpus of over 1,500 coins, more than ever before, and draws upon scholarship in nine languages, including hard-to-find sources from Bulgaria, Romania, USSR, Ukraine, and Russia. The much-debated chronology of the six kings of Scythia Minor (Kanites, Tanousas, Charaspes, Ailis, Sariakes, and Akrosas) is determined through literary evidence, inscriptions, die linkage, shared monograms, coin hoards, and counterstamps.
Metrological analysis distinguishes four denominations, plus the alterations and debasements of the weight standard during the troubled reigns of Ailis and Sariakes. Fifteen counterstamps that appear on Scythian coins are attributed to the local Greek poleis of Callatis, Tomis, Istros, and Dionysopolis. An inventory of four hoards and 47 findspots of single coins identifies the mint site, Dionysopolis. The volume concludes with a catalog of 63 major coin types and 15 counterstamps, plus bibliography and index.
ISBN: 978-0-89722-405-5 (US)
ISBN: 978-0-89722-406-2 (RoW)
ISBN: 978-0-89722-408-6 (ebook)
Hardcover, viii + 225 pp., 8.5" x 11", b/w illustrations throughout
ANS Members: $105 + s/h. Non-Members: $150 + s/h. Apply Member discount code during checkout.
For more information, or to pre-order, see:
Scythians and Greeks on the Western Black Sea (https://numismatics.org/store/ns47/)
The book on Pioneer and Territorial gold has arrived. This follows up Donald Kagin's 1981 book on territorial gold, but as stated, is not a second edition. This book is a work that should appeal to everyone who is interested in history, numismatics, and gold coinage whether they have ever owned, or desire to own a piece of history from the many territorial and private mints that operated in our nation from 1786 to 1862.
This is more than a reference book, it is a beautiful cof- fee table sized book which displays virtually every gold coin privately minted in the United States. Each page or pages have oversize images of the top graded examples of the type and variety from each mint. Additionally, as the majority of these masterpieces from private mints are rare or very rare, their rarity ratings and comments about known examples are stated. Also, each mint has a multi- page historical writeup and each of its coins are de- scribed.
The book is formatted in chronological order beginning with the Brasher Doubloons of 1786 then onto the southern mints of Templeton Reed and Christopher Bechtler. Next the mints in Oregon and Utah (Mormon) who struck some of the earliest coins from California gold. Notably the Mormon $20 coin was the first of that denomination ever struck in the United States. Extensively covered is the California controversy and government intervention beginning in 1850 and the state assay office and regulation of private coinage. The Moffatt and Humbert coinage among others leading to the establishment of the San Francisco mint are well discussed. Finally the coins which came from the Colorado gold rush emanating from Clark & Gruber and others followed by the final coin from Utah and the Mormons are discussed.
The book is published in an oversize coffee table size of 12x10 and printed in high quality heavyweight paper in full color. There, in addition to outstanding pictures of each coin are included many historical photographs in each chapter. Each coin is shown enlarged to several times its original size to show all the details as well as pictured in its original size. The book consists of 232 pages and has a list price of $99.99. It can be ordered directly from Kagins online or by calling 888-852-4467. Once again, this is a book that belongs on the bookshelf of every serious collector and historian.
To read the earlier E-Sylum article, see:
NEW BOOK: AMERICA'S GOLDEN AGE (https://www.coinbooks.org/v26/esylum_v26n33a03.html)
I thought readers might be interested to know that Sammy L. Whipple, Sr. died in January of this year. Mr. Whipple won the Howland Wood Award in 1979 for his exhibit titled The Gold Coinage of King George III. To the best of my knowledge, he was the first person of African-American heritage to win the award.
The Numismatist (October 1979) showed a photo of him accepting the award.
I've been working on a list of Howland Wood winners for my own informational and research purposes as an exhibitor. It's available on a site called EverybodyWiki, which uses the same code as Wikipedia. Here's the link:
https://en.everybodywiki.com/Recipients_of_the_Howland_Wood_Memorial_Award .
The reason I found out that Mr. Whipple died is because I conducted a Google search for his name to see if he might have! Up until this year, he was the earliest Howland Wood winner still alive. Based on the information I've found, this now makes Denis W. Loring the earliest winner still alive. He won the award in 1982. What I mean by "earliest" is that all individuals who've won the Howland Wood Memorial Award before 1982 are now deceased, as well as all who've won "Best in the Show," which preceded the Howland Wood.
Anyway, there's been no listing yet of Mr. Whipple in the monthly "Memorials" section of The Numismatist, but I'm not sure that he maintained his membership. I think the ANA only lists current members who are deceased. The last mention of Mr. Whipple in The Numismatist was March 1982.
Sammy Lee Whipple Sr., 77, husband of Jane Whipple, of Mt. Vernon, Indiana passed away on January 27th, 2023 at his home in Mt. Vernon, Indiana. Born January 6, 1946, in Dublin Georgia, he was the son of the late Parker Whipple and Smithy Bell Jackson-Whipple.
Mr. Whipple graduated from Oconee High School and Tuskegee University. He began his work in the pharmaceutical industry in Detroit, Michigan. His career spanned 32 years and he worked for a variety of companies, but spent the bulk of his career working for Mead-Johnson/Bristol Myers Squibb. He ended his career as Director of International Contract Manufacturing, negotiating contracts for raw materials that he took great pride in. He spent over 5 years as an executive on loan for the United Way of Southwestern Indiana.
His hobbies were varied. He remained interested in all aspects of numismatics (coin acquisition and collecting) throughout his life. He also was interested in all facets of the game of golf, including equipment, watching both professional and amateur golf, attending and volunteering at tournaments, as well as playing golf himself. In the latter part of his life, he increasingly became a researcher and historian of World War 2, collecting many items from that era.
He was preceded in death by his parents; brothers, Griffin and Willie Lee Whipple.
Mike adds:
To read the complete article, see:
Sammy Lee Whipple, Sr. January 6, 1946 - January 27, 2023 (https://www.schneiderfuneralhome.com/obituaries/Sammy-Lee-Whipple-Sr?obId=27163025)
NNP Adds Wayne Homren Library Video
On April 8, 2023, Kellen Hoard and Jonas Denenberg visited the Wayne Homren numismatic library in Ashburn, VA, and recorded video of Wayne presenting an overview of his library. Wayne begins with the laws, a good place to start when it comes to numismatics – most modern coinage has a legislative record behind it, and researchers will do well to collect a few books in this area. From there we move into the core references for American coinage and paper money.
The rare book case includes the rare 1846 Pledges of History, a bound volume of early auction sales including the 1851 Roper auction, and a set of the Scott's Coin Collectors Journal (1875-1888). From there we move into Wayne's extensive ephemera files. Key items here include an original printing of the ANS constitution and bylaws, and a 1792 newspaper that published the text of April 2, 1792 Mint Act.
Wayne presents Eric Newman and Ken Bressett's The Fantastic 1804 Dollar as a case study in numismatic investigation, a veritable detective novel in Wayne's view. Homren's copy is signed by both Newman and Bressett in addition to the volume's Associates in Research Walter Breen and Lynn Glaser – the only such copy known.
Wayne concludes with an inside view of the E-Sylum creation process and provides a glimpse into the weekly evolution of everyone's favorite numismatic e-publication. NNP acknowledges Lianna Spurrier, who edited the final video.
Link to Wayne Homren Library video on NNP:
https://nnp.wustl.edu/library/book/631024
Connections from Jesus Christ, Francisco Pizzaro and John Reich to Early American Silver Coins
the lack of records about silver used by the early Mint
history and background of the Incan civilization
Francisco Pizzaro and how he came to South America and confronted the Incas
the story of the plunder and destruction of the entire Indian empire
the silver and how it was transported back to Spain
Speaker(s): Brad Karoleff.
To watch the complete video, see:
https://nnp.wustl.edu/library/book/560159
Pete Smith writes:
Jonathan Brecher writes:
Julia Casey writes:
To watch the video, see:
Shrinking paper money with ammonia (https://www.youtube.com/watch?v=ap4GuZffrvg)
To read the earlier E-Sylum article, see:
THE MYSTERY OF THE PINT-SIZED DOLLAR BILLS (https://www.coinbooks.org/v26/esylum_v26n35a10.html)
Andy Singer writes:
B.J. Herbison writes:
To read the complete article, see:
WERE IRON NAILS REALLY USED AS MONEY? (https://www.coinbooks.org/v26/esylum_v26n35a11.html)
Collecting Xavier Casalta's Coin Art

Shanna Schmidt writes:
To read the earlier E-Sylum article, see:
XAVIER CASALTA'S COIN ART (https://www.coinbooks.org/v26/esylum_v26n35a27.html)
Earlier British Museum Coin Thefts

Philip Mernick writes:
To read the earlier E-Sylum article, see:
BRITISH MUSEUM GRAPPLES WITH THEFTS (https://www.coinbooks.org/v26/esylum_v26n35a23.html)
On Buying the 2 Euro Coin Book in the U.S.

Jon Radel writes:
To read the earlier E-Sylum articles, see:
NEW BOOK: 2-EURO COIN CATALOGUE 2023 (https://www.coinbooks.org/v26/esylum_v26n34a05.html)
NOTES FROM E-SYLUM READERS: AUGUST 27, 2023 : Query: Buying the 2 Euro Coin Book in the U.S. (https://www.coinbooks.org/v26/esylum_v26n35a09.html)
Researching Numismatic Murders
Melissa Kahn writes:
To read the complete article, see:
Kaitcer, Leonard A. ('Lenny') (https://www.britnumsoc.org/images/BIOGRAPHIES/K_to_O/Kaitcer-LA-1930-1980-GMO-002.pdf)
To read the earlier E-Sylum article, see:
NOTES FROM E-SYLUM READERS: AUGUST 27, 2023 : Legal Record Website Recommendation Sought (https://www.coinbooks.org/v26/esylum_v26n35a09.html)
About Those Gold Coins...

To read the earlier E-Sylum article, see:
COINS, LEGS, SOLDIERS AT CIVIL WAR GRAVESITE (https://www.coinbooks.org/v26/esylum_v26n35a21.html)
The American Numismatic Association seeks an energetic and creative assistant curator for the Edward C. Rochette Money Museum.
The successful candidate is expected to work on the Museum's exhibition program, contribute to the ANA Magazine and online media, do research for new exhibits and assist in managing the museum docent program and tours. In addition, the candidate will be expected to participate in the ANA's education and public relations initiatives. They will also participate in the ANA's two- week Summer Seminar as a presenter or instructor. The candidate must have strong writing and editing skills.
The successful candidate should hold a Bachelor's or Master's or equivalent academic qualifications in history or anthropology, in areas in which coinage or currency contribute to the understanding of the period. An interest and experience with coinage or currency is an advantage. Reading knowledge of a foreign language is an advantage. The candidate is expected to expand their knowledge of numismatics to become an expert in the field through study, research, writing, and presentations on coinage, currency, and economic history. The position provides a competitive salary and includes excellent benefits.
For more information on the museum, see:
Edward C. Rochette Money Museum (https://www.money.org/money-museum/)
Almost three weeks after the British Museum was plunged into crisis by the revelation of thefts from its storerooms, the London institution said it would come under new leadership.
On Saturday night, the museum said in a news release that Mark Jones, a former director of the Victoria and Albert Museum, in London, was to become its interim director, subject to British government approval.
George Osborne, the British Museum's chairman, said in the release that Jones was one of the most experienced and respected museum leaders in the world, and he will offer the leadership and grip the museum needs right now.
His priorities are to accelerate the cataloging of the collection, improve security, and reinforce pride in the curatorial mission of the museum, Osborne said.
Jones will arrive to an overflowing in tray. In recent weeks, several foreign governments including Greece and Nigeria have renewed claims for artifacts in the British Museum's collection. The museum is also set to announce a major refurbishment project for which Jones will have to oversee a fund-raising drive.
The new leader is not a stranger to such challenges. During his time leading the Victoria and Albert Museum, from 2001 to 2011, Jones reintroduced free admission and oversaw a major refurbishment of the galleries. He also dealt with the fallout from several thefts. In three incidents in 2004, thieves stole eight Italian Renaissance bronze plaquettes from the museum; 15 Meissen porcelain figures worth nearly $4,000 each; and $100,000 worth of Chinese jade. After those incidents, the museum tightened its security, including by replacing old display cases and installing improved surveillance cameras and alarm systems.
Jones cut his teeth as a museum administrator at the British Museum, where he was a curator for coins and medals from for 1974 to 1992. Shortly before he left to run the National Museums of Scotland, he oversaw the acclaimed exhibition Fake? The Art of Deception, which included counterfeit items that the British Museum had been duped into acquiring.
To read the complete article, see:
Crisis-Hit British Museum Names Interim Director (https://www.nytimes.com/2023/09/03/arts/design/british-museum-new-director.html)
To read the earlier E-Sylum article, see:
BRITISH MUSEUM GRAPPLES WITH THEFTS (https://www.coinbooks.org/v26/esylum_v26n35a23.html)
Obsessive Date. Retaining a previous year's date on coins struck into the following year or years. The word obsessive, meaning the continuation of some design element, perhaps after it is necessary; this is equal to the British term immobilized (as retaining monarch's portrait after his death, say). Obsessive dating occurred in American Colonial coinage with the Massachusetts silver coins, which bore the date 1652, continued to be struck for thirty years thereafter. In Great Britain, the 1925 gold sovereign was struck by the Royal Mint from 1926 to 1949 as another example. The Maria Theresa Thaler, struck well into the 21st century, has borne the 1780 date for over 200 years.
To read the complete entry on the Newman Numismatic Portal, see:
Obsessive Date (https://nnp.wustl.edu/library/dictionarydetail/516413)
Numismatic literature includes books, periodicals, auction catalogs, mail bid sales and fixed price lists. Perhaps overlooked are the coin columns published in local newspapers. Some of the better known columnists include Maurice Gould, Robert Obojoski, Mort Reed and Ed Reiter.
This week I came cross the name of a columnist I may have overlooked, Joe T. Pollack. I found three columns he had written for
The Times
of Munster, Indiana. I did not find anything about him in the Newman Numismatic Portal. I did not find him in any of the standard biographical resources. It was easy to see how he could be overlooked.
Eventually I figured out the problem. The newspaper misspelled his name, I had better luck finding information on Joseph Thomas Pollock.
He died on November 30, 2019. His obituary noted that his wife of 45 years, Katherine Lawton Pollock, had preceded him in death. They had no children. Some other information appears in his obituary:
The obituary did not explain that one regret. It also did not include his age or date of birth. Based on other sources, I suspect he was born on October 6, 1935, the son of Joseph and Marie Pollock. His father was an oil refinery rigger.
He was active with several clubs in Indiana. In 1971 he was publisher of The Highlander, newsletter for the Highland Indiana Stamp and Coin Club. He wrote an article on BEP souvenir cards published in Coin World in 1977.
Pollock took over writing the column after the June 25, 1975, death of another collector, Fay C. Smith. Among Smith's accomplishments was service on the 1975 United States Assay Commission. Syndicated columnist Gary L. Palmer continued to fill the column into January of 1976. Some Palmer columns were also published by The Times after 1978.
Pollock's column ran weekly in The Times from February 1, 1976 through March 5, 1978. He reported on activities of clubs in the area included activities of the Hammond Coin Club and the Calumet Numismatic Club. He reported on the meetings and promoted upcoming local shows around the region. He also gave information on the Chicago International Coin Fair and the Central States Numismatic Society convention. After the shows, he gave credit to some of the exhibit winners.
Some columns promoted products like commemorative medals produced by private mints. This information would have been available in the national coin publications. He reported on things that were topical at the time like the G.S.A. sale of silver dollars and President Carter discontinuing the Assay Commission in 1977. In some columns he answered questions from readers.
In one column he admits that friends send him clippings from various publications that have interesting topics. With these clippings and a subscription to Coin World, he would have had all the information he needed for his columns. His articles were appropriate for people who were not already collectors and did not probe the depths of numismatic topics.
His interest in the Civil War was apparent with a 1976 article on the Fourth Battery, Light Artillery of the Indiana Volunteers and the 114 th Illinois Volunteer Infantry, Company C, two groups of Civil War reenactors.
Occasionally he suggested reference books. He had good things to say about the 1977 and 1978 editions of the World Almanac.
He joined the Numismatic Literary Guild in 1978. Their newsletter stated that The Times had a readership of more than 75,000. He specialized in silver dollars and fractional currency.
Pollock and his column provided a service to the local numismatic community. He never achieved prominence on a national level. Perhaps, like others, he has been overlooked.
I did not find any record of publication in the last forty years of his life.
How many other examples are there of coin collecting columns that ran in only one local paper?
To read the complete April 24, 1977 article, see:
Elsie Stevens Posed For Coins (https://www.newspapers.com/article/the-times-elsie-stevens-posed-for-coins/131099418/)
Hi, everybody. I'm Greg Bennick with the Newman Numismatic Portal. You're either about to listen to, or watch, an interview with Bill Groom. Bill decided that he wanted to do an audio-only interview. And as is the case when I do an audio-only interview, I ask the interviewee to send some images so that the visual version of this can have some images to go along with it. It's pretty customary that somebody sends me ten or fifteen images over the course of the interview for people to watch as they listen to what the interviewee has to say. Bill Groom sent me 1200 images. Now, all 1200 didn't fit in the interview, but I did place, by my estimation, about 500 images of counterstamps and things related to counterstamps that he talked about. Those images just show in order, except when Bill is talking about a specific counterstamp. At those points, you'll see on screen the specific counterstamp that he's talking about. With no further ado, let's dive into that interview. Bill Groom on counterstamps.
Greg Bennick Hi, everybody. My name is Greg Bennick. I am with the Newman Numismatic Portal. I do interviews for them and today I'm going to be interviewing Bill Groom. Bill is an expert on counter stamps. We're going to dive right into a conversation about this area of numismatics. Bill, Hi, how are you doing today?
Bill Groom Hi, Greg. I don't know if it's fair to call me an expert. I might have some expertise though.
Greg Bennick That that works for me and that works for all of our listeners too. So that's perfect. I was going to ask, what is a counterstamp? How were they used and when were they most popular in terms of their production?
Bill Groom Well, counterstamping actually goes back to ancient times. Coins were re-denominated with different rulers. And anyway, I focus mainly on U.S. merchant counterstamps and they were….coins were stamped for a great variety of reasons, some as little billboards as Greg Brunk noted to advertise their business or service, their products. Sometimes coins were counterstamped by inventors testing their patent stamps. Coins were stamped for, gosh, dozens of reasons. I made a long list of why coins were stamped at one time, and I don't know if I broached that or not. I don't recall. But then to answer the second part of your question, in the 1850s counterstamping kind of exploded on the scene there - gunsmiths silversmiths, were the most commonly seen, but also there were taverns, all number of occupations. Early photography was starting and people taking pictures and framing them and selling them. And oftentimes many of them stamped their frames. Gunsmiths stamped their guns, and cutlers stamped their knives. So the list goes on and on. And the coins sometimes were made for family members or friends or customers that have a coin. And the merchant would stamp it for them and they would have it in their pocket. And to show other people, Hey, look, so-and-so gave me and he did some work on one of my guns or made some silver spoons for my wife and I. And a lot of times coins were stamped by Masons and a great many of the people who stamped coins back then were Masons, and they were trained in special trades and many of them made their own stamps or they had fellow Masons create a stamp for them. Some on the collectors have probably seen Masonic pennies that were made, but even before that time, people would carry merchants might carry a stamp in their pocket as a form of introduction, as a card, almost like a business card. Say, Hey, I stamped this and I'm in such and such a Masonic order. So it was a way of introducing yourself or creating conversation. And sometimes they would give them to a family member as a keepsake. This past year I picked up the only known specimen of a Derringer counter stamp. It's on an 1826 half cent and interestingly in addition to the Derringer and Philada short for Philadelphia counterstamps on the coin, there are some initials on there. Well, one of the set one set of initials was TTD. So it occurred to me that that might be a family member. Well sure enough Derringer. Henry Derringer Junior there in the 1830's = he had a son named Theopolis T. Derringer. So he probably created that coin probably for his son with his son's initials on it.
Greg Bennick This is amazing. So basically, you're describing a situation where counterstamps are used as business cards, as calling cards, as souvenirs or as essentially gifts sometimes. And you mention, of course, there being merchant counterstamps. There's others as well. And I know you mentioned going back throughout history, others and just for a moment, I figured we touch on, soldier ID tags. Were there other things that they were used for as well? And also, overall, what are the populations like per piece? Meaning if it was just a merchant, a gunsmith, say, or a photographer, how many of these were made?
Bill Groom Well, there were some people who stamped coins almost endlessly. And like one of them, Dave Bowers wrote about Dr. George Wilkins in Pittsfield, New Hampshire, and he just stamped a great number of coins. I highly recommend that book to anyone – it's about the mysterious Dr. Wilkins. He was a dentist, but he had some other interests, too. He liked to tip the bottle a bit. But Dave has some interesting observations about this fellow. But to answer your question, we had discussed beforehand, and I looked at my database about the populations of counterstamps. I checked out my database last night, and as of last night, I had 2753 counterstamps listed in my database. Now, some of them, many of them, are multiple pieces of the same individual who issued them. But out of that 2753, I counted 2058 pieces that there were less than 15 or fewer specimens known of that particular counterstamp. Huge numbers of people stamped coins, but very limited numbers of coins generally.
Greg Bennick So other than merchants, I mentioned soldier ID tags. Were they used for other things as well? Or was it mainly merchant use throughout the - you said the 1850s - and beyond.
Bill Groom Okay. All right. For the soldier I.D. tags I've only ever seen and owned one of those. Soldier I.D. tags were produced by sutlers on medallion pieces, not really on coins. So it wasn't it wasn't really a counterstamp per se. A counter stamp would be stamping upon a coin. But these were stamped medals that were carried by soldiers. But as far as the coins go, there's only one that I've ever known. There are a couple that look similar that could possibly be soldiers counterstamps, but I only own one that actually resembles the die struck ones. There were stamping kits that they had to do on those. I wrote the author of a book on those, and he never gave me a reply on it, but I was trying to investigate if he had seen any. But he has none listed in his book. So that really wasn't a common occurrence. Very uncommon. Very rare.
Greg Bennick Now, you've referred to counterstamps in your emails with me as, the final frontier of numismatics. There are thousands of counterstamps that have yet to be identified or connected with merchants or individuals. Is that what you meant by a final frontier?
Bill Groom Oh, yes, pretty much. And what I also meant was this is a frontier that really bears exploration and discovery. And it's wide open because there are thousands and thousands of counterstamps out there that have yet to be researched and identified. And that is the frontier – its really is getting to those pieces. And I know one of the things concerns me is that people will look at a book and they'll take a book once something is in print as gospel, or if it's on a slab and says such and such on a slab. Well, that's it. That's what it is. Well, that's not the case. Many pieces have been misattributed. And that's a problem. The Rudolph counterstamps is probably the one that bothers me the most. That causes me the most concern because that whole attribution is based on a single advertisement of a druggist named Rudolph. and I wrote an article on that, and it was published in Talkin' Tokens on the National Token Collectors Association. And I believe it's a jeweler from Delaware, and I found a similar spoon of his that has a very similar counterstamp, with the same style of letters. Not exactly the same. Well, it's not uncommon for silversmiths to have more than one counterstamp in their drawers.
Greg Bennick So this is interesting. It's like the adage of buy the coin, not the holder that people hear all their lives.
Bill Groom Yes, that's that's very true. And do you do your research on these before you buy them. And one of the things that's nice about coins and buying coins at auction is you have days to actually research the pieces. And I bought many counterstamps at auction. And the best buys are often in bulk lots because the auction houses just throw a number of pieces in there and they're not really - there's no attention or very little of any attention given to attribution of the pieces. And I got some tremendous bargains buying in bulk lots. A couple in the Patrick auction that was held not long ago. And some from Stacks. And it's just it's a way to get counterstamps is to buy a whole deal of a group of them. And that's something your collectors should look for. I don't need the competition, but that's the way it is. I've got more than enough of the counterstamps so… share the wealth.
About the Interviewer
Greg Bennick (www.gregbennick.com) is a keynote speaker and long time coin collector with a focus on major mint error coins. Have ideas for other interviewees? Contact him anytime on the web or via instagram @minterrors.
To watch the complete video, see:
Bill Groom on Counterstamps (https://archive.org/details/billgroominterview)
To read the complete transcript, see:
Bill Groom Interview (Transcript) (https://nnp.wustl.edu/library/book/630877)
To read the earlier E-Sylum article, see:
VIDEO: BILL GROOM ON COUNTERSTAMPS (https://www.coinbooks.org/v26/esylum_v26n35a05.html)
Eight catalogues and one addenda, bound in one volume. 8vo, contemporary black half calf, gilt, with marbled sides; spine ruled and lettered in gilt. Collet's engraved bookplate is affixed to the front pastedown, and most of the catalogue covers bear his signature. Binding somewhat worn at extremities; rear board professionally reattached. Very good or better. A wonderful volume, bringing together several important antebellum auction catalogues, from the library of Mark W. Collet, who would be tragically killed in the war. Most notable for including the 1851 sale of the Dr. Lewis Roper collection, which is considered the first important American coin auction. Roper (c. 1806–1850) was a Philadelphia dentist and early American numismatist. He was well-known to the Mint establishment, testifying to the avidity of his collecting. Roper headed west during the Gold Rush, and died at sea while returning home in 1850.
His collection reflected the varied tastes of the time. In the American series, the sale featured Comitia Americana and War of 1812 medals, a few Franklin medals, four Gobrecht dollars, a 1792 Washington Head half dollar, colonial coins, presidential medals, etc. A Stony Point medal in gold sold for $38 to Fales (the catalogue doesn't mention the actual recipient of the medal, though Charles Bushnell recorded in his copy that it was de Fleury—which is puzzling because de Fleury was not presented with a gold medal—see Adams & Bentley on the Anthony Wayne gold medal and the predecessor created by Duvivier). Also featured were collections of French medals and coins, English coins, German and other European series, long runs of ancient Greek and Roman coins, etc. Buyers included Joseph J. Mickley, Richard Wistar Davids, Charles I. Bushnell, Henry Muhlenberg, Ammi Brown, Jeremiah Colburn, James H. Taylor, Henry Cook, and Jacob Giles Morris.
Attinelli wrote in Numisgraphics (page 8) that, "This is, it is believed, the first coin sale in this country, in which sufficient interest was manifested by numismatists to take note of the prices paid for coins, and who were the purchasers." The Roper sale is one of the great landmarks in American numismatic literature, and is rare, with perhaps a dozen or so copies known. This copy is from the first state, without the Thomas firm's full "Philada." address printed at the base of the last page (see P. Scott Rubin's "Variants of the 1851 Roper Auction Sale Catalogue," in the Fall 1998 issue of The Asylum). The existence of a second state of the catalogue that goes out of its way to specify the city in which the sale was being held testifies that the news of the upcoming auction had spread to other locales, indicating the growing interest in the hobby.
The other catalogues in this volume are also significant. The second catalogue, primarily a book sale, includes 135 lots of coins and medals (uncharacteristically, Attinelli records only 92 lots), and featuring 61 lots of important works on ancient and foreign coins and medals. Attinelli 12. The Bogert sale is Adams 2 in his listing of Bangs catalogues. It is Sage's most significant catalogue, and one of the most important U.S. sales of the 1850s. The sale contained important pieces and brought $2,198.47, a record at the time. This copy is priced and named. The addenda is scarce. Q. David Bowers has written a wonderful book about Sage and the birth of the coin hobby in the United States, which is well worth reading. Attinelli 13–14. Davis 894.
The Bramhall catalogue is very scarce. Bramhall, a collector from New York who had served as the second curator of the ANS, also fought in the Civil War and was badly wounded in the head at the Battle of Wilderness on May 6, 1864. Apparently, he never fully recovered. Not listed by Adams. Attinelli 14. The gentleman of the June 1859 Sage sale was James D. Foskett. Attinelli 14. The June 21–23, 1859 catalogue is Adams 3 for the Bangs series: "1799 1¢, late date proofs. 1792 Washington 1¢. Higley 1¢. VF 1794 $1. NE 12¢. Baltimore groat. 1857, 1858 proof sets." Mainly the property of John K. Curtis. In this sale, Joseph Mickley purchased for $11.00 his fabled 1799 large cent, lot 140, a "superb" specimen.
The Whitmore sale is Adams 4 in his listing of Bangs catalogues, and was Sage's final auction—this copy is priced and named. Attinelli 15. The 1859 Levick sale was the first Cogan auction printed as a traditional catalogue. It is strong in early copper and proofs, as well as Washingtonia and tokens. Scarce, especially priced with names recorded. Adams 5. Attinelli 15–16.
Philadelphia numismatist Mark Wilkes Collet was a medical doctor and token collector who had been one of the founders of the Philadelphia Numismatic Society. With J. Ledyard Hodge and Alfred B. Taylor, he had published in 1858 a Catalogue of American Store Cards, Etc., which was one of the first publications on the subject. Collet had enlisted as a Major in the 3rd New Jersey Volunteers (Infantry) on May 22, 1861. He was promoted to Lieutenant Colonel and then to Colonel, as which he served the 1st New Jersey Infantry. His death on May 3, 1863 at the Battle of Chancellorsville took from the hobby a numismatist of considerable promise. This is a historically important volume. Ex Wayne Homren Library.
To read the complete lot description, see:
1850s Auction Catalogues Including the 1851 Roper Sale (https://bid.numislit.com/lots/view/1-7XX35A/1850s-auction-catalogues-including-the-1851-roper-sale)
Homren, Wayne [compiler]. BINDERS 47–47C: NUMISMATIC AMERICANA. Three binders include the following:
1) Daniel E. Groux's Catalogue of a Grand Collection of Coins and Medals (1855);
2) Strobridge's Catalogue of the Groux Collection of Coins and Numismatic Works (April 7–9, 1874);
3) Tale of Two Oceans by E.I. Barra (1893);
4) Mason Brothers' advertising circular (1866);
5) R.W. Mercer illustrated mailing envelope;
6) Coin and Medal Circular by Henry Cook (1869);
7) Mason & Co. catalogues of October 13–14, 1869, December 1, 1869, December 22, 1869 and May 19, 1870;
8) Table of Gold, Silver and Copper Coins, NOT Issued by the United States Mint by Edward Cogan (1871);
9) Edward Cogan circular dated 8 December 1874 advertising a gold Manly medal for sale;
10) Thomas L. Elder July 29, 1909 circular denouncing Farran Zerbe;
11) Robert W. Mercer's The Numismatic Directory for 1884;
12) Trials of Scott and Dunlap for Robbing the Northampton National Bank, Breaking and Entering the Cashier's House;
13) New York Coin & Stamps Co.'s Burglary of October 11, 1912 notice;
14) H.G. Sampson's $150 Reward notice (1879);
15) Scott Stamp & Coin Co. moving notice, March 25, 1889;
16) How to Collect Stamps and Coins by Francis Worcester Doughty;
17) Collecting and Hobbies with Special Reference to Coin, Medal and Paper Money Collecting by the Elder Numismatic Press (1917);
18) The Ancient Egyptian Scarab by Thomas L. Elder;
19) Brief Account of Murders by the Indians, and the Cause thereof, in Northampton County, Penn'a by Joseph J. Mickley (1875);
20) Some Account of William Usselinx and Peter Minuit, Two Individuals Who Were Instrumental in Establishing the First Permanent Colony in Delaware by Joseph J. Mickley (1881);
21) The World's Greatest Travel Car circular;
22) List of Coins Attached to Numismatic Urn Collected by Edward J. Rausch;
22) Up and Down in the World, or Paddle Your Own Canoe by A.M. Smith (1885);
23) A.M. Smith's Illustrated Coin Book (1905);
24) Statement of James Ross Snowden, in Reference to the Naturalization of Aliens in the Supreme Court (September 6, 1869);
25) three W. Elliot Woodward "With Compliments of" cards;
26) a 20 cent Mount Pleasant Apothecary Store scrip (Roxbury, January 1, 1863) signed by A.W. Smith, accompanied by a facsimile of this scrip issue;
27) printed W. Elliot Woodward response postcard;
28) modern printout of Harlow Elliot Woodward epitaph (1908);
29) two copies of W. Elliot Woodward's circular on American Numismatic Periodicals, one of which has had the entry for Frossard's Numisma edited to be much less complimentary than was the original;
30) The American Society of Curio Collectors' Year book for 1902 by Roy Farrell Greene;
31) Inflation—Don't Let It Break America poster;
32) photograph of Don Miller (August 1972);
33) photograph of Paul Bauer;
34) 8 by 10 photograph of Nelson T. Thorson with mailing envelopes;
35) four modern numismatic postcards;
36) photocopy of H.M.F. Schulman's application for federal employment (1954);
36) New England Rare Coin Galleries flyer with check for dividends of Rare Coin Galleries for 13¢ and accompanying letter dated December 29, 1994;
37) Society of Paper Money Collectors Paper Money, issue Vol. 7, No. 3 (1968);
38) fourteen Emperor Norton note reproductions made by Henry Clifford;
39) photocopy of Money Talks: A Numismatic Anthology Selected from CalCoin News with articles on Emperor Norton;
40) Dogtown Territorial Quarterly, Spring 1996 with articles on Emperor Norton. Generally fine or nearly so.
A wonderful array of material, much of it rare. The 1855 Groux lottery scheme booklet is important and rarely offered. The early non-sale publications by Cogan, Cook and Woodward are all desirable and scarce. The A.M. Smith autobiography is the first we have handled. The Mickley publications are interesting and infrequently met with. The circular by Cogan offering a gold Manly medal is the first we recall seeing. Elder's screed against Zerbe is amusing, as is the edited version of Woodward's circular on numismatic periodicals, redacted to reflect poorly on Ed Frossard. There is quite a lot of interesting material in these binders. Ex Wayne Homren Library.
To read the complete lot description, see:
Numismatic Americana (https://bid.numislit.com/lots/view/1-7XX396/numismatic-americana)
To read the earlier E-Sylum articles, see:
NOTES FROM E-SYLUM READERS: MAY 30, 2021 : Edward Rausch's Numismatic Urn (https://www.coinbooks.org/v24/esylum_v24n22a09.html)
MORE ON THE TRAVEL CAR COIN MUSEUM (https://www.coinbooks.org/v24/esylum_v24n46a11.html)
WAYNE'S NUMISMATIC DIARY: JUNE 7, 2020 : W. Elliot Woodward's Mt. Pleasant Apothecary Store Scrip (https://www.coinbooks.org/v23/esylum_v23n23a28.html)
102532 | GERMANY, GREAT BRITAIN & UNITED STATES. RMS Lusitania iron Medal. Dated 1915. The Sinking of the RMS Lusitania (56mm, 37.23 g, 12h). By K. Goetz in München. GESCHAFT UBER ALLES (business above all), skeleton (as Death) standing left within ticket booth marked CUNA[RD]/LINIE and CUNARD (the Cunard Line, owners of the ship) above and to right, and FAHRKARTEN/AUSGABE (ticket office) below; to left, queue of passengers, one of whom reads a newspaper with the headline U/BOO[T]/GEFAH[R] (U-Boat danger) // KEINE BANN WARE! (no contraband!), the Lusitania sinking in heavy seas; in five lines in exergue, DER GROSSDAMPFER / =LUSITANIA= / DURCH EIN DEUTSCHES / TAUCHBOOT VERSENKT / 7 MAI 1915 (the liner Lusitania sunk by a German submarine). Edge: Some filing marks as made. Burns 3b2; Kienast 156; Eimer 1941Ad; cf. Jones, "Dance of Death," 28 (for the original with the erroneous date); "The Art of Devastation," p. 254, 53 (for the original in bronze with the erroneous date). Choice Mint State. Light pewter gray surfaces, with some deeper toning in the recesses. A very rare original—as opposed to the numerous later copies of it—with the corrected date for the sinking. A similar corrected date version in bronze realized $1,920 in a recent Heritage sale (auction 61319, lot 23216), with its new owner currently accepting no less than $2,880 for it). $1,395.
Not long after the German warning against sea travel into her 'war zone' declared upon Great Britain, a popular liner–the RMS Lusitania–was torpedoed 11 miles off the coast of Ireland, where over 60% of her passengers, some of whom were Americans, were killed. Serving as a rallying cry against the German Empire, this action solidified American involvement in World War I.
German medalist Karl Goetz jumped at the opportunity to satirize these events, designing a medal which would become infamous. The idea of Death handing out the tickets to the eventual passengers–and victims–of Goetz's Germany did not sit well with Great Britain nor her soon-to-be official ally in the war efforts, the United States. Both made copies of this gruesome memento in order to remember the ignominious act and also raise funds for the victims' families. This, however, is one of the rare originals by Goetz, made with the corrected date of the sinking.
To read the complete item description, see:
102532 | GERMANY, GREAT BRITAIN & UNITED STATES. RMS Lusitania iron Medal. (https://www.numismagram.com/product-page/102532)
102355 | GERMANY & the ENTENTE. Pact of Malice cast bronze Medal. Dated 1915. "Der Bund der Tücke"—on Germany's fight against the "union of deceit" (82mm, 141.16 g, 12h). By K. Goetz in München. DER BVND DER TVECKE (the bond of malice), winged fantastic beast standing right, with numerous allegorical, elongated, serpentine/hydra-like heads: cock (for France), lion (for Belgium and England), bear (for Russia), Snake (for Serbia), and dragon (for Japan); below, figure, nude but for Bersagliere hat, seated with back to viewer, suckling from the beast's teats (an allegory for Italy, as Romulus/Remus suckling the she wolf); MCMXV below // Facing bust of God, holding scythe and resting hand upon and globe; flames of Hell below; across central field in three lines, SCHLAGT IHN TOT! / DAS WELTGERIGHT / FRAGT EVCH NACH DEN / GRVENDEN NICHT! ("Strike him dead! Doomsday asks you not on what grounds" –Heinrich von Kleist). Edge: A few light marks, otherwise plain. Kienast 160; Klose 8.8; Art of Devastation –; Choice Mint State. Dark brown surfaces, with some hints of rub and lighter colors upon the higher points. Compare to a similar piece, graded NGC MS-65 Brown, that realized a total of $1,920 in Heritage auction 61296, lot 22069. $1,395.
Similar to many of Goetz's World War I-era medals, this particular piece—issued in a much larger format than is generally encountered—portrays Germany against seemingly the rest of the world. Here, Goetz sees Germany's then-enemies as this fantastic beast amalgamated from the various allegories associated with them. Meanwhile, on the reverse, the stark aspect of the war, and seemingly the divine right for the Germans, is displayed by the representation of God, holding a scythe and the globe—an indication of His power to smite the enemy and His terrestrial rule. The quote from Heinrich von Kleist merely reinforces that aspect that much more, in the sentiment to "...strike him dead! Doomsday asks you not on what grounds." A haunting and extremely powerful work from the ever-ambitious Goetz.
To read the complete item description, see:
102355 | GERMANY & the ENTENTE. Pact of Malice cast bronze Medal. (https://www.numismagram.com/product-page/102355)
102329 | GERMANY & MONTENEGRO. Nikola's Daughters of Fate cast bronze Medal. Dated 1916 (82mm, 143.85 g, 12h). By K. Goetz in München. NIKITAS SCHICK SALS TOECHTER, the daughters of Nikola I of Montenegro as The Fates, with each daughter's name inscribed below them on the pediment upon which they stand: Militza (wife of Grand Duke Peter Nikolaivich of Russia), holding torch, Stana (Anastasia, wife of Grand Duke Nikolai Nikolaivich of Russia), holding key surmounted by skull, and Elena (wife of Victor Emmanuel III of Italy), holding serpent // DER SCHWARZEN BERGE (the Black Mountains [= Montenegro]), three hissing serpents entwined about bloody sword pointed left; NIEDER – LAGE (defeat) across field above blade. Edge: K•GoeTz. Kienast 189. Choice Mint State. Lighter brown surfaces, with great textured relief and highlights. A scarcer larger-format issue from the period of World War I. Ex PS Collection of Medals of the Great War; ex Westfälische Auktionsgesellschaft 76 (7 September 2016), lot 868. $595.
Here, Goetz alludes to the downfall of Montenegro as being the result of the king's daughters marrying into enemy families—namely, into Italy (who had an alliance with Austria-Hungary and Germany, but instead later chose neutrality) and into Russia (who was on the side of the Entente Powers). They are presented in the form of the Three Moirai, or Fates, on the obverse, turning instead into hissing serpents atop a blood-soaked sword on the reverse.
To read the complete item description, see:
102329 | GERMANY & MONTENEGRO. Nikola's Daughters of Fate cast bronze Medal. (https://www.numismagram.com/product-page/102329)
102547 | GERMANY & UKRAINE. "Bread" Treaty with Ukraine cast bronze Medal. Dated 1918. "Friede mit der Ukraine"—on the signing of the peace treaty between the Central Powers and Ukraine (58mm, 65.25 g, 12h). By K. Goetz in München. FRIEDE MIT DER UKRAINE, tree bearing fruits; to right, sword stuck in ground, with a garland wrapped around it and that connects it to the tree; personification of the sun in background to left; BROT (bread) across field // 9 FEBRVAR 1918, German eagle standing facing, head lowered right; to right, dove standing left, with olive branch in beak and wings spread; both stand upon a bushel of wheat; grain ear curling to right. Edge: Plain. Kienast 205. Choice Mint State. Rich red-brown surfaces. $495.
The toppling of the czarist government in Russia at the hands of the Bolsheviks provided an opportunity for those in Ukraine seeking independence. While Russia's Entente allies, France and the United Kingdom, did not want to recognize any such Ukrainian independence, the Central Powers welcomed such an invitation, as it provided a buffer between them and Russia. With a pact signed, the Treaty of Brest-Litovsk, the combined forces of Austria-Hungary and Germany intervened and drove out the Russian Red Army. Following World War I however, this Ukrainian victory was short-lived, as signatories of the treaty on the side of the Central Powers began to fade: Austria-Hungary dissolved following the war, Turkey opted for a pact with the pro-Soviet Ukrainian SSR, and Germany signed on to a deal with Soviet Russia. As such, most of what is modern-day Ukraine, including the Crimean region, would fall back under Soviet command until the dissolution of the Soviet Union's vast empire in 1991. Since that point, Ukraine's very existence his been at the crosshairs of Soviet diehards, including its current de facto "chairman."
In this medal, Goetz recognizes Ukraine's role as the "breadbasket" of Europe, even naming this the "bread" (brod) treaty on the obverse. At the time, he understood the benefit of an alliance between Germany and Ukraine on account of the grain resources which the latter could provide. In real time, we are all observing what a disruption to Europe's breadbasket can bring, among other aspects.
To read the complete item description, see:
102547 | GERMANY & UKRAINE. "Bread" Treaty with Ukraine cast bronze Medal. (https://www.numismagram.com/product-page/102547)
102498 | GERMANY & the ENTENTE. Conditions of Armistice cast bronze Medal. Dated 1918. "Waffenstillstandsbedingungen"—on the signing of the armistice effective 11am on 11 November 1918 (58mm, 60.49 g, 12h). By K. Goetz in München. WAFFENSTILL-STANDSBEDINGUNG / 11 NOVEMBER 1918, Uncle Sam (United States) binds together the feet of the Deutscher Michel (Germany) while John Bull (Great Britain) holds him back, and Marshal Foch (of France) strangles him with his rifle; in two lines in exergue, FOCH HAT DAS / WORT (Foch has the word) // EIN 70 MILLIONEN VOLK / LEIDET / ABER STIRB NICHT (a nation of 70 millions suffers, but does not die), numerous hands raised in clenched fists. Edge: Plain. Kienast 215. Choice Mint State. Tan-brown surfaces, with a delightful matte nature. Ex Dr. van Osch "Pax in Nummis" Collection. $465.
Here, Goetz alludes to the conditions of surrender which he viewed as rather harsh for his fellow compatriots. The United States and the United Kingdom (through allegories of Uncle Sam and John Bull) are depicted as typing up and restraining Michel (an allegory indicative of the German populace), all while Ferdinand Foch, the marshal of France, attempts to strangle him with his rifle. The sentiment of rising up, as presented on the reverse, would get further stoked throughout the ensuing decade and the occupation of the Rhineland—aspects that played into the hands of those seeking to start another global conflict just two decades later.
To read the complete item description, see:
102498 | GERMANY & the ENTENTE. Conditions of Armistice cast bronze Medal. (https://www.numismagram.com/product-page/102498)
In the nearly five centuries this denomination has existed, it has not only become a fixture in much modern coinage (e.g. the United States quarter which is now issued in more iterations than I was willing to take time to count), its extensive use throughout all those years provides a comprehensive medallic account of British history.
It is also a particularly popular area for collector specialization. I put together a few examples to serve as a focal point in this sale.
The denomination as a unit of measure had been around since Anglo-Saxon days, but an actual coin did not come about until the 14-year-old king's portrait appeared on the fine silver coinage of 1551 (Lot 169) that replaced the seriously debased—and disrespected—coinage left over from his spendthrift father. The precocious and erudite young Edward's writings* note his May 1551 criticism of London leaders raising prices because the teston cried down from 12d. to 10d. and the groat from 4d. to 3d.
In July 1551 Edward commented on a proclamation signed for a shortening of the fall of the money to that day and the proclamation was delivered to sheriffs instructing them not to open it until July 8. Subsequent notes written by Edward expand on the problem and by September Edward seemed to be regarding the existing, and in varying degrees, debased coinage as the bullion from which coinage of a new standard would now be minted.
Later in the month he noted that it was Agreed that the stamp of the shilling and the sixpence should be: of one side a king painted to the shoulders, in Parliament robes, and with a chain of the Order. This is the coin listed as Lot 169 in our current sale—an attractive example that got scratched somewhere in the past 472 years.
*(Quotations taken from Jordan, W.K. Editor. The Chronicle and Political Papers of King Edward VI. Cornell University Press. 1966)
We have a few more historically significant shillings in this sale including a couple with exceptional pedigrees. Elizabeth I is represented twice, with a Second Issue piece with an earlier portrait. (Lot 171) I have had this piece since well before our current database was constructed. It is on a full round flan with good detail and almost all the edge beading intact. (In hand it is more attractive with a richer tone and clear hints of underlying fresh surfaces.)
Another piece issued later in her reign has clear scratches in the field just in front of her portrait. (Lot 175) There is a possibility that this bold X with an extra line for emphasis was a political comment on the queen, a practice seen on coins from as far back as the Roman Empire.
The James I shilling with the rare first portrait of James (Lot 177) came from one of the finest coin collections of the 20th Century, the collection formed by Mrs. Emery May Norweb from about 1905. She had inherited a collection of American coins and she, along with her husband, R. Henry Norweb, collected for well over seven decades.
The reign of Charles I was particularly well documented by the coinage that emerged during this tumultuous period. Lot 179 is an excellent example of a coin minted in a time of great stress. The bust was designed by a master—Briot—but the production was hurried, no time for a neatly cut flan. This was among the last pieces produced by the Tower for Charles. The next set of initial marks (mint marks) signified that Parliament was now using the coinage capabilities to produce coins under their rule.
The final shilling (Lot 182) in this brief feature come from the Bridgewater House collection formed in the 18th Century. A different portrait of Charles is on the obverse but the reverse has the declaration of the Royalists, RELIG PRO LEG ANG LIB PAR (Religion of the Protestants, Laws of England, Liberty of the Parliament). As noted in the Bridgewater House catalog, the flan is irregular but the centering is close and the completeness of the detail is substantially better than often seen on these issues produced far from London. Bristol's hopes for neutrality in the Civil War were rejected when Thomas Essex marched in in 1642 for Parliament. The Royalists seized it in 1643 and Bristol became an important west coast port for Royalist forces, important enough that a mint was established there. A siege in 1645 restored Bristol to Parliamentarian control.
All in all, a few important anecdotes in English history.
For more information, or to bid, see:
https://davcoin.com/sale/E-Auction%2047
To read the earlier E-Sylum article, see:
DAVISSONS E-AUCTION 47 ROMAN PORTRAITS (https://www.coinbooks.org/v26/esylum_v26n35a14.html)
Stephen Album Rare Coins will hold its Auction 47 on September 14-17, 2023 at their new offices in Santa Rosa, California. The auction is made up of 3400 lots of Ancient, Islamic, Indian, Chinese, U.S., and World Coins. The first two days will be in-person bidding as well as on the internet, while the third and fourth days will be internet-only sessions.
Featured in the auction will be the Charles W. Lueders III Collection of Indian & Asian Coins Part II, the Joe Sedillot Collection of World Coins Part V, and a superb selection of rare U. S. coins and medals.
Some highlights from the sale follow:
LOT 652: CHINA: Republic, AR dollar, Central Mint, Tientsin, ND (1914), Y-322, L&M-858, K-642, 39mm Regular Strike type, Commemorative for the Founding of the Republic of China; facing bust of Yuan Shih Kai in military attire and tall, plumed hat // value within wreath, a lovely rainbow toned example! PCGS graded MS64.
Estimated at $40,000 to $50,000
LOT 659: CHINA: Republic, AR dollar, Central Mint, Tientsin, ND (1923), Kann-678, L& M-959; WS-0105, Proclamation of the Constitution Commemorative; Ts'ao K'un in military uniform // jì niàn (commemorative) between crossed Wuchang Uprising and Five-colored flags, five stars around, graffiti at obverse 11 o'clock, attractive light iridescent toning, PCGS graded UNC details. General Cao Kun (Ts'ao K'un) was a Chinese warlord and politician, who served as the President of the Republic of China from 1923 to 1924, as well as the military leader of the Zhili clique in the Beiyang Army
Estimated at $15,000 to $20,000
LOT 975: INDIA: BRITISH: Victoria, Queen, 1837-1876, AV mohur, 1841(c), KM-462, S&W-3.7, Prid-22, East India Company issue, small date, number "4" without serif, with dot after date, an attractive mint state example! PCGS graded MS61.
Estimated at $10,000-$12,000
LOT 980: INDIA: BRITISH: Victoria, Empress, 1876-1901, AR 1/2 rupee, 1879-C, KM-491, S&W-6.176, Prid-263, a lovely mint state example and thus rare! PCGS graded MS63, RR. Tied for finest graded example at both NGC and PCGS!
Estimated at $8,000 to $10,000
LOT 1083: WORLD: IRAQ: Faisal I, 1921-1933, 6-coin proof set, 1931/AH1349, set includes all PCGS-graded coins: silver 50 fils KM-100 PF-64, 20 fils KM-99 PF-64, 10 fils KM-98 PF-64, 4 fils KM-97 PF-64, 2 fils KM-96 PF65RB, and 1 fil KM-95 PF-64RB, a lovely well-matched set, set of 6 proof coins.
Estimated at $15,000 to $25,000
LOT 1573: WORLD: UNITED STATES: AV 10 dollar, 1795, KM-21, Draped Bust type, small eagle reverse, 13 leaves variety, cleaned, but a well struck lustrous example! PCGS graded AU details. The 1795 'eagle' was the first American ten dollar gold piece. There are two varieties, one with 13 leaves on the branch below the eagle and one with 9 leaves. Only 5,583 total coins were struck for both varieties. For the 13 leaves, probably 400 to 500 exist today in all grades.
Estimated at $30,000 to $40,000
The firm is currently accepting consignments for its Auction 48, which will take place on January 18-21, 2024, as well as future internet-only sales. Please see www.stevealbum.com for more information.
MDC Monnaies de collection is excited to auction the French Collection in October 2023. The collection of 540 lots, built over 40 years, includes the most beautiful coins from the French Revolution to the Fifth Republic, with a vast majority of Top Pop. Today, it is not possible to recreate such a collection. We know that many collectors will find in it the special coins they have been looking for in their collection. The auction will take place in Monaco at the Hôtel Métropole on the 11th of October 2023, from 1:30 pm to 4 pm (lots 1 to 296) and from 4:15 pm to 7 pm (lots 297 to 540), Nicolas Gimbert, Auctioneer
Lot 15. France, Écu de 6 livres FRANÇOIS 1792A, An 4, Paris. PCGS MS63 (6461911)
Lot 71. France, 5 Francs. 1807A, Transitional type. The rarest 5 Francs Napoleonic design. Top Pop. PCGS MS63+ (39733302).
Lot 114. France. 5 Francs, 1815A Paris. Exquisitely toned! Top Pop of 2, PCGS PR63+ (39807092)
Lot. 223. France, 5 Francs, 1849A, Ceres Head, PCGS PR65+DCAM (39806850).
Lot 222. France, 5 Francs, 1849A, Ceres Head, Top Pop. The only example graded by PCGS or NGC. Missing in the Farouk Collection, PCGS SP66 (39733304).
Lot 330. France, 5 Francs Hercules, 1876A, Top Pop: this is the highest graded example. 166 have been graded at PCGS, this is the only coin graded MS67. PCGS MS67 (39868382).
Lot 424. France, 5 Francs Semeuse design Essai, 1898, Paris, PCGS SP64 (39806857)
To read the complete article, see:
MDC OCTOBER 2023 FRENCH COLLECTION (https://www.coinbooks.org/v26/esylum_v26n32a27.html)
For more information, see:
http://www.mdc.mc/
1668 Lancelott Keate Farthing

17th Century Token, Dorset, Beaminster, Lancelot Keate, Farthing, 1668, two hands holding keyboard like instrument, beaded circles and legend surrounding, cinquefoil stop at top, *LANCELOTT. KEATE, rev. L*K with cinquefoil stop between pellets above and below, beaded circles and legend surrounding, *OF. BEMINSTER. 1668, weight 1.08g (Boyne 7; BW7). Some Verdigris both sides, otherwise good fine to almost very fine.
We note from the History of Beaminster (Richard Hine 1914), that Lancelot Keate the Elder was one of six parishioners to be instructed and given powers to erect a new gallery in the north part of the church in 1657 to better accommodate the congregation and to sell seats within to pay for the works.
To read the complete item description, see:
Dorset 17th century Token, Beaminster, Lancelott Keate, 1668 Farthing (https://www.sovr.co.uk/products/dorset-17th-century-token-beaminster-lancelott-keate-1668-farthing-fm22143)
1825 Emperor Alexander I Death Medal

RUSSIA Morte dell'Imperatore Alessandro I (1801-1825) Medaglia 1825 A ricordo dello Zar Alessandro, al rovescio occhio raggiante e sotto data 1812. Opus: A.Klepikov. Diakov n.429.2; Julius n.3818; AE (g.128 - Ø 68,5 mm) R Rara medaglia di grosso modulo, minimi colpetti e segnetti al ciglio
To read the complete lot description, see:
Lot 1723: RUSSIA Morte dell'Imperatore Alessandro I (1801-1825) Medaglia 1825 A ricordo dello Zar Alessandro, al rovescio occhio raggiante e sotto data 1812. Opus: A.Klepikov. Diakov n.429.2; Julius n.3818; AE (g.128 (https://www.invaluable.com/auction-lot/RUSSIA-Morte-dell-Imperatore-Alessandro-I-1801-1-1723-c-EA64820B53)
1896 Nicholas II Visit to France Medal

RUSSIA Nicola II (1894-1917) Medaglia 1896 visita in Francia - Opus: Chaplain AE (g 157 - Ø 70 mm)
To read the complete lot description, see:
Lot 1722: RUSSIA Nicola II (1894-1917) Medaglia 1896 visita in Francia (https://www.invaluable.com/auction-lot/RUSSIA-Nicola-II-1894-1917-Medaglia-1896-visita-1722-c-8DF4C90A9B)
Sir Mark Jones Medal

Bronze portrait medal The Keeper: Mark Jones Keeper of Coins + Medals 1990-1992 by Ron Dutton rev. a walker setting off on a journey along a country road with legend, Giant's Shoulders (reference to Isaac Newton's metaphor, acknowledging his debt to major thinkers before him to make intellectual progress) Cast bronze 76mm. approximately, as made. Part of the series commemorating past Keepers of the department at the British Museum. Sir Mark Jones, art historian, subsequently became Director of the National Museums of Scotland and then Director of the V&A
To read the complete lot description, see:
MB107045 Bronze portrait medal Mark Jones Keeper of Coins + Medals 1990-1992 British Museum by Ron Dutton (https://simmonsgallery.co.uk/shop/medals/contemporary-art-medals/mb107045-bronze-portrait-medal-mark-jones-keeper-of-coins-medals-1990-1992-british-museum-by-ron-dutton/)
Two Banksy Di-Faced Tenners

(English, b. 1974) "Di-Faced" is a pun on the word "defaced" parodying the £10 note by replacing the portrait of Queen Elizabeth II with that of the late Princess Diana. Instead of "Bank of England", the note reads, "Banksy of England". These are framed with glass on both sides in mint condition
Overall: 14-3/4"h x 13-1/2"w
Sight: 2-5/8"h x 5-3/8"w
Provenance: Purchased from a UK Private Collector
To read the complete lot description, see:
Two Banksy Di-Faced Tenners (https://www.bidsquare.com/online-auctions/nye/two-banksy-di-faced-tenners-5306596)
As you see in other articles in this issue, I've consigned much of my library to Kolbe & Fanning. Why now? Well, I'm no spring chicken anymore and getting closer to retirement and likely empty-nester downsizing. With last month's birthday I became a card-carrying member of the Medicare set. The biggest reason for selling now rather than later was to take care of our children's college expenses before retiring. Although I'll certainly miss having so many numismatic books and ephemera at my fingertips, I've still got plenty of great books for reading and reference. Bibliophiles know books have a way of growing and expanding. Here are before and after photos of my home office and library.
I feel much lighter now. Honestly, it was getting to the point where I felt I couldn't add one more sheet of paper to my ephemera collection without busting out the walls. Now other collectors will have the opportunity to pick up where I left off.
Note that not all of my consignment made it into the current sale - some of the items shown in the NNP video will be in subsequent K&F sales in 2024, so stay tuned for more.
Here are some photos from my trip to the K&F offices in Gahanna, OH on May 4, 2023. I packed everything myself and with the help of my two sons, loaded it all into a rented cargo van. 70 boxes! Later I found two more in storage and shipped them - 72 boxes in all.
I had a nice dinner at a nearby restaurant with David and Maria Fanning. After an overnight hotel stay I drove the empty van back and returned it the next day. It was a tiring, whirlwind trip, but very satisfying. The library and I arrived at our destinations in good shape.
Unlike modern coins, ancient coins are not held to the same minute condition requirements of the 70-point Sheldon Grading Scale. What matters instead is eye appeal, and one of the main factors that creates pleasing eye appeal is patina. So, what actually is patina?
Basically, true patina is any surface oxidation that occurs on the metal of a coin immediately after striking. In modern copper coins, this is the difference between the Red, Red Brown, and Brown color designations. However, in the common parlance of ancient coin collectors, a patina is any coating of foreign material created over the many years the piece was buried in the ground. This oxidization comes in many forms, and is highly reliant on two factors: the environment of the soil the coin was buried in and the type of alloy from which the coin was struck.
The most common patina type, green, is formed by copper acetate Cu(CH3CO2)2. This copper oxide is the natural result of a transformation between the coin's copper metal and acetic acid present in the atmosphere. As can be seen on the two examples below, a group of small Greek bronze coins and a 25.5mm AE of Roman emperor Severus Alexander, this green coloration can come in a variety of tones, ranging from almost black to a lighter green.
To read the complete article, see:
Patina on Ancient Bronze Coins (https://coinweek.com/patina-on-ancient-bronze-coins/)
An 8-year-old boy playing in a sandbox at his elementary school in Germany unearthed an 1,800-year-old silver coin minted during the Roman Empire's Pax Romana.
Overwhelmed with excitement for literally finding buried treasure in the schoolyard, the fourth grader — identified only by his first name, Bjarne — rushed home to show the coin to his family in Bremen, a city in northern Germany, upon finding it in August 2022. After his parents contacted authorities, archaeologists confirmed that the coin was a Roman denarius minted during the reign of Emperor Marcus Aurelius Antoninus, who held the throne from A.D. 161 to 180, according to a translated statement released on Aug. 11.
The heavily worn coin, which weighs 0.08 ounce (2.4 grams), was minted during a "time of coin deterioration" when the Roman Empire decreased the silver content in its currency, a direct result of inflation, Uta Halle, the state archaeologist, said in the statement.
Halle called the find "something very special," since it's one of the few times a denarius has been discovered in Bremen, according to the statement. While this region of Germany was never under Roman rule, it was inhabited by the Chauci, an ancient Germanic tribe that often traded with ancient Romans. This could explain how the coin wound up buried in German soil, according to The History Blog.
To read the complete article, see:
8-year-old unearths Roman-era silver coin in school sandbox (https://www.livescience.com/archaeology/romans/8-year-old-unearths-roman-era-silver-coin-in-school-sandbox)
The Pyx Chamber is one of the oldest surviving parts of Westminster Abbey.
This low vaulted room off the East Cloister is part of the Undercroft, underneath the monk's dormitory, which was built about 1070. The Chamber was walled off in the 12th century and made into a treasury in the 13th century, and possibly used as a sacristy when Henry III was rebuilding the main Abbey. The two heavy oak entrance doors date from the early 14th century (the original entrance being from the vestibule of the Chapter House).The chamber still possesses its medieval tiled floor and some tiles from the 11th century. The large curved medieval chest was used to store vestments. The other chests held important treaties and foreign policy documents.
It takes its name 'Pyx' from wooden boxes in which silver and gold pieces were kept secure to await the "Trial of the Pyx" - melting down the measured silver content as a way of showing that the coinage was pure - established in 1281. The stone table (not an altar) against the east wall was used to test the silver. The Trial continues to this day in Goldsmiths' Hall in the City of London.
This richly illustrated guide explores the history of the Chapter House and Pyx Chamber in Westminster Abbey. In 1253, as King Henry III's Chapter House neared completion, it was described as 'beyond compare' and ranked amongst the great achievements of Gothic architecture. Used by the monks for their formal daily meeting, the Chapter House also became the assembly place for the king's 'Great Court', a predecessor of the English Parliament.
For more information, or to order, see:
ADD TO WISH LIST Chapter House and Pyx Chamber Guide (https://shop.westminster-abbey.org/chapter-house-and-pyx-chamber-guide)
To read the complete article, see:
Pyx Chamber (https://www.westminster-abbey.org/history/explore-our-history/pyx-chamber)
On Tuesday Paul Horner reported:
A nearly 200-year-old West Point time capsule that appeared to yield little more than dust when it was opened during a disappointing livestream contained hidden treasure after all, the U.S. Military Academy said Wednesday.
It was just more hidden than expected.
The lead box believed to have been placed by cadets in the base of a monument actually contained six silver American coins dating from 1795 to 1828 and a commemorative medal, West Point said in a news release. All were discovered in the sediment of the box, which at Monday's ceremonial opening at the New York academy appeared to be its only contents.
When I first found these, I thought, man, you know, it would have been great to have found these on stage, said West Point archeologist Paul Hudson, who after the event, took the box back to his lab and began carefully sifting through the silt with a small wooden pick and brush.
Before long, lo and behold, there's the edge of a coin sticking out, he recounted by phone, and I thought, well that's OK. That's something, that's a start.
He said he was as disappointed as anyone by the underwhelming results of the live opening, which brought comparisons to Geraldo Rivera's televised 1986 unsealing of a Chicago hotel vault purportedly belonging to gangster Al Capone, which infamously revealed nothing but dirt. A crowd that had gathered at the U.S. Military Academy had hoped to see military relics or historical documents when experts pried open the top and pointed a camera inside.
It was probably better to extract the coins and medal in a controlled setting anyway, said Hudson, who still plans to analyze the sediment for more clues about what else may have been inside.
What did survive were a 1795 5-cent coin, an 1800 Liberty dollar, 1818 25-cent coin, 10-cent and 1-cent coins from 1827, and an 1828 50-cent coin. There was also an Erie Canal commemorative medal dating to 1826.
To read the complete article, see:
West Point time capsule that appeared to contain nothing more than silt yields centuries-old coins (https://www.msn.com/en-us/news/us/west-point-time-capsule-that-appeared-to-contain-nothing-more-than-silt-yields-centuries-old-coins/ar-AA1g0Bvk)
John Sallay adds:
To read the complete articles, see:
West Point discovers artifacts inside 1828 Time capsule! (https://www.youtube.com/watch?v=fRQ6N4X-C_w)
West Point time capsule: Coins and medal found in mysterious box (https://www.bbc.com/news/world-us-canada-66667189)
A large, nearly 200-year-old time capsule at West Point contained only a few coins, leaving historians perplexed (https://news.yahoo.com/large-nearly-200-old-time-140001655.html)
To read the earlier E-Sylum article, see:
1820S WEST POINT TIME CAPSULE DISCOVERED (https://www.coinbooks.org/v26/esylum_v26n35a25.html)