Visit our NBS Sponsors
About Us
The Numismatic Bibliomania Society is a non-profit association devoted to the study and enjoyment of numismatic literature. For more information please see our web site at coinbooks.org
Subscriptions
Those wishing to become new E-Sylum subscribers (or wishing to Unsubscribe) can go to the following web page link
Membership
There is a membership application available on the web site Membership Application
To join, print the application and return it with your check to the address printed on the application. Print/Digital membership is $40 to addresses in the U.S., and $60 elsewhere. A digital-only membership is available for $25. For those without web access, write to:
Charles Heck, Treasurer
Numismatic Bibliomania Society
P. O. Box 2058,
Bluffton, SC
29910-2058
Asylum
For Asylum mailing address changes and other membership questions, contact Chuck at this email address: treasurer@coinbooks.org
Submissions
To submit items for publication in The E-Sylum, write to the Editor at this address: whomren@gmail.com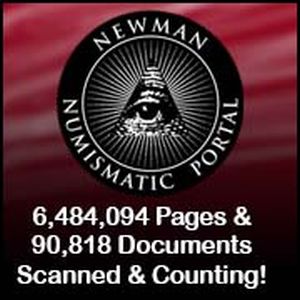 BUY THE BOOK BEFORE THE COIN
Content presented in The E-Sylum is not necessarily researched or independently fact-checked, and views expressed do not necessarily represent those of the Numismatic Bibliomania Society.
New subscribers this week include: Marnie Davisson. Welcome aboard! We now have 7,617 subscribers.
Thank you for reading The E-Sylum. If you enjoy it, please send me the email addresses of friends you think may enjoy it as well and I'll send them a subscription. Contact me at whomren@gmail.com anytime regarding your subscription, or questions, comments or suggestions about our content.
This week we open with a big anniversary, a numismatic literature sale, two new books, a review, updates from the Newman Numismatic Portal, and more.
Other topics this week include Half Cents, shrinking money, my numismatic library, nails as barter, British Museum thefts, obsessive dates, Mark Collet, Joe Pollack, Sammy Whipple, Jr., Mark Jones, Elsie Stevens, numismatic Americana, Karl Goetz medals, patina, and the Trial of the Pyx.
To learn more about E-Sylum history, Canadian numismatics, Scythian coins, Pledges of History, anhydrous ammonia, counterstamps, the Pact of Malice medal, and the West Point time capsule, read on. Have a great week, everyone!
Wayne Homren
Editor, The E-Sylum


Guess what? The E-Sylum is twenty-five years old! On September 4, 1998 the first issue of what we now call The E-Sylum was emailed to a list of members and friends of the Numismatic Bibliomania Society. Now archived on our web site as Volume 1, Number 1, that first message started the ball rolling. That email went to 49 people. As the word spread, subscription requests arrived from around the world and by September 15 there were 90 subscribers.
WHAT'S WITH THE FUNNY NAME? Well, our organization is the Numismatic Bibliomania Society, a group for people who love coin books and are crazy for any and all information about numismatics. Our print journal is The Asylum, so our electronic publication naturally became The E-Sylum. While The E-Sylum is free to all, only paid members of NBS receive The Asylum.
An excerpt from the September 4, 1998 message:
Kolbe & Fanning September 23 Book Sale
Kolbe & Fanning Numismatic Booksellers are pleased to announce that we will be holding our next auction sale on Saturday, September 23, 2023. The sale includes rare and out-of-print works on ancient, world and U.S. numismatics, and features highlights from the Wayne Homren and Richard Cooper libraries.
The Homren Library focuses on U.S. coins, tokens, medals and paper money, and includes his extensive collection of numismatic ephemera. The Cooper Library is among the finest ever formed on the subject of Canadian numismatics, and includes important manuscripts and correspondence from Robert W. McLachlan.
Some highlights of the sale include:
The Half Cent Handbook: Ultimate Attribution Guide
I am pleased to announce the release of my sixth and final book in the Half Cent Handbook series; The Ultimate Attribution Guide. This new book has a soft cover with a spiral binding. It is designed as an affordable and lightweight pocket sized guide (6"X9"format) that collectors can carry. It will help collectors of all levels quickly and easily attribute the die variety of any United States Half Cent minted from 1793-1857. Why is attribution important? Very simply it allows you to determine if your coin is a common, scarce, or rare variety. And since rarity is one of the primary factors that will determine the value of your coin, proper attribution is very important!
This book uses photos and specific descriptions to guide you step by step through the process of attributing any Half Cent. The book contains hundreds of clear full color photos to assist you in the attribution process. This is the second of two new books containing supplementary material related to the Half Cent Handbook hardcover series. This is a limited print run so don't delay in ordering. Copies are $50 shipped. At this price they won't last long. For ordering information email Ed Fuhrman at Guitarman68@optonline.net
Scythians and Greeks on the Western Black Sea: The Coinage of the Kings of Scythia Minor in Dobruja, 218/212–110 BCE
Numismatic Studies 47
by Elena S. Stolyarik and John M. Kleeberg
The Scythians have fascinated investigators since the time of Herodotus. This study examines the bronze and silver coinage of the kingdom of Scythia Minor in Dobruja at the mouth of the Danube River, a Scythian successor state that emerged in the second century BCE after the breakup of Scythia Magna. It is based on a corpus of over 1,500 coins, more than ever before, and draws upon scholarship in nine languages, including hard-to-find sources from Bulgaria, Romania, USSR, Ukraine, and Russia. The much-debated chronology of the six kings of Scythia Minor (Kanites, Tanousas, Charaspes, Ailis, Sariakes, and Akrosas) is determined through literary evidence, inscriptions, die linkage, shared monograms, coin hoards, and counterstamps.
Metrological analysis distinguishes four denominations, plus the alterations and debasements of the weight standard during the troubled reigns of Ailis and Sariakes. Fifteen counterstamps that appear on Scythian coins are attributed to the local Greek poleis of Callatis, Tomis, Istros, and Dionysopolis. An inventory of four hoards and 47 findspots of single coins identifies the mint site, Dionysopolis. The volume concludes with a catalog of 63 major coin types and 15 counterstamps, plus bibliography and index.
The book on Pioneer and Territorial gold has arrived. This follows up Donald Kagin's 1981 book on territorial gold, but as stated, is not a second edition. This book is a work that should appeal to everyone who is interested in history, numismatics, and gold coinage whether they have ever owned, or desire to own a piece of history from the many territorial and private mints that operated in our nation from 1786 to 1862.
This is more than a reference book, it is a beautiful cof- fee table sized book which displays virtually every gold coin privately minted in the United States. Each page or pages have oversize images of the top graded examples of the type and variety from each mint. Additionally, as the majority of these masterpieces from private mints are rare or very rare, their rarity ratings and comments about known examples are stated. Also, each mint has a multi- page historical writeup and each of its coins are de- scribed.
I thought readers might be interested to know that Sammy L. Whipple, Sr. died in January of this year. Mr. Whipple won the Howland Wood Award in 1979 for his exhibit titled The Gold Coinage of King George III. To the best of my knowledge, he was the first person of African-American heritage to win the award.
The Numismatist (October 1979) showed a photo of him accepting the award.
NNP Adds Wayne Homren Library Video
On April 8, 2023, Kellen Hoard and Jonas Denenberg visited the Wayne Homren numismatic library in Ashburn, VA, and recorded video of Wayne presenting an overview of his library. Wayne begins with the laws, a good place to start when it comes to numismatics – most modern coinage has a legislative record behind it, and researchers will do well to collect a few books in this area. From there we move into the core references for American coinage and paper money.
Pete Smith writes:
Andy Singer writes:
Collecting Xavier Casalta's Coin Art

Shanna Schmidt writes:
To read the earlier E-Sylum article, see:
XAVIER CASALTA'S COIN ART (https://www.coinbooks.org/v26/esylum_v26n35a27.html)
The American Numismatic Association seeks an energetic and creative assistant curator for the Edward C. Rochette Money Museum.
The successful candidate is expected to work on the Museum's exhibition program, contribute to the ANA Magazine and online media, do research for new exhibits and assist in managing the museum docent program and tours. In addition, the candidate will be expected to participate in the ANA's education and public relations initiatives. They will also participate in the ANA's two- week Summer Seminar as a presenter or instructor. The candidate must have strong writing and editing skills.
Almost three weeks after the British Museum was plunged into crisis by the revelation of thefts from its storerooms, the London institution said it would come under new leadership.
On Saturday night, the museum said in a news release that Mark Jones, a former director of the Victoria and Albert Museum, in London, was to become its interim director, subject to British government approval.
George Osborne, the British Museum's chairman, said in the release that Jones was one of the most experienced and respected museum leaders in the world, and he will offer the leadership and grip the museum needs right now.
His priorities are to accelerate the cataloging of the collection, improve security, and reinforce pride in the curatorial mission of the museum, Osborne said.
Obsessive Date. Retaining a previous year's date on coins struck into the following year or years. The word obsessive, meaning the continuation of some design element, perhaps after it is necessary; this is equal to the British term immobilized (as retaining monarch's portrait after his death, say). Obsessive dating occurred in American Colonial coinage with the Massachusetts silver coins, which bore the date 1652, continued to be struck for thirty years thereafter. In Great Britain, the 1925 gold sovereign was struck by the Royal Mint from 1926 to 1949 as another example. The Maria Theresa Thaler, struck well into the 21st century, has borne the 1780 date for over 200 years.
Numismatic literature includes books, periodicals, auction catalogs, mail bid sales and fixed price lists. Perhaps overlooked are the coin columns published in local newspapers. Some of the better known columnists include Maurice Gould, Robert Obojoski, Mort Reed and Ed Reiter.
This week I came cross the name of a columnist I may have overlooked, Joe T. Pollack. I found three columns he had written for
The Times
of Munster, Indiana. I did not find anything about him in the Newman Numismatic Portal. I did not find him in any of the standard biographical resources. It was easy to see how he could be overlooked.
Eventually I figured out the problem. The newspaper misspelled his name, I had better luck finding information on Joseph Thomas Pollock.
Hi, everybody. I'm Greg Bennick with the Newman Numismatic Portal. You're either about to listen to, or watch, an interview with Bill Groom. Bill decided that he wanted to do an audio-only interview. And as is the case when I do an audio-only interview, I ask the interviewee to send some images so that the visual version of this can have some images to go along with it. It's pretty customary that somebody sends me ten or fifteen images over the course of the interview for people to watch as they listen to what the interviewee has to say. Bill Groom sent me 1200 images. Now, all 1200 didn't fit in the interview, but I did place, by my estimation, about 500 images of counterstamps and things related to counterstamps that he talked about. Those images just show in order, except when Bill is talking about a specific counterstamp. At those points, you'll see on screen the specific counterstamp that he's talking about. With no further ado, let's dive into that interview. Bill Groom on counterstamps.
Eight catalogues and one addenda, bound in one volume. 8vo, contemporary black half calf, gilt, with marbled sides; spine ruled and lettered in gilt. Collet's engraved bookplate is affixed to the front pastedown, and most of the catalogue covers bear his signature. Binding somewhat worn at extremities; rear board professionally reattached. Very good or better. A wonderful volume, bringing together several important antebellum auction catalogues, from the library of Mark W. Collet, who would be tragically killed in the war. Most notable for including the 1851 sale of the Dr. Lewis Roper collection, which is considered the first important American coin auction. Roper (c. 1806–1850) was a Philadelphia dentist and early American numismatist. He was well-known to the Mint establishment, testifying to the avidity of his collecting. Roper headed west during the Gold Rush, and died at sea while returning home in 1850.
Homren, Wayne [compiler]. BINDERS 47–47C: NUMISMATIC AMERICANA. Three binders include the following:
1) Daniel E. Groux's Catalogue of a Grand Collection of Coins and Medals (1855);
2) Strobridge's Catalogue of the Groux Collection of Coins and Numismatic Works (April 7–9, 1874);
3) Tale of Two Oceans by E.I. Barra (1893);
4) Mason Brothers' advertising circular (1866);
5) R.W. Mercer illustrated mailing envelope;
6) Coin and Medal Circular by Henry Cook (1869);
102532 | GERMANY, GREAT BRITAIN & UNITED STATES. RMS Lusitania iron Medal. Dated 1915. The Sinking of the RMS Lusitania (56mm, 37.23 g, 12h). By K. Goetz in München. GESCHAFT UBER ALLES (business above all), skeleton (as Death) standing left within ticket booth marked CUNA[RD]/LINIE and CUNARD (the Cunard Line, owners of the ship) above and to right, and FAHRKARTEN/AUSGABE (ticket office) below; to left, queue of passengers, one of whom reads a newspaper with the headline U/BOO[T]/GEFAH[R] (U-Boat danger) // KEINE BANN WARE! (no contraband!), the Lusitania sinking in heavy seas; in five lines in exergue, DER GROSSDAMPFER / =LUSITANIA= / DURCH EIN DEUTSCHES / TAUCHBOOT VERSENKT / 7 MAI 1915 (the liner Lusitania sunk by a German submarine). Edge: Some filing marks as made. Burns 3b2; Kienast 156; Eimer 1941Ad; cf. Jones, "Dance of Death," 28 (for the original with the erroneous date); "The Art of Devastation," p. 254, 53 (for the original in bronze with the erroneous date). Choice Mint State. Light pewter gray surfaces, with some deeper toning in the recesses. A very rare original—as opposed to the numerous later copies of it—with the corrected date for the sinking. A similar corrected date version in bronze realized $1,920 in a recent Heritage sale (auction 61319, lot 23216), with its new owner currently accepting no less than $2,880 for it). $1,395.
Not long after the German warning against sea travel into her 'war zone' declared upon Great Britain, a popular liner–the RMS Lusitania–was torpedoed 11 miles off the coast of Ireland, where over 60% of her passengers, some of whom were Americans, were killed. Serving as a rallying cry against the German Empire, this action solidified American involvement in World War I.
German medalist Karl Goetz jumped at the opportunity to satirize these events, designing a medal which would become infamous. The idea of Death handing out the tickets to the eventual passengers–and victims–of Goetz's Germany did not sit well with Great Britain nor her soon-to-be official ally in the war efforts, the United States. Both made copies of this gruesome memento in order to remember the ignominious act and also raise funds for the victims' families. This, however, is one of the rare originals by Goetz, made with the corrected date of the sinking.
To read the complete item description, see:
102532 | GERMANY, GREAT BRITAIN & UNITED STATES. RMS Lusitania iron Medal. (https://www.numismagram.com/product-page/102532)
In the nearly five centuries this denomination has existed, it has not only become a fixture in much modern coinage (e.g. the United States quarter which is now issued in more iterations than I was willing to take time to count), its extensive use throughout all those years provides a comprehensive medallic account of British history.
It is also a particularly popular area for collector specialization. I put together a few examples to serve as a focal point in this sale.
Stephen Album Rare Coins will hold its Auction 47 on September 14-17, 2023 at their new offices in Santa Rosa, California. The auction is made up of 3400 lots of Ancient, Islamic, Indian, Chinese, U.S., and World Coins. The first two days will be in-person bidding as well as on the internet, while the third and fourth days will be internet-only sessions.
Featured in the auction will be the Charles W. Lueders III Collection of Indian & Asian Coins Part II, the Joe Sedillot Collection of World Coins Part V, and a superb selection of rare U. S. coins and medals.
Some highlights from the sale follow:
LOT 652: CHINA: Republic, AR dollar, Central Mint, Tientsin, ND (1914), Y-322, L&M-858, K-642, 39mm Regular Strike type, Commemorative for the Founding of the Republic of China; facing bust of Yuan Shih Kai in military attire and tall, plumed hat // value within wreath, a lovely rainbow toned example! PCGS graded MS64.
Estimated at $40,000 to $50,000
MDC Monnaies de collection is excited to auction the French Collection in October 2023. The collection of 540 lots, built over 40 years, includes the most beautiful coins from the French Revolution to the Fifth Republic, with a vast majority of Top Pop. Today, it is not possible to recreate such a collection. We know that many collectors will find in it the special coins they have been looking for in their collection. The auction will take place in Monaco at the Hôtel Métropole on the 11th of October 2023, from 1:30 pm to 4 pm (lots 1 to 296) and from 4:15 pm to 7 pm (lots 297 to 540), Nicolas Gimbert, Auctioneer
1668 Lancelott Keate Farthing

17th Century Token, Dorset, Beaminster, Lancelot Keate, Farthing, 1668, two hands holding keyboard like instrument, beaded circles and legend surrounding, cinquefoil stop at top, *LANCELOTT. KEATE, rev. L*K with cinquefoil stop between pellets above and below, beaded circles and legend surrounding, *OF. BEMINSTER. 1668, weight 1.08g (Boyne 7; BW7). Some Verdigris both sides, otherwise good fine to almost very fine.
We note from the History of Beaminster (Richard Hine 1914), that Lancelot Keate the Elder was one of six parishioners to be instructed and given powers to erect a new gallery in the north part of the church in 1657 to better accommodate the congregation and to sell seats within to pay for the works.
To read the complete item description, see:
Dorset 17th century Token, Beaminster, Lancelott Keate, 1668 Farthing (https://www.sovr.co.uk/products/dorset-17th-century-token-beaminster-lancelott-keate-1668-farthing-fm22143)
As you see in other articles in this issue, I've consigned much of my library to Kolbe & Fanning. Why now? Well, I'm no spring chicken anymore and getting closer to retirement and likely empty-nester downsizing. With last month's birthday I became a card-carrying member of the Medicare set. The biggest reason for selling now rather than later was to take care of our children's college expenses before retiring. Although I'll certainly miss having so many numismatic books and ephemera at my fingertips, I've still got plenty of great books for reading and reference. Bibliophiles know books have a way of growing and expanding. Here are before and after photos of my home office and library.
Unlike modern coins, ancient coins are not held to the same minute condition requirements of the 70-point Sheldon Grading Scale. What matters instead is eye appeal, and one of the main factors that creates pleasing eye appeal is patina. So, what actually is patina?
Basically, true patina is any surface oxidation that occurs on the metal of a coin immediately after striking. In modern copper coins, this is the difference between the Red, Red Brown, and Brown color designations. However, in the common parlance of ancient coin collectors, a patina is any coating of foreign material created over the many years the piece was buried in the ground. This oxidization comes in many forms, and is highly reliant on two factors: the environment of the soil the coin was buried in and the type of alloy from which the coin was struck.
An 8-year-old boy playing in a sandbox at his elementary school in Germany unearthed an 1,800-year-old silver coin minted during the Roman Empire's Pax Romana.
Overwhelmed with excitement for literally finding buried treasure in the schoolyard, the fourth grader — identified only by his first name, Bjarne — rushed home to show the coin to his family in Bremen, a city in northern Germany, upon finding it in August 2022. After his parents contacted authorities, archaeologists confirmed that the coin was a Roman denarius minted during the reign of Emperor Marcus Aurelius Antoninus, who held the throne from A.D. 161 to 180, according to a translated statement released on Aug. 11.
The Pyx Chamber is one of the oldest surviving parts of Westminster Abbey.
This low vaulted room off the East Cloister is part of the Undercroft, underneath the monk's dormitory, which was built about 1070. The Chamber was walled off in the 12th century and made into a treasury in the 13th century, and possibly used as a sacristy when Henry III was rebuilding the main Abbey. The two heavy oak entrance doors date from the early 14th century (the original entrance being from the vestibule of the Chapter House).The chamber still possesses its medieval tiled floor and some tiles from the 11th century. The large curved medieval chest was used to store vestments. The other chests held important treaties and foreign policy documents.
On Tuesday Paul Horner reported:
A nearly 200-year-old West Point time capsule that appeared to yield little more than dust when it was opened during a disappointing livestream contained hidden treasure after all, the U.S. Military Academy said Wednesday.
It was just more hidden than expected.
The lead box believed to have been placed by cadets in the base of a monument actually contained six silver American coins dating from 1795 to 1828 and a commemorative medal, West Point said in a news release. All were discovered in the sediment of the box, which at Monday's ceremonial opening at the New York academy appeared to be its only contents.