Visit our NBS Sponsors
About Us
The Numismatic Bibliomania Society is a non-profit association devoted to the study and enjoyment of numismatic literature. For more information please see our web site at coinbooks.org
Subscriptions
Those wishing to become new E-Sylum subscribers (or wishing to Unsubscribe) can go to the following web page link
Membership
There is a membership application available on the web site Membership Application
To join, print the application and return it with your check to the address printed on the application. Print/Digital membership is $40 to addresses in the U.S., and $60 elsewhere. A digital-only membership is available for $25. For those without web access, write to:
Charles Heck, Treasurer
Numismatic Bibliomania Society
P. O. Box 2058,
Bluffton, SC
29910-2058
Asylum
For Asylum mailing address changes and other membership questions, contact Chuck at this email address: treasurer@coinbooks.org
Submissions
To submit items for publication in The E-Sylum, write to the Editor at this address: whomren@gmail.com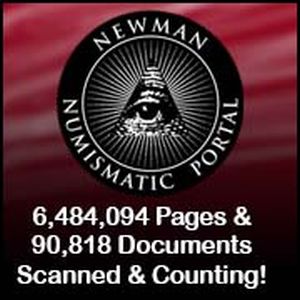 BUY THE BOOK BEFORE THE COIN
Content presented in The E-Sylum is not necessarily researched or independently fact-checked, and views expressed do not necessarily represent those of the Numismatic Bibliomania Society.
New subscribers this week include: Jay Johnson of the Houston Numismatic Exchange, courtesy Barry Tatum; and Christopher Muns. Welcome aboard! We now have 7,617 subscribers.
Thank you for reading The E-Sylum. If you enjoy it, please send me the email addresses of friends you think may enjoy it as well and I'll send them a subscription. Contact me at whomren@gmail.com anytime regarding your subscription, or questions, comments or suggestions about our content.
This week we open with the first printed numismatic book, an offering of numismatic pamphlets, more Kolbe & Fanning literature sale highlights, three new books, more on Neil Shafer, updates from the Newman Numismatic Portal, and more.
Other topics this week include banknotes of Scotland, Dansco albums, hobby industry changes, an auction-palooza of fall sales, metal detecting finds, a gigantic coin for Queen Elizabeth II, Karl Goetz medals, and magic tokens.
To learn more about Guillaume Budé's De Asse et Partibus Eius Libri Quinq, the Young Numismatist Digest, the William F. Gable and Peter Gschwend collections, The Numismatist, the Cherrypickers' Guide>, Charles Steigerwalt, Mark Hofmann, Raphael Thian, frozen dates, numismatic correspondence, rainbow cups, the London Monogram Coinage of Alfred the Great, playful dolphins and Reymerswaele's "Two Tax Collectors", read on. Have a great week, everyone!
Wayne Homren
Editor, The E-Sylum


Dr. Bruce D. Wonder, left, presenting Budé's De Asse et Partibus Eius Libri Quing to ANA Library Manager Akio Lis.
The American Numismatic Association (ANA) Dwight N. Manley Library contains many rare and old books covering a variety of numismatic topics. Numismatic bibliophile and coin dealer Dr. Bruce D. Wonder recently added to this collection by donating a copy of the first edition of Guillaume Budé's De Asse et Partibus Eius Libri Quinq, which is recognized as the first printed numismatic book. The book covers ancient Greek and Roman coins, includes definitions for early numismatic terminology, as well as early references to coin measurements. Budé was one of the great French scholars and philosophers of the 16th century and his works include treatises on law and politics, analyses of ancient European cultures, and treatises on the arts.
HIGHLIGHTS FROM KOLBE & FANNING SALE 168
Kolbe & Fanning Numismatic Booksellers are holding our next auction sale on Saturday, September 23, 2023, featuring highlights from the Wayne Homren and Richard Cooper Libraries, along with other rare and out-of-print works on ancient, world and U.S. numismatics. The Richard Cooper Library is among the finest ever formed on the subject of Canadian numismatics, and includes important manuscripts and correspondence from Robert W. McLachlan. The Wayne Homren Library focuses on U.S. material, and includes his extensive collection of numismatic ephemera. Some highlights of the sale include:
A Descriptive Catalogue of the Gold Coins in the Bangladesh National Museum
This catalogue, one of several planned by the Bangladesh National Museum, contains a representative selection of Gold Coins in the Bangladesh National Museum. This museum has a rich collection of diverse coins including silver, copper, gold, it's about fifty-eight thousand coins at present in Bangladesh National Museum vault. Currently there are 747 gold coins among the collected coins in Bangal....
For more information, or to order, see:
A Descriptive Catalogue of the Gold Coins in the Bangladesh National Museum (https://www.bagchee.com/books/BB137848/a-descriptive-catalogue-of-the-gold-coins-in-the-bangladesh-national-museum)
Ever since she was young, Fort Hall woman Randy'L Teton has been sharing stories about Sacajawea to all who would hear.
First as a museum attendant at the Fort Hall Museum at the age of 14, where she would teach tourists about the Lemhi Shoshone woman who helped guide the Lewis and Clark Expedition through hundreds of miles of terrain.
Then it was during tours after she was selected as the model for the Sacajawea U.S. dollar coin, where she had the opportunity to travel across the country with the United States Mint and tell many people about the woman's life.
The first print run of the sixth edition, volume II, of the Cherrypickers' Guide to Rare Die Varieties is nearing a sellout. Whitman Publishing will order a second print run to keep up with collector demand, with no interruption in availability.
The book debuted at the American Numismatic Association World's Fair of Money in Pittsburgh, August 8–12, 2023. Sales at the show were limited to one copy per customer.
The Cherrypickers' Guide was one of our best sellers in Pittsburgh, said Whitman vice president of sales Dawn Burbank. Collectors and dealers bought every advance copy we had, and thousands more have shipped from our main inventory.
Coin dealer Larry Briggs, one of the most famous die-variety specialists in the country, reported strong bourse activity at the ANA show. Briggs served as volume editor for the latest Cherrypickers' Guide, updating every entry and consulting with other experts to add new coins.
As the Philippine Collectors Forum (P.C.F.) celebrates 20 years as an American Numismatic Association Member Club and an annual gathering at the ANA's summer convention (World's Fair of Money), we are greatly saddened to learn of the passing of Neil Shafer, a Giant in the world of Coins and Paper Money research and collecting. Among many areas, issues of the U.S Philippines 1903-45 was a particular passion.
Neil Shafer's name was synonymous with the PCF as he attended and participated in nearly every gathering over the years from 2003 onward, including a meeting at the old International Paper Money Expo in Memphis (the 2012 auction of the Greg Pineda collection) and at separate smaller specialized sessions at the yearly Military Payment Certificate fests (MPC Fest) in Port Clinton, Ohio). Neil was frequently the Featured Speaker at these meetings and it was a regular occurrence that new attendees would seek out Neil for an inscription and signature on their treasured copies of UNITED STATES TERRITORIAL COINAGE FOR THE PHILIPPINE ISLANDS (1961), A GUIDE BOOK OF PHILIPPINE MONEY (1964) and PHILIPPINE EMERGENCY AND GUERRILLA CURRENCY OF WORLD WAR II (1974). Neil was unquestionably the pioneer in this research and publishing: his knowledge and experience was recognized, respected and sought by everyone who attended our meetings over the years.
The great one was standing there talking to another gentleman. It was the annual convention of the Association in Boston (my second, 1973). Neil Shafer had just released the sixth edition of his catalog on United States small size paper money. He had done something very unusual. He had included military payment certificates (MPC)! That was the first time that these notes had been in a book with United States paper money. This was one of many innovations introduced by Neil Shafer, but the first one known to me.
I had some questions, so I took a deep breath and walked right up to the great one. "Mr. Shafer, may I ask you a few questions?"
That was the start of a long friendship. Neil was very gracious. He introduced me to the other gentleman, Amon Carter, Jr.--one of the great collectors--who turned out to also be an MPC collector. The three of us had a very nice chat. I remember the conversation very well. What Neil remembers--he mentions it often--is that I called him Mr. Shafer!
A Charles Steigerwalt Triumvirate
This week Newman Portal announces the addition of three items related to the late 19th and early 20th century Lancaster, PA dealer Charles Steigerwalt. First up, we have a group of 110 Charles Steigerwalt fixed price lists, recently scanned at the American Numismatic Society library. As part of scanning, these items have been integrated into the ANS library catalog. This is a somewhat confusing series in that Steigerwalt left many issues undated. The Newman Portal already contains the Hamelberg (ex. Champa) set of Steigerwalt FPLs, which, combined with annotations on certain of the ANS copies, may serve to unsort some of the complications.
The Arts of Money, a historic collaboration between the Pennsylvania Association of Numismatists (PAN) and the National Arts Club (NAC) in New York, will showcase the intersection between Numismatics and the Arts. PAN President and President of the American Numismatic Association (ANA), Tom Uram, is spearheading this effort. Uram recognizes that "this program explains how art features in our historical and current coinage and represents an unprecedented opportunity to bridge the arts and numismatic communities."
The series begins with a lecture and exhibition of the work of Augustus St. Gaudens to be held on October 30, 2023 in New York. The inaugural program is a presentation on the life and work of St. Gaudens by nationally ranked author Mike Moran, who is completing his second book on this iconic artist. Longterm member of the National Arts Club, Carlos Kearns, also a member of the PAN and the ANA, is curating this exhibition and lecture. The exhibition will include some of St.Gaudens outstanding medallic art, courtesy of the American Numismatic Society, as well as his $10 and $20 coins.
On The E-Sylum's 25th Anniversary

Rusty & Marie Goe of Reno, Nevada write:
Bob Leuver writes:
Eric Hodge writes:
Barry Tatum of Texican Rare Coin writes:
To read the earlier E-Sylum article, see:
THE E-SYLUM'S SILVER ANNIVERSARY (https://www.coinbooks.org/v26/esylum_v26n36a02.html)
Justin Hinh writes:
Stack's Bowers Galleries, the renowned numismatic auction house, and David Hall, the esteemed founder of Professional Coin Grading Service (PCGS), have partnered to introduce Collectible Market Qualified (CMQ), a new service offering that identifies the highest quality graded coins in the market.
Utilizing CMQ's services, collectors, dealers, and investors can submit qualifying coins to be evaluated by David Hall and Stack's Bowers Galleries' CEO Greg Roberts, two of the most accomplished numismatists of all-time. Hall and Roberts will assess each coin for its quality, eye appeal and grade. Coins that Hall and Roberts unanimously agree meet CMQ's rigorous standards will be recognized as qualified and granted a tamper-resistant hologram sticker, symbolizing a mark of approval.
Obsolete. Not current. Obsolete coins are a type no longer issued. Most obsolete coins retain face value and may remain in circulation but a few such coins in the past have been demonetized – rendered no longer acceptable in commerce at any but scrap value. Obsolete medals, particularly award medals are those no longer awarded. The cessation of such an item is usually a financial reason – increased costs – or lack of interest in the program, the sponsoring organization going out of existence, or the medal program has served its original purpose and is no longer viable. The existing medals, as the stock of unawarded pieces, often come into collectors' hands; these are collected along with the awarded medals of the past bearing recipient's names or other evidence of once being bestowed
I have mentioned that I am working on a long-term project to write about numismatic criminals and victims. I suggested to Wayne that I use my research to occasionally run one of these stories in The E-Sylum.
Ray Hanisco was born in Philadelphia on September 19. 1950. His parents were Raymond L. Hanisco and Mary Kuchers Hanisco. In 1977 he received a B.A. in anthropology from Pennsylvania State University. He married Paula Hayko and had three sons.
He served with the U. S. Army in Vietnam during 1971-73. He wrote a number of articles on veterans' issues and was identified as veterans' editor for the bellaonline.com website. A collection of his articles was compiled as A Veterans' Anthology which was published on December 22, 2013, about three weeks before his death.
He died at the VA Medical Center in Minneapolis on January 11, 2014. His cremains are in a burial vault at Fort Snelling National Cemetery.
Greg Bennick Well, how did you happen to start collecting coins and exonomia?
Bill Groom My dad was a Teamster. And one day he came home. He was a moving man. And one day he came home and he had found a couple of coins in a trunk that someone had abandoned. And he gave them to me. One of them was a 1795 silver dollar. It was very worn, but it was identifiable. And the other one was a 1918 half dollar, which I later found out was a lead counterfeit. I still have that one. The 1795 dollar, it got me curious and I started researching coins, and my mom had bought me a sort of encyclopedia, which was a big expense at the time. Back in the mid 50's. $300. That set of encyclopedia. But I used to pout through it. And whether it was homework or just I saw something on TV and wanted to look it up and I guess that's what got me in the habit of researching coins and that. But with those coins I ended up trading the 1795 dollar to a minister who was a coin collector and he gave me a whole bunch of coins for that. Now that 1795 dollar at the time was worth about $40 we figured, back in the mid 50's in that low grade, and that started me on coin collecting. Then I got a newspaper route when I used to get old coins and I'd look for them. I told my customers I was looking for old coins - some of them would give me old coins that they had in their drawers at home. And eventually I got into a coin club where I lived in western New York, it was the Jamestown Coin Club, and started to meet dealers. I should have mentioned, my first Civil War token I bought was when I was a teenager at a mall on Long Island. It was on a Gimbel's store in the mall and they had a coin counter and I saw a token there with Lincoln on it, and it was dated 1864. And I thought, Wow, that's curious. So I asked to see it. And the reverse was okay. It was $12.50. And at the time, minimum wage, which I was earning, was a buck and a quarter. So that was 10 hours of work for me. But I had to have that piece. And the reason I wanted it was, I thought it was amazing that it was a coin that Lincoln was still alive in 64. I knew that as a teenager and he got to see his own image on a cent - a circulating civil war token. So I just thought that was so cool. I had to have it.
Homren, Wayne [compiler]. BINDER 52: NUMISMATIC CORRESPONDENCE. Includes the following:
1) correspondence between Wayne Homren and John W. Adams, Nelson P. Aspen, Del Bland, Q. David Bowers, Walter Breen, Ken Bressett, John J. Ford, Lynn Glaser, Denis Loring, Arlie Slabaugh and others;
2) three letters from Albert (Fred) Baldwin to James Sloss (1946–1955), accompanied by a photograph of Baldwin;
4) Aubrey Bebee letter (1984) to Orville Grady;
5) typewritten sheet titled Notes on Some of the Varieties of the Cents of 1796 signed by George Clapp;
6) letter dated December 14, 1945 from James Sloss to George Clapp;
7) letter from George Clapp to James O. Sloss (July 9, 1946);
Thian, Raphael P. CONFEDERATE NOTE ALBUM. FOR A COMPLETE COLLECTION (WITH DESCRIPTIVE LETTER-PRESS) OF THE VARIOUS DESIGNS FOR FACE AND BACK SELECTED BY THE CONFEDERATE TREASURY AUTHORITIES FOR THE CURRENCY OF THE CONFEDERATE STATES OF AMERICA, 1861–1865. Washington, D.C.: Thian, 1876. Oblong 8vo [23.5 by 12. 5 cm], original plan card covers. 4 blank leaves; 45, (1) pages of descriptive text; 44 leaves (hand-numbered 1–88) with a decorative printed border; 4 blank leaves. Six original Confederate Treasury Notes are affixed to their relevant album pages: Thian Nos. 7, 31, 33, 72, 78 and 82 in his numbering system [see comments for descriptions]. Signs throughout that other notes used to be present. Front cover reattached; somewhat wrinkled with moderate general wear. Very good or so. Very rare, one of only a few examples we have handled in over half a century.
Historic Colonial-Era Money Printed by Franklin and Revere in Auction.
Kagin's Auctions of Tiburon California will be offering Significant Notes from the John J. Ford Colonial Currency Collection in their Part 2 online auction on September 23, 2023, at 4PM Pacific. The 216 lots constitute approximately 60% of the 375 notes of the entire collection which is considered one of the finest collections of Colonial Bank Notes.
Another year has rolled by all too fast and the Coinex season is upon us again, so it is with great pleasure that we invite you to view and bid in Sovereign Rarities Auction No. 10. With a few recent additions to the team, now numbering 12 permanent staff, we all look forward to welcoming you to our Mayfair office and our stand at Coinex. The auction comprises of 351 lots, including Ancient, British Hammered and Milled, World Coins, Commemorative Medals and Banknotes. Below we've highlighted a selection of Ancient and Hammered pieces, among many, that feature in the sale.
A fabulous collection of Greek coins formed over 20 years ago by a European connoisseur is to be sold at auction by Morton & Eden Ltd in London on 26-27 September. The sale will take place in Sotheby's St George Street Gallery just before the major annual UK coin fair Coinex, enabling many prospective buyers to be present. Estimated to realise over £4 million, the 561 lots include numerous rarities preserved in outstandingly good condition.
Specialist Tom Eden said of the collection, 'We are very excited about this collection which is probably the finest to appear on the market since the sale of the 'Prospero' collection in New York in 2012, and both collectors and dealers are eagerly looking forward to the event'.
World Banknote Auctions is excited to announce its upcoming sale of the Louisiana Bayou Collection of High Denomination Notes. This collection, which can be classified as an old-time cash hoard, offers 10 lots of $500 notes and 35 lots of $1000 notes. All notes were taken out of circulation in the American South during the 1940s and 1950s and are now offered for the very first time on September 29 at 1 PM PDT on the World Banknote Auctions website.
As can be expected with a group like this there is a wide variety of series, districts and grades. The entire collection has been graded by PMG and grades range from VG to Choice Uncirculated. Because of the region that the notes were put away in a fairly large number of notes are from the Atlanta district, although other districts are represented as well. Notes from several series are offered, including several from the 1928 series, known for their gold clause stating the notes were redeemable in gold. Other highlights include:
MDC Monnaies de collection is excited to auction the French Collection in October 2023. The collection of 540 lots, built over 40 years, includes the most beautiful coins from the French Revolution to the Fifth Republic, with a vast majority of Top Pop. Today, it is not possible to recreate such a collection. We know that many collectors will find in it the special coins they have been looking for. The auction will take place in Monaco at the Hôtel Métropole on the 11th of October 2023, from 1:30 pm to 4 pm (lots 1 to 296) and from 4:15 pm to 7 pm (lots 297 to 540), Nicolas Gimbert, Auctioneer
An extremely rare "rainbow cup" coin minted more than 2,000 years ago by the Celts has been found next to a river in Germany, according to the Bavarian State Archaeological Collection.
The gold coin, minted in the second or first century B.C., features a rare design of a four-pointed star surrounded by arches on one side, said Bernward Ziegaus, a senior curator in the State Archaeological Collection's numismatic department who is studying the coin. Like other rainbow cups, the coin is curved.
The cache comprised nine Norwegian gold medallions and gold pearls that once formed an opulent necklace, as well as three gold rings.
Archaeologists say the find is unique because of the design on the medallions -- a type of horse from Norse mythology.
Bore, who dreamt of becoming an archaeologist as a child, made the discovery on a farmer's land near Stavanger in August after he bought a metal detector on his doctors' recommendations to get more exercise.
Made from almost 8 pounds of gold and some 6,426 diamonds, a new coin honoring the life of Queen Elizabeth II may be among the most valuable coins of all time.
In fact, the creator of this one-off luxury object has valued it at around $23 million.
Unveiled on Monday, days before the first anniversary of Queen Elizabeth's death, the commemorative coin as a whole is not considered legal tender in the UK (although the denominations of coins contained within the design are). It was produced by the East India Company, a luxury lifestyle brand with rights to the name of the corporation that once controlled large swathes of Britain's empire.
Dubbed The Crown, in a press release, the company described its creation as an objet d'art.
A Gaza dentist has developed ultra-lightweight gold coins to allow people without much money to access to one of the most widely used savings methods across the Middle East.
"The idea stemmed from the community's need to own gold amid the difficult living conditions the people live in," said Ahmed Hamdan, who developed the coins, which range in weight from half a gram to 10 grams.
"We have made gold available to people of all categories, gold that even the poor and those with low income can get some," Hamdan said.
Tangible Assets LLC, a company specializing in the collection and appreciation of Karl Goetz medals, is thrilled to announce its upcoming feature on the renowned Boom America TV show. Boom America is a recognized platform that spotlights pioneering companies and their impactful offerings. The inclusion of Tangible Assets LLC on the show signifies the company's dedication to promoting the rich historical and artistic value of Karl Goetz medals.
Dale Krueger, President of Tangible Assets LLC, became a passionate Coin Collector in the late '60s. As a child, he cultivated an interest by collecting coins, eventually transitioning to high-grade slabbed coins in the 1980s. Dale's passion for Barber Quarters led him to a remarkable milestone: a complete set of MS Barber Quarters, which he auctioned off through Heritage in 2000. However, his introduction to Karl Goetz medals and "The Medals of Karl Goetz" by Gunther Kienast marked the turning point of his collecting journey. These medals, with their satirical, historical, and beautifully crafted designs, captured Dale's attention. He made it his mission to gather, understand, and treasure these artistic embodiments of history.
CARL SONTAG 1882 GOLD THEATRICAL MEDAL, GERMAN THEATER, SAN FRANCISCO.
Stunning hand made large gold and silver medal from The German (Baldwin) Theater in San Francisco, California. Central brass cast copy of an 1852 US $50 gold octagonal coin with presentation engraved on reverse, "Die Deutschen, San Francisco, Ihrem Carl Sontag, San Francisco, Cal, 12th Feb. 1882". The medal was presented to Sontag on his final evening of a 3-month appearance at the Baldwin Theater. The medal measures 3 - 1/4" tall by 2 - 1/2" wide, and has a gross weight of 70.4 grams. With the exception of a few missing flowers at the top, the medal is in excellent original condition. The medal appears to be made in 14k gold, but the karat is untested.
Marinus van Reymerswaele
c.1490 – c.1546 | Dutch
The Tax Collectors
16th century
Oil on wood panel
Marinus van Reymerswaele stands among the greatest and most beloved artists of 16th-century Antwerp. Entitled The Tax Collectors, this oil on board original exudes the technical skill and life-like vibrancy for which the artist is renowned.
Toll Scrip
This month we will visit picturesque Dunbar, Penn., an old coal and iron town nestled in the foothills of Chestnut Ridge, between Connellsville and Uniontown in Fayette County, a subdivision located south of Pittsburgh in the southwestern corner of the state. I recently acquired a nice note from this town and had the opportunity to visit it and find its bank. We will also have the chance to visit an old Turnpike Gate in Western Maryland.
Dunbar is located roughly halfway between Connellsville and Uniontown and can be found just a few miles off U.S. Route 119 to the southeast via State Route 1053. This local road meanders and winds before reaching Dunbar, which sits rather forlornly along the Dunbar Run. Although once a rather prosperous coal town, the population boomed in 1910 at 2,000 and has shrunk to half that today. It is typical of the many now shattered coal towns in this part of Pennsylvania.
After visiting the LaVale gate, I became intrigued with the idea of turnpike roads, as I knew that many of these issued their own obsolete currency and scrip. When I got home, I did some research into this. I was unable to locate any issue of currency from the particular gate that I visited in LaVale, but I did find that many Turnpike Road companies along the East Coast did issue currency, as well as scrip that was accepted at turnpike gates.
In general, the obsolete currency notes issued by the turnpike companies themselves are generally available to collectors. I have included a photo of a $1 note issued by the Pittsburgh & Butler Turnpike Road Company in 1822. This type of currency was an obligation of the corporation and issued to fund the construction and maintenance of the turnpike road itself. The small change scrip notes, redeemable for bank notes or accepted for tolls at the gates, are generally considerably scarcer.
To read the complete article, see:
Coal Mining and Toll Scrip (https://www.numismaticnews.net/paper-money/coal-mining-and-toll-scrip)
Contemporary artist, Stacey Lee Webber cherishes working with money, coins, banknotes whose history is physically evident. Her work is meticulous, pushing social and political boundaries to create exquisite everyday recognisable objects. By using money in her craft, Webber strives to create art that interests a broad range of viewers and challenges preconceived notions of the objects that surround them.
This week's Featured Web Site is the Magic Token Society.