Numismatic Bibliomania Society


is the official publication of the Numismatic Bibliomania Society. Over the years many interesting original articles have appeared in its pages. The Asylum is published quarterly and is mailed free to all NBS Members. There are currently a limited number of back issues available!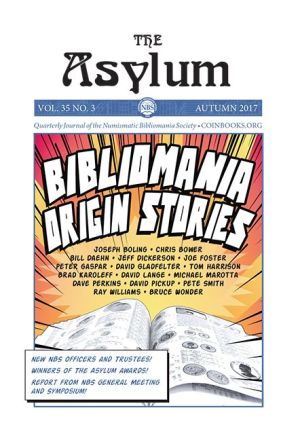 Download a FREE
Sample Issue
Submission Guidlines
Articles submitted for publication should be of general interest to readers of The Asylum and pertain to numismatic literature, numismatic personalities, or general numismatic research. Publication and editing are at the sole discretion of the editor.
All submissions should be sent to:
Maria Fanning, Editor
The Asylum
141 W. Johnstown Rd
Gahanna, OH 43230
(614) 414-0855
asylum@coinbooks.org
Submission Deadlines
The deadlines for submission are as follows, but may be changed as needed at the editor's discretion.
| | | |
| --- | --- | --- |
| Spring Issue | (No. 1) | February 1st |
| Summer Issue | (No. 2) | May 1st |
| Fall Issue | (No. 3) | August 1st |
| Winter Issue | (No. 4) | Novenber 1st |
Sponsorship Rates and Details
| | | |
| --- | --- | --- |
| Inside Front Cover | $125 | 5.5 inches wide x 8 inches tall |
| Back Cover | $125 | 5.5 inches wide x 8 inches tall |
| Full Page | $120 | 4.5 inches wide x 7.5 inches tall |
| Half Page | $75 | 4.5 inches wide x 3.75 inches tall |
| Quarter Page | $40 | 2.25 inches wide x 3.75 inches tall |
* A 10% discount may be applied for a full-year committment.
** A 10% discount is available to NBS members and community associations.
Camera-ready copy should be sent to asylum@coinbooks.org or
Maria Fanning, Editor
The Asylum
141 W. Johnstown Rd
Gahanna, OH 43230
(614) 414-0855
Index
You can access The Asylum Index directly on the NNP (Newman Numismatic Portal)
25-Year Index (2007)
5-Year Supplement (2012)
or you can download the files as PDF documents
25 Year Index
5 Year Supplement
You can also visit the Index Page
Back Issue Ordering Information
Back Issues - Kolbe & Fanning Numismatic Booksellers are now managing the distribution of back issues of the award-winning journal The Asylum. Back issues are available in limited numbers. An inventory of what's available can be downloaded at numislit.com/pdfs/AsylumBackIssues.pdf.
Contact Kolbe & Fanning at orders@numislit.com or (614) 414-0855 to order.
Current Issue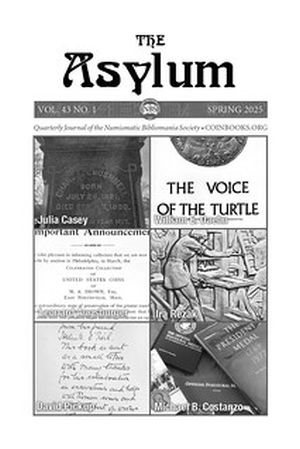 Spring 2019 Vol. 37, No. 1
Message from the President, By Tom Harrison
The Coinage of San Serriffe By Pete Smith
Raised as a Numismatist by Aaron Oppenheim
Valentine's Day By David Pickup
United States Numismatic Literature and a Surprising Find By Cole Hendrickson
Intaglio Printing & Wiping Paper By Bob Bednar
The Coin Collector By Ray Williams
My Dad, His Bank and How to Start Collecting Coins By David Pickup
A Casual Discussion at the ANS: A follow up to An Afternoon at Princeton University By Ray Williams
The Sheriff and the Switcher: An Afternote By Joel J. Orosz
Lauer's Musterkarte 28: Within a Rare Catalog, an Even Rarer One By David D. Gladfelter
To read the Online Archive of The Asylum visit this link to the Newman Numismatic Portal/Asylum. It will take you directly to The Asylum or click on the NNP image below to go directly to the NNP Main page.
Sponsors